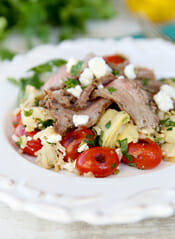 So, it's St. Patrick's Day.  And this recipe is not green, nor does it involve an orange mustache, or a pint of Guinness.  It's not even from Ireland, it's inspired from another country all together.  Kate and I were just chatting about how we sort of skipped St. Patrick's Day this year.  We've done lots of fun things in the past, but I have to say, I was sick of this holiday about 3 weeks ago, after my Pinterest account and my Instagram feed were both already overloaded with non-stop recipes and craft projects for a holiday that used to be about wearing green so you didn't get pinched, but is now about making goodie bags for all of your friends, custom printables for your classmates, and creating stealthy engineered contraptions to entrap naughty mythical creatures.  So, on that note.  Here's an awesome recipe that has nothing to do with St. Patrick's Day.
This recipe does require enough planning to marinate a piece of meat, but aside from that, the whole recipe is prepped and done in the time it takes for the steak to cook (which is only 10-15 minutes).  So if you can get your steak prepped, this makes a great quick and easy meal for a busy night.  The marinade (which we'll also use to season the rice portion) is just a slight adaptation of Kate's yummy Greek Dressing.  It takes just a few minutes to whip up in a blender.  After you do, set aside a little to use later, and pour the rest over a nice flank steak.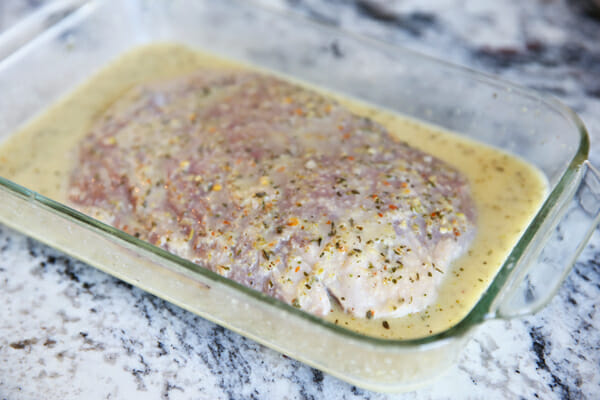 When you're ready to cook the steak, I've outlined 3 different methods in the instructions.  You can cook it on an outdoor grill, and indoor grill pan, or under the broiler.  This round, I'm going for the broiler.  In my house growing up, at least once a week my parents would cook flank steak under the broiler for dinner.  That smokey smell and sizzling sound is so nostalgic for me.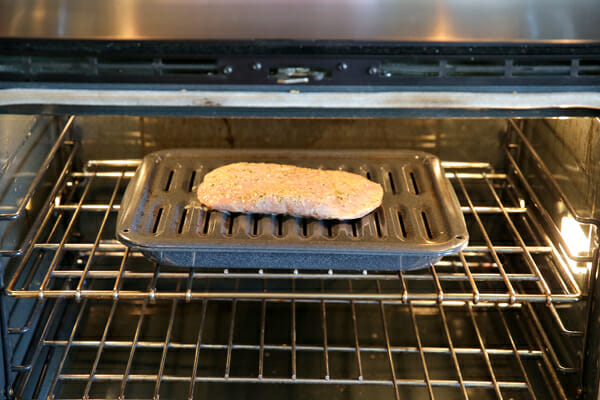 The rest of the recipe will be done in the time the steak takes to cook.  Grab a little clamshell of grape or cherry tomatoes.  For me, the smaller the better.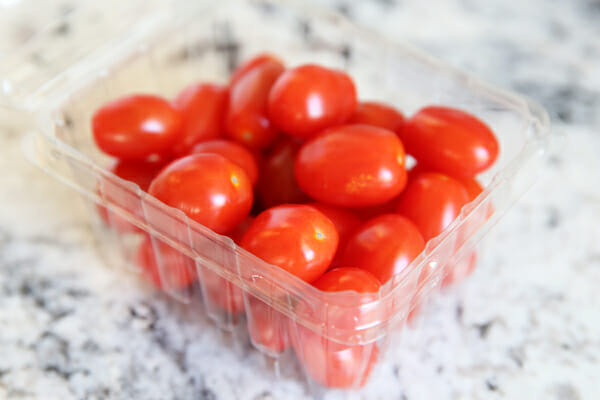 Heat a small sauté pan to medium heat and once it's hot, add a tiny drizzle of olive oil.  You really need just a teeny tiny bit.  Toss the tomatoes around until they get little blackened spots and they start to wilt.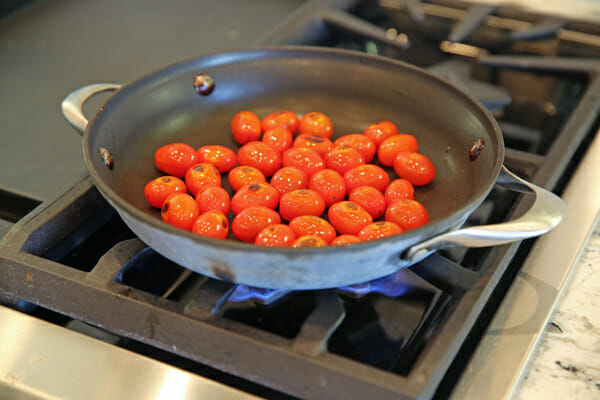 Cook them until they start to burst and then remove the pan from heat.  That usually takes me about 5 minutes or so.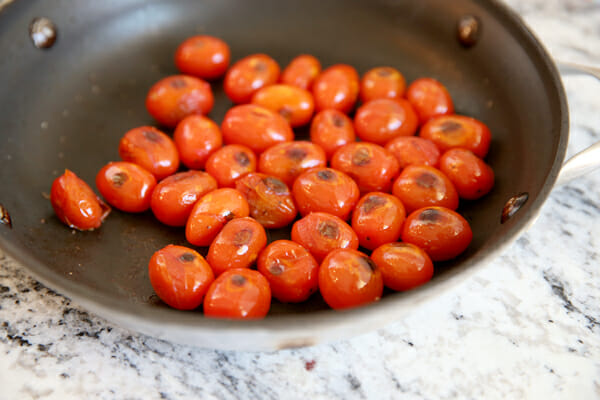 While those are cooking, crack open a little jar of marinated artichoke hearts.  Drain them and give them a rough chop.  You don't want to chop them into little pieces, I cut the chunks into halves or quarters so I still have good sized pieces in there.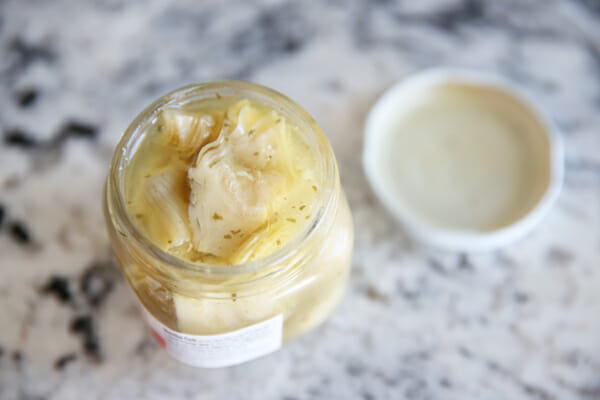 Add those to the hot pan with the tomatoes.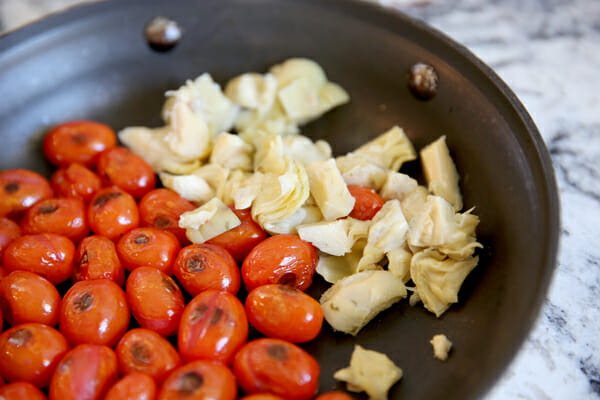 Then add a couple cups of hot rice.  Little secret:  I use these ready-packs all the time.  I know there are people who will say "but Sara!  It's not hard to cook rice!  For that same price you can buy a giant bag of rice and make 10 times that same amount!"  Ya, I know.  Sometimes I'm too lazy to get out yet another pot and wait 20 minutes for rice (or much longer for brown rice).  These packs are super convenient, and the the brown rice especially is perfectly cooked, soft and fluffy, and ready in 90 seconds.  And it's not that fake-y texture of "minute rice," it's like real, freshly cooked yummy rice.  So it might not be an every day thing, but it's super handy to have around for quick meals like this. (If you do cook your own brown rice, we have two awesome methods, here and here.)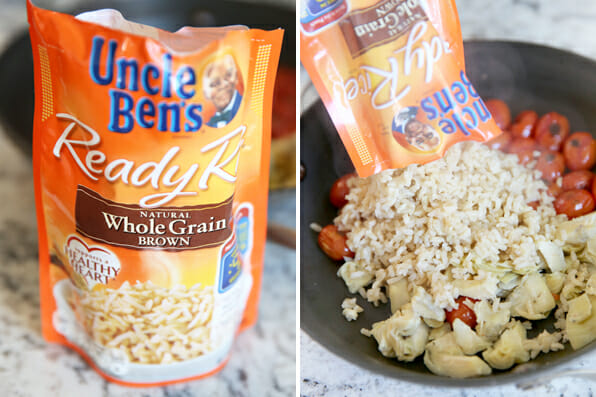 And since we're on this topic, that one on the right (in the photo below) you can buy at Costco and it's one of my favorite kitchen staples.  It's a brown rice/quinoa mix.  It's lightly seasoned and so perfect and easy.  That's a go-to for quick weeknight meals at my house, keep an eye out on your next Costco run.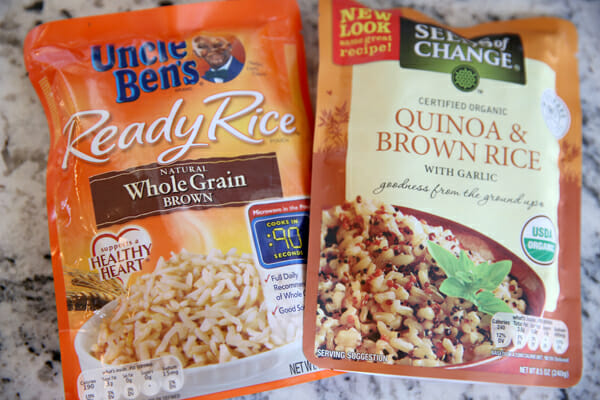 Okay, back to our recipe.  After that hot rice goes in (and by the way, you could use brown rice, white rice, quinoa, or cous cous.  All would be great here.)  Add in a big handful of fresh parsley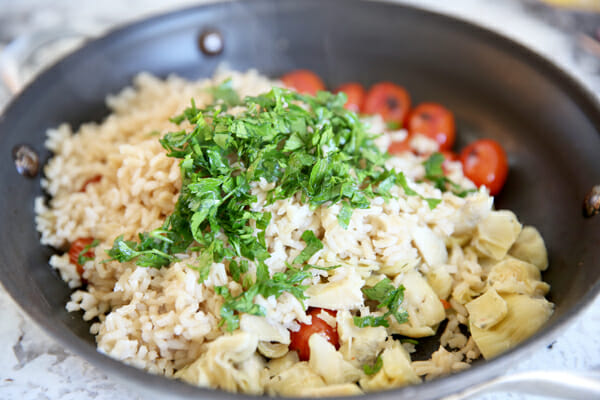 and some feta cheese.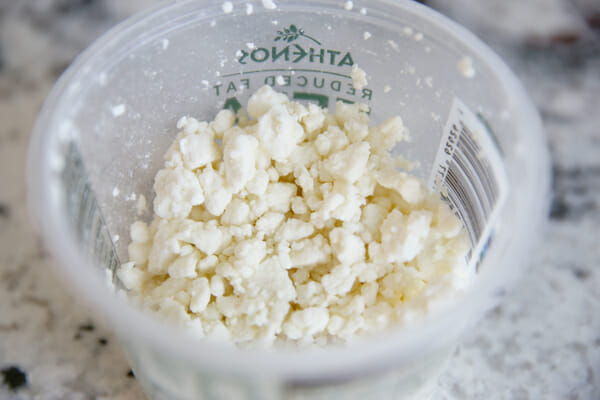 I always buy either reduced fat or fat free feta.  It honestly tastes just the same to me, especially in recipes, and saves quite a few calories.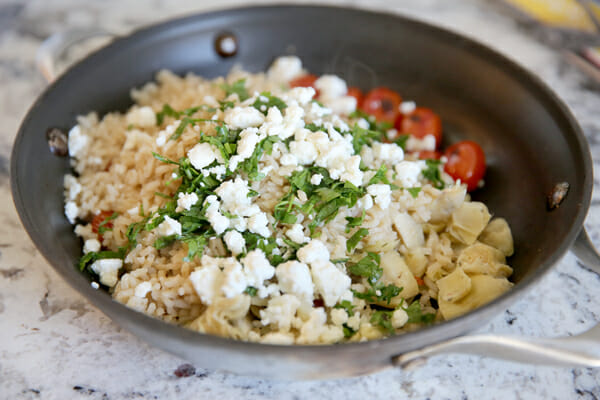 Then you'll season the rice mixture with the little bit of marinade we set aside at the beginning.  I recommend about 2 tablespoons, and then you can drizzle a little more over your steak after you plate it.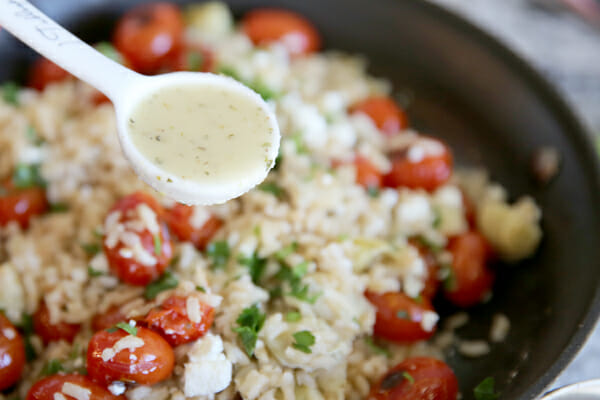 Mix it all up and that rice starts soaking up the bright, fresh flavor of the dressing.  As you can see in this picture, the ratio of rice to other stuff is about even, which I like.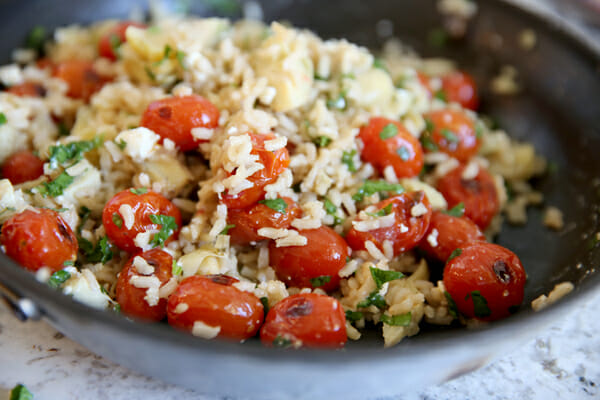 The only thing left to do is slice your steak nice and thin.  Make sure you're slicing across the grain.  If you're not sure what that means, check out this post.  Another thing to take note of is that flank steak turns quite tough when cooked past medium rare, so take it out of the oven when a digital thermometer reads about 135.  You'll want to let it sit for about 5 minutes before slicing into.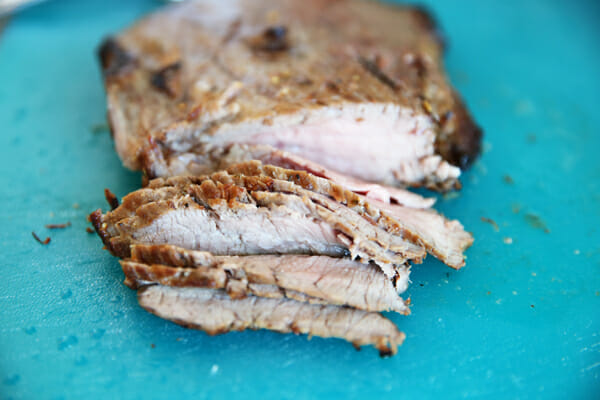 Place steak strips over rice mixture and sprinkle with a little extra feta and a little extra drizzle of dressing if desired.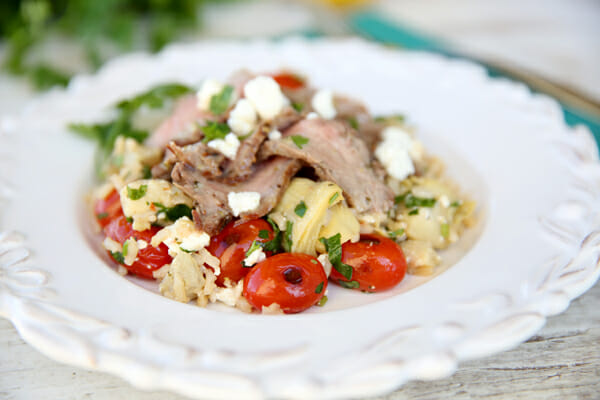 It's so quick and easy, this makes a great weeknight meal when you're short on actual cooking time, and the meal itself is so flavorful- and healthy, too!  The dressing, artichokes, and feta give the best savory tang and the steak brings it all together and makes it hearty and filling.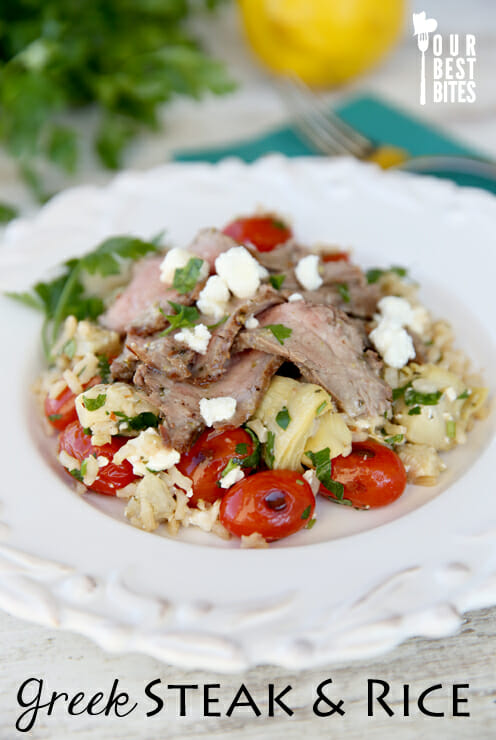 Print
Greek Inspired Steak & Rice
Author:

Our Best Bites

Prep Time:

10 minutes

Marinating time:

6+ hours

Cook Time:

15 minutes

Total Time:

18 minute

Yield:

Serves 4-6
---
Description
Steak and rice are paired with Greek seasonings, bright lemon, and tangy feta in this quick and easy Mediterranean meal.
---
MARINADE & DRESSING
zest from 1 lemon
1/4 cup fresh lemon juice
1/4 cup white vinegar
4 cloves garlic, roughly chopped
1  1/2 teaspoon sugar
1 teaspoon seasoning salt
1/4 teaspoon pepper
1/4 teaspoon red pepper
1 teaspoon Italian seasoning
1/4 teaspoon oregano
1/2 cup olive oil (OBB Garlic, lemon, basil, or extra virgin)
STEAK & RICE
1  1/2 – 2 pound flank steak
non-stick spray or drizzle of olive oil
10–12 ounce pack grape tomatoes
6 ounce jar marinated artichoke hearts, drained and roughly chopped
2 cups cooked  brown rice (or quinoa, cous cous, or white rice)
1/4 cup chopped fresh parsley
1/4 cup reduced fat or fat free feta cheese
---
Instructions
Rinse steak in cool water and pat dry with paper towels.  With a sharp knife, very lightly score the top in a diamond pattern (details here).  Place steak in a zip-lock bag or a shallow pan.
Place all marinade ingredients, except oil, in a blender.  Blend for a few seconds and then with the blender on low, slowly drizzle in olive oil.  Set aside 1/4 cup of marinade and store in fridge.  Place remaining marinade in bag with steak and marinate, refrigerated, for at least 6 hours (longer is fine).  Rotate bag occasionally to evenly distribute marinade.
When ready to cook, remove steak and sprinkle with kosher salt and fresh cracked black pepper.  You may cook steak in one of 3 ways:
1.  Broil:  Preheat broiler and place steak on a broiler pan.  Cook for about 5-8 minutes on each side, or until top is slightly browned and internal temperature reaches about 135 degrees.
2.  Outdoor grill:  Heat grill to high heat.  Lightly oil grill grates and place steak on grill.  Decrease heat to medium-high.  Sear 5-8 minutes per side or until internal temp reaches 135 degrees.
3.  Indoor grill pan:  Heat indoor grill pan to medium high heat.  Once pan is hot (water droplets should sizzle when dropped on pan) brush pan with canola/vegetable oil.  Place steak on pan and cook for 5-8 minutes.  Flip steak and cook until internal temp reaches about 135 degrees.
When steak is done cooking, place on cutting board and tent with foil.  Let rest for 5 minutes before slicing.
While steak is cooking, heat a small sauté pan to medium heat.  When hot, add a small drizzle of olive oil and add tomatoes.  Stir/toss often, cooking for 4-5 minutes or so, until skins are slightly blackened in spots and tomatoes start to burst.  Remove from heat and add rice, artichokes, parsley, and feta.  Add 2 tablespoons reserved marinade/dressing and toss to combine.  Slice steak thinly across the grain and serve over rice mixture.
---
Keywords: Flank steak, Greek, Mediterranean, rice, feta