An entire head of garlic goes into the marinade for these Grilled Garlic Sirloin Skewers. After grilling to tender perfection, they get brushed with warm garlic butter before serving, creating the steak of every garlic-lover's dreams!  Sirloin makes a top choice for this recipe, but if budget allows they're fantastic with filet or ribeye as well.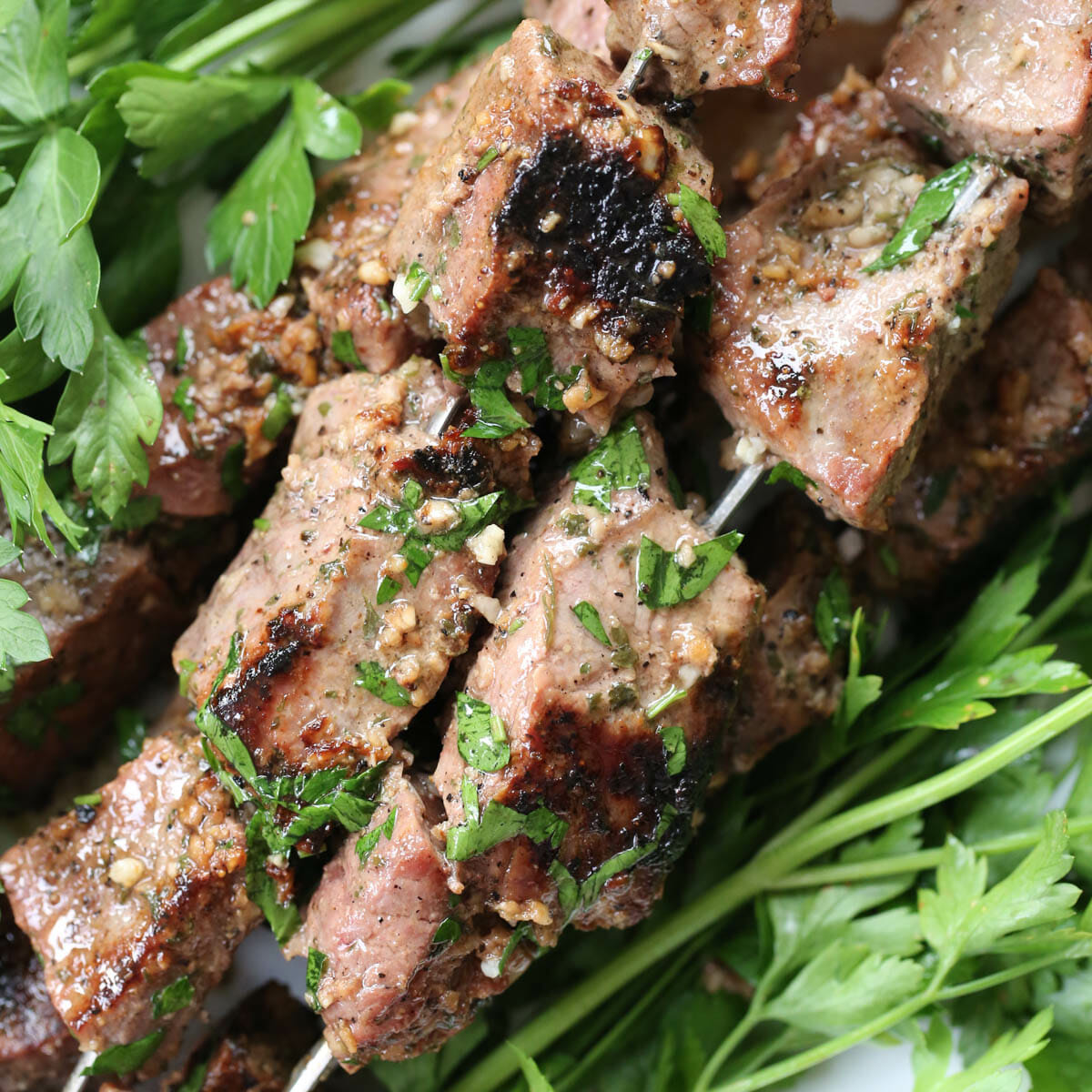 Use Fresh Garlic
You'll need an entire (large) head of garlic for this recipe.  If you have one of the large containers of peeled garlic cloves, that works great here, but avoid using pre-chopped garlic in a jar, frozen garlic, or dried garlic in this recipe. When garlic is such a huge main component, you'll want to use real, fresh garlic.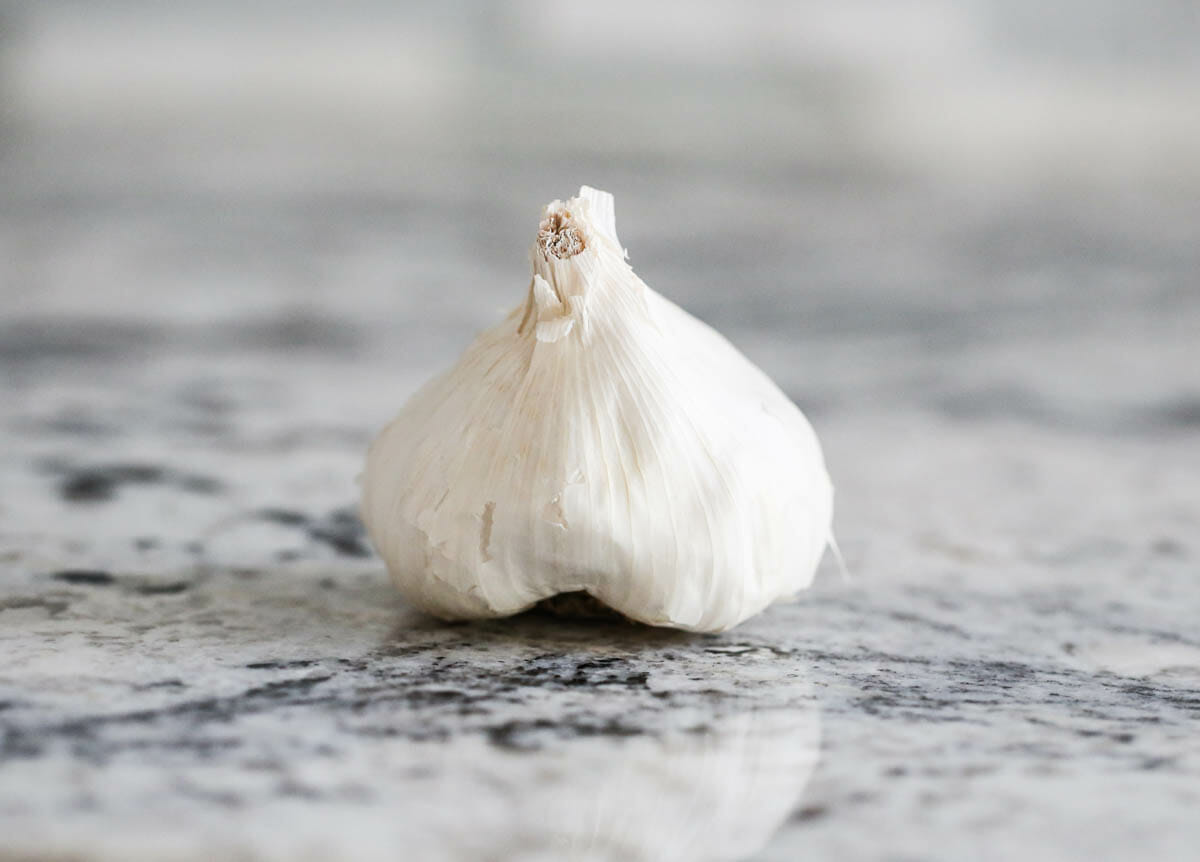 How to Peel Lots of Garlic, Fast
The most laborious part of this fairly easy recipe is peeling so much garlic!  I've found the easiest method is to break apart your head of garlic and pull off as much of the excess paper as you can.  Place the individual cloves in a small plastic container with a lid (or a mason jar would probably work) and shake vigorously.  It takes quite a bit of shaking, but after a minute or so you can check and see that the garlic cloves have mostly peeled themselves.  It saves a lot of time!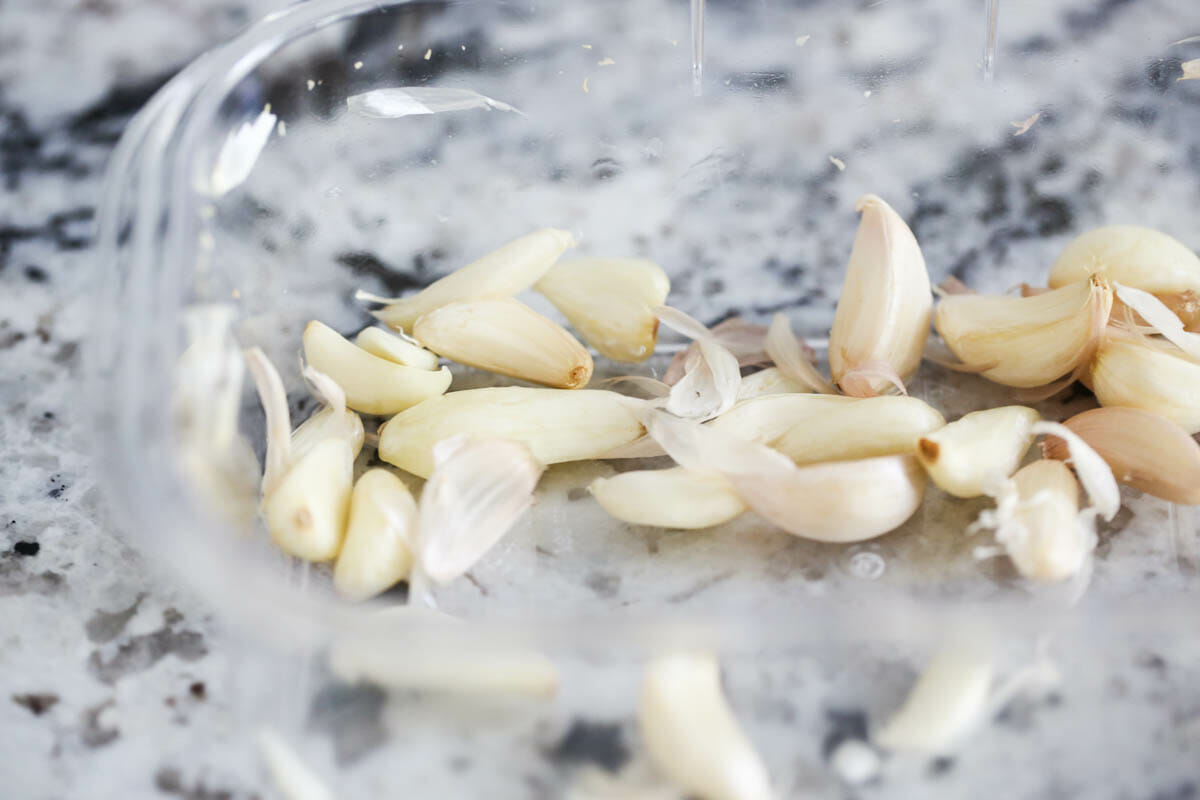 Garlic-Packed Marinade
The marinade for our Grilled Garlic Sirloin Skewers is incredibly simple.  Tons of fresh minced garlic, oil, a touch of brown sugar (helps to caramelize) and a splash of Worcestershire for a little acidity and a little dried parsley. You'll coat your beef in this mixture and let it sit for 6-8 hours or overnight.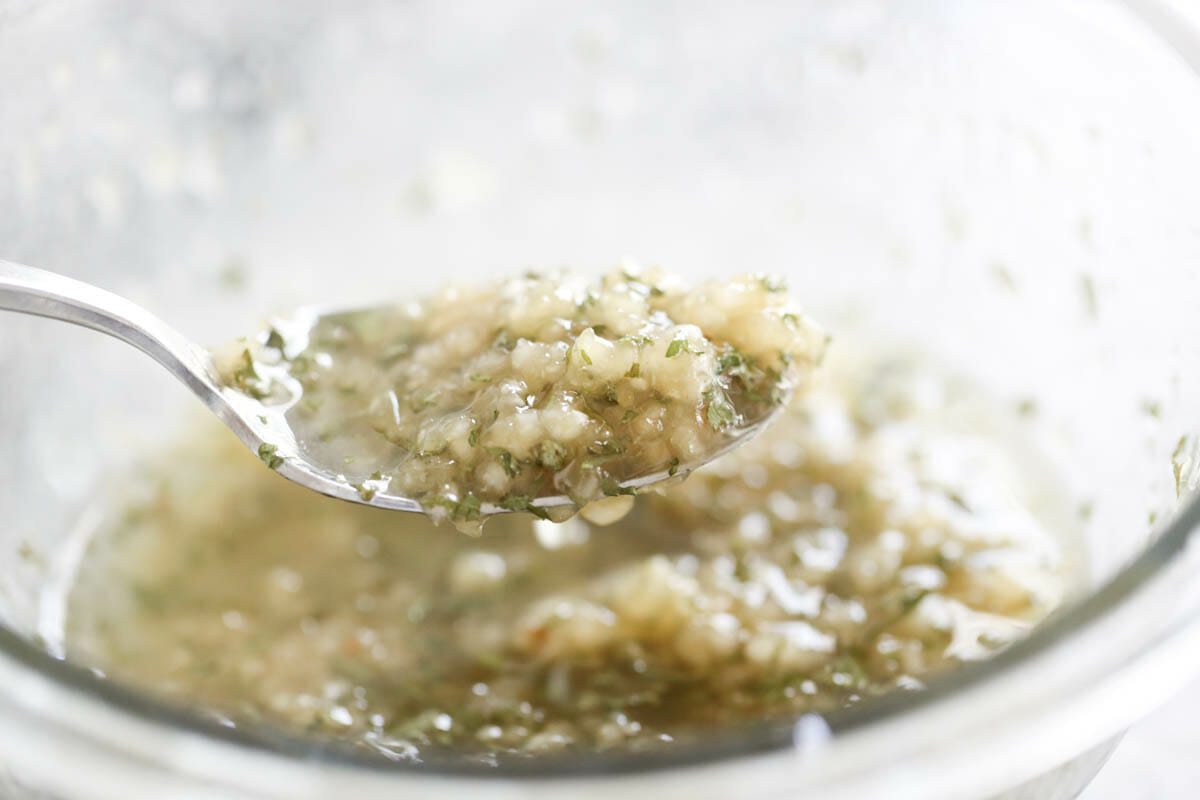 Best Cuts of Beef for Garlic Sirloin Skewers
As the recipe name implies, sirloin is a great cut of beef for skewers.  You can experiment with other cuts. I've made these with tri-tip steaks and they were pretty good, but definitely not as tender as the sirloin.  If budget allows you could also use a pricier cut of beef like filet or ribeye.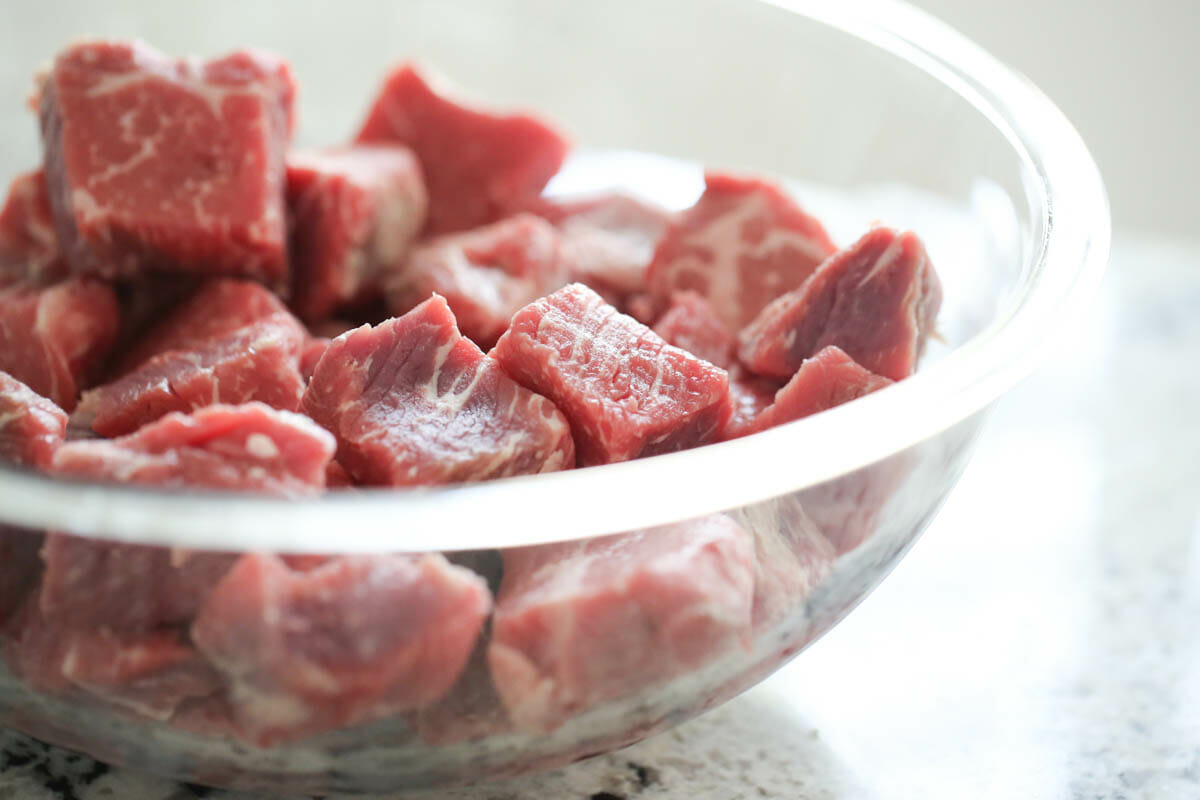 Skewer and Grill
TIP: for the best steak skewers, here are my top tips:
Do not cut your steak into tiny bite-size pieces.  They will cook much too fast and dry out resulting in chewy skewers.  Think of your pieces not of one-bite chunks, but rather mini steaks on skewers.  Once they come off, they are meant to be eaten with a knife and fork in a few bites.
Cut your steak into evenly sized pieces.  If you have some tiny thin pieces and other big fat pieces, some will be overcooked while others are undercooked.
Don't overcook. Use an instant read digital thermometer and take your skewers off the grill when the centers are about 135-140 degrees and immediately tent in foil.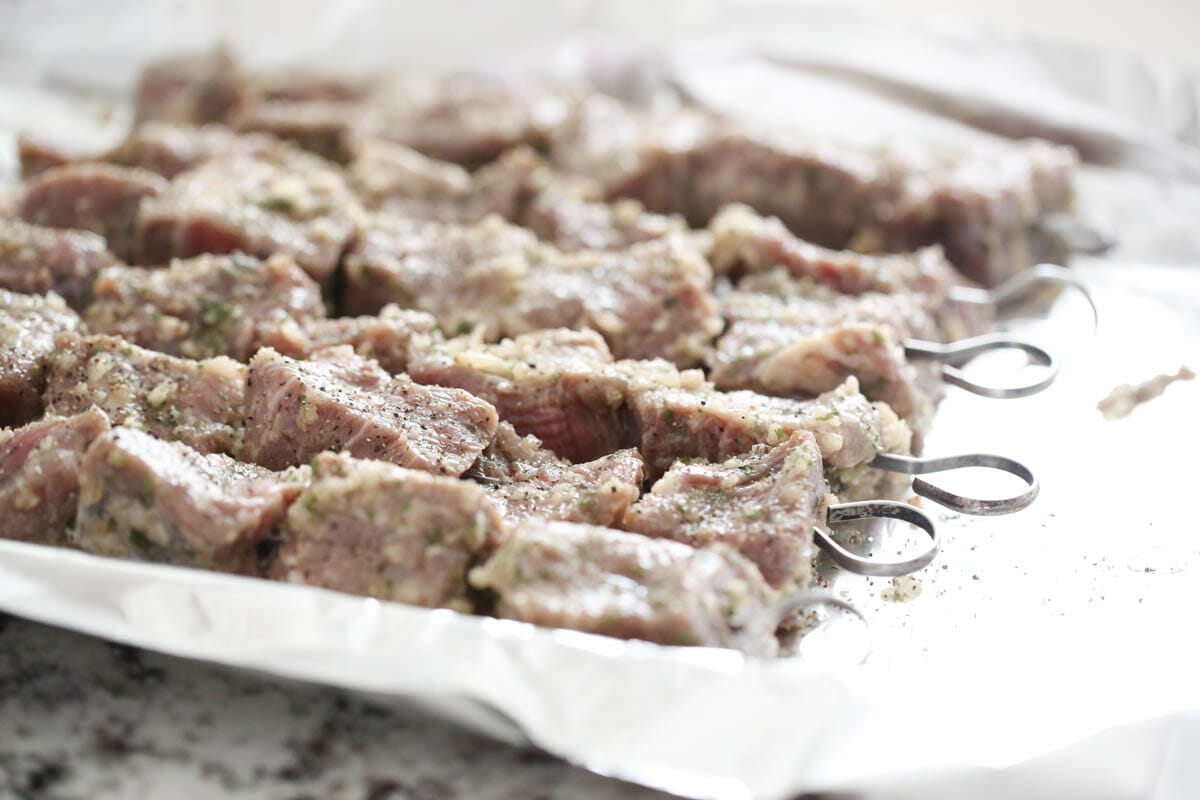 Finish with Garlic Butter
Steak and butter is a natural combination and these skewers get one last punch of garlic flavor by a little drizzle of garlic butter before serving.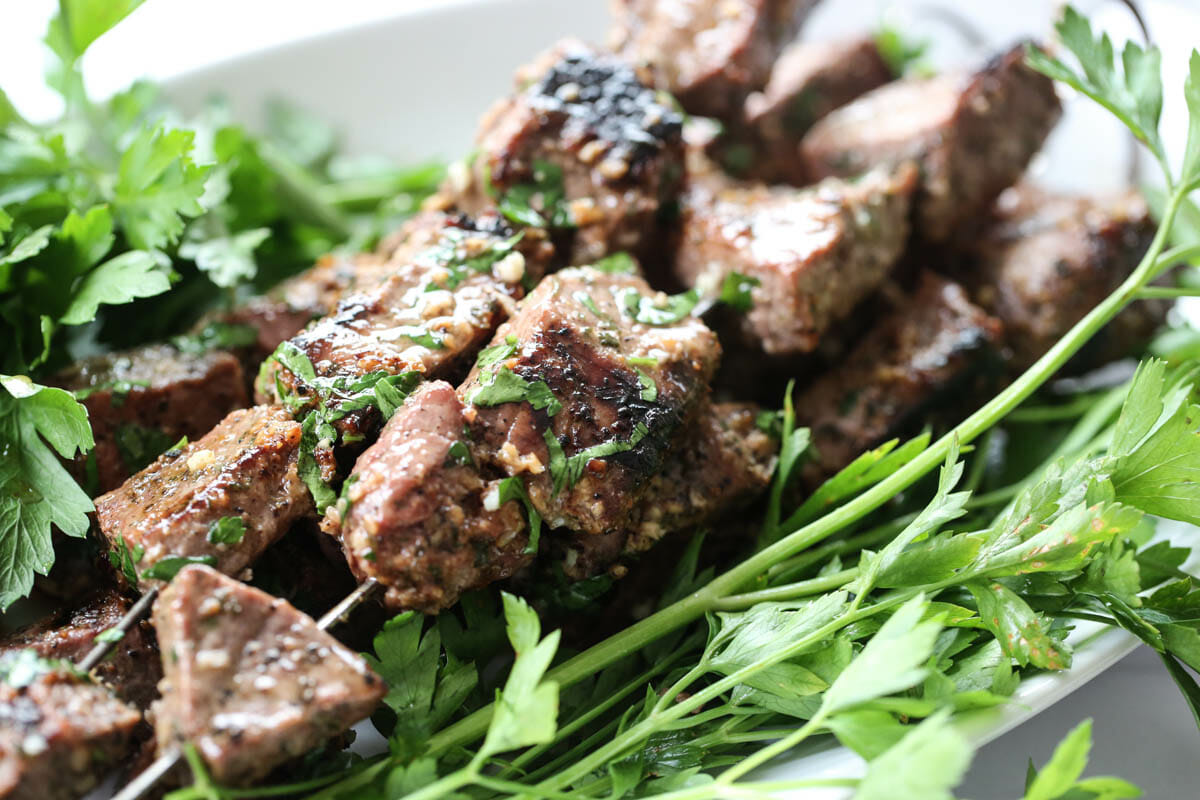 Make it a meal:
We like serving this with white rice and a simple grilled vegetable.  Try it with Asparagus, which you can pop on the grill instead of the oven, if you prefer.
In the mood for Beef?  Here's another recipe you might enjoy!
Orange Thai Beef Skewers
Print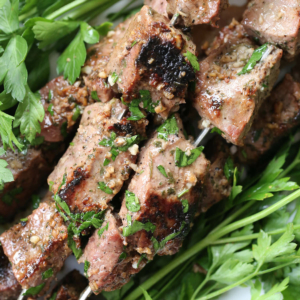 ---
Description
A garlic-lovers dream, these tender steak skewers are packed with garlic flavor.  We suggest sirloin, but these can be made with a more expensive cut of beef, like filet or ribeye if you prefer.  Use fresh garlic, and avoid pre-minced garlic in a jar.
---
2–3 lbs sirloin, cut into 1 1/2 – 2″ chunks
1 head garlic (should end up with about 4–6 tablespoons finely minced/pressed)
1/2 cup vegetable oil
1 tablespoon brown sugar
1 tablespoon dry parsley
1 tablespoon Worcestershire sauce
kosher salt
black pepper
Garlic Butter
1/2 teaspoon minced garlic (reserve a clove before you put it all in your marinade.)
6 tablespoons unsalted butter
2–3 tablespoons freshly minced parsley
---
Instructions
Place your cubed steak in a large bowl or zip top bag.
Peel Garlic: Break up your head of garlic and discard as much of the papery skin as you can easily with your hands.  Place the cloves in a small-medium plastic container with a lid, or a mason jar and shake vigorously until most of the skins have come off by themselves.  Peel remaining garlic and then finely mince with a knife or use a garlic press (I prefer a press!).  Reserve 1 small clove for your garlic butter, later.
Mix Marinade: Place the rest of the minced garlic in a small bowl and combine with oil, brown sugar, Worcestershire and dry parsley.  Pour over steak and massage in to coat all of the pieces well. Place steak in refrigerator and let sit for at least 6-8 hours or up to overnight.
Grill Steak: Preheat grill to medium-high heat.  Skewer steak onto strong metal skewers.  Use an instant-read digital thermometer and cook skewers (turning occasionally) until internal temperature reaches about 135-140.  This is for medium-rare, which is ideal for steak on the grill.  You can cook them longer than that but be aware the steak will lose tenderness the longer you cook.
Immediately tent with foil.
Finish with Garlic Butter: While skewers are cooking, prepare garlic butter.  Either on stovetop or in microwave, heat butter and garlic together until butter is melted.  On the stove-top leave it on low heat for a few minutes to really release lots of garlic flavor.  Remove from heat and add fresh parsley.  Use a silicone brush to brush over skewers on serving platter.
---