I love celebrations of patriotism in the United States. May through July 4th is generally a time when we see American flags proudly flying extra strong and it's one of my favorite times of the year. It's marked by parties and bbq's and swimming pools as signs of the all-American summer. Memorial Day tends to be all of that, as we're breaking from school and work and often welcoming in the warm summer weather. I hope we can all make an effort in our celebrations, to also remember the reason for this commemorative holiday. If you have an opportunity to participate in something in your community that honors fallen servicemen and women, I encourage you to take it! I shared one of my family's favorite traditions in yesterday's newsletter, so if that's sitting in your inbox, go take a look! (What?? You don't get our newsletter?? Sign up here! You get freebies!)
Now, if you need something quick and easy to take to a gathering today, this is it! Just as addictive as traditional Pico de Gallo, but with a twist of Greek flavors that will have everyone hovering over the bowl.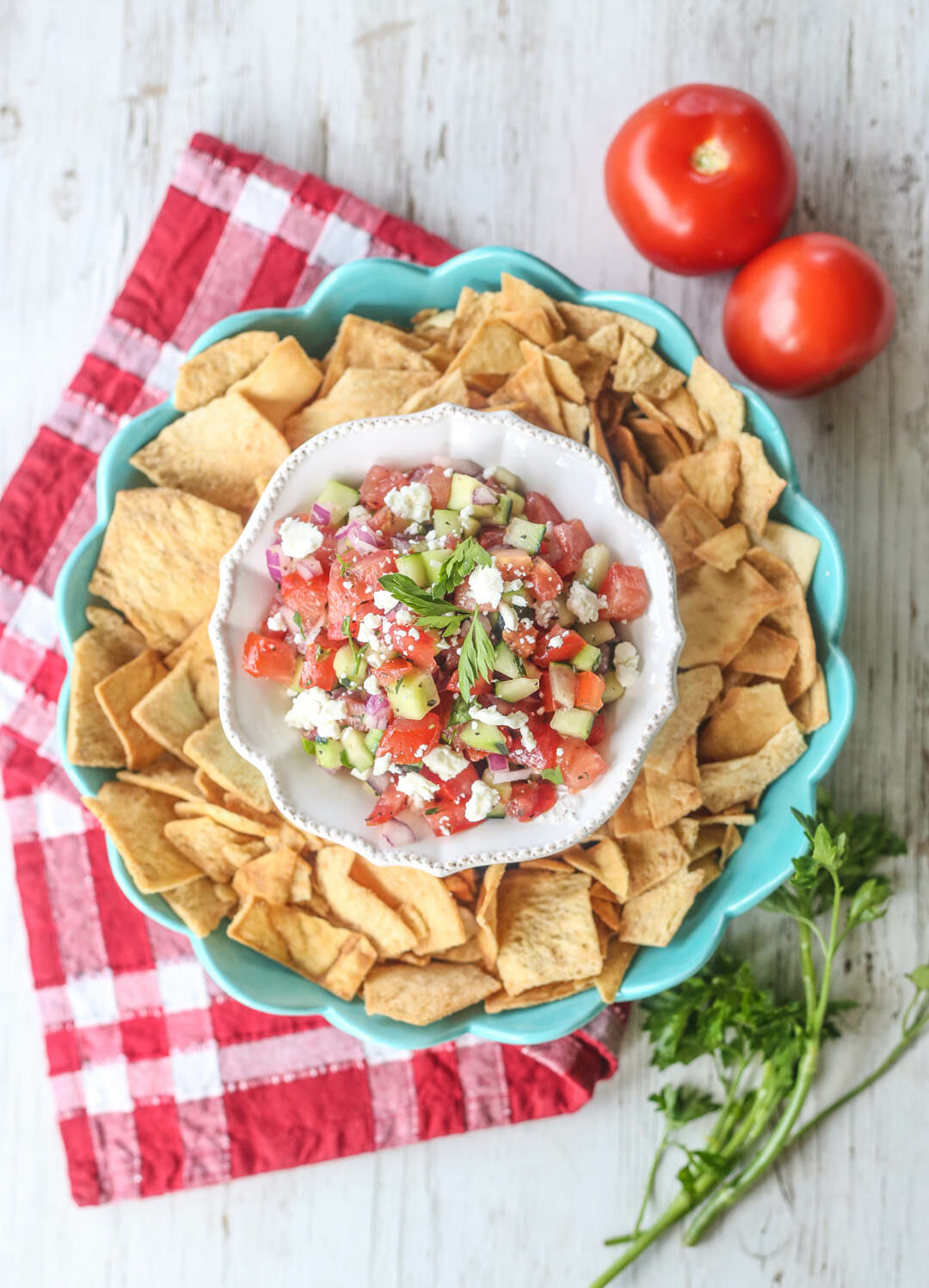 I made something similar when I created my Greek Nacho recipe, and ever since then I've wanted to have it as a stand-alone recipe because it was SO good!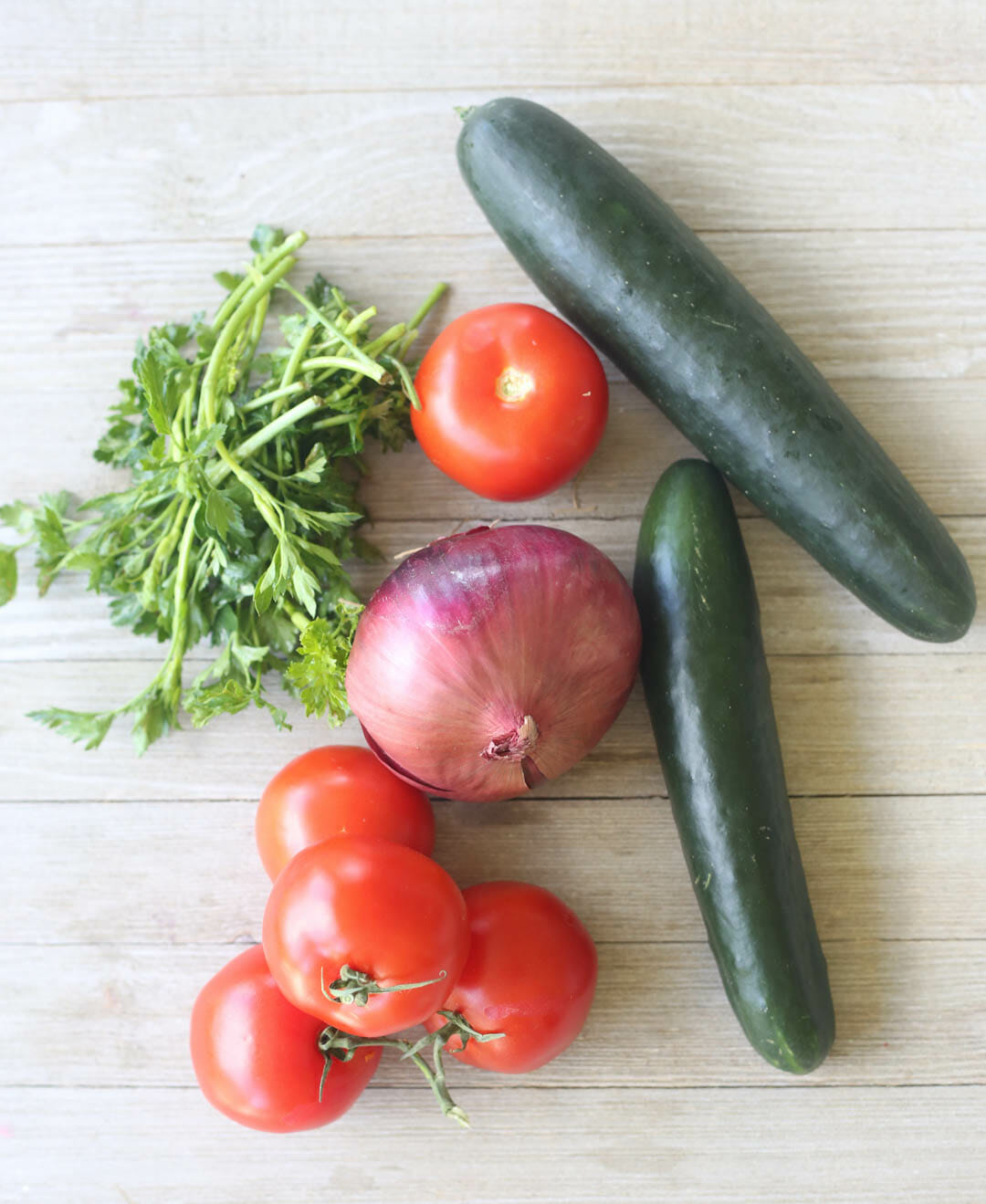 You can peel or not peel your cucumber. I feel like not-peeled makes it a little too crunchy, but I love the dark green color in there, so I found for me- having it peeled half way like this worked perfectly so you get a little of both.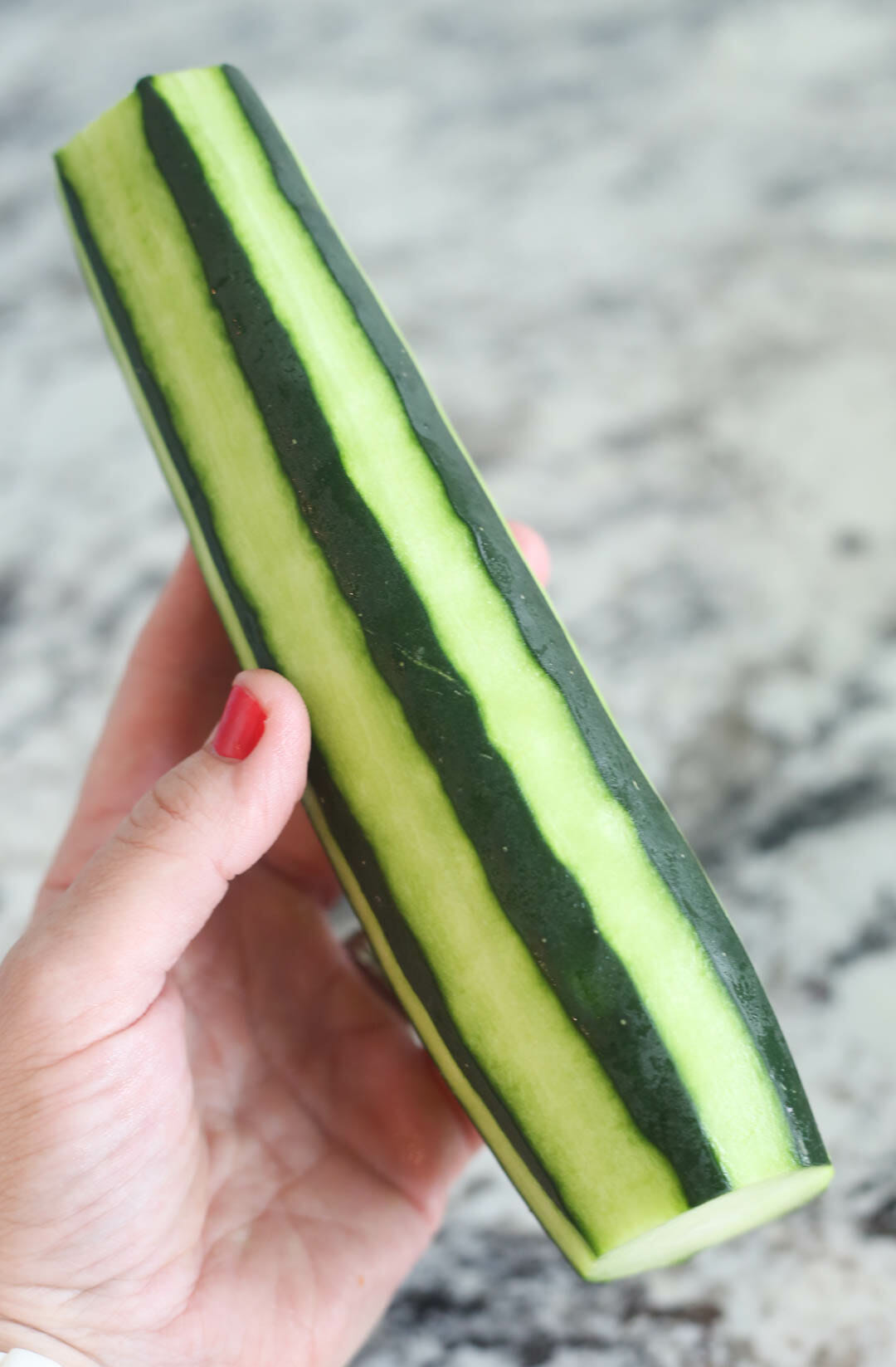 To de-seed a cucumber, simply cut it in half and run a spoon down the center of it, scraping out the seeds.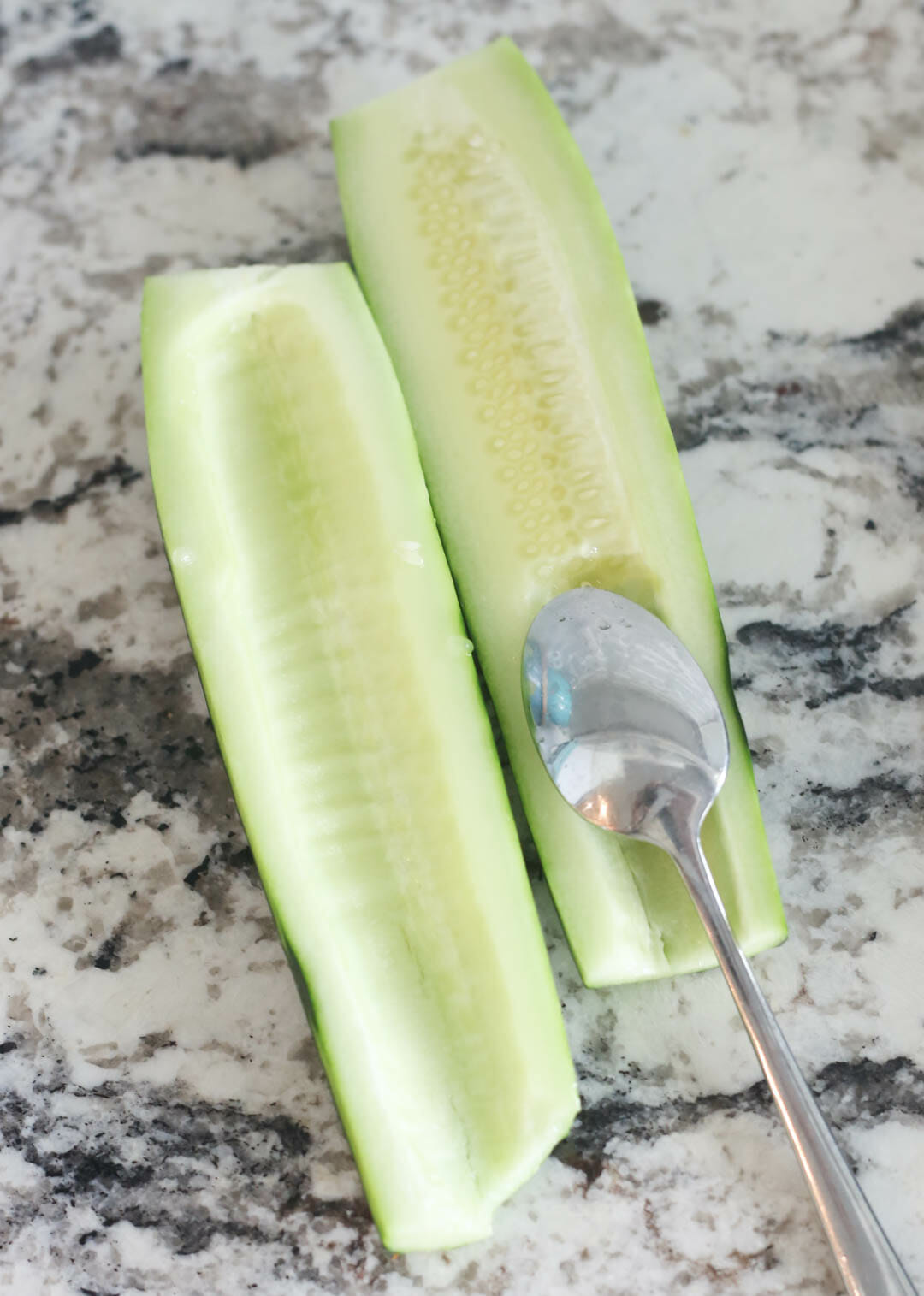 Chop everything and add it to the bowl.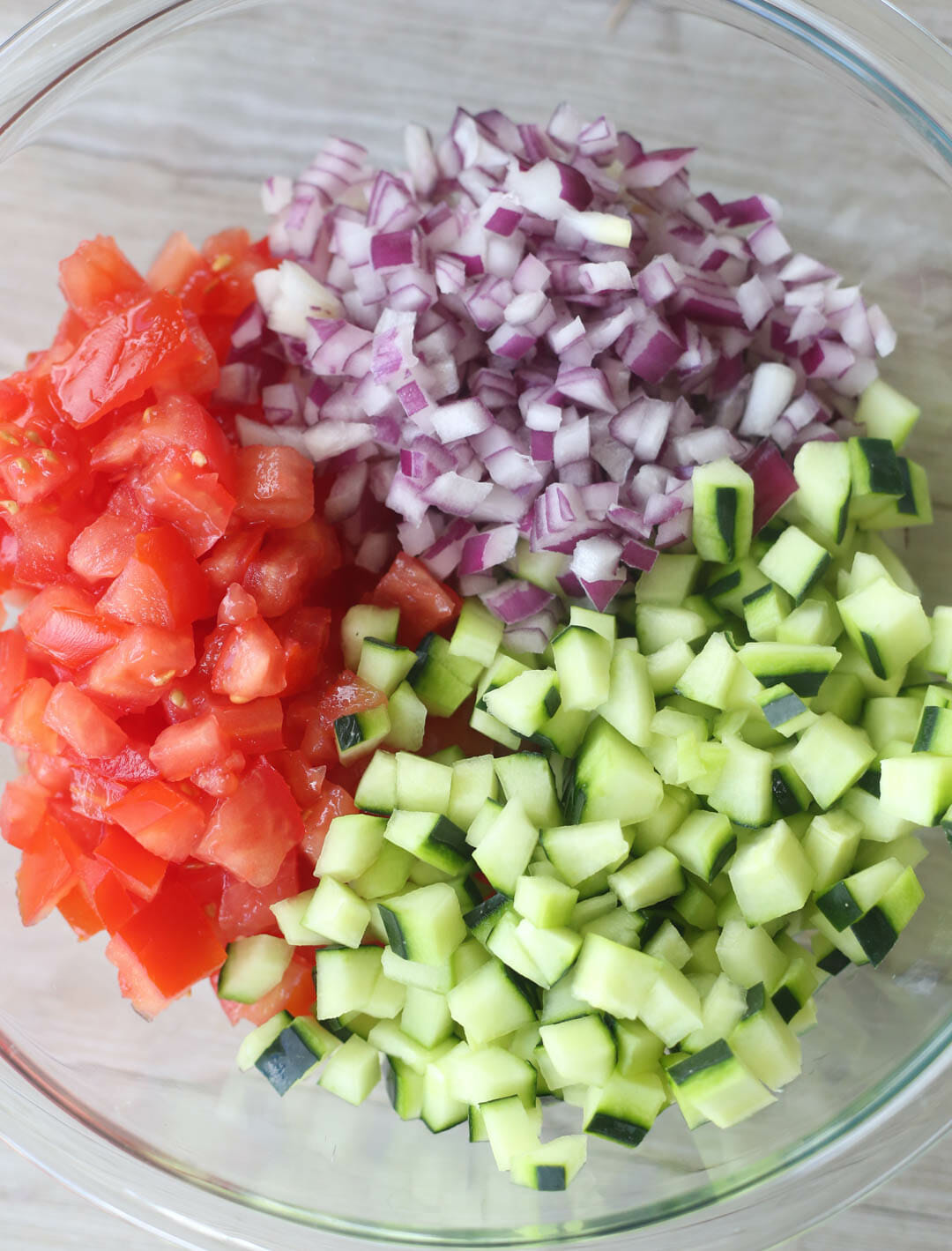 Then you'll make a quick dressing to flavor everything. Our flavored oils are perfect in recipes like this. Garlic, Rosemary, Lemon, or Basil work awesome, here.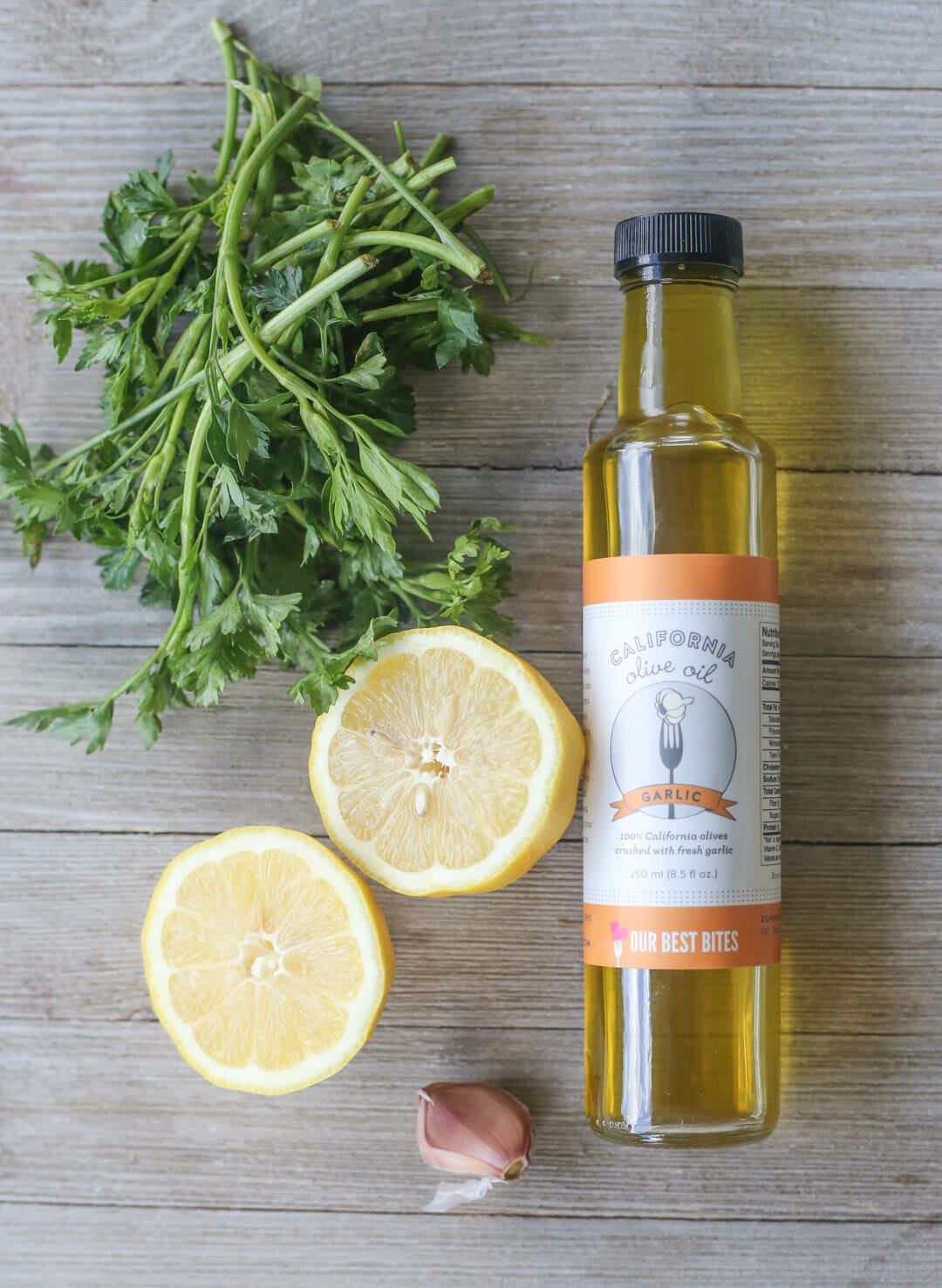 Toss the chopped vegetable mixture with the dressing and stir it all up. This can be eaten right away, but I think it's best when it can sit and hang out in the fridge for at least 30 minutes (and up to several hours) before you eat it.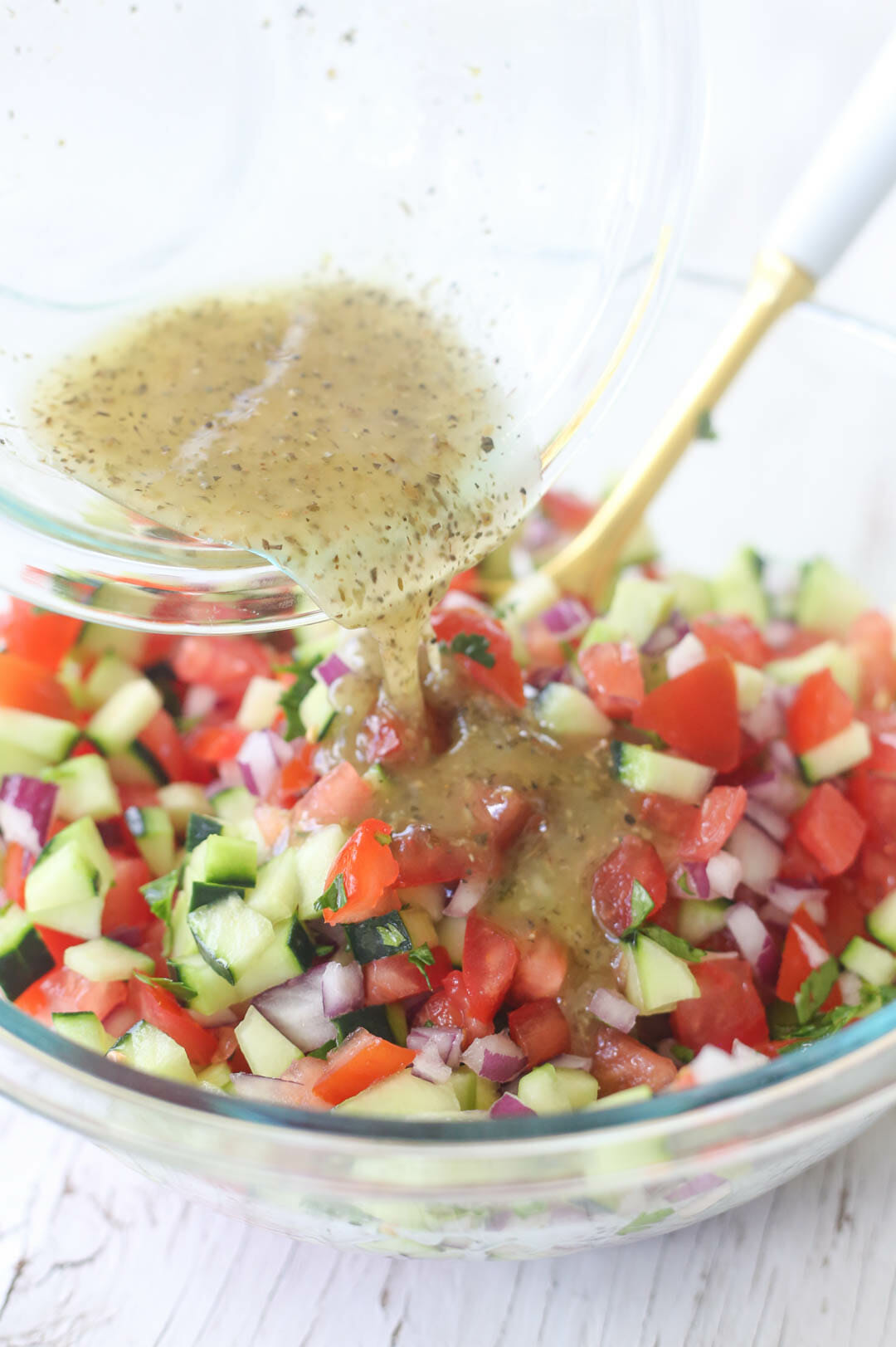 You'll add some tangy, crumbly feta- but wait until just before you serve it. Otherwise it starts turning the liquid kind of milky and looks weird. You can stir it in gently, or simply sprinkle on top, but either way it adds the best tangy, salty kick.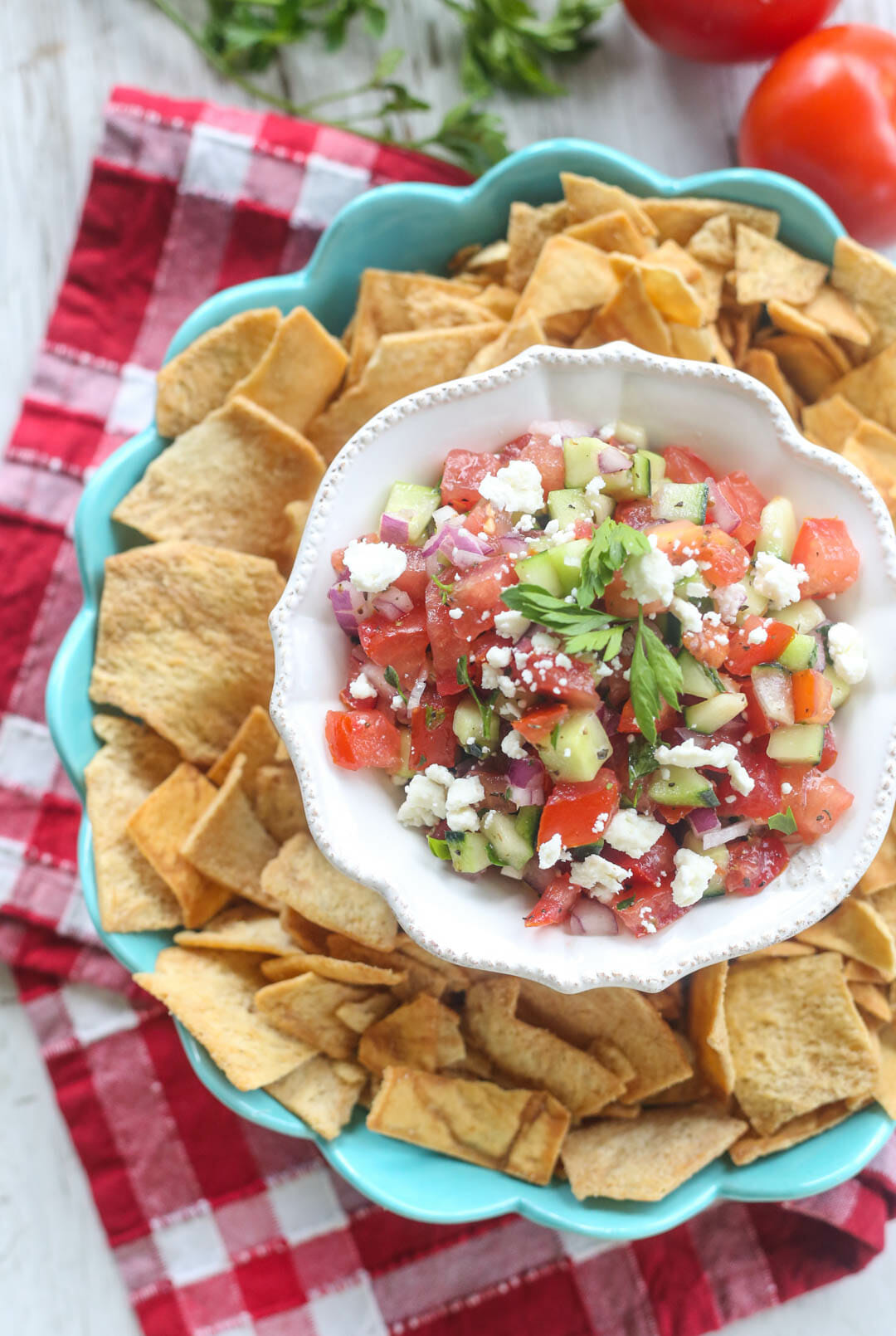 Serve it along side a big bag of pita chips and dip, dip, dip.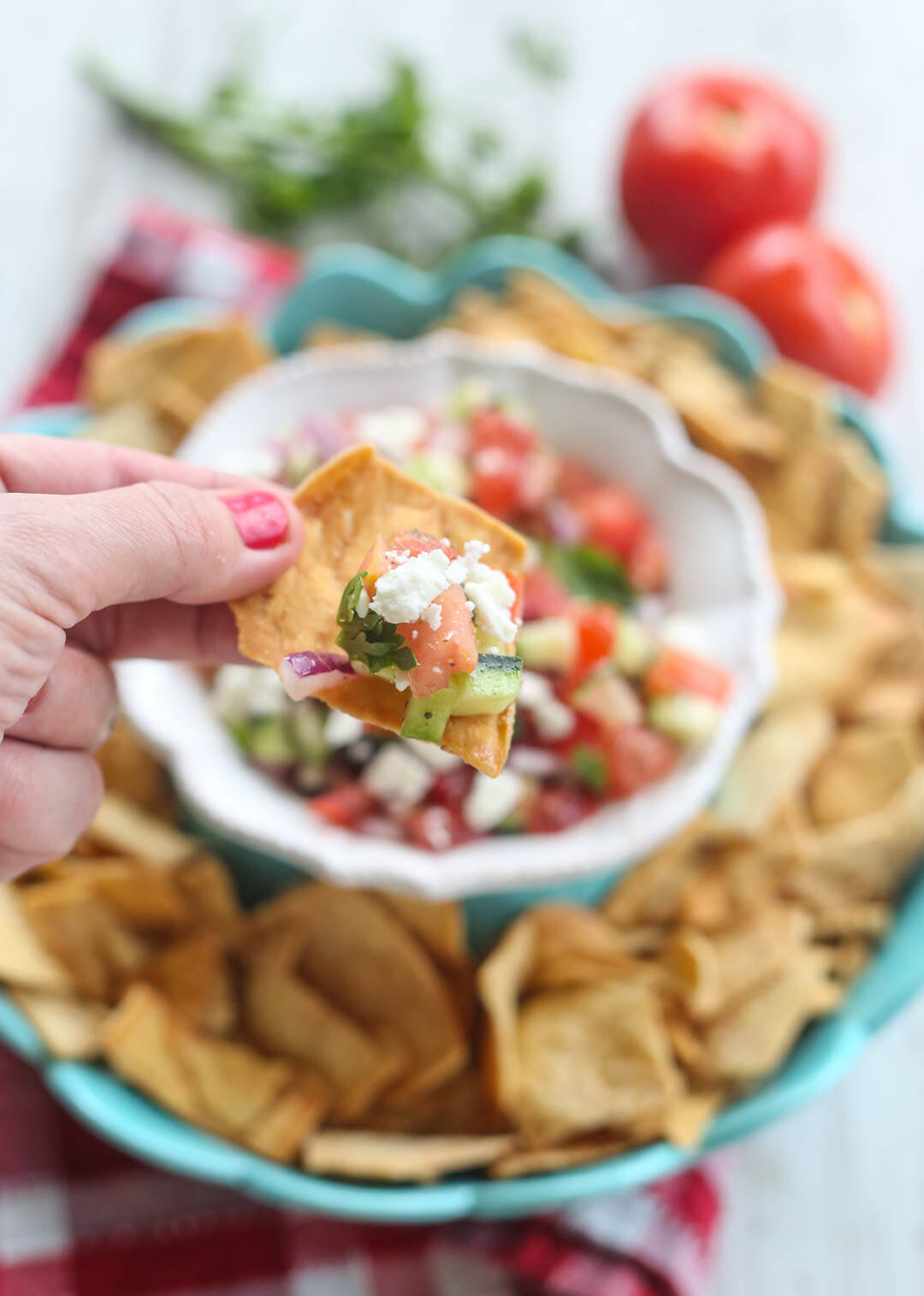 Print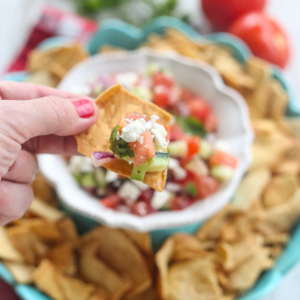 Greek Salsa with Pita Chips
---
Description
A fresh take on traditional salsa- different flavors, but just as fresh and flavorful! Perfect for dipping pita chips, or spooning over chicken, beef, or fish.
---
4

–

5

medium tomatoes

1

medium cucumber

1

small, or 1/2 large red onion, chopped (about a cup)
optional: handful chopped olives
Dressing
3 tablespoons

olive oil

2 tablespoons

fresh lemon juice

1 teaspoon

white wine vinegar

1/2 teaspoon

kosher salt

1/4 teaspoon

black pepper

1/4 teaspoon

minced fresh garlic

1/2 teaspoon

dry oregano

1/2 teaspoon

Italian seasoning
optional: red pepper flakes, to taste

2

–

3

tablespoons fresh flat-leaf (or "Italian" parsley)

1/4 cup

crumbled feta cheese.
Pita chips, for serving
---
Instructions
Chop tomatoes, gently discarding some of the inner pulp. Your cucumber can be peeled or unpeeled- cut in half length-wise and use a spoon to scrape out seeds. Chop into bite-sized pieces.
Combine chopped tomato, cucumber, and onion in a bowl.
In a separate bowl, whisk together all dressing ingredients (or really, just add them directly to the salsa- why dirty another dish!). Toss everything together and add in parsley. Mix and then taste, and add additional kosher salt to taste. For best flavor, let sit in the fridge for 30-60 minutes before serving.
Add feta right before serving (or you can simply sprinkle on the top) and serve with pita chips.
---
Kids out for summer?? Get dinner time under control to help with the chaos! Better yet, involve those kiddos in the planning and prepping and have some fun in the kitchen. Get all the info on our meal plans, below!