Do any of you remember in one of the Ramona Quimby books when her mother made beef tongue and Ramona was a brat about it, so her mom made Ramona and Beezus make dinner? And they ended up making chicken with some kind of yogurt sauce? That has a permanent place in the back of my brain. So when in this season of Food Network Star, Michelle started marinating chicken in Greek yogurt, this particular memory was resurrected from the recesses of my brain and I couldn't stop thinking about it. I started tinkering around with yogurt and chicken and spices and garlic and this has quickly become one of our family's favorites. Seriously. We've had it about 4 times in the last 6 weeks. Every time I make it, one of my children declares it delicious and that I am a culinary genius (but never the same child, which makes me think they're either conspiring or they haven't been paying attention to what we've been eating.)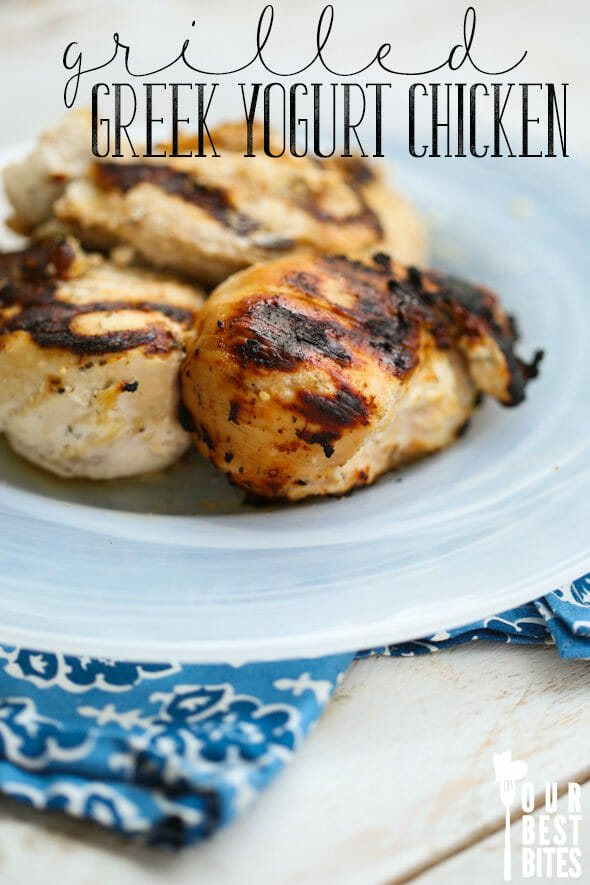 You're going to need about 10-12 ounces of plain Greek yogurt–2 5.3-ounce containers will do the job, but if you're trying to use up that 32-ouncer you bought on sale, you can do 12 and it will be good either way. I've also used half plain Greek and half regular and it was delicious. It's hard to go wrong here.
You can use either chicken breasts or thighs. Thighs are moist and flavorful and one of my favorite meats to grill, but breasts are also fantastic; I've done it both ways and highly recommend either one. Or both. You could be that person (I'm actually not exactly sure what "that person" would be, just the kind of person who would serve both chicken breasts and thighs. Is that a thing? It is now.) Trim your boneless skinless chicken meat of choice of excess fat and place it in a Ziploc bag.
For the marinade, you'll need kosher salt, black pepper, red wine vinegar, lots of minced garlic, chopped green onions, and Greek seasoning. I have been able to find Greek seasoning with the McCormick spices at my Kroger–not the regular McCormick spices, but kind of the fancy-schmancy spices. But if you can't find it, just mix equal parts dry mint, oregano, and basil. You'll also need the zest of a small lemon. If you're like me and went grocery shopping on a Saturday with three children and were on the verge of harming yourself or others and/or tears by the time you left, and you also happened to leave without lemons, about 1/2 teaspoon of True Lemon will do the trick nicely.
Add the seasonings to the yogurt…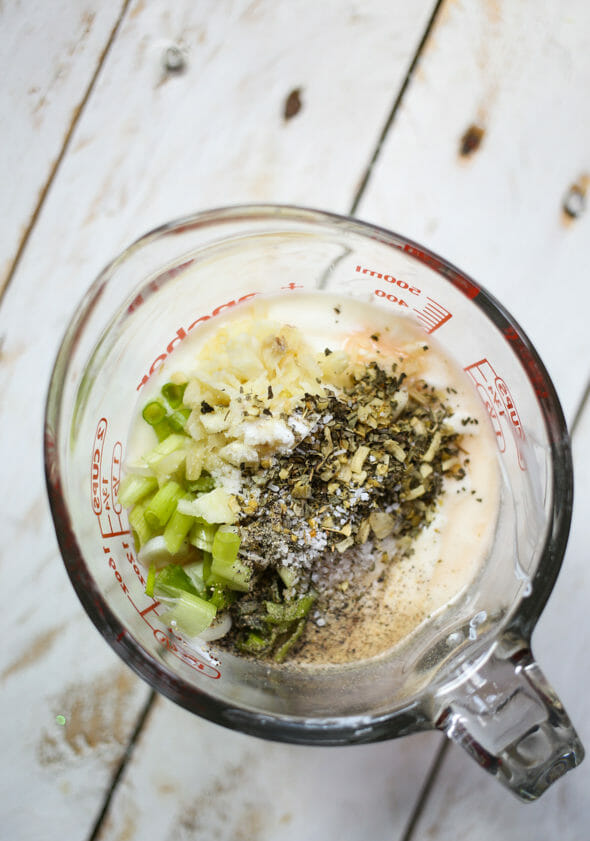 and give it a good whisk. Drizzle the marinade over the chicken and let it chill out for about 6-8 hours (4 will work in a pinch, especially if you're using thighs.)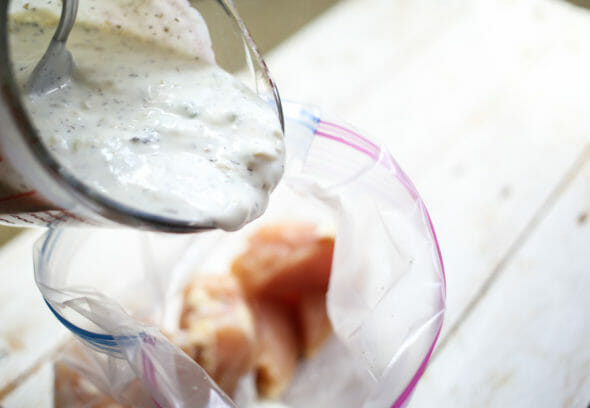 When you're ready to grill, preheat the grill over medium for 10-15 minutes, then grill the chicken breasts for 7 minutes per side or 4-5 for thighs. Remove from heat and allow to stand for about 3-5 minutes. Serve immediately. I just served this with dipping veggies on the side (like cherry tomatoes, sliced cucumbers, etc.) and Greek-ish garlic bread (very much like this recipe.)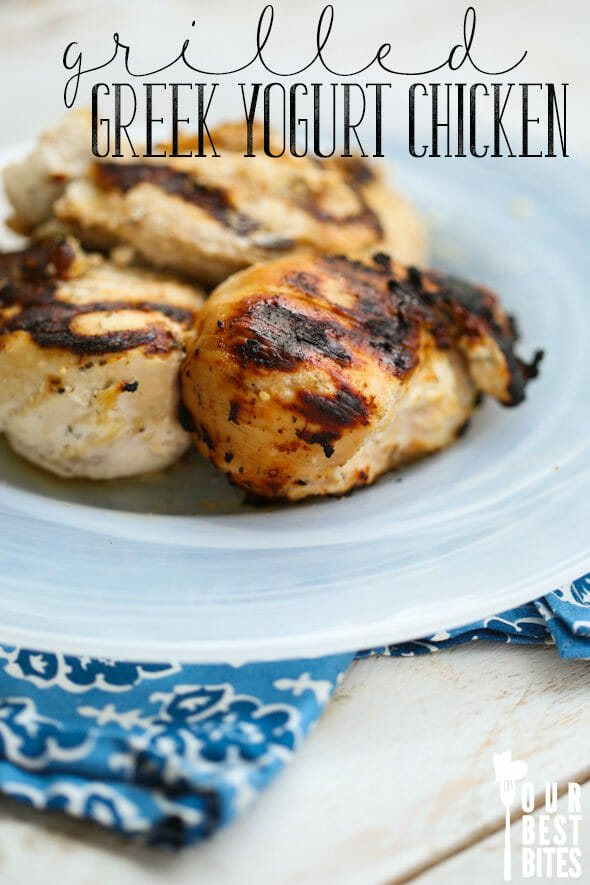 Print
Grilled Greek Yogurt Chicken
---
10

–

12

ounces plain Greek yogurt
zest of

1

small lemon or

1/2 teaspoon

TruLemon

1 1/2 teaspoons

Greek seasoning*

1/2 teaspoon

kosher salt

1/4 teaspoon

freshly ground black pepper

1 teaspoon

red wine vinegar

2 tablespoons

green onion

2 tablespoons

minced garlic

1 1/2

–

2

pounds boneless skinless chicken breasts or thighs, trimmed of excess fat
---
Instructions
Whisk together all ingredients except the chicken.
Place the chicken in a large zip-top bag. Pour the yogurt mixture over the chicken and marinate for 6-8 hours.
When ready to cook, preheat grill over medium heat. Add the chicken and cook breasts for 7 minutes per side or thighs about 4 minutes per side. Remove from heat and allow to sit for about 5 minutes before serving.
---
---