Grilling season is upon us and honestly it makes my dinner-life so much easier.  You can toss pretty much anything on the grill and it instantly makes it better, so I usually open the fridge at about 6pm and rummage around for anything I can throw on there and call it dinner.  If you're one of those people that doesn't think "salad" counts as dinner, then you should try a giant salad like this.  It's basically like a chicken dish, a side of carbs, and a day's worth of vegetables all on one plate.  Covered in delicious sauce.  You will be completely stuffed (but not too stuffed for a cookie after, because #dessert)  I promise.
If you think ahead, you could use our popular Taco Chicken, or Slowcooker Taco Chicken, or this Pressure Cooker Chili-Lime Chicken.  All great options.  If I haven't thought enough ahead of time, I just drizzle the chicken with olive oil and sprinkle with salt and pepper, plus some chili powder and cumin.  That's what I've included in the printable recipe, but feel free to use any of these chicken options!
I love just about any vegetable on the grill.  These mini sweet bell peppers are one of my favorites.  You'll find them in a bag near the other bell peppers, or Costco regularly carries them as well.  I don't remove the stems or anything, I just pop them on the grill as-is.  I also like to steam my corn before tossing it on the grill.  It has a tendency to dry out a bit on the grill, so I toss it in my steam oven first (or you could boil it ahead of time) and then put it on the grill just to char it up.
Just toss everything in a little olive oil and sprinkle it with salt and pepper.  I use our Lime Olive Oil, which adds a great flavor to everything.  (We started doing an "item of the week" in the shop and Lime is on sale this week, FYI!)
Pop it all on the grill and while it's cooking, wash a head of romaine (yes, an entire head, I told you these were big salads!) and divide it into bowls or plates.
Take all that good stuff off the grill and you're just about ready to roll.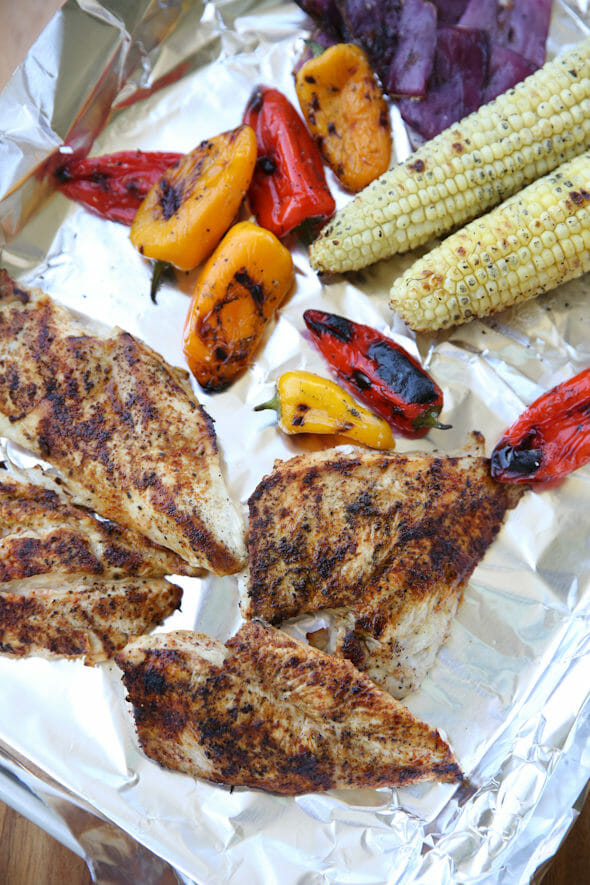 Slice up the chicken, add it along with the grilled veggies, and also some canned black beans and fresh tomato.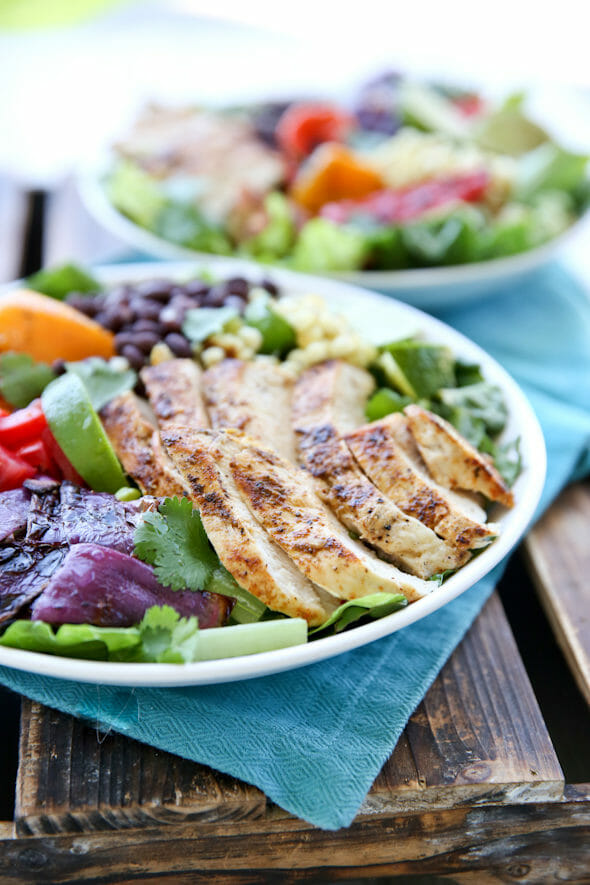 When it comes to dressing, you've got lots of options so I'm not going to tell you which one to use because I'm not bossy like that. The simplest is a good olive oil, plus a splash of fresh lime juice and salt and pepper.
My favorite homemade dressings are our Creamy Cilantro-Lime Ranch and our Cilantro Lime Vinaigrette (think Cafe Rio for both of those).  The Creamy Avocado Dressing I just posted is fantastic here, too.  If you want a good store-bought dressing, I've been loving these Bolthouse Farms Yogurt Dressings, both the Cilantro Avocado and the Chili Verde are really great.  Drizzle it all over and you've got the best combination of flavors and textures.
I love the warm chicken and veggies with the crisp, cold lettuce and tomato, and the beans, chicken, and sheer quantity here will seriously stuff your belly.  It's a great summer dinner!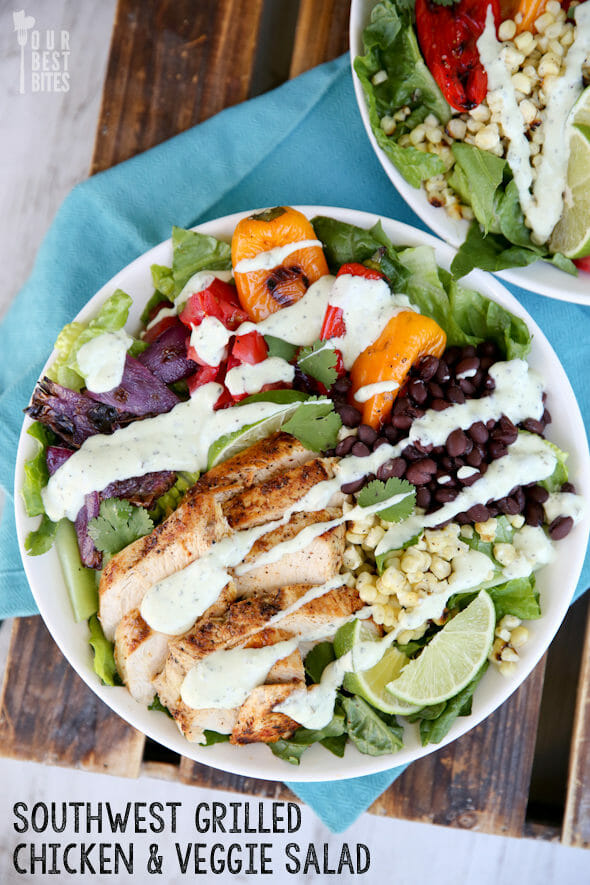 Print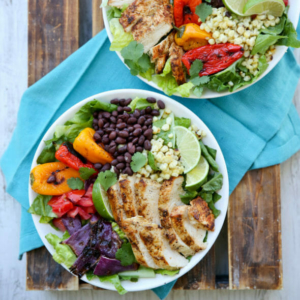 Southwest Grilled Chicken and Vegetable Salad
---
Description
A fresh summer salad full of hearty protein and veggies and tons of flavor!
---
2

chicken breasts
olive oil (preferrably Lime Olive Oil)
kosher salt
black pepper
chili powder
cumin

2

ears corn

8

–

10

mini sweet bell peppers

1

small-medium red onion

1

head romaine lettuce, washed and torn into pieces

2/3 cup

canned black beans, washed and drained

1

tomato, chopped
lime wedges
chopped cilantro
*see notes for dressing options
---
Instructions
Preheat outdoor grill or indoor grill pan. Drizzle chicken with olive oil and sprinkle with salt, pepper, chilli powder, and cumin (eyeball it). Place on grill and cook for about 6 minutes per side, or until internal temperature reaches 165 degrees.
Line a large baking sheet with foil and set corn, bell peppers, and onions on it. Drizzle with olive oil and sprinkle with salt and pepper. Place veggies on grill and turn occasionally until tender.
While everything is cooking fill to large bowls/plates with lettuce. Remove everything from grill and slice chicken. Arrange veggies on top of lettuce with chicken and add black beans and tomato. Serve with desired dressing and garnish with lime wedges and chopped cilantro.
Makes 2 giant salads
---
Notes
Here are some of my favorite dressing options depending on your mood!
(I'm having a glitch with my links here, just refer to the blog post for the links)
Fresh squeezed lime juice + olive oil + salt and pepper
Cilantro-Lime Ranch
Cilantro-Lime Vinaigrette
Fresh Avocado Dressing
Store-bought Bolthouse Farms Cilantro-Avocado or Chili Verde Dressing
---