Several years ago my husband and I ate some of the best Asian food we've ever had at Rickshaw in Sun Valley, Idaho.  One of the dishes that unexpectedly blew me away was a simple side of wok-cooked bok choy.  It was tender yet crisp and bathed in some sort of gingery-sesame mixture.  I loved the crunchy bites eaten at the same time as tender chicken and steak.  That was the day bok choy, a vegetable I had literally never cooked at home before, started making regular appearances in our menu.  This easy Grilled Honey Sesame Bok Choy is a simple side dish that goes perfectly with dishes like our Grilled Asian BBQ Chicken or our popular Korean Beef  Bulgogi.  And if you're not into Bok Choy, this is equally delicious with traditional cabbage or even asparagus.
If you've never heard of, or prepared bok choy at home, it's a type of Chinese cabbage.  It's kind of like celery stalks with leafy spinach tops. I prefer to cook  with baby bok choy.  It's smaller and more tender with a sweeter flavor.  You can certainly make this with the traditional bok choy if you like.
You'll want to slice off the bottom portion of each stalk and separate the leaves to wash them.
Once they're dry, you'll drizzle with a little oil and rub it in with your hands just so they're all coated.  I prefer our olive oil (blood orange is particularly delicious here) but any oil will work.  And sprinkle lightly with salt and pepper.
The sauce here is super simple and contains honey, soy sauce, sesame oil, rice vinegar, ginger, and sesame seeds.
To cook this on the grill you'll have best results with a grill basket.  They're easily found even at grocery stores this time of year.  Once your grill is preheated this takes just minutes to cook, so pop it on at the very last minute – like table is set and everything else is ready to go.
The leaf parts will wilt, kind of like spinach and the stalks will just get tender, kind of like cooking celery.  You just have to eyeball it- I like the bottoms cooked, but not soggy and everything kind of charred a little.  They'll go straight from the grill into your bowl of honey sesame sauce and get tossed around and that's it.
Super simple, quick and easy.
Print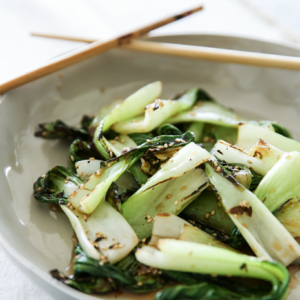 Grilled Honey-Sesame Bok Choy
---
Description
A quick and easy side dish for summer grill recipes. Tender baby bok choy is quickly charred on the grill and tossed in a sweet and savory honey sesame sauce. This recipe is easiest to cook in a grill basket. You can also do it in a wok or large skillet on the stove top!
---
2 tablespoons honey
1/4 teaspoon sesame oil
1/2 tablespoon rice wine vinegar
1 tablespoon soy sauce
1/4 teaspoon ground ginger
1 teaspoon sesame seeds
3–4 heads baby bok choy
oil of your choice (olive, canola, avocado, etc)
kosher salt
black pepper
---
Instructions
Preheat grill to medium high heat.
In a medium-large bowl (it's a small amount of sauce, but you'll add all your bok choy to it after), combine honey, sesame oil, vinegar, soy sauce, ginger and sesame seeds. Whisk to combine and set aside.
Slice ends off bok choy, separate and rinse all leaves clean and then pat dry. Drizzle with a little oil, just enough to lightly coat once rubbed in with clean hands and sprinkle very lightly with salt and pepper.
Place bok choy in a grill basket over heat and using tongs, toss often till leaves are charred and wilted, it only takes a few minutes.
Transfer bok choy to bowl of sauce and toss to coat. Serve immediately.
---