Grilled fruit over ice cream should really be the official dessert of summer.  Stone fruits are on sale all over the place right now, so this should be on everyone's to-make list, stat!  Peaches on the grill release their natural juices, which caramelize and make the best sticky sweet bite.  I love the combo of warm fruit with cold creamy ice cream, and a tangy, fruity balsamic sauce makes all of the flavors practically dance.  This dessert is totally sophisticated, yet only takes about 15 minutes to pull off.  Winner!
An especially fruity olive oil is perfect here, so I'm using our Blood Orange Oil.  Lemon would also be really great, but any regular olive oil is fine too, of course.
I've cut my peaches in half here, because they were especially ripe and I didn't want them to fall apart on the grill.  If your peaches are a little more firm, I suggest cutting them in quarters so that more of the surface area of the peach gets grilled.
Just drizzle the olive oil over the fruit and then gently rub it around so it covers all of the surfaces.  If you don't coat the fruit well, it might stick to the grill and make a big fruity mess.
Pop those on the grill top (this is my Camp Chef Outdoor Stove, which I love. I like that the grates aren't super far apart so it keeps tender things like this from falling through).  Cooking times will vary depending on your gill or grill pan, but you just want to cook them for a few minutes on each cut side of the fruit until they're slightly tender and have nice grill marks on them.
When you take them off the grill, just set them aside for a minute while you scoop up your ice cream.  In a dessert like this, that only has a few distinct flavors, I suggest using a good quality ice cream.  The homemade Buttermilk Ice Cream I posted last week is perfect, but if you're not up for making your own, grab a good quality one at the store (I really like Breyers Natural Vanilla Bean).
The last and most important step is the Balsamic Glaze.  Our Raspberry Balsamic is already thick and syrupy, and the perfect topping here.  If you need a substitution, I'd just take a good store-bought balsamic vinegar and simmer it on the stove top until it reduces by about half.  Balsamic vinegar is already really sweet and when it's simmered down, it intensifies.  It brings out all of the sweet, fruitiness in the peaches and contrasts beautifully with the creamy buttermilk ice cream.
When everything is prepped, this gourmet dessert takes less than 15 minutes to prepare and it's the perfect ending to any summer meal.  The flavor and texture of that creamy buttermilk ice cream melting into the charred fruit with the sweet burst of raspberry balsamic is heaven on a spoon.
This combo of Blood Orange Olive Oil and Raspberry Balsamic is also my favorite on salads and roasted vegetables.  You can get the bottles separately, or in our 2-pack sampler, or adorable Letterpress Box (my fave for gift-giving.) And since we're talking Shop here, you should know that you can also get 25% off our adorable canvas totes today by entering code: totes under "view cart" at checkout.
Print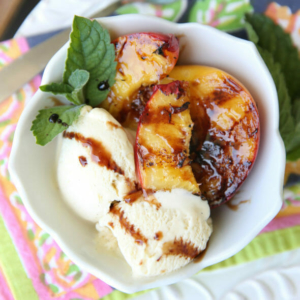 Grilled Peaches with Ice Cream and Balsamic Glaze
---
Description
An incredibly easy-to-make, sophisticated dessert, that's whipped up quickly on a grill! Sweet and tangy come together in a perfect balance of flavors.
---
Ripe, but slightly firm peaches or nectarines
Blood Orange or Lemon Olive Oil
Buttermilk Ice Cream (or a good quality store-bought vanilla bean ice cream)
Raspberry Balsamic (see note for substitution)
---
Instructions
Preheat outdoor grill or indoor grill pan.
Cut peaches in half and remove pits. Cut each half in half again so peach is cut into 4 pieces. Drizzle peaches with olive oil and rub in to cover all surfaces.
Place peaches on grill for 1-2 minutes, turning just once, to create grill marks on all sides. Remove from grill and let rest while you scoop ice cream.
Place a generous scoop of ice cream in each bowl and top with grilled peaches. Drizzle with Raspberry Balsamic to taste.
---
Notes
In place of Raspberry Balsamic, use a good quality balsamic vinegar and simmer in a small pan on the stove top until it reduces to a slightly thickened sauce. Cool before using.