I promised some of you on Facebook a cool science trick to impress the kiddos today, but I'm changing my mind after making a batch of fresh potato chips and realizing while munching that I've never written about them here.  And that's a crying shame. I've mentioned before that I don't fry a lot at home; it's a once-and-a-while kind of thing at our house, so when we do it's especially good.  Maybe because it feels naughty.  And admit it; sometimes a little bit of naughty is fun. Like this.  Making your own chips is so easy and they're so so so good.  You can customize flavors and make them anywhere from super basic to super fancy.  They go especially well with gourmet burgers like our BBQ Bacon Sliders or these Mar-a-lago Turkey Burgers.  Watch how simple.
While you prep your potatoes you can heat up your oil.  You can use whatever type of frying oil you like- I use canola because it's what I always have around. Peanut oil works well too.  You don't need super deep oil either, since the potatoes are so thin and don't take up much space.  I'd say 2-3 inches in the pan, so just use your judgement about what type of pot you'd like to use.  Use a thermometer to get the oil to about 375 degrees.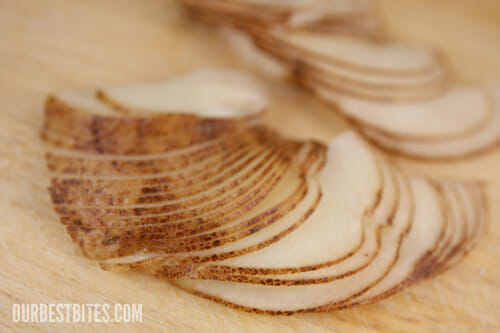 You'll want uniform, paper thin slices, so unless you have the knife skills of a ninja, I recommend using either a mandoline or a food processor.  If the whole potato doesn't fit through your food processor opening, just slice off a side until it does 🙂  That's why my chips are sort of half moon shaped.  Doesn't matter one bit.  Place your sliced potatoes in a bowl of very cold water and gently stir/jiggle/agitate/swoosh around/you get the idea.  Leave them for at least 10 minutes to wash off the extra starch  Rinse them a couple of times before you take them out of the water.  When you pull them out of the water, place them on a single layer on some paper towels to absorb the excess.  Remember that unlike my mouth and potato chips,  oil and water are not bff's, so you'll want to make sure they're as dry as they can be.
Gently place some potatoes into the hot oil.  You don't want to crowd the pan, but the potatoes are pretty thin so you can put quite a few in there.  Just try to keep a single layer of them, and if you kind of stir them around a bit they all cook evenly.  I'm using a pretty tiny pan here because I'm just doing one potato, but if you use a large skillet withe 2-3 inch sides on it, you can fry up a lot of chips, very quickly, and without using a ton of oil.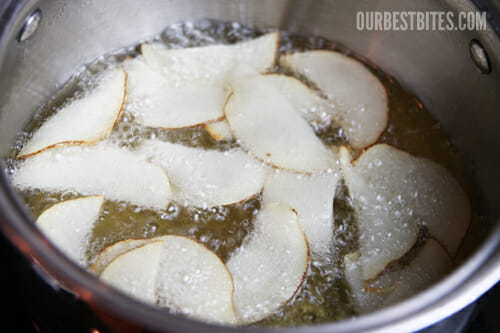 It only takes a couple of minutes for them to get a nice golden brown.  You don't want them too brown or they'll get a burnt taste, so just shoot for golden.
Do you all have a spider in your kitchen?  Not the creepy crawly kind, the silver meshy kind.  A spider skimmer comes in so handy in the kitchen, not only for deep frying.  It's a tool I use quite often (and you can see from that link, they're not very expensive either).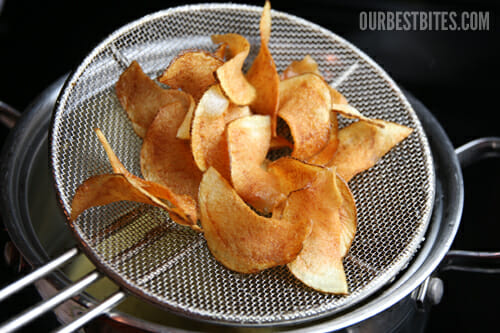 Place the chips on some folded paper towels and season immediately so the seasonings will stick onto the hot chips.  At the very least, sprinkle them with some sea salt.  At our house we love parmesan cheese on ours- and I don't even use the good fresh stuff, I like the powdery stuff in a can because it stays on the chips!
Play around with flavors and try adding dried herbs and flavored salts.  You can pulse kosher salt and fresh herbs in the food processor for awesome flavors.  We love rosemary- salt and black pepper together.  Or you can do some cayenne for a kick.  Get creative!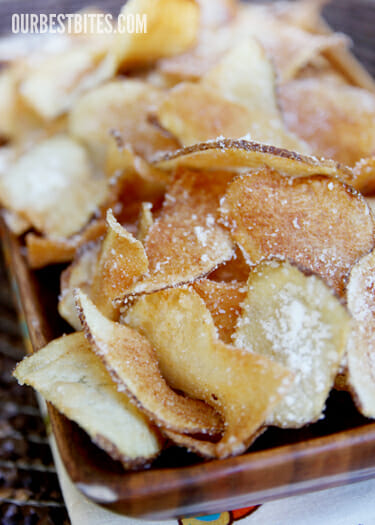 One thing I love about these is that unlike most home-fried foods they don't need to be eaten right away to be at their best.  So you can make a whole bowl up for a party and just leave them out on the counter.  They'll be fantastic hours later and by then you'll have all of your dishes washed.  If you have extras (that's literally never happened to me)  You can store them for about a day, but I don't think they're quite as good the next day.  So do yourself a favor and just eat up.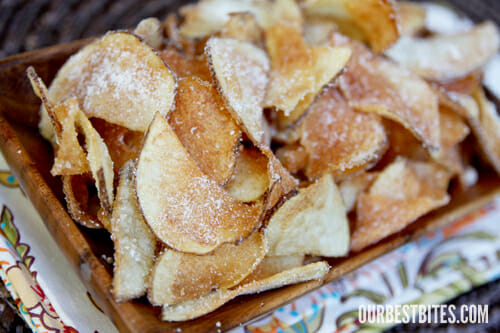 Homemade Potato Chips
Recipe by Our Best Bites
Russet baking potatoes (estimate 2-3 servings from one medium-large potato)
oil for frying
seasonings of choice
Heat oil to 375 degrees.  Slice potatoes (no need to peel first) using a mandoline or food processor.  Place potato slices in a bowl of very cold water for about 10 minutes, stirring gently.  Rinse slices a couple of times in cold water and then lay flat on a bed of paper towels.  Blot with more paper towels to absorb excess water.
Working in batches, fry potatoes in oil for 1-3 minutes, until golden brown.  Remove and place on paper towels to absorb excess oil.  Season immediately with salt and other seasonings of choice.  Serve warm or at room temperature.  Best eaten same day, but if stored overnight place in a container with the lid vented to prevent sogginess.