Have you ever wondered how professional bakeries get that amazing, perfectly shaped whipped cream on their fancy desserts?  The kind where you think it's frosting, but then you take one bite into it and realize it's the most perfectly light, whippy, fresh cream?  Chances are it's just stabilized whipped cream.  With the holiday season approaching, this is one little trick you need in your cooking arsenal.  This method produces the perfect whipped cream that you love, but with a stabilizing agent, which means that it won't fall flat or melt or get all goopy if it sits around for a while.  If I'm taking dessert somewhere, or I know it's going to sit in my fridge or on the counter for a bit, I always use this method.  I also use this method to frost cakes and cupcakes when I want something lighter than a traditional heavy buttercream.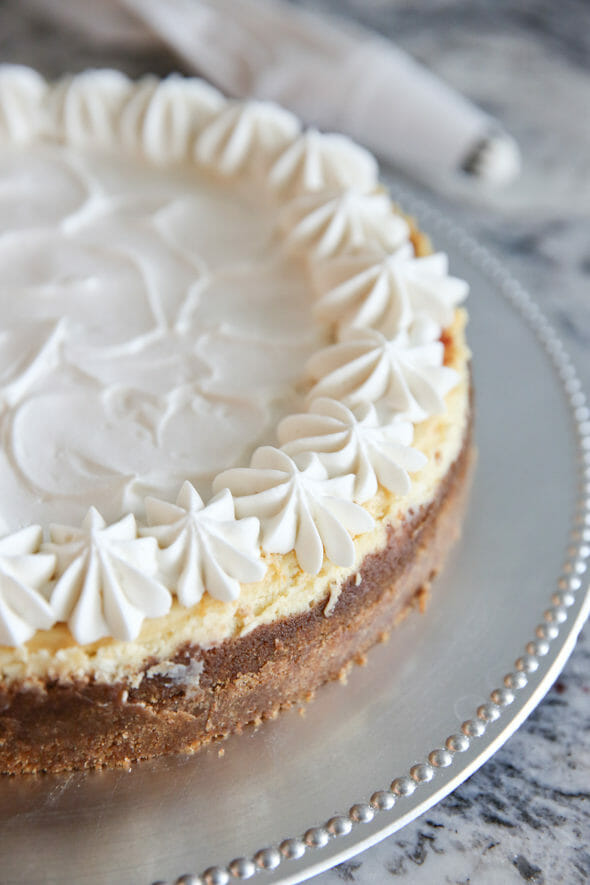 This is what I used on my Orange-Cranberry Cheesecake last week.   There are a few options you can find for stabilizing whipped cream, like adding instant pudding mix, but I don't recommend those.  If  you want pure, white, delicious whipped cream that tastes like normal whipped cream, go with this method.  It starts with most of the same ingredients as regular whipped cream.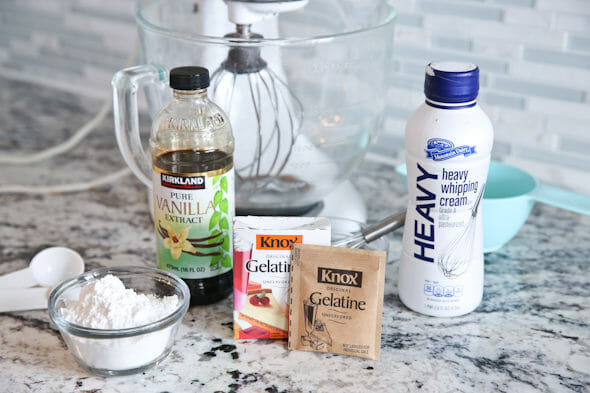 The little secret is a bit of unflavored gelatin.  This won't change the flavor or really the texture either, it simply provides some staying power.  Sprinkle a teaspoon of gelatin over some cold water.  If you've never worked with unflavored gelatin, it might seem weird, but it's normal!  You need to let this mixture sit for about 5 minutes to "bloom".  It will be thick and semi-solid.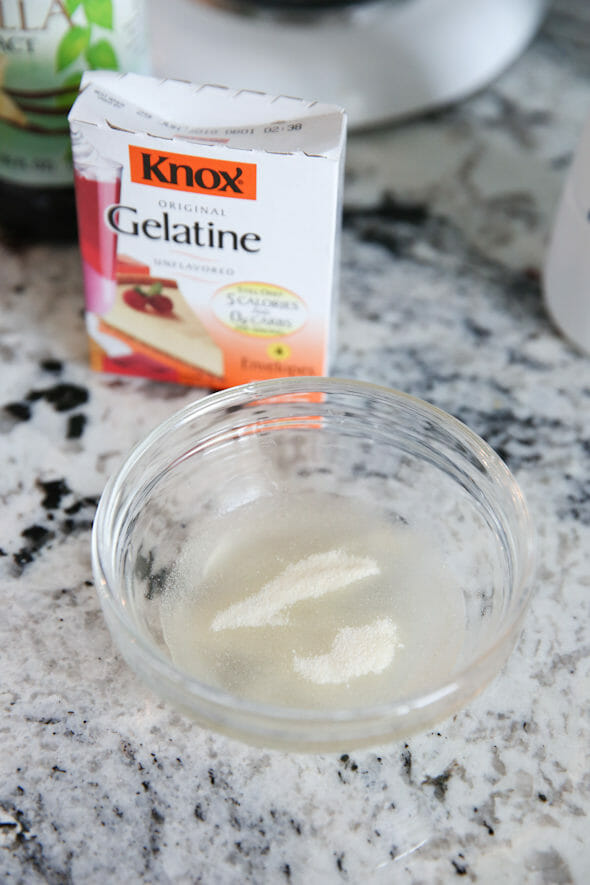 Once it's done blooming, you'll heat it in the microwave just until melted.  It only takes about 5-10 seconds, no need to boil it.  Just whisk it until smooth.  (Cutest-ever heart whisks from our Shop!)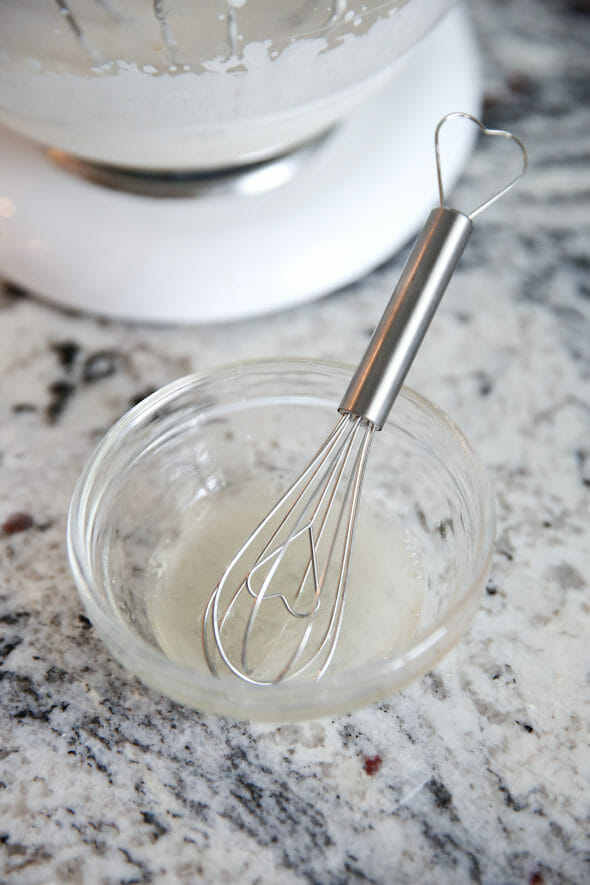 I recommend you do this in a stand mixer with the whisk attachment.  If you don't have a stand mixer, use a hand mixer. Place the heavy cream, vanilla, and powdered sugar in the mixer and beat for about a minute.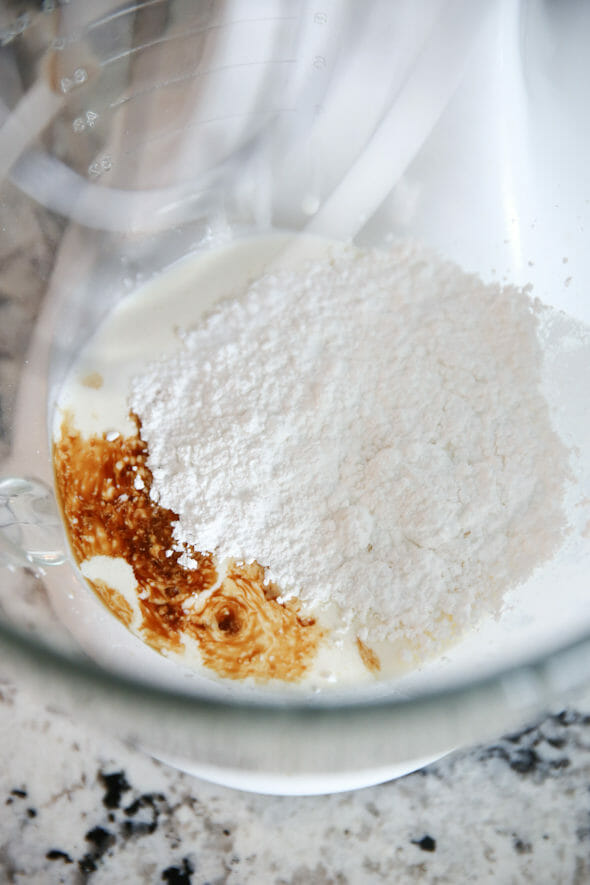 Then very slowly add the gelatin in a smooth, steady stream, as the mixer is running.  Continue beating as normal until you reach medium-stiff peaks.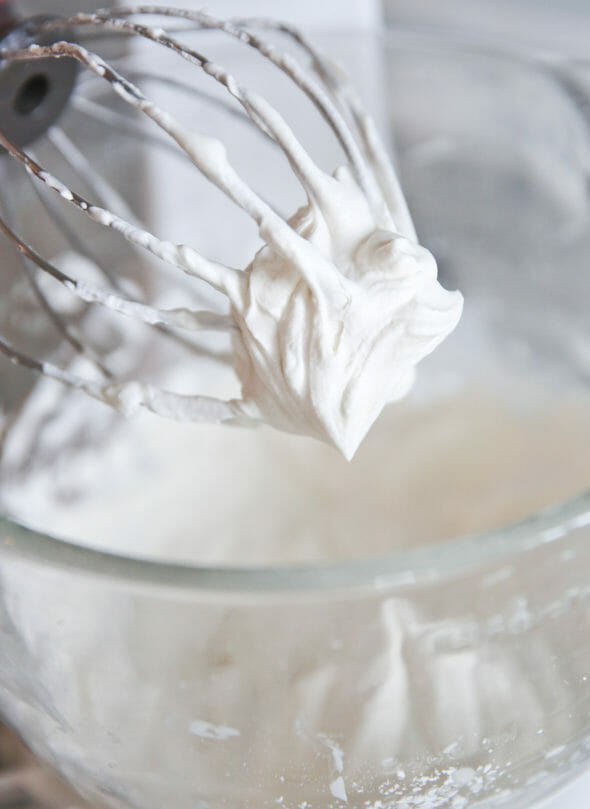 At this point, just use the whipped cream as you normally would.  It works really well for spreading and piping.  Like I said, I love this on cupcakes!  As it sits in the fridge, it will set up a little more, and it will last significantly longer than regular whipped cream.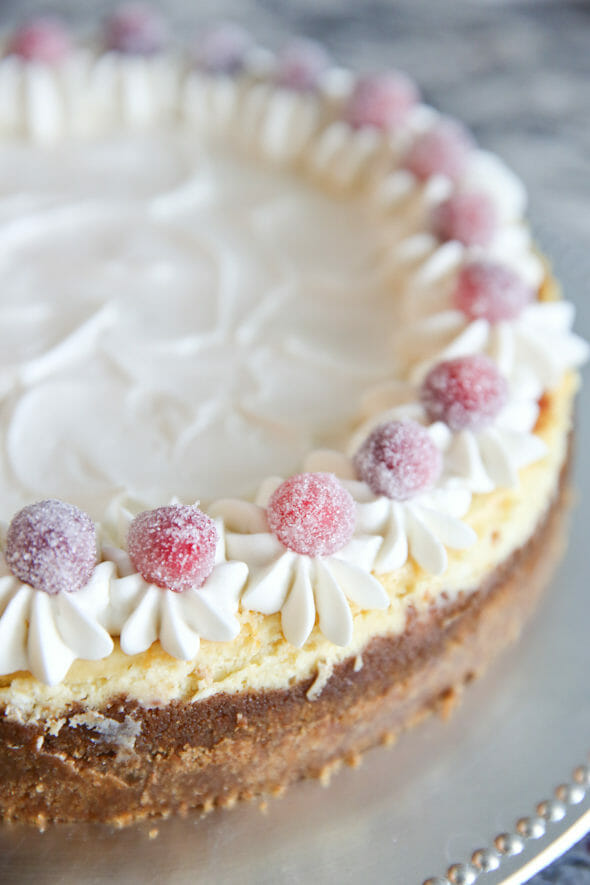 I hope to see this on lots of beautiful pies this holiday season!
Print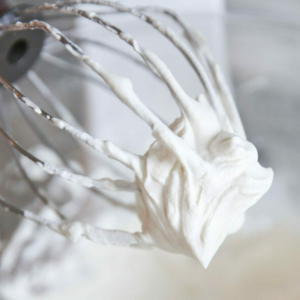 Stabilized Whipped Cream
Prep Time:

10

Total Time:

10
---
Description
A method of making bakery style whipped cream that doesn't fall or melt. Great for piping onto desserts or even icing cakes and cupcakes. Double if desired.
---
1 teaspoon

unflavored gelatin (like Knox, found near Jell-o in the baking aisle)

4 teaspoons

cold water

1 cup

heavy cream

1/2 cup

powdered sugar (more or less to taste)

1/2 teaspoon

vanilla extract
---
Instructions
Place cold water in small bowl and sprinkle gelatin over it. Let sit for 5 minutes. While it's sitting, place heavy cream, powdered sugar, and vanilla in the bowl of a stand mixer with the whisk attachment or in a mixing bowl if using an electric beater. Once gelatin is set, place bowl in microwave and heat until gelatin turns to liquid, about 10 seconds.
Turn mixer on to start beating cream. Let it run for about 1 minute and then with the mixer on high, very slowly pour the melted gelatin in, in a small steady stream.
Continue beating cream until you reach medium-stiff peaks. Spread or pipe whipped cream as desired.
---