Many of you followed along on my Instagram account this past week as I traveled around Ireland with my husband and our oldest son. It was our first time visiting and it was as enchanting as every movie makes it out to be! We ate at lots of pubs and restaurants and most of them served Irish brown soda bread, made with whole wheat, which they call simply, brown bread. It brought me back to this recipe I shared several years ago for traditional brown bread, a recipe I got from an Irish friend of mine, Laura. Laura moved to my town in elementary school and her bright red hair and Irish accent completely wow'd me- and everyone else! I hadn't made this recipe in years and whipped up a batch the day after we got home from our trip. It's not like sandwich bread, it's more of an almost biscuit-like texture; super soft and tender, and best on the first day it's made. We love it along side a bowl of soup, stew, or salad. The best thing about brown soda bread is that it's so quick and easy to make! No yeast involved, just stir and dump the ingredients and you have soft, tender bread in a matter of minutes.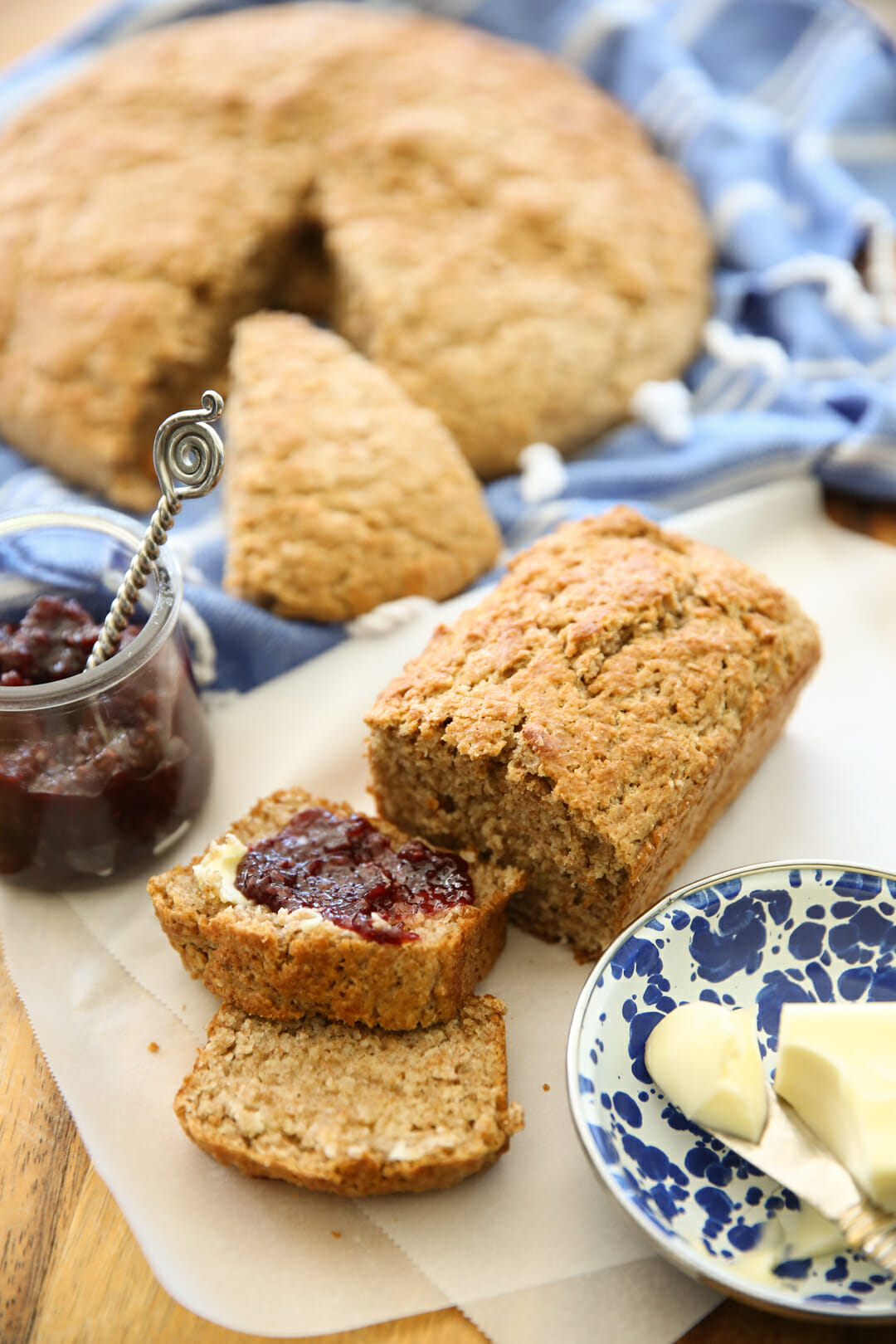 This bread utilizes a mix of whole wheat flour and white flour. Whisk it together with a little salt, sugar, and baking soda.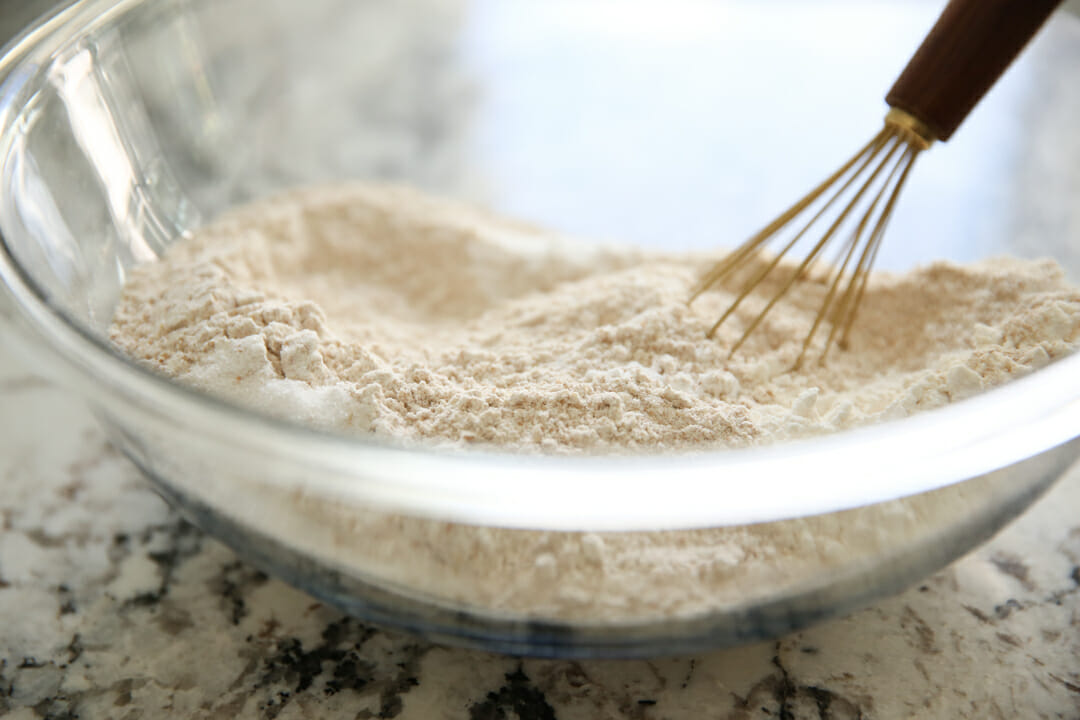 This bread has both butter and oil it in. The butter is crumbled into this flour mixture. The easiest way to do this part is to take a cold stick of butter straight from the fridge and grate it with a cheese grater. Then take your fingers and toss it in the flour, rubbing in between your finger tips to crumble it up.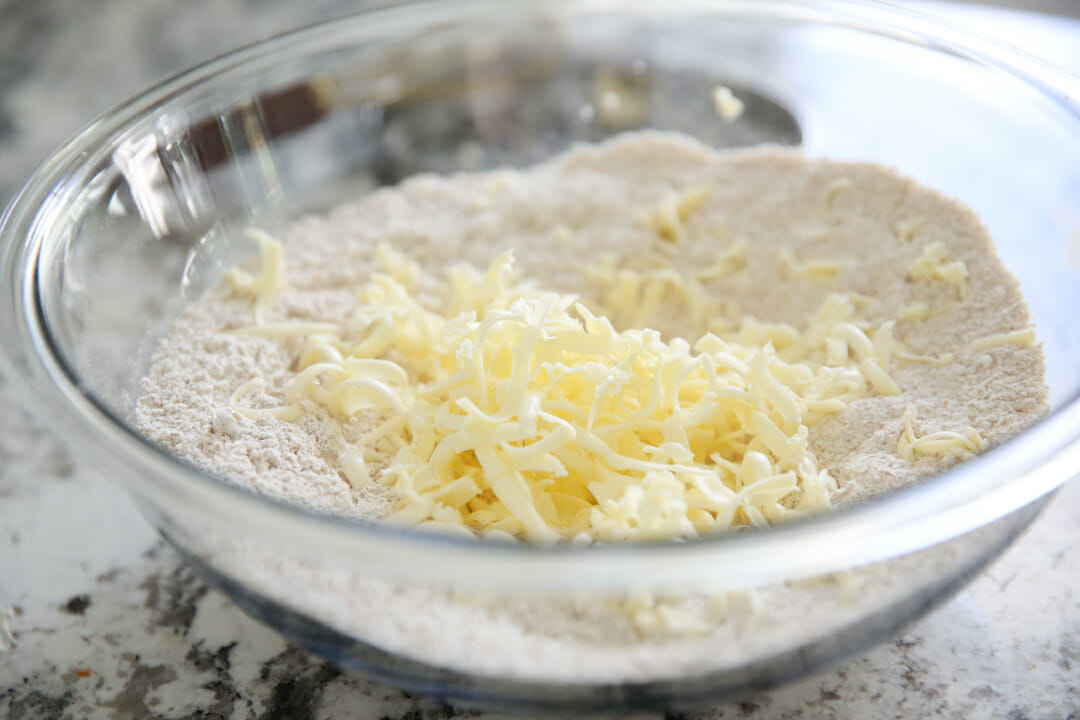 After the butter is cut in, just make a well in the middle of the mixture and pour in buttermilk and a little oil. that's it. Stir it up so it's all incorporated. It will be a wet dough- don't think you've messed up and don't expect the consistency of traditional bread dough!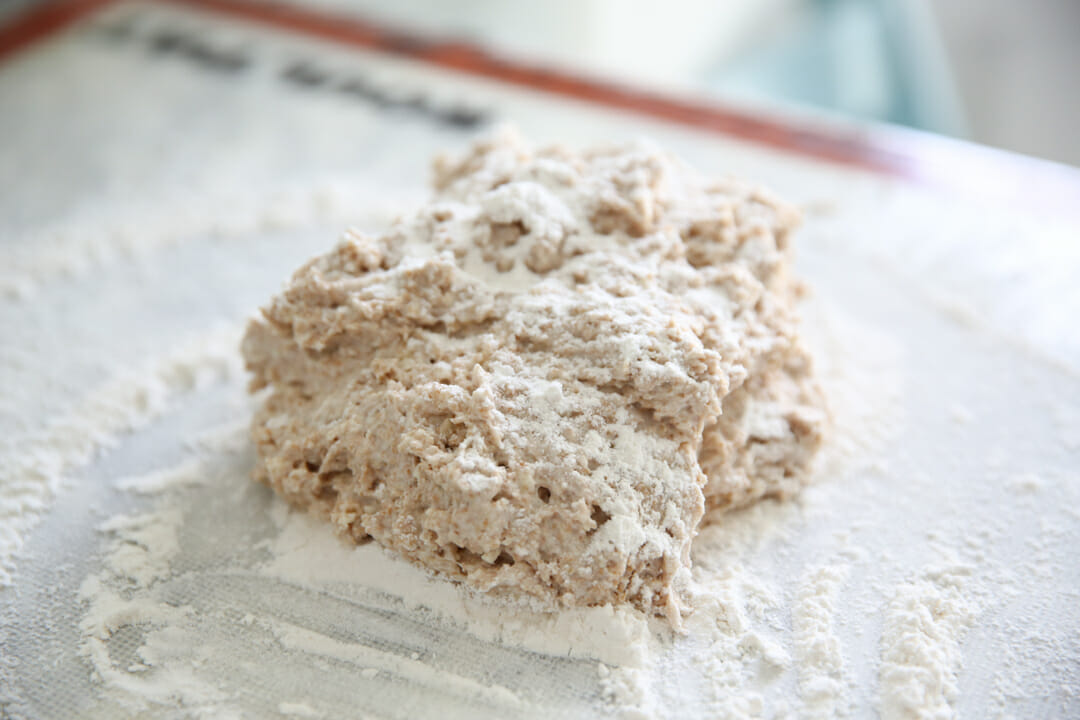 Now you can shape it two ways. When I originally posted this recipe, I dumped that really wet dough onto a generously floured surface and carefully formed it into a ball.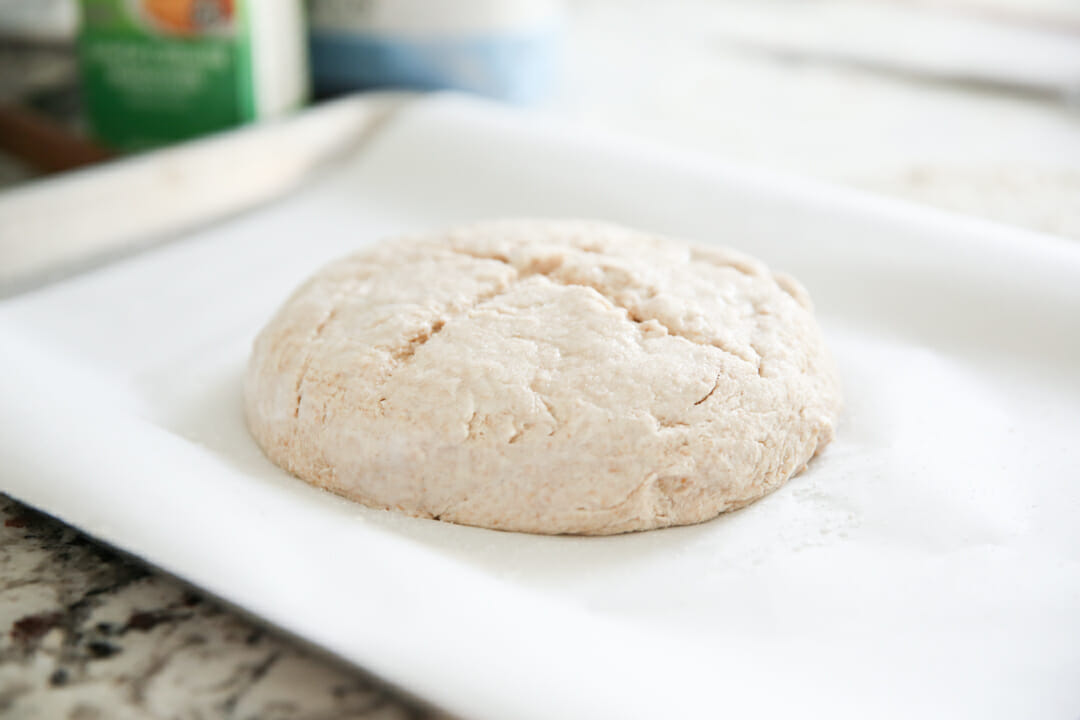 You can still totally do that, but I found while in Ireland, this bread was always cooked in a loaf pan so I tried it that way this time and it simplified things by eliminating the need for shaping and making an already quick bread really quick. Plus the wet dough seems to flatten out when left freeform and I liked the structure of the loaf pan- but either way works!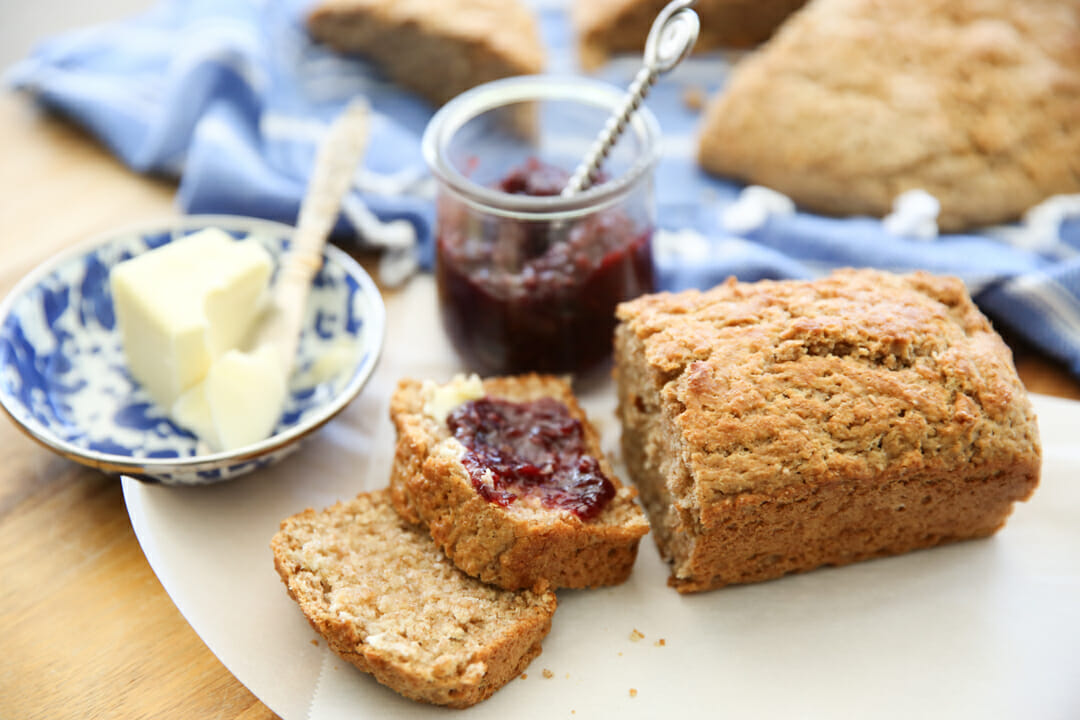 We love this slathered in a little butter and jam, or with a bowl hearty bowl of stew or soup. This loaf was devoured by my kids as an after school snack- they finished off the whole batch! Stay tuned if you'd like to hear more about my trip to Ireland. I'll share more photos soon over on my personal blog,
SaraMichelleWells.com
!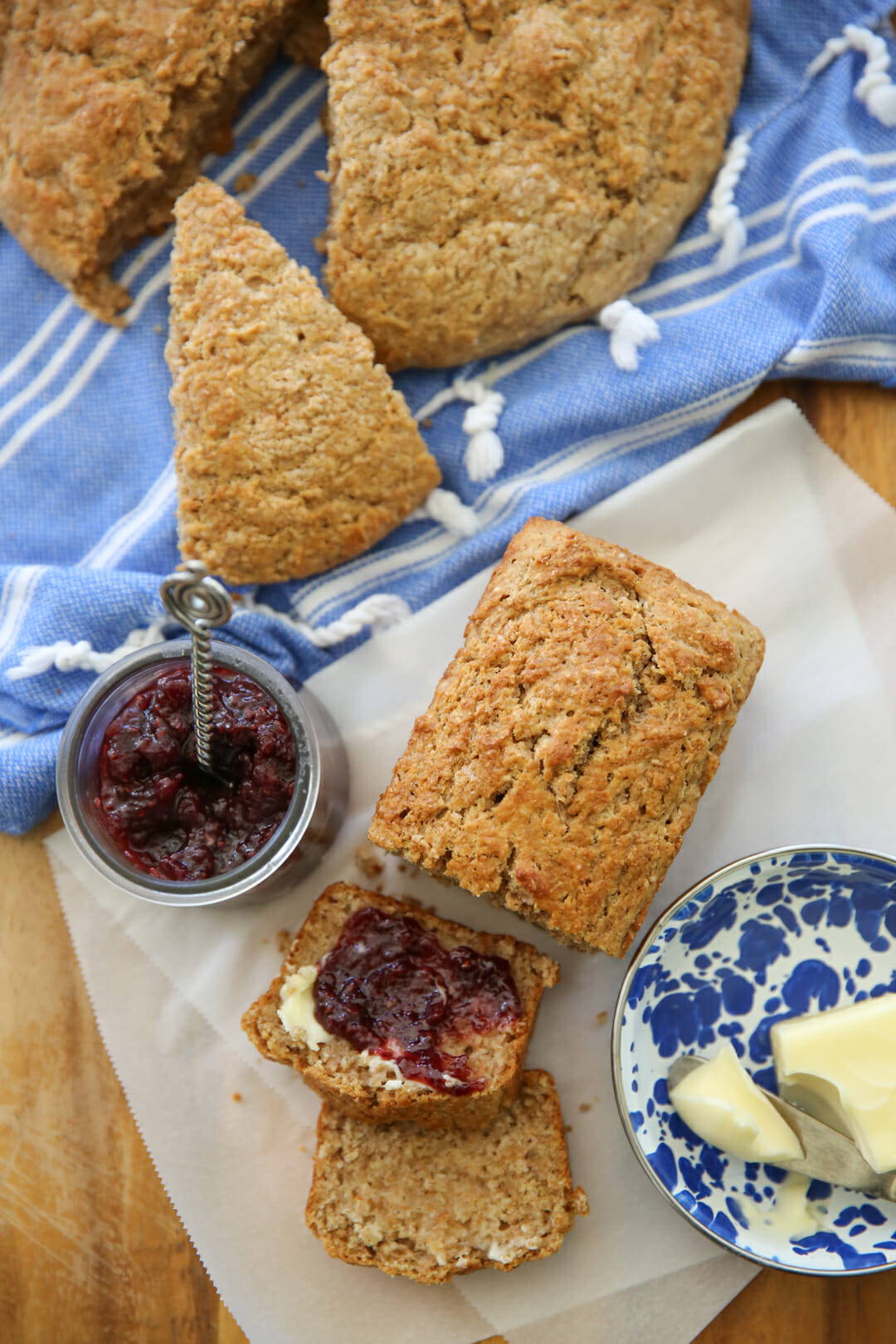 Try this with:
Print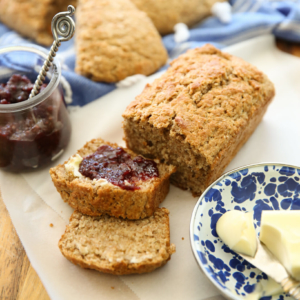 Irish Brown Soda Bread
---
Description
A super quick and easy whole wheat bread that requires no yeast!
---
2 3/4 cups whole wheat flour
1 cup all purpose flour
1 1/4 teaspoons salt
1 1/4 teaspoons baking soda
2 teaspoons sugar
4 tablespoons cold butter
2 cups buttermilk
1/4 cup vegetable oil
For topping:
Additional buttermilk
sugar
---
Instructions
Preheat oven to 400 degrees F. Line a baking sheet with parchment or spray a loaf pan with non-stick spray. *shaping options before starting!
Whisk together the flour, whole wheat flour, salt, baking soda, and 2 teaspoons sugar in a bowl. Cut the butter into the flour mixture until pieces are crumb-size. *I suggest grating cold butter with a cheese grater and then crumbling mixture with fingers.
Make a well in the center of the mixture and pour in the oil and buttermilk. Stir with a spatula until dry mixture is completely moistened.

Freeform Instructions: Move the dough to a generously floured surface. The dough will be quite wet. Use flour to avoid sticking and Lightly knead the dough a few times and then form into a round ball. Place on prepared baking sheet. Use a sharp knife to cut a cross into the top of the loaf in an x shape. Brush the top with about 1 tablespoon buttermilk or milk, and sprinkle 1-2 teaspoons sugar over the top.
Loaf Instructions: Simply pour dough mixture into loaf pans instead of forming into a shape. Depending on your pan size you may get 2-3 smaller loaves or 1-2 large. Fill pans about 3/4 full.
Bake in the preheated oven for 30 minutes. Reduce heat to 375 degrees F, rotate pan and bake another 20-30 minutes or until top is golden brown and skewer comes out clean.
Allow loaf to cool on a wire rack for about 15 minutes before slicing.
---