When I was a kid, I was a total book nerd (in all honesty, I'm still a total book nerd, although I no longer have hours and hours to hide with a book, at least not without feeling massive amounts of guilt). When I was 6 or 7, this was my favorite book in the entire universe:
If you're not familiar with it, it's about a family of orphaned children who find an abandoned boxcar and adopt it as their home. It was, like, the ultimate in playing house. I relished all the little details–dumpster diving for silverware and then scrubbing the rust off with sand. Building a "swimming pool" in the creek by the boxcar. Making a stew in the woods with beef and some garden vegetables. Looking back, when I read this book, it was the first time I was completely captivated by the story of food and cooking. I had never really eaten stew before (at least not stew that didn't come from a can), but I was completely taken with this idea of something wholesome and delicious cooked with something practical like baby garden vegetables and some meat bought after a hard day's work.
Fast forward a few years–after my mom died and my dad remarried, we did eat a lot of beef stew. In fact, this recipe was our standard Sunday dinner. Everything would go into the Dutch oven and then into the oven before we went to church and when we got home 3 hours later, it would be ready. When we had it with whole wheat bread and butter and milk to drink, it seriously fulfilled my Boxcar Children vision of delicious wholesomeness.
I've changed the old standard a little–added some (a lot of) garlic,
substituted
V8 for tomato juice and beef bouillon instead of just salt. But really, it's all the same: something easy, nourishing, and delicious that just about everybody loves.
You'll need some carrots, celery, an onion, baby potatoes, beef bouillon/base, V8 (or other vegetable cocktail like Bloody Mary mix), fresh garlic, a can of tomato soup, dried basil, and freshly ground black pepper.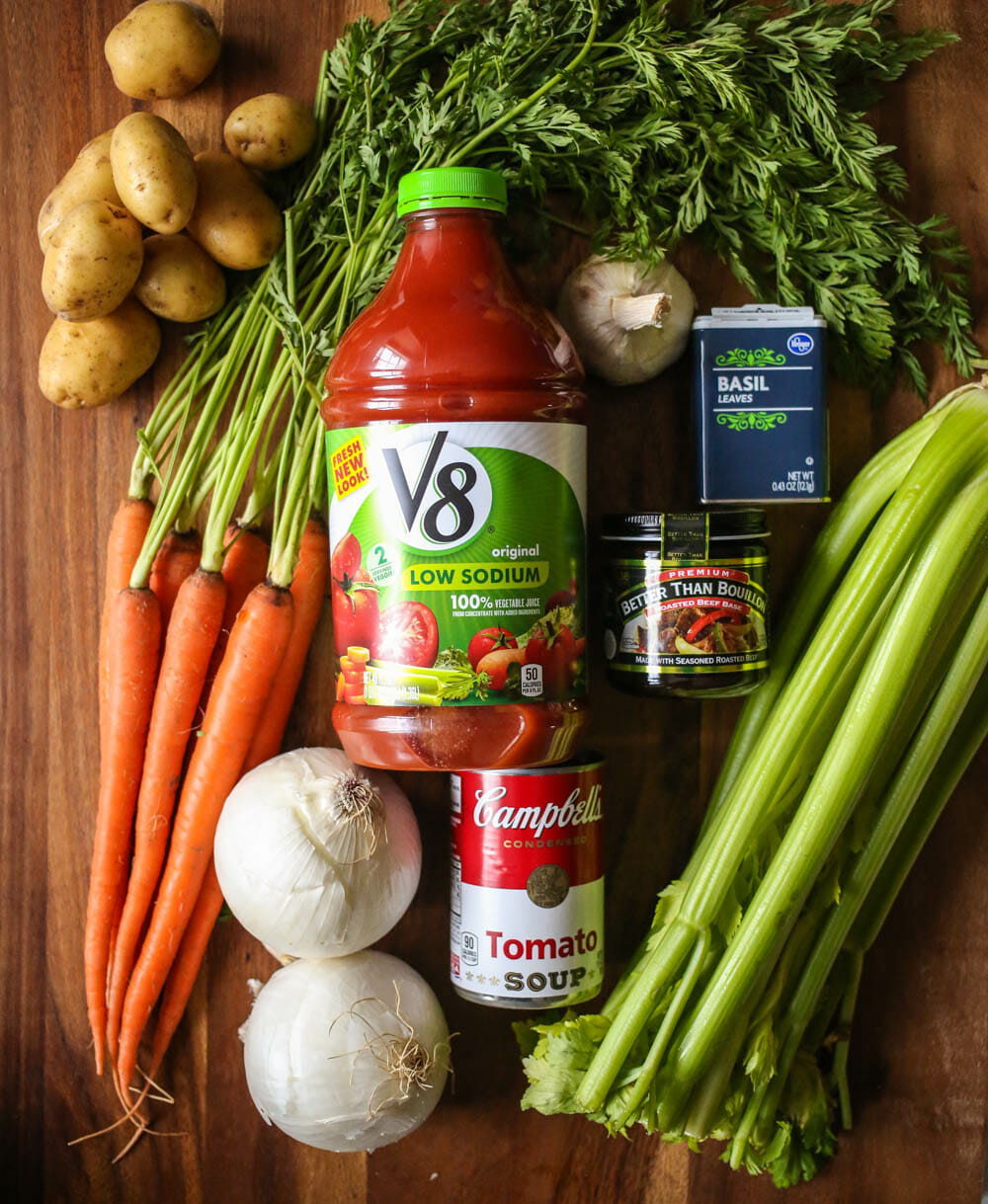 You'll also need some lean stew meat. You may need to cut some of the pieces into something a little more bite-sized.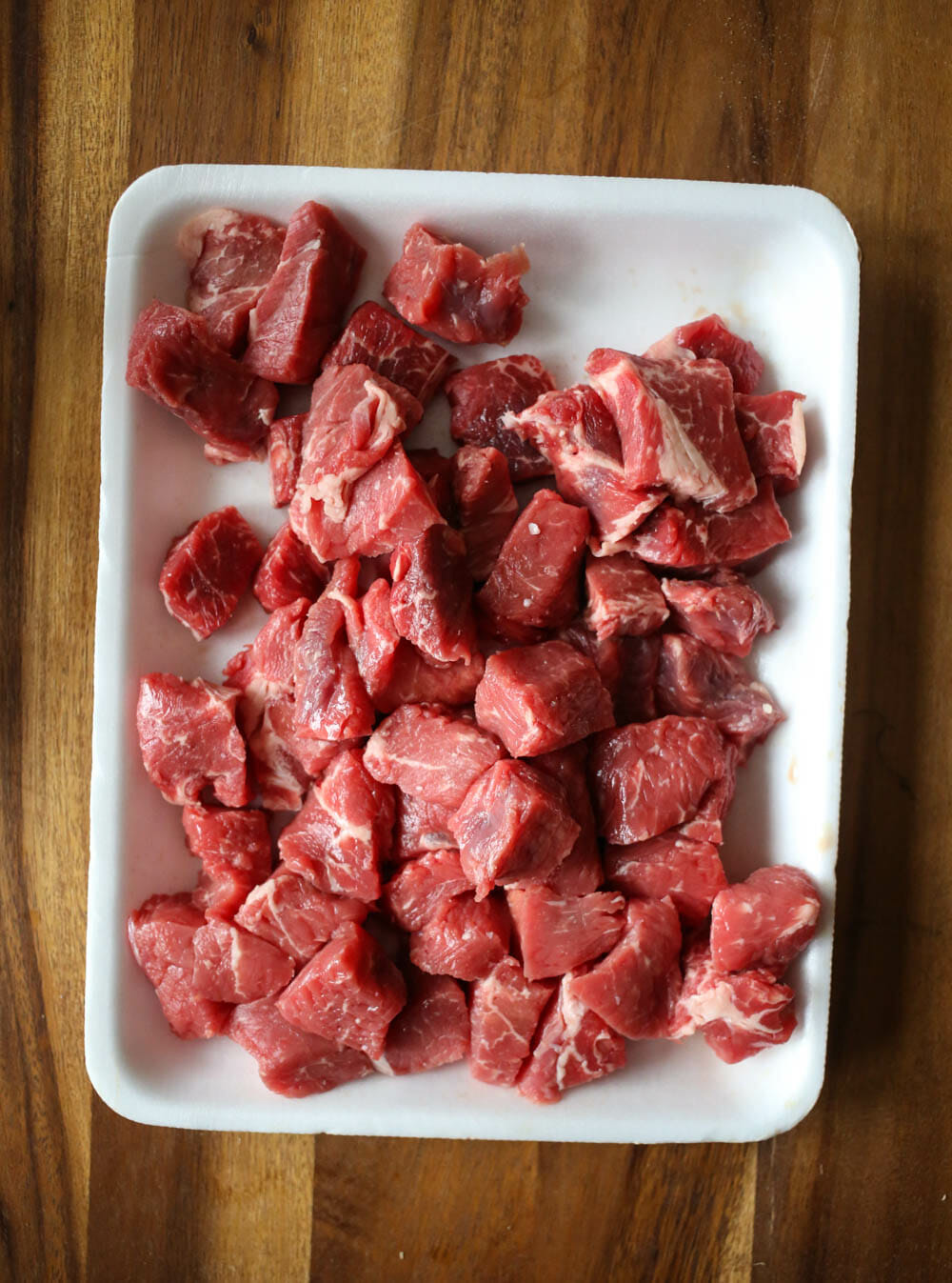 Preheat oven to 300 F. Cut the veggies–I usually make the potatoes on the large side of bite-sized, the carrots and celery on the small side of bite-sized, and then the onions chopped pretty small because I don't like them in chunks. But you can do it however you like!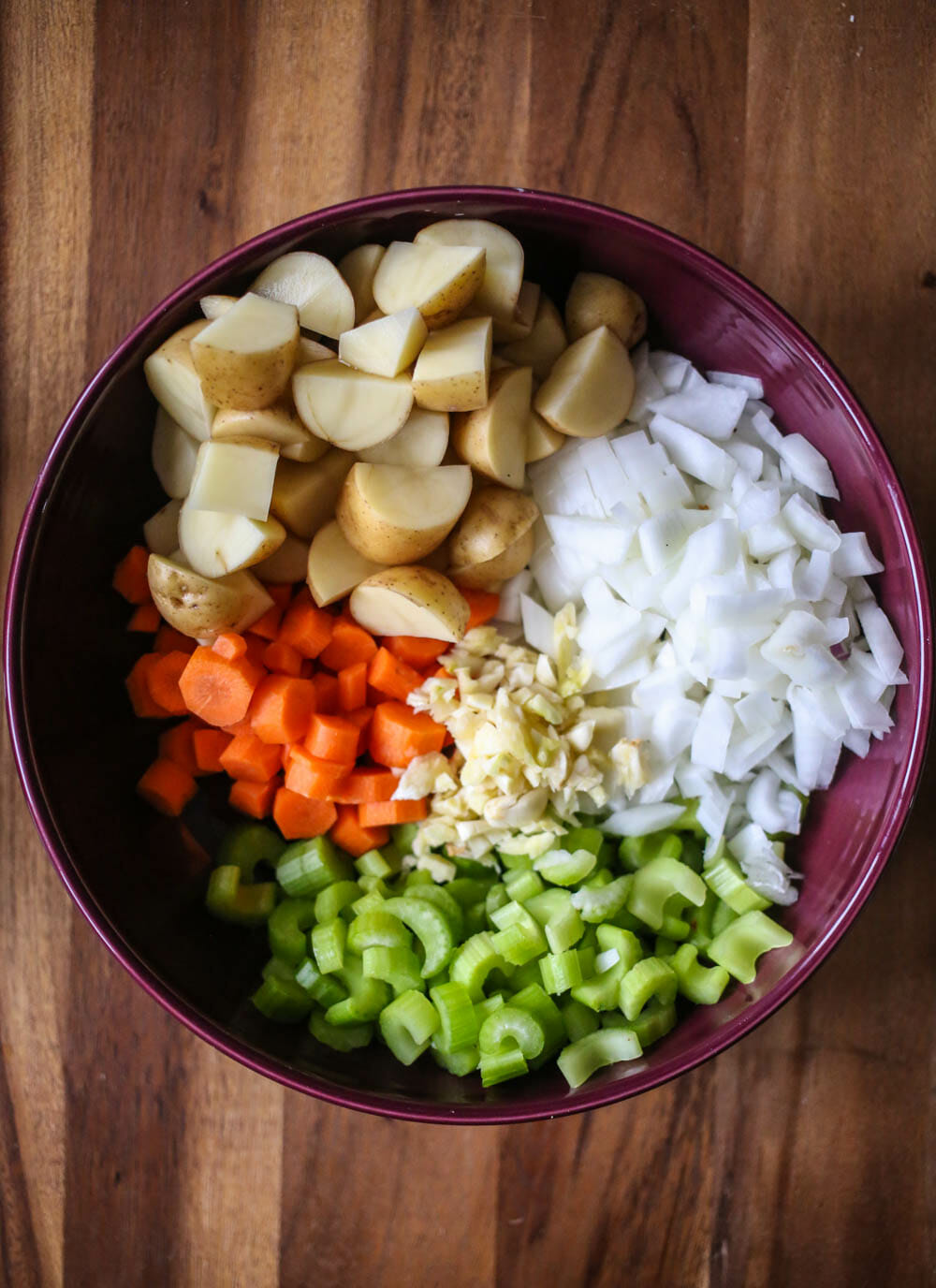 Combine all the ingredients in a large Dutch oven or other heavy oven-safe dish with a tight-fitting lid.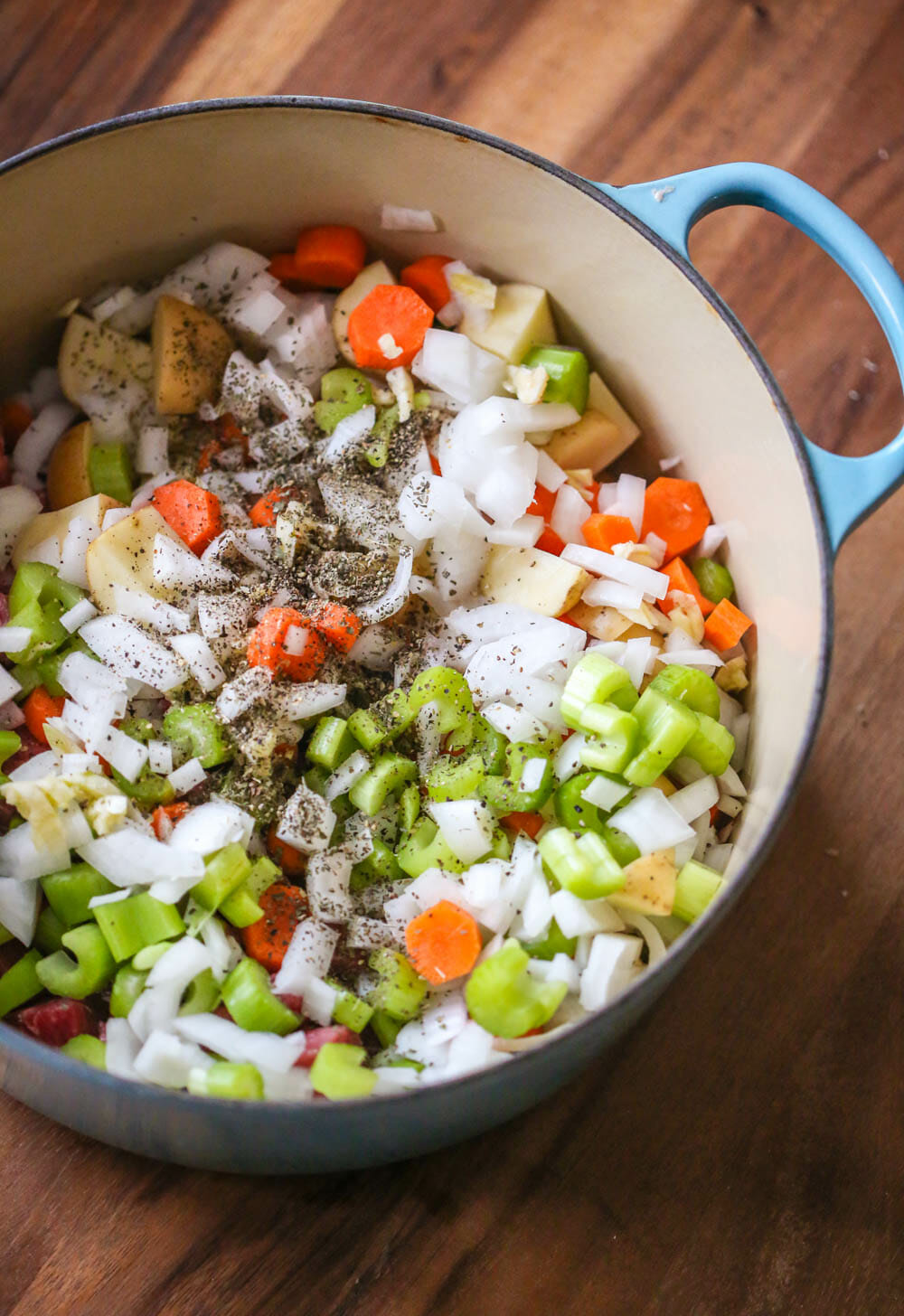 Cook for 3 hours.
Print
Sunday Beef Stew
Author:

kate jones

Prep Time:

20 minutes

Cook Time:

3 hours

Total Time:

3 hours 20 minutes

Yield:

8-10
---
Description
A hearty, comforting, and EASY beef stew recipe perfect for cozy nights inside!
---
1

pound baby potatoes, cut into bite-sized pieces

4

–

5

medium carrots, peeled and chopped

4

stalks celery, chopped

1

large or

2

small onions, chopped

5

–

6

cloves garlic, minced

3 cups

vegetable juice cocktail (like V

8

or Bloody Mary Mix)

1

10-ounce can condensed tomato soup

10 ounces

water (just use empty soup can to measure)

1 teaspoon

basil

2

beef bouillon cubes or

2 teaspoons

beef base

1/2 teaspoon

freshly ground black pepper

2

–

3

pounds lean beef stew meat, cut into smaller cubes if necessary
---
Instructions
Preheat oven to 300 F. Combine all the ingredients in a large Dutch oven or other heavy oven-safe dish with a tight-fitting lid. Cook for 3 hours.
---
Notes
I haven't had great luck making this in the slow cooker or the pressure cooker–the recipe seems to rely on a little evaporation and when I've made it using these methods, the stew ends up a little soupy/watery. I'll keep working on it and see if I can figure it out!