I gleaned lots of important information after yesterday's post:  no one really cares about Arie, Chris needs to go, Jef-one-f is a keeper, and Sean might be the perfect human.  I found our discussion both enlightening and thought provoking and we shall continue it next week when we can psychoanalyze everyone's families.

Now onto…food!  Anguilla is somewhat of a hidden gem (If you missed why we're talking bout Caribbean food and Anguilla, scroll down to yesterday's post.)  While nearby St. Maarten is dotted with fashion, nightlife, and high-end shopping, Anguilla is serene and secluded. It's home to what the Travel Channel boasts is the "best beach in the world" (Shoal Bay) and yet, there are few tourists to be found.  With over 33 of the world's most beautiful beaches and a small year-round population, you almost always feel like you have the island all to yourself.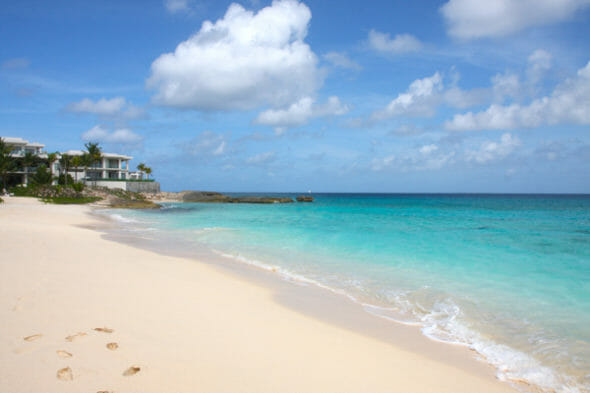 (Photo Location: Meads Bay)
At first glance, you would never suspect that this quiet little island is known to be the culinary capitol of the Caribbean. With only about 30 square miles of island and over 70 restaurants, it's said that Anguilla has more gourmet restaurants per acre than the island of Manhattan! Chefs, both locally born and raised and those classically trained and returned to the island, create some of the most ingenious plates in the region.  Here's some of my faves, and a lot of links to OBB recipes if you want to create your own little tropical paradise.  (Did you know we have a whole section dedicated to the Tropics?)  One I am recreating for SURE is this Coconut Crusted French Toast with Caramel Sauce and Bananas.  Holy crap this was good.  (Try Our Homemade Buttermilk Caramel with Sliced Bananas over your favorite french toast)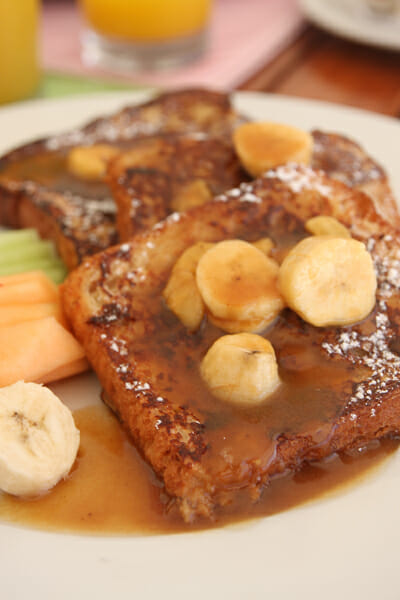 It was from the restaurant Blue at Cap Juluca.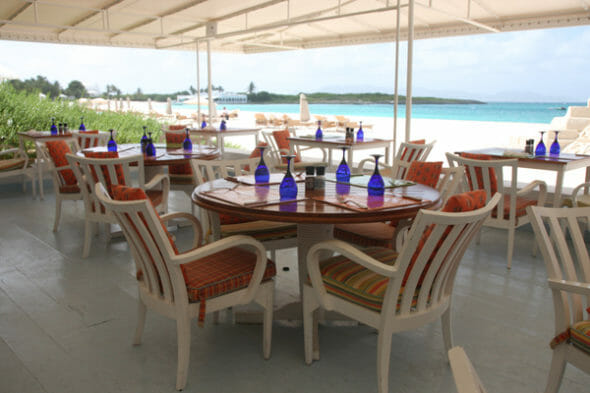 And I just have to say, everything tastes better when you eat it in a location like this.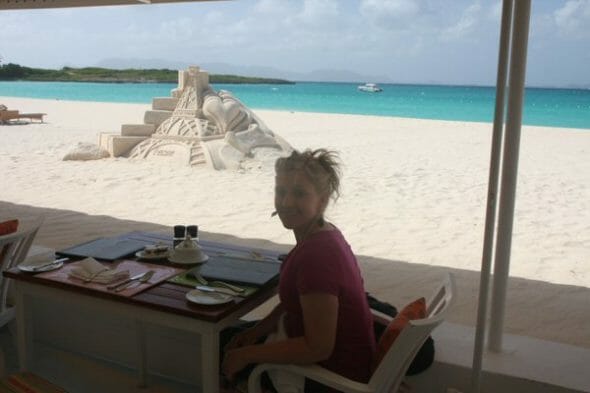 One thing I didn't realize is how strong of a European influence these islands have.  Anguilla and St. Maarten are both dotted with traditional French bakeries.  Run by actual French people.  And just like everything tastes better when you eat it beach-front, pastries taste better when served by someone with a thick French accent.  My husband thought it was ridiculous how often I screamed "Pull over!!" every time we passed a bakery. (That's what inspired my Coconut Turnovers.  Mmmm…)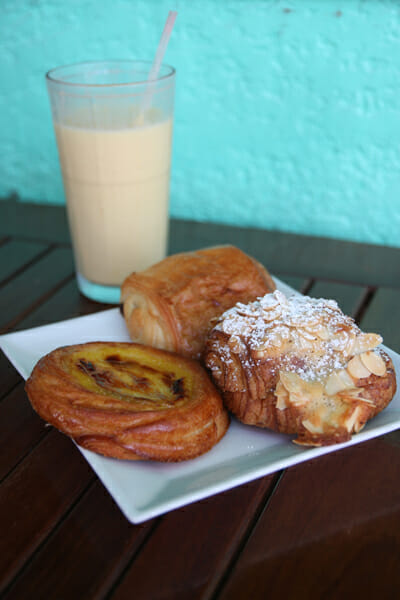 You know when you stay at a Holiday Inn and you get the continental breakfast with the stale muffins and free yogurt?  Well this is the island's complimentary breakfast: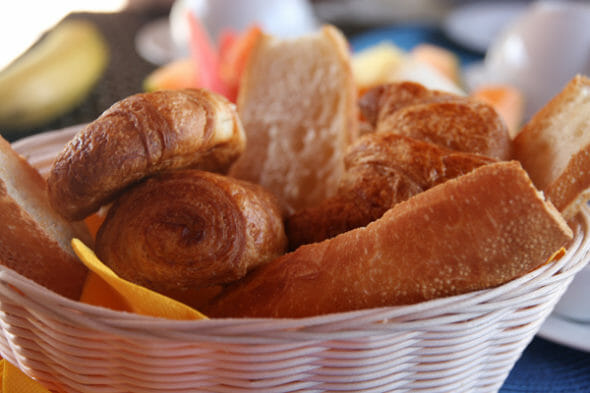 A huge platter of fresh pineapple, mango, and bananas, guava and mango jams, fresh squeezed juices and a basket of warm pastries from the French bakery next door.  Amazing.
Lunch time is always great in Anguilla because the island is covered in "Beach Bars."  They're fun little restaurants right on the sand with walk up service and casual beachy food.  At Roys Bayside Grill, I had Fried Snapper with Tartar Sauce.  (For a light, flaky fry, try Kate's Beer-Battered Fish)
And my husband had the Creole Mahi-Mahi.  One of the most interesting things about Anguilla is the mix of culinary influences.  French Creole is prevalent and you can order just about anything "Creole Style".  A popular side dish is rice and pigeon peas, which is basically like rice and beans!  (Check out our Louisiana section for some great Creole recipes)

At Roys I also had one of the best slices of coconut cake I've ever had in my life.  I'm not being overly dramatic here, it was SO moist and amazing.  I'm dying to make one just like it.  (Kate did a cupcake version last week- I gotta try those too!)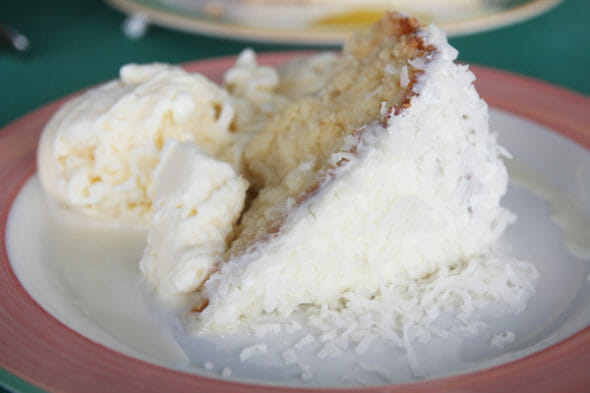 One of our favorite restaurants on the Island was "On Da Rocks" in Island Harbour.  I actually have a review written up of this place so I'll just show you a couple of photos for now.  Anguilla is famous for their crayfish- look at those guys!
Guess what??  I ATE THEM.  I'm not an adventurous eater when it comes to seafood so I was proud of myself for being able to look them in the eyes and then have them for lunch.  I could however eat anything covered in this sauce.  All I know is that it had cream and lemon and capers and all sorts of deliciousness.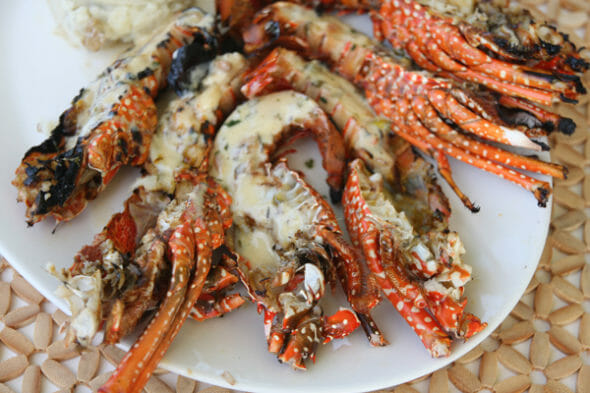 This adorable chef J grilled them up for us.  I love that on a small friendly island like Anguilla, you can hang out with the chef while you eat.  Fantastic people.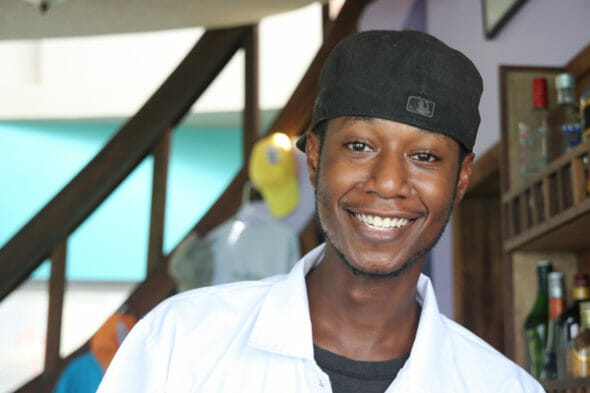 I asked Kate to post her Coconut-Macadamia Crusted Shrimp last week  because it was such a great re-make of this Coconut Shrimp we ate in Shoal Bay.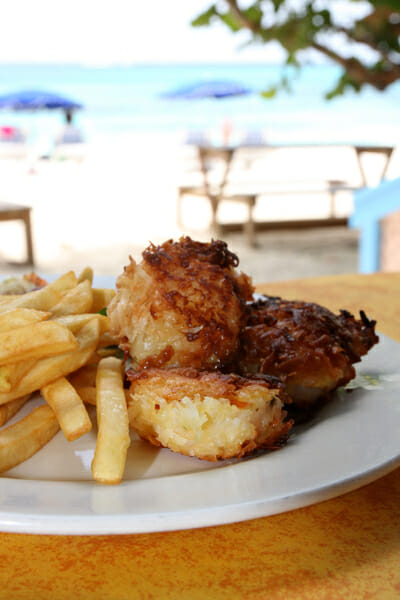 Shoal Bay was the beach I mentioned was named "Best Beach in the World" and I can't argue with that.  Someone yesterday asked if I photoshopped my beach photos or used a special filter.  Amazingly, the answer is no!  The water really is that color.  Amazing, right?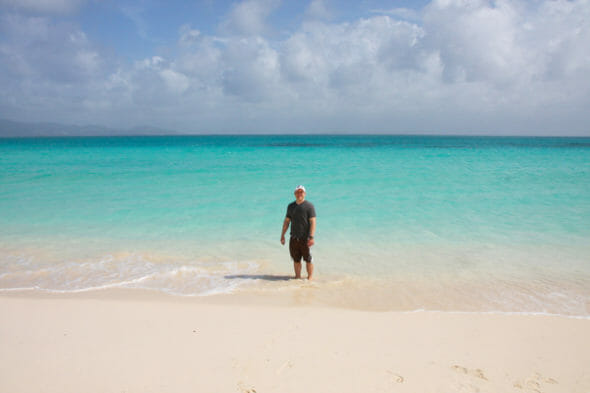 We ate just about every meal with a colada of some sort: mango, banana, strawberry,…just about anything you can think of.   (Want to recreate one?  Try our Mango Colada, or the Tropical Smoothie from our calendar if you have it!)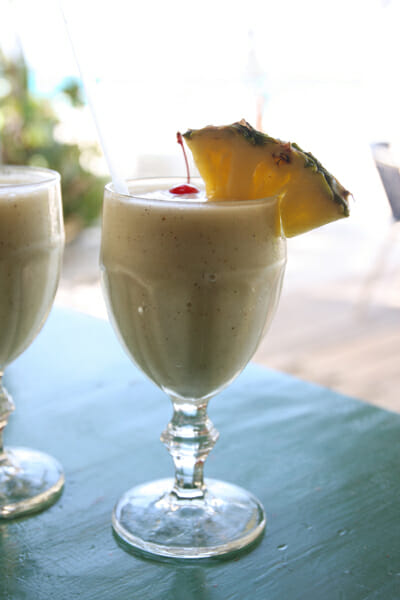 Funny story.  All of my fellow Mormons will get a kick out of this and the rest of you will wonder what the big deal is.  As most of you know, we don't drink alcohol, so really our "coladas" are just yummy fruit smoothies.  As I was snapping photos of this one above, by husband sipped his and said, "This is the worst colada we've had.  In fact, it tastes super weird."   So I take a big swig of mine and say, "ohhhh that's probably because of the alcohol!"  I asked the waitress if they were virgin and she went to the bartender who gave us a thumbs up across the room.  So I take a few more gulps.  I'm not convinced.  We call the cute French waitress over one more time and after a little language-barrier-confusion she concluded, "Oh you wanted NO alcohol?  I thought you meant MUCH alcohol" haha.  We're still laughing about that one.
Another great lunch food is the famous Caribbean BBQ.  These things are everywhere, from fancy restaurants to road-side stands.  We followed the smoke and the smell to eat ribs, chicken, and fish off these amazing things.  Everyone seems to specialize in their own rubs and spices.  The meats are tender and flavorful and crazy good.  (Try our favorite BBQ ribs, with a little tropical flair!)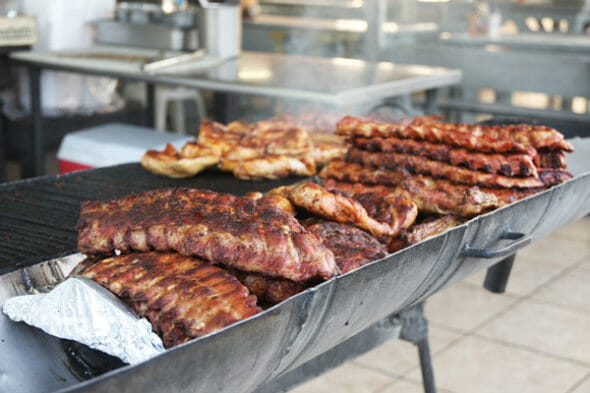 When it comes to dinner, you would literally have to stay in Anguilla for months to try out all of the gourmet restaurants.  We ate at so many great ones that they deserve their own post some other day!  But when it comes to answering the question of why Anguilla is one of the world's best culinary spots, and especially one of the best seafood spots, the answer is easy:  it's fresh food, inspired flavors, and unmatched natural ambiance.
You can follow more of my Anguilla content and other great travel content from different bloggers on Sea Cuisine.  Keep up with them on Facebook, and follow the #GetInspired tag on Twitter.  Have a happy Friday- I hope it's as bright and sunny as Anguilla!
And for those of you asking, Kate and baby are doing well.  I'll let her give you all the details-  she's promised a baby update (with pictures!) on Wednesday!