Italian Turkey Soup is incredibly lean, and comes together quickly (under 30 minutes start to finish) with lots of pantry staples.  You can use ground turkey (which includes dark and light meat and has a little more flavor) or ground turkey breast (which will be leaner).  Fresh ingredients like spinach leaves and grated parmesan make it bright and comforting and white beans make it filling and hearty.   We love it with a slice of Overnight Artisan Bread!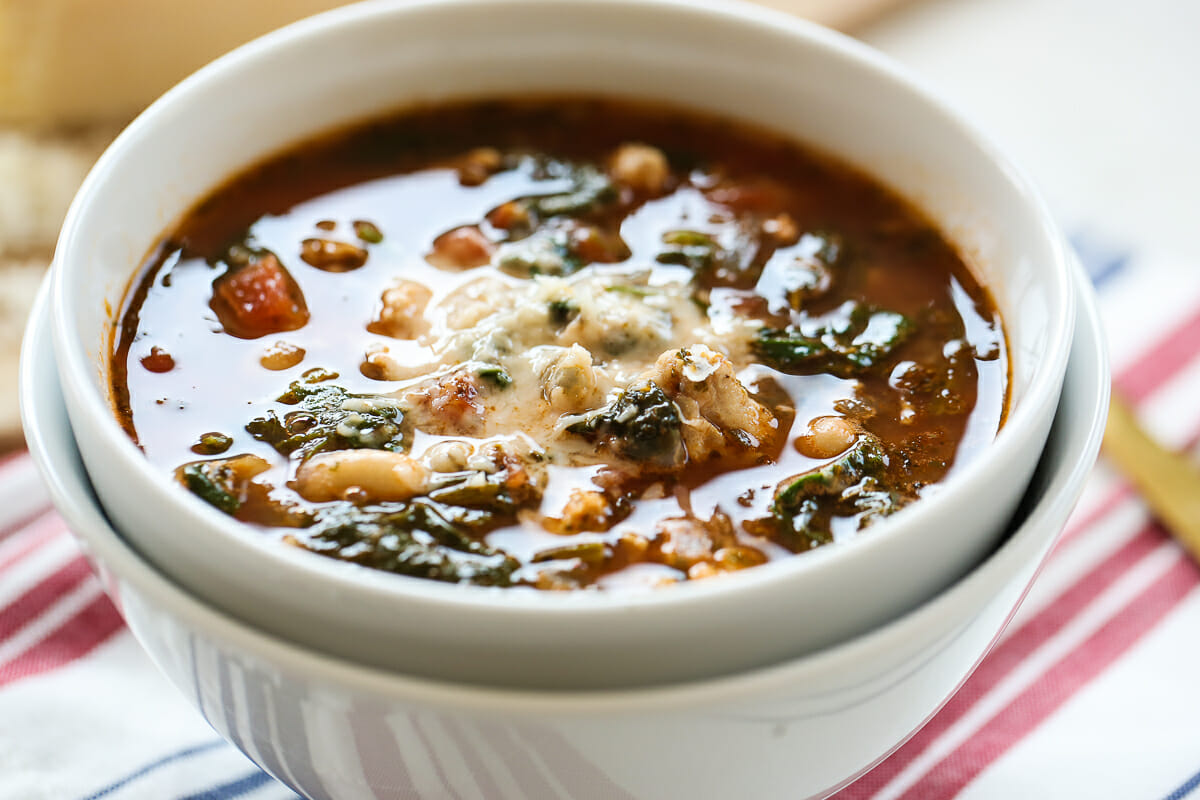 Step 1:
To start our Italian Turkey Soup, saute some onions, garlic, and your ground turkey.   Add salt and pepper and some ground Italian seasoning to this mixture and then cook until the turkey is completely cooked through.
Q: What kind of turkey are we talking about?
A: You can use ground turkey breast, or for a little more body and flavor, try regular ground turkey (which includes dark meat as well.) I'm sure it would be equally delicious with ground beef or shredded chicken, so feel free to experiment!
Step 2:
At this point, you'll deglaze the pan with your wet ingredients, picking up all the flavor that's browned in the pan.  Add canned tomatoes, white beans, chicken broth, and some extra dried herbs for even more flavor.  This mixture can simmer away for a bit while you move on to the next step.
Q: What kind of white beans should I use?
A: I personally use cannelli or great northern beans, these are a great pantry staple!  I also use them in my really popular White Chicken Chili and also this White Bean and Artichoke Hummus.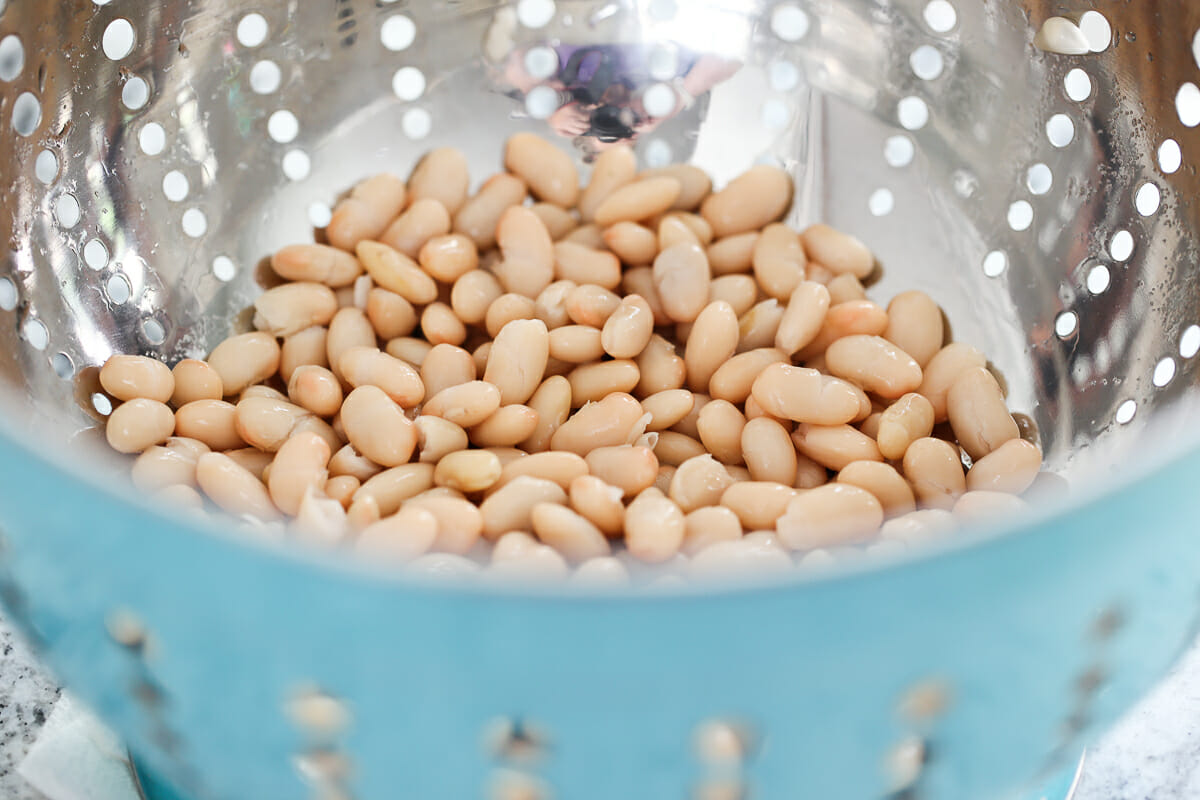 Step 3:
When you're ready to serve, stir in some chopped spinach. It will wilt quickly and you're ready to go.  You can also add your spinach leaves in whole; I like to chop them up so they better incorporate into small pieces with the rest of the soup ingredients. Make sure to taste your soup at this point and season with additional salt and pepper- it will need some for sure.
Q: Can I use any other type of green?
A: Kale would be lovely as well!  If using kale, remove the leaves from the thick stems first, and then finely chop before adding to the soup.  Kale takes a little longer to wilt than spinach does. If you think you'll stock this soup in the fridge or freezer, kale is a great choice because it holds up to storage a little better than spinach does.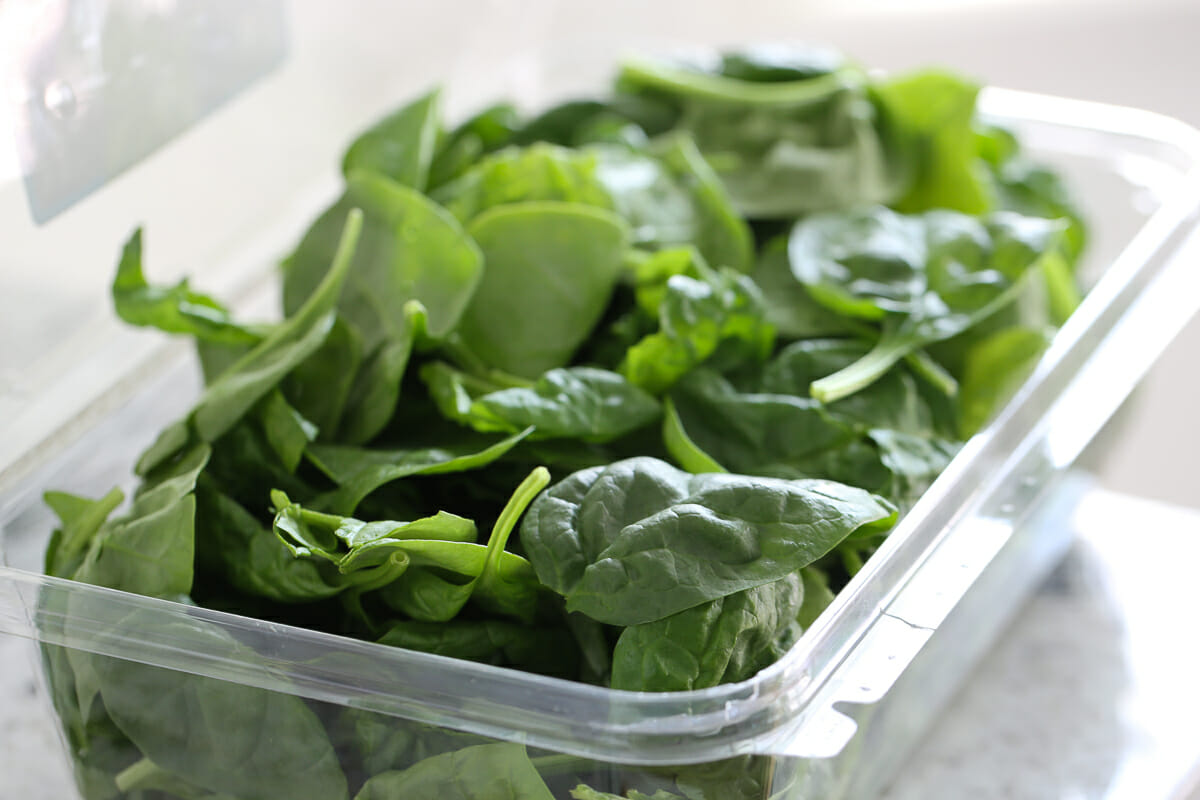 When you're ready to serve, ladle into bowls and top generously with freshly grated Parmesan cheese.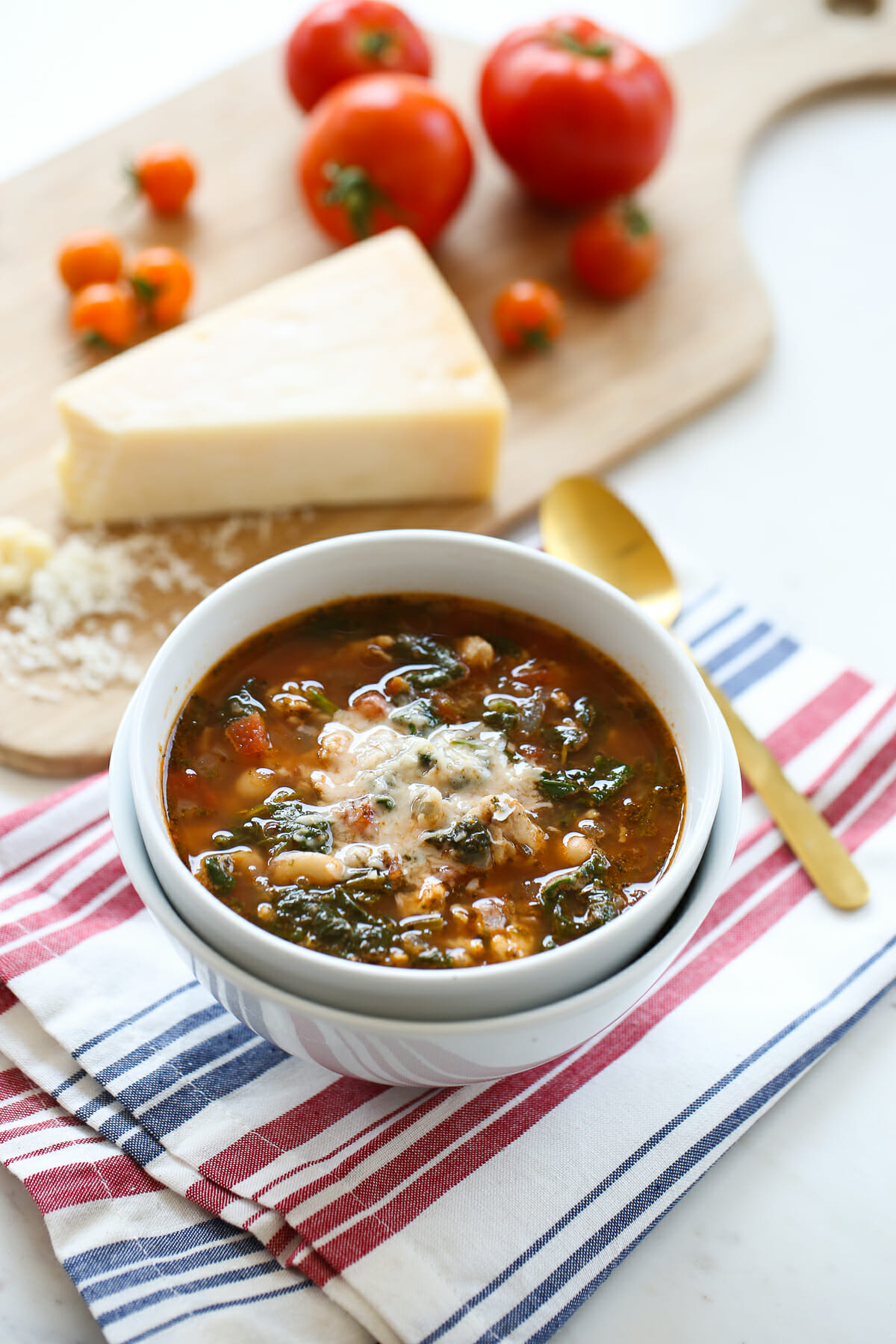 In the mood for soup? Check out our full soup index for tons more delicious soup recipes!
Print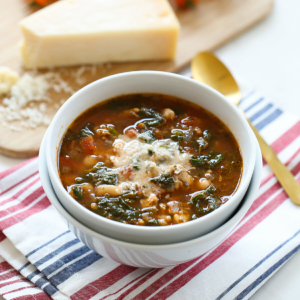 Italian Turkey Soup
Author:

Sara Wells

Prep Time:

15

Cook Time:

15

Total Time:

30

Yield:

4-5 servings
---
Description
Delicious, lean soup that comes together quickly with a base of pantry ingredients!  This is a smaller soup recipe, so feel free to double if your household size is larger (like 5-8 people)
---
Extra Virgin Olive Oil
8 ounces ground turkey or ground turkey breast
1 small-medium onion, diced
4–5 garlic cloves, minced
1 tablespoon Dry Italian seasoning
Kosher Salt
Black Pepper
1 can (15oz) canned diced tomatoes
1 can (15oz) white beans (Cannelini, Great Northern, etc) drained and rinsed
2 14 oz cans chicken broth
1 teaspoon dry oregano
1/2 teaspoon dry basil
1 tablespoon dried parsley (or about 1/4 cup fresh)
4–6 cups fresh spinach
freshly grated Parmesan cheese
---
Instructions
Heat a large stock pot to medium heat. Pour 1-2 tablespoons olive oil into the pot and swirl to coat bottom of pan.
Add diced onions and cook for 2-3 minutes, until starting to soften.  Add garlic and cook for about 30 seconds.  Add ground turkey, Italian seasoning, 1/2 teaspoon salt and 1/4 teaspoon black pepper. Continue crumbling turkey and cook until completely cooked through.
When turkey is cooked through, add in canned tomatoes (including all the juice), the drained beans, and the chicken broth. Add oregano and basil and bring to a boil. Reduce heat to a low simmer and simmer for at least 10 minutes, and up to 20.
Right before serving, roughly chop spinach and add to pot. Stir until wilted and then season soup with additional salt and pepper as needed. Ladle into bowls and top with freshly grated Parmesan cheese.
---