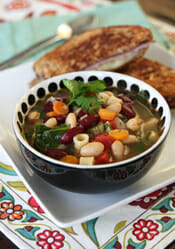 I very rarely make soup without some sort of grilled sandwich to go along side it.  With meaty soups, it's always just a variation of grilled cheese, but when I want to make a panini with protein in it, like grilled ham and cheese, chicken sandwiches, or hot pastrami or something, it always seems weird to make a meaty soup as well.  Know what I mean?  So I like having a good repertoire of meatless soups for that purpose (because, ya know, what other purpose could there possibly be other than allowing prime circumstances for consuming the preferred carbohydrate companion?)  My only problem with meatless soups is that sometimes they're not very filling, but not so with this one.  This thing is packed with veggies and beans- and honestly, just by looking at the recipe it doesn't look all that impressive.  Vegetables.  Seasonings.  Whatever.  But take my word, it's amazing.  My sister-in-law Emily brought it over for dinner a few weeks ago and every single one of my young boys ate multiple bowls.  Did you take that in?  Three picky kids, ages 7, 4, and 2, willingly ate repeat servings of a soup that consists almost 100% of vegetables and we didn't even cover the top with cheese or croutons to hide that fact or tell them that anything white was just chicken like I usually do.  That says something right there.  Emily was kind enough to share the recipe and I've made it twice in the past week because it's so yummy. I've changed it only slightly, simply increasing the amount of vegetables and seasonings and altering the cooking method directions.  After a little Googling, I see that this basic recipe appears all over the internet, referred to as a knock-off of the Olive Garden's.  So who knows where it originated, but it's sure gotten around, and for good reason.  We do have another great Minestrone recipe on Our Best Bites.  It's fantastic, but with a beef tomato base, and Italian sausage in it, it's a completely different dish.
Just look at the ingredients going into this soup; it's like an entire week's worth of vegetables.
Start with the trifecta, known as "mirepoix"in French.  It's the start to many great recipes, especially soups: carrots, celery, and onion.  You'll notice bits of zucchini in mine too, but that's just because they were all hanging out on my cutting board together for their photoshoot.
After those cook for a few minutes and the onions start to look translucent, add the garlic and the zucchini.
Next, two kinds of beans (both kidney and white beans), tomatoes, green beans, and seasonings.  Note that the canned tomatoes are drained so the finished soup isn't red and tomato based like many minestrones are, but rather in a lighter broth.
Look at all that goodness.  It may not seem like it would taste all that impressive now, but something magical happens when it hangs out in a pot for a while.
Add in seasonings, like thyme, basil, salt, pepper, and oregano.
And mix it all up.
Cover everything with vegetable broth and water.  I have to say, there was a time in my life when I avoided anything with vegetable broth- or at least subbed chicken broth because it just seemed like it would have so much more flavor.  But I was wrong, a good vegetable broth adds tremendous flavor and in a recipe like this, is key.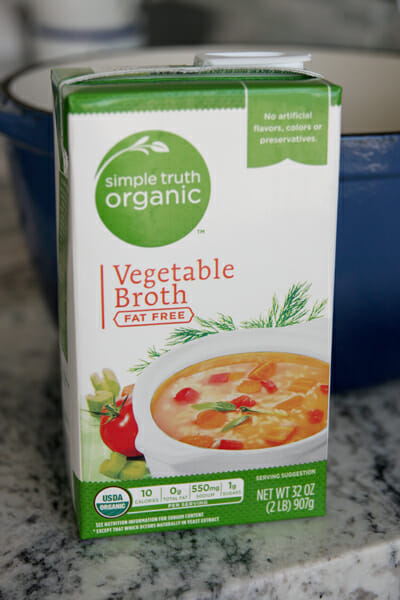 Put a lid on the pot to keep that moisture in and simmer it for 20-25 minutes or so.  (Here's a little peek at my new kitchen, too.  Anyone want to guess how much I love my new stove?)
When the veggies are tender, add a little bit of pasta.  Any small-ish pasta is fine, like shells, mini bowties, etc.  I like ditalini because it's the same size and shape as the veggies and beans so it blends in nicely.
After the pasta is cooked through, remove the pot from heat and stir in a giant handful of fresh spinach leaves and some fresh minced parsley.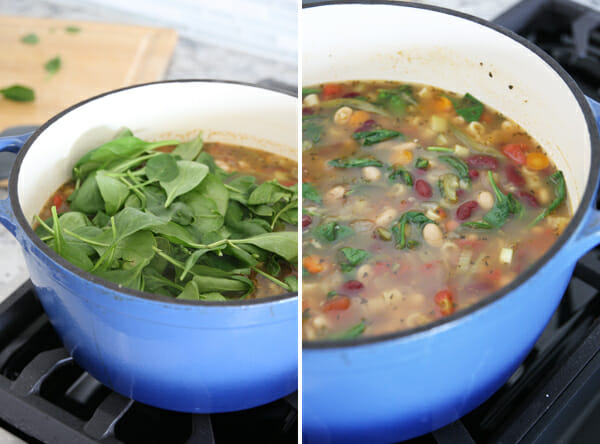 I like my soups like Rachel Rae describes "Stoups."  Something thicker than a soup but thinner than a stew.  This is definitely packed full of beans and veggies so if you like a brothy soup, you might want to grab a little extra vegetable broth.
Pair it with a grilled ham and cheese for a hearty, filling meal.
I'm still kind of shocked my kids all like this so much, with visible vegetables and all, but until they complain I'll keep making it and smile knowing they're actually enjoying their veggies.
Since this makes quite a bit, it works great to put in individual servings in the freezer.  Just heat up for lunch, or take to work and you're good to go.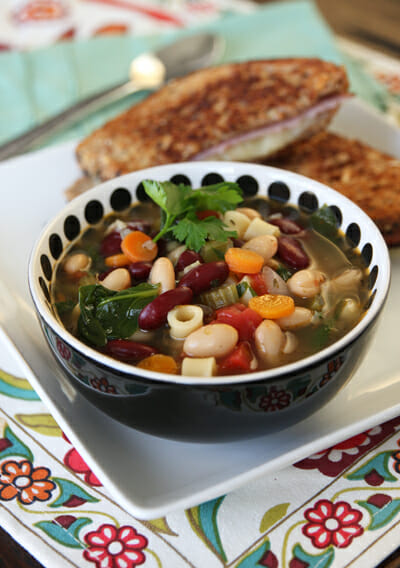 Print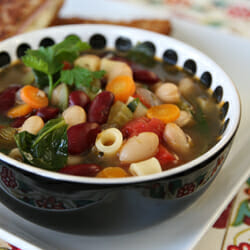 Veggie-Packed Minestrone Soup
Author:

Our Best Bites

Prep Time:

10 minutes

Cook Time:

35 mintes

Total Time:

25 minute

Yield:

8 (1.5 cup) servings
---
Description
This vegie packed and flavorful minestrone soup is perfect for cold winter days!
---
Minestrone Soup
Recipe slightly adapted from my fab sis-in-law Emily and lots of sources on the net.
Ingredients
1 1/2 tablespoons olive oil
1 small/medium onion, chopped
1 large carrot, thinly sliced
1–2 stalks celery, diced
1 small zucchini
4–5 cloves garlic, minced or pressed
1 cup frozen French cut green beans
2 15-ounce cans red kidney beans, drained and rinsed
2 15-ounce cans white beans like Great Northern or Cannellini
1 14-ounce can diced tomatoes, drained
1 1/2 teaspoons dried oregano
1 teaspoon dried basil
1/2 teaspoon dried thyme
1 1/2 teaspoons kosher salt
1/2 teaspoon black pepper
32 ounces vegetable broth (that's 4 cups)
3 cups hot water
1/2 cup ditalini or other small shell pasta
4 cups loosely packed fresh spinach leaves
2–3 tablespoons fresh minced parsley
---
Instructions
Heat a large stock pot to medium high heat.  Add olive oil to coat bottom of pan.  Add onions, carrot, and celery.  Saute 4-5 minutes, until onions start to look translucent.  Add zucchini and garlic and cook for 2-3 minutes longer, stirring until garlic is fragrant.  Add green beans, kidney and white beans, tomatoes, and seasonings and stir to combine.  Add broth and water and bring soup to a simmer.  Cover pot and simmer on low for 20-25 minutes, until carrots and celery are tender.  Add pasta and cook until pasta is soft, 8-10 minutes.  (Add additional vegetable broth or water if you feel you need it for preferred consistency.)  Remove pot from heat and stir in spinach and parsley.  Season with additional salt and pepper to taste.
Yield: 8 servings (1 1/2 cups each)
Nutritional Info: Calories:  250 Protein: 30 g Fat: 1 g Carbs: 68 g

---