It's nearing the end of September, and in our house that's official soup season! In fact, I'm in denial of the actual weather (which returned to the 80's after a quick fall preview last week) and every day I crank up my air conditioner and light my apple spice scented candles and stare at the pumpkin display on my mantle just breathing in the aura of fall. Okay, that's a total lie. Most of my day is spent chasing after crazy toddlers, wiping snot, sweeping floors that never get clean and watching Thomas the Tank Engine on an endless, eternal cycle. But I do it all with a pumpkin display in the background and the candles generally seem to overpower the scent of the baby's loaded diaper. What can I say? I lead a glamorous life.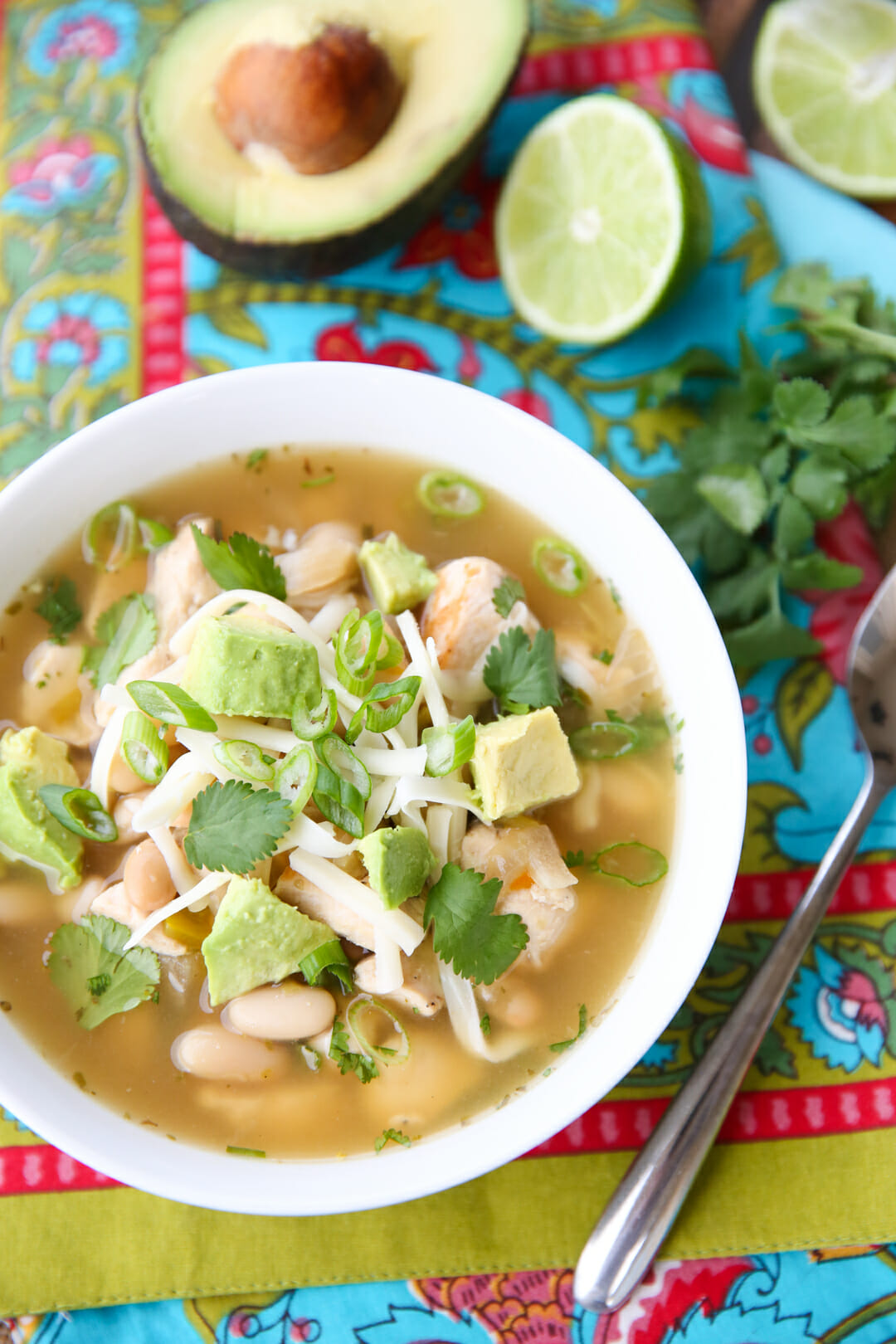 We've had a lot of requests for soups lately, and lucky for you both Kate and I are a
little
obsessed with them. I have a lot of favorites, but most people who know me know that this one is at the top of my list. Partly due to the fact that I made it from things my pantry very rarely runs out of, so I end up making it a lot when other meal plans get tossed out the window. It's really fast, and really easy, and it's major comfort food for me. I often make a pot at lunch time and just keep it warm until dinner, grabbing a bowl or two in between!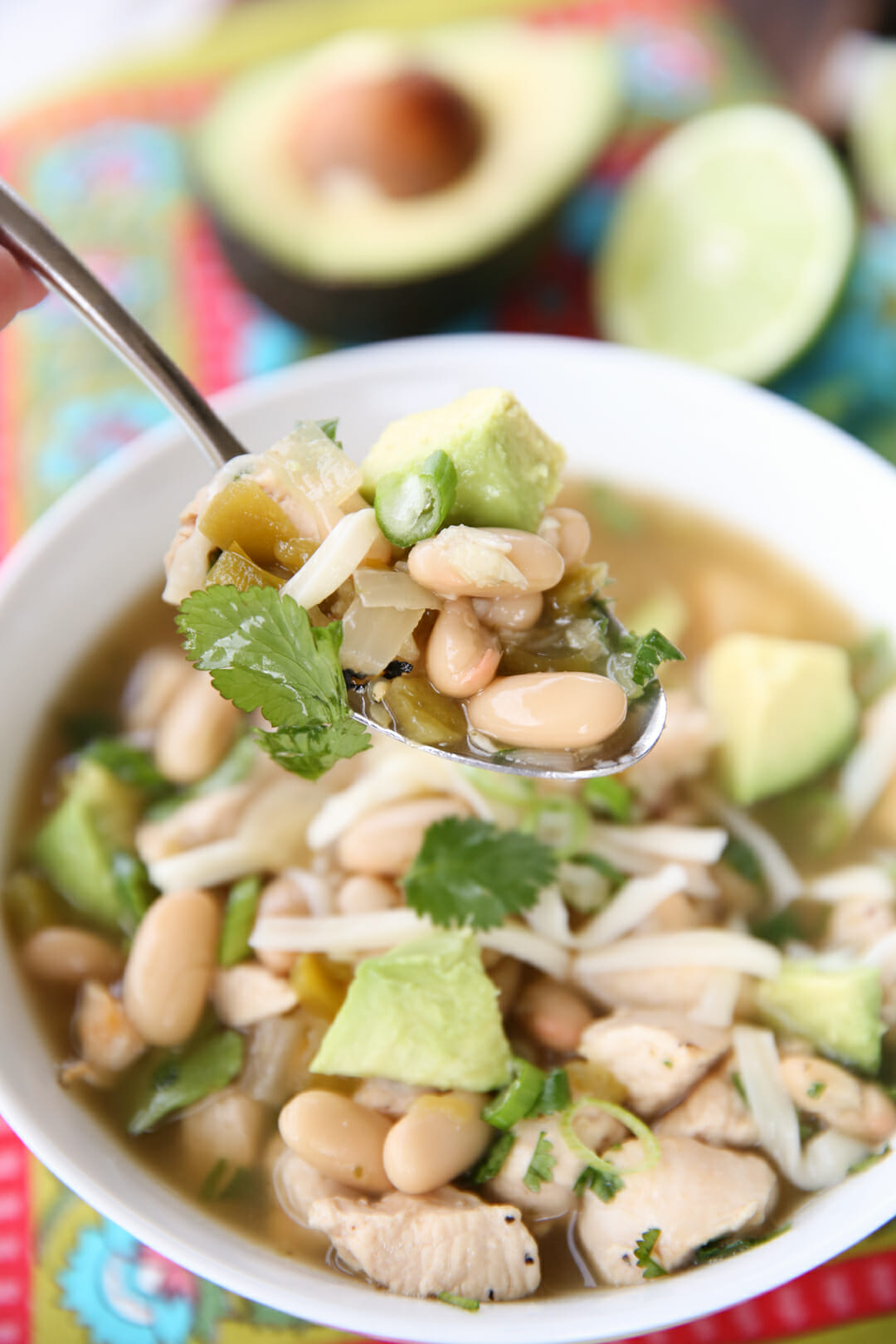 It's not spicy, but you could easily add jalapenos or a shot of tabasco to heat it up. Kids love it because they can put chips and cheese on it. Heck,
I
love it because you put chips and cheese on it. You could make it even quicker if you wanted by using pre-cooked chicken.
To start, you'll cook up some chicken.
Chicken, onion, and garlic cook up really quickly.  You would do this in a
large soup pot
or
Dutch Oven
.  The only reason I'm using a large skillet here is because it's easier to shoot the photos!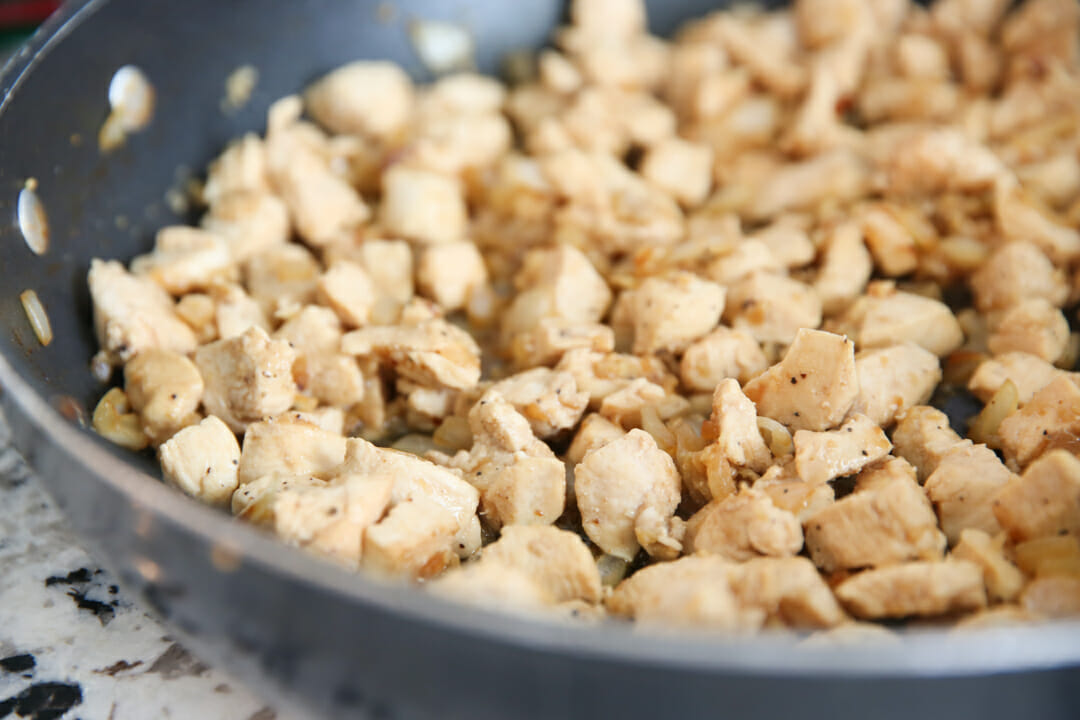 When that's mostly done cooking, you'll add in some white beans (great northern or canellini work)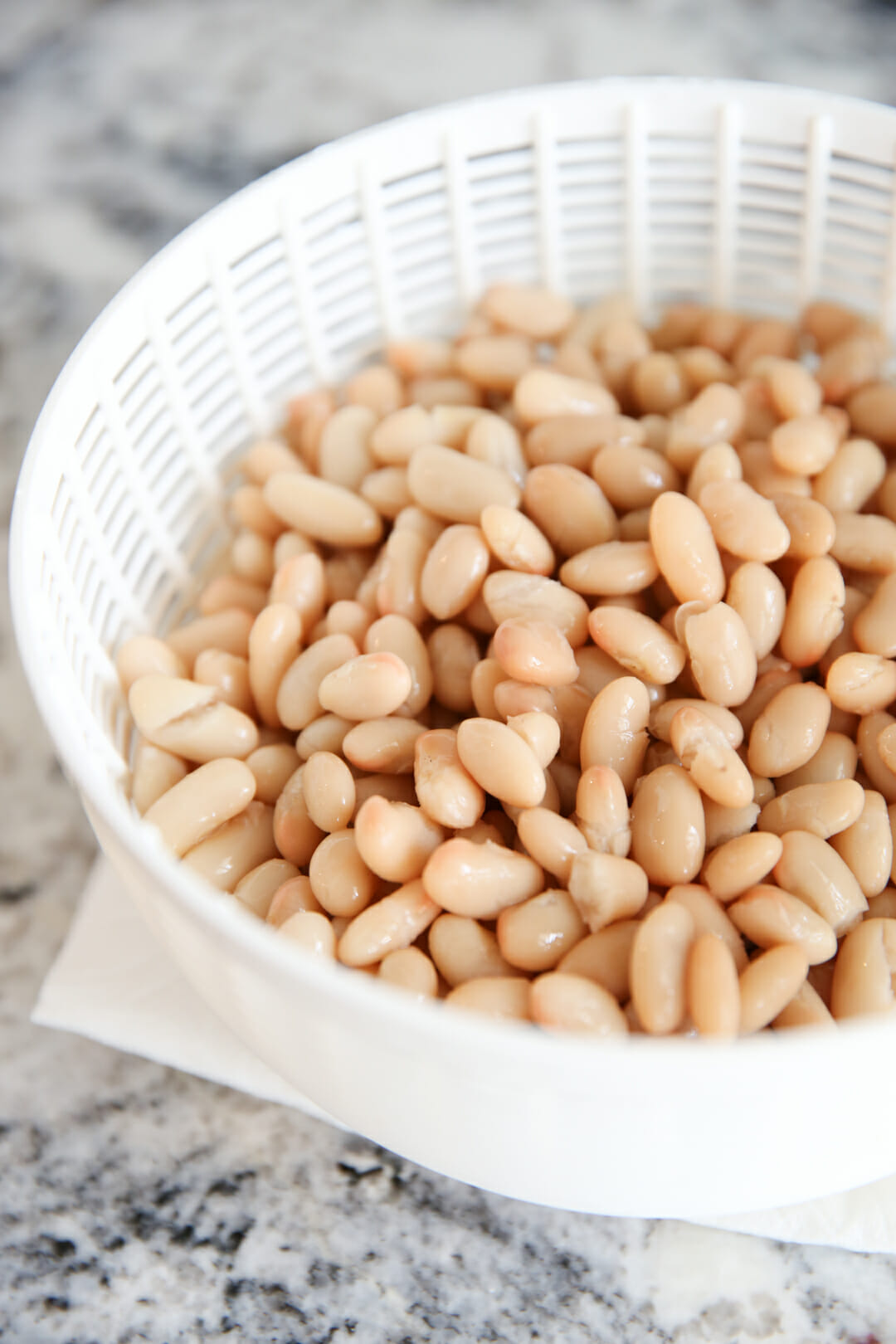 and also some diced green chilis.  These are mild, so they don't add firey heat, just tons of flavor.  Don't drain them, you'll want all those good juices, too.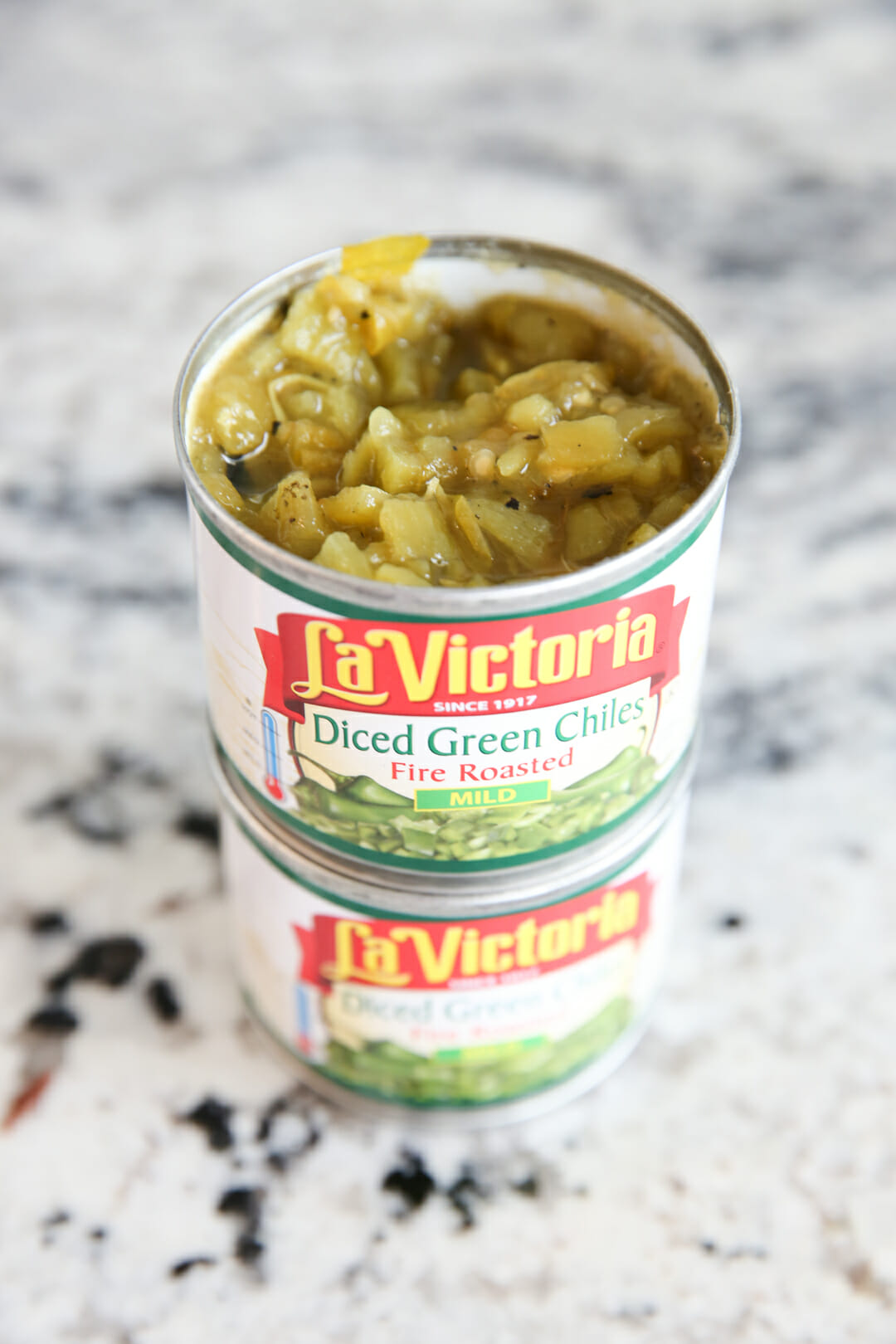 add a handful of seasonings, and then let it simmer away.
After a quick simmer, add in some fresh lime juice and chopped cilantro.  Then serve it in bowls with allllll the toppings.  Seriously, guys.  Don't forget the toppings.
Sour cream, green onions, avocado, cilantro, jack or pepperjack cheese, tortilla strips/chips.  I also LOVE this soup with a loaf of warm, crusty bread smothered with this
Creamy Jalapeno-Lime Butter
.  When you dip the bread into the hot soup, the butter melts and it is seriously the most amazing thing.
Also good to note- this soup freezes beautifully!  If you do that, cook it until the very end and cool and freeze before you add the lime juice and cilantro.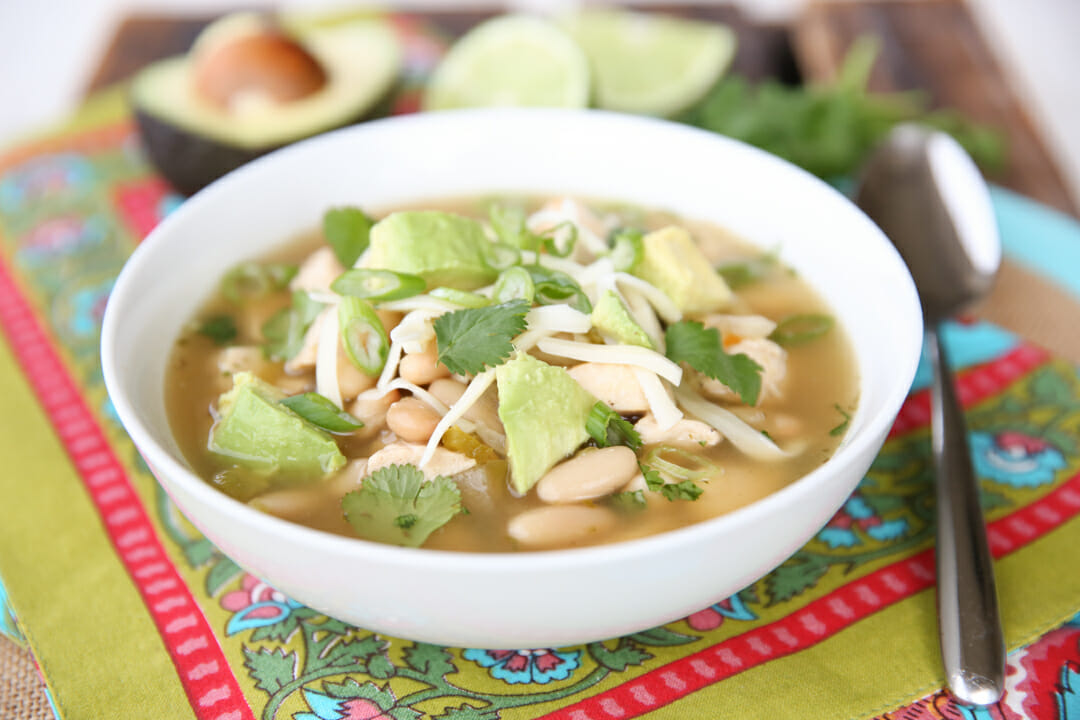 Those are better added fresh.  I've frozen this lots of times in single-serving containers for lunches at home or work! Or, you can even freeze them in a
silicon mold
. When hardened, pop them all into a zip-top bag and throw them in your freezer. For a quick and easy lunch, take out 2 or 3 "pucks" and re-heat — easy peasy!  If you've never made this one- put it on your menu this week.  It's a family-favorite around here!
*For some reason, our printable recipe card for this recipe is having a technical glitch. We will put the printable version in as soon as it's available. Thanks for your patience!*
Our Best Bites
Ingredients:
1 tablespoon Extra virgin Olive Oil (or non-stick spray)
1 pound boneless chicken, cubed (about 3-4 boneless, skinless breasts)
1 medium onion, diced
3-4 cloves garlic, minced
2 cans Great Northern Beans
1 3.5 oz can green chilies
1/2 teaspoon cumin
1/2 teaspoon dried oregano leaves
1/2 teaspoon coriander
1/2 teaspoon salt
fresh cracked pepper
1 lime
1/2 cup chopped cilantro
32 ounces chicken broth
For the Condiments:
(in addition to measurements above)
Sour cream or non-fat Greek yogurt
Chopped cilantro
Pepperjack or Jack cheese, shredded
Avocado
Tortilla Chips (or make your own tortilla strips!)
Instructions:
In a large pot, heat olive oil. Add chopped onion and cook for about 2 minutes- just until it starts to become translucent. While onions are cooking, drain beans and rinse with cold water and set aside.
Sprinkle chopped chicken with a little salt and pepper and add to pot. Add garlic as well. Cook until there's no more visible pink on the chicken, probably 3-4 minutes. Then add green chills – along with all of the juices in the can.
Add beans, cumin, oregano, coriander, salt, and a few turns of fresh cracked pepper. Stir to combine and then add chicken broth. Bring to a boil and reduce heat to a simmer. Simmer uncovered for 10-15 minutes.
Remove from heat and add the juice from one lime and the 1/2 C chopped cilantro. Add salt and pepper to taste.
Ladle into bowls and top with toppings.
Makes about 8 cups of soup.
Notes:
I call this a chili, but it's really a soup consistency. If you want it thicker, just reduce the amount of broth. Or, alternatively, take an additional can of beans (drained and rinsed) and place them in a blender. Ladle in a cup or 2 of the finished broth (avoid the chicken pieces, etc,) and puree until smooth. Add this mixture to the soup.
And in the spirit of history, I'll leave one of my "old" photos here.  For posterity!
Save
Save