As you probably know, Kate and I both went on Hawaiian vacations this summer (you can see a little of Kate's here, and a little of mine, here.)  I think that has contributed to us both having tropical food on the brain lately.  Kate posted her Kalua Pork last week and I'm not kidding; it's one of my absolute favorite things to cook these days. The word Kālua, in Hawaiian, literally means, "to cook in an underground oven."  And in Hawaii, they use an Imu, which is basically a big pit, where they use koa wood and burning rocks to cook create a hot oven right in the ground.  This photo is the remains of an Imu, right after the piggy was taken out.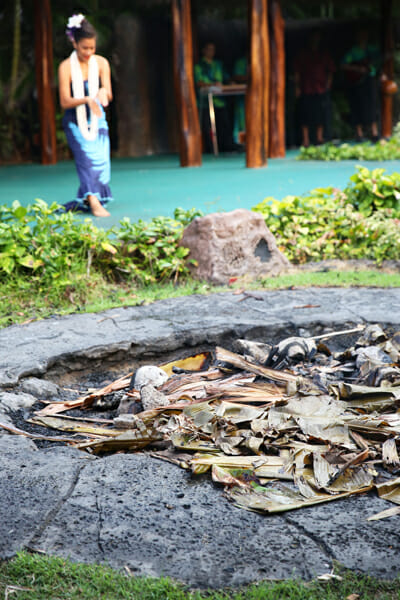 Meat (like a whole pig, for example) is wrapped in banana leaves and packed into the hot hole.  It's covered up and the smoky wood infuses flavor while the insulated heat slow-cooks.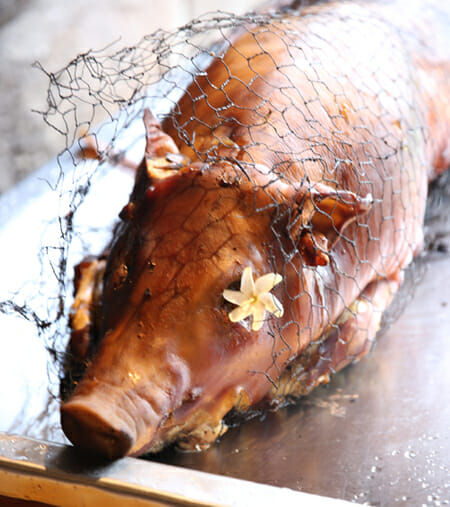 Kate's short-cut version involves an easier-than-a-whole-pig pork roast and nothing but some salt, liquid smoke, and a slow-cooker which results in a tender, smoky meat without the fuss of digging that giant pit in your backyard and trying to locate banana leaves.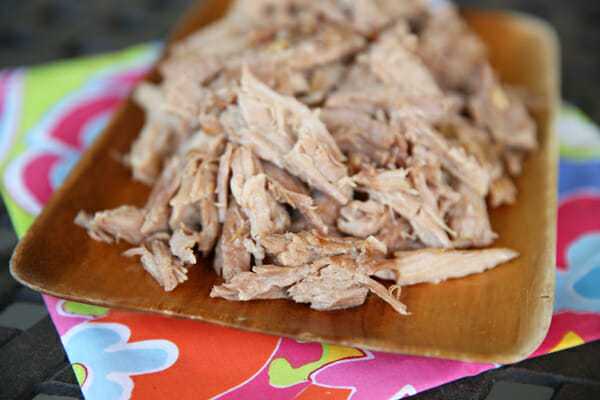 I know Kate and I both use the basic pork recipe in so many different ways, so we'll probably reference it in different posts, showing you how to turn the basic meat into a huge selection of meals (like they do in Hawaii.  Remember the Kalua Pork Pizza I posted about in this post?  Still need to recreate that one…)  This is one of my favorites these days; piled on sweet rolls with a sweet and tangy colorful slaw on top.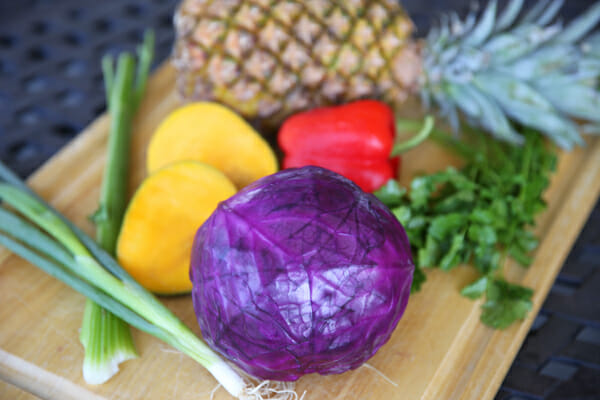 I wanted to utilize some tropical flavors, so I threw in some mango and pineapple. If you want, you could use all mango, or all pineapple.  I like the combo of both.  I chop it up with some bell pepper, cilantro, green onion, celery, and purple cabbage.
Chop it all up and suddenly you have a rainbow in a bowl.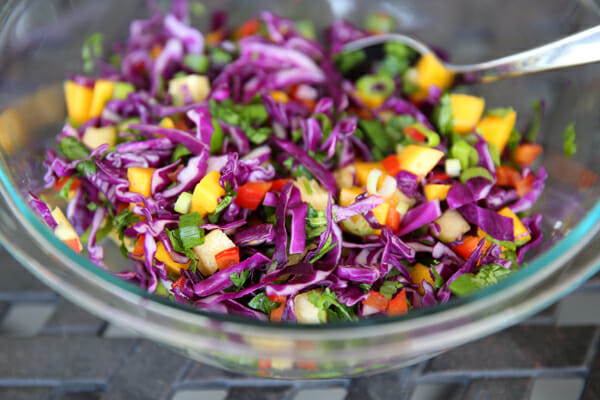 For the dressing, I wanted to base the recipe on a traditional coleslaw, but infuse some brightness into it and make it not quite as heavy.  So I just used a couple of tablespoons of mayo, just for a tiny bit of creaminess, and mixed it with some orange juice, and zest, a little cider vinegar and mustard and some seasonings.  It's a very light coating of dressing so the color and flavors of the vegetables really shine through.
Pour it right over those veggies and toss it all together.  Since the fruit in the slaw adds moisture as well, you don't have to let the slaw sit for a super long time; a few minutes while you're prepping some other things is all it needs.

So while it sits and chills, bust open the rolls.  I can't imagine anything more fitting for these sliders that sweet Hawaiian rolls.

I love how fresh and soft they are (as long as you're buying a fresh bag!)

Slice them in half and pile the tender, juicy pork on top.  I like to be pretty generous.
And then top it with the sweet and tangy slaw.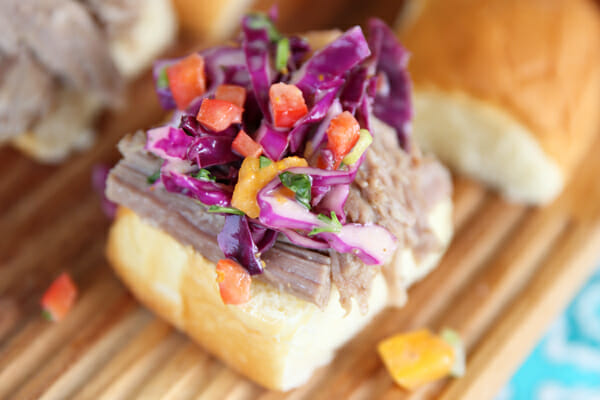 Pile it high; it's okay if it falls all over the place.
It helps to stick a skewer through them to keep them all together.  These look great all lined up on a platter ready to serve (fun food for a baby or bridal shower- pair it with one of our tropical drinks and a big platter of fruit; yum!), or in separate dishes and people can assemble their own.  They're also really good with a little squeeze of BBQ sauce in there, too.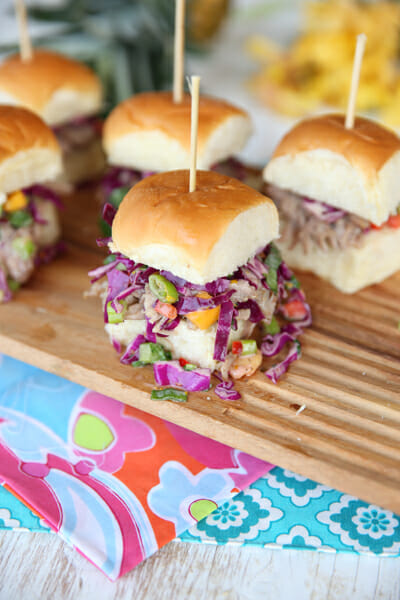 Kalua Pork Sliders with Pineapple-Mango Slaw
Recipe by Our Best Bites
Slaw
2 cups shredded purple cabbage (cut shreds into about 1″ pieces)
1/2 red bell pepper, finely diced
1 rib celery
1/3 cup sliced green onions
3 heaping tablespoons chopped cilantro
1/2 cup diced mango
1/2 cup diced pineapple
Dressing
3 tablespoons mayo
1 tablespoon cider vinegar
1 1/2 tablespoons fresh orange juice
1 teaspoon dijon mustard
1 teaspoon celery seed
1 tablespoon sugar
1 heaping teaspoon orange zest
1/4 teaspoon kosher salt
1/8 teaspoon black pepper
1/4 teaspoon onion powder
1-2 dozen Hawaiian Rolls
1 Kalua Pork Roast, about 3 lbs (Click Here for the Recipe)
optional: bbq sauce
Note:  Since you're putting the slaw on a small bun, make sure to dice everything relatively small so you get a little of everything in each slider!
Combine all slaw ingredients and gently toss.  Whisk dressing ingredients together.  Add dressing to slaw and toss gently until everything is lightly coated.  Chill for 15 minutes.  Slice Hawaiian rolls in half, top with shredded Kalua Pork and a generous spoonful of slaw.  Top with other half of bun.  (If desired, you can squirt just a wee bit of bbq sauce over the pork.  I don't like to use a lot because it takes away from the simple smoky flavor of the pork, but if you have a sauce you really love, it's pretty good in there.)
Yield depends on how full you make them. I would estimate 1 1/2 dozen very generously filled sliders and 2 dozen moderately filled ones.  If you try these, let me know how many you got in a comment!