So last week, I posted all about the Boise and Salt Lake City portions of my big summer vacation and today, it's all about Cache Valley. I grew up in Logan and lived there until I went to college. My parents still live there and I love going back…it's a special little place, unlike anything else in the world.
I think posting all the things we did chronologically would be tedious just because we spent so much time there and did so many different things each day, so I'm actually going to break it up into the categories of things we did! Also, if we ran into each other on my trip and you said hi, thank you so much! I'm so glad you did.
Where We Ate
I have to do this one first because you guys know I'm all about the food. Some of these were new experiences and some were revisiting old favorites. Of course, we went to Cafe Rio (twice…I mean…when in Rome) and my oldest spawn wouldn't rest until we went to Noodles & Co. only to say he liked my macaroni and cheese better. Also, if you're familiar with Cache Valley, Mandarin Gardens is exactly the same (and the tiny spicy chicken is probably not nearly as good as you remember it, but probably exactly what it was like back in the day, whenever "back in the day" is for you.)
Johnny's Spudnuts
Never one to say no to donuts, I needed to try Johnny's Spudnuts once I got into town because I've heard how great they were. Spudnuts are actually made with some potato flour or even actual mashed potatoes, so the donuts tend to be very moist (sorry, y'all…I know that's a trigger word) and on the heavier side (so, like, not light-as-air Krispy Kremes.) They had gigantic, big-as-your-face donuts and fritters as well as more reasonably sized treats. I got a variety to share with my family, who ate all the Old Fashioneds before I got to them, which is the only donut I even care about, so I'm probably too emotionally scarred to write a fair review.
Old Grist Mill
Old Grist Mill  is a bakery and no-frills sandwich shop that's been around since I was in middle school and it looks exactly the way it did then, down to the ordering slips. They have a huge variety of freshly baked treats (the pumpkin bread and bars are particularly delicious, and they actually inspired THESE all-time favorite cookies.) We grabbed their little (very inexpensive) lunch special (brown paper bag with a deli meat sandwich on their homemade bread, a bag of Lay's, a cookie, and a can of soda) on our way to Boise. It's nothing fancy, but the bread is so good that it makes all the difference.
Herm's Inn
When I was growing up, there was a little abandoned gas station at the mouth of Logan Canyon and it was so cool and I wished someone would turn it into something. Well, long after I left home, someone bought it, completely restored it, and turned it into a little hipster-y breakfast/brunch/lunch restaurant called Herm's Inn, which, if I'm being completely honest, is all I ever wanted and more. We stopped in here for breakfast before heading up to Tony Grove for the day (more about that later). My boys got pretty standard breakfast fare, my daughter got the cinnamon swirl pancake (which is huuuuuge), and I got the Benedict Florentine. Sit outside if you can (and in Logan, you can sit outside often, at least during the spring, summer, and fall…winter there, though, is like summer in Louisiana.) My youngest, who is a top-rated expert in public restrooms–pretty sure it's his goal in life to try every single one of them–informed me that the restroom here is the coolest one he's ever used, so take that for what it is worth.
The Factory
The Factory Pizzeria is in the basement of an Italian restaurant (which I believe is now closed…someone correct me if I'm wrong.)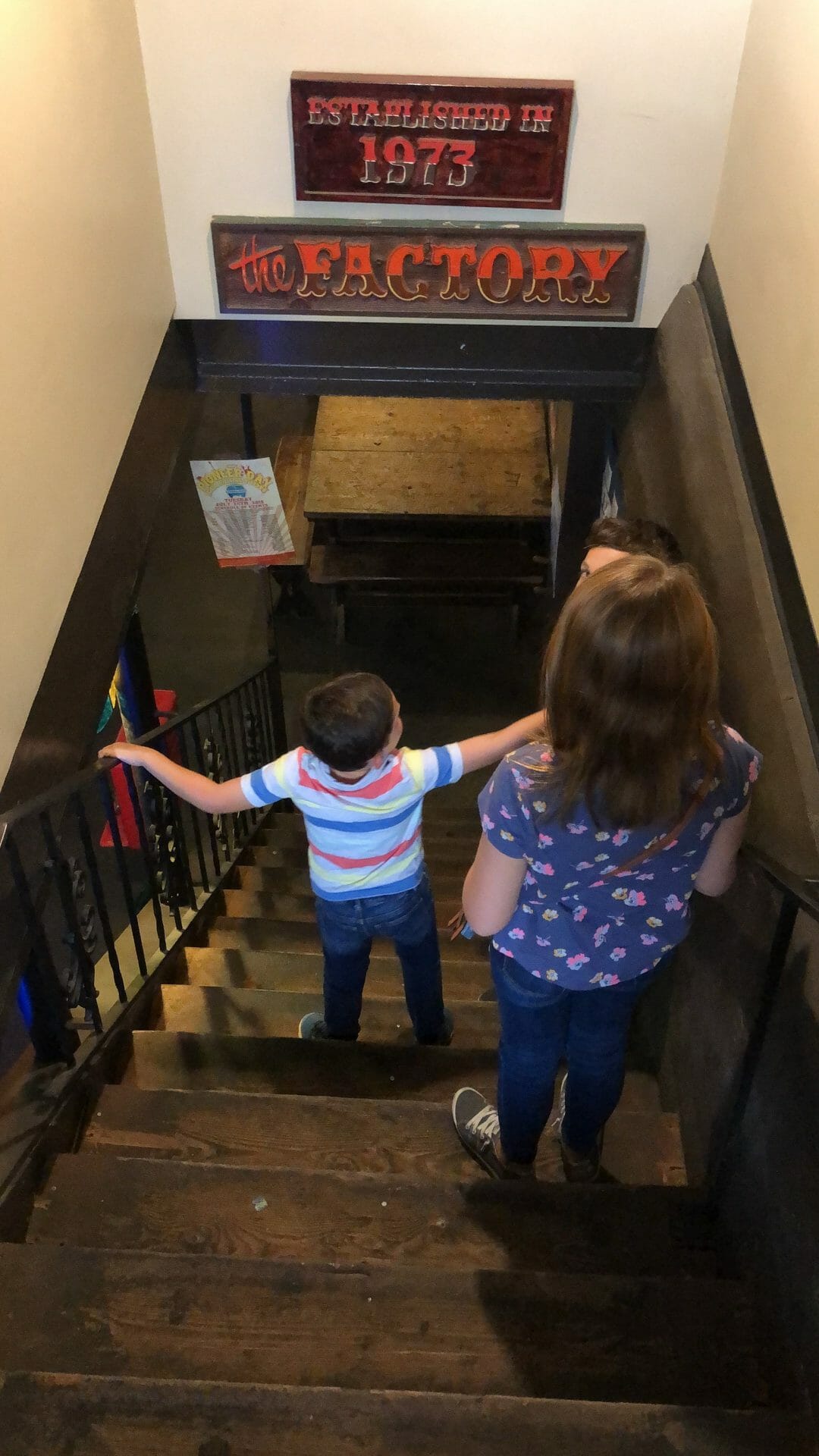 They serve big ol' cheesy pizzas with thick, bready crusts.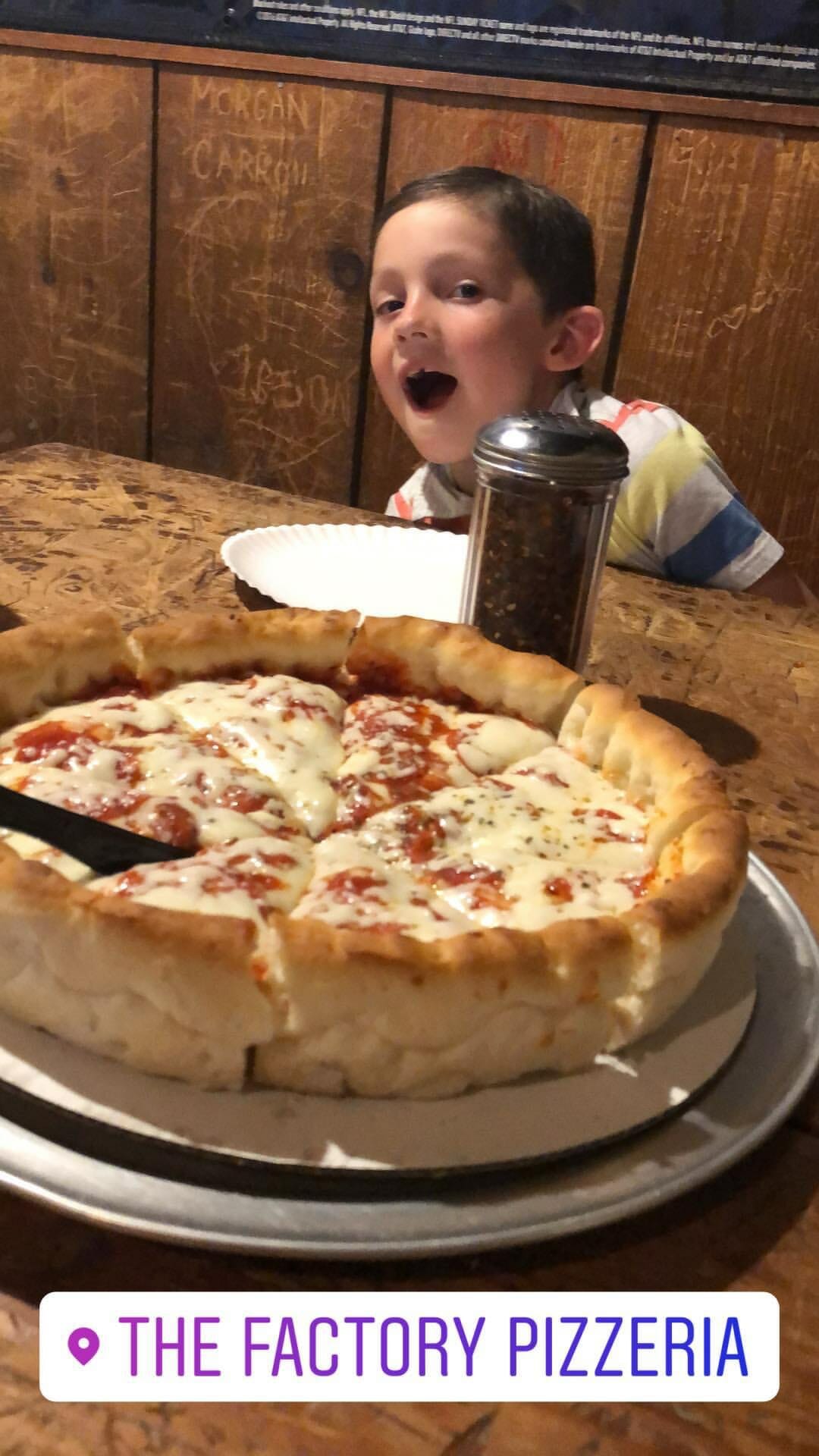 When I was a kid, I thought this place was the seediest–it's one of the few places in town that freely serves beer, there were peanut shells all over the floor, and people are welcome to carve their initials on anything they can get their knives on. The peanut shells are gone, and we went on a Monday night, so it was pretty quiet, but everything else was the same. Literally. I don't think a thing has changed in 30+ years. It's definitely a sentimental favorite and when it comes to pizzas in Logan, I love this way more than Fredrico's (I know these are fighting words. Y'all. Go to Fredrico's with an open heart and ask yourself, "If I were eating this for the very first time as an adult with a bank account and tastebuds, how would I really feel about this pizza?" Garlic bread? Salads? Those things are fine. But the pizza? In the words of John Crist, check your heart.)
Quick & Tasty (Bear Lake)
On our Bear Lake day, we wrapped up the day at Quick 'n' Tasty, which is one of the many, many burger and shake shops in Garden City. You can't miss it…it's across the street from LaBeau's (the most famous burger and shake shop of them all, recognizable by the giant spinning cup and the massively long line regardless of the time of day.)
It was good. We were tired. It's been so long since I've been to Bear Lake that I can't give you an honest comparison of Quick & Tasty to the rest of the burger and shake shops. The fries were my favorite part and everything was made to order and while it was not quick, it was tasty.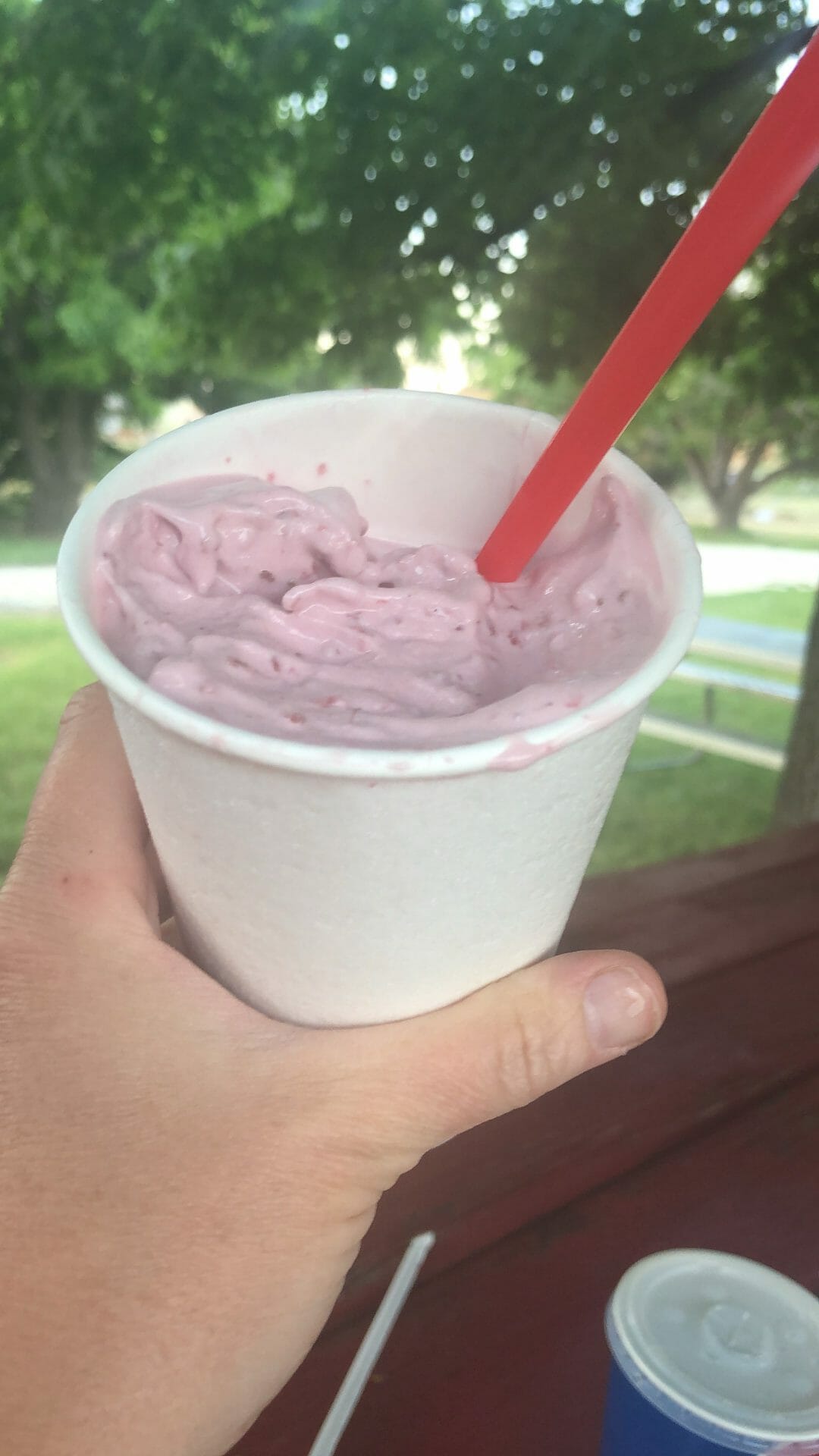 Aggie Ice Cream
No trip to Logan is complete without a visit to Aggie Ice Cream. Logan is home to Utah State University, which was originally an agricultural college, and they have a huge dairy science program (cows thrive in the Cache Valley climate.) Aggie Ice Cream is the ice cream shop on campus, and I will cage fight anyone who says BYU's ice cream is better. BYU is great (better, even!) at some things than USU is, and while their ice cream is fantastic, it's not as fantastic as Aggie Ice Cream. The Aggie Blue Mint is their signature flavor, but if there's a huckleberry ice cream, I will always get it. And I did. And it was dreamy.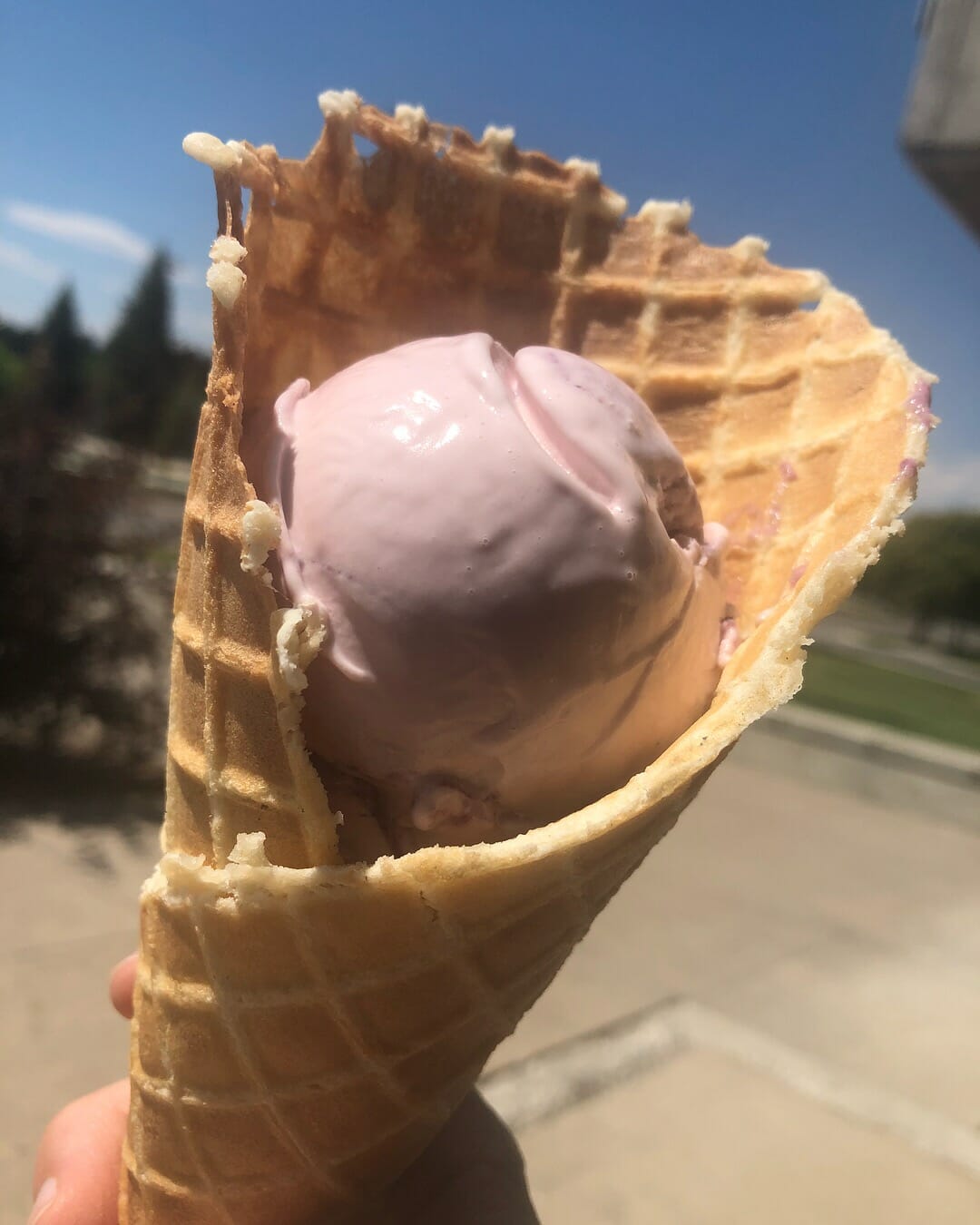 (The lemon custard is another favorite, but as hard as I tried, I couldn't eat all the things on this trip.)
Kneaders
I worked at Kneaders for a couple of years while I was in college, so I always have to go back. They are very different from Old Grist Mill–their menu is constantly changing, the sandwiches and pastries dabble in fanciness, and they have a merchandise shop. Their turkey sandwiches are hard to beat, though…they roast fresh turkeys every night and then hand-pull the turkey every day (believe me, this is true…I pulled many a turkey in my Kneaders days.) Fresh, pulled turkey and freshly baked artisan breads make for a pretty fantastic sandwich.
Logan's Heroes
Logan's Heroes is a sub (hero) shop that's definitely a step above Subway. The sandwiches are only sold as foot-longs and they're very very delicious. Don't skip the oil and vinegar and oregano (and, really, the pepperoncinis)–they're what make these so good. They also have gyros. This is a little bit hole-in-the-wall-ish (and actually, they're neighbors with The Factory).
What We Did
While Logan has definitely grown over the years, it's still not exactly a bustling metropolis. Thank goodness. Salt Lake is so crowded and sprawling that I love the slower pace in Logan. It's literally minutes from outdoor activities in every direction, so we spent a lot of time outside.
Logan Aquatic Center
The city pool in Logan is wonderful–it's extremely clean, the life guards are well-trained and take their jobs very seriously, and the pools and deck are very nice. There's a shallow, zero-entry pool for smaller kids, a deeper pool for laps and bigger kids, a diving tank, and two waterslides. We spent two days here and it was money and time well-spent.
Riverside Trail
The Riverside Trail is a very easy hike/nature walk up Logan Canyon alongside the Logan River. Basically, it follows the river between 2nd and 3rd dam (which allows for a lot of dam jokes.) Lots and lots of butterflies and wildflowers and places where you can get in the river and splash around. During the summer, go in the morning or evening…it can get quite hot, dusty, and sunny in the middle of the day (it's not a particularly shady hike.)
2nd Dam
One evening, we went up to 2nd Dam in Logan Canyon. My brother brought kayaks and paddleboard so we could get our feet wet (literally) and we used the free firepits to roast hot dogs and s'mores. It was a Saturday, but it wasn't overly crowded and we had no problem finding a site and there were plenty of empty sites. It's only a few minutes up the canyon, so it was a very easy little jaunt into nature! Just look for signs to Second Dam on the right side of the road–they're hard to miss.
Tony Grove
Tony Grove is a beautiful little mountain lake near the top of Logan Canyon. The mileage is deceiving…it says it's only 17 miles from Logan, but it feels much longer than that because you have to drive on the slow side and there are lots of winding canyon roads. But the lake itself is like something from a movie about summer camp and if you go during the week, it's not crowded at all. We spent a few hours playing with the kayaks and paddleboards and then we drove to a campsite and paid the day rate to have a little picnic in the woods.
Bear Lake
Bear Lake is every bit as beautiful and fun in real life as it seems in pictures. It's a picturesque, crystal-clear lake on the Utah-Idaho border. It's become kind of a tourist destination, and the weekends are insane, but if you go early in the week, it's not bad at all. The water is clear and surprisingly warm (and I was also surprised how deep it is…there are parts of it in the middle that are 200-300 feet deep.) We went to Rendezvous Beach and brought a picnic lunch. We brought the paddleboards and kayaks and my brother also brought his little sailboat, so we all took turns riding on his boat. There are lots of places to rent boats, jet skis, and other water toys, but honestly, my kids had the most fun playing on the beach, searching for shells, and splashing in the water. When we were driving home, it was dusk and I decided to take a quick detour to Beaver Mountain, the ski resort where I spent nearly every weekend as a kid and a teenager, and we saw a whole bunch of wildlife, which ended up being one of my favorite things of the day.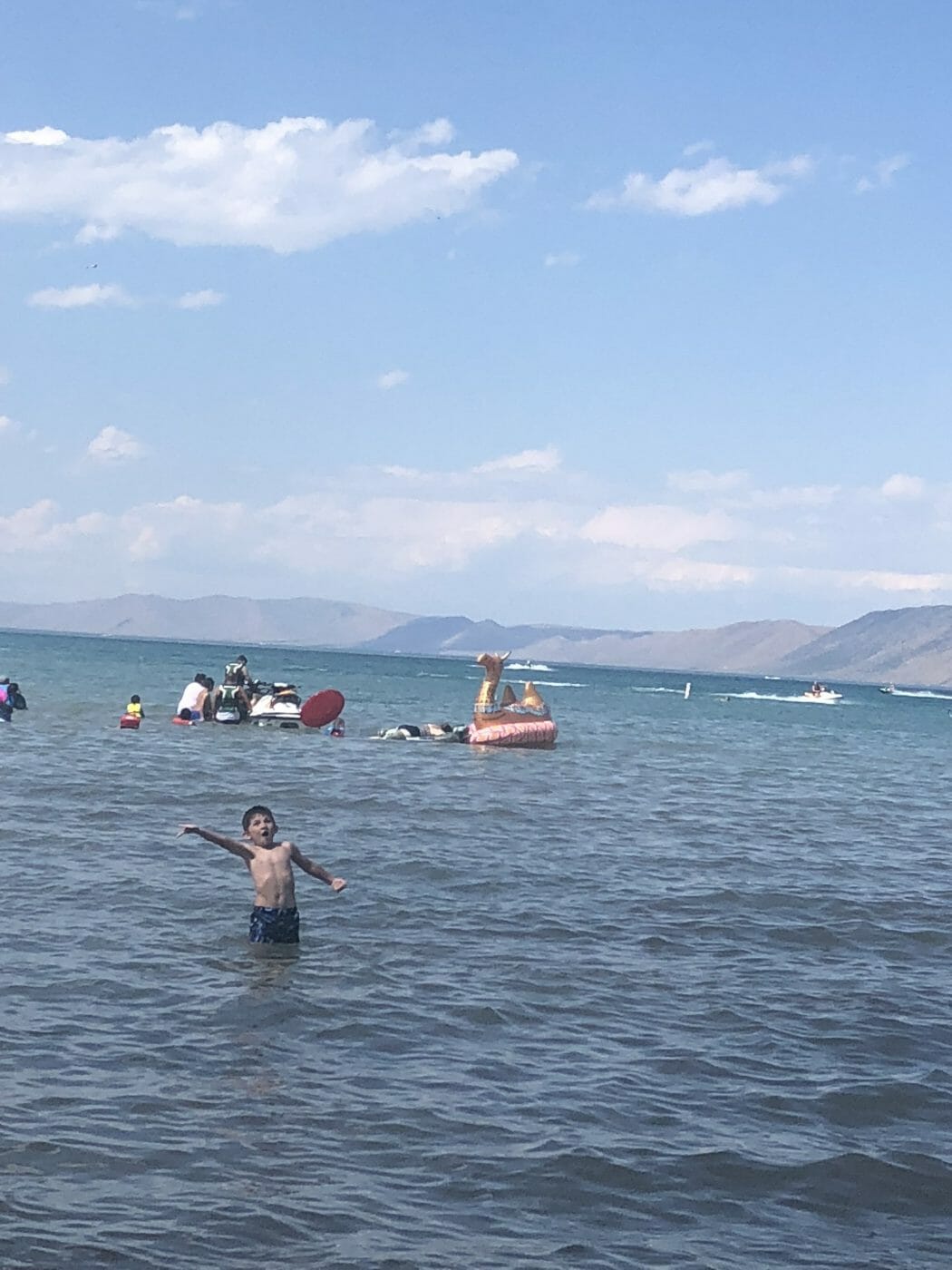 Utah Festival Opera
We're a theatre family, so it was fun for us to be in a place that has a professional summer theatre series with the Utah Festival Opera. We went to see The Secret Garden and You're a Good Man, Charlie Brown.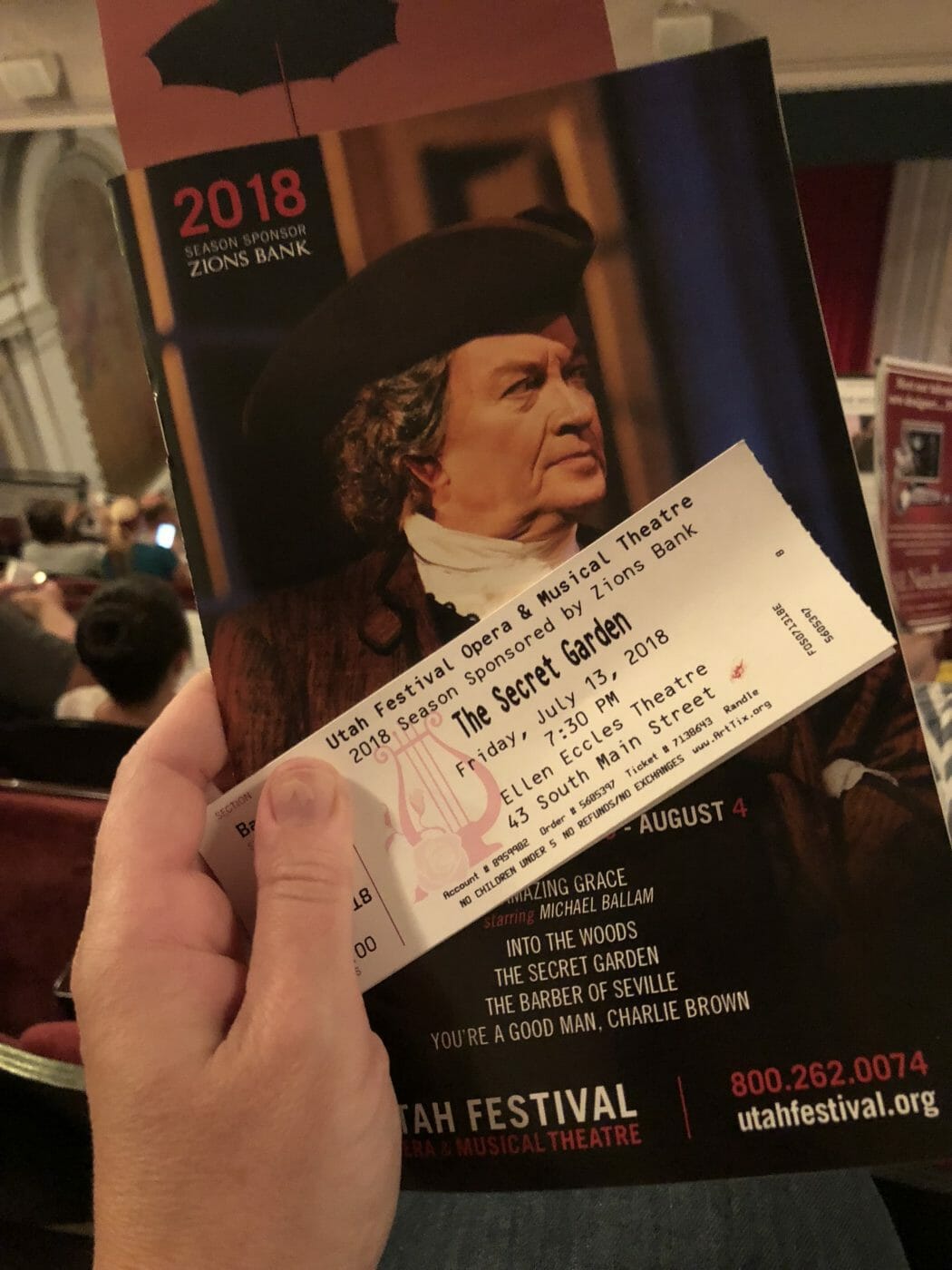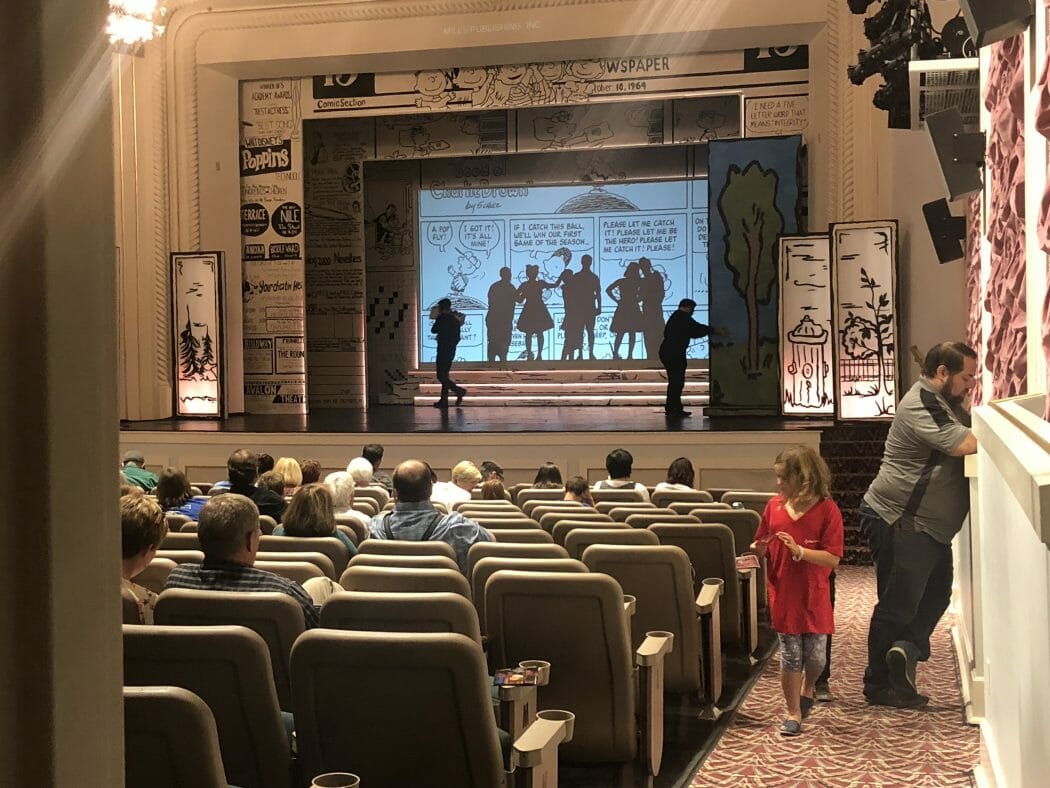 There were lots of mixed feelings about The Secret Garden (I left the 6-year-old with Grandpa and that was definitely a good choice), but I thought it was dark and beautiful and expertly produced. However, we were all completely smitten with everything about You're a Good Man, Charlie Brown. If you're looking for a fun family night, go grab some pizza at The Factory, leave your car there, and walk over to the theatre to see You're a Good Man, Charlie Brown.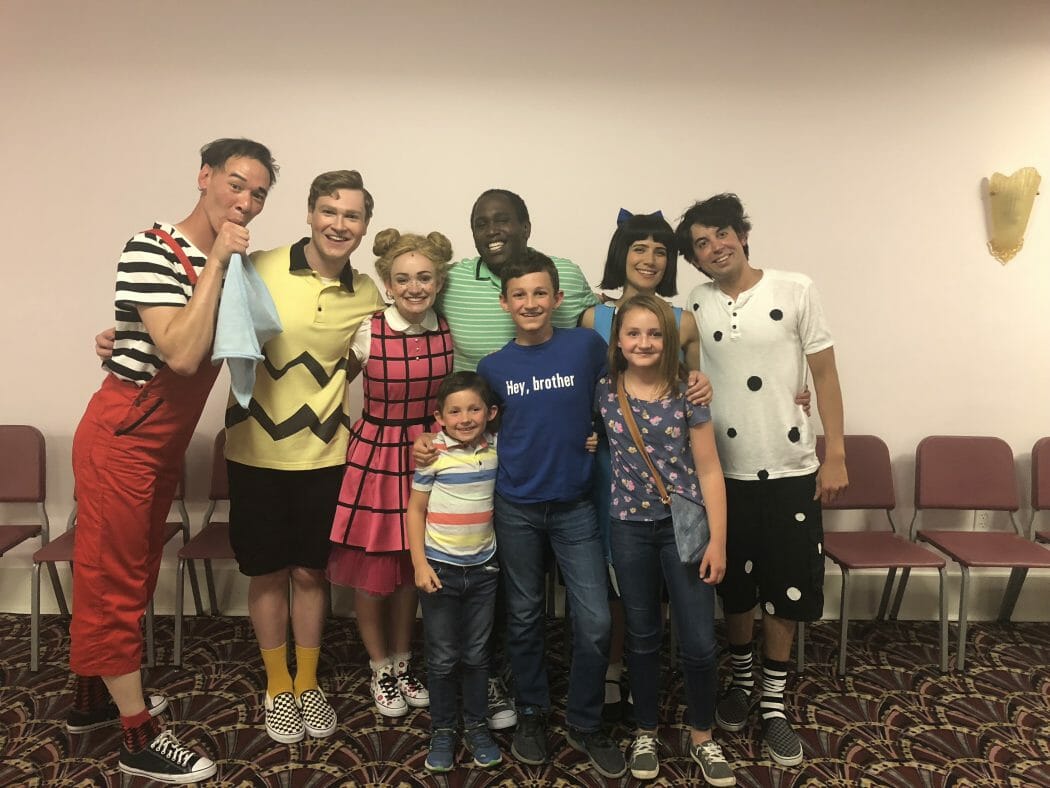 It feels like we did more than this, and we did spend a lot of time hanging out with cousins and chatting. If you live in or near Cache Valley or if you're visiting, I hope this gives you some ideas of what to see and do! Let me know what I missed!