One of my family's most favorite meals are breakfast sandwiches – basically Egg McMuffins.  We tend to keep all the necessary ingredients at our house at all times and we have these more often for dinner than we do for breakfast!  If you've ever tried to make a large quantity of breakfast sandwiches at once (and by large I'm talking about like, 5 or more haha) you know it's a challenge!  You can't toast the English muffins at once, the eggs have to get pulled out at exactly the right moment, half of them always end up cold, and mostly it's just a tricky game of timing.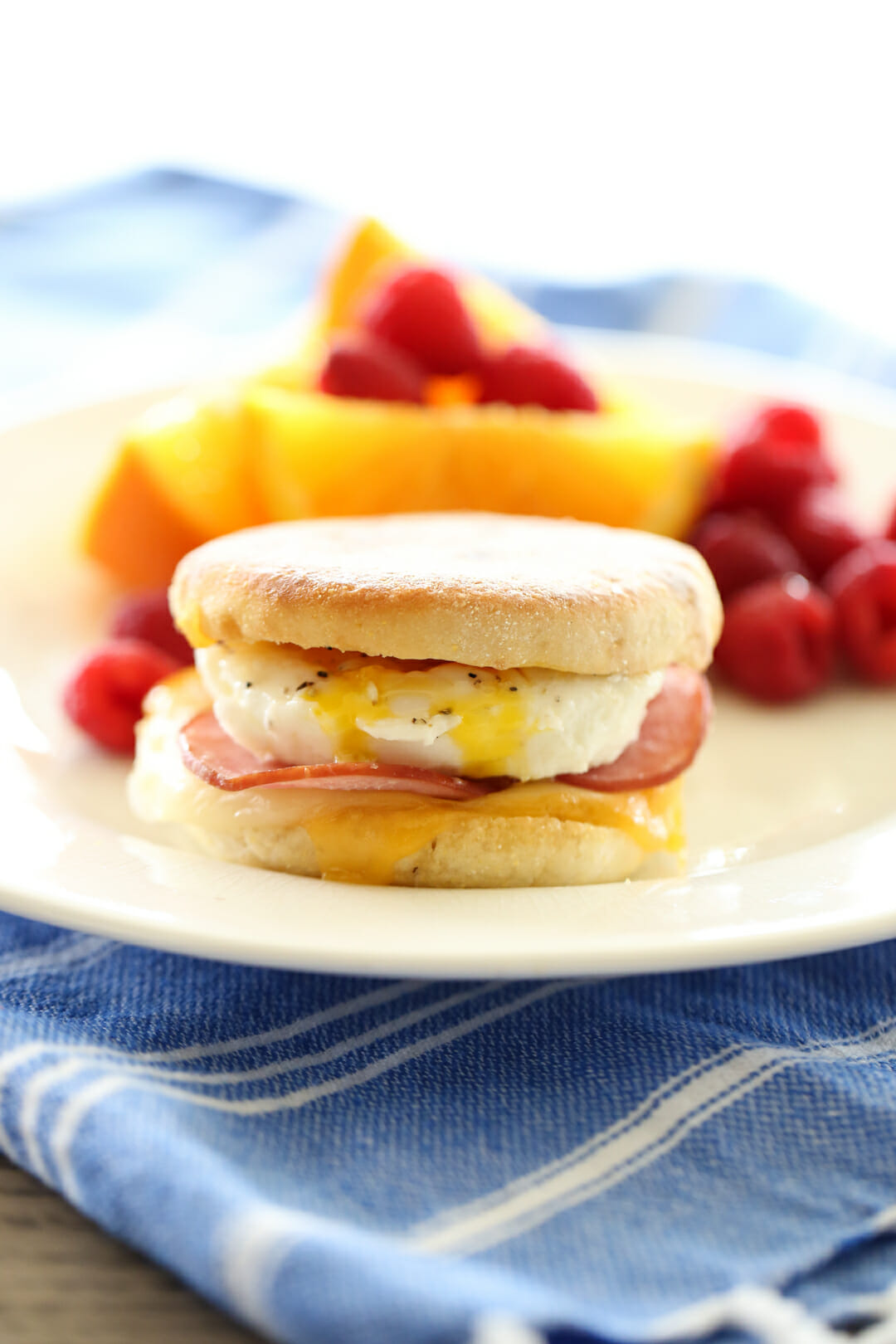 After slaving away for way too long on way too many nights, I looked for a way to simplify and figured it out!  Now I can make Egg Sandwiches for family dinner, or a big neighborhood breakfast or extended family brunch with no trouble at all.  One major trick is this tutorial for poaching eggs in a muffin tin!  Click here to read all about that if you missed it.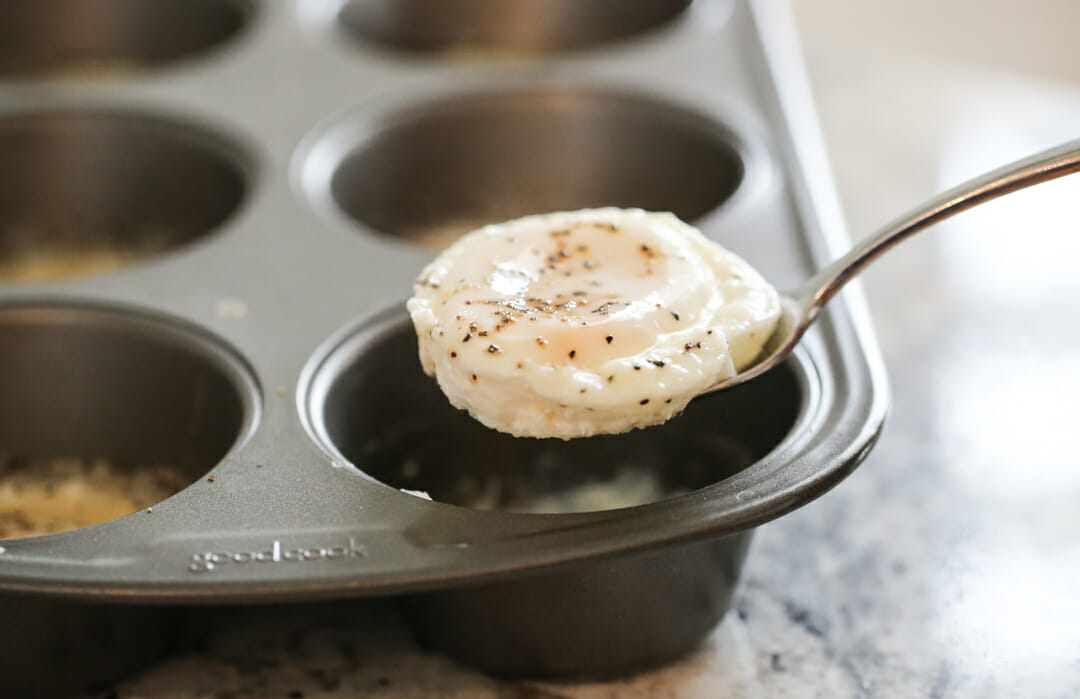 I have a double oven so I usually cook the eggs in one and the muffins in the other, but if you're working with one oven, do the eggs first and then cover them with foil and cook the muffins.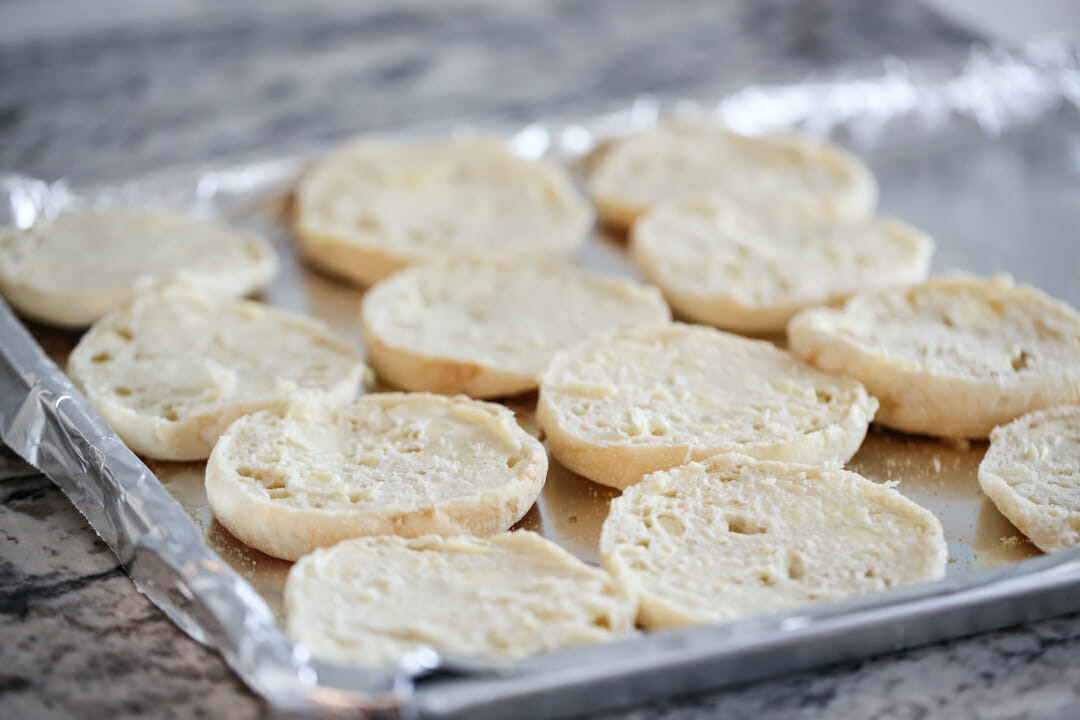 You can either bake the muffins at 400 degrees, or you can broil them, and either way, I toss some Canadian bacon on the pan in the last minute to warm it up, too.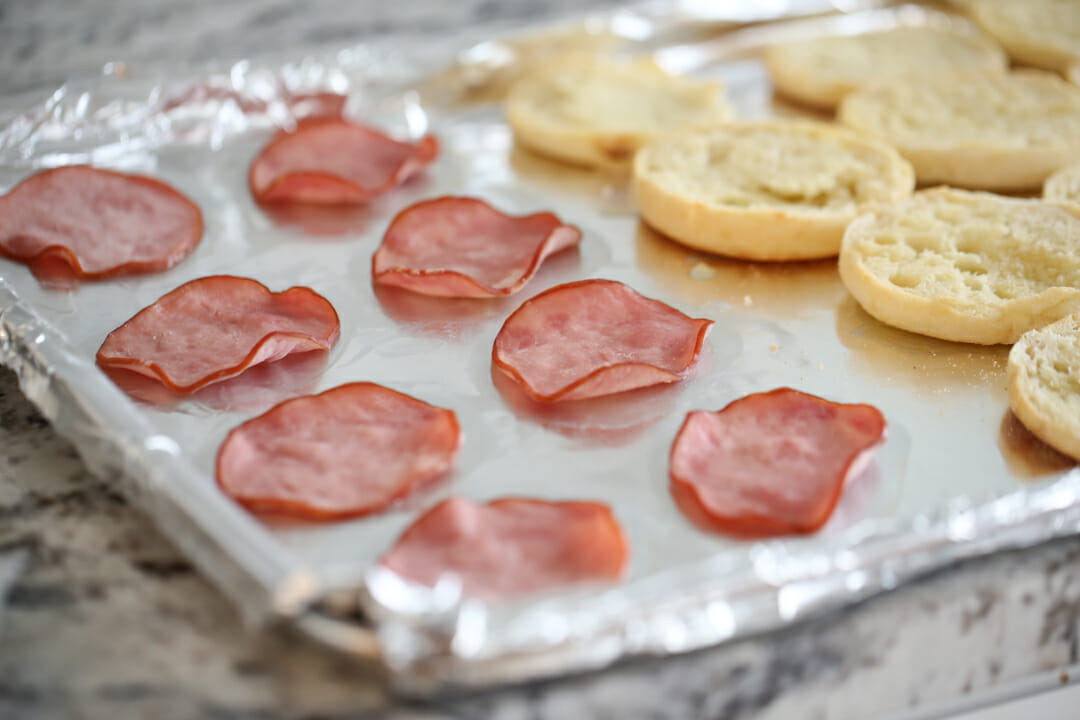 After the muffins are toasted then I add a piece of cheese to each one and then put them all together.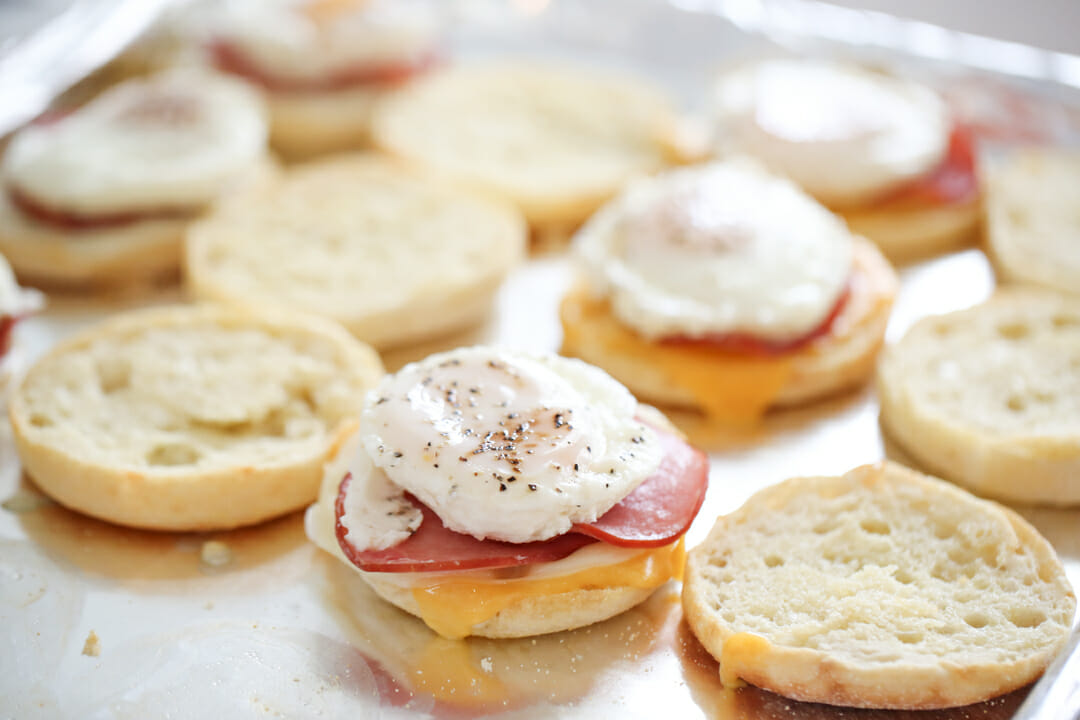 SO quick and easy and my family loves them!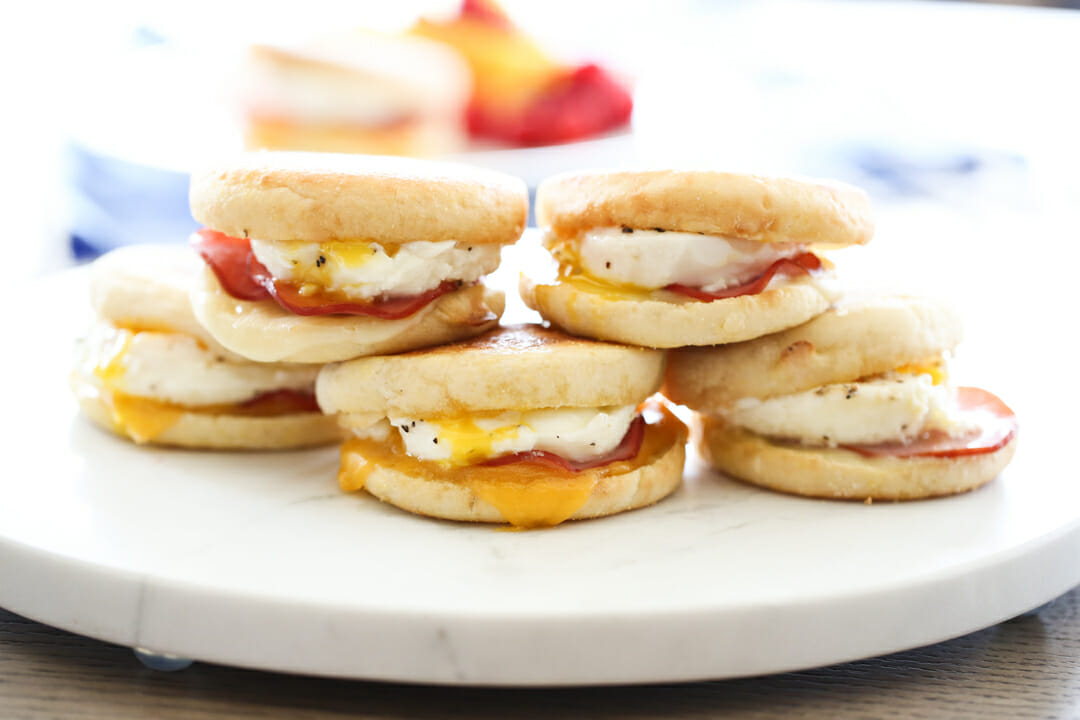 To make it a meal, we often pair it with fresh fruit or a side salad. If you love more of a scrambled egg, check out this other recipe for Egg Sandwiches.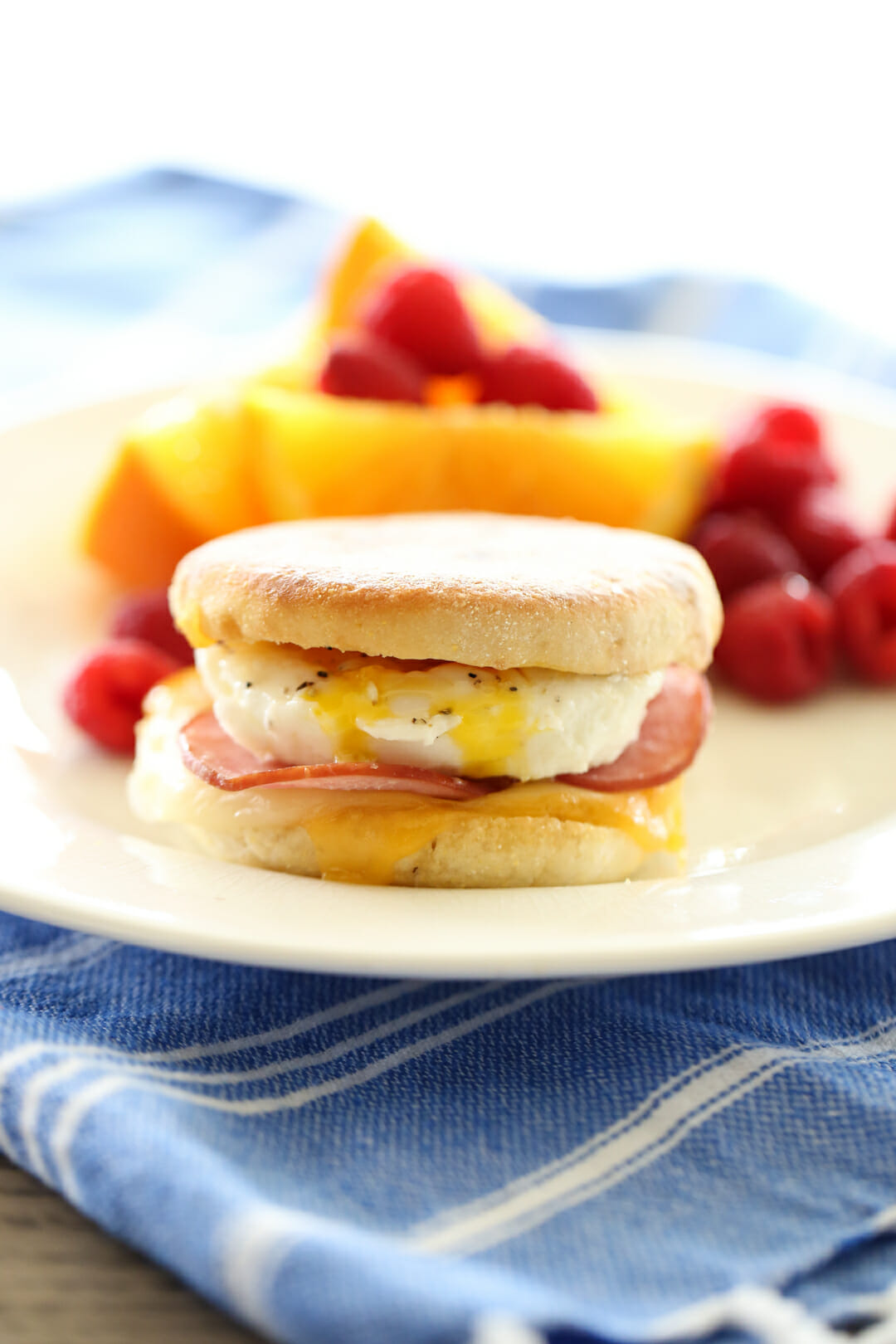 Print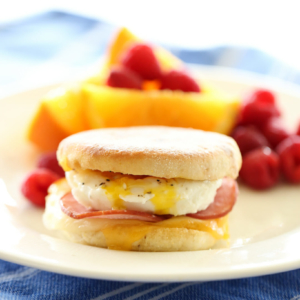 Large Batch Egg Breakfast Sandwiches
---
Description
Make a large batch of toasted English muffins with melted cheese, Canadian bacon and a soft-cooked egg.
---
There are no quantities listed, make as many as you like!  You'll want equal numbers of each main ingredient listed.
Eggs
butter
English muffins
cheese slices
Canadian bacon
Salt and pepper
---
Instructions
Preheat oven to 350. Coat each well of a muffin tin (I recommend jumbo) with butter.  Add 1 tablespoon water to each one.  Crack each egg and add 1 egg per muffin cup. Do not salt and pepper (it will wash away with the water!) .  Bake for about 10 minutes, but watch them a few minutes before and after that in order to cook to desired doneness.  Keep in mind the water on top will be discarded- sometimes it makes it look like uncooked egg white on top, when it's really just water.
While eggs are cooking, place buttered English muffin halves face-up on a baking sheet, to one side of the pan and lay out Canadian bacon on the other side.    When eggs come out of the oven, cover with foil and set aside.
Place baking sheet under the broiler and watch carefully.  Your Canadian bacon might heat up before the muffins are toasted and you just have to eyeball everything and pull it when it's ready.  When muffins are toasted, place a slice of cheese over half of them and return to oven (with oven off) and door closed so it can melt.
Remove from oven, top with an egg.  Sprinkle on some salt and pepper, add Canadian bacon and enjoy.
If you have a double-oven, I usually skip the broiler and cook my muffins at 400 degrees at the same time as the eggs for about 10 minutes or until toasty.  I add the Canadian bacon only in the last 2 minutes or so.  Then everything is done at the same time.
---