Everyone needs a go-to appetizer.  That something you can throw together at a moment's notice when you get invited to a gathering and have everyone rave about it.  This is one of mine.  Puff pastry is magic, guys.  You pair literally anything with it and it tastes delicious and no matter what, it looks super fancy but it's soooo easy.  I'm sharing this today because when Valentine's Day rolls around the internet is a buzz with pink sprinkles and chocolate and heart-shaped food and lots and lots of frosting.  I have nothing against any of those things but sometimes at our house, I just want to make something extra fun and special, and fancy delicious appetizers fit the bill.  These are extra awesome because you can prep them ahead of time and keep them in the fridge till you're ready to bake, and they can be served either warm or at room temp.   You've all had Baked Brie, right?  Or Brie en Croute if you want to sound fancy and French.  I LOVE baked brie, but I always feel like it's kind of a mess and a little hard to eat once that thing is cut open.  So this is just a mini, portioned version of that that you can pick up and eat with one hand. I'm going to show you two different flavor combinations.  Since puff pastry comes with 2 sheets I like to make one of each!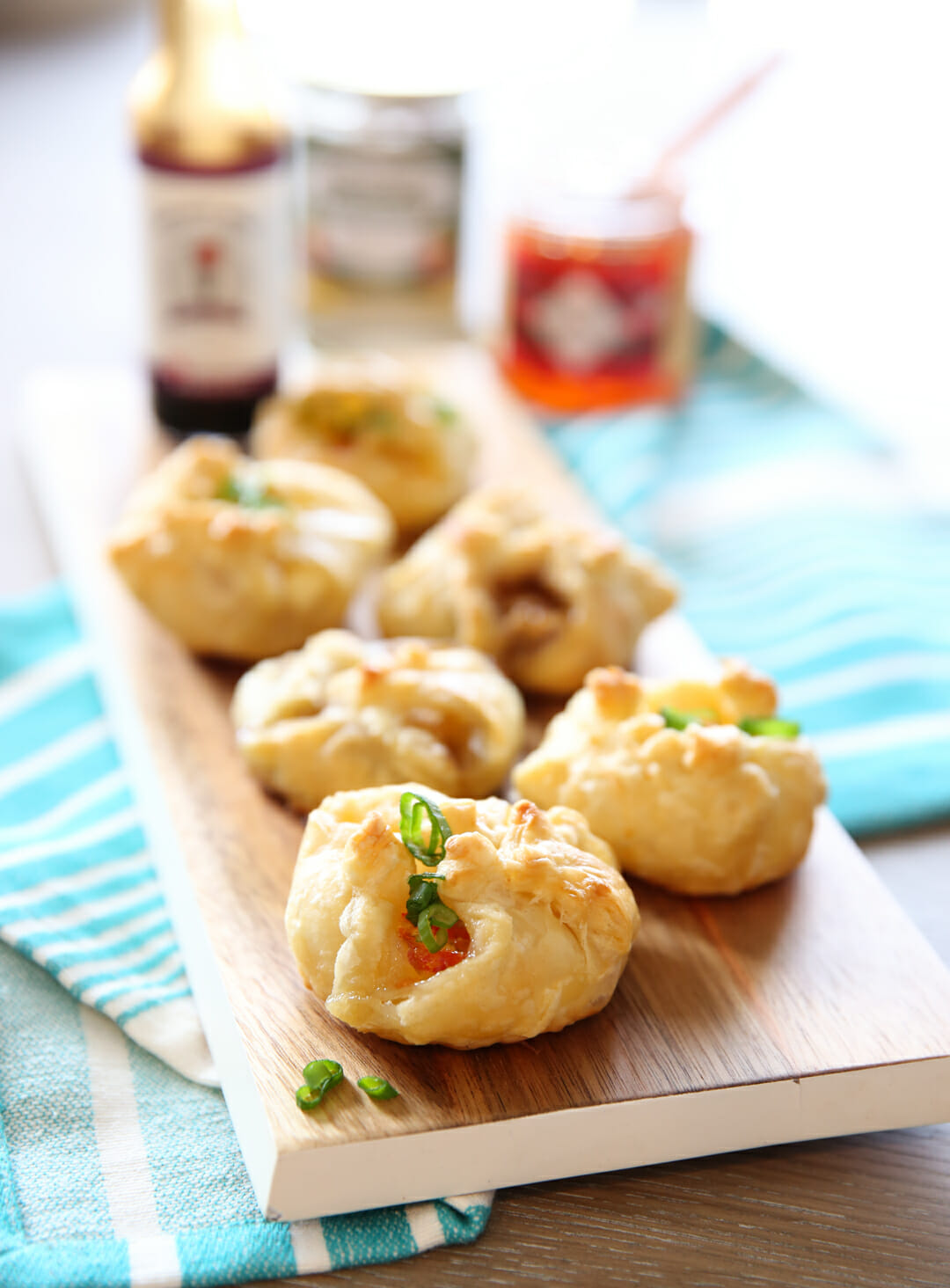 You'll need a small wheel of brie.  The rind is completely edible, but if you're not a fan, just use a really sharp knife and cut some of it off like this photo below.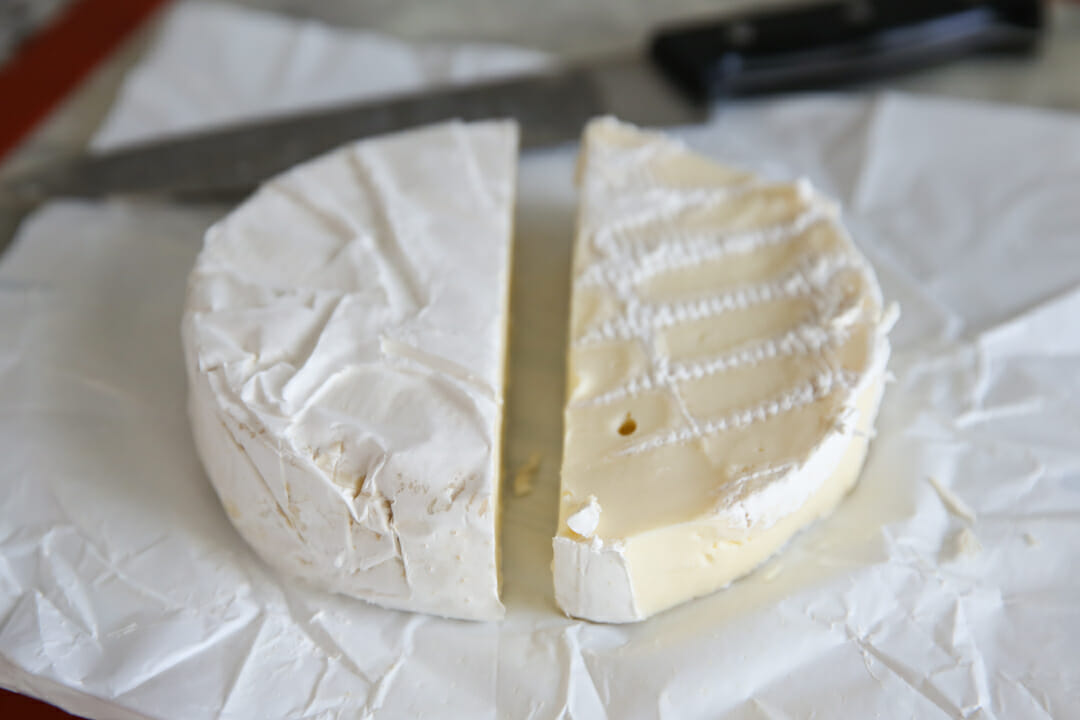 The first flavor is a classic: pepper jelly.  Tabasco is a widely available brand that you can find near the other jams and jelly's at the grocery store.  It's exactly what it sounds like- jelly made with hot peppers.  It's sweet and spicy and perfect with cheese and pastry.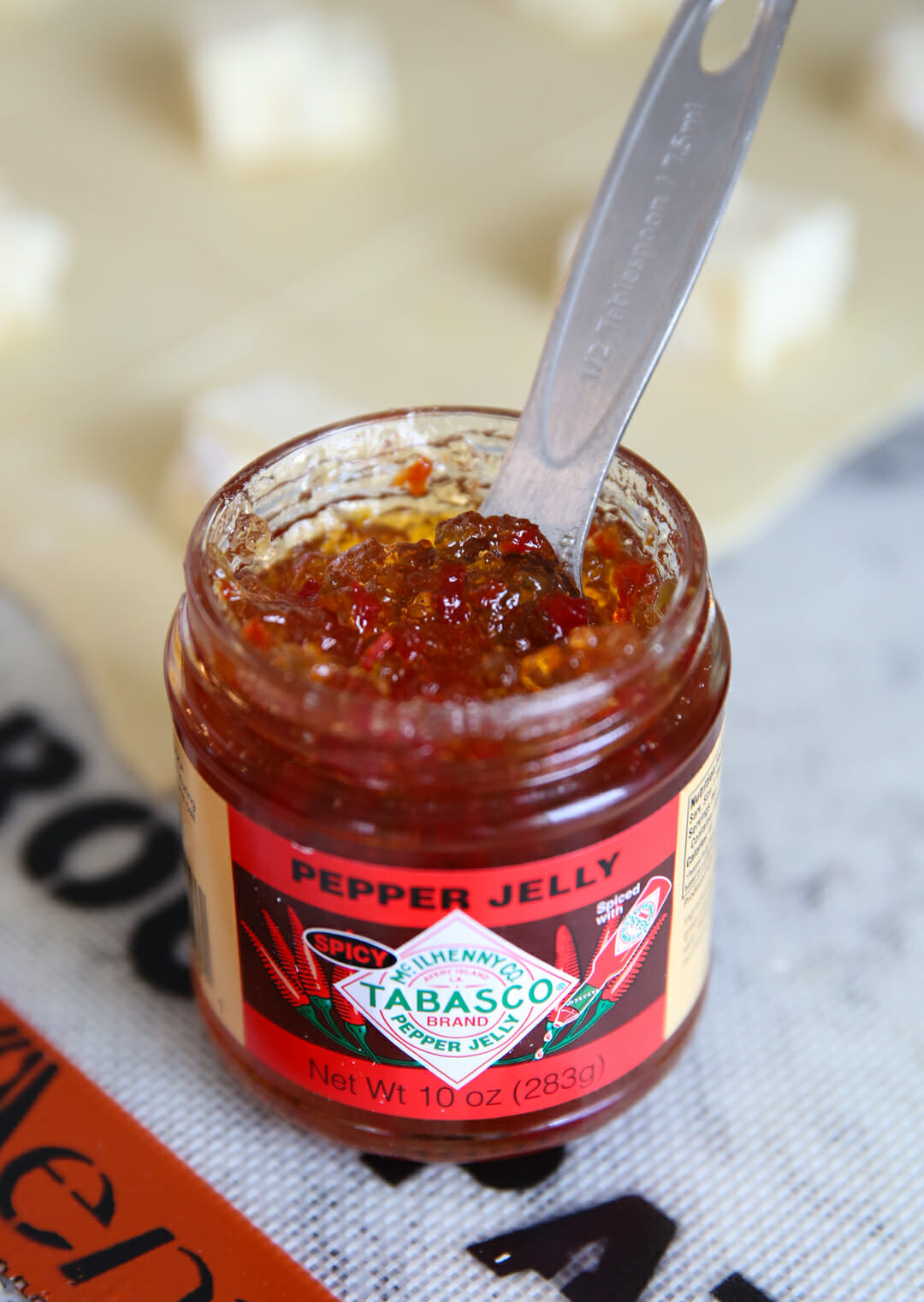 Puff pastry is something you can buy in the frozen section at the grocery store.  When it's thawed, roll it out a little thinner than it comes and then cut into squares (a pizza cutter works great for this).  Place a cube of cheese on each square and then top it with a spoonful of pepper jelly.  You don't need exact measurements here, just go with it!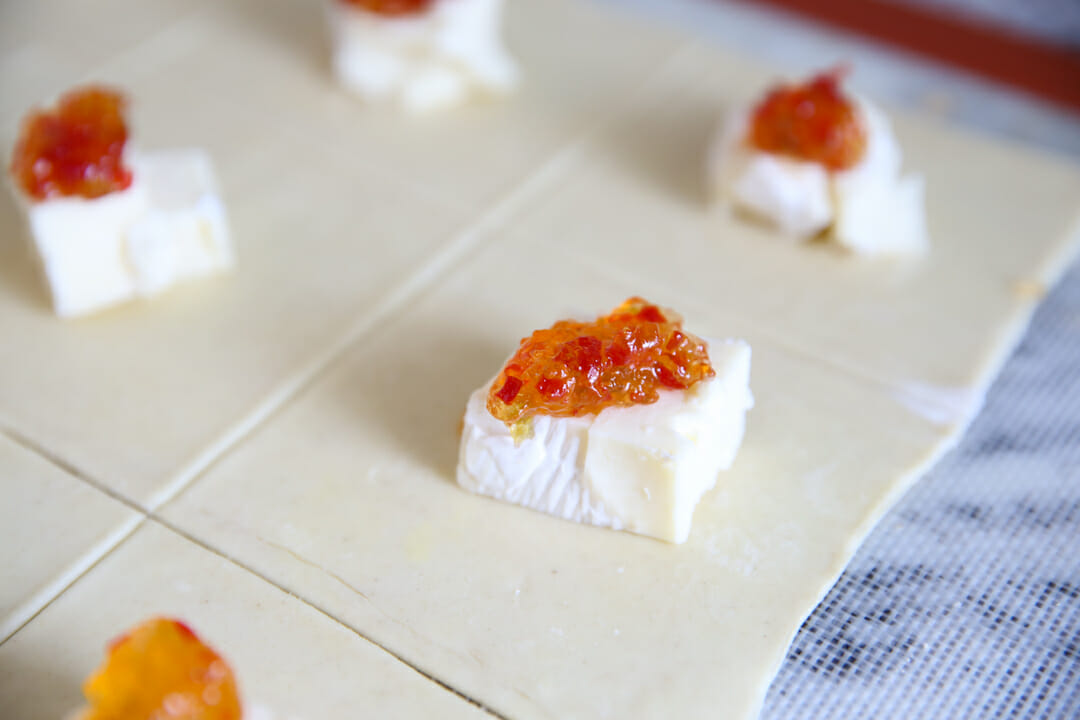 The other flavor combo I love is a mixture of fig jam and our Vanilla Fig Balsamic.  The balsamic vinegars in our shop aren't thin and watery, they're more the consistency of a balsamic glaze so they work great in things like this.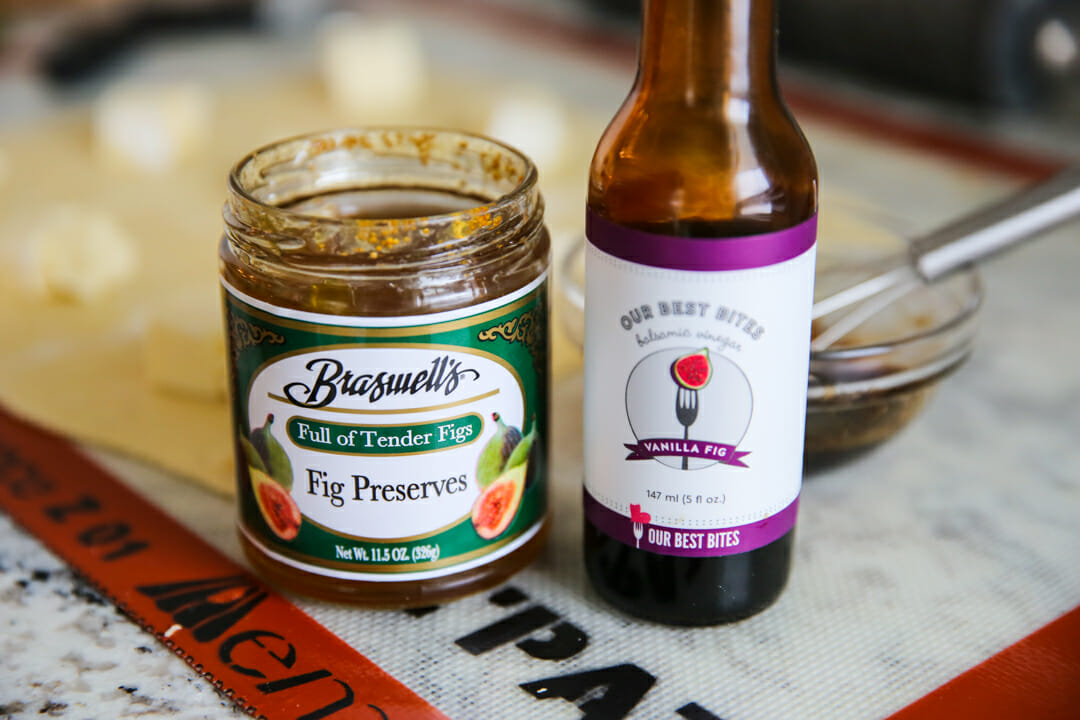 I mix 2 parts jam to 1 part vinegar and whisk it smooth.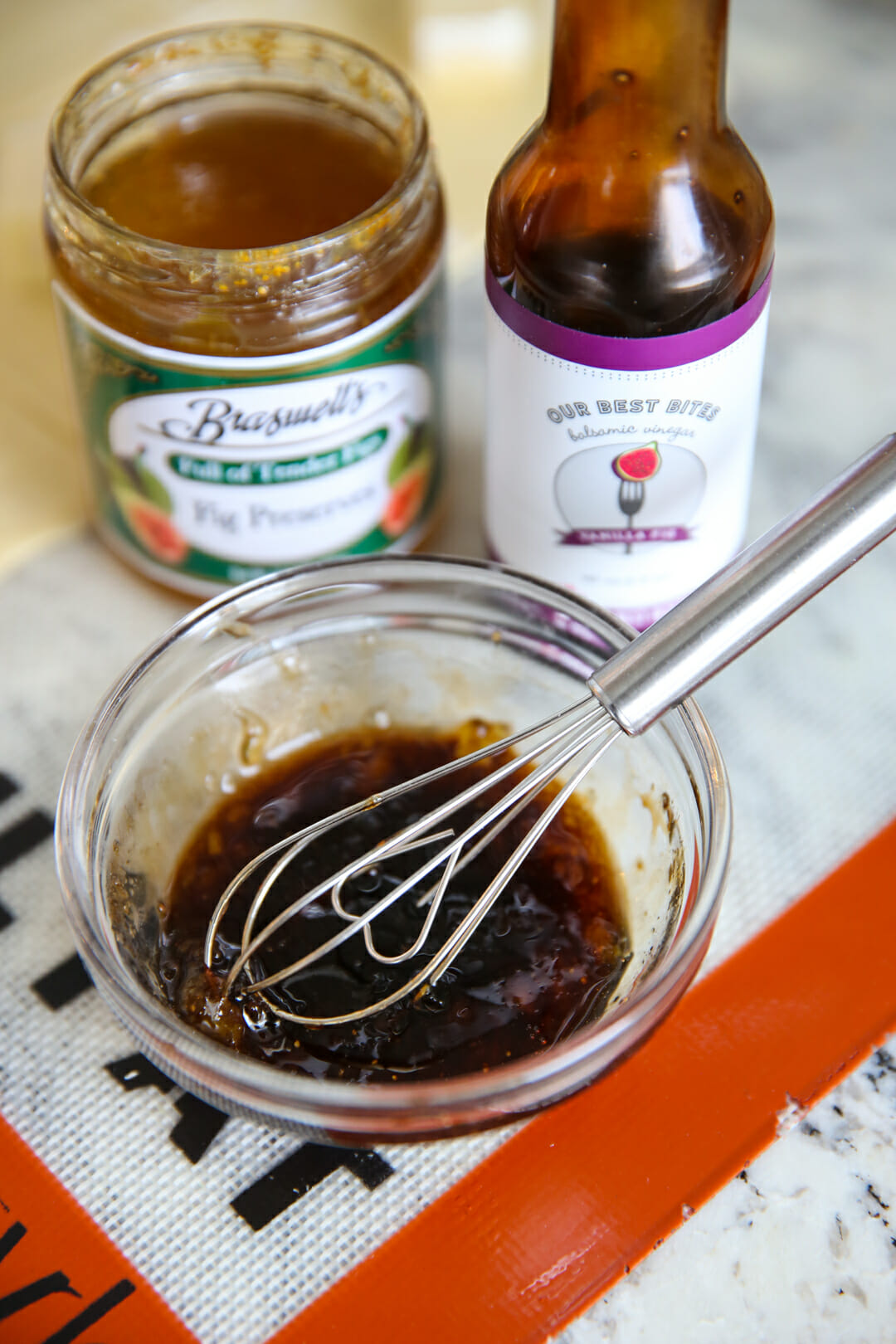 Then it's the same ol' drill.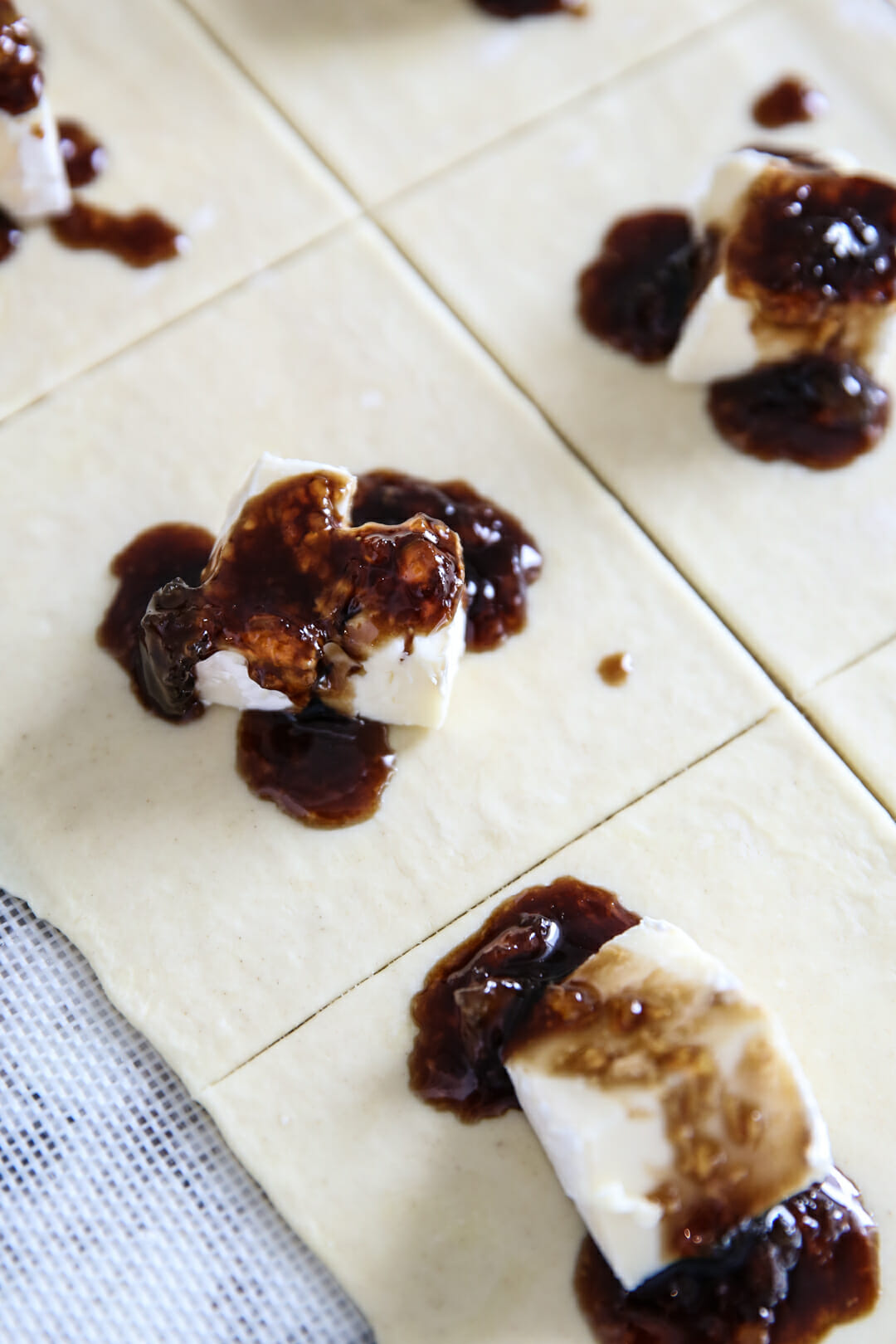 When all your squares are filled, just grab the corners and pull them up into little packages.  It doesn't matter what they look like really, because they'll look totally different once they're baked.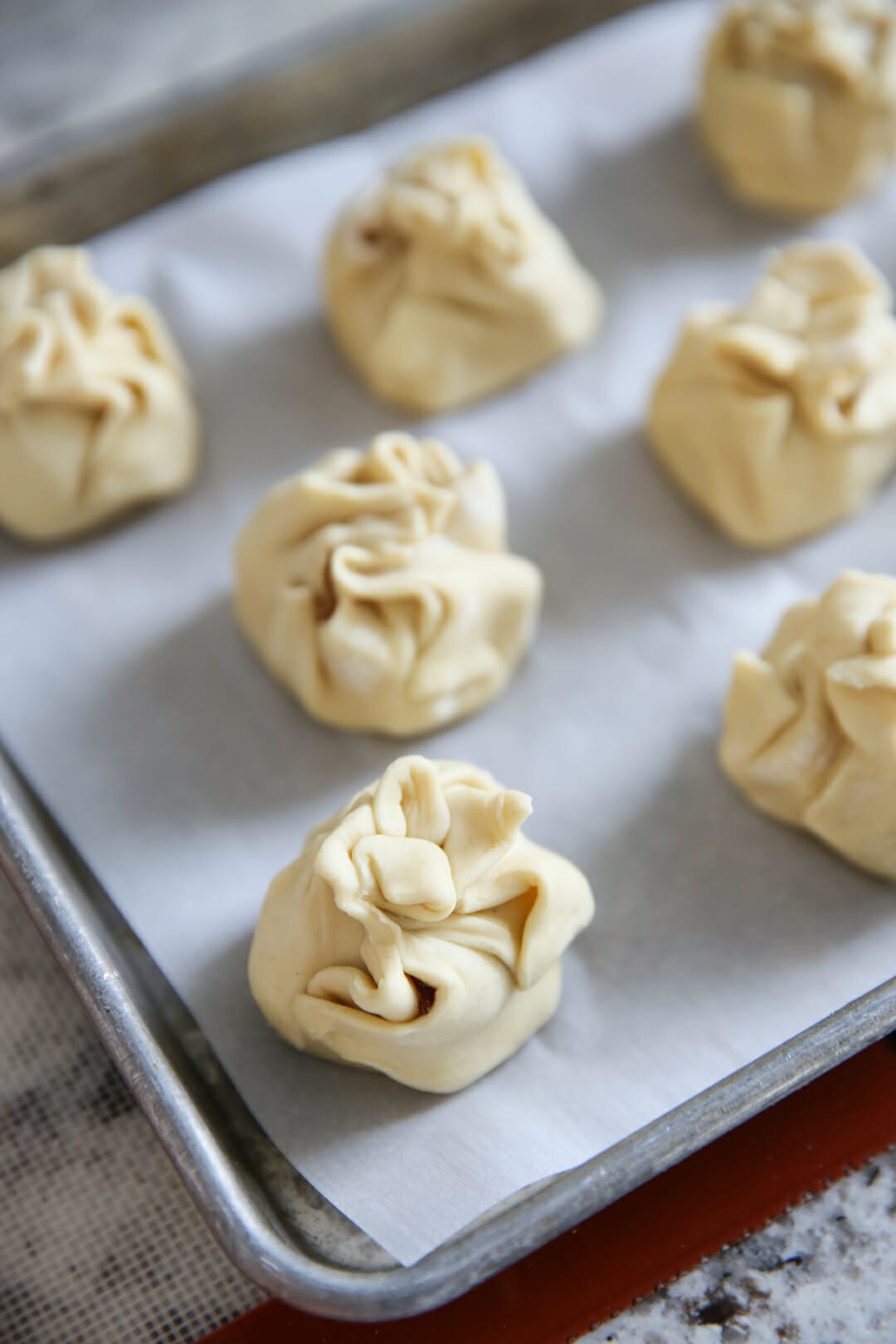 Brush them with a little egg wash to make the tops pretty.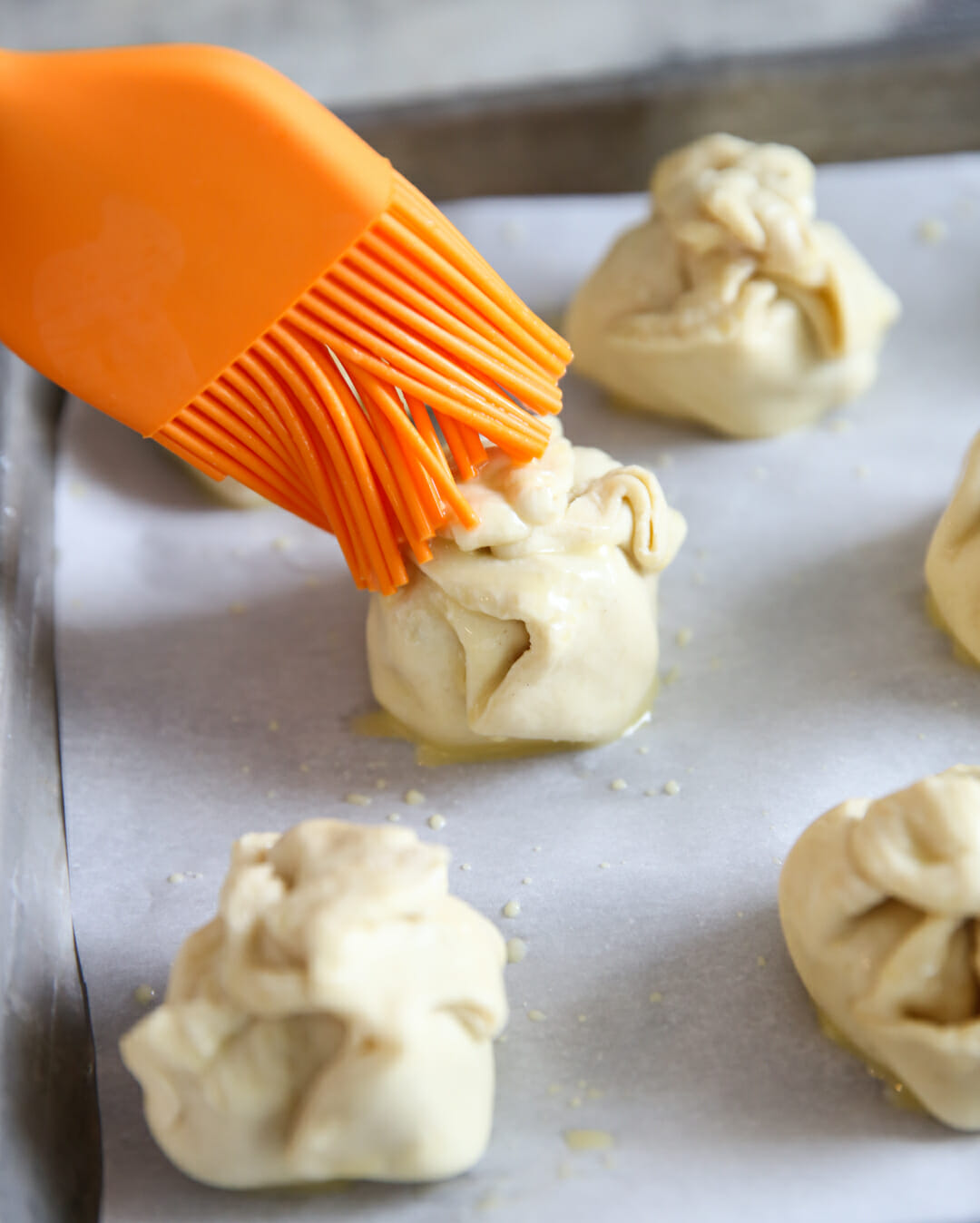 And as they baked they kind of open and spill out a little and it's all part of the beauty if you ask me.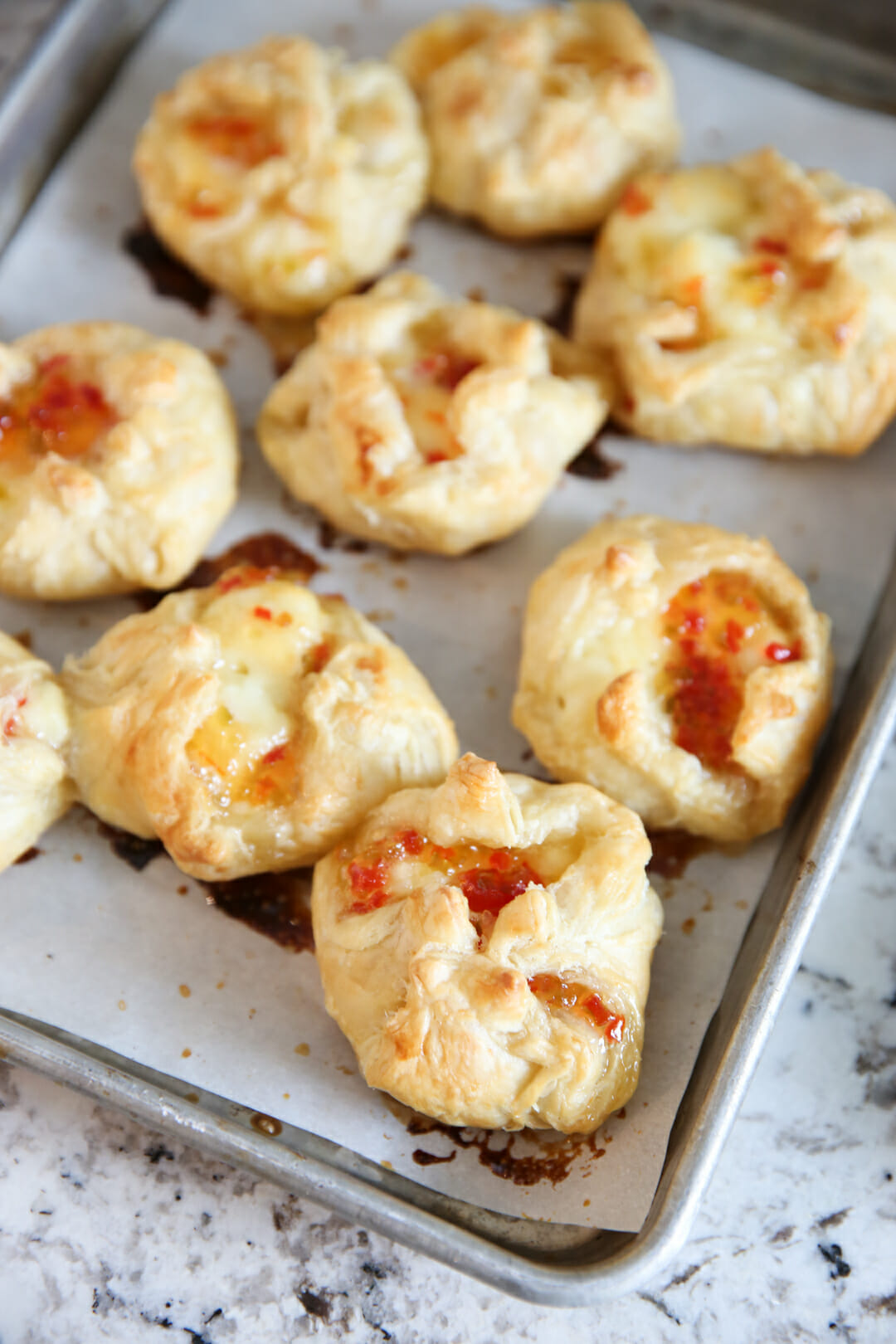 The pastry is SO flaky and buttery and that cheese is melty and creamy and the fillings are the perfect compliment.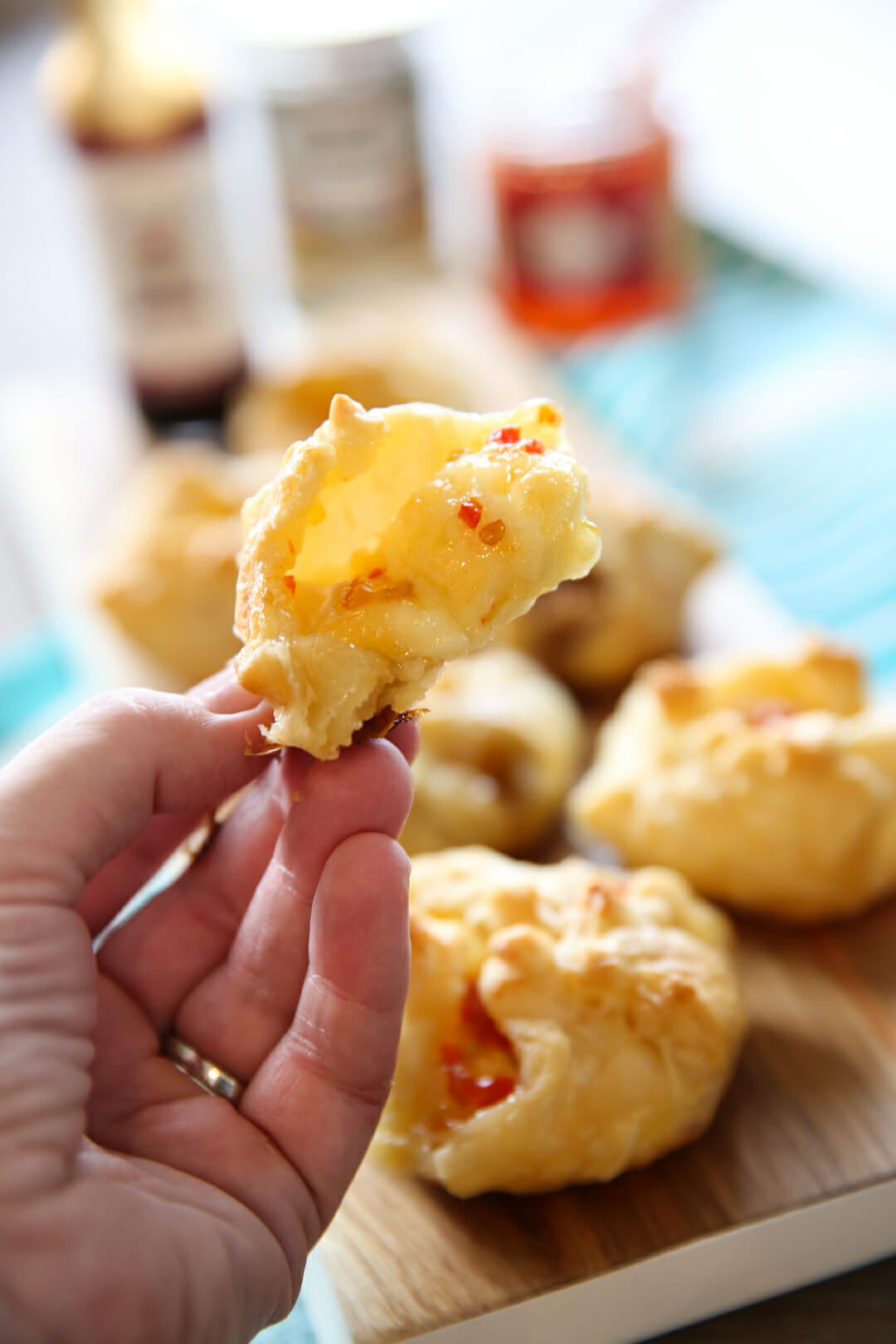 I like to drop a few green onions on the pepper jelly ones, in particular.  These really just take minutes to put together and everyone loves them!  They'd be a perfect little Valentine's bite.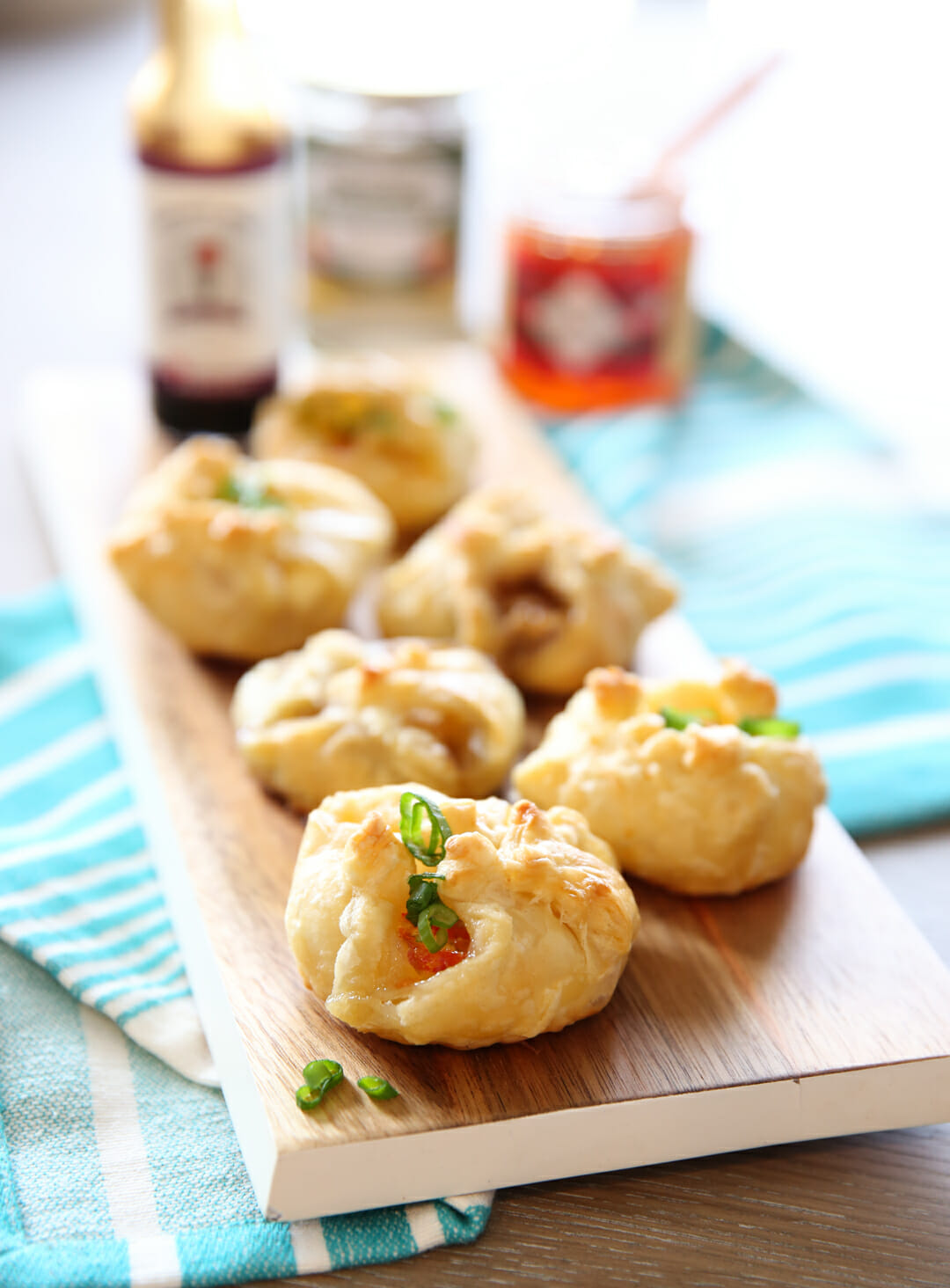 Print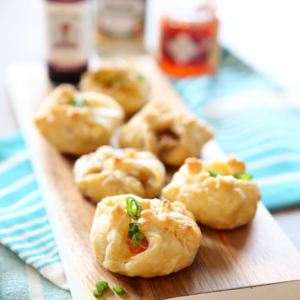 ---
Description
Perfectly portioned bites of buttery pastry filled with creamy brie cheese and a mix of sweet, savory, and spicy fillings.
---
1

package frozen puff pastry, thawed according to package instructions

1

small wheel brie cheese

1

egg

1 tablespoon

water 
Sweet & Spicy:
1

jar pepper jelly
sliced green onions for garnish
Fig Balsamic:
1

jar fig jelly
balsamic vinegar (We recommend Fig balsamic from our shop)
---
Instructions
Preheat oven to 400 degrees.
Whisk egg and water together in a small bowl and set aside. Place puff pastry on a lightly floured work surface. Use a rolling pin to lightly roll out pastry into about a 9 x 12 area (doesn't have to be exact!) Cut into 12 even squares.
Cut brie into 1-inch squares (more or less as desired.) For sweet and spicy version, spoon a little pepper jelly over the top of each (1-2 teaspoons). For Fig version, combine 2 parts fig jelly with 1 part balsamic and whisk until smooth. Spoon over cheese.
When all squares are filled, grab the corners of the pastry and pull them together, using your fingers to pinch dough and seal closed.
Place each one a couple inches apart on a parchment-lined baking sheet. Use a brush to brush egg wash over each pastry. Bake until puffed and golden brown, about 20 minutes.
Sprinkle green onions over sweet and spicy if desired.
May be served warm or at room temperature.
---
Notes
This recipe doesn't have to use exact measurements. It's fine to eyeball things- you can wrap up literally anything in puff pastry and it will be delicious!