This is one of my favorite easy and elegant ways to dress up an appetizer platter. Baked brie with Pepper Jelly is a wheel of creamy brie, cut in half with pepper jelly in the middle, and wrapped with puff pastry.  When baked, the pastry on the outside becomes puffed and golden and the inside becomes melty and spreadable.  Serve it with crackers or crostini and fresh fruit or vegetables.  Sliced apples is a favorite of mine!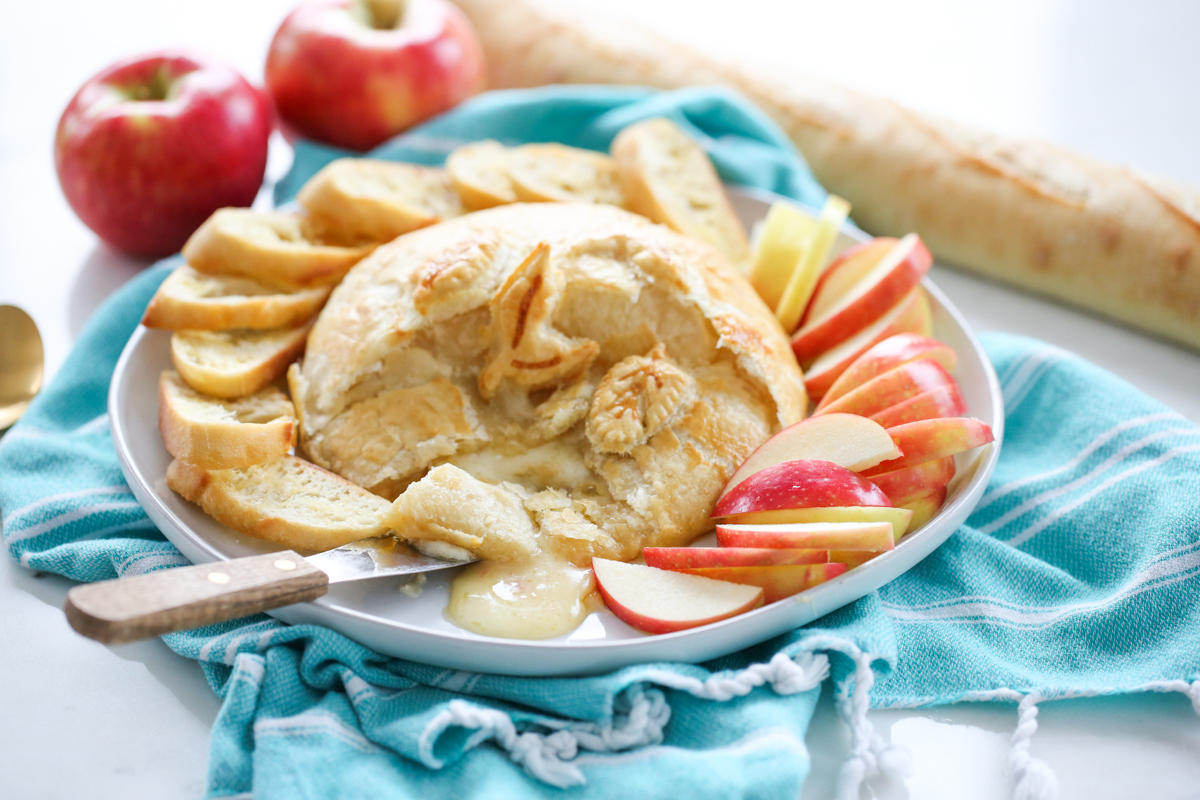 Ingredient Notes
The ingredient list here is short and sweet!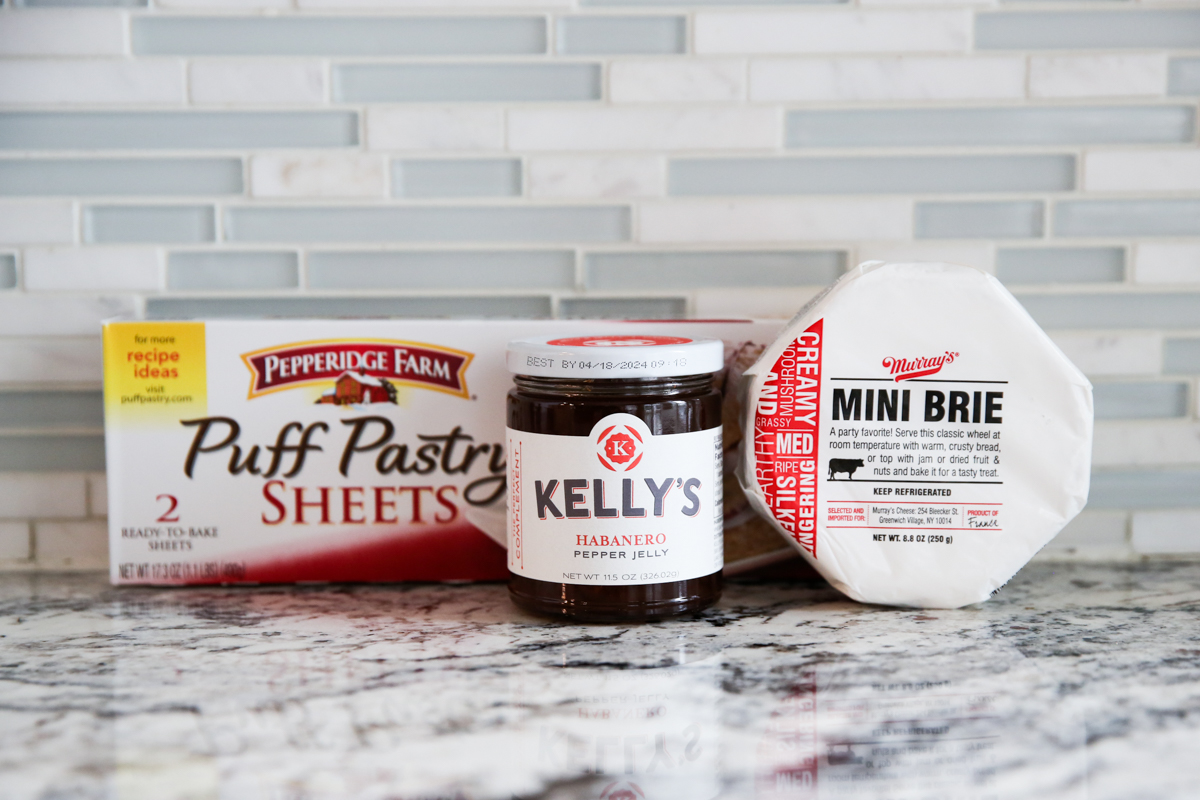 Brie – One small wheel, about 8 ounces. Often called "mini brie". Brie is soft and creamy, easy to spread or dip in when melted, and has just a bit of a kick. It pairs perfectly with the salty/sweet combo we have going on here. You generally find brie in the deli or specialty cheese section of the grocery store.
Pepper Jelly –  This is exactly what it sounds like- jelly made from peppers! It's sweet and spicy (but not overly so). You will often find it in your grocery store near the fancy crackers by the deli, or on the aisle with other jams, jellies, and preserves. Tabasco is a great, widely available, reliable choice.
Puff Pastry – Find this in your store's frozen foods section, near the desserts (not to be confused with phyllo dough, often in a similar box!) It usually comes with 2 sheets per box. You'll just use one here so you can keep the other in the freezer for later.   
How to Make Baked Brie with Pepper Jelly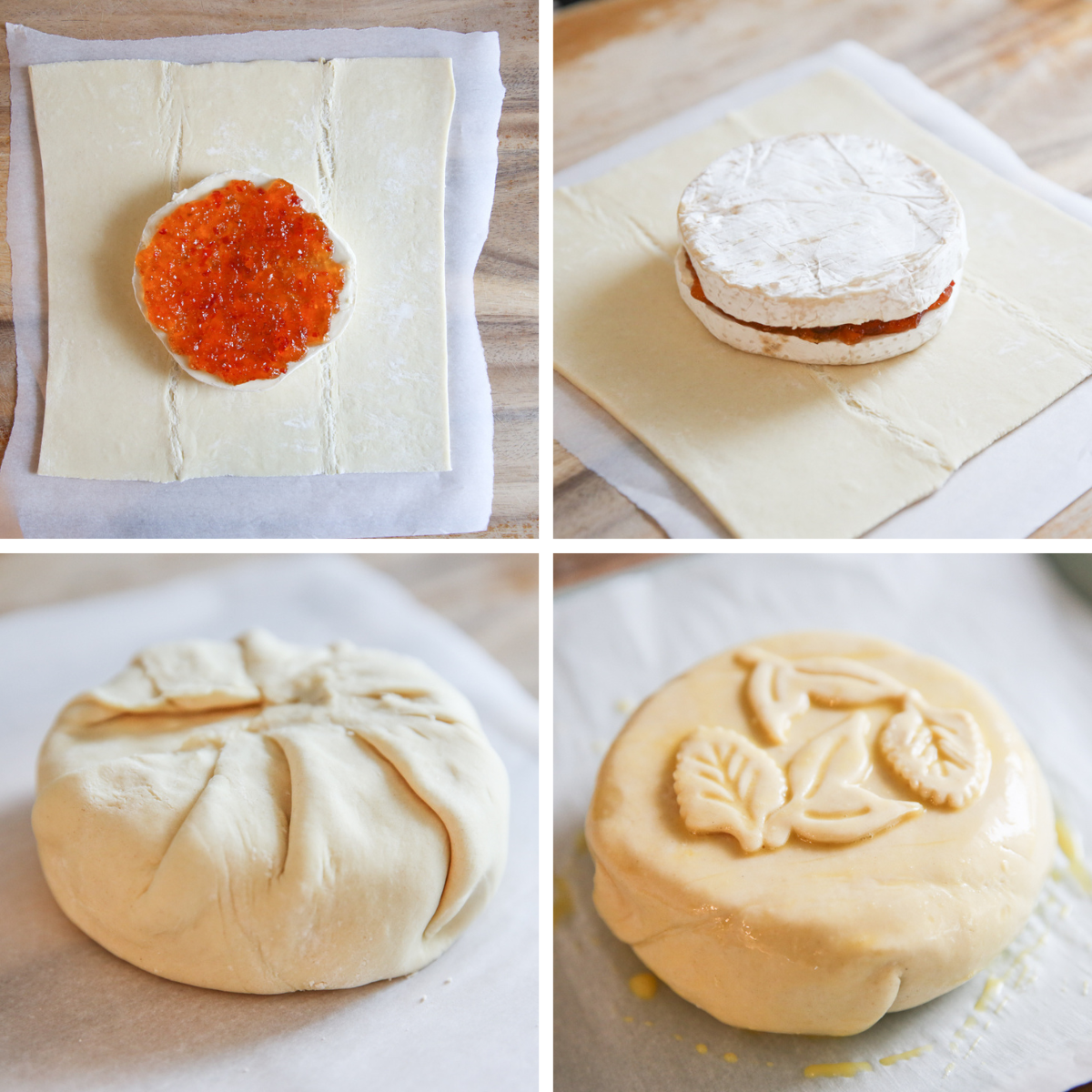 1. Allow one sheet of puff pastry to thaw according to package directions.
2. Preheat the oven to 400. When the pastry has thawed, gently unfold it on a sheet of parchment paper. If there are any cracks, lightly moisten them and gently press them back together.
3. Carefully cut the wheel of brie in half lengthwise (it helps if it's cold).
4. Place one half, rind side-down, on the pastry sheet. Spread a layer of pepper jelly over the cheese. Then place the other half, rind side-up on the jelly, almost like a brie sandwich. 
5. You'll want 2-3 inches of pastry surrounding the cheese, but any more than that will get bulky, so you may need to trim about 1″ of pastry on one or more sides (reserve the scraps for decorations). Carefully wrap the pastry around the cheese, sealing the edges shut so the melted cheese and jelly won't leak out when it's baked.
6. Invert the pastry-wrapped cheese onto a lightly greased baking dish so the seam side is down. If you want, you can cut some decorative shapes out of the dough scrap sand use them to decorate the wrapped cheese.
7. Brush the pastry with an egg wash and bake for 15-20 minutes or until the pastry is golden brown.  Serve with crackers, slices of bread, and fresh fruit like pears, strawberries, and apples.
If you want, you can have a jar of pepper jelly handy so if there isn't enough of that flavor in the baked brie (it actually ends up coming out pretty subtle), you can add a little more.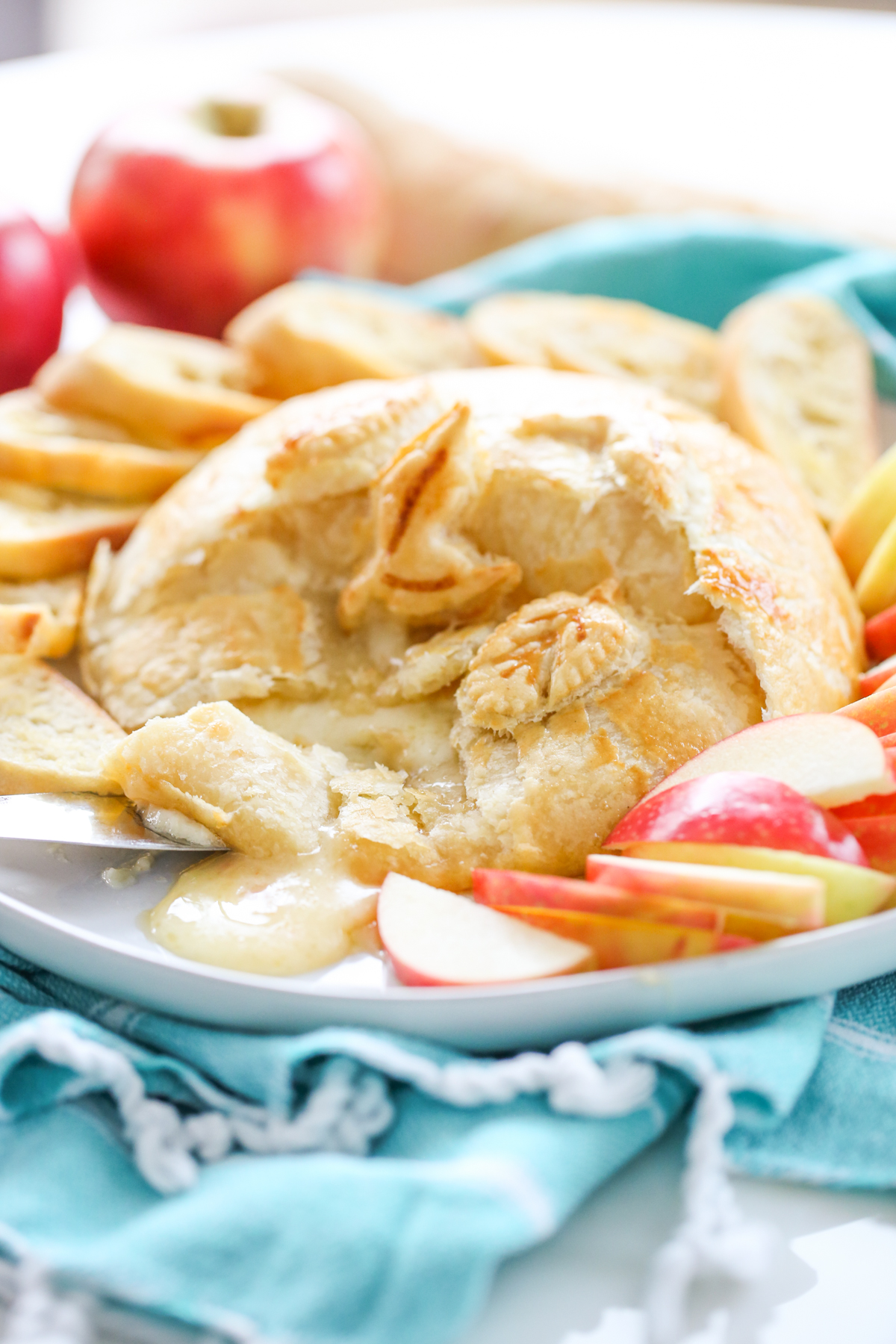 FAQs
Can I make this ahead of time? This appetizer is so quick and easy, it's probably best to prepare fresh. That said, If you really need to, you could probably prepare it through wrapping with pastry and then refrigerate for several hours. When ready to cook, brush with egg/water mixture and bake until golden, which could take a few extra minutes. 
Other great ways to enjoy Brie cheese
Did You Make This?
I'd love to hear from you! Snap a picture on tag me on Instagram, then come back and give this recipe a rating!
Print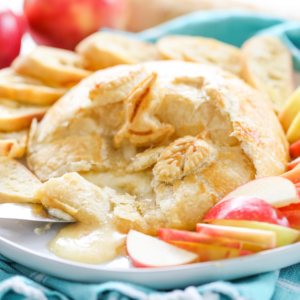 Baked Brie with Pepper Jelly
Author:

Our Best Bites

Prep Time:

10 minutes

Cook Time:

20 minutes

Total Time:

30 minutes
---
Description
A simple, easy sweet and savory appetizer that's elegant and quick to put together.
---
1

8-ounce (approximately) wheel of baby Brie

1

sheet puff pastry, thawed according to package directions

2

–

4

tablespoons pepper jelly

1

egg white mixed with 2 teaspoons water
---
Instructions
Preheat oven to 400.
On a lightly floured surface, gently unfold the puff pastry sheet, mending any broken spots. Cut the brie in half lengthwise and place one half, rind down, on the pastry.
Spread with jelly and then place the other half of the brie, rind up, on the cheese. Top with more jelly if desired.
If necessary, trim the excess pastry and then fold it over the cheese, sealing the edges. If desired, decorate the brie with decorative shapes cut from the excess dough.
Place the bundle, seam-down, on a lightly greased baking dish.
Brush pastry with the egg white/water mixture.
Bake for 15-25 minutes or until the pastry is golden brown. Serve with crackers, bread, and fresh fruit (like strawberries, apples, pears, and grapes) if desired. This is perfect as an easy, elegant holiday appetizer.
---