These rich and fudgy Mint Brownies are PERFECTION.  The base layer is dense and chewy (in a good way) and it's topped with a cool and creamy peppermint icing.  The top layer is a buttery ganache and my favorite way to eat these is chilled from the fridge. This is the exact Mint Brownies recipe that my Mom has been making since I was a little girl. It's actually the same brownie I turned into Peppermint Candy cane Brownies, too!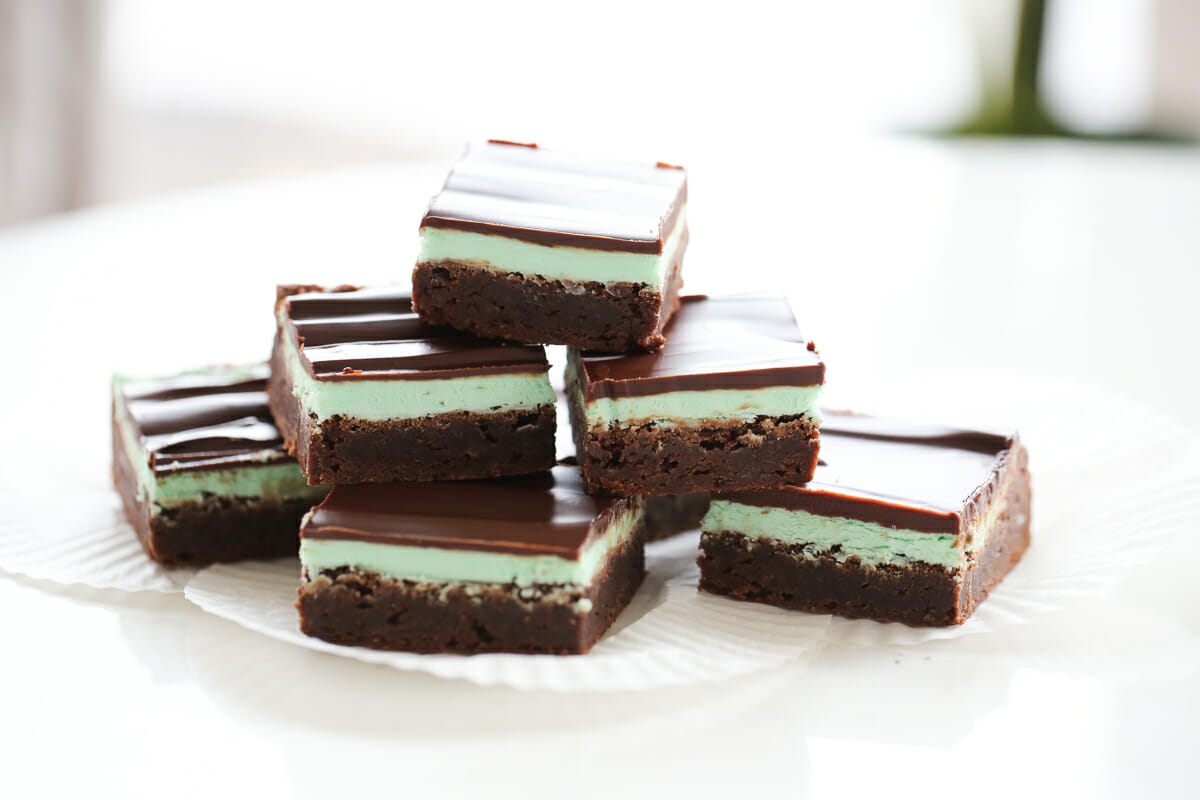 How to make a very fudgy mint brownie
I prefer a brownie that's dense and chewy (as opposed to light and cakey).  You can tell by the ingredient list that these mint brownies fall into the former category.  There's no cocoa powder in here; we use melted chocolate and only a little over 1 cup of flour in a 9×13 pan.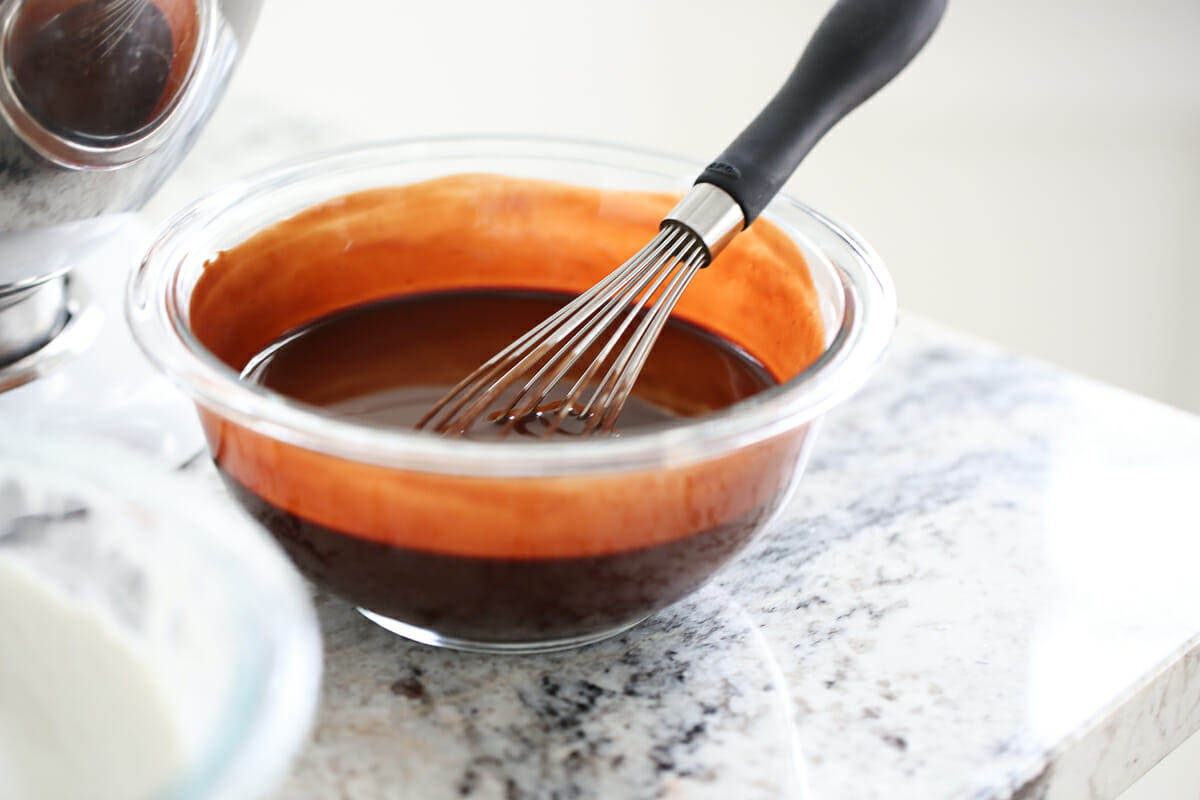 An Important Tip when Making Mint Brownies: Chill Between Every Step
Because we've got 3 layers going on here, and some are cold and some are warm, it's important to chill between every layer and that will help this process run so much more smoothly.  After the brownie layer is cooled completely on the counter, pop it in your freezer while you make your frosting.  After the frosting is spread on, freeze again for a few minutes while you prep your chocolate topping, that way all of the layers stay separated.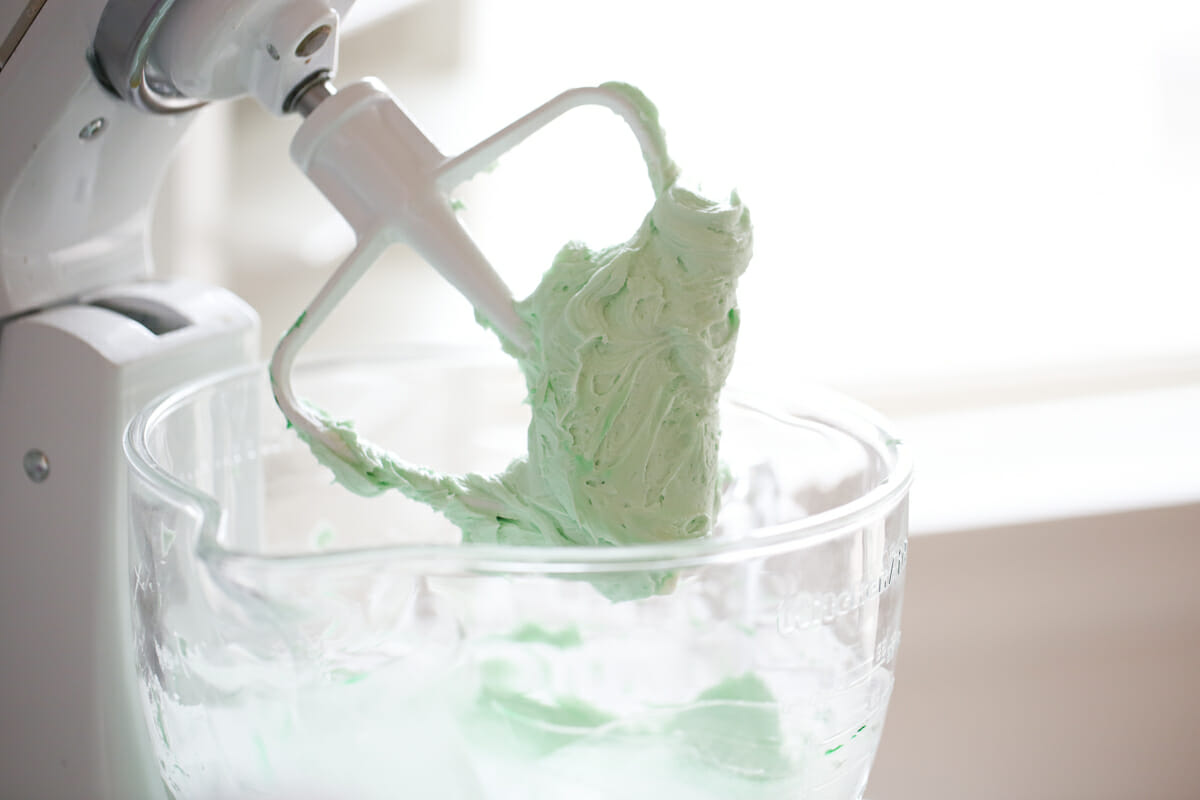 Feel Free to Increase the Frosting
As written, you might feel like the frosting isn't enough when you are making it!  It's a thin layer to add a cool peppermint flavor, but not so much that the brownie turns out overly sweet and takes over the chocolate element.  That being said, if you like a thicker frosting layer, you can 1.5x the frosting portion of the recipe.   I've done 1.5x for these photos because I think the thicker frosting layer photographs better, but I've been making them for years with the smaller amount and it's pretty perfect!  Up to you!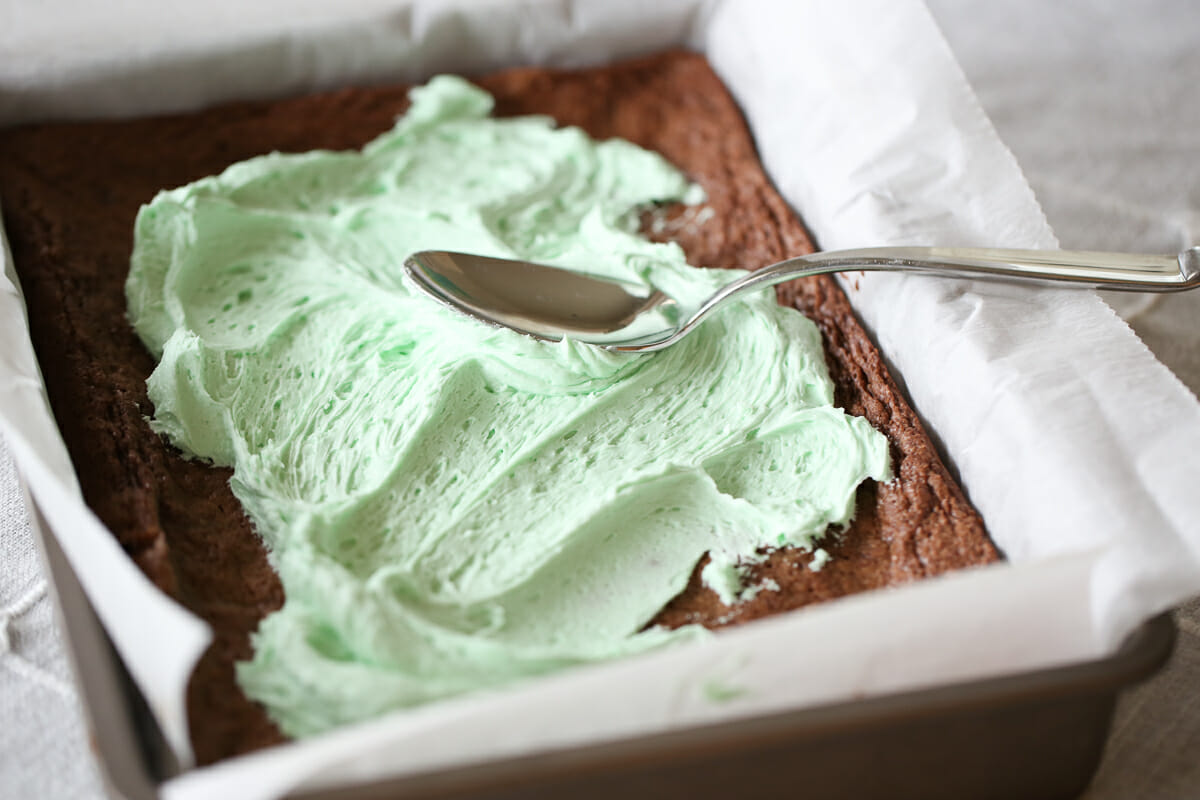 Top with Melted Chocolate Topping
The topping is simply melted chocolate and butter.  I like to use unsalted butter in just this one step because some brands of butter can be overly salty, but if you just have salted butter that's totally fine.  The butter adds a richness to the topping and makes it so it stays soft.  You can use semi-sweet or dark chocolate on top, it's just personal preference!  I personally would avoid milk chocolate because it lacks chocolate intensity and adds too much sweetness above a frosting layer.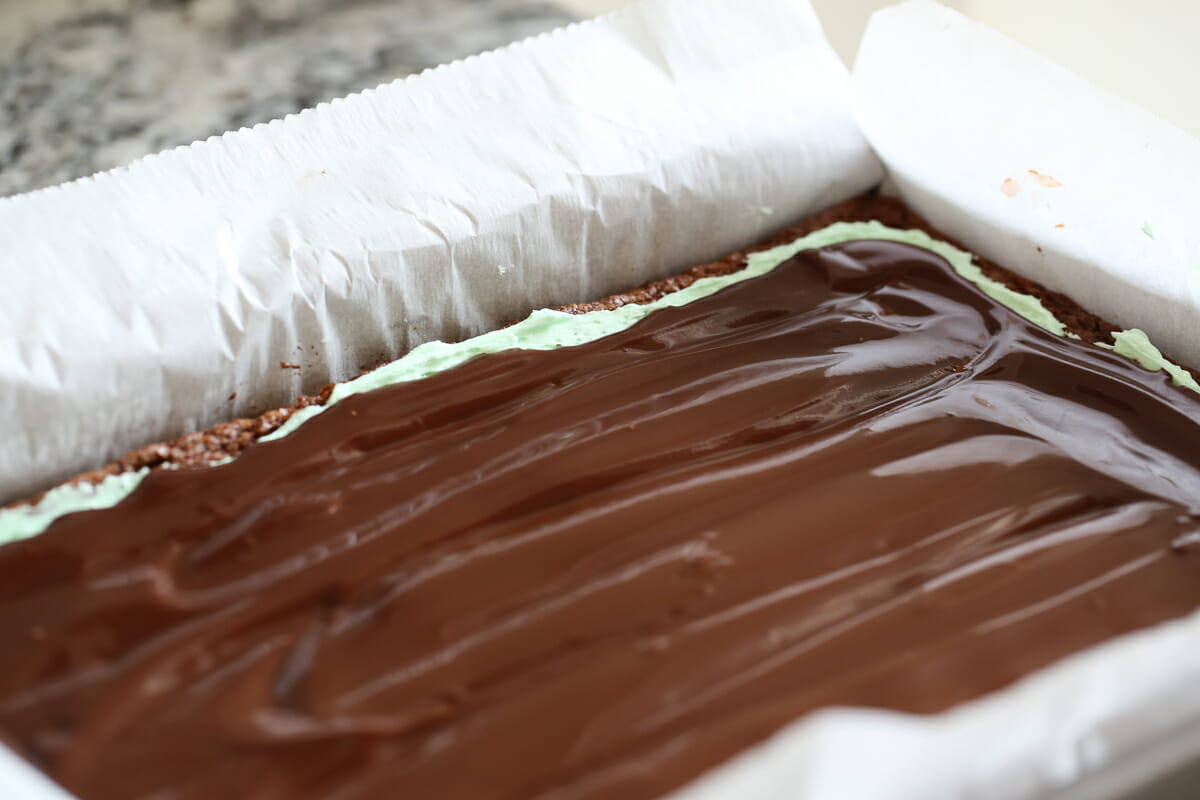 Best Served Chilled
Because these mint brownies are so ooey-gooey, I think they are best served chilled!  I keep them in the fridge until we're ready to eat them.  There's also something about a peppermint dessert being chilled that just makes it extra delicious.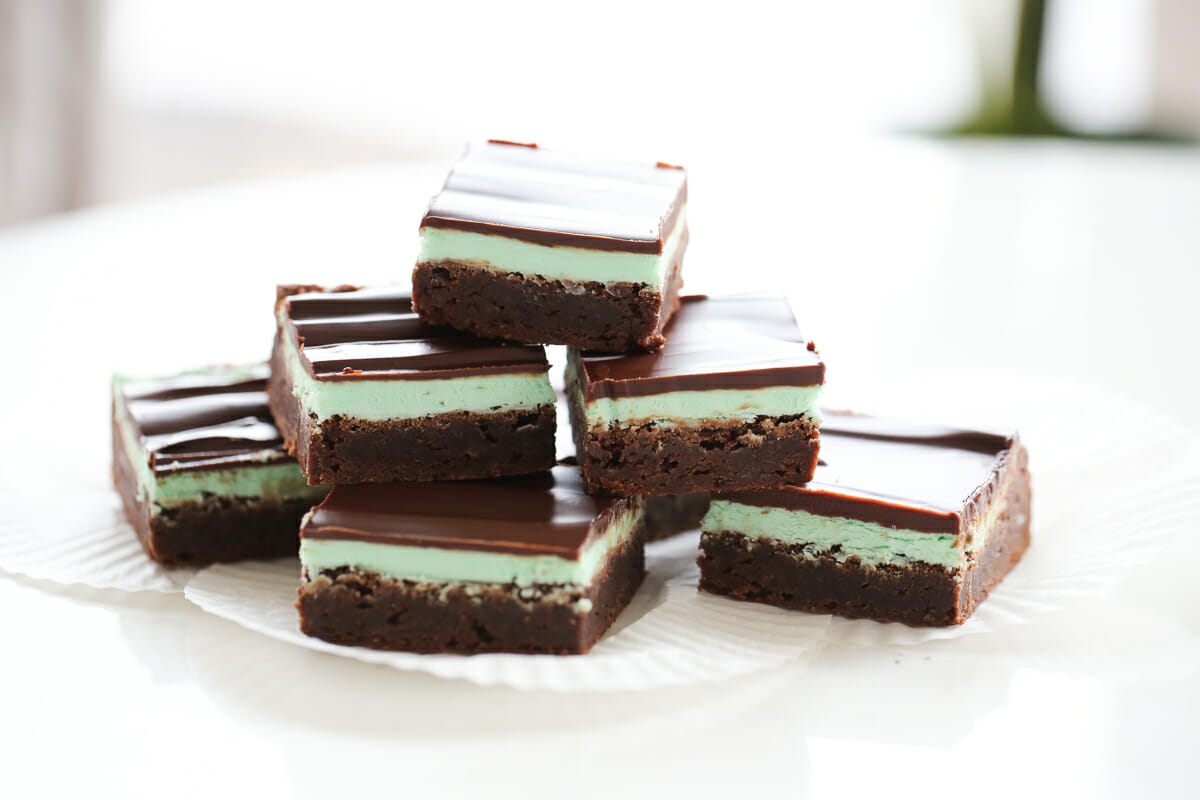 Here's an inside look at that perfect bite.  Rich soft chocolate on top, cool creamy mint frosting, and that perfect fudge brownie.  You can also see how thick that extra frosting turns out.  Again, that part is personal preference!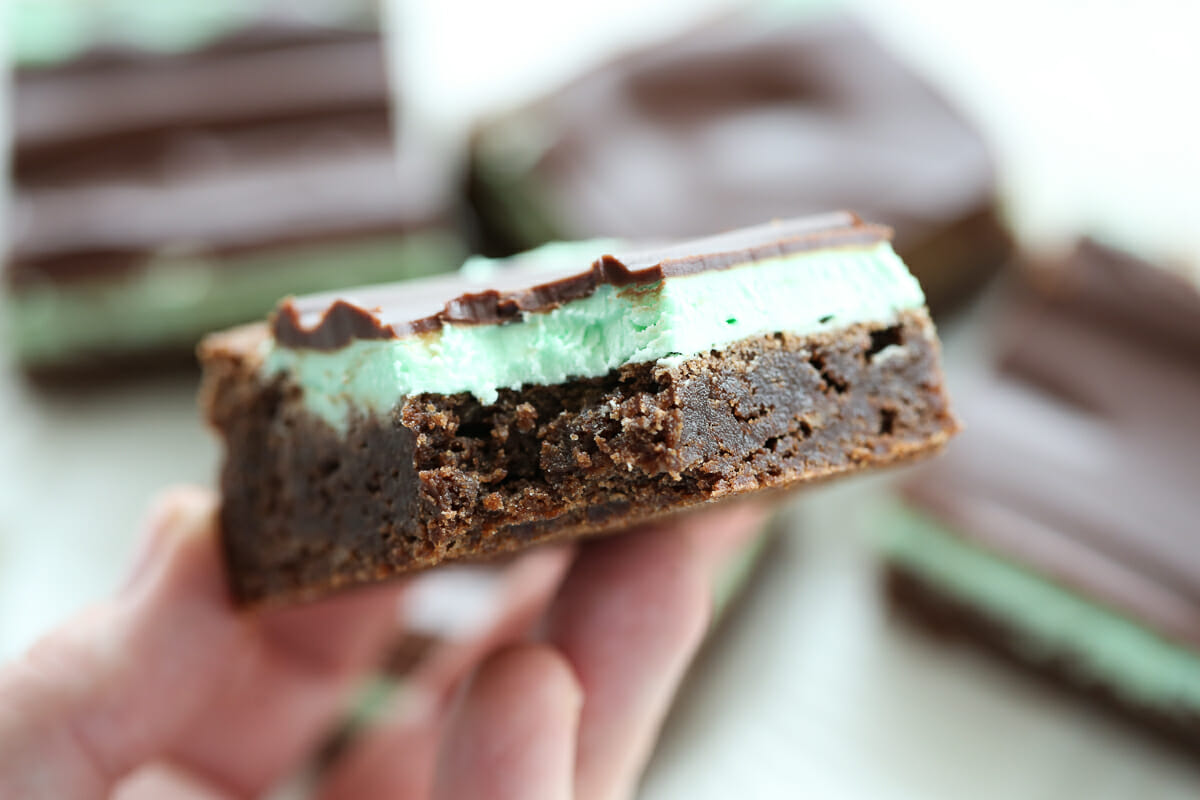 Craving Browies??  Here's a few more you might love!
Mississippi Mud Brownies (ie: Tim Riggins Brownies)
PB Fudge Marshmallow Brownies
Easy Brookies
Print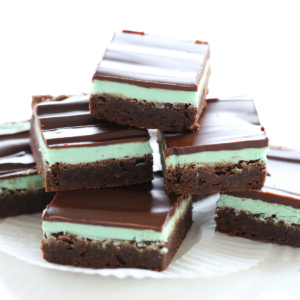 ---
Description
Rich, dense brownies topped with a cool creamy peppermint and a dreamy chocolate ganache.  The perfect Mint Brownie!  We love these served chilled.  Since these have multiple steps, make them plenty ahead of time. They store well in the fridge if made a day or 2 ahead!  If you like extra frosting and sweetness feel free to 1.5x the frosting ingredients.  The photographs shown here are made with 1.5x frosting.
---
Brownies:
4 ounces unsweetened baking chocolate
1 cup butter (226g) 
4 large eggs
2 cups (400g) sugar
1 teaspoon vanilla
1 1/4 cups (170g) flour
1/2 tsp baking powder
Frosting:
2 cups (227g) powdered sugar
4 tablespoons butter, extra softened
1 1/2 teaspoons peppermint extract
1–2 tablespoons milk
green food coloring

Chocolate Glaze:
6 ounces (about 1 cup) semi-sweet or dark chocolate chips 
6 tablespoons real butter
Note: I like to use unsalted butter in this step, if I have it on hand, and salted butter in all previous steps.  You can however use either in either step!  If using unsalted butter in the frosting and the brownies, add a couple pinches of salt to both. If you only have salted butter to use in this glaze step, that's totally fine as well. 
---
Instructions
Preheat oven to 350 degrees. Line a 9×13 inch pan with foil or parchment making sure the foil extends over the edges by at least one inch.  Lightly spray with non-stick spray and set aside.


For the Brownies:
Chop both unsweetened chocolate and two sticks of butter into chunks and place together in a microwave safe bowl.  Microwave in 30 second intervals, stirring in between, until just melted and smooth.  Set aside to cool, stirring occasionally.

With an electric mixer or stand mixer beat eggs, sugar, and vanilla for 2 minutes.  While egg mixture is beating, measure out flour and combine with baking powder.
While mixer is running, slowly add melted chocolate and beat to combine.  Turn beater speed to low and add in flour by spoonfuls.  Mix just until combined.  Pour batter into prepared pan and bake for 20-30 minutes or until a knife poked in center comes out clean.

Cool completely on a metal rack. When brownies have cooled to room temperature, place in fridge or freezer to chill and prepare frosting. 
Frosting:
Combine all frosting ingredients, starting with 1 1/2 tablespoon of milk, and beat until light and fluffy.  Add more milk by teaspoonful as needed.  Beat for a full 2-3 minutes to become light and fluffy. Spread frosting evenly over brownies and then place brownies in fridge to chill again.

Chocolate Topping
While brownies are chilling prepare chocolate glaze.  Place chocolate chips and 6 tablespoons butter in a microwave safe bowl.  Microwave in 30 second intervals, stirring in between, until just melted and smooth.  Set aside to cool for about 15 minutes and then carefully spread on top of the frosting layer.  Return pan to fridge to cool.  When chocolate has hardened, use edges of foil to remove entire brownie from pan.  Cut into squares and serve.  
---