So is anyone else finding themselves in the throes of summer craziness? Between May 30 and June 18, I will be home for exactly 3 days. And not even full days. Parts of days. Most of which involve lots of laundry and re-packing. My family and I are heading to Seattle this morning for a family vacation (which wouldn't be complete without a few book signings!)
So anyway. I'm totally in the thick of quick and easy meals right now, especially those that feed a crowd, because that seems to be where I am right now with my summer. I've been hearing about this recipe for a long time (hi, Bethany! 🙂 ) and I finally tried it a few weeks ago.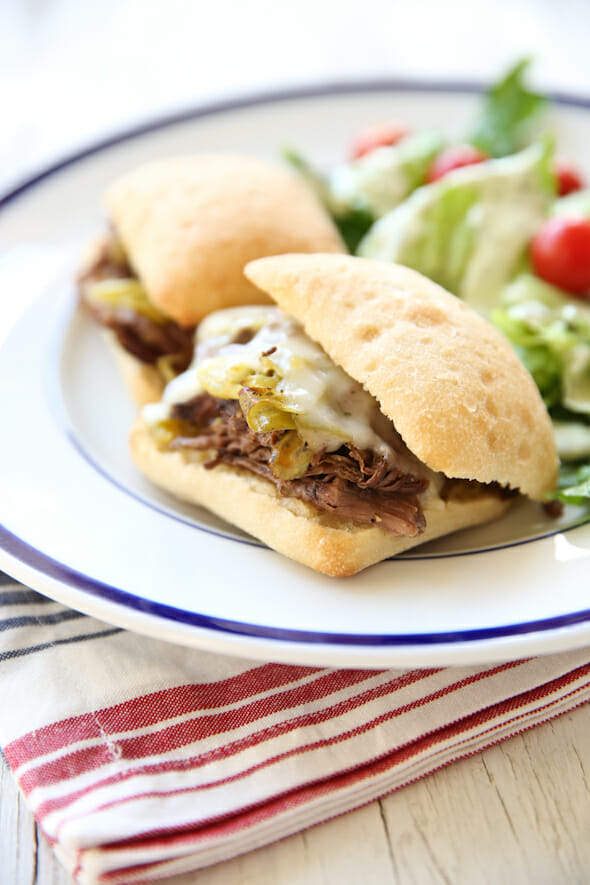 And it totally didn't disappoint. It was easy, flavorful, and I even got a few very early-morning phone calls requesting the recipe after I took it to a meeting last week. Doesn't it look delicious??
For these beef sandwiches, you'll need a 3-lb. beef roast, a 16-oz. jar of pepperoncinis, and 4-5 cloves of garlic. Oh, and some kosher salt and freshly ground black pepper. You can also add a little packet of Italian Dressing if you like as well.
A note on the peppers: These are not hot spicy peppers, they have a very mild bite to them, but mostly they are just small, and pickled, and tangy. You can usually find them in the condiment aisle at the grocery store, near the roasted red bell peppers, pickled vegetables, and pickles. They are awesome sprinkled on salads and sandwiches! The particular jar in this picture doesn't have the word Pepperoncini on it, but usually it does! So just look for that in the store and you'll know you've got the right thing.
Since there seems to be a lot of discussion about pepperoncini vs other peppers, we wanted to add this picture. Notice that they are bright yellowish, sliced (although you can find them whole as well) and they clearly say "Pepperoncini."
There's usually a little heat indicator that shows they aren't very spicy. Every once and a while though, I'll get a jar that actually has a little kick to it, but generally they're super mild.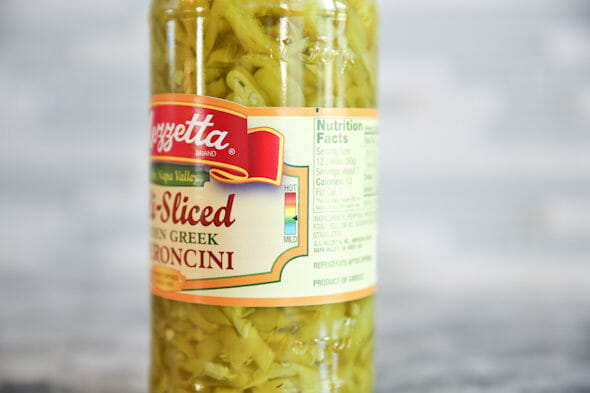 If you want ZERO heat, then look for the jar that looks exactly like this, only they're labeled "Mild Pepper Rings". The heat indicator on the side of the jar will be at "Low" in the blue section. That is actually what I use most often.
If you want to make these into sandwiches, you'll also need some nice buns (don't we all??) and slices of provolone cheese.
Heat about 2 tablespoons of olive oil in a pot or high-sided skillet over high heat. While the oil is heating, rub some kosher salt and freshly ground pepper evenly over the pot roast and then sear it on all sides until you have a nice, brown crust on the meat.
Toss in some minced garlic…
and then pour in the whole jar of pepperoncinis (I liked the sliced ones), juice, stems, bits and pieces, everything.
Optionally, you can also add that packet of Italian Dressing- adds lots of yummy flavor, but it's also great without it!
If you can, turn the slow cooker to the high setting and cook it until it boils, then turn it to low and cook it for several more hours or until the beef is fork tender and shreds easily.
But if you can't do that, just cook it on low for 8-10 hours or until you can shred it.
We love it on toasted, crusty sandwich rolls with melted provolone and a little bit of mayonnaise, but it's super versatile.
You could serve it wrapped in tortillas, with either a Greek or Mexican flair or even on a salad with this dressing (this recipe, incidentally, is not what I was planning on posting in conjunction with this recipe, but, like I said, life is insanity right now and I'll post it next week. Promises.)
Oh, and if you have left-overs, they would work great in our Baked Chipotle Beef Taquitos (thanks to a reader comment for that!)
Print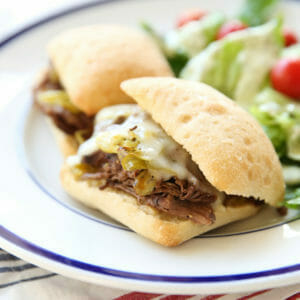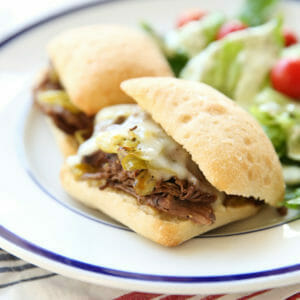 Pepperoncini Beef Sandwiches
---
Description
These yummy and versatile sandwiches are great for a crowd, they have a prep-ahead freezer friendly option, and feature plenty of melted provolone cheese.
---
1/2+ teaspoon kosher salt
1/2+ teaspoon freshly ground black pepper
2 tablespoons of olive or cooking oil
3 lb. beef roast, trimmed of excess fat
4–5 cloves garlic, minced or pressed
1 16-oz. jar sliced pepperoncinis, undrained
Optional: 1 small packet dry Italian dressing
Crusty sandwich rolls (for sandwiches)
Sliced provolone cheese (for sandwiches)
---
Instructions
Heat oil in a pot or high-sided skillet over high heat. While the oil is heating, combine the salt and pepper and rub it into the meat. Add more if necessary. When the oil is hot, sear the roast on all sides so the outsides of it is browned and a little crispy.
Transfer the roast to a slow cooker and add the minced garlic and the entire jar of pepperoncinis and dressing mix if using. If possible, cook on high until the liquid comes to a boil and then turn it to low and cook until the roast shreds easily with a fork, for a total cooking time of about 6-8 hours. If not possible, cook on low for 8-10 hours or until the beef is fork tender.
For sandwiches, slice the rolls and spread lightly with mayonnaise and then top with the shredded beef. Add a slice of provolone cheese and then place under the broiler for 1-3 minutes or until the bread is toasted and the cheese is melted. Serve immediately. Makes 12 large sandwiches.
---
Notes
instant pot instructions
Slice roast into 1″ slices. Preheat about 2 tablespoons olive oil in the pot on the sauté setting and season roast with salt and pepper. Sear the roast slices on all sides (in batches if necessary). Turn off sauté setting and add garlic, pepperoncinis, and Italian dressing (if desired). Use the manual setting to cook on high pressure for 40 minutes. Allow the pressure to release naturally (don't open the valve) for 10 minutes, then release pressure and shred the roast with 2 forks. Serve as desired.
freezer instructions
Prepare the meat through the searing stage. Allow it to cool. Place the roast in a gallon-sized freezer bag or a large freezer safe container. Add the pepperoncinis and the garlic. Seal and freeze. When ready to cook, place in a slow cooker and cook on high for 6-8 hours or on low for 8-10 hours. Serve on toasted crusty rolls with melted Provolone cheese.