Loaded hot sandwiches might seem like something you'd only find at a great restaurant and deli, but they're super doable at home and one of my family's favorite dinners! This sandwich is made on a long, toasted ciabatta baguette, spread with pesto and garlic mayo, and loaded with roasted turkey, salami, and pepperoni.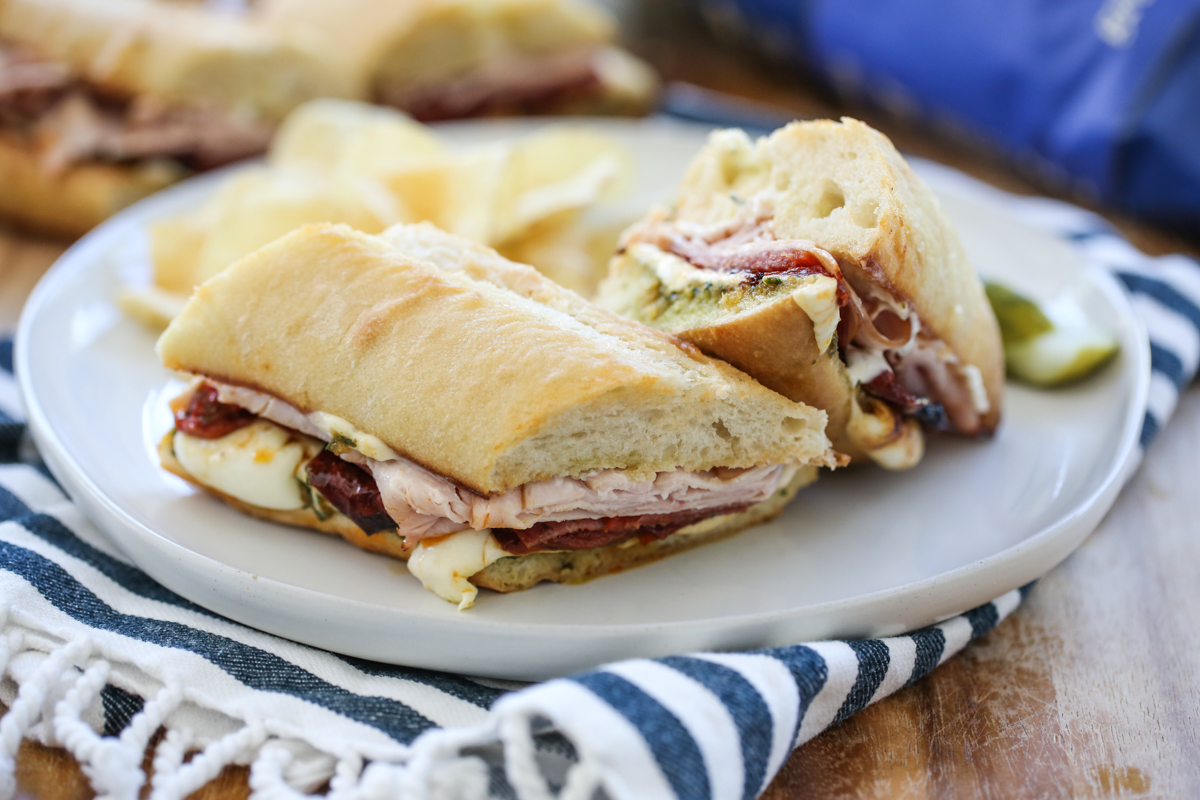 Ingredient Notes
Ciabatta Baguette – I always get baguettes for this sandwich at Trader Joe's. They're a good size and always soft. They also freeze well! Check your local grocery store bakery for something similar- you can obviously create a sandwich like this on any style of large/long loaf, or even make individual sandwiches from rolls.

Pesto – Store bought or homemade pesto works great for this sandwich.

Garlic Mayo – I stir in fresh pressed garlic into my mayo which adds a ton of flavor. If you don't want to do this step, just use regular mayo!

Fresh Mozzarella – I use fresh Mozzarella cheese, I buy the "log" style that is pre-sliced. Costco usually has a great deal, or find it in your grocery store usually near the deli section. I like to lay the slices on some layered paper towels while I'm working on the sandwich just to soak up some of the extra moisture and avoid it making your bread soggy.

Roasted tomatoes – I love to use my Oven Roasted Tomatoes in this recipe. I keep them stocked in my freezer to use for things like this. If you aren't up for making a batch of oven roasted tomatoes, you could sub sun-dried tomatoes or even use fresh. If using fresh, slice your tomatoes, gently press out the pulp, and then place your tomatoes on some folded paper towels to soak up some extra moisture so it doesn't make your sandwich soggy.

Deli Meats – this is flexible! I use smoked turkey, salami, and pepperoni. Smoked ham would also be really great.

Balsamic Glaze – I keep a bottle of store-bought balsamic glaze in my fridge. It lasts a long time and is great drizzled on so many things. It's not necessary for this sandwich, but a delicious addition.
Instructions
Cut your loaf in half length-wise and brush both sides with olive oil.

Place bread under a broiler and watch carefully until golden brown.

Remove from oven and spread one side with pesto and the other side with a garlic mayo..

Layer turkey over the mayo side and top with salami and pepperoni.

Place sliced Mozzarella cheese over the pesto side and top with tomatoes. I use my Oven Roasted Tomatoes here, but you could use fresh, or sun-dried if you want!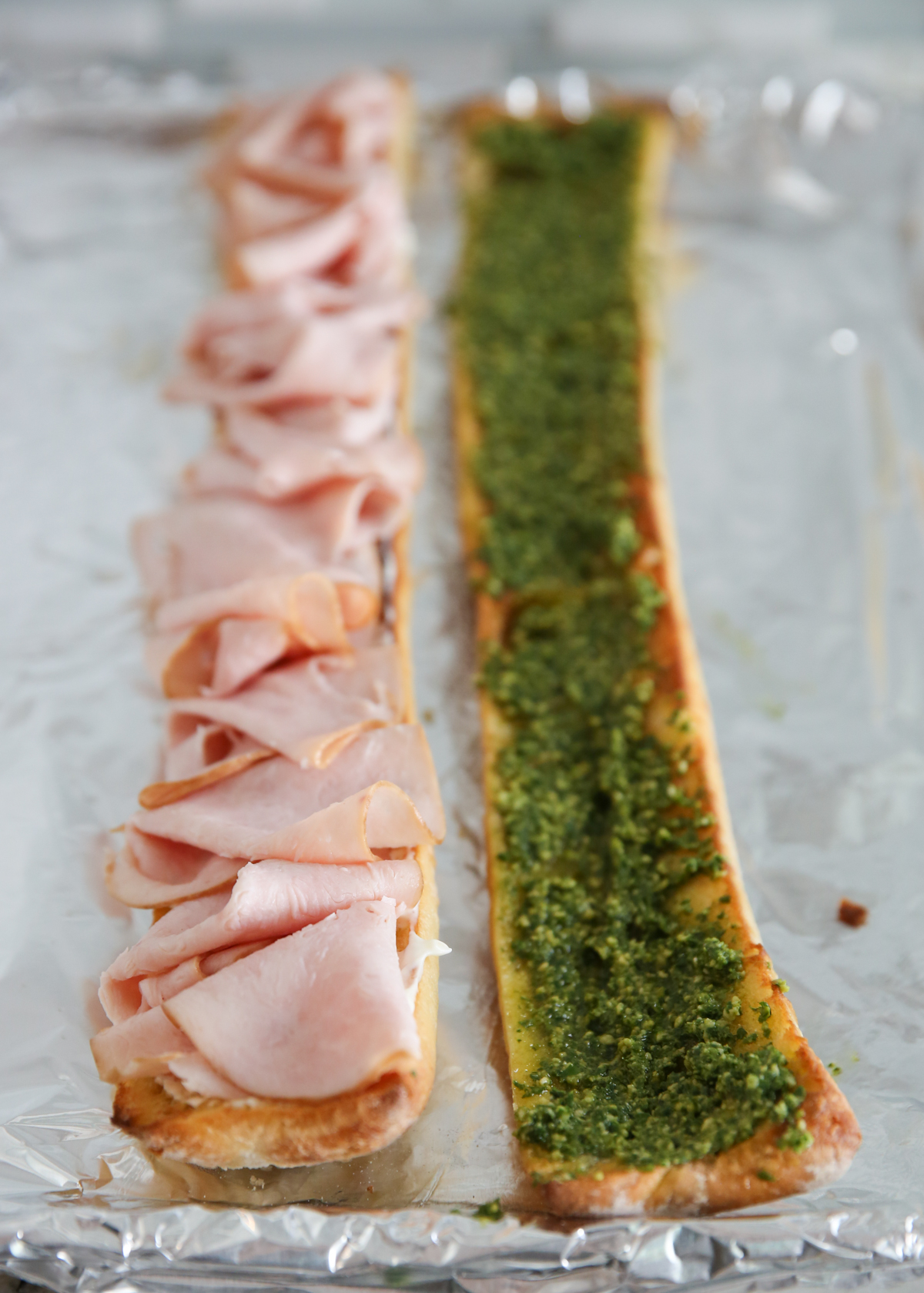 At this point, I like to turn the broiler off, and place the sandwich back in the oven, on a middle/low rack. The residual heat will warm everything up. Take it out when that cheese is just starting to get melty.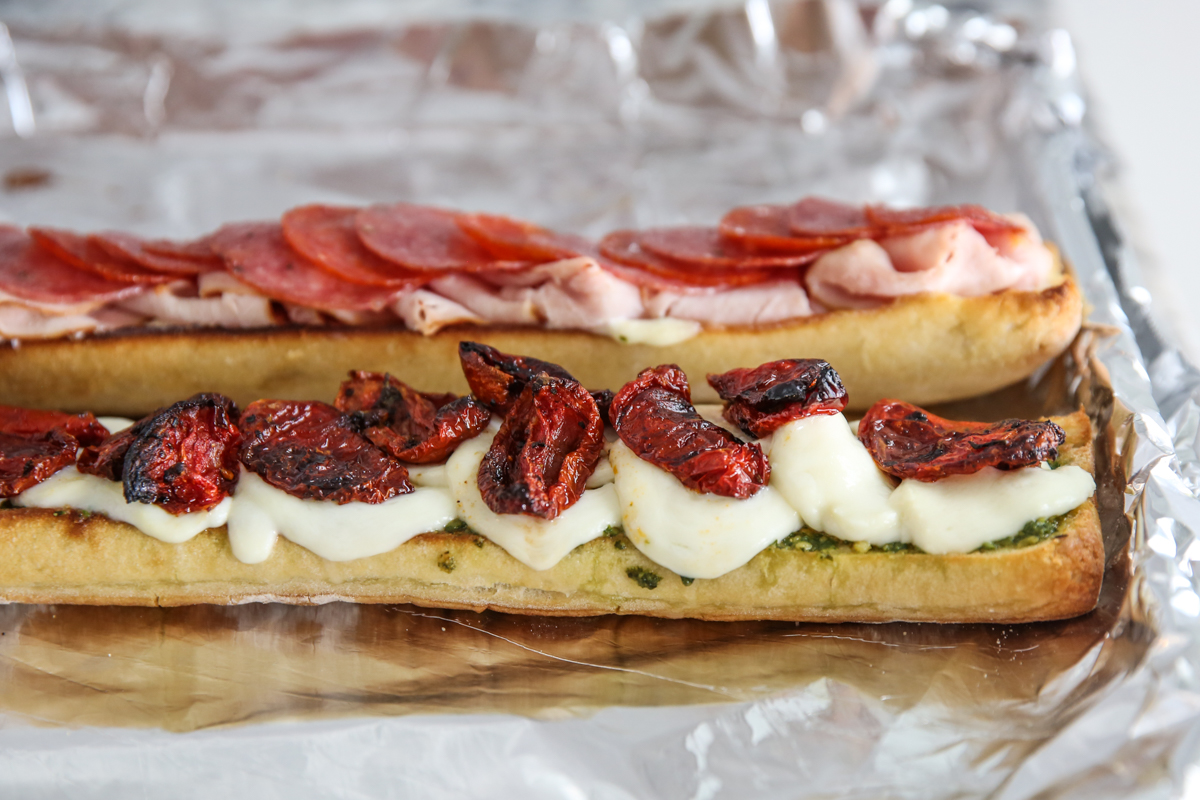 To assemble, just put those 2 halves together and press down. Slice into servings and enjoy! With the ciabatta loaf I use, I can get six 4-inch sandwiches.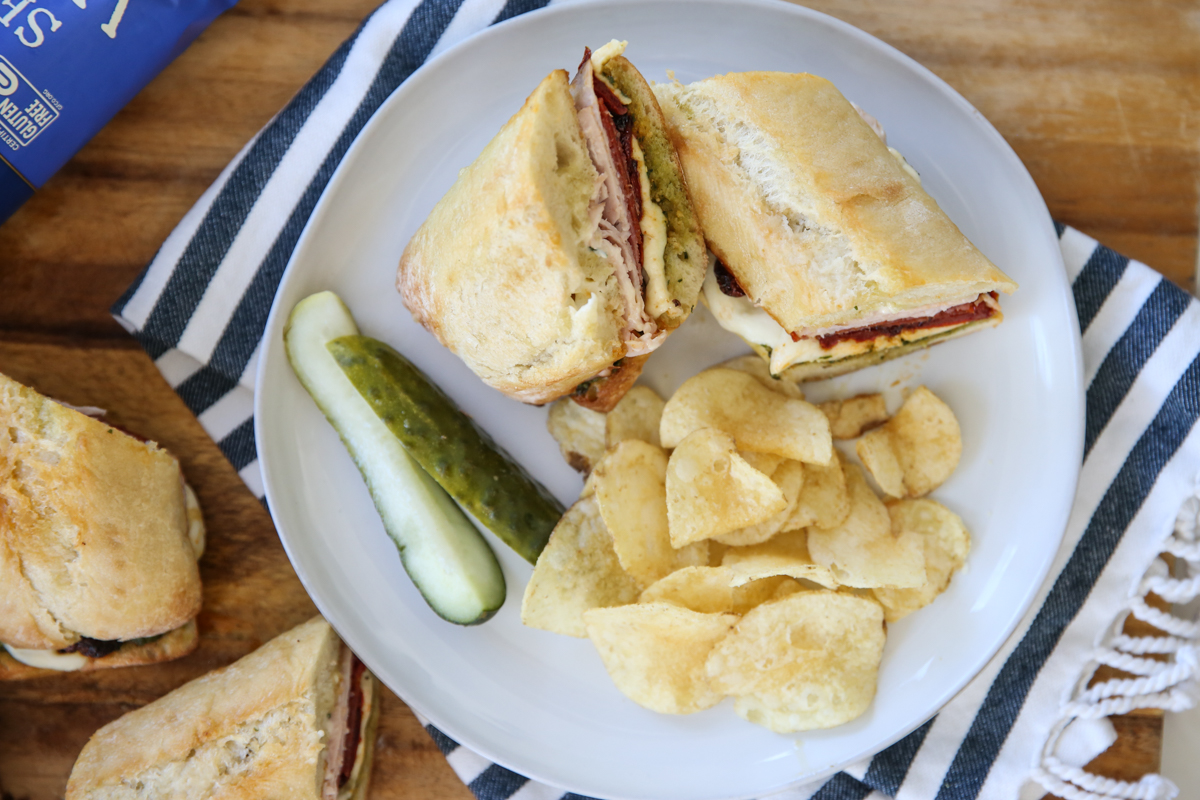 Serving Suggestions
We love this with pickle spears and some kettle chips!
Fresh fruit or a Caesar salad is also a great addition.
Frequently Asked Questions
Can I prep this ahead of time? This sandwich is best made fresh. However I do sometimes assemble up until the warm-in-the-oven step just a few minutes early and heat it up right before serving.

Can I use any other meats? Of course! Feel free to use what you like. I think smoked ham is also really great here.

What are my other bread options? This is super flexible! You can really make it on any bread of your choice, including individual rolls. Just choose something hearty to hold all of the toppings and sauces in, if you use a softer sandwich style bread, it will most likely fall apart.
Print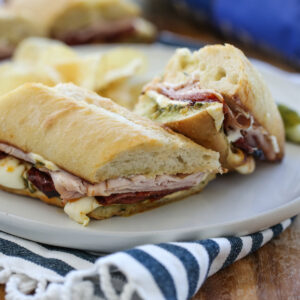 Hot Italian Sandwiches
Author:

Sara Wells

Prep Time:

15

Cook Time:

3-5

Total Time:

20 minutes

Yield:

6 4-in sandwhiches
---
Description
A hot Italian-style sandwich great for a meal or fun for a tail gate.  Measurements are approximate, you'll need to adjust depending on what bread you're using!
---
1/2 cup

mayonnaise

1

small clove garlic

1

large ciabatta baguette (I use a 24″

one

from Trader Joe's)
olive oil

1/2

–

3/4

cup pesto

8

–

10

oz smoked turkey
salami (abt 12-15 slices)
pepperoni (abt 12-15 slices)
fresh mozzarella cheese
oven roasted tomatoes (or sub fresh or sun-dried)
optional: balsamic glaze
---
Instructions
Place mayo in a small bowl and use garlic press to press garlic into it.  If you don't have a garlic press, mince it very finely. Set mayo aside (this step can be done hours or even days ahead of time).
Preheat oven to broil and place oven rack on the top.
Cut ciabatta roll in half lengthwise and place on a foil-lined baking sheet. I use extra large size baking sheets, for standard, you may need to place baguette diagonally across the pan, or cut in half to fit.
Brush both sides of open baguette with olive oil and place under broiler until golden brown. Remove from oven, but leave broiler turned on.  Move your oven rack to the middle or lower position.
Spread pesto on one side of the baguette (I like to spread the pesto on the piece that will be the bottom of the sandwich) and spread garlic-mayo liberally over the other half.
Layer turkey over the mayo side and top with salami and pepperoni.
Place mozzarella cheese over the pesto side and top with roasted tomatoes.
Turn the broiler off- we're just going to warm the sandwich now with the residual heat, and place sandwich back in oven, again, not on the top rack, but somewhere in the middle.  Leave the sandwich for 3-5 minutes, until it looks warm and a little bubbly and the cheese is getting melty.
Remove from oven.  If using a store-bought balsamic glaze, drizzle it on now and then carefully put the sandwich together. It helps to use the foil to gently push them together.
Use a sharp knife to slice.
---
Keywords: hot italian sandwich