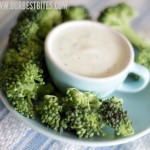 Looking for a from-scratch Ranch dressing recipe?  You'll find it, here.
One of the most common questions we get is how to get picky eaters to eat. That is a great question. And pretty much one I don't have the answer to. I have two picky eaters, and the really tricky thing is that they're picky in different ways. My 7-year-old doesn't like how certain foods like meat, most fruits, pretty much all potatoes, oatmeal and other hot cereals, any kind of dip or dressing, and jam (yes, jam) feel in his mouth. What will he eat? Cheese, bread, vegetables, cold cereal, macaroni and cheese, seafood (huh??) and chicken nuggets (because apparently those aren't meat). Nutritionally speaking, he could probably be in worse shape.
My 4-year-old daughter has all sorts of sudden food likes and dislikes that are usually influenced by her BFF of the week (I'm way more concerned about that than I am about her picky eating). I can, however, convince her to eat just about anything if I serve it with ketchup or Ranch (which she refers to as "white ketchup.")
I had really mean parents that made me get a job when I was 16 (don't tell them that after all that whining, I'm really thankful for those experiences now). From the time I was 16 until I was 22 or so, pretty much every job I had was in the restaurant industry. And, with the exception of Summer from Hell in a grocery store bakery, all of those jobs involved Ranch dressing in some form or another. At one particular Utah-based sandwich establishment that roasts their own turkeys and bakes their own artisan breads, customers felt strongly passionate about the Ranch dressing served there. I made it every morning for 2 years and it's so unbelievably beyond easy. And before you say, "Hey, lame-o, post a real recipe!", let me just tell you that yes, I'm just making a few tweaks to the instructions on the packet, but a) this isn't a recipe, it's more of a tip, b) those few tweaks end up making a HUGE difference, and c) this is always something I have to go back and look up to make sure I have the right proportions, so now I'll always know where to find it.
You'll need a packet of Hidden Valley Ranch dressing mix, buttermilk, mayonnaise (not Miracle Whip), and Greek yogurt.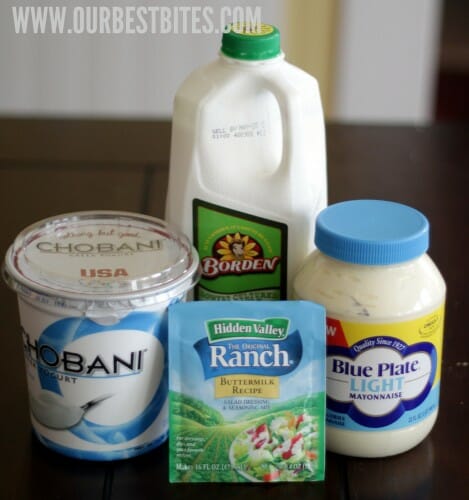 You can use sour cream in place of Greek yogurt, but I've found fat-free Greek yogurt tastes much better than fat-free sour cream, and since I'm trying my darndest to not gain 82 pounds this pregnancy, I use the fat-free Greek yogurt. If you're going to use sour cream, I definitely recommend either using full-fat or reduced-fat, but not fat-free.
Disregard the instructions on the packet. Place 1 cup of mayonnaise (or reduced-fat, but not fat-free mayo) in a bowl. Add 1/2 cup buttermilk and 1/2 cup plain Greek yogurt.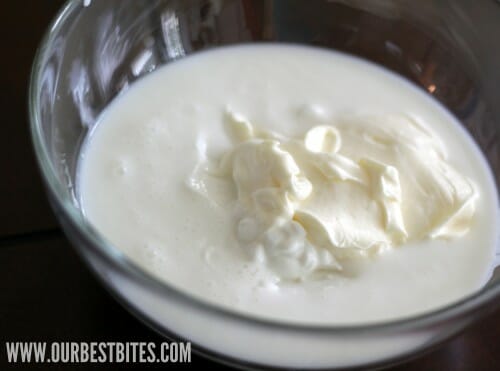 Add the contents of the dressing packet. In this particular case, I actually prefer the original Hidden Valley Ranch dressing (instead of the buttermilk), but alas, I grabbed the wrong packet out of the pantry. Also, if you have a hard time with packaged salad dressings, check out this recipe.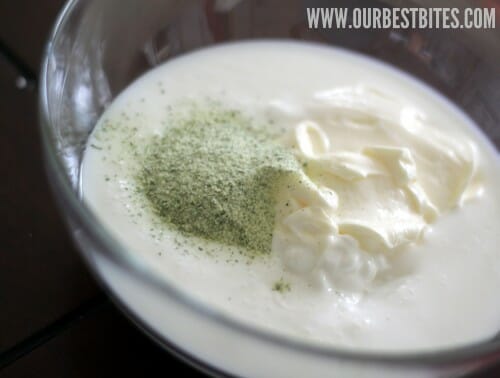 Whisk it together. That's it. Use it as a salad dressing or a dip for veggies.
True story: during one of our many Ikea trips last year when we were remodeling our kitchen, I came across their little espresso cups and saucers. They were ADORABLE and irresistible and, in true Ikea fashion, so cheap that I couldn't not buy a set, even if it was only one cup and saucer and even if I don't drink coffee. And then I came home and back to my senses and wondered what the heck I was going to do with a teeny tiny cup and saucer. My answer?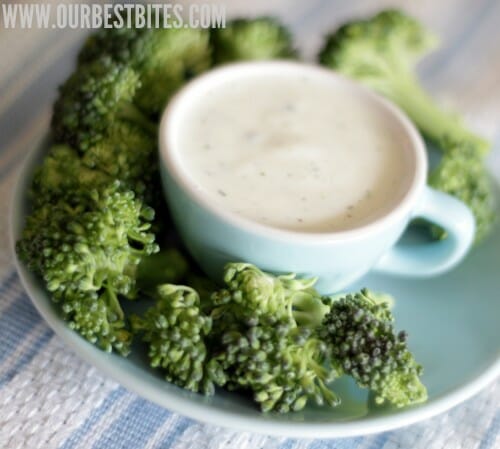 That's right. Perfect little portions of veggies and dip. This is seriously the only way I can get my daughter to eat broccoli–she pretends it's a tea party. Wouldn't these cups and saucers be perfect way to serve veggies at a baby or bridal shower? Tiny things make everything more delicious…
Restaurant-Style Ranch Dressing
Recipe from Our Best Bites, inspired by Kneaders Bakery
1 cup mayonnaise or light mayonnaise (not Miracle Whip)
1/2 cup Greek yogurt or sour cream
1/2 cup buttermilk
1 packet Hidden Valley Ranch dressing mix
Instructions:
Whisk ingredients together. Serve as a salad dressing or dip for vegetables. Refrigerate any leftovers.
Disclosure: This post was sponsored by Hidden Valley Ranch. As always, our opinions, ideas, and thoughts are completely our own.