Sometimes you just want a cookie and you want to eat it NOW!  This recipe produces a single big giant chocolate chip cookie that you can prepare very quickly with just a bowl and a spoon.  It has buttery-crisp edges and a soft gooey center. Bake it for yourself or to share.  Feel free to have fun and add any mix-ins you'd like!
If you'd like MORE giant cookies, Click Here for our entire collection!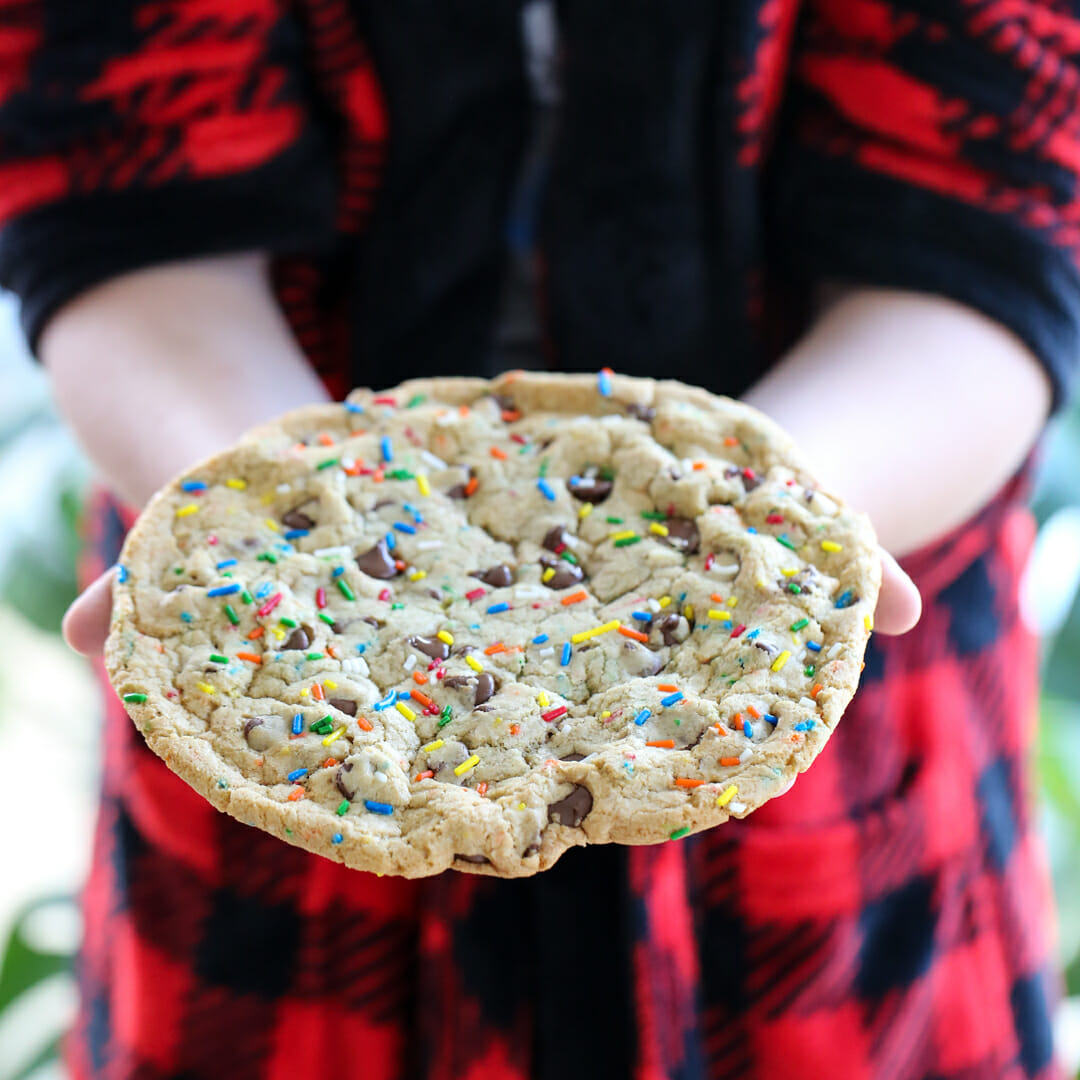 Print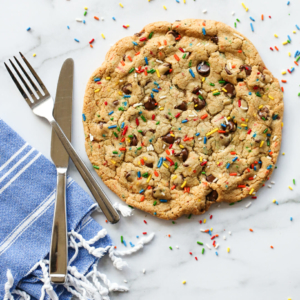 Big Giant Chocolate Chip Cookie
---
Description
A buttery and delicious single jumbo cookie!  Add any mix-ins you like, from standard chocolate chips to nuts, sprinkles, or anything else you like!
---
3 tablespoons butter, melted
2 tablespoons granulated sugar
1/4 cup lightly packed brown sugar
1 egg yolk (just the yolk)
1/2 teaspoon vanilla extract
1/2 cup plus 1 tablespoons all purpose flour
1/8 teaspoon baking soda
1/8 teaspoon salt
1/2 cup chocolate chips
---
Instructions
Preheat oven to 350 degrees. Line a cookie sheet with parchment.
Mix butter and sugars until smooth.  Add egg yolk and vanilla.  Sprinkle flour, baking soda, and salt on top and then mix together.  Add chocolate chips and/or any other mix-ins.
Form dough into one large ball and place on prepared baking sheet.  Gently press down to about 1/2 – 3/4 inch thick.  Bake until edges are set and center looks cooked, but still soft.  You'll want to keep an eye on it since baking time can vary depending on how much you press your dough down.  Mine usually take about 15 minutes.
Let cool for 10 minutes before digging in (or don't.  You're the boss here.)  Enjoy!
---
How to Make a Big Giant Cookie!
When making a single big giant cookie, you just need a mixing bowl and either a spoon or a hand mixer.  It really is so quick and easy!  Just mix up your standard ingredients: butter, sugar, brown sugar, an egg yolk, vanilla, salt, baking soda and flour.
When you make your cookie dough ball, you'll want to press the dough down to flatten it a bit.  You can experiment with pressing your dough down rather flat for a larger, thinner cookie, or leaving it piled high for a cookie that's very doughy and tall in the center.
Sometimes at our house we bake it in a pie plate and then top it with a few scoops of ice cream and just dig in.
However you choose to make a big giant cookie, you'll have fun and find yourself making it over and over again!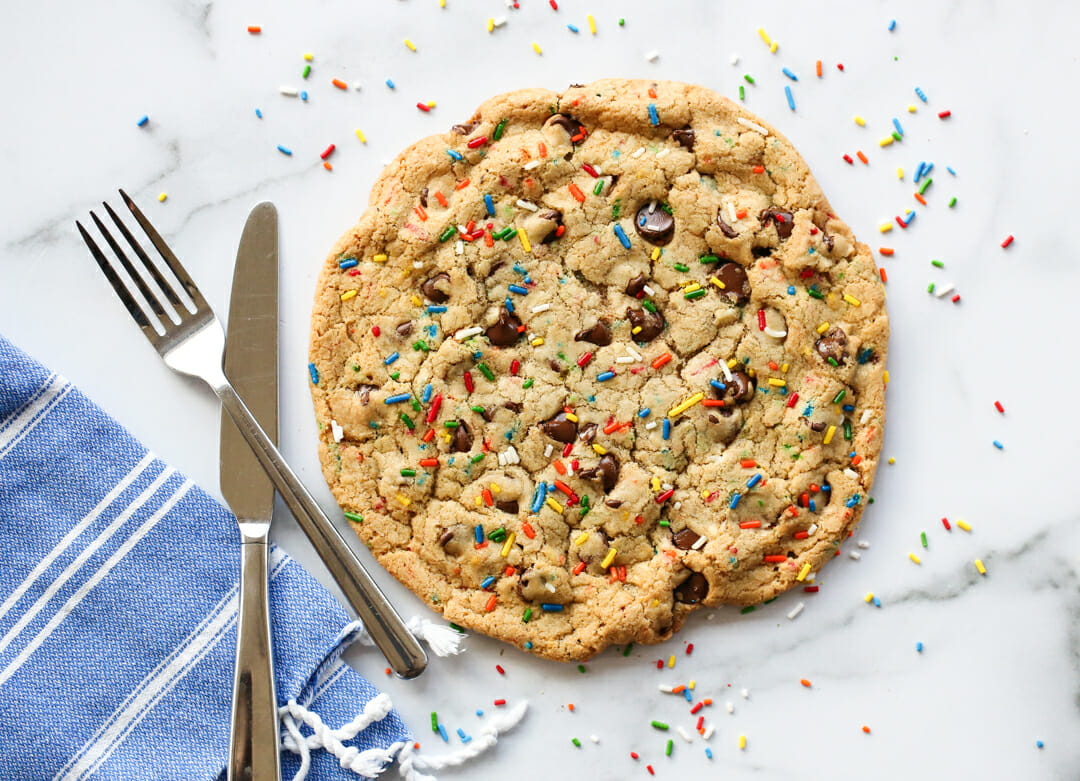 Other Small-Batch Cookie Recipes
This recipe is almost identical to our beloved Small-Batch Cookie recipe, and if you like, you can certainly make this recipe into a few smaller sized cookies instead of one large one!  We also have  Small-Batch Peppermint Bark Cookies and Small Batch Rainbow Confetti Cookies!