This cookie is soft in the center, crisp on the outside and the chocolate dough is loaded with chocolate chunks. You might enjoy sprinkling some flaky sea salt on the top at the end like I did! We hope you'll try our big giant double-chocolate fudge cookie and share your photos with us! Tag #OBBgiantCookie on Instagram!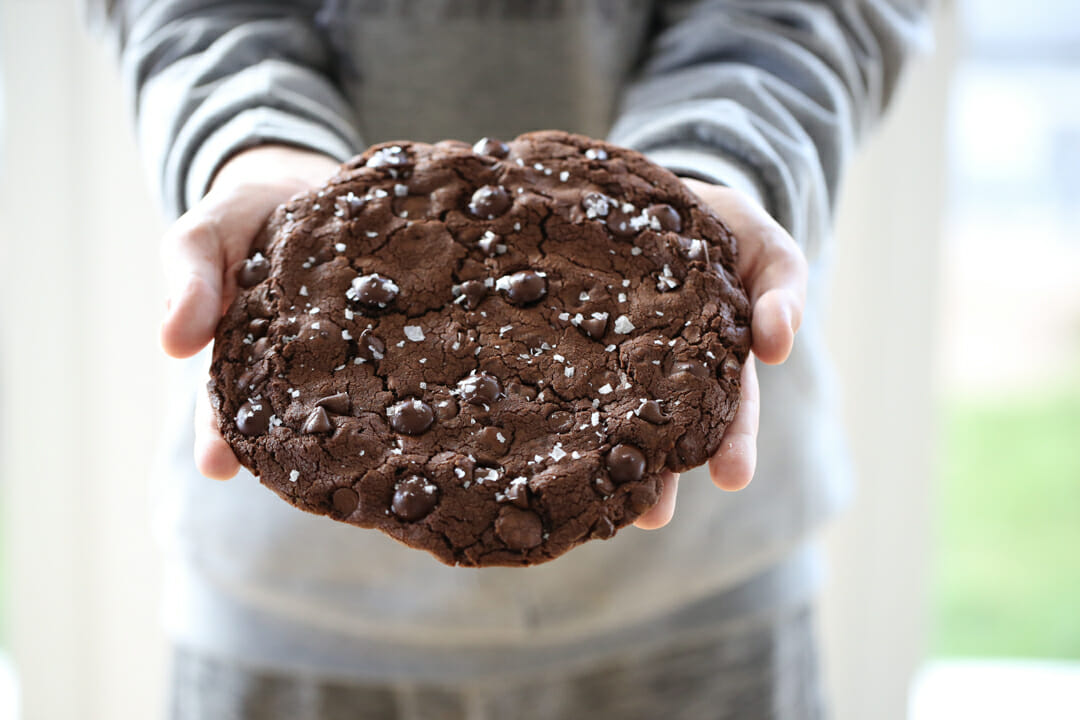 Print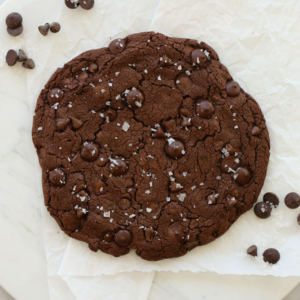 Big Giant Double-Chocolate Fudge Cookie
---
Description
A single, giant double-fudge cookie with a rich chocolate flavor.
---
Note:  because we are working with such small ingredients, it's important that you measure them correctly.  It's very easy to alter your dough for any of these giant cookies simply by not measuring your flour correctly, packing your brown sugar too much, or using a small egg.  We've included details in the recipe to help with this!
3 tablespoon

s real butter, melted (*see note about melting in instructions)

1/4 cup

lightly packed brown sugar

1 tablespoon

white sugar

1

egg yolk from a large or extra large egg

1/2 teaspoon

vanilla

1/2 cup

all purpose flour

2 tablespoon

s unsweetened cocoa powder

1/8 teaspoon

baking soda

1

pinch table salt

1/2 cup

chocolate chips
optional: flaky sea salt
---
Instructions
Preheat oven to 350 degrees. Line a cookie sheet with parchment.
1. Melt your butter in a heat-safe mixing bowl.  Note: It doesn't need to be ALL the way.  See photos for an example- I've found the best stage is when about half the butter is liquid, but the rest is super soft.  Like the texture of pudding.  You want it to easily stir completely smooth when you touch it.
2. Mix in white and brown sugars, egg yolk and vanilla.
3. Measure your flour by lightly spooning it into your measuring cup and then leveling with a knife.  Avoid scooping with your measuring cup. Sprinkle flour, cocoa powder, baking soda, and salt on top and then mix together.  Stir in almost all the chocolate chips- I like to save about a tablespoon to place on top of the cookie before baking.
4. Form dough into one large ball and place on prepared baking sheet.  Gently press down to about 3/4 inch thick.  If you saved a few chocolate chips, distribute them on the top of the cookie.
5. Don't overbake!  Keep an eye on it and err on the side of under-baking since chocolate dough is easy to over bake!  Bake for 12-14 minutes (I like to set my time for about 10 so I can really watch it close at the end), until edges are set and center looks set, but still soft.
6.  If desired, sprinkle a little flaky sea salt over the cookie immediately upon removing from the oven.
Let cool for 10-15 minutes.  Enjoy!
---
How to Make a Giant Double-Fudge Cookie
We start with melted butter, but my tip is to NOT melt the butter all the way (if you do, that's fine). This photo here shows the perfect stage. It's about half way melted but the solids are SUPER soft. You can see my finger prints in there because if you touch the butter, it should have the consistency of pudding, or frosting. Something that smashes right down and is perfectly smooth.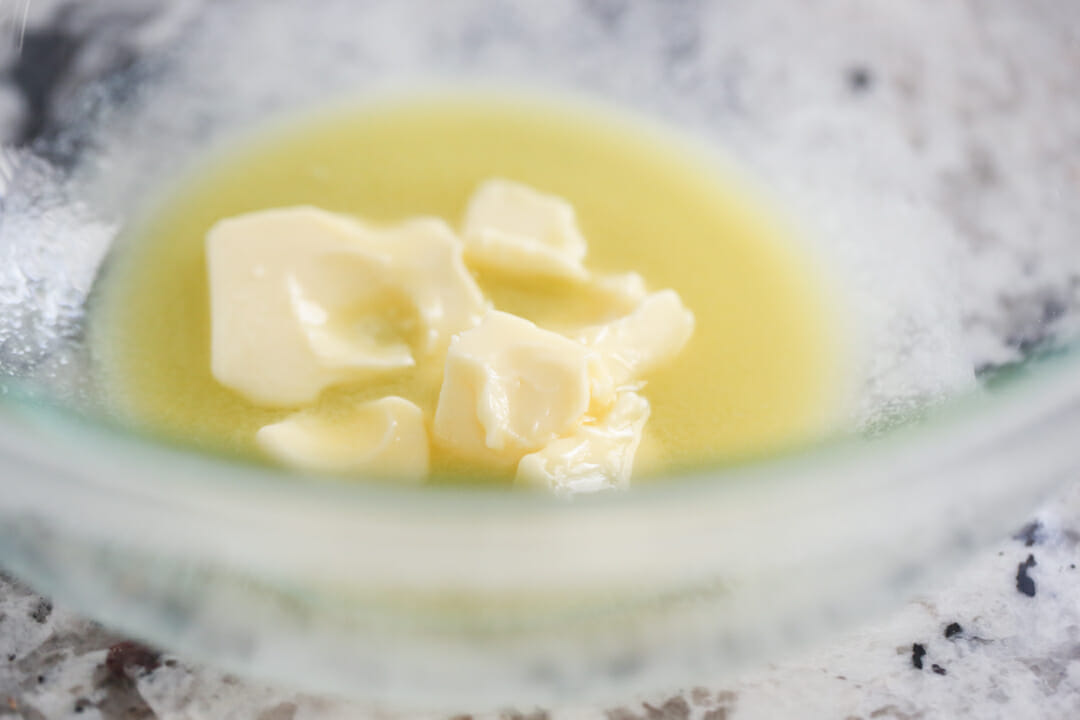 For the first layer of chocolate-y goodness, we add unsweetened cocoa powder into our dry ingredients.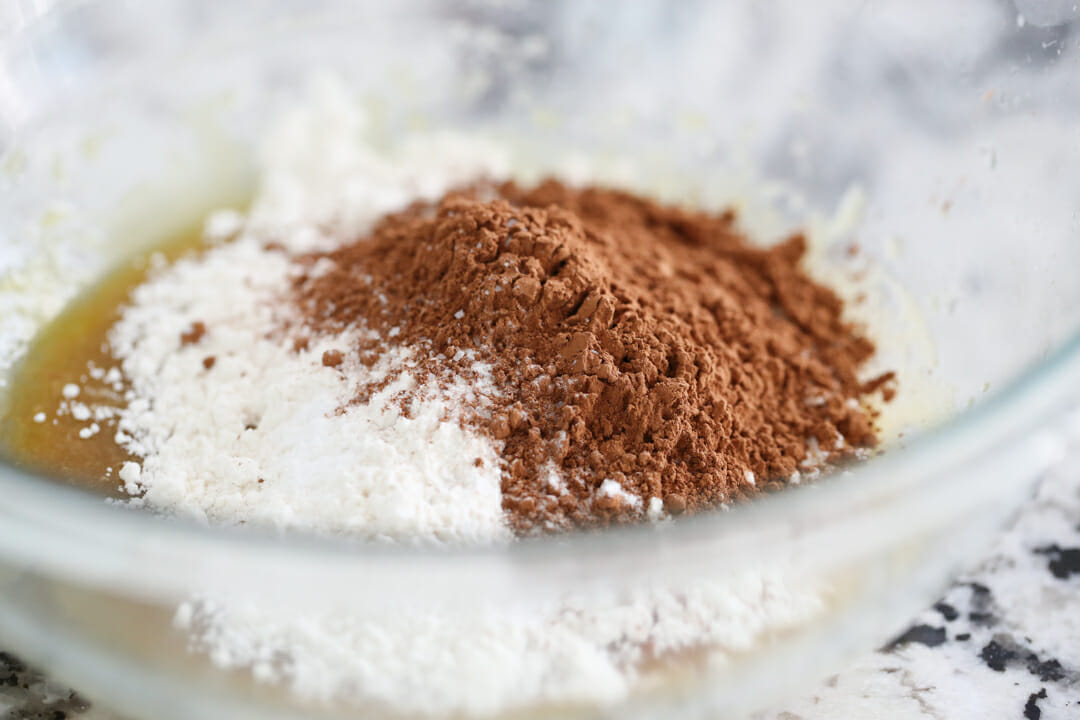 That creates a rich, but not over powering chocolate base and you'll add chocolate chips in there for more gooey chocolate in every bite!
Create a single round ball of dough and then press it down with your hand on your baking sheet. You want it about 1/2-3.4 inch thick. I like to press some chips on the top as well, simply for presentation.
Bake your giant fudge cookie!
The trick with chocolate cookies is to not *overbake* them. Over-baking is easy because color is not a great indicator here. You'll want to watch for the edges to look set and the top to look just barely done but still be jiggly when you move your pan.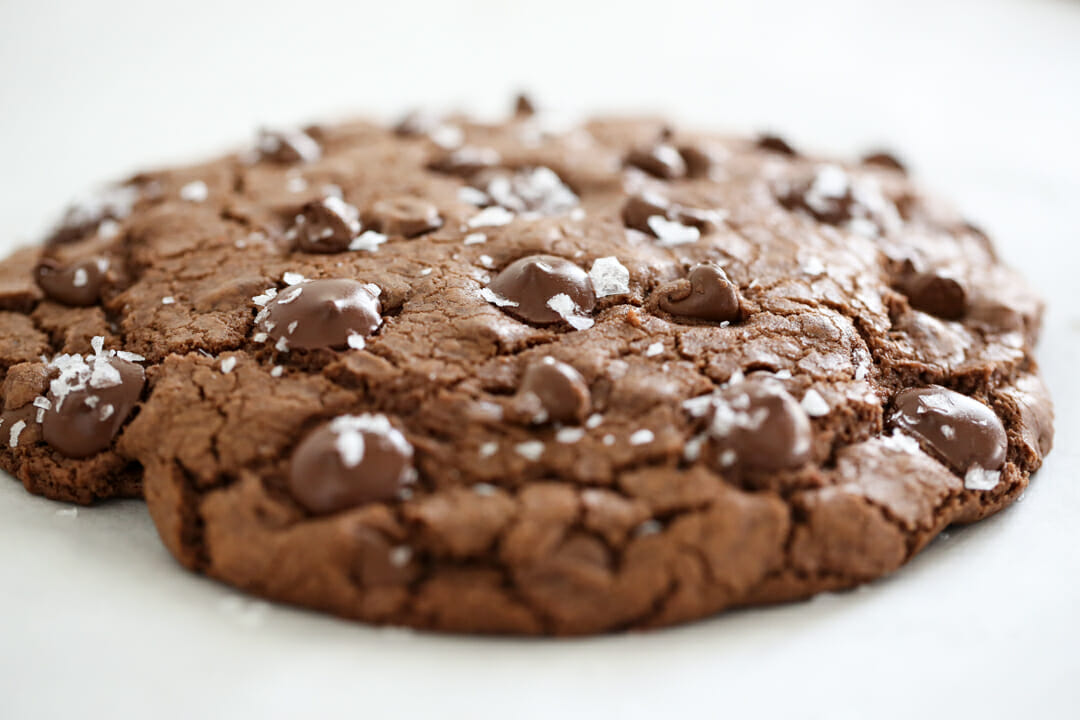 When it's all cooled, the center should be nice and soft! Sprinkling some flaky sea salt at the end is optional but I like the nice flavor contrast!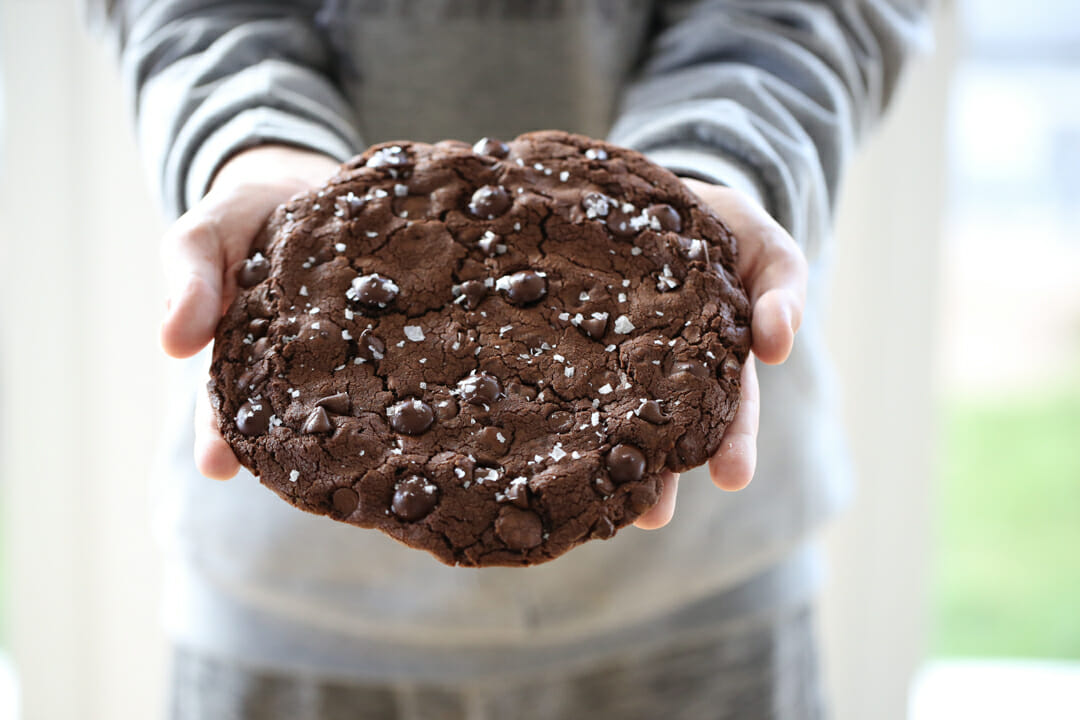 Related Recipes
If you're looking for more big giant cookies, you can find them all right here:
Big Giant Chocolate Chip Cookie
Big Giant Chocolate Sugar Cookie
Big Giant Chocolate Crinkle Cookie
Big Giant Soft and Chewy Ginger Cookie
Big Giant Peanut Butter Cookie
Big Giant Snickerdoodle Cookie
Giant Peppermint Candy Cane Chocolate Chip Cookie
Giant Chocolate Peppermint Bark Cookie
Giant Chocolate Cadbury Egg Cookie