So 2020 has kind of sucked all the way around in a lot of ways for a lot of people, but truly, one of the highlights of this year for both Sara and me was seeing people coming together during the spring and making our giant cookies as part of our Giant Cookie Bake-Along! Welllll, we're back, and this time with giant holiday cookies! This week, we have *5* holiday-themed giant cookies we're going to be posting EVERY DAY this week! This is what you need to do to join the fun: Get in the kitchen and whip up a giant cookie and then share a photo with us in one or more of these places. We'll choose 1 person at random each way and send $50 cash your way! Keep scrolling for all the details!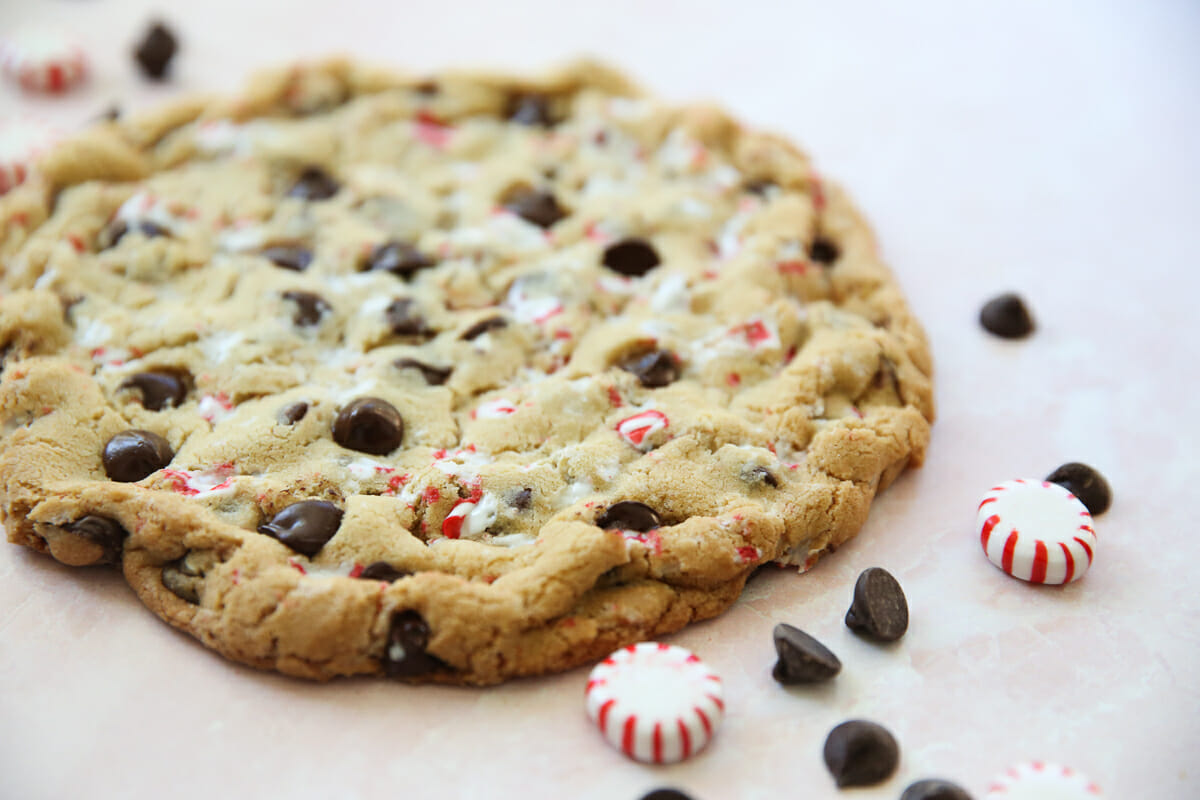 1. Share your photo on the specified cookie post in our Facebook Group.
There will be a new Pinned Post in our Facebook Group each day. You will need to leave a comment on the specific cookie thread – not just to our page. (Note our Group is not the same as our normal fan page. You can join the group, here!)
2. Post a photo in your Instagram feed
Tag both @Sara_OurBestBites and @Kate_OurBestBites and USE THE HASHTAG #ObbGiantCookie. This way we can find all your photos!
3. Post a photo in your Instagram STORIES
Tag both @Sara_OurBestBites and @Kate_OurBestBites and USE THE HASHTAG #ObbGiantCookie. This way we can find all your photos!
Note: If your instagram accounts are private, we cannot see your posts. If you have private accounts, I suggest sharing on facebook options! You can DM us, but there's always a chance those get lost in a mountain of messages, just being honest here!
Don't forget to tag us and use the hashtag (#OBBGiantCookie) or we won't be able to find you!
PRIZES
Because we know it's what people really want during this crazy time, we're giving away cold hard cash! We'll give $50 to a random participant every single day this week! Yes, you can enter every day! We challenge you to make the new featured cookie from that day, but if you lack ingredients or have an allergy or any other reason, you are welcome to repeat one of our other featured cookies from the week. Prize money will be sent via PayPal. If you cannot accept payment via Paypal, OR you do not respond within 24 hours of notification, another winner will be chosen. You must use Paypal with American Currency of US dollars to win.
Ingredients for all the challenges
If you plan on entering each day, these are the ingredients you'll need: all-purpose flour, eggs, butter, brown sugar, peppermint extract, baking soda, salt, chocolate chips, candy canes or peppermint candies, molasses, cinnamon, ginger, cloves, cocoa powder, white chocolate chips, cooking oil, and powdered sugar.
Today's GIANT COOKIE is….The Peppermint Candy Cane Chocolate Chip Cookie!!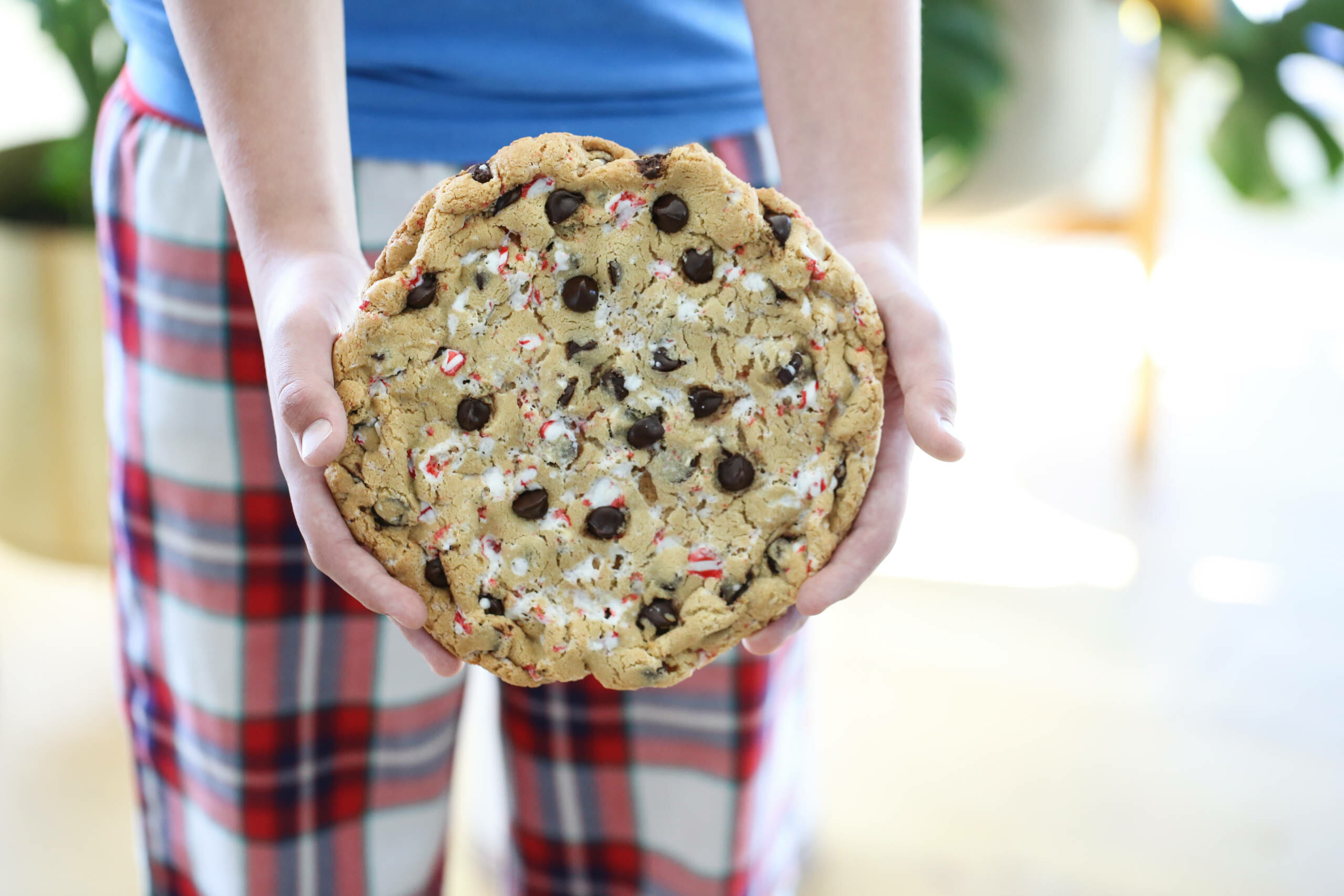 Related Recipes
Check out Peppermint Candy Cane Chocolate Chip Cookies for a standard batch of these cookies.
If you're looking for more big giant cookies, you can find them all right here:
Big Giant Chocolate Chip Cookie
Big Giant Double Chocolate Fudge Cookie
Big Giant Chocolate Sugar Cookie
Big Giant Chocolate Crinkle Cookie
Big Giant Soft and Chewy Ginger Cookie
Big Giant Peanut Butter Cookie
Big Giant Snickerdoodle Cookie
Giant Chocolate Peppermint Bark Cookie
Giant Chocolate Cadbury Egg Cookie
Print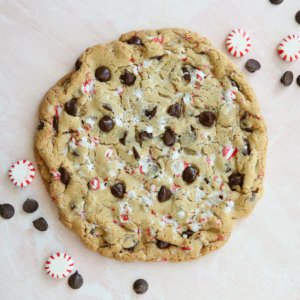 Giant Peppermint Candy Cane Chocolate Chip Cookie
---
Description
Like your favorite chocolate chip cookie, wearing a festive Christmas sweater. Little bits of cool peppermint and candy cane throughout make this a knock-out holiday favorite!  Makes one large cookie, about 9″ in diameter. If you'd like a whole batch of regular sized cookies, click here.
---
3 tablespoons

butter, melted or super soft

2 tablespoons

granulated sugar

1/4 cup

lightly packed brown sugar

1

egg yolk (just the yolk)

1/2 teaspoon

peppermint extract

1/2 cup

plus 1 tablespoons all purpose flour

1/8 teaspoon

baking soda

1/8 teaspoon

salt

1/2 cup

chocolate chips

2 tablespoons

crushed candy cane or peppermint candies (plus a little extra)
Note: Our favorite candy canes are Bob's or Brach's. Round peppermint candies also work great. 
---
Instructions
Preheat oven to 350 degrees. Line a cookie sheet with parchment.
Mix butter and sugars until smooth. Add egg yolk and peppermint extract. Sprinkle flour, baking soda, and salt on top and then mix together. Add chocolate chips and 2 tablespoons crushed candy cane.
Form dough into one large ball and place on prepared baking sheet. Gently press down to about 6 inches in diameter. Sprinkle about a teaspoon more of crushed candy cane on top. (For great presentation, place a few chocolate chips evenly on top as well.)
Bake for about 15 minutes, until edges are set and center looks cooked, but still soft. We like to set the timer for about 12 and keep an eye on it after that since all ovens are different.
NOTE: as the candy cane melts, it can cause the cookie to finish in an irregular shape. As soon as the cookie comes out of the oven and is still hot, simply use a spatula to gently push the edges in to form a nice circular shape and then let cool.
---