When it comes to baked goods, I don't often bother with trying to make them healthy.  In general, I'd rather just have an appropriate serving of something fully indulgent and get a good workout in that day, than try to load protein powder into my chocolate chip cookies.  That being said, I definitely love finding little treats that satisfy a sweet tooth with much less guilt, or ways to make truly delicious baked good a little more healthy.  Enter Skinny Banana Fudge Muffins.  At just around 100 calories each, these glorious little muffins pack a super chocolaty punch, include whole grains, low sugar, and zero oil or butter.  Done and done.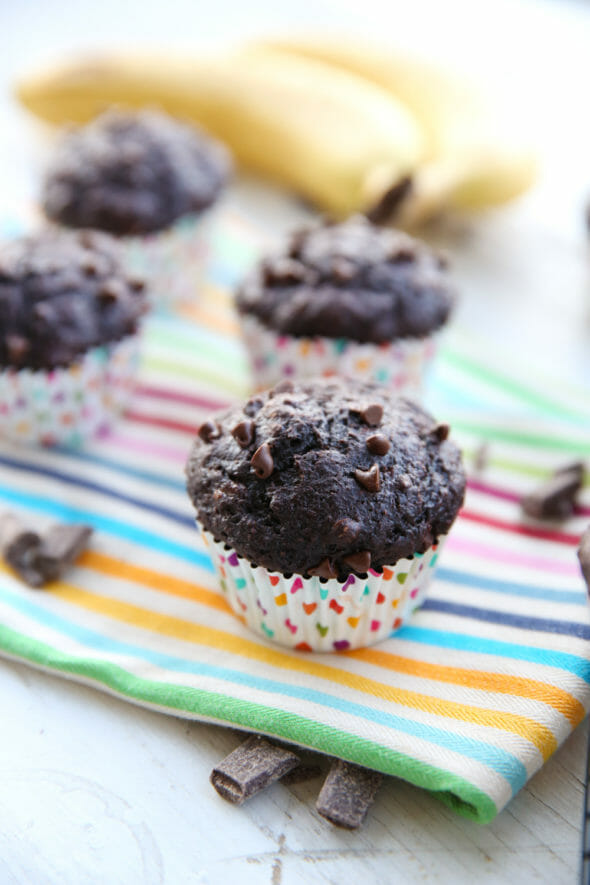 This recipe is from Sally's Baking addiction and I've only made minor tweaks to take the calories down from the original just a bit. We're going to use a few tricks and substitutions to achieve maximum yum factor with minimum calories.  First up is a little applesauce in place of butter or oil.  I don't recommend this all the time (because hello, butter), but in this case it totally works.  The recipe calls for 1/3 cup which is the exact amount in these squeeze packs I buy for my kids' lunches.  Perfection!  If you wanted to add a little more protein, you could also sub Greek (or any type, really) yogurt in place of the apple sauce.  I was going for minimum calories so I went with the applesauce, but generally speaking, I really love yogurt in baked goods like muffins and quickbreads.
The other thing I use is Truvia Baking Blend, which is a mix of sugar and Truvia. (You can find it in the baking aisle of the grocery store.)  This isn't sponsored or anything, I just happen to like this mix and I feel like it's one of the few lower-calories sweetening options that actually works well in baking.  It has 75% less calories than sugar and I don't feel like it leaves a strange taste or texture.  If you don't want to use this, you can absolutely use regular granulated sugar, or another sweetener of your choice (like, in place of leaving a long, drawn out comment about how I am less of a human for not using organic, non-gmo free-trade hand harvested natural nectar from an endangered flower found in the Amazon.  Like I said, use whatever YOU like.)
After you mash up the wet ingredients (bananas, and egg, applesauce and vanilla) Sift in the dry ingredients right over.  And by sift- I just dump everything in a strainer over my bowl, which helps get the lumps out of the lumpy cocoa powder.  Speaking of cocoa powder, there's a whole 1/2 cup in there, which gives rich chocolate flavor without rich chocolate calories.
And the flour that is hiding underneath that pile is half all purpose, and half whole wheat.  That way you get the heartiness of the whole grain, with the light texture of all purpose.  Use a whisk to just whisk the dry ingredients together in the bowl and then a rubber spatula to gently mix it all together.
Spoon the batter into 12 muffin cups.  Mine are a little fuller than normal because I only had 10 of my favorite muffin cups left.  You know when you make chocolate cupcakes and you put them in adorable cupcake papers, only to discover when they come out of the oven that the dark batter bled right through and ruined the darling design??  Whenever I bake with chocolate, I use these Wilton ColorCup liners because they stay bright and beautiful.  I also like the Reynold's brand Stay-Brite ones that you can find in most grocery stores.
Apparently I didn't take any photos of the chocolate chips here, but a note on that.  1.  I use mini chocolate chips any time I'm trying to cut calories because smaller pieces distribute better and you can use less.  If you  have regular size chips, just chop them up for the same effect.  2.  Chocolate chips is one of the #1 ways "healthy" baked goods quickly take a dive in fat and calories.  A single tablespoon of chocolate chips has 70 calories, so imagine what happens when you throw a bag in an otherwise low-calorie recipe.  3.  The 1/4 cup is not a typo!  You can absolutely use more if you like, but I find that just a little bit goes a long way, and you just need a few on top to make them look and taste extra special.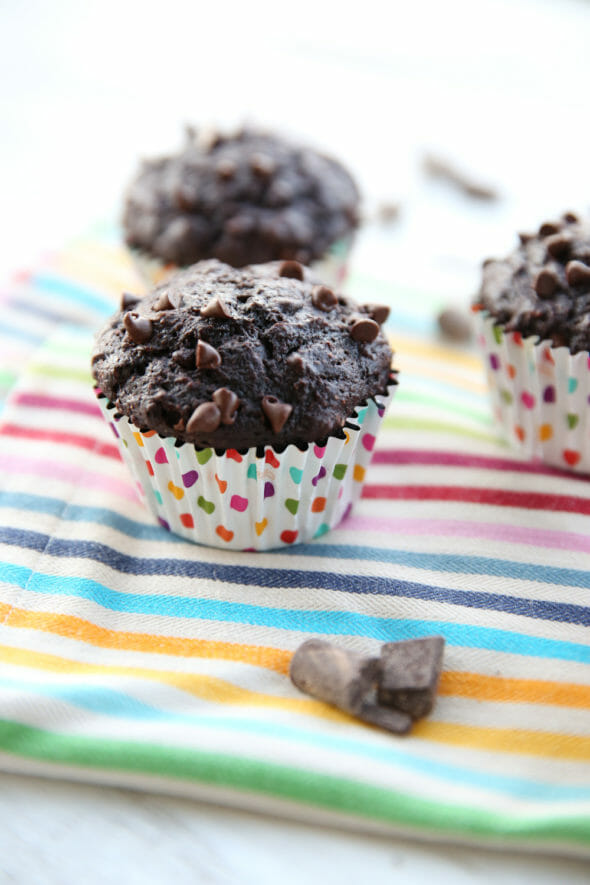 Make sure you check these and don't overbake or they will be quite dry due to the lack of fat.  If you cook them just right, they will be super moist and chocolaty and delicious and no one will know they are not horrible for you!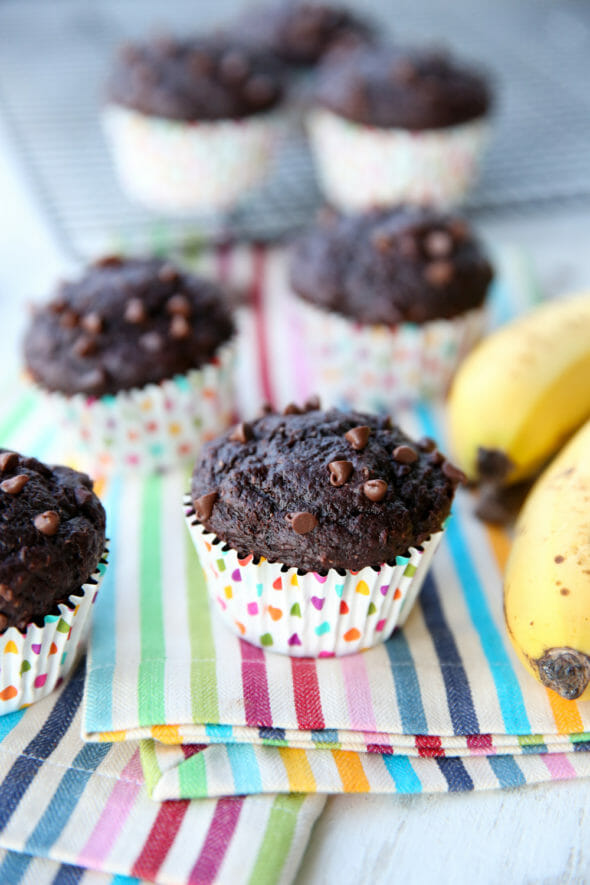 You can freeze these for grab-and-go breakfasts, or keep them in an airtight container at room temp.  Either way I promise they won't last long.  Enjoy!
Print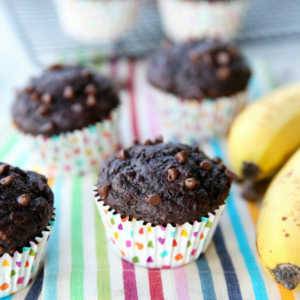 Skinny Banana Fudge Muffins
Prep Time:

15

Cook Time:

15

Total Time:

30

Yield:

12
---
Description
Rich, chocolaty muffins with sweet bananas, whole grain, and zero butter or oil! Satisfy that sweet tooth for about 100 calories!
---
3

large, extra ripe bananas

1/3 cup

Truvia baking blend, or

2/3 cup

granulated sugar

1

large egg

1/3 cup

applesauce

1 1/2 teaspoons

vanilla

1/2 cup

whole-wheat flour

1/2 cup

all-purpose flour

1/2 cup

unsweetened cocoa powder

1/2 teaspoon

salt

1 teaspoon

baking soda

1 teaspoon

baking powder

1/4 cup

mini chocoate chips
---
Instructions
Preheat oven to 375 degrees and line a 12-cup muffin tin with liners.
Smash bananas in large mixing bowl. Add Truvia/sugar, egg, applesauce, and vanilla. Sift in flours, cocoa powder, salt, baking soda, and baking powder. Mix together until fully combined, but don't overmix. Set aside about 1 1/2 tablespoons of the chocolate chips and add the rest to the batter. MIx in and divide batter between the cups. Sprinkle remaining chips on top.
Bake for about 15 minutes, until a toothpick inserted comes out with moist crumbs attached. Don't overbake. Let cool on rack for a couple of minutes and then remove muffins from pan to cool until just warm. Eat, or cool completely and store in an airtight container.
---
Notes
If using regular chocolate chips, just roughly chop them up. Feel free to add more if desired!
Nutrition Information (per 1 muffin): Cal:109 Fat:2g Carbs:23g Pro:2.6