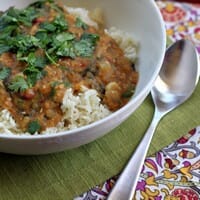 First of all, I know Sara mentioned Monday's post in her post on Wednesday, but I just wanted to thank all of you so much for your sweet thoughts and also for opening your hearts and sharing similar stories. So many of you mentioned that because there were so many comments, I probably wouldn't see what you wrote, but I promise, I read every single one, some of them more than once. I wish I could respond to all of them personally, but please know that I read and appreciated everything you guys had to say more than I can express.
So this recipe is kind of almost too good to be true. I found it on Weight Watchers a few months ago and it quickly became one of my very favorite meals–it's hearty and delicious and forgiving and quick and easy and unbelievably low fat and calories and once you track down the lentils and all the spices, you can make it again and again with very little effort.
One thing I discovered is that Weight Watchers gives this 6 points, but when I calculate it one my own, it comes in much lower than that. One factor is that they say it serves 6, but those would be huge, belly-ache-inducing servings, so I calculated it for 8, and even then, those servings would be quite large. But the numbers still didn't add up. Using the nutritional info from the bag of lentils, and calculating it with 8 servings, it comes in around 2 points and under 90 calories. I told you it was almost too good to be true.
You'll need lentils (red ones, if you can find them–check the "natural" section of your grocery store, although your cheapest bet will be in the bulk bins or a Middle Eastern market), an onion, fresh garlic, fresh ginger, spinach (fresh or frozen), a 15-ounce can of tomatoes, cilantro, and lemon or lime juice.
Plus a bunch of spices. These can be kind of a pain to track down, but once you have them, you can make this over and over again with practically zero effort. You'll need mustard seed, ground coriander, ground cumin, and curry powder or paste. I prefer the paste, even if it's Thai and not Indian.
Place the lentils in the pot of a slow cooker…
And then add the spices, broth, garlic, onions, and ginger,
spinach,
and tomatoes.
Cook on high for 3-4 hours or on low for 6-7 hours. You can also bring it to a boil in a large stock pot and then cover, reduce heat to low, and simmer for 1 hour. When the lentils are done cooking, stir in a handful of chopped cilantro and the juice of 1/2 a lime or lemon. Ladle it into bowls (I like it over rice cooked with onions, garlic, and chicken broth) and enjoy!
;
For 8 Servings:
Calories: 87.3
Fat: .6
Carbs: 15.7
Fiber: 5.7
Protein: 6.6
Weight Watcher Points: 2
Indian-Spiced Slow-Cooker Lentils
Recipe lightly adapted from Weight Watchers
Ingredients: 2 cups red lentils (if you can find them…check the bulk bins or a Middle Eastern market)
10 ounces spinach (fresh and chopped or frozen and thawed)
1 15-ounce can diced tomatoes
1 onion, chopped
1 tablespoon minced garlic
1 tablespoon minced fresh ginger
4 cups chicken broth (or vegetable broth if you want to go vegetarian/vegan)
1 tablespoon curry powder or paste (I prefer curry paste)
1 teaspoon mustard seeds
1/2 teaspoon ground coriander
1/2 teaspoon ground cumin
1/8-1/4 teaspoon cayenne pepper
2 teaspoons sugar
1 1/2 teaspoons kosher salt
Juice of 1/2 lemon or lime
Handful of chopped cilantro, plus more for garnish if desired
Instructions: Combine all ingredients except for the lemon (or lime) juice and cilantro in the pot of a slow cooker. Cook on high for 3-4 hours or on low for 6-7 hours (or bring to a boil on the stove top and then simmer, covered, on low for 1 hour). Before serving, add the lemon juice and cilantro. This is delicious served over rice. Weight Watchers says this makes 6 servings, but I'd say it's closer to 8-10.
For 8 Servings:
Calories: 87.3
Fat: .6
Carbs: 15.7
Fiber: 5.7
Protein: 6.6
Weight Watcher Points: 2