Did any of you catch us in this month's Parenting magazine?  I keep forgetting to tell you about it, so here it is: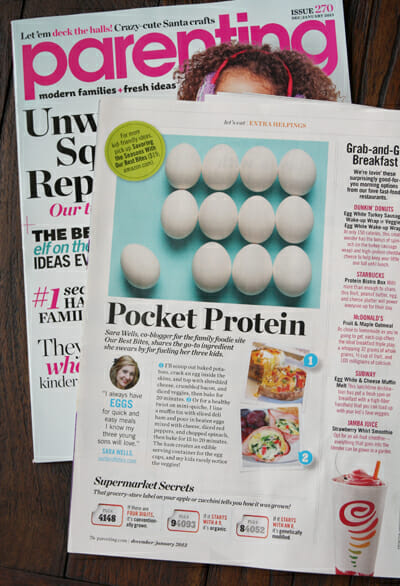 Pocket Protein, baby!  They wanted me to pick one item that I always, always keep stocked in my fridge and use for quick and easy meal prep.  I didn't hesitate before answering: eggs.  One of the most versatile things in the kitchen-  you can see lots of our popular egg dishes by clicking here.
Alright, onto cookies.  It's no secret that my go-to holiday flavor combination is chocolate-peppermint.  That's where I'm comfortable.  But sometimes I like to get wild and crazy and live on the edge making something that's not a cool, minty chocolate piece of heaven.  I happen to love ginger and molasses too, and I LOVE lemon and ginger.  I posted these cookies a while back on our Facebook page.  They are to die for:
and then these ones from Target, also with a lemon-spiked filling.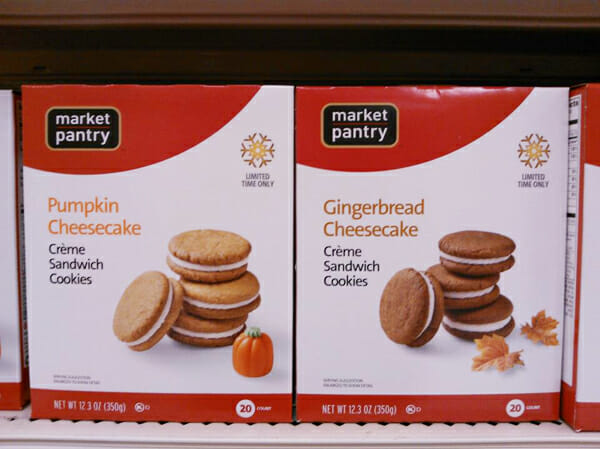 So when I was browsing McCormick recipes I knew this was the one right when I spotted it.  Last week Kate did a fun virtual Cookie Swap with our friend Barbara Bakes.  Kate made Barbara's Chocolate-Peppermint Thumbprints and Barbara made my beloved Peppermint Candy Cane Brownies.  See what I mean about the chocolate peppermint thing? I didn't want to be left out of the party, so I'm showing up a week late.  The good thing about being a week late to a party is that you get to eat all the cookies yourself.
Now, McCormick calls these Whoopie Pies.  I sometimes have issues with Whoopie Pies (partially because of the word Whoopie,  Kate can give you an extensive list of words that annoy me)  because I feel like they need to get over their identity crisis and decide if they want to be a cookie or a cake.  Like, just pick one and own it- ya know what I mean??  I'm calling these sandwich cookies because they really are a great, soft ginger cookie.  Not cakey like some whoopie pies are.  You could easily make just the cookie part and serve them on their own.  They have a slightly crisp edge and a chewy soft center so they're for sure a cookie.  Way to own that one, cookie.
Start by mixing up some spices with your flour.
We've got ginger, cinnamon and nutmeg.
Set those aside and cream some butter and brown sugar together.
Once those are light and fluffy, add in some vanilla, and egg, and some molasses.
Is it just me, or does every bottle of molasses have sticky drips down the bottle?  I'm pretty sure every jar I've ever owned has looked like that.
When you measure your molasses, use our trick and spray your measuring cup with nonstick spray first and it will slide right out.
Then add those dry ingredients until you have a nice soft dough.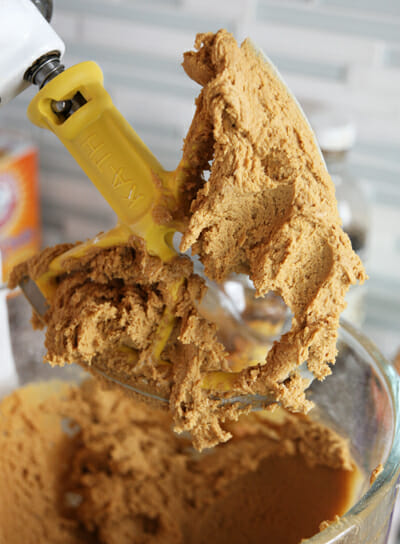 The original recipe calls for chilling the dough, but I skipped that step and they baked up perfectly.  Just roll into balls and roll them in sugar.  I always suggest with sandwich cookies to go smaller than you think you want.  Remember you'll eat 2 at a time, so smaller is sometimes better.  I use my standard sized cookie scoop and divide that dough ball in half.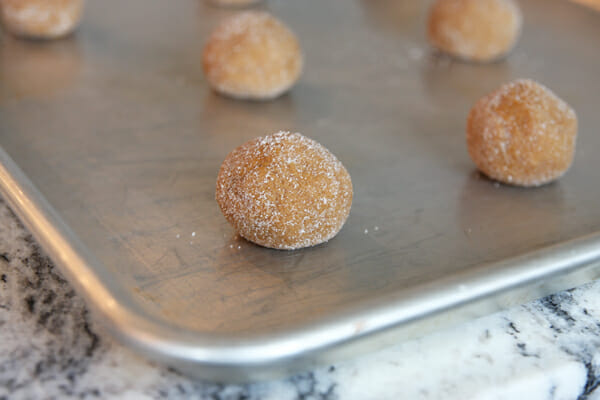 Bake them until just puffed with little lines like you see in the photo.  It's very important to not overcook sandwich cookies, if anything- underbake them a little, or a lot.  That way they'll be soft enough to not completely squish the filling out when you bite into them.
Let them cool on a rack until they're room temperature.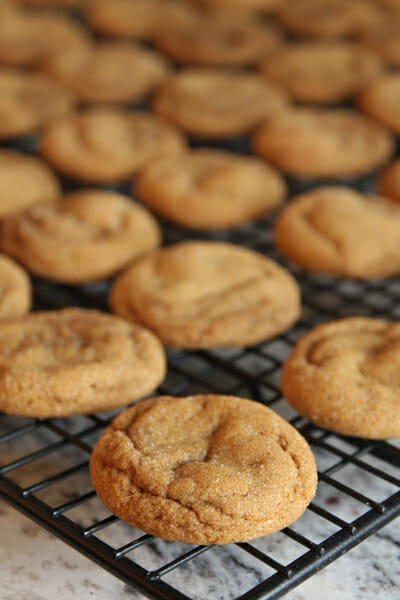 Another thing I changed from the original recipe is the filling.  You can see McCormick's filling recipe here and try it if you want.  The flavor is great but the consistency posed problems for me.  I suspected by looking at it that it would come out much to soft for a sandwich cookie and my suspicions were correct, at least for me.  I made a simple cream cheese buttercream instead and it was quite a bit thicker, which worked well for the sandwiches. You have enough to put on a generous amount each cookie.  The filling is butter, cream cheese, powdered sugar, and lemon extract.  The lemon really is a perfect compliment to the ginger and spices in the cookie.
Now if you just looked at the recipe I linked in the last paragraph, you may have noticed something.  Those ginger sandwich cookies were rolled in…candycanes.  That flavor combo seemed a bit off to me, so I thought of something better:
I pulsed lemon drop candies in my Blendtec: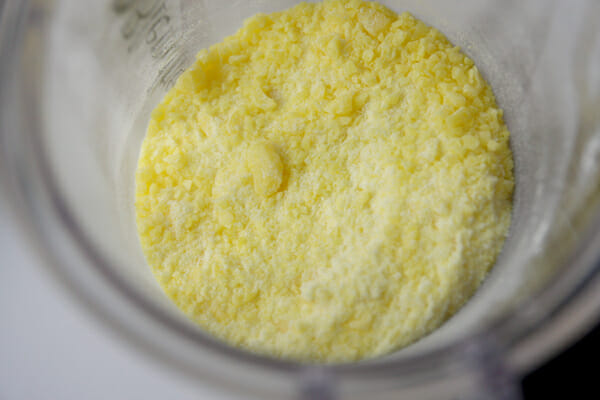 and then rolled the finished cookies in them.
You get a little shimmery sparkly burst of lemony goodness
and a soft cookie with warm spices that taste like they are soul-mates.
If you want the filling to firm up a bit, just store the cookies in the fridge.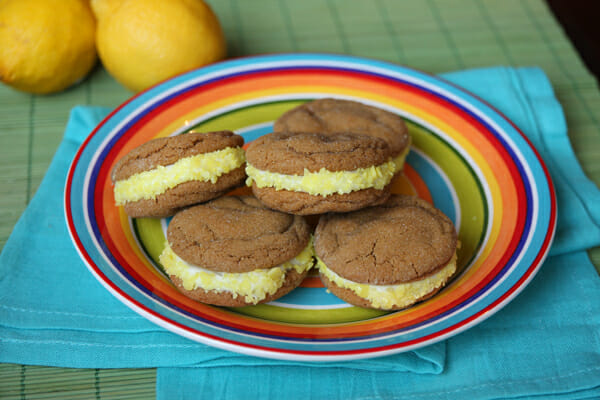 And if this has you in the mood for more ginger, or for more sandwiches, you might like these:
Chewy Ginger Spice Cookies
Ginger Spice Cookies with Orange and White Chocolate
Peppermint Sandwich Cookies  (pictured below)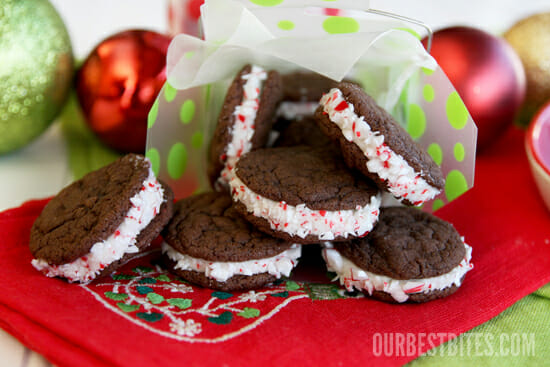 Print
Soft Gingerbread Sandwich Cookies with Lemon Creme Filling
---
Description
Soft and chewy gingerbread cookies sandwiched with a bright and fresh creme filling; great for the holidays!
---
For the cookies
3 cups

flour

2 teaspoons

ground ginger

1 teaspoon

ground cinnamon

1 teaspoon

baking soda

1/4 teaspoon

ground nutmeg

1/4 teaspoon

salt

3/4 cup

(

1 1/2

sticks) butter, softened

3/4 cup

firmly packed brown sugar

1/2 cup

molasses

1

egg

1 teaspoon

vanilla extract
granulated sugar for rolling, about 1/4 cup
For the filling
1

stick butter (

1/2 cup

) softened to room temp

4 ounces

cream cheese

2

–

3

cups powdered sugar (until you reach desired consistency. I use

3 cups

)

1/2 teaspoon

lemon extract, more to taste if desired)
Crushed lemon drop candies
---
Instructions
1. Mix flour, ginger, cinnamon, baking soda, nutmeg and salt in large bowl. Set aside. Beat butter and brown sugar in large bowl with electric mixer on medium speed until light and fluffy. Add molasses, egg and vanilla; beat well. Gradually beat in flour mixture on low speed until well mixed. You may chill dough for at least an hour or bake immediately.
2. Preheat oven to 350°F. Shape dough into 1-inch balls. Roll in granulated sugar to coat. Place 2 inches apart on ungreased baking sheets.
3. Bake 8 to 10 minutes or until centers are puffed and just slightly cracked and edges are set. Timing depends on the size of cookies you make. My tiny ones took only 4-5 minutes so keep an eye on them. Aim for underbaking just a bit. Remove to wire racks; cool completely.
4. Meanwhile, for the filling, combine all filling ingredients and beat until smooth. spread a generous dollop of frosting on one cookie and top with another. Dip cookies in crushed lemon candy and between layers of wax paper in airtight container in refrigerator up to 5 days.
---
This post is in partnership with McCormick Spices, a brand we wholeheartedly enjoy using in our own kitchens!  The content contained here, and the opinions that go with it are our own.
*Disclaimer: this post includes affiliate links, which just means that when you purchase items through our links, we earn a small commission, which helps us keep working hard to create recipes for you!