A few weeks ago I asked you guys about pie on Instagram.  I wanted to try some new ones and asked what your favorite, go-to pie was.  Several people mentioned Sour Cream Apple Pie and the funny thing is that I've tried a couple recipes for that over the years and nothing has turned out super great.  After hearing more great reviews I decided to give it one more shot.  I've had pretty good luck with recipes that have high ratings on  All Recipes, so went for this one!  I don't think you can go wrong with a classic Apple Pie, but this sour cream twist is pretty fantastic.  Basically it's your classic apple pie, but all wrapped up in a sweet sour cream custard and then smothered with an amazing cinnamon-sugar crumb topping.  One thing that makes this pie a little different than your standard, is that it's best eaten chilled.  That means it's awesome to make ahead of time for Thanksgiving and not even worry about re-heating.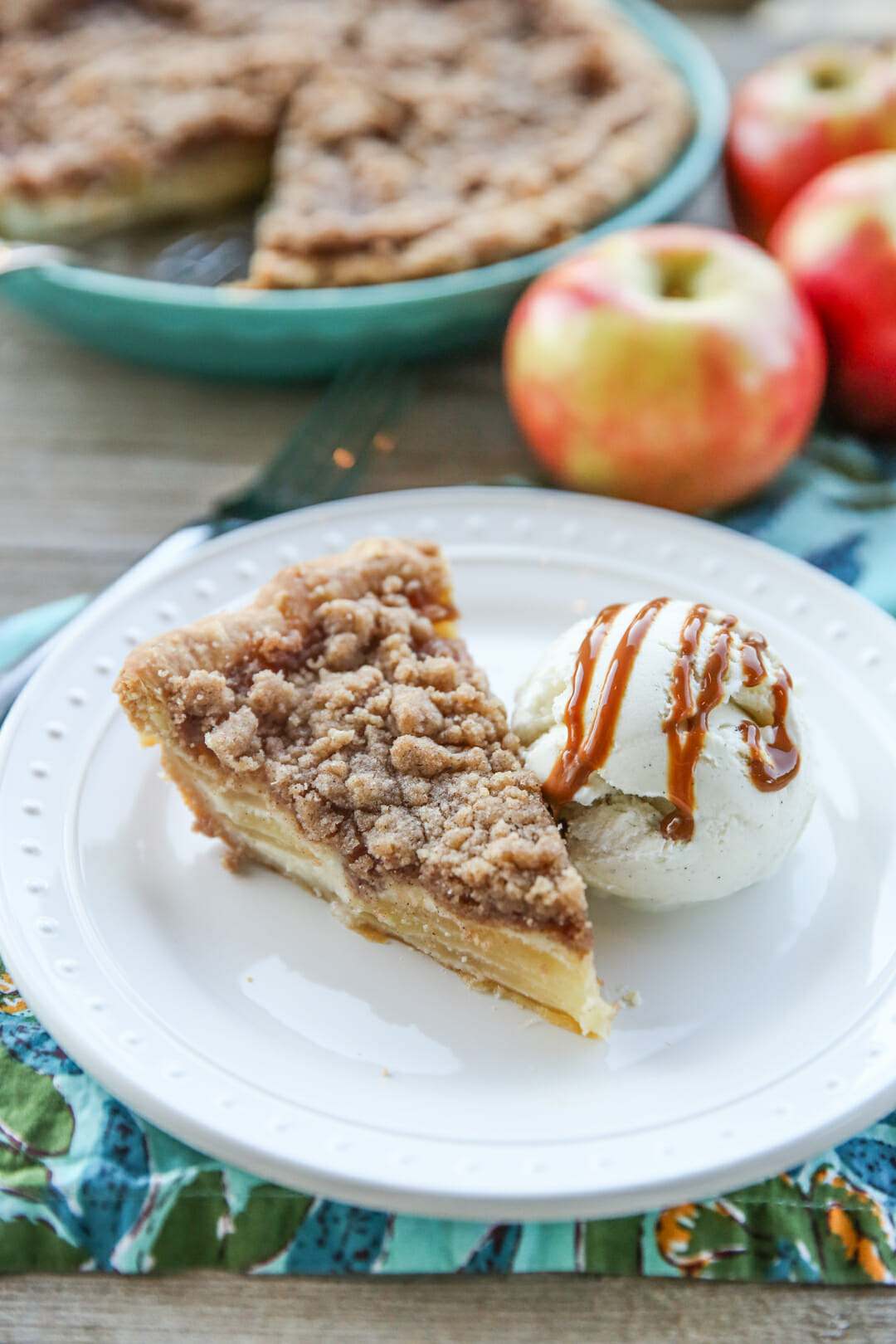 You can use your favorite pie crust recipe here.  Here's our classic crust recipe, and here's an all-butter recipe.  And then this pastry-style crust is amazing as well.  Whichever you choose, make sure you have nice big visible pieces of butter/fat in there (that's what helps it turn out flaky!) and make sure to chill it well before rolling out.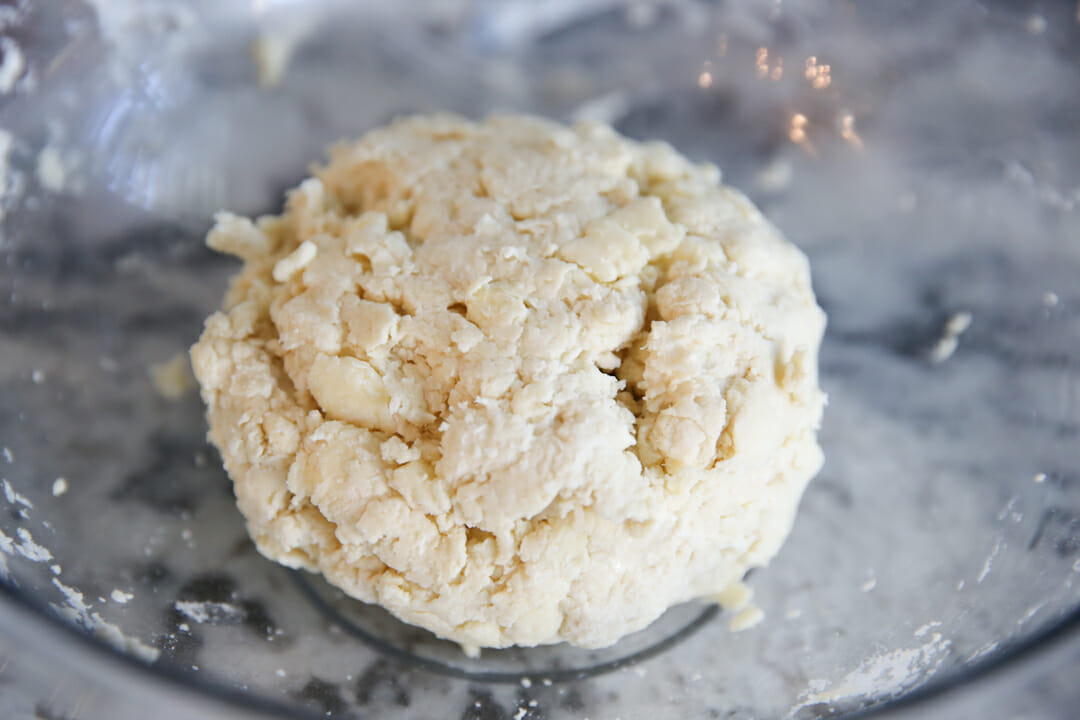 I actually tried a new crust recipe, along with a tip, from my friend Tessa who suggested adding 2 tablespoons of sour cream into pie crust.  Sour cream works as a tenderizer and sure enough, it made the crust almost pastry-like (similar to this one, actually).  I figured that was perfect seeing as I was making a sour cream apple pie!  The only downside here is that I didn't have time to refrigerate overnight as her recipe suggests and my dough didn't hold it's shape very well, but I honestly didn't mind because it tasted great!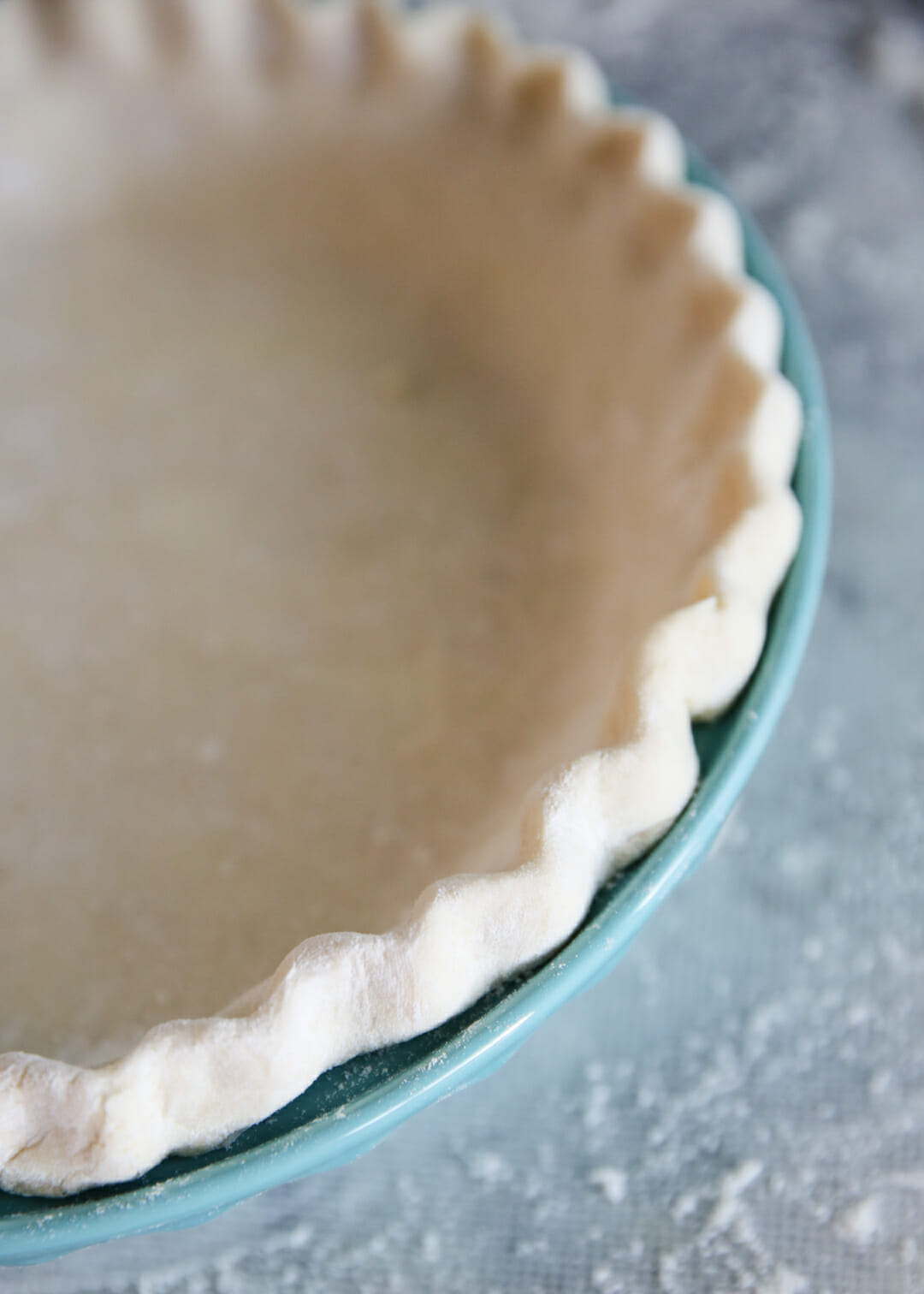 If you do want those nice fluted edges to stay, I might suggest either an all-shortening crust, or a half and half.  I have the best luck with that combo!  And guys- if you're going to be making lots of apple-related recipes next week, hop on Amazon right now and you can have one of these babies in your possession in time.  It's SO WORTH IT.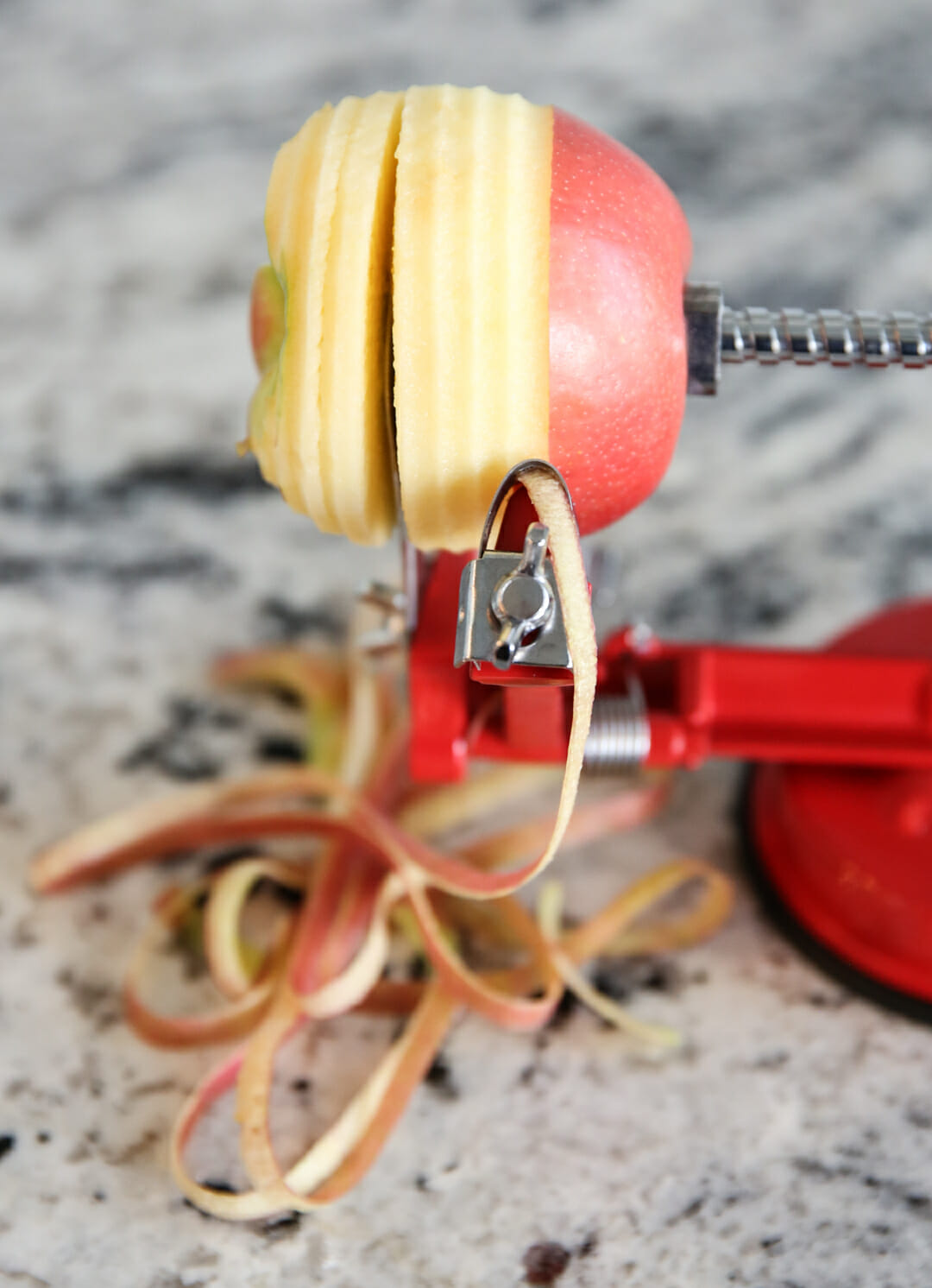 For the sour cream part of this filling, you'll mix sour cream, egg, sugar, and a little flour and then pour it over apples in your pie crust.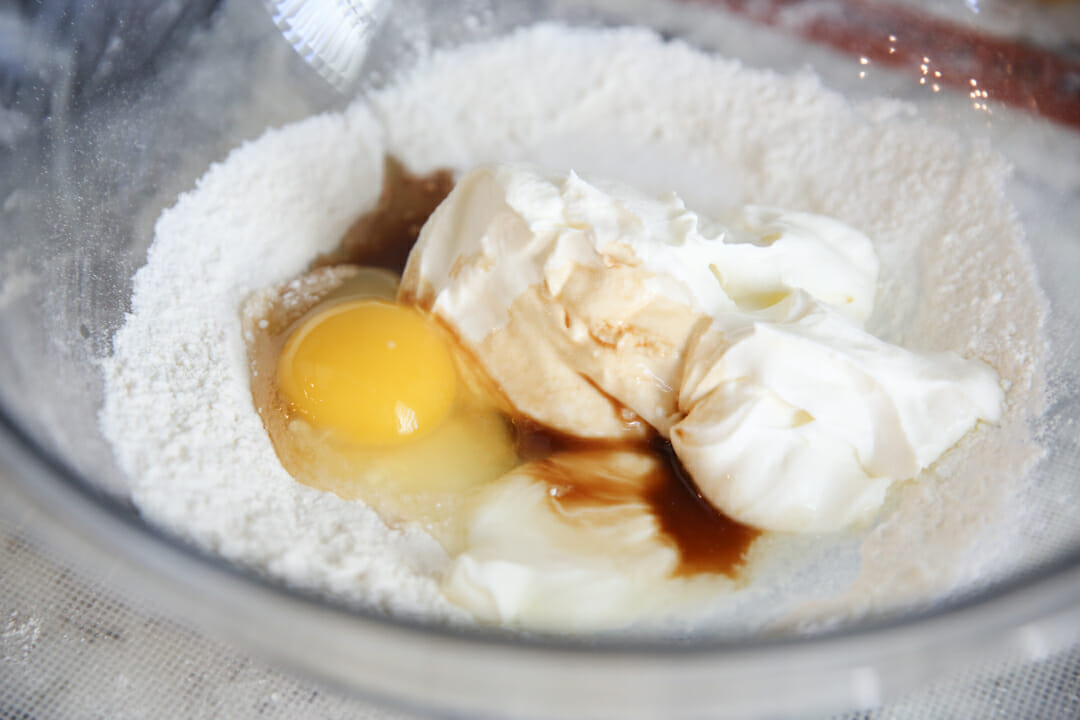 After it bakes up you'll pop on a crumb topping and then bake it just a little longer. One thing I changed from the original recipe was doubling the topping because as a general rule of thumb I pretty much always double crumb toppings.  I also added just a bit more apple. (You'll see the changes reflected in the written recipe, here)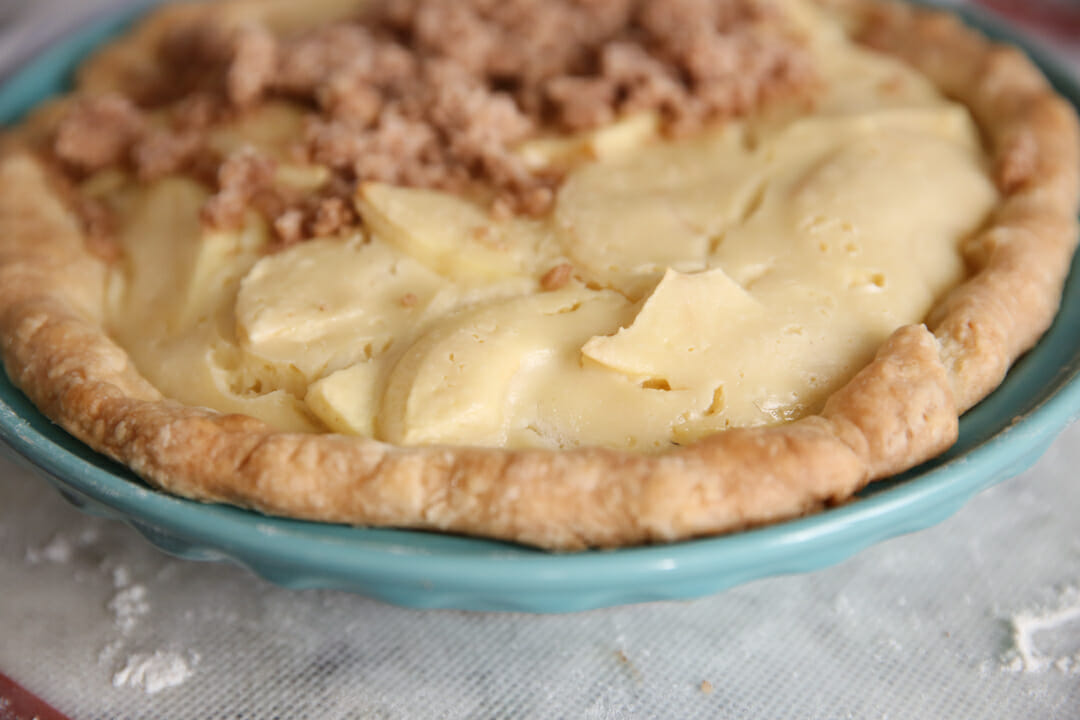 The result is a pie that looks as good as it tastes!
The creamy sour cream filling just kind of wraps around all those apples.  Kind of like a cheesecake but it feels much lighter.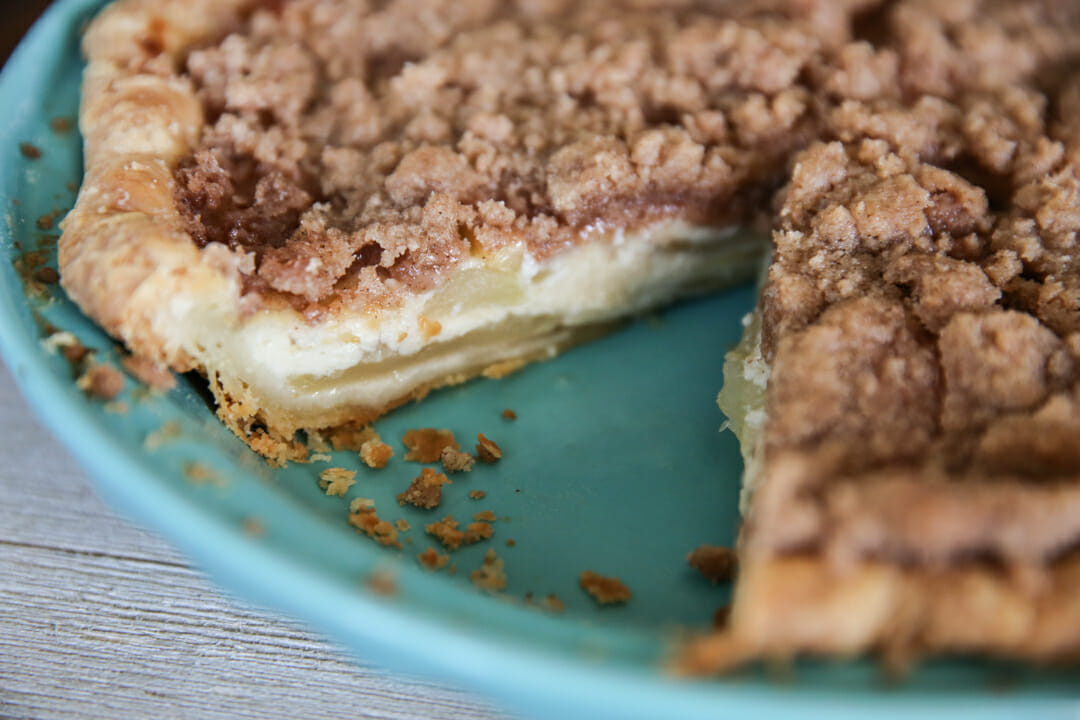 And it's one of those rare pies that really is actually better cold than warm.
Print
---
---
1

pie crust (store bought or homemade)
Filling:
3/4 cup

sugar

2 tablespoons

flour

1/8 teaspoon

salt

1 cup

sour cream

1/2 teaspoon

vanilla extract

1

egg

2

–

3

cups diced or sliced apples
Topping:
2/3 cup

sugar

2/3 cup

flour

2 teaspoon

cinnamon

1/2 cup

chilled butter, diced
---
Instructions
Preheat oven to 425 degrees F. Place pie crust in pie pan and flute edges as desired.

In a medium bowl, stir together 3/4 cup sugar, 2 tablespoons of flour, and salt. Mix in the sour cream, egg and vanilla until smooth. Add apples, and stir to coat. Scrape the mixture into the pie shell.

Bake for 15 minutes in the preheated oven, then reduce heat to 350 degrees F and continue baking for 25 minutes more.

While the pie is baking, prepare the topping in a medium bowl. Stir together 2/3 cup of flour, 2/3 cup sugar, and cinnamon. Cut in the butter until the mixture resembles fine crumbs.

After the 25 minute bake time has passed, cover the top of the pie with the crumb topping, and continue to bake for 10-15 minutes, or until topping is lightly browned and apples are tender. Allow the pie to cool, then refrigerate until chilled before serving.
---