I love this classic apple pie recipe because it's simple and timeless, something I imagine grandmas were making 150 years ago. Butter. Apples. Cinnamon. Sugar. Nutmeg. It just takes you back to a different place and time and a happy place at that. Let it cool down for as long as you can stand it and then cut a slice and add a scoop of vanilla ice cream. For dessert. Or Dinner. Or breakfast. No, I'm not joking.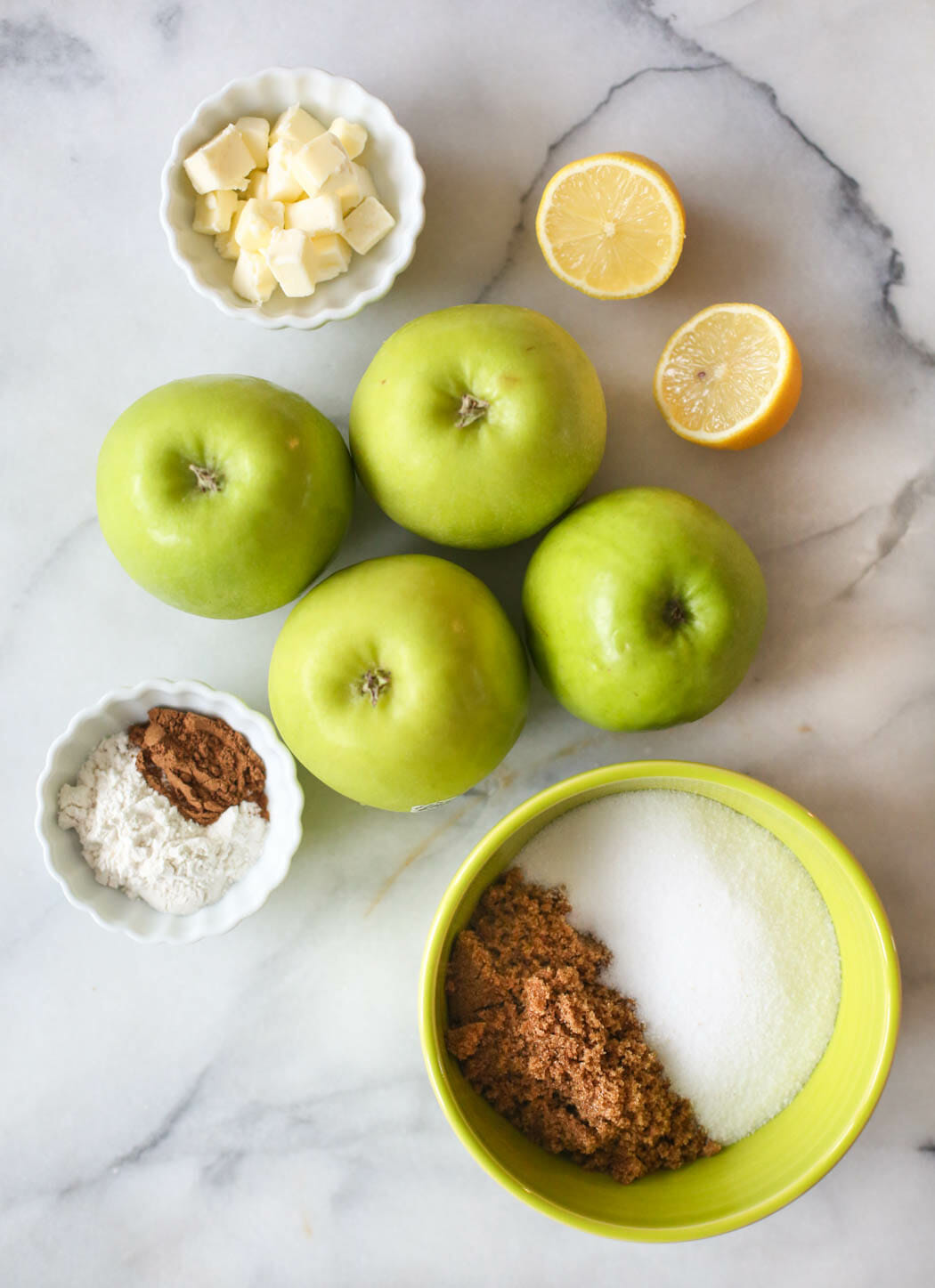 Ingredient and Equipment Notes
Pie Crust – For this recipe, you'll need a double pie crust (make your own or buy two crusts–making our own is so delicious and easier than you might think!)
Spices – You'll also need some cinnamon and nutmeg or apple (or pumpkin) pie spice.
Apples- Tart baking apples, like Granny Smith, are perfect here, but other varieties would work as well.
Apple Peeler Corer – While not a requirement, one of these gadgets will make this recipe significantly easier. If you've never used an Apple Peeler Corer (or similar product), your life is not complete, especially if you cook with apples a couple times a year. Heck, if you have one, you'll look for excuses to cook with apples because it's just so amazing. It peels. It cores. It slices. It can even be used on potatoes. It's magic.
How to Make a Classic Apple Pie
If you're making your own crust, roll half of the double crust to about a 1/8″ thickness.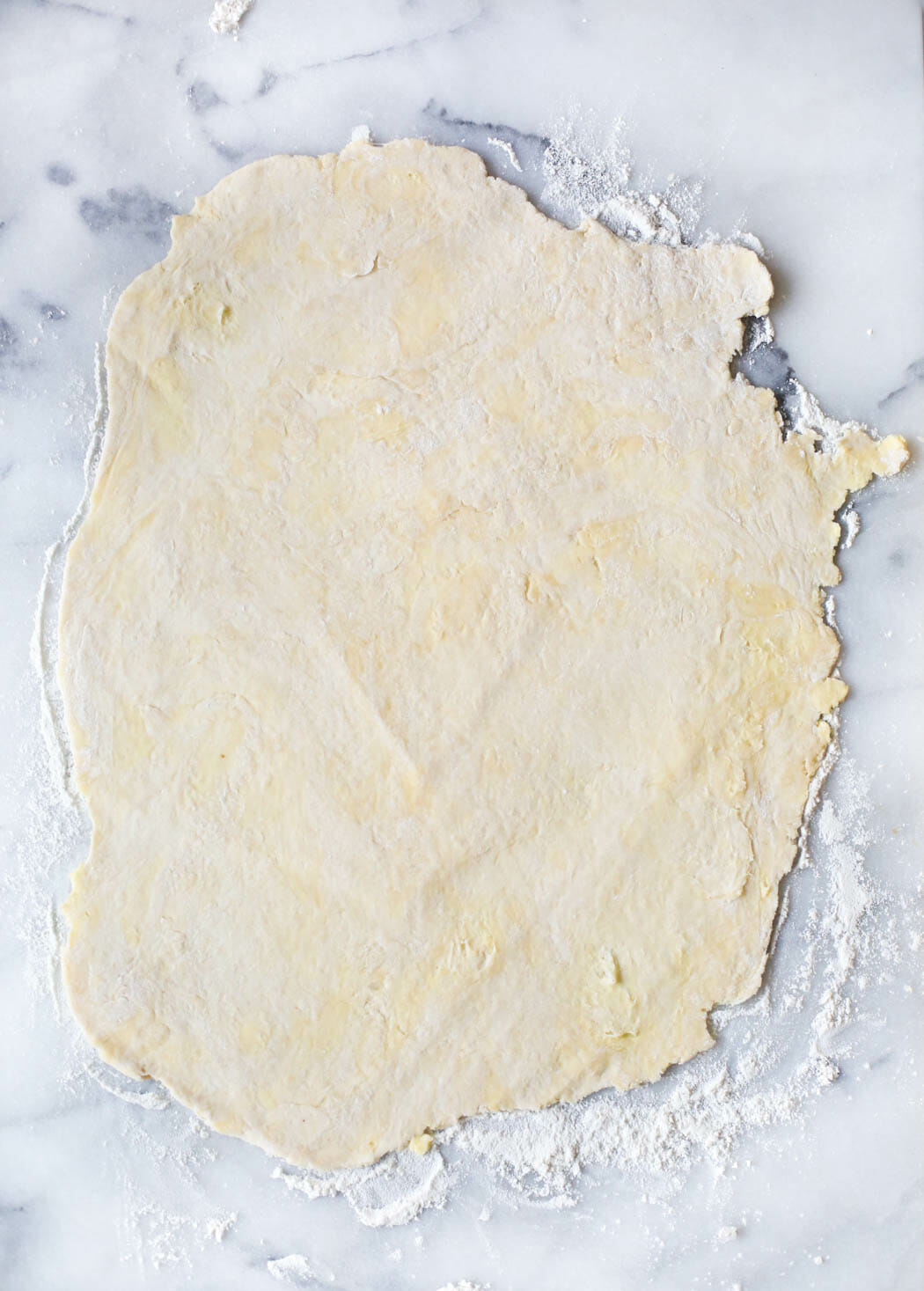 2. Lay a rolling pin across the middle and gently drape the dough over the rolling pin to transport it to a 9″ pie plate (I'm using this Fiesta pie plate and it is one of my all-time favorite kitchen items!)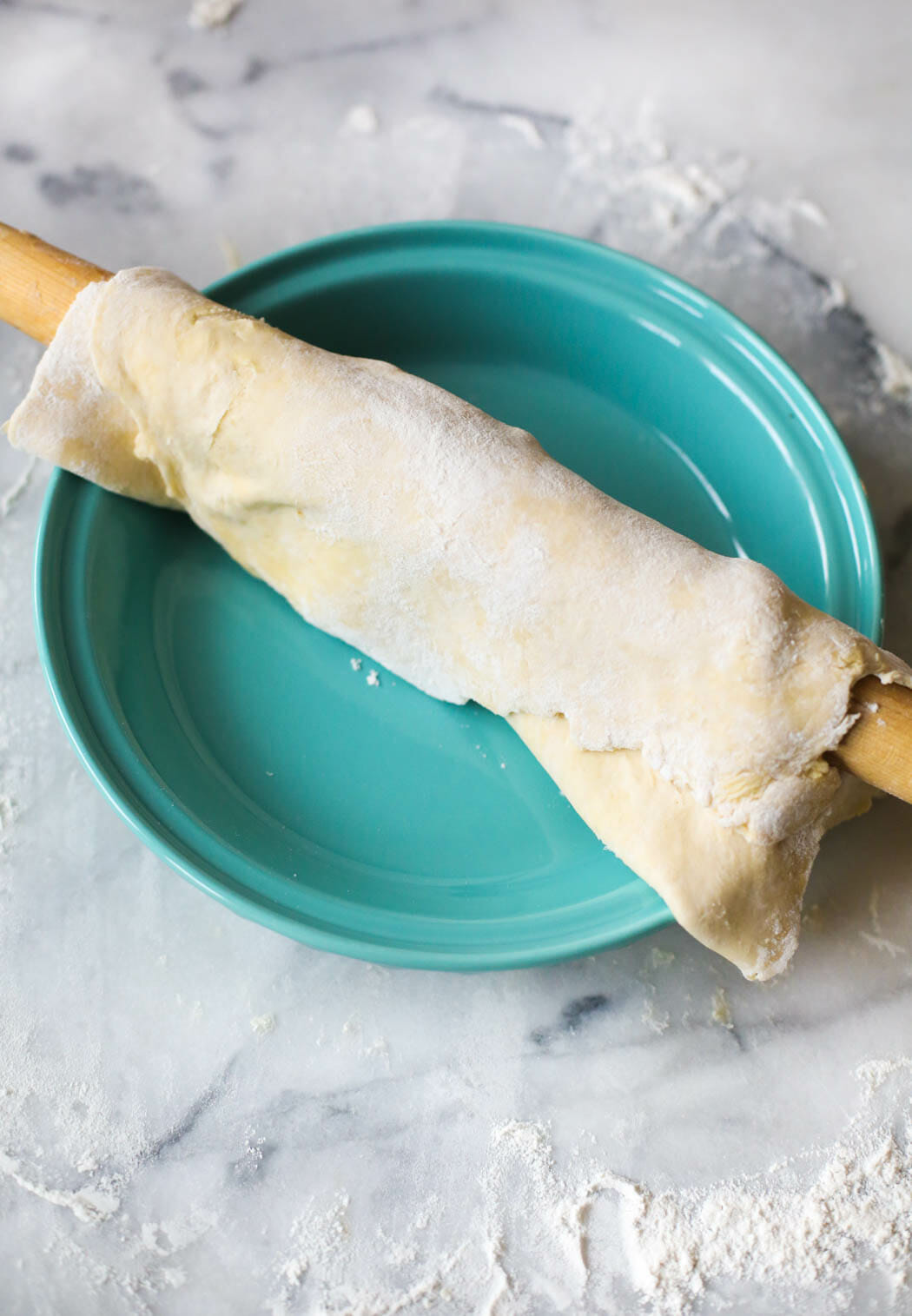 Gently cover the bottom of the pie plate with the pie crust and run a sharp knife around the edge of the pie plate to trim the crust. Set aside.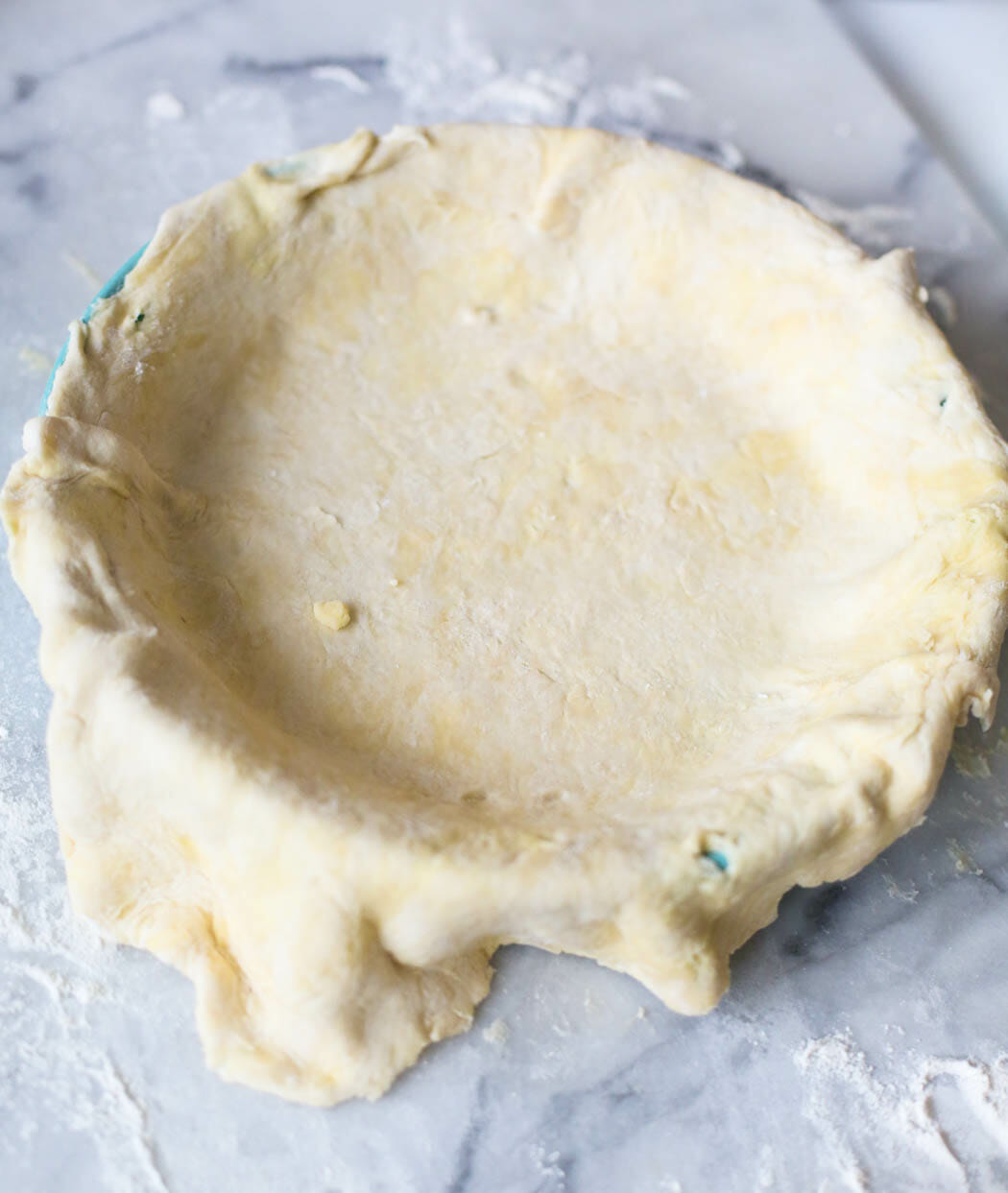 3. Slice all of those apples up and toss them with lemon juice.
4. Then whisk together your flour, brown sugar, white sugar, and spices.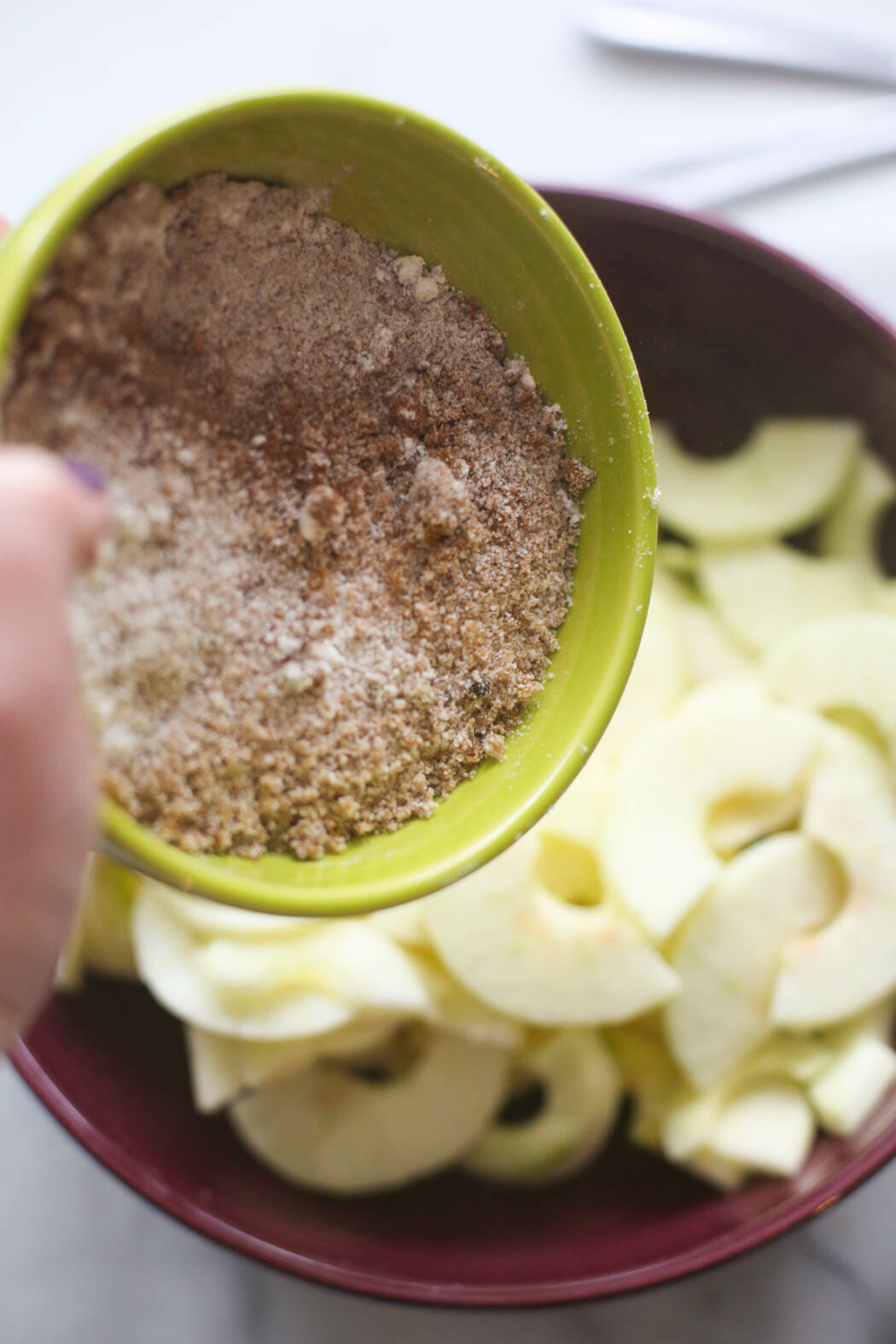 Toss the mixture together with the apples and pop them in the prepared pie crust.  Dot top of apples with butter.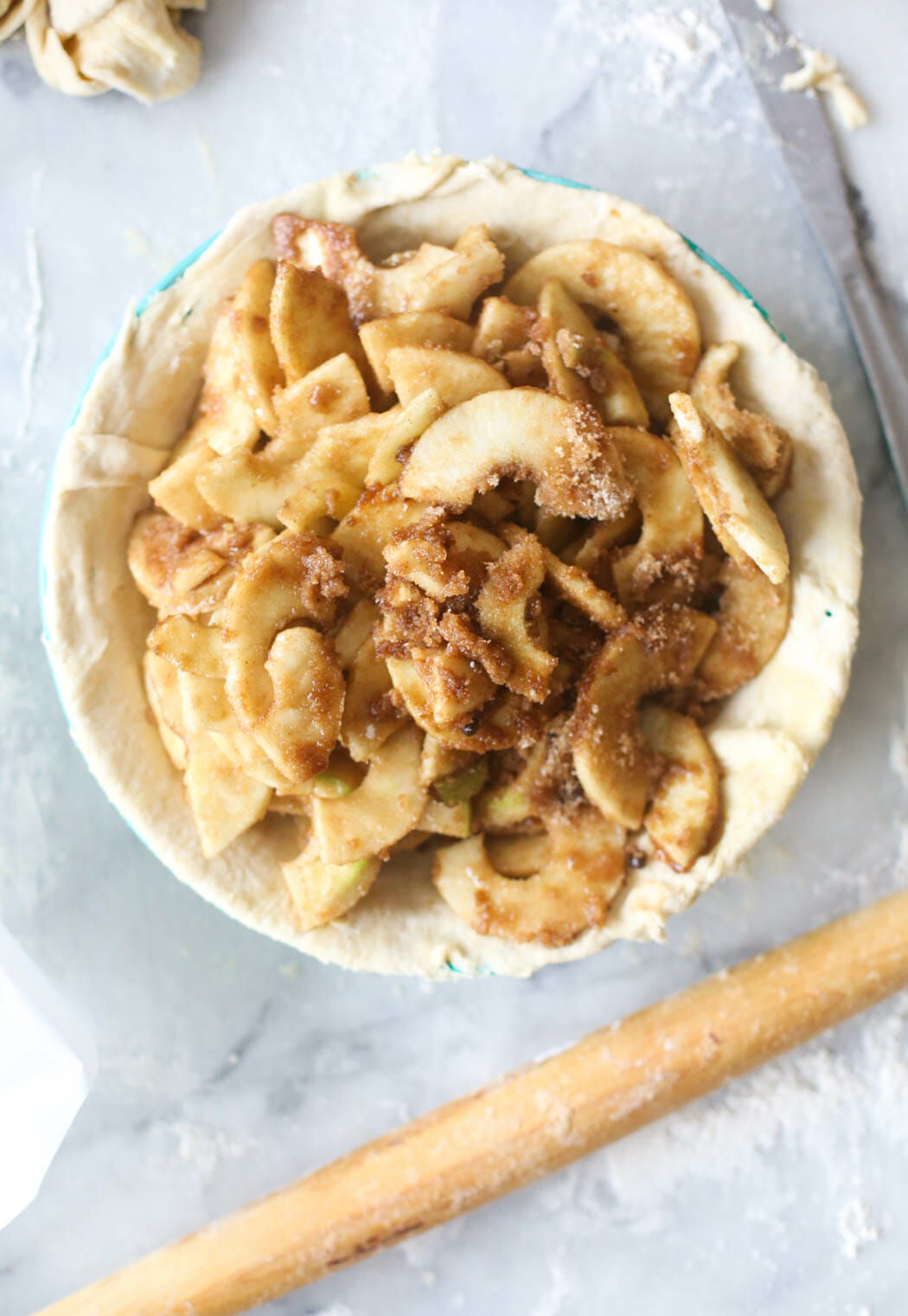 5. All that's left to do is place another crust on top.  If you're using a full crust, then make sure to slit the top for a vent (or you can use small cookie cutters to cut decorative shapes in the crust.)  You can also follow the instructions shown in the pie crust recipe for a lattice crust like shown below.
6. If desired, brush the top of the crust with a little melted butter and sprinkle some sugar on top. Then pop it in the oven to bake.  Make sure to keep an eye on it (especially if you've sprinkled with sugar) and place a piece of foil on top if it starts to brown too early.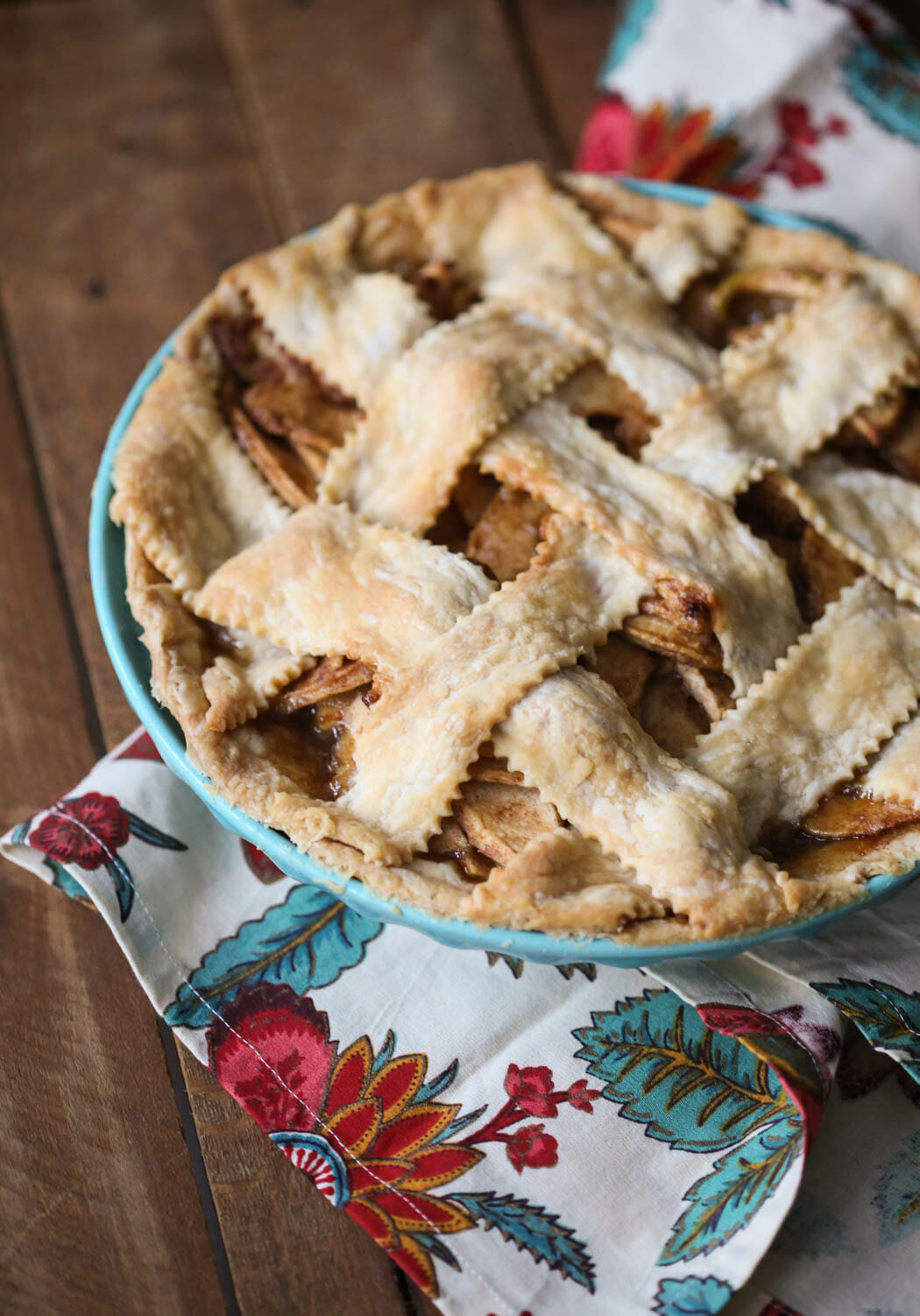 And that's it. Easy as Pie! Serve warm with a scoop of vanilla ice cream.
Related Recipes
Check out some other Our Best Bites apple favorites!
Apple Spice Sour Cream Bundt Cake
Did You Make This?
I'd love to hear from you! Snap a picture and tag me on Instagram, and then come back and give this recipe a rating!
Print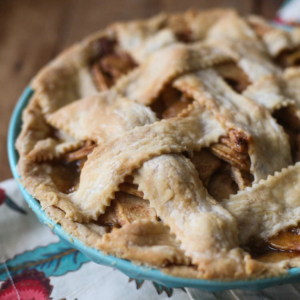 Apple Pie
Author:

Our Best Bites

Prep Time:

15 minutes

Cook Time:

1 hour

Total Time:

1 hour 15 minutes

Yield:

Serves 8-10
---
Description
This classic apple pie is easier to make than you might think. This is definitely something everyone needs in their recipe arsenal!
---
Pastry for double-crust pie (store bought or make your own)
6 cups peeled, sliced Granny Smith apples (about 1 1/2 pounds)
1 tablespoon lemon juice
1/2 cup white sugar
1/2 cup brown sugar
2 tablespoons all-purpose flour
1/2 teaspoon ground cinnamon*
1/4 teaspoon ground nutmeg*
2 tablespoons cold butter, chopped
---
Instructions
Roll half of the pastry to 1/8″ thickness on a surface that's been sprayed with cooking spray. Gently place in a 9″ pieplate; set aside.
Preheat your oven to 450. Combine lemon juice and apples in a large bowl. Combine white sugar, brown sugar, flour, and spices and mix well. Spoon over apple mixture, tossing gently. Spoon filling evenly into pastry shell and dot with chopped butter.
Roll remaining pie crust 1/8″ thick (check out our pie crust tutorial for ideas on how to top your crust, including instructions on how to make a lattice crust). When your top is how you want it, bake at 450 F for 15 minutes. Reduce heat to 350 and bake 50 minutes more. Definitely keep an eye on the pie; you may need to loosely cover the darker parts with aluminum foil if it starts getting too brown. If you get worried, go ahead and make a square of foil, cut a center out of the foil, and place it on the pie so the foil covers the edge of the pie.
When done, remove from oven and allow to stand. The pie will be runny until it cools completely, but warm pie is never a wrong choice. Serve with ice cream or sweetened whipped cream.
---
Notes
*The cinnamon and nutmeg can be replaced with 3/4 teaspoon apple pie or pumpkin pie spice