Or Spa-Peggy and Meatballs. Anyone? Anyone? Okay, in case you haven't noticed, I'm a hard-core carb-lover here; pasta and bread are my ultimate comfort food. And does it really get any more homey and comforting than spaghetti and meatballs? Not in my world! This classic recipe for Homemade Spaghetti and Meatballs is both comforting and simple, using mostly pantry ingredients and doable for even a weeknight dinner. If you can't eat pasta, it's also great over a bed of zucchini zoodles or roasted spaghetti squash.
I didn't actually eat spaghetti and meatballs, like, ever growing up; my family was more of the "mix a pound of ground beef with a jar of Ragu" kind of clan, which is totally fine. But there was a woman in my neighborhood who was married to an Italian and whenever there was a family that needed a meal, she would take them spaghetti with her homemade meatballs and sauce. Our family was never on the receiving end of her meatballs, but I heard about them and I longed for them.
During my senior year of high school, there was a major crisis in our family. At that time, I was in our school musical and since, you know, the show must go on and all that, I had obligations I had to fulfill even though some things at home had fallen apart. After a particularly long night, I heard that this woman had brought our family spaghetti and meatballs and I couldn't wait to get home and finally try them.
I got home. It was gone. Eaten. I'm not sure I can describe the feeling of loss I experienced–I'd been hoping for one simple pleasure all night and got to eat a bowl of cereal instead.
I never got to try this woman's spaghetti and meatballs and I never got her recipe (I'm pretty sure it would have to be pried from her lifeless grip, anyway), but if I were to imagine my perfect spaghetti and meatballs, this would be it. With lots and lots to spare so no one's stuck with a bowl of Lucky Charms.
How to Make Homemade Meatballs
The meatball mixture itself uses a 50/50 mix of ground beef and Italian sausage and a handful of flavoring agents. If you don't have any dry bread crumbs on hand, I often just toss 2 pieces of white bread in my blender and pulse them up and it works great. To make uniform meatballs, we recommend a cookie scoop. You can make them giant or tiny or anywhere in between. I like meatballs to be 1-2 bite meatballs, so a standard size cookie scoop works great. With that size you'll get about 3 dozen meatballs. If you don't own any scoops yet, this set of 3 is great, and will you several options- I use all three of those sizes quite a bit in my kitchen.
These get a quick broil in the oven and just take a few minutes to get browned.
How to make Homemade Spaghetti Sauce
This sauce comes together easily and it's amazing how much flavor comes out of these simple ingredients. Since the tomatoes are what really shine here, I recommend using a good brand. I often use the cheapest can on the shelf for soups and stews, but if I'm making something like tomato soup, or spaghetti sauce, I'll use something nicer. Muir Glen or San Marzano are always a good choice and available at most grocery stores. I'm using the fire-roasted, here, but regular is just fine.
You'll add those gorgeous meatballs to the pot of sauce and then let it simmer away. Don't rush this part of the process- the longer that sauce simmers, the better the flavor develops and the thicker the sauce gets.
Serving Homemade Spaghetti and Meatballs
Serve it over the noodles of your choice- spaghetti or linguini or angel hair work well and you can eat it over veggies instead, if you prefer. We love it with some thick shaved Parmesan cheese on top and a sprinkle of fresh basil.
This recipe feeds a crowd, and also makes great leftovers. In our house, there are never any left over, but you could eat half for dinner, and put the rest of the meatballs and sauce in the freezer for another day. Either way, it makes a fantastic meal, with enough to share!
Print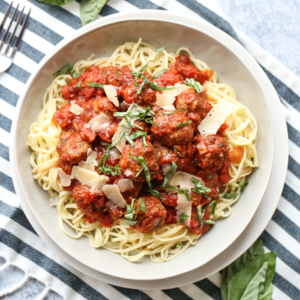 ---
Description
Flavorful Italian-style meatballs simmer in a classic spaghetti sauce that's easy to make at home.
---
For the Meatballs
1 lb. lean ground beef
1 lb. Italian sausage
1/2 cup dry bread crumbs
1 teaspoon pepper
2 tablespoons dehydrated onion
4 eggs, lightly beaten
4 tablespoons freshly grated Parmesan cheese
2 teaspoons dried basil
1 teaspoon dried parsley
4 cloves garlic, minced
1 1/2 teaspoons kosher salt*
*If you want, you could substitute all the Italicized ingredients with 3 Tbsp. garlic bread seasoning found here.
For the Sauce
1 large onion, chopped
4–5 cloves garlic, minced or pressed
Olive oil
2 28-oz. cans crushed tomatoes
16 oz. tomato sauce
1–2 tablespoons sugar (to taste)
2 teaspoons dried basil
1 teaspoon Italian seasoning
Pinch of red pepper flakes
Salt and pepper to taste
Pinch of baking soda (to help neutralize the acid)
---
Instructions
Make the Meatballs:
Gently combine all meatball ingredients in a medium bowl. (It works best to use your hands, keep a box of gloves on hand if you don't want to use your bare hands). Shape into balls, whatever size you like, but I prefer using my standard cookie scoop (about 1 tablespoon) to shape meat into balls and then rolling it between my hands to make them even more round. Place on a large cookie sheet and broil until the meatballs start to brown. Remove from oven and set aside until ready to use (or freeze for later use).
Make the Sauce:
Heat olive oil in a large skillet. Add onion and garlic and cook until onions are translucent and garlic is fragrant. Add remaining sauce ingredients and combine well. Bring to a simmer and add meatballs. Simmer on low, uncovered, until desired consistency is reached–about 25-30 minutes for a sauce that's of medium consistency.
Serve over hot pasta and top with fresh parmesan if desired. Makes about 3 dozen meatballs and enough sauce to feed 6-8 people (or more if some of those people are kids)
FREEZER MEAL INSTRUCTIONS:
Prepare meatballs as directed, but divide the meatballs among two freezer-safe containers. Prepare sauce through adding all ingredients to the pan, but don't simmer; rather, divide the sauce among the two containers. Freeze until ready to use. When ready to use, place in slow cooker and cook on low for about 5-6 hours, although you'll want to keep an eye on the sauce and make sure it's not burning if you go for the whole 6 hours.
---