Every once and a while something comes up that I assume everyone make and eats, but then you mention it (or serve it) to someone and you get a "What the whaaaa??"  and you realize a huge portion of the population is missing out on something amazing.  (Like Muddy Buddies.)  Strawberries with sour cream and brown sugar is one of those things!  For me it's a nostalgic experience, bringing back memories of warm summer nights and fresh berries from the garden.  With strawberry season about to be in full swing, now is the perfect time to try this out if you've never had it before, or make it again if you have!  It's also the perfect thing to pull out for a Mother's Day spread.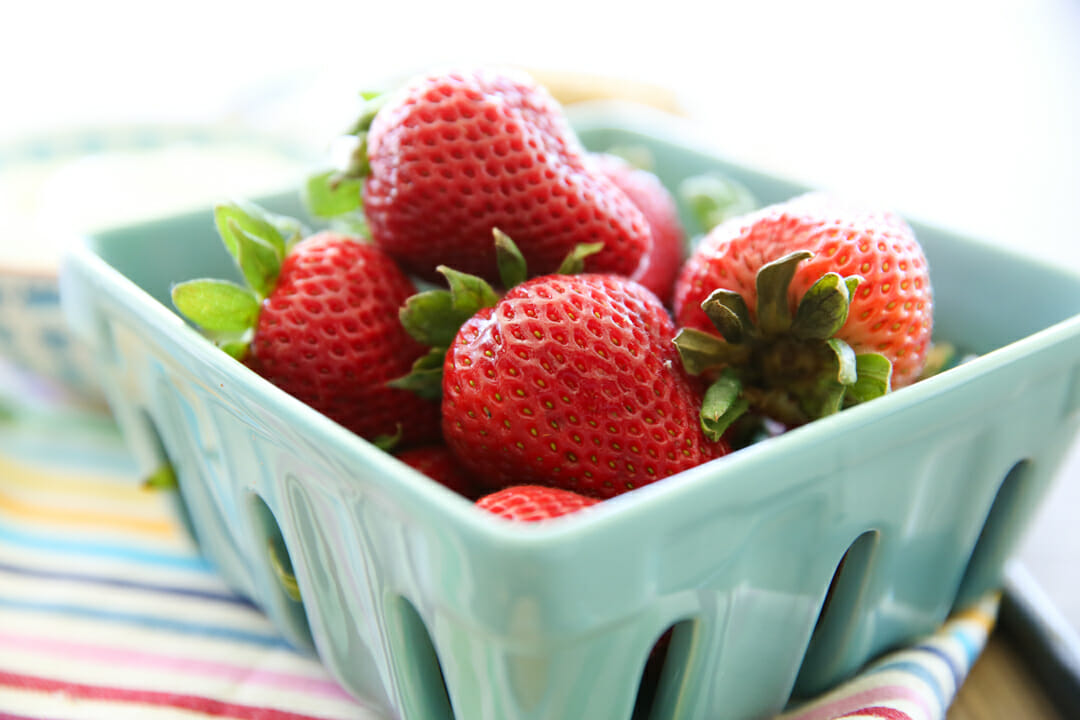 So what exactly am I talking about??  It's exactly as it sounds; fresh juicy strawberries dipped in sour cream, and then in brown sugar.  This isn't like chocolate-covered strawberries where you dip them all ahead of time and serve them on a platter.  It's meant to be casual and immediate- dip and pop in your mouth!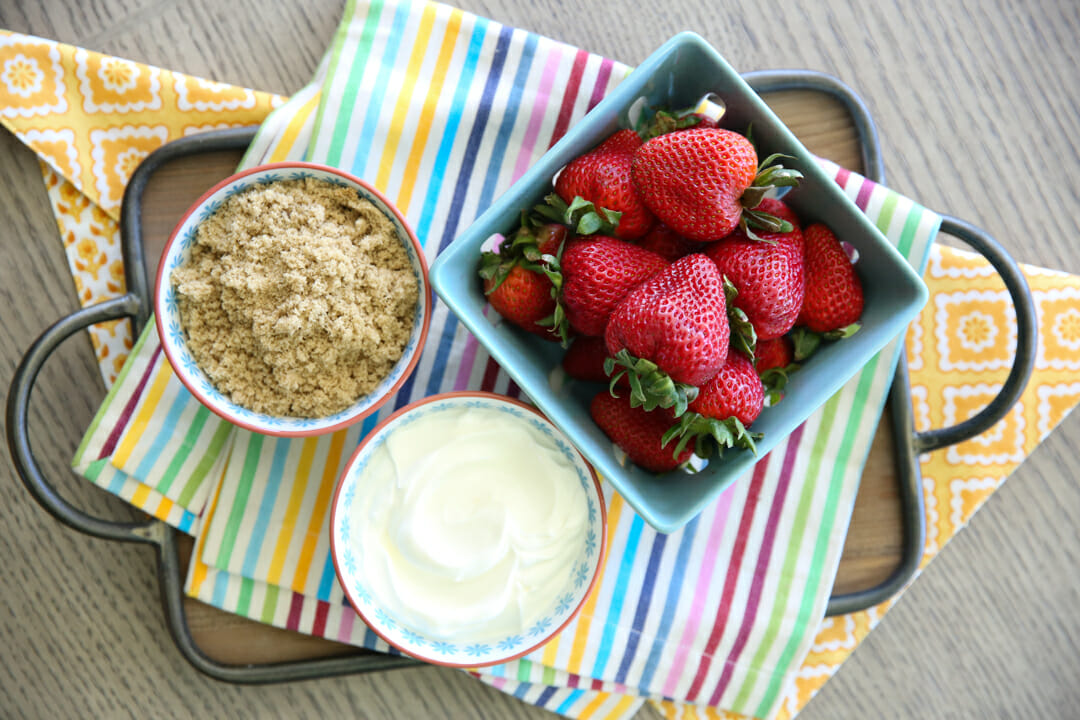 Even though this is pretty simple, I've got lots of tips!
Sour Cream
When it comes to sour cream, use full fat.  It's richer and creamier, and adheres to the berries better.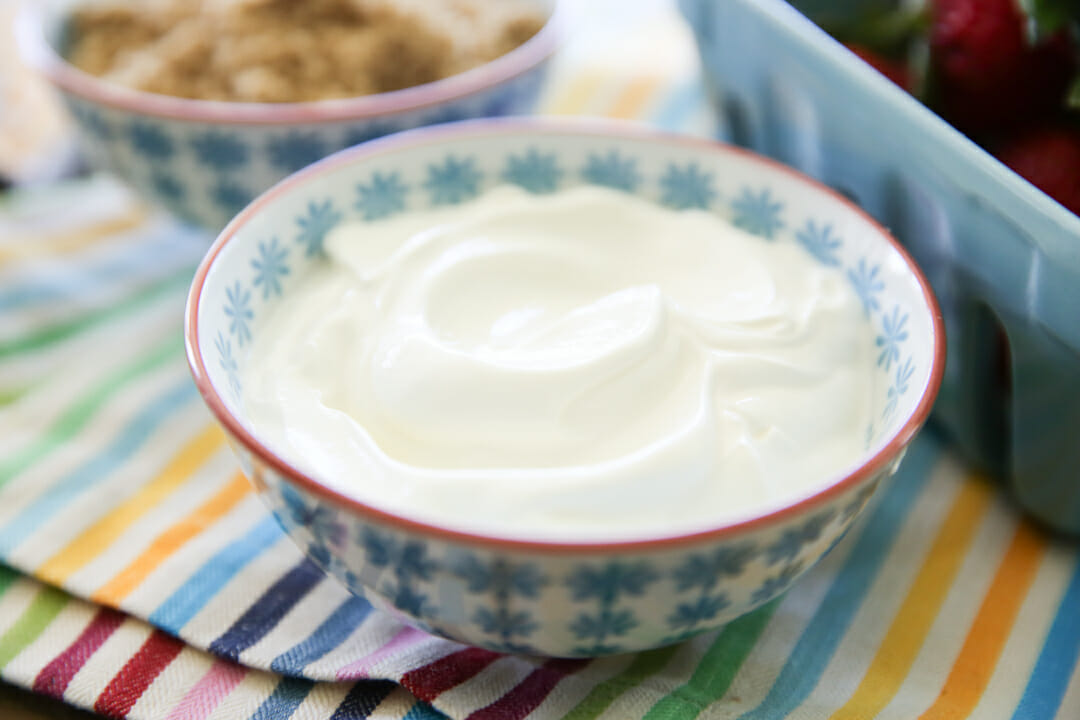 Brown Sugar
Open up a fresh bag of brown sugar, as opposed to grabbing the rolled up bag in the ziplock from your pantry.  Fresh brown sugar is so much softer.  The finer granuals will melt into the sour cream better and feel better in your mouth.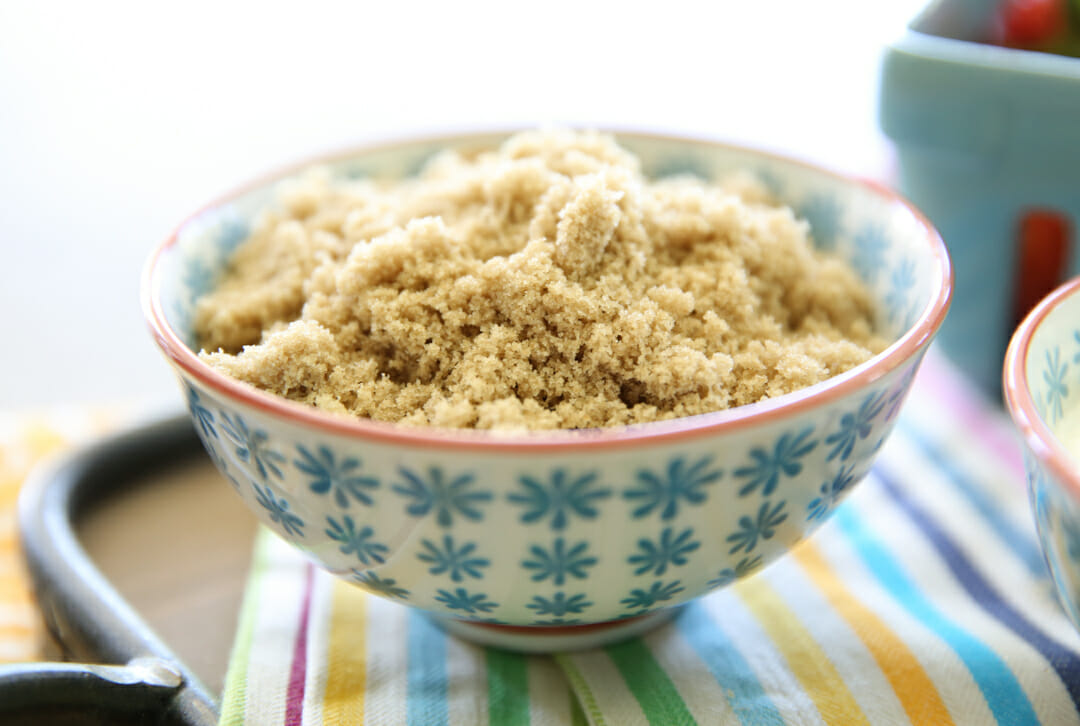 Strawberries
When it comes to berries, smaller ones work better here.  My berries here in these photos are huge- do as I say not as I do.  The problem with large berries is that you will 100% want/need to double dip.  If you're piled around the table with your own family and no one cares, you can go for it.  But if you're serving these, smaller berries result in a one-bite situation that's quite convenient.  If you do have large berries, I sometimes leave the stems on, and either cut them in half or quarters.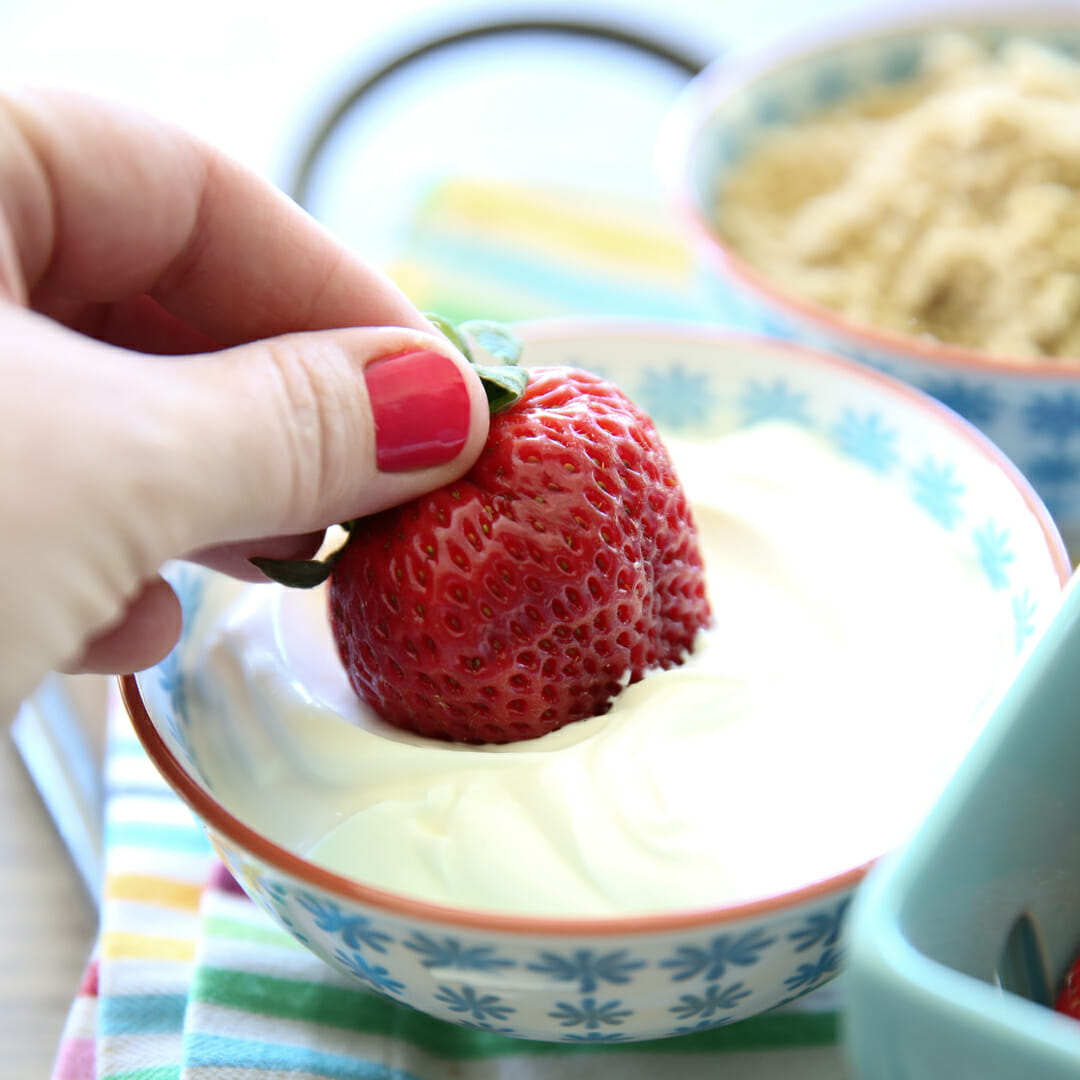 After you dunk a berry into sour cream, you immediately roll it around in the brown sugar bowl.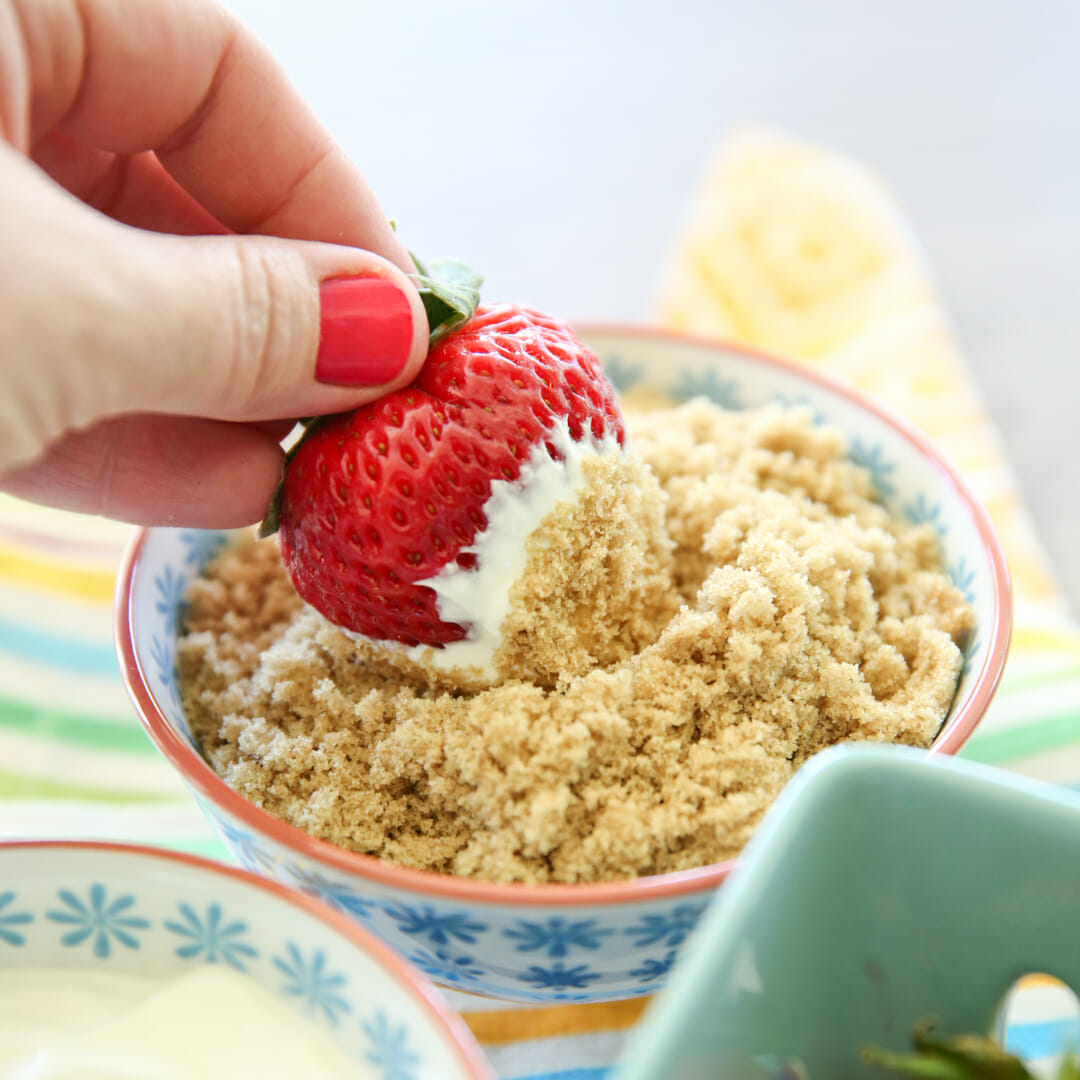 The sweet and grainy brown sugar combines with the creamy and tangy sour cream and that juicy berry and it's pure magic.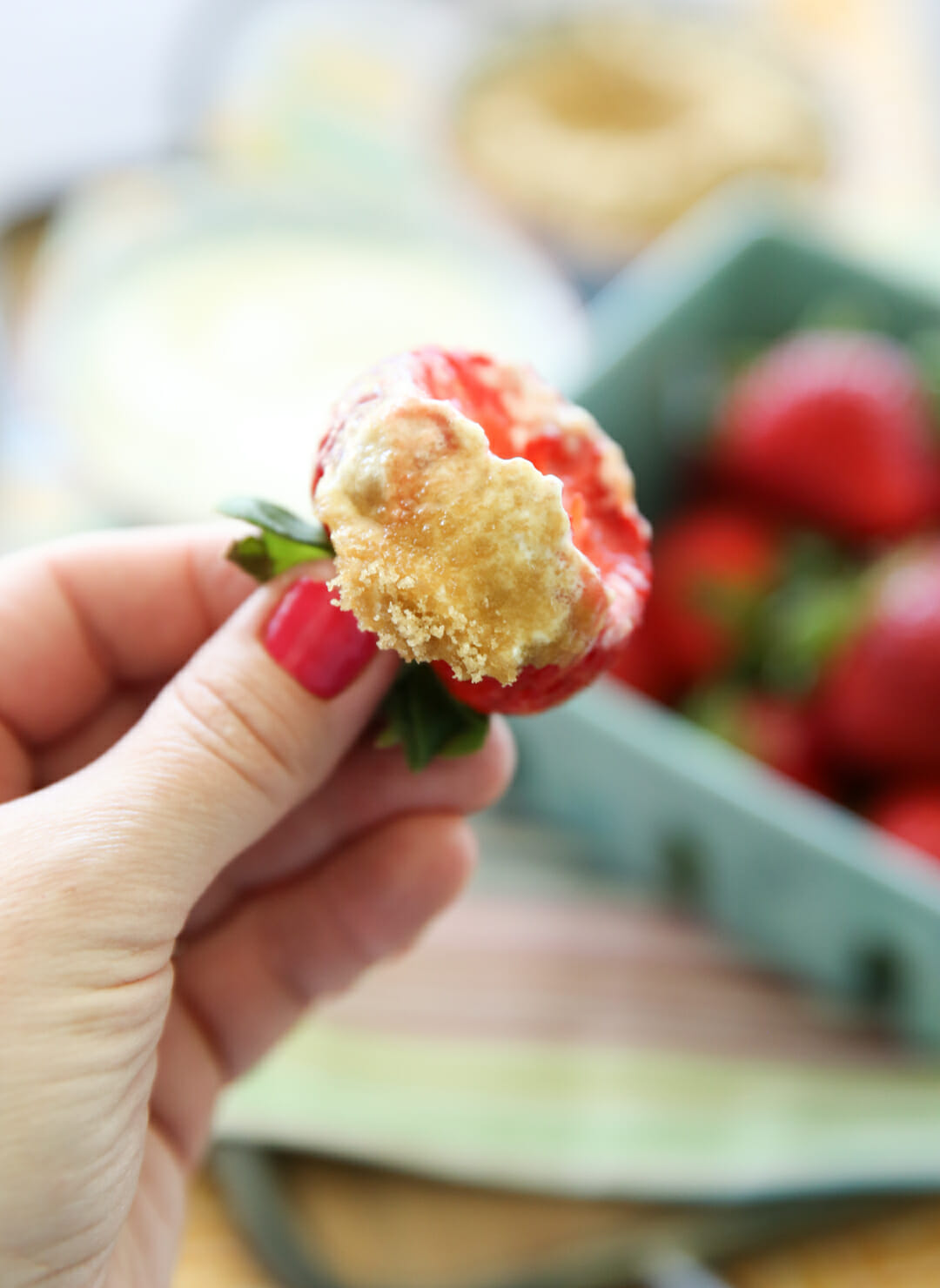 This is one of our favorite family snacks, or something fun to pull out after dinner or on a late summer night.  It can get messy, quick (especially with kids) so definitely use small bowls for dipping.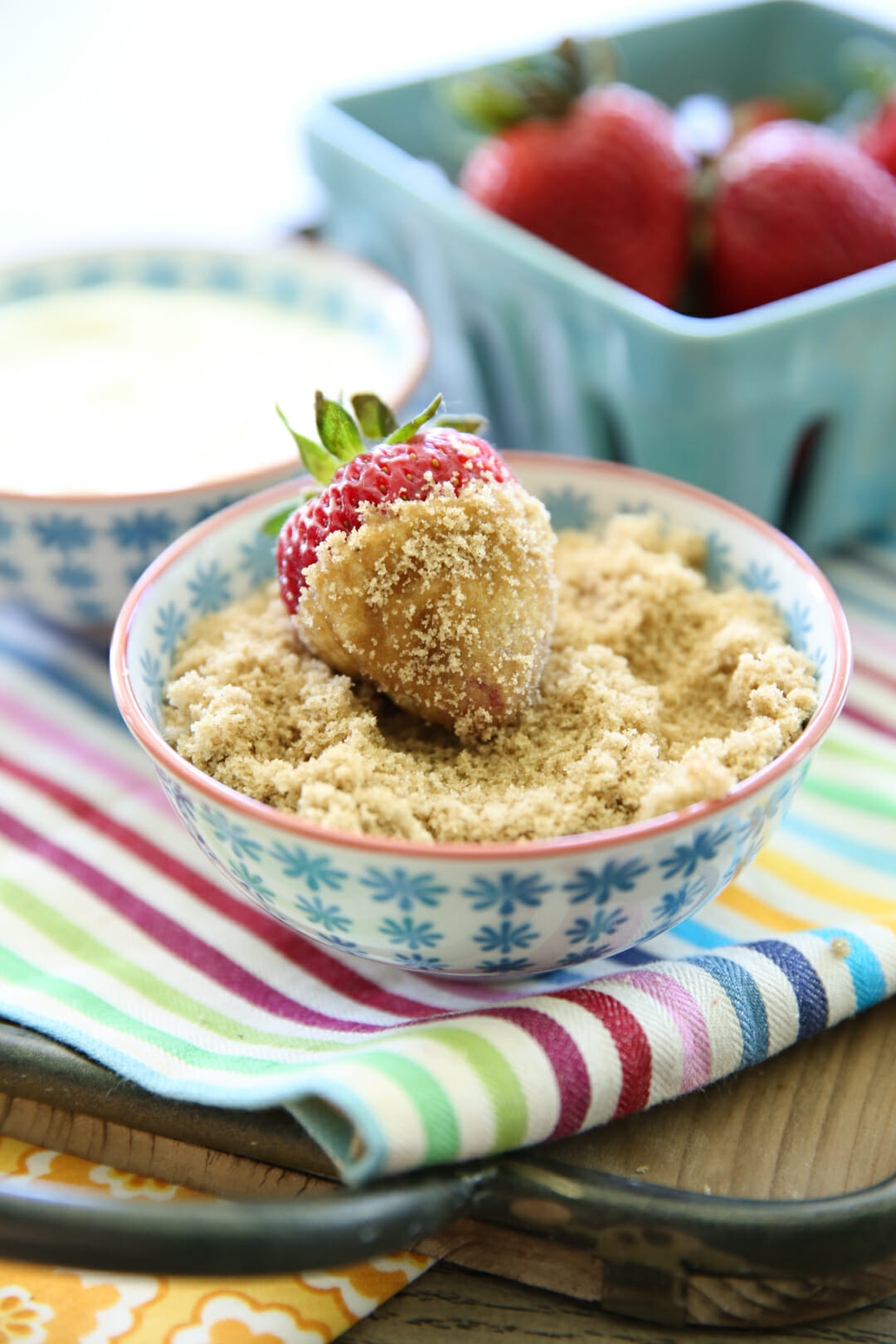 If you're going to serve it at a gathering (one of my favorites for baby and wedding showers) you might want a little sign nearby to show what to do- or I sometimes fill up those little plastic single-serve containers with sour cream and others with brown sugar, and let people grab one of each on their own plate.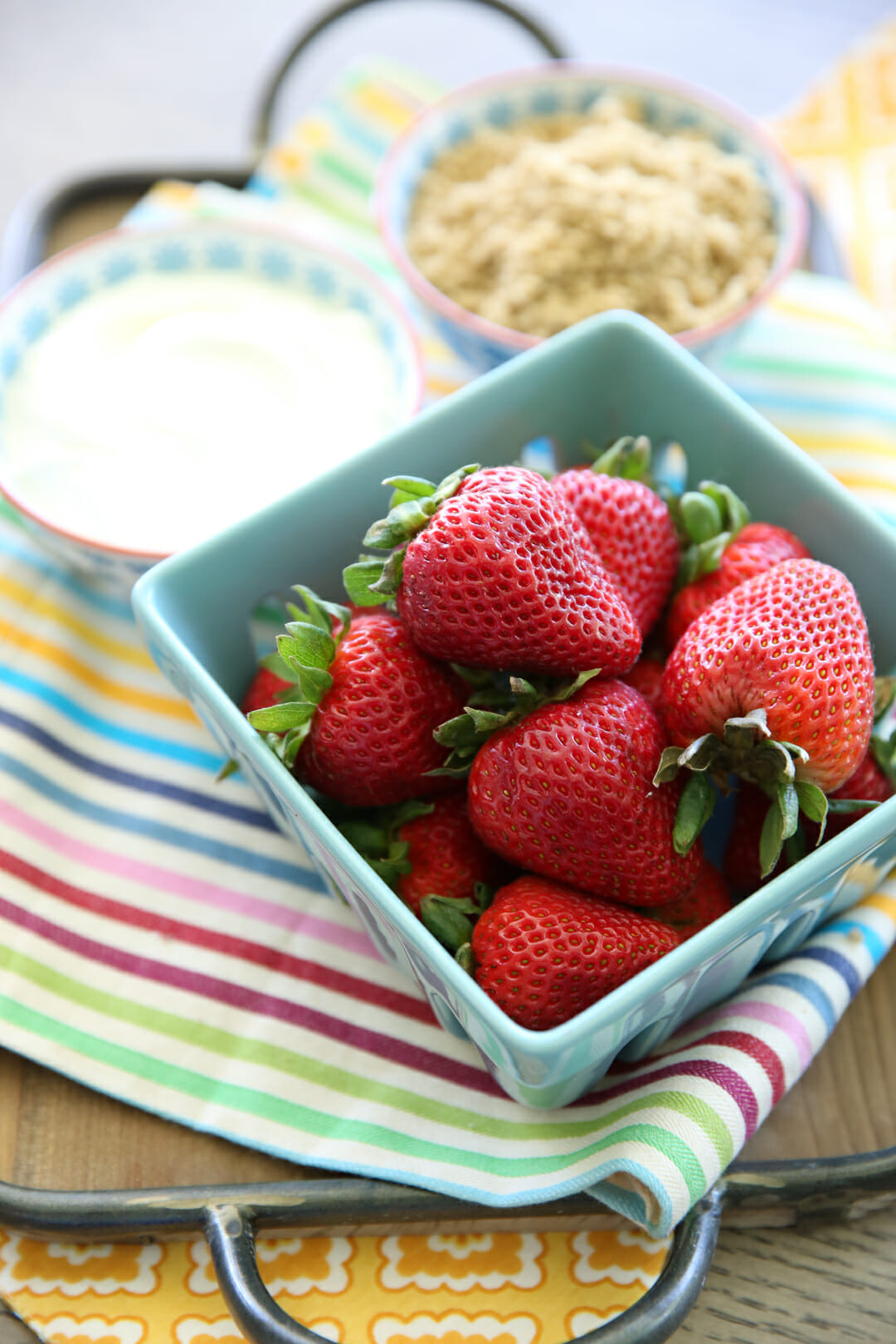 Any way you slice it, this is one of the best things you can do with those summer strawberries! If you've never tried it, now's the time!
Print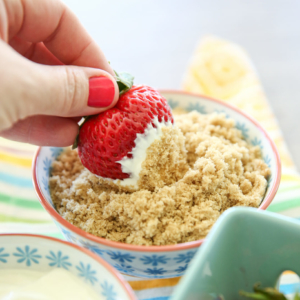 Strawberries with Sour Cream and Brown Sugar
Author:

Sara Wells

Prep Time:

1 minute

Total Time:

1 minute
---
Description
A deliciously simple combination of fresh strawberries, creamy sour cream, and sweet brown sugar.
---
Fresh Strawberries, Stems attached
brown sugar (I suggest a fresh bag)
Sour Cream (I suggest full fat)
---
Instructions
Place some sour cream in a small bowl, place some brown sugar in a separate small bowl. To serve, have people dip a berry in sour cream and then in brown sugar, and eat immediately!
---
Notes
Tips: Use full fat sour cream and fresh brown sugar. Smaller berries work best if you don't want your bowls to get messy from double dipping!