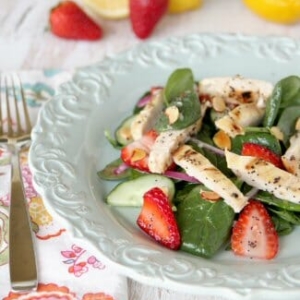 I mentioned on Monday that this salad comes from my sister-in-law Stephanie.  She used to make it in my post-marriage, pre-reproductive years, which was also the time when I first discovered this total cooking obsession that has kind of taken over my life in the best way possible.  This salad was my first venture into the world of "foodie-ness"–it was not the typical bowl of chopped iceberg and shredded carrots with a bottle of ranch that you so often see at family dinners.  It was so simple and yet so incredible–juicy, fresh strawberries in season, crisp cucumbers, tender spinach, and the intensity of toasted almonds combined with the freshness of the Lemon Poppy Seed Vinaigrette totally opened up all these doors for me.
Whenever I'm at Sam's Club (or Costco, when we lived by one) in March and April and those giant clamshell containers of giant strawberries that are, like, $1 a pound are staring at me, I seriously feel guilty not buying some–it's almost like puppies in the Walmart parking lot on a Saturday.  Since two pounds of strawberries are a considerably smaller commitment than a puppy (and better for my mental health), I usually just buy them.  Then I make jam.  And strawberry sauce.  And salads.  Like this one.
You'll need a bag of spinach,
sliced fresh strawberries, red onion, and cucumbers (peeled or un-peeled, whatever your preference)…
Toasted almonds (just heat them in a small skillet over medium heat, stirring frequently, until they're golden and fragrant)…
and one recipe of the Lemon Poppy Seed Vinaigrette.  If you want to add a little more protein to serve as a meal, you can also add strips of grilled chicken.
This next part is super hard.  You can arrange all the ingredients on individual plates…
or you can just shake everything together and let people serve themselves.   Either way is delicious and easy…
and a great way to use all the fresh ingredients that are starting to become available.
(Well, fresh except for that chicken, which, unless you're in Portland and are friends with Fred Armisen, probably came from the freezer). Thank you, Brent, for sharing the wonder of Portlandia with us).


Strawberry Spinach Salad
Recipe from Our Best Bites and Stephanie Jones

1 10-oz. bag fresh baby spinach
1/2-1 small red onion, thinly sliced
1 medium cucumber, seeded and sliced (you can peel it first if you want)
1 pint strawberries, sliced
1 c. sliced almonds, toasted
1 recipe Lemon Poppy Seed Vinaigrette
1/2 lb. grilled chicken breasts, sliced or diced (optional)

Toss ingredients together and serve immediately.  You can also arrange the ingredients on individual plates for serving.