If you've never made (or eaten) sugared cranberries before, you're in for a treat. Literally. These little beauties require only two ingredients and the result is absolutely stunning little morsels of sweet-tart deliciousness that burst in your mouth. You basically roll berries in a sweet simple syrup so they become tacky on the outside and then roll them in sugar. When they dry, the sugar granules sparkle and create a crackly little crust around the tart berries. They're totally addicting to snack on and they make a gorgeous garnish on holiday desserts like cupcakes, cakes, cheesecakes, mousses, you name it. They also work great for a party snack, and appetizer, or on a cheese plate. Make them a day or two ahead of Thanksgiving and have them ready to pull out when your guests arrive and start snacking!
You can make whatever quantity of cranberries you like, here. I'm using a whole (12 ounce) bag of fresh cranberries, which is the normal size of bag you find in the produce section these days. Wash them and pick through them, removing any damaged ones.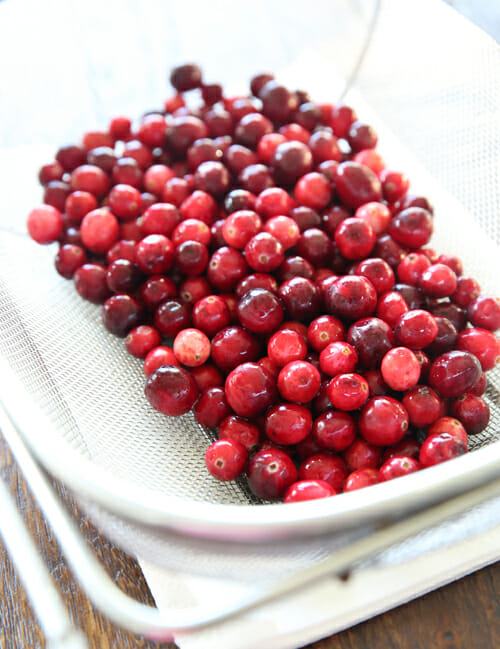 You'll make an simple syrup on the stove top. Simple syrup is just water and granulated sugar. I use equal parts, and for one bag of cranberries 1 cup water and 1 cup sugar is plenty. After the sugar is dissolved and the syrup has cooled a bit, pour it over the cranberries.
Now, many recipes have you move on to the next step immediately, but I noticed a few that have you leave the cranberries in the syrup overnight. I wondered if that really changed anything, since cranberries aren't really porous and I didn't imagine they'd actually absorb more sweetness from the syrup. So I tried them both ways, and I can honestly say, they're better if the cranberries sit overnight in the syrup (or at least long enough for the syrup to become chilled.) I think the main reason is that the syrup becomes thicker, and the therefore adheres better and thicker to the berries, and in turn collects more of the granulated sugar dusting. The finished berries that were left overnight had better flavor and a much better sugar "crust." However, if you're in a time crunch, you can certainly just move right along to the next step. They'll be slightly more tart that way.
Use a slotted spoon to remove berries from syrup and set them on a cooling rack (make sure your rack is sitting over foil so the sugary syrup can drip off.
Once they dry for 45 minutes to an hour, they just have a thin coating of tacky syrup.
It's just enough to attract glistening little sparkles of sugar. I've made these before with just regular, granulated sugar, but I recently saw a tip from 101 Cookbooks about using 2 different sugars and I loved the results. I first rolled my berries in a coarser-grained sugar. Not so coarse as raw or turbinado sugar, just a larger grain. If you have a Kroger (or Kroger family store, like Fred Meyer, Smith's etc.) the organic Simple Truth brand sugar is perfect. It's just a bit coarser than regular granulated sugar and makes these extra crunchy and sparkly.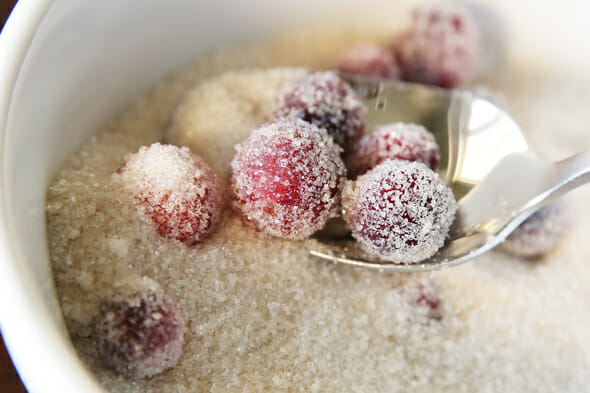 Since a coarse sugar will leave some empty spots, I then rolled them in some regular granulated sugar that I had run quickly through my food processor to make it extra fine.
The results were perfect. Spread the berries out on a baking sheet and let them dry completely (a couple of hours is great).
The result is incredibly beautiful- little berries that literally sparkle. The outsides are crisp and then they burst in your mouth with a crunchy little sugary exterior that balances out the tart berries.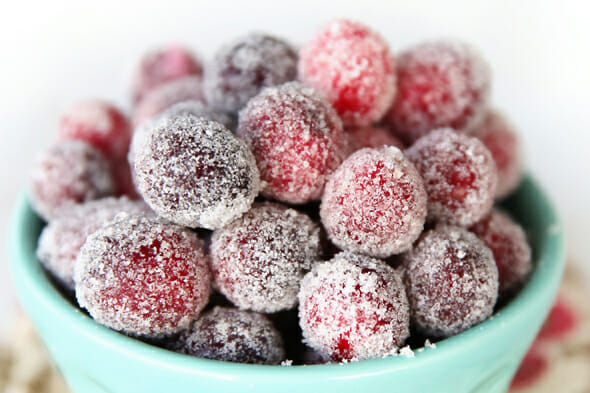 They look absolutely gorgeous on a table. Serve them in bowls for snacking, or use them to adorn a holiday dessert.
I'm in charge of desserts at our large family gathering this year and one of the things I think I'll do is bake our Rich and Creamy Cheesecake, but use the Gingersnap Crust from our Pumpkin Cheesecake, and then drizzle on our fresh, sweet Cranberry Sauce on top, decorated with whipped cream and these sparkly berries. In my head, it's pretty stellar.
Hope you enjoy these as much as I do!
---
Description
Only 2 ingredients required for a stunning sweet-tart snack! Perfect for an appetizer, sweet treat, or garnishing your favorite holiday dessert.
---
12

-ounce bag fresh cranberries

1 cup

granulated sugar

1 cup

water
*additional sugar for rolling (see note below)
*note: You can use regular granulated sugar for this recipe if you'd like to simplify things. I found the best results by first rolling in a slightly coarse sugar, and then rolling in regular granulated sugar that I pulsed several times in my food processor to create a slightly finer sugar.
---
Instructions
Wash cranberries and discard any damaged ones. Place in a bowl. Combine sugar and water in a pot and heat until simmering. Stir until sugar is dissolved and let cool for a few minutes until warm (not hot). Pour over cranberries and let sit in fridge, covered, overnight.
Use a slotted spoon to remove berries from syrup. Set berries on a cooling rack that is placed over foil to collect drips. Spread berries out so they are not touching each other. Let dry for 1 hour.
Roll berries a handful at a time in sugar (use the two-sugar technique from the notes if desired.) Place sugared berries on a baking sheet, or foil, etc. and let dry for an hour or two.
---
Notes
Great tip: I just store in a container at room temperature. Try not to stack them too deep if possible, the more they rub against each other long term, the greater the chance of the sugar rubbing off.
Those of you getting ready for Christmas gifting, or needing something for yourself, I just noticed that Amazon's Deal-of-the-Day is on Cookware sets!! It's just today, Wednesday, so hop on these deals if you want them- these are all great sets!
To see all Cookware Deals, Click Here!
Cuisinart 66-17 Chef's Classic Nonstick Hard-Anodized 8-Piece Set: Normally $300, today only $89.99 + Free Shipping (click on the 8-piece set in that link)
Circulon Symmetry Black Hard Anodized Nonstick 9-piece set with bakeware bonus: Normally $650, today only $199 + Free Shipping (click on black)

Rachel Ray Hard Anodized II Nonstick Dishwasher Safe 14-Piece Set: Normally $300, today only $149 + Free Shipping!
Anolon Advanced Bronze Nonstick 9-Piece Set with Bakeware Bonus: Normally $400, today only $199 + Free Shipping!
Anolon Nouvelle Copper Hard Anodized Nonstick 9-Piece Set: Normally $470, today only $199.99 + Free Shipping!
WearEver Nonstick Ceramic Coating Dishwasher Safe 10 Piece Set, Red: Normally $149, today only: $54.99 + Free Shipping!
Another incredible deal is for this Cuisinart Stainless Steel Roasting Pan. I've used it for years and it's fabulous. It's Amazon's #1 Seller, rated 5 stars. Normally $110 TODAY ONLY $32!
Lastly,
Getting ready for the big day? Make sure to download our free Thanksgiving Planner Printable! Also check out our most favorite recipes for the perfect Turkey and Gravy. And if you need a great hostess gift for friends and family, get your Olive Oil orders in and they'll ship asap!