Growing up my Dad cooked for us a lot, and he had 2 signature meals.  One was his famous "Thin Cakes," and if you asked any of my siblings what the other one was, they'd undoubtedly answer: Beef Stroganoff.  My Mom actually made it often as well, but it will always be a "Dad meal" for me.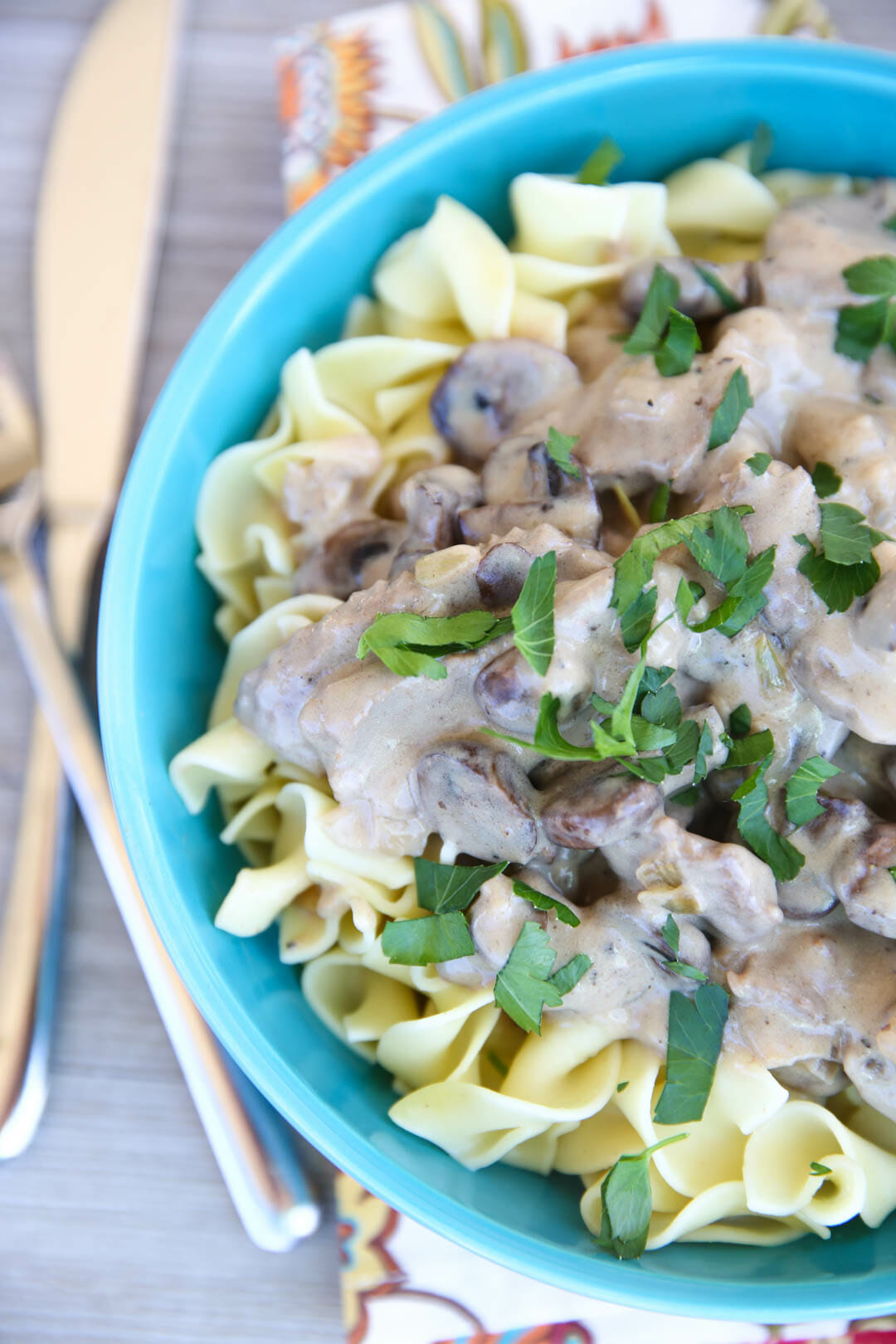 Now the recipe I'm sharing today isn't my family recipe.  Growing up, Stroganoff always involved ground beef, cream of mushroom soup (which my mom always put through the blender first because if my brother found even one microscopic speck of a mushroom the meal was over) and generally we ate it over rice.  My Dad always started with that condensed soup, but added layers of flavor, and creamy sour cream, and always a "secret ingredient" which was always Parmesan cheese.
This is my version, in which I ditched the condensed soup, use tender sliced steak, and instead of blending mushrooms, I actually add real mushrooms.  This is one of those meals where the ingredient list almost looks too simple, yet time and time again I'm reminded of how amazing, and how comforting the finished product is.  My kids LOVE this meal.  And it can totally be done in under 30 minutes in one pan, so I love this meal, too.  I actually wrote this recipe for our very first book, and people have consistently told me over the years that this is one of their most favorite recipes, so I figured it was time it had a place here on the site!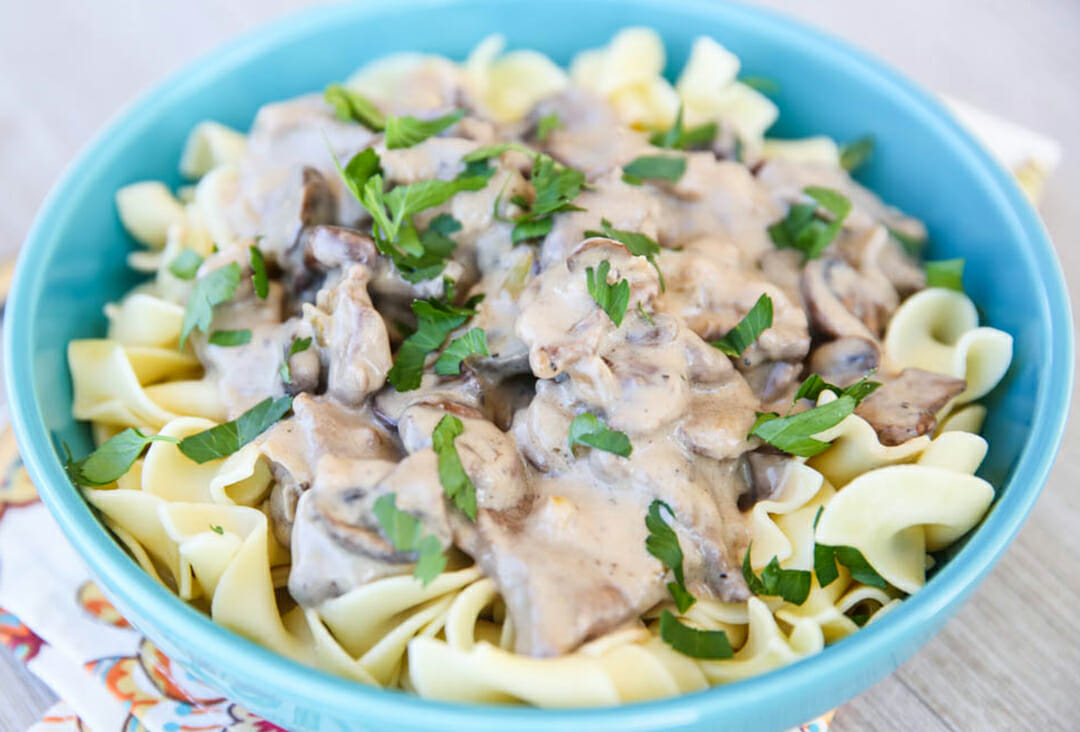 Some of you may stop reading right as this next photo comes up because you hate mushrooms, so just stick with me.  Guess what, I actually don't love mushrooms myself.  But when they are sauteed in butter with onions and garlic and covered in a creamy sauce with steak that happens to be the same color, well- it works.  And my mushroom-hating kids don't really notice either.  That being said, if you hate mushrooms, feel free to leave them out- this will still be delicious!  You can even add a little extra steak to compensate.
Okay so step one.  Saute some mushrooms in butter with garlic and onions.   When you put the mushrooms in the pan it will seem like a ton, but they cook down so much it's the perfect amount, so just go with it. It's important to cook these long enough so that the onions are soft and tender so make sure you test one before you move on to the next step or you'll have crunchy sauce and no one wants crunchy sauce.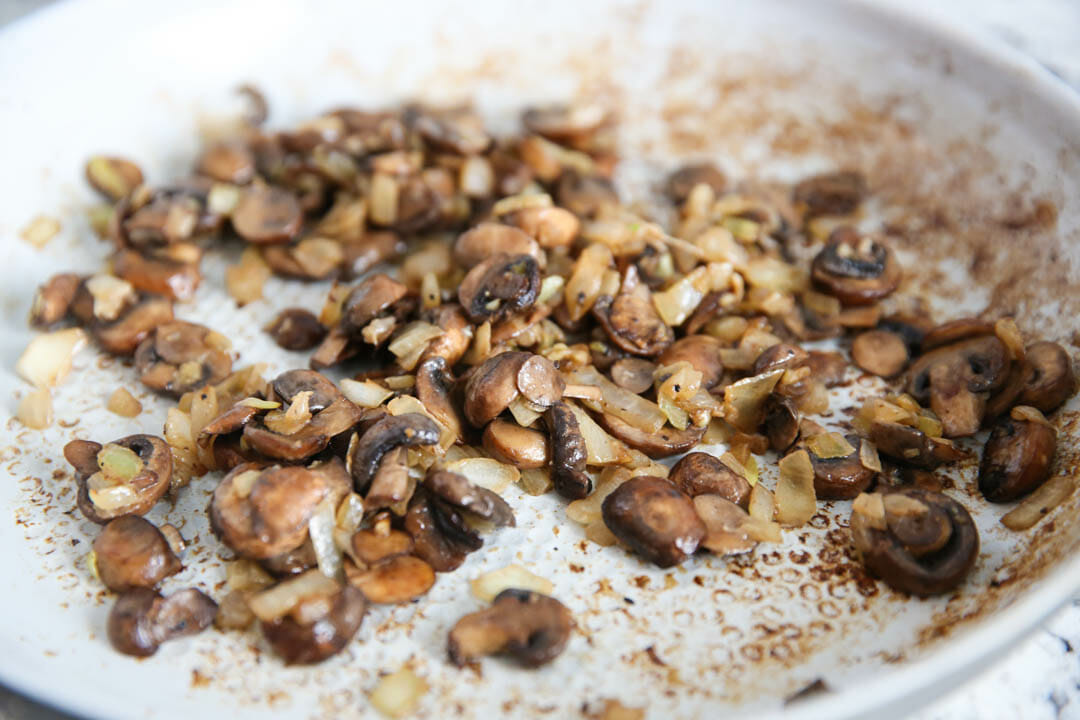 Slide all those shrooms onto a plate and add a little more butter to your pan.  I'm using a white pan so you can see all that color.  That's going to flavor your meat and build depth into your sauce.  The butter you're adding here is going to help lift that up and make a super silky, creamy sauce.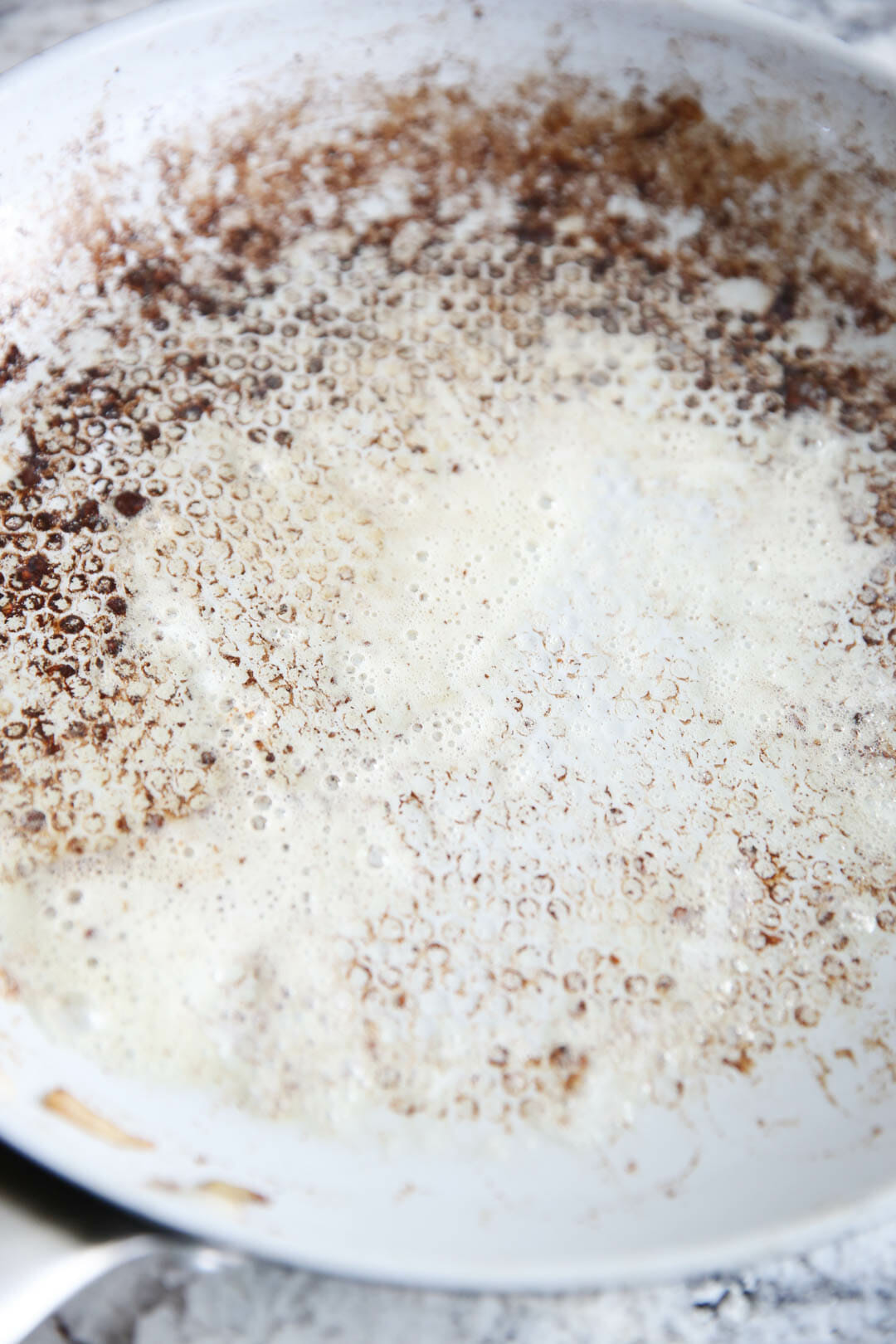 Dump in a bunch of steak now and saute it until it's no longer pink.  Sliced steak cooks really fast; don't over cook it or it will be tough.  You can use your favorite cut of steak, here. Lately I've loved flank steak, and this batch in the photos is made with tri-tip. Those aren't the most economical cuts of steak- at all, but they're really good.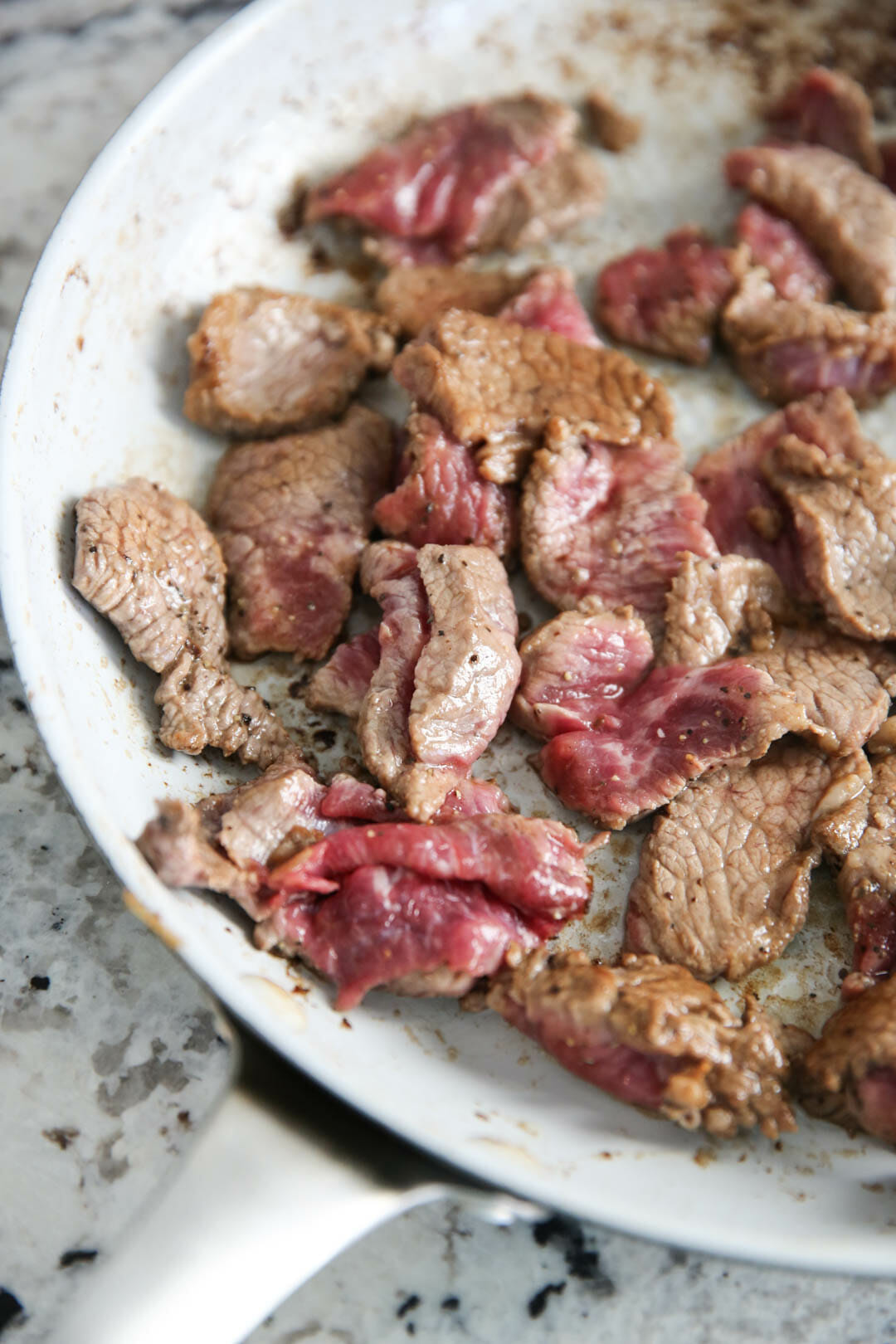 While it's cooking, you can whisk up your quick sauce. It has beef base, Worcestershire, and a little flour to thicken.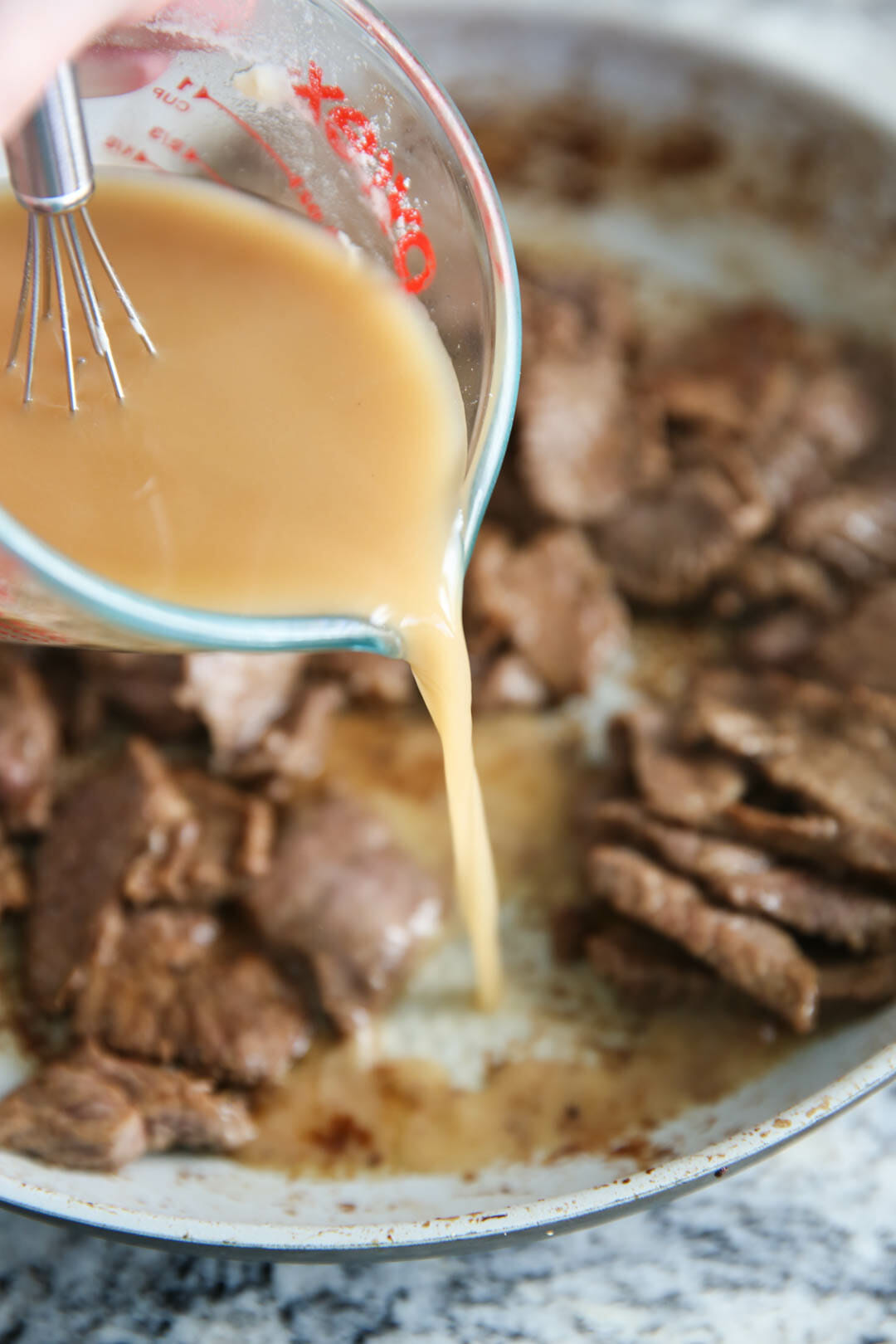 As the sauce heats it will turn into a gorgeous gravy.  Add those mushrooms back to the pan and stir it all up.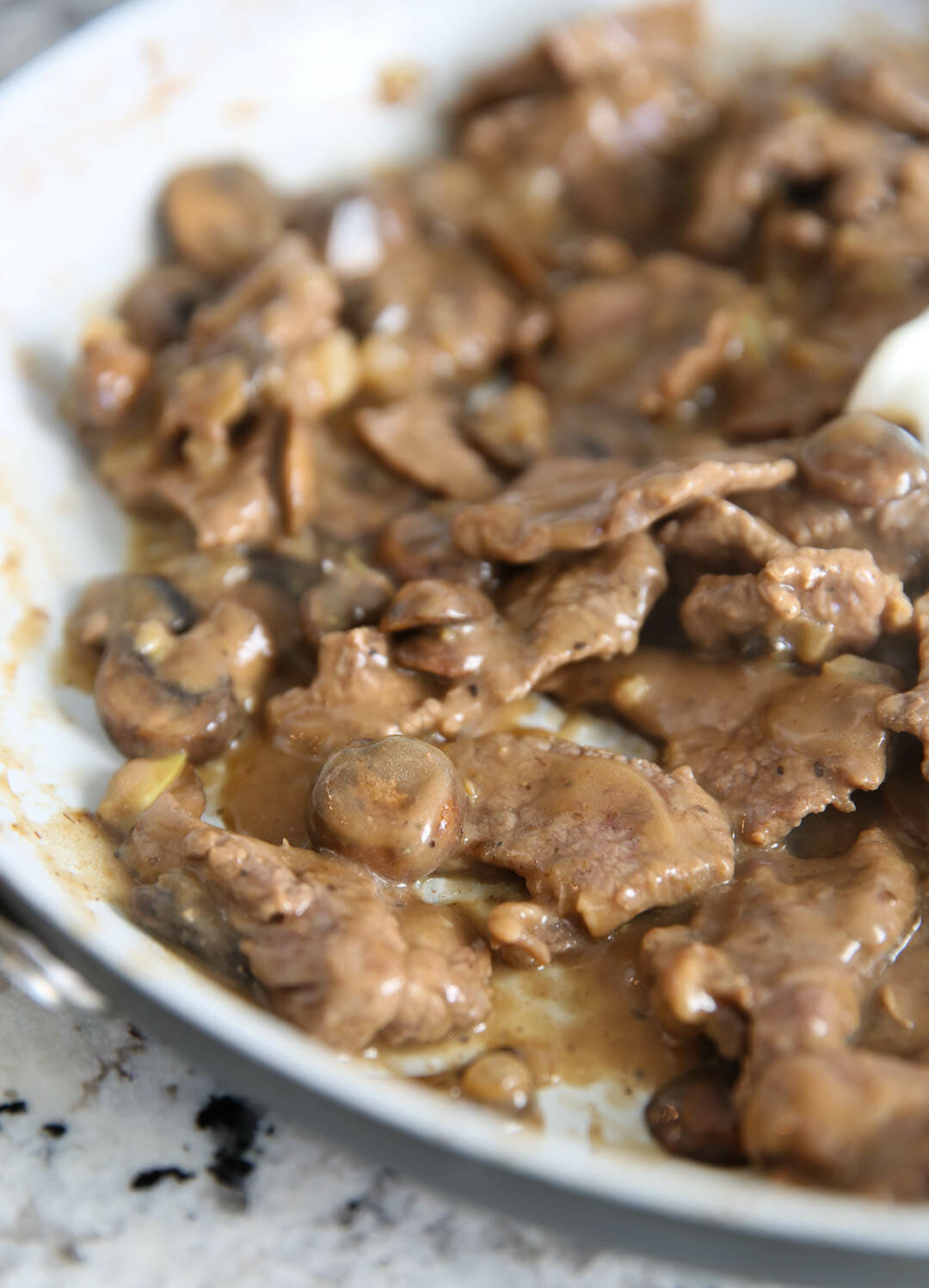 The final step is a big dollop of sour cream.  You can use full fat or reduced fat, here.
The result is an ultra creamy, beefy, sauce over tender steak.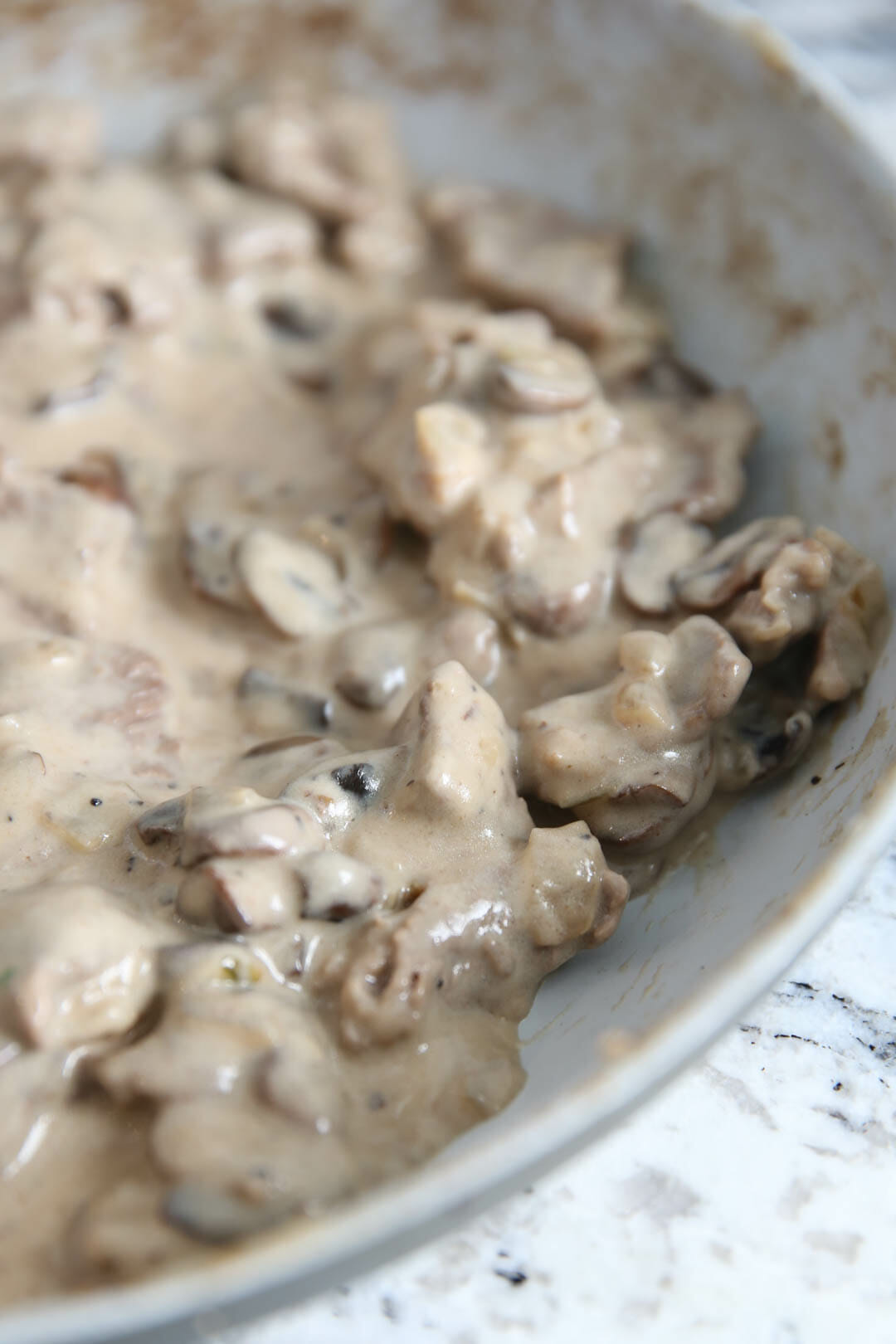 You can serve it over pasta or rice.  Growing up we usually had it on rice, but my family prefers wide egg noodles.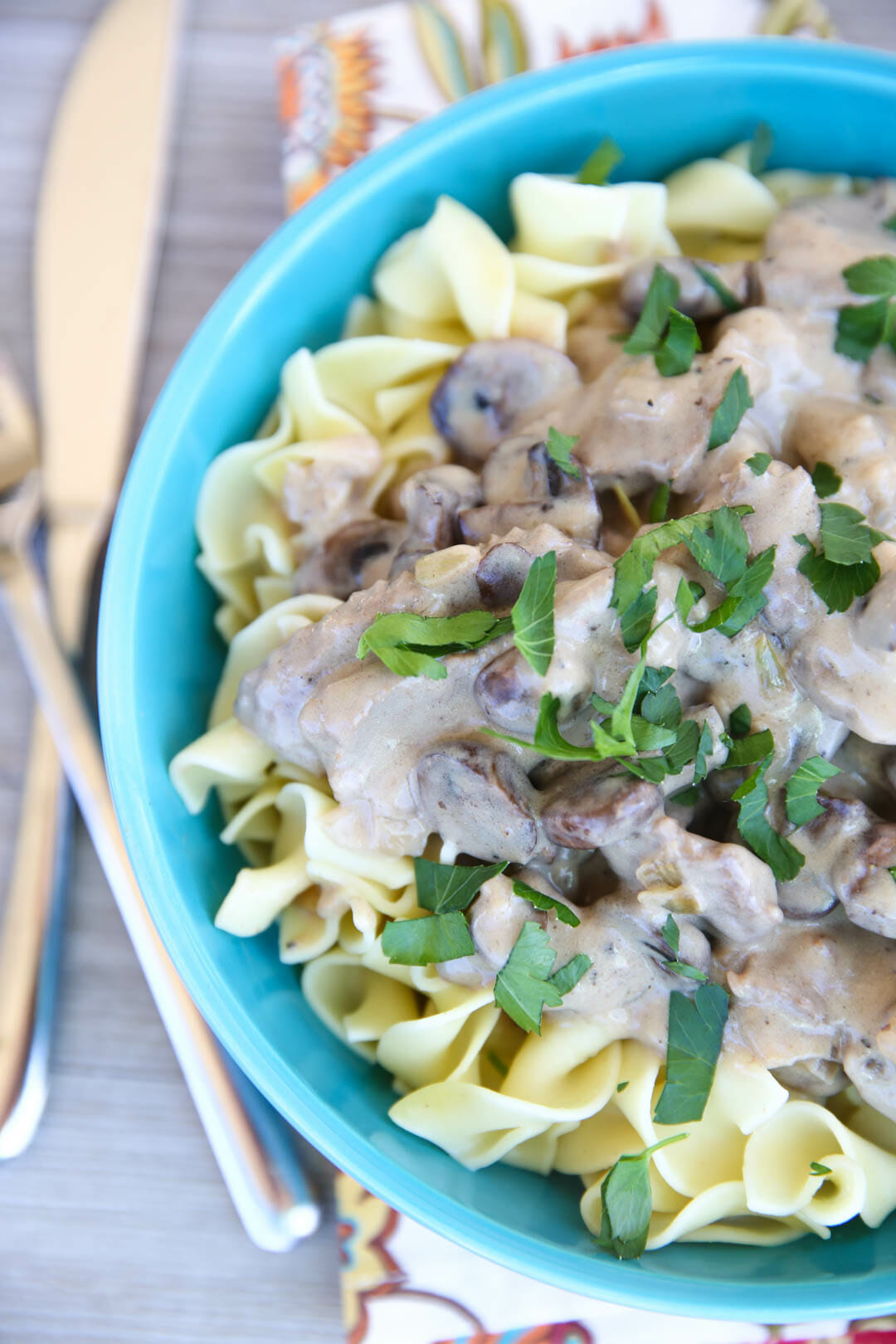 And honestly, you might notice I don't call for parsley in the recipe- the only reason I'm adding it here is because Beef Stroganoff is possibly one of the hardest things I've ever photographed.  Tastes AMAZING, looks blah. ha.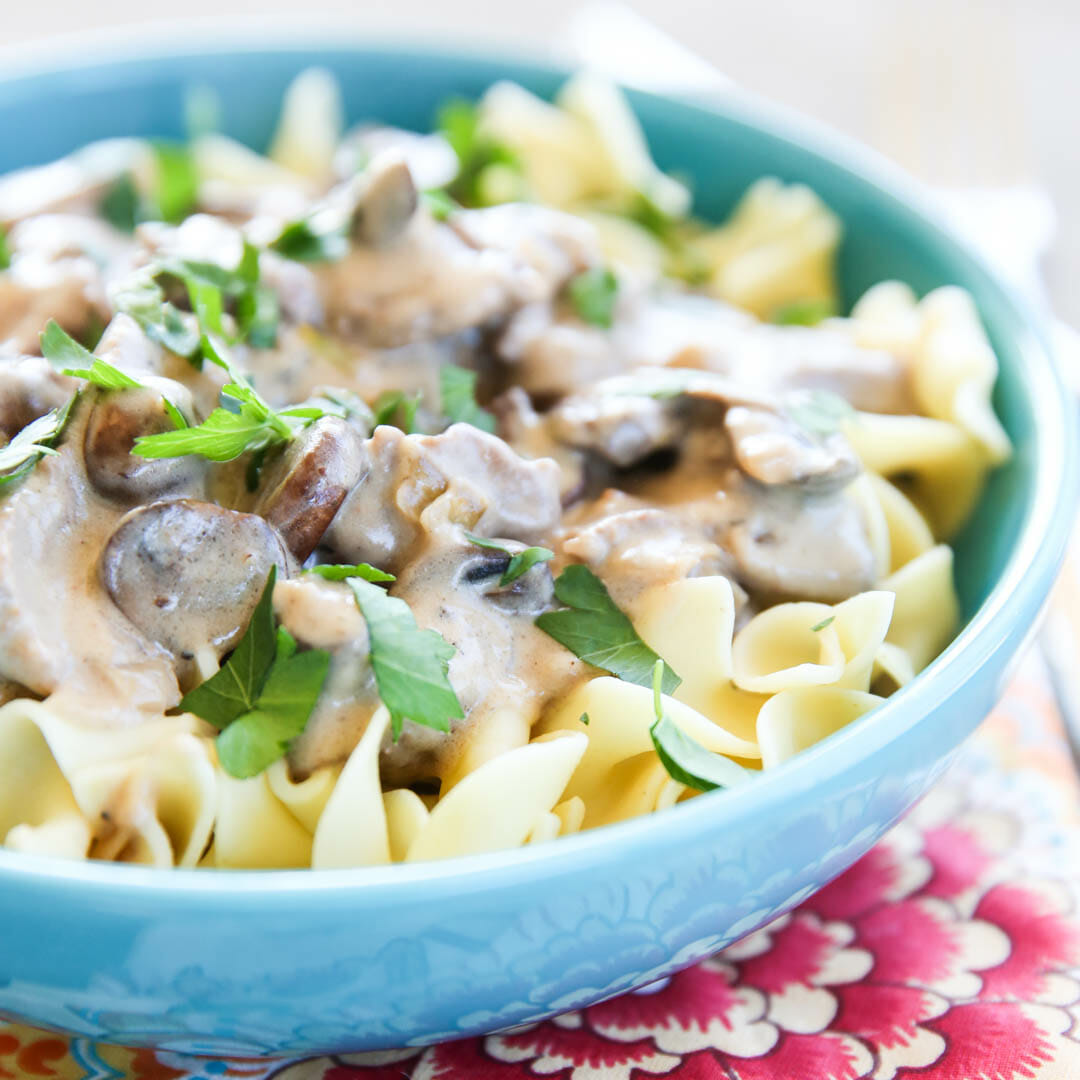 Trust me on this and put it on your menu this week.  Family favorite, right here!
Beef Stroganoff
Recipe by ourbestbites.com
Ingredients
1 lb top sirloin or tenderloin steak, flank steak also works well
1/2 teaspoon kosher salt
1/4 teaspoon black pepper
3 tablespoons real butter, divided
8 ounces sliced mushrooms (I prefer brown cremini)
3/4 cup diced onion
4 cloves garlic, minced
3/4 cup warm water
1 teaspoon beef bouillon granules, beef base, or 1 bouillon cube*
2 tablespoons flour
2 teaspoons Worcestershire sauce
1/2 cup sour cream
Extra wide egg noodles, or rice, for serving
Instructions:
Slice steak into thin strips (like 1/4-inch thick).  Make sure you are slicing against the grain of the meat.  Sprinkle with salt and pepper and set aside.
Melt 2 tablespoons butter in a large skillet over medium heat and add mushrooms, onion, and garlic to pan.  Saute for 5-8 minutes until mushrooms are browned and onions are very tender.  Remove mushrooms, onions, and garlic from pan and set aside.
Slightly increase heat on pan and melt remaining tablespoons of butter.  Add beef and saute, stirring, for 3-5 minutes or until pink is no longer visible.
While beef is cooking, whisk water, bouillon, flour, and Worcestershire sauce together until smooth.  Add this mixture to the beef and return the mushroom mixture to the pan as well.  Bring the sauce to a simmer and cook for 1-2 minutes to thicken.  Remove pan from heat and stir in sour cream.  Add additional salt and black pepper to taste.  Serve over egg noodles or white rice.
This recipe feeds my husband and 4 young kids pretty perfectly with zero leftovers.  We're getting to the point where I sometimes double or 1 1/2 it.  I'd say if you have more teens or adults you'll definitely want to make a larger batch!
*Note:  I call for water + beef bouillon because you'll notice I'm using a little less water than the normal concentration of 1 cup to 1 cube bouillon/granules.   This gives a stronger beefy flavor.  If it's easier for you, you can certainly just sub 3/4 cup beef broth, which won't make an enormous difference.  But if you have dry bouillon or beef base on hand, I'd go that route. 
Speaking of our very first book, it was actually just re-printed!  It has a new format, similar to our most recent 400 Calories or Less Book.  "Our Best Bites: 150 Family Friendly Recipes" is a long-standing favorite full of great recipes.  Since it's a new printing, it actually has a brand new listing on Amazon, so if you happen to have it and love it we would sure appreciate reviews there!  Looks like all of the former reviews are gone and so many of you left great ones!