This bright, fresh (mayo-free) chicken salad has sweet citrus notes and crisp veggies. It's perfect by itself, or serve it on a roll, croissant, wrap, or lettuce leaf. This Sweet Citrus Chicken Salad might just become your new go-to!
This chicken salad has a great story behind it.  It's inspired by my Mom, and our little neighborhood grocery store near my childhood home in Bellevue, Washington.  My Mom was known for being on a first-name basis with every store employee pretty much everywhere she went.  Our little local market had the most amazing chicken salad recipe in their deli that we purchased often.  When we wished we could re-create it at home, of course my Mom just went to the deli manager and asked how to make it!  He told her the dressing was just two simple ingredients!  My sister passed this on to me and now we can all make our beloved chicken salad.
How to Make Sweet Citrus Chicken Salad
Simply combine your basic chicken salad ingredients in a bowl: shredded chicken (rotisserie works great, here), diced celery, green onion, and dried cranberries.
Make the Mayo-Free Chicken Salad Dressing
This sounds unassuming, and maybe even a little bit weird??  The magic dressing ingredients are light olive oil, and frozen orange juice concentrate. 
Light Olive Oil:  the term "light" in an olive oil, has nothing to do with calories- it has to do with flavor.  The first press of olives is the "extra virgin" and the strongest flavored oil.  Subsequent pressings are less concentrated with that olive flavor and known as "light" olive oil.  This is important because regular extra virgin would impart a totally different flavor here.  I suggest you buy light olive oil for this recipe if you don't have some already.
Orange Juice Concentrate: This is a brilliant use of an ingredient.  Thawed orange juice concentrate has obviously concentrated orange flavor, plus added sweetness, and a thick consistency that works beautifully in a dressing. It easily whisks together with the oil to create a gorgeous smooth, flavorful combination.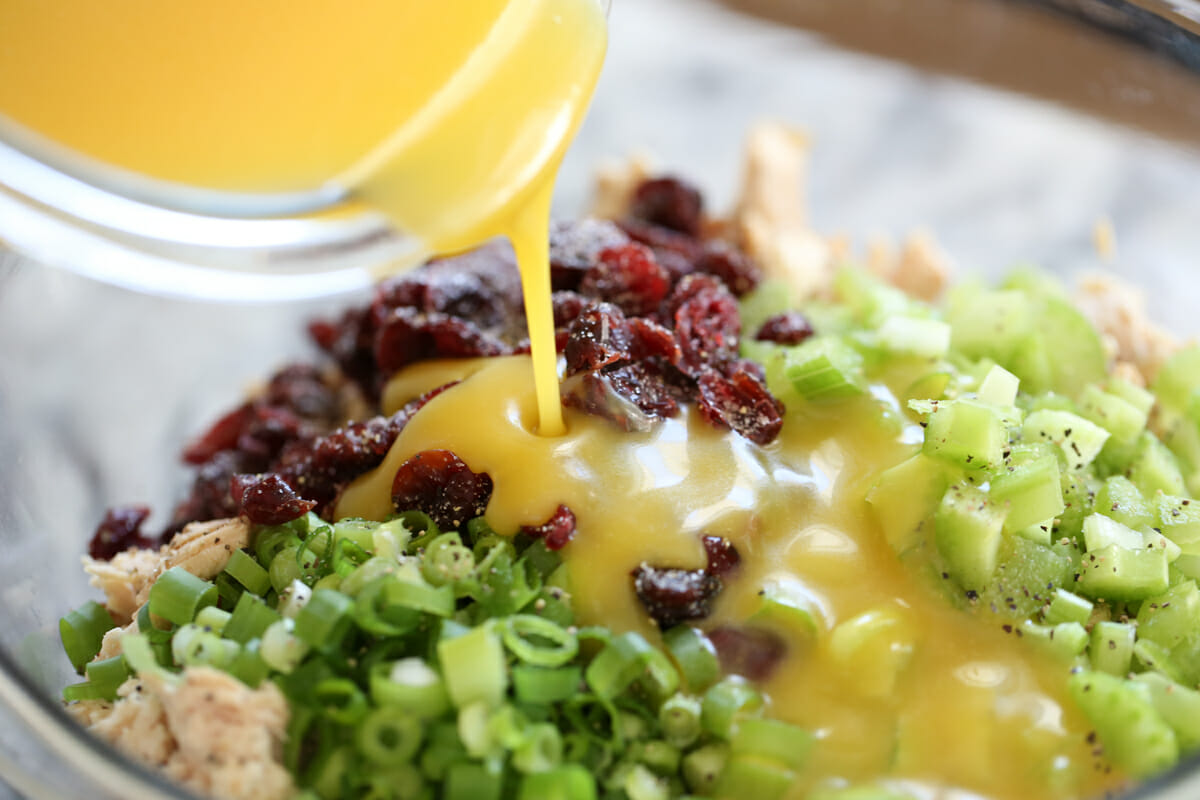 Dress the Chicken Salad
Simply toss the salad with the dressing and season with salt and pepper to taste (that part is important- it will need salt for all of the flavors to come out.)  For best results you'll want to chill the salad for at least a couple of hours.  Toss in some toasted slivered almonds before serving for a final crunchy touch.
This salad is delicious by itself, or you could serve it on a roll or croissant, lettuce leaf, or wrap!
Love Chicken Salad?  Here's a couple others you might enjoy!
Teriyaki Chicken Salad
Skinny Chicken Salad
Print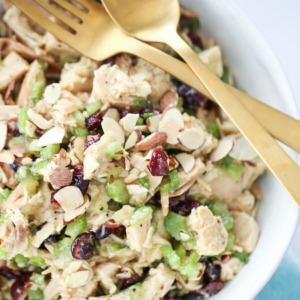 Sweet Citrus Chicken Salad
---
Description
Traditional chicken salad gets a mayo-free twist with a bright and fresh orange dressing.
---
1 pound (about 4 cups) cooked, shredded chicken (rotisserie chicken works great!)
3/4 cup diced celery
1/2 cup sliced green onion
1/3 cup dried Cranberries
1/4 cup sliced toasted almonds (tip: buy bagged ones in the produce section by the salad toppers)
1/2 cup thawed frozen orange juice concentrate (not diluted)
1/2 cup light olive oil*
---
Instructions
Combine chicken, celery, green onion, and cranberries in a bowl.  Set aside.
Whisk together orange juice concentrate and olive oil until smooth.  Start pouring over chicken mixture to combine.  *You may not use all of the dressing.* Use as much as you need to coat to your liking and toss together. Sprinkle with salt and pepper to taste.  Chill for 2 hours or more, then gently mix in almonds before serving.
---
Notes
*Look for olive oil labeled "Light".  This doesn't not mean light in calories- it refers to the flavor. Light olive oil has a very mild flavor- if you use regular extra virgin olive oil, it will impart a stronger olive flavor to your salad.  We suggest the light!