This chicken salad is REALLY good.  It's featured in our Savoring the Seasons Cook Book Savoring the Seasons Cook Book and it's come up recently in several discussions in our Facebook Group, where I was happy to hear so many people tout it as a favorite.  In our book it's called simply "Kathy's Chicken Salad," after my Mom, because I had a really hard time nailing down a name that described it well.  This Chicken Salad is different than most- it addition to the regulars of green onions and celery, it has chopped cabbage, which gives it almost more of a green salad feel and thorough crunch, and also some cilantro, which adds a unique flavor component. It has sweetness from dried cranberries, but the secret to this salad is in the dressing.  While it does contain mayo, you wouldn't guess it because it doesn't taste like mayo like many chicken salads do.  It has an equal amount of mango chutney, which is an awesome short-cut ingredient you buy at the store which adds a fantastic sweet-and-savory combination.  I can almost guarantee this will become a favorite once you try it!
1. Combine Chicken Salad Ingredients
Because this salad uses chopped cabbage, it has a longer table and fridge life than green salads and stays nice and crunchy.  It's one of my favorites to serve at parties, baby and wedding showers, and picnics. You literally just toss everything together in a bowl.  TIP: Like all dressed salads, if it's going to be chilling or sitting a bit before serving, add the almonds in right before serving so they stay nice and crunchy. (Don't want nuts?  Leave them out!)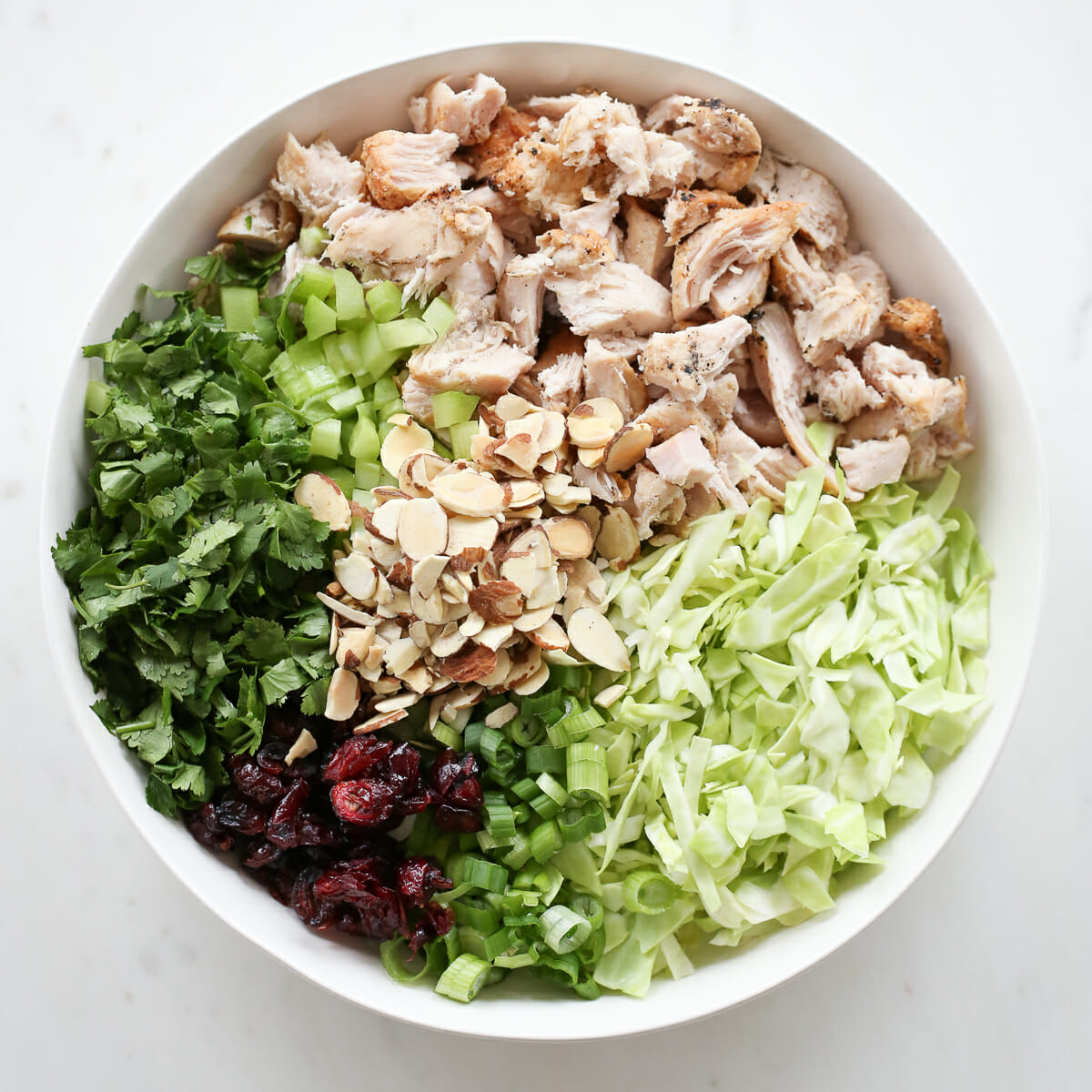 1. Make the EASY dressing!
The dressing is the secret to this chicken salad's deliciousness.  If you ask me about substitutions, I won't recommend any so you're on your own, there! I personally do not like the flavor of reduced fat mayonnaise and I never use them in my recipes. I like regular Best Foods/Helleman's so that's what I always use.

What is Mango Chutney??
Mango chutney is sweet and savory spiced condiment similar to a jam or jelly. It's based from mangos, but doesn't actually taste overly mango-y.   I'm including a photo of the mango chutney.  This is a popular, common brand (really the only brand I've ever seen in stores) and where I live and shop it's almost always found near the BBQ sauces, usually on the top shelf.  I believe they sell a "spicy" version, but you just want the regular one for this recipe.
There's literally only these 2 ingredients in the dressing.  All of the great seasoning and flavor is built right into the chutney!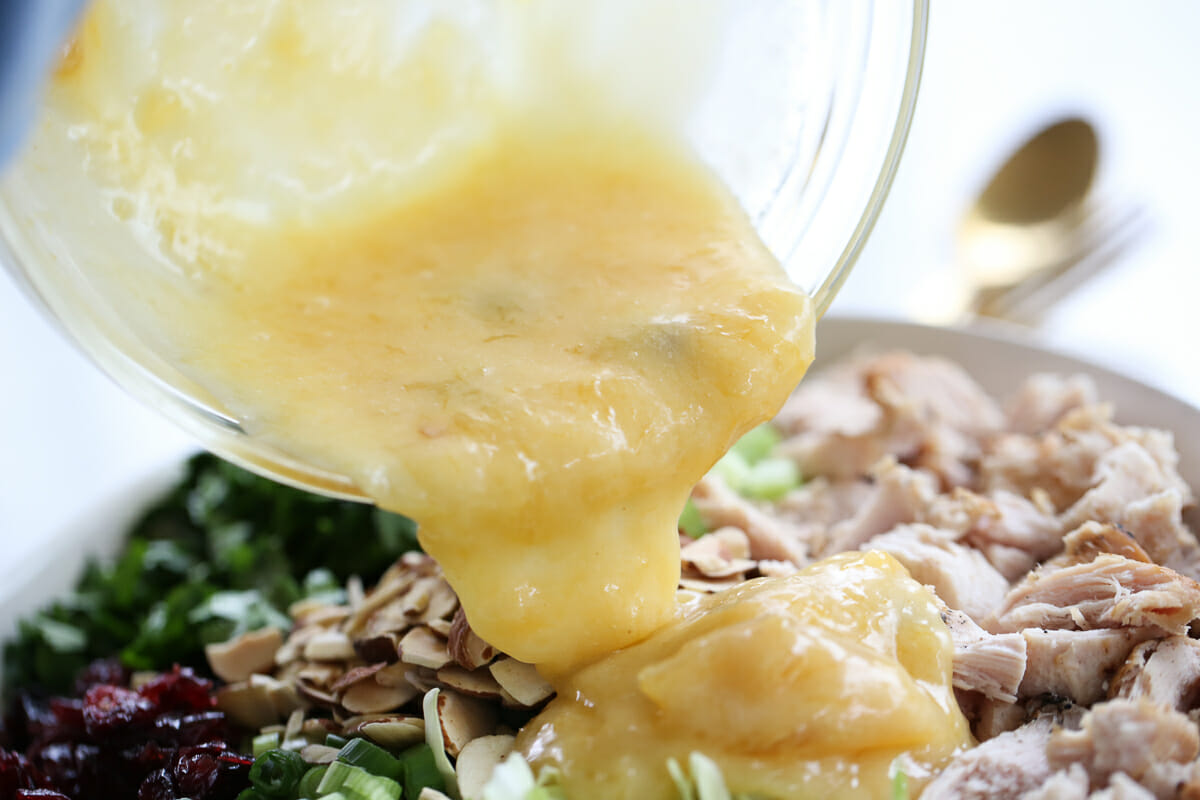 As you can see, this chicken salad isn't swimming in dressing. It coats everything beautifully and adds the most amazing flavor to this rainbow of textures. It's rather addicting to eat and I'm excited for you guys to try it!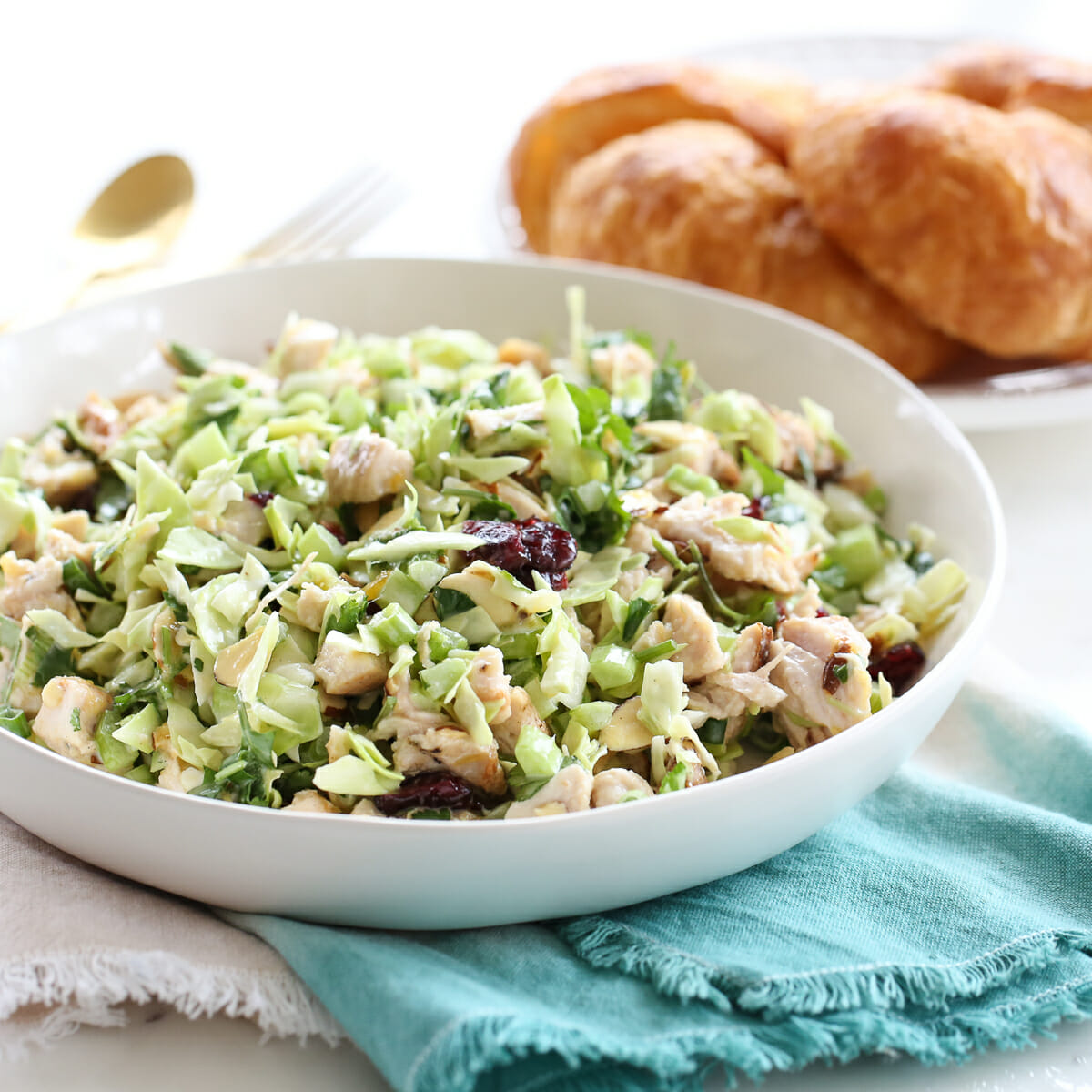 Here's a few other favorite chicken salads to check out!
Sweet Citrus Chicken Salad (Mayo-free)
Teriyaki Chicken Salad
Lightened Up Chicken Salad
Print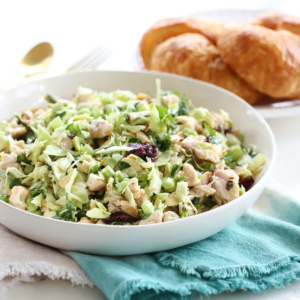 Cabbage Chicken Salad with Mango Chutney Dressing
---
Description
A sweet and savory chicken salad with lots of crunch!
---
2 cups diced or shredded cooked chicken (rotisserie works great)
1/2 cups diced celery
1/4 cup sliced green onions
1 1/2 cups shredded or thinly sliced cabbage
1/3 cup dried cranberries
1/4 cup chopped fresh cilantro
1/4 cup toasted slivered almonds (you can buy these pre-toasted, packaged in the produce section near the salad toppers)
1/4 cup Major Grey's Mango Chutney
1/4 cup mayonnaise
1/2 teaspoon cider vinegar
kosher salt
black pepper
---
Instructions
Combine chicken, celery, onions, cabbage, cranberries, cilantro, and almonds in a medium-sized bowl. Whisk together the chutney, mayo, and cider vinegar in a small bowl. Add the dressing to the chicken mixture and gently combine. Season with salt and pepper, to taste. For best results, chill at least 30 minutes before serving.
---