The other day I posted this photo of my lunch on our Fit Club Instagram Account: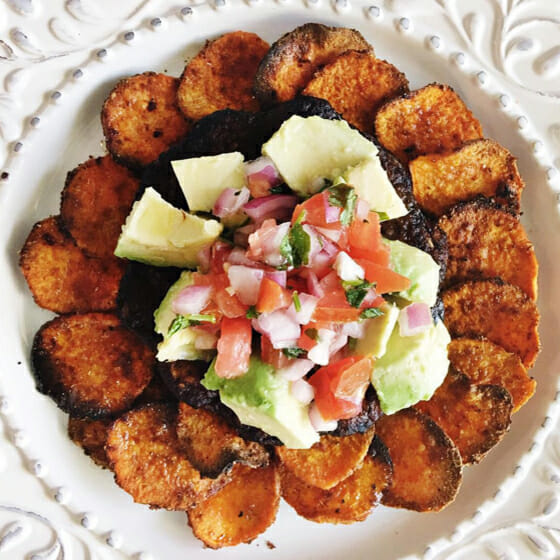 People loved my sweet potato chips, which I make a lot at home.  In that photo above, I ate them with a black bean burger, avocado and a pile of Pico de Gallo.  They're a fun way to mix things up, and I actually like to top them with traditional nacho toppings too, as a better-for-you nacho option.  So that's what we're making today!
For best results, you'll want to look for sweet potatoes that are long and cylindrical, as opposed to circular/football shape.  That gives you the best shot for evenly sized slices. About 2.5″ in diameter seems to be the best size.  [Kate and I spent the better part of an afternoon debating whether or not I should address the obscene nature of said sweet potatoes.  Insert your own jokes, here.]
You don't need to peel the potatoes, just slice them up.  If you don't have a mandolin, I highly recommend one!  This is the perfect use.  Unless you have ridiculous knife skills, it's hard to cut uniformly and thinly- especially with something like a sweet potato, but you can definitely try. This is the mandolin I have (well, the newer model of the one I have).  It was less than 30 bucks and it's been slicing like a mad man for years now.  It's a great buy.
I use the thin setting and you'll get perfect little rounds.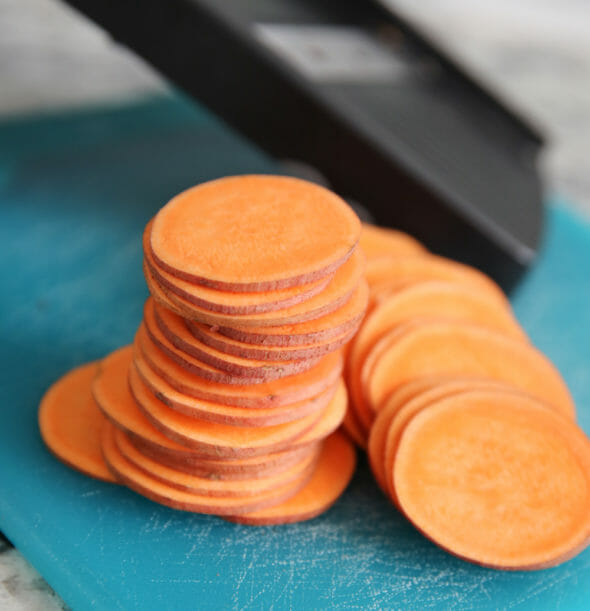 Place the potato slices in a bowl and drizzle some extra virgin olive oil on them.
Roasted sweet potatoes is probably one of my top 3 favorite ways to use our flavored olive oils.  These ones below are my faves in this recipe- I probably use the bacon and garlic the most with these, but Spicy Chili, regular Extra Virgin, Lime, and Jalapeno are also all awesome here.
Once you drizzle on the oil, use your hands to rub all of the little slices down.  Then you'll sprinkle on a spice mix of smoked paprika, cumin, garlic, kosher salt, and pepper.  You can definitely play around with spices in this recipe and come up with different combos you like.  Use your hands again to mix those up.  I like to sprinkle a little, then toss a little, sprinkle some more, toss some more…you get the idea.
Then you'll lay them flat on a foil-lined baking sheet.  It's okay if they overlap just a little bit, but for the most part you'll want them in a single layer.  You may need more than one sheet.
Cook them in a hot oven, and start watching for them to get browned around the edges.  Timing depends on the thickness you slice, but I like mine done about about 25-30 minutes.  I like mine on the crispy side, but I also like the burned fries at the bottom of the fry container.  They should look about like this:

Keep in mind as they cool a bit, they also crisp up.
When they're done, load them onto a big plate and top them with your favorite toppings.  I saw this at the store the other day and I grabbed it to save time.  It actually was pretty good.  Not nearly as good as a home-cooked roast, obviously, but not bad in a pinch and made things super fast.  Just FYI in case you've ever wondered about those; I hadn't seen it before.
We topped ours with that pork, pico de gallo, avocado, and crumbled feta.
I know feta seems weird, but I love it with latin food.  I like queso fresco and cotija, but the flavor of both of those is so mild that I often find it doesn't add much to the dish.  Feta has a nice sharp bite, so I like the tang it adds.
You don't want to load them too heavy because sweet potatoes are obviously a lot softer than a regular chip, but it makes a nice little bite.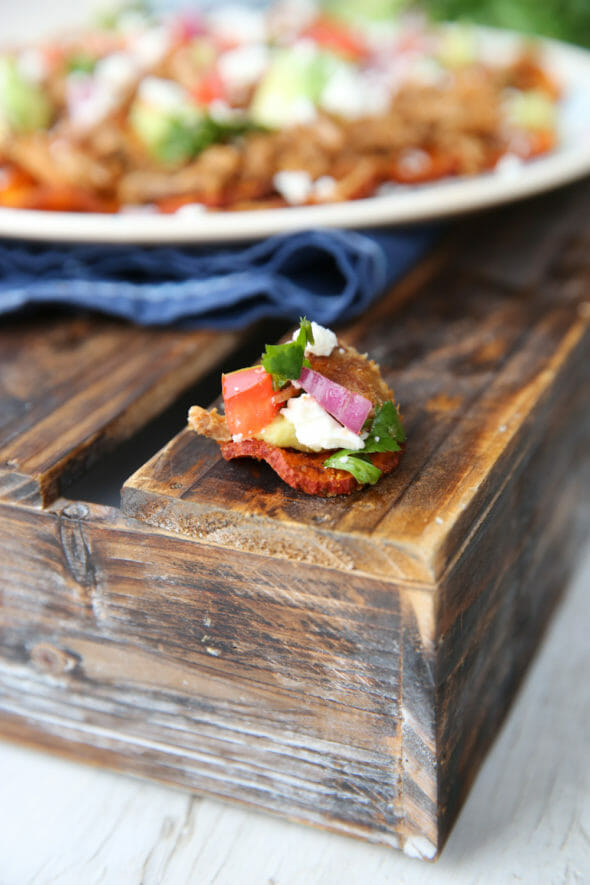 Print
Sweet Potato Nachos
Author:

Our Best Bites

Prep Time:

10

Cook Time:

30

Total Time:

40

Yield:

1
---
Description
A fun and healthy twist on traditional nachos. Sweet and savory roasted sweet potatoes are the perfect base for your favorite Latin toppings!
---
1 teaspoon

smoked paprika

1 teaspoon

granulated garlic (or garlic powder)

1/2 teaspoon

cumin

1/2 teaspoon

kosher salt

1/4 teaspoon

black pepper

8 ounces

thinly sliced sweet potato (about

2

–

3

inches in diameter)

1 1/2 tablespoons

extra virgin olive oil
---
Instructions
Preheat oven to 425 degrees. Line 1 or 2 baking sheets with foil and spray generously with non-stick spray. Set aside.
Mix smoked paprika, garlic, cumin, salt, and pepper in a small bowl.
Use a mandolin to slice sweet potatoes into thin, even slices. Place sweet potatoes in bowl and drizzle with olive oil, using your hands to coat the slices on both sides. Sprinkle seasonings over and toss again.
Lay potatoes in a single layer (overlapping a tiny bit is fine). Place in oven for 20 minutes an peek. Depending on thickness, they usually take 20-30 minutes. Look for browning around the edges.
Remove from oven and let sit for a few minutes. Potatoes will firm up while sitting. Place on a large plate or platter. Top with favorite nacho toppings (Shredded meat, pico de gallo, guacamole, etc) and serve.
---