This Tandoori Chicken Recipe was originally published in our cook book "Savoring the Seasons."  I developed the recipe especially for that book and honestly I haven't made it in years!  But lately I have been hearing from so many people that it is one of their family's favorites so I figured it was time to whip it up again at home and share it here on the blog.  This is an Indian style dish and what makes it a little different is that the marinade is yogurt based.  Yogurt is a natural tenderizer so it produces a really flavorful chicken that is tender and juicy.  Tandoori chicken pairs perfectly with the Indian Style Turmeric Rice I shared on Friday!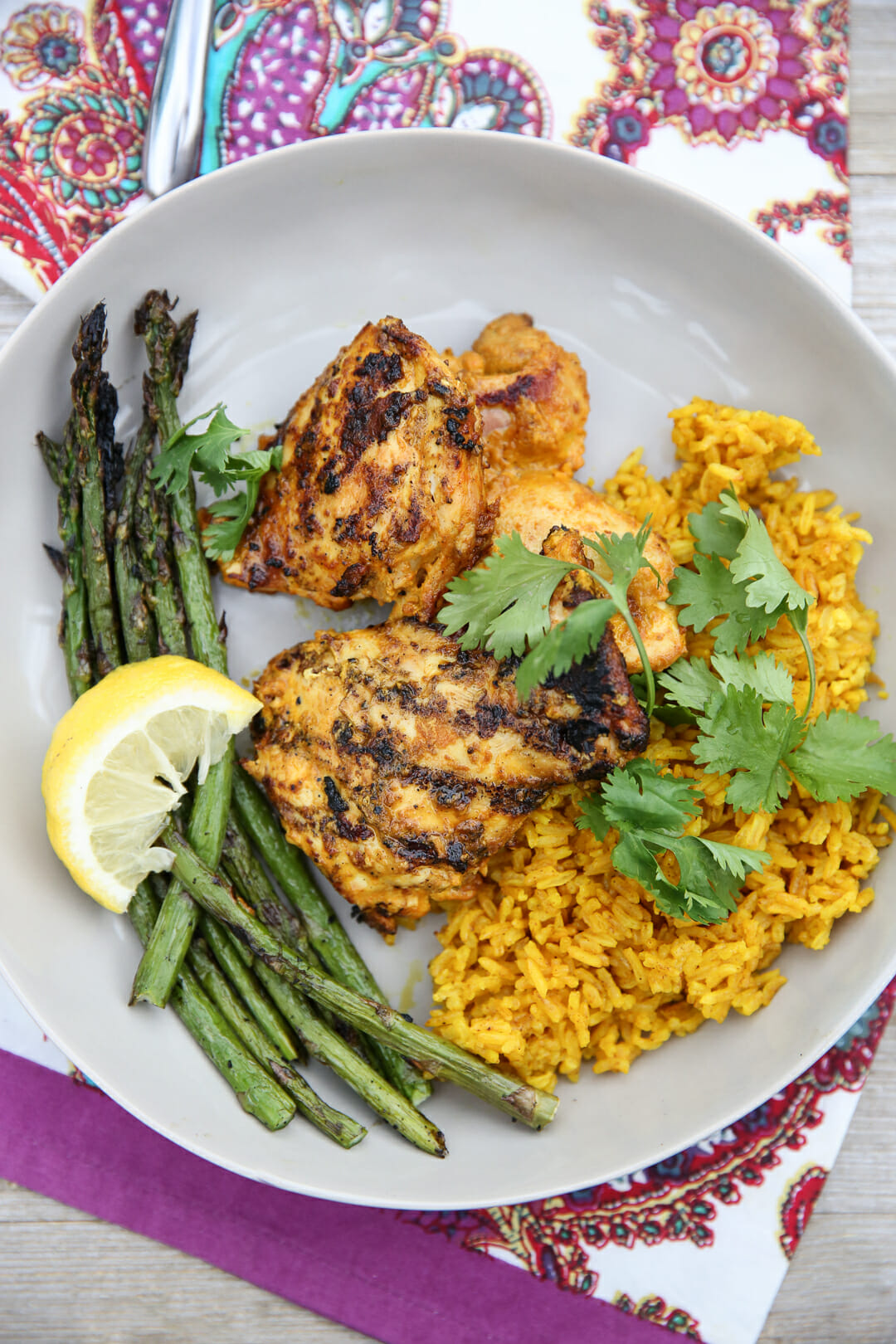 You'll need some plain Greek yogurt and a variety of seasonings for the marinade.
We've got some fresh onion, paprika, garlic, turmeric….it just gets zipped up in the blender.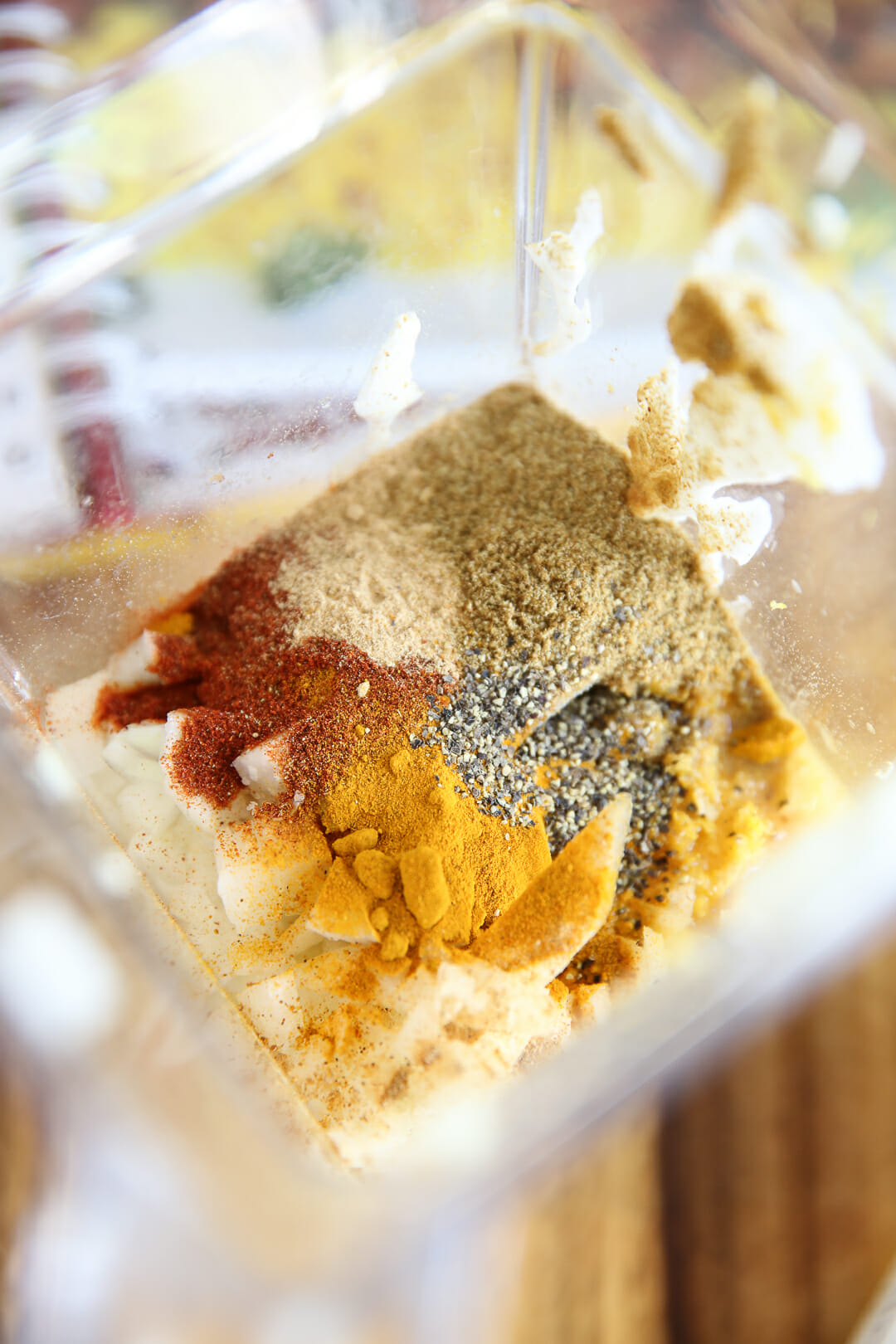 And then you'll pour it over some boneless, skinless chicken thighs to marinate.  Do not make this recipe with boneless skinless chicken breasts, it won't work well with this type of recipe- trust me with the thighs!  It's also best to marinate this overnight, if you've only got a few hours, I wouldn't recommend it.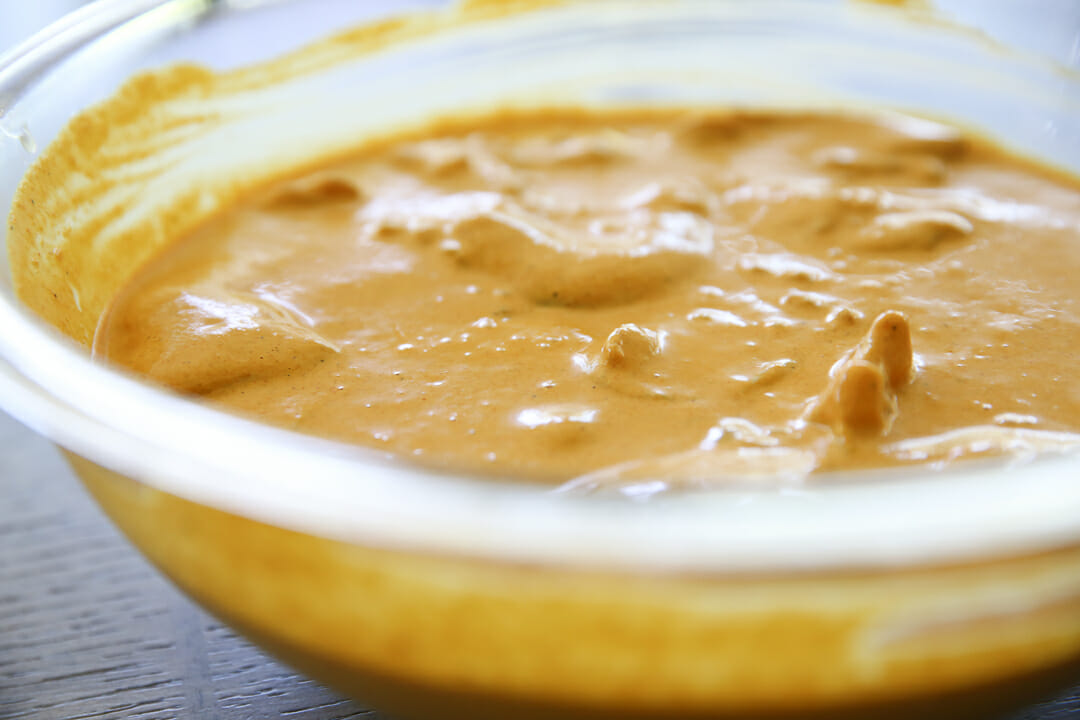 When the chicken comes out of the marinade it's a little thick because it's yogurt.  Make sure your grill is hot, and greased, to avoid messes.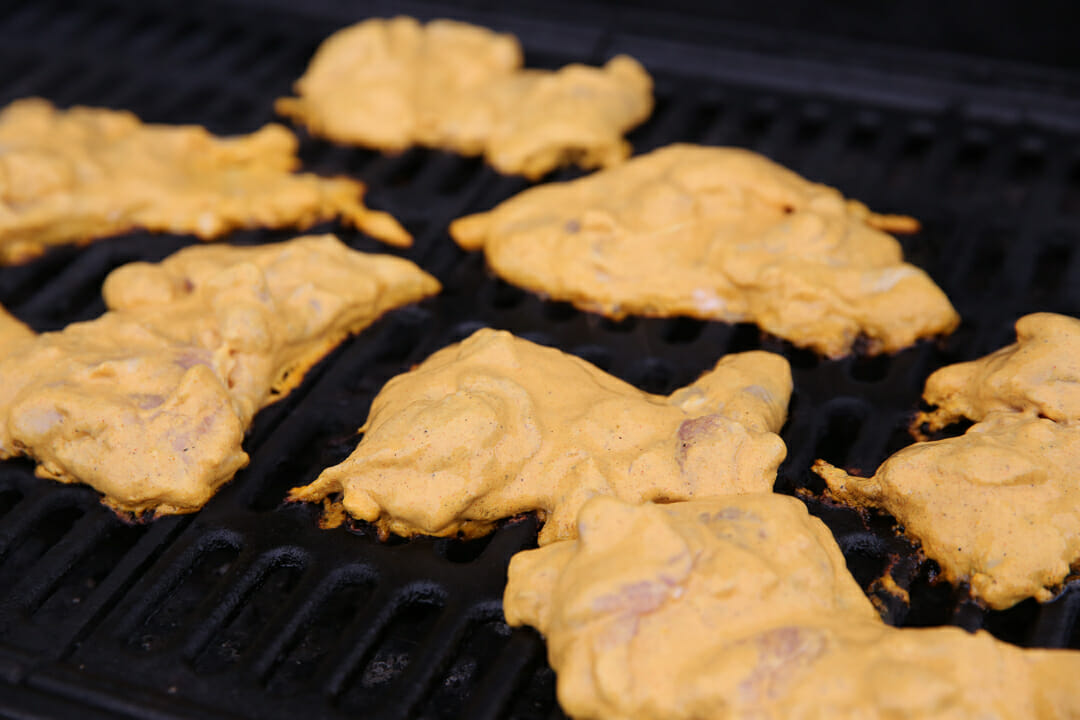 I also experimented with cooking it in a cast iron pan on my grill (or you could do stovetop) and it worked great.  I just drizzled in a little olive oil and I actually loved how the sauce cooked in the pan and left really flavorful little bits in there, so that's an option as well.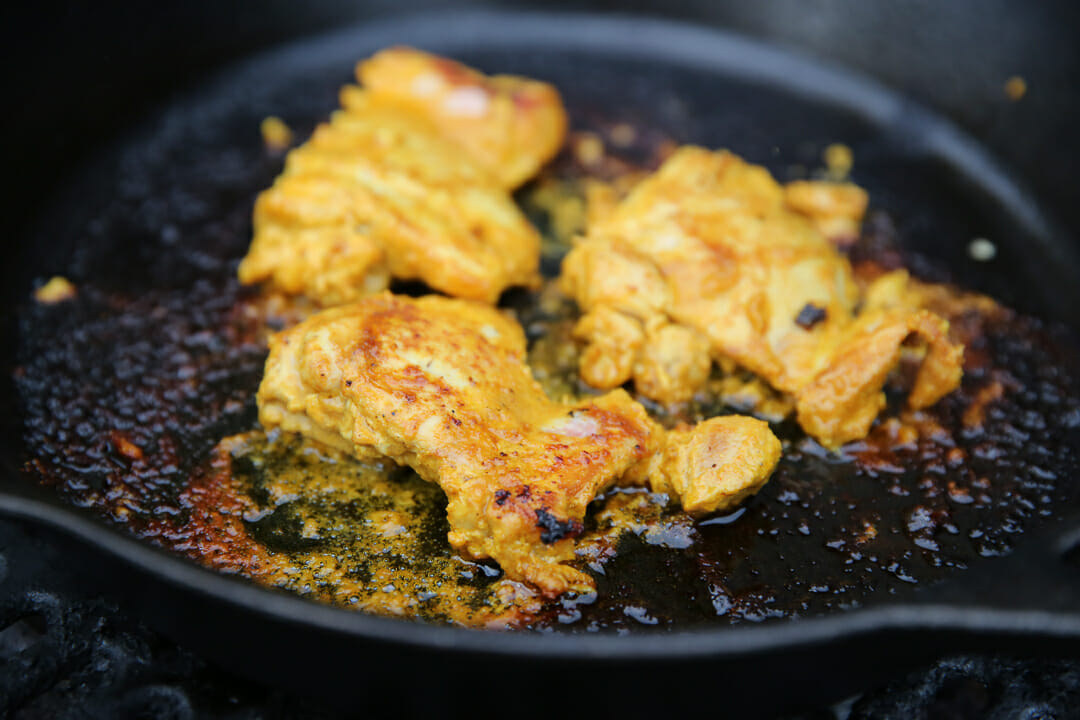 I like to serve this over the Indian Turmeric Rice with a simple vegetable side, like grilled asparagus.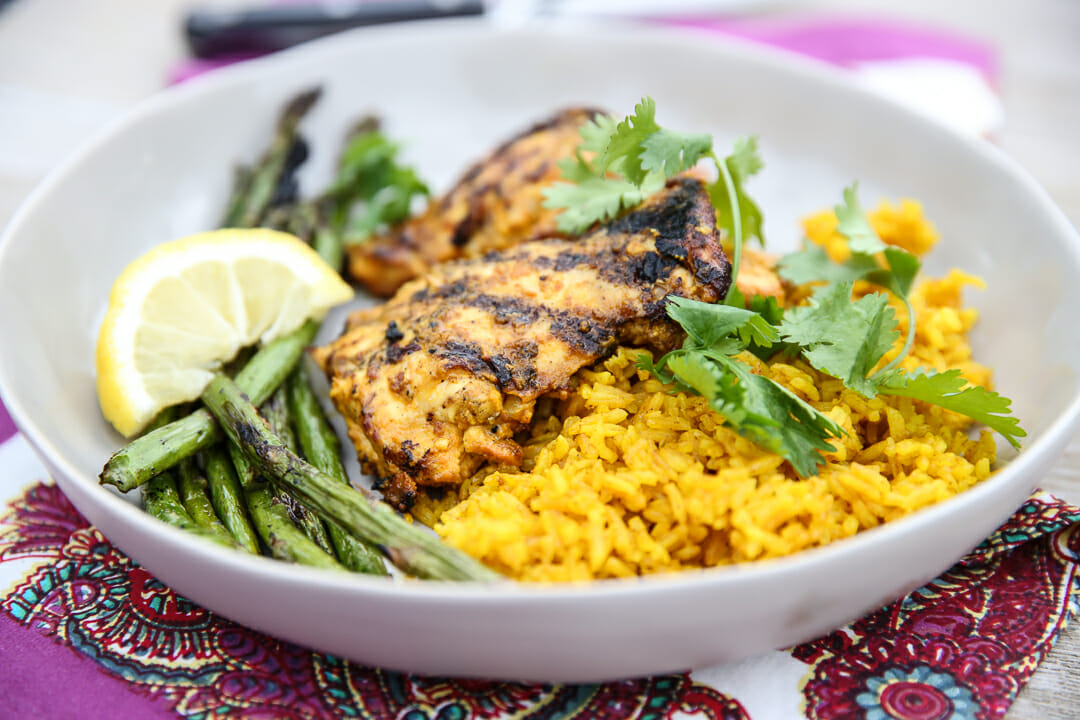 It's a light, but filling dinner that my whole family loves!  Try it out and let me know what you think!
Print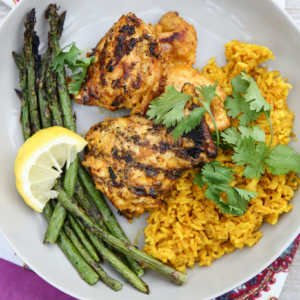 ---
Description
A flavorful Indian-inspired chicken dish, marinated in a spiced yogurt sauce. We suggest serving with our Indian Turmeric Rice.
---
8–10 boneless skinless chicken thighs (about 2 1/2 pounds)
3/4 cup plain Greek yogurt (or just one small container, sizes vary a little, throw the whole thing in there.)
1 lemon, zested and then juiced
4 cloves garlic, roughly chopped
1/3 cup chopped white onion
4 tablespoons extra virgin olive oil
1 1/2 teaspoons kosher salt
1/4 teaspoon black pepper
1 tablespoon paprika
2 teaspoons ground cumin
2 teaspoons ground ginger
1 teaspoon turmeric
1/2 teaspoon ground red pepper *see note
optional for serving: chopped cilantro and lemon wedges
---
Instructions
Rinse chicken thighs in cool water and pat dry with paper towels. Trim off excess fat, if necessary (a pair of kitchen shears is the easiest way to do this!) and place in a glass bowl or heavy duty zip-top bag.
Place yogurt, lemon zest and juice, garlic, onion, olive oil, salt, black pepper, paprika, cumin, ginger, turmeric, and red pepper in the blender and process until smooth. Pour over chicken, toss to coat, and marinate for 24 hours for best results.
Preheat grill to medium heat and oil grill grates to avoid sticking. remove chicken pieces from bag or bowl and allow excess marinade to drip off. Place chicken on grill and close lid. Cook for 4-6 minutes on each side or until chicken reaches an internal temperature of 165 degrees F. Chicken can also be cooked in a skillet, indoor grill pan, or under the broiler. We suggest serving with Indian Turmeric Rice and a veggie of your choice.
---
Notes
Feel free to omit the ground red pepper if you want no trace of heat, or add more if you'd like a little kick to it.