Have I ever told you how much I love fall time?  I love fall. And about this time every year I start getting antsy for it.  So it was a super great move for me to make this recipe because it was better than any candle, Scentsy bar, or scented oil I own.  The smell of fresh cut apples simmering in cinnamon and nutmeg?  Heaven.  I just ignored the fact that it was 96° outside.  You can make this recipe to can in jars (read our Introduction to Canning and Preserving by clicking here) or pop batches in your freezer.  It's fun to have on hand for quick desserts like apple pie, apple crisp, apple turnovers, and it's great on waffles, pancakes and ice cream too.  It also makes a super cute gift for the holidays or for a hostess gift or new neighbor gift, etc.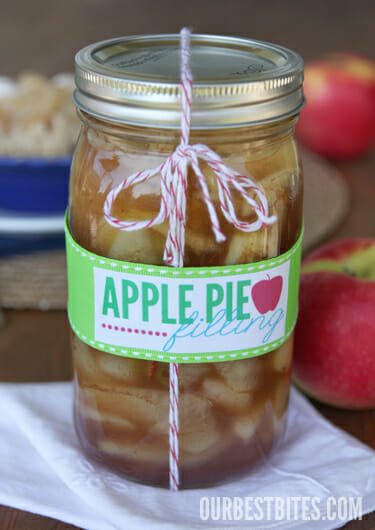 You're going to ask me for those labels, aren't you?  I'll get on that.  One day.  Before Christmas.  Maybe.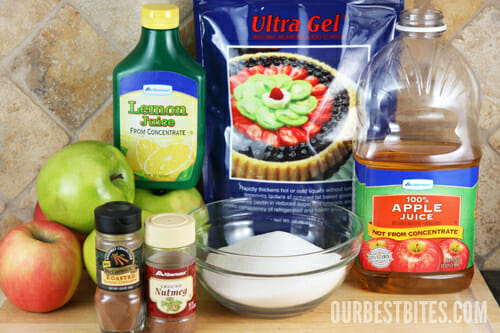 *A note about thickeners:  I spent a better part of a Wednesday pulling my hair out and cursing driving around town in search of, and making phone call after phone call trying to get information about thickeners!  A huge thanks to my friend/canning mentor Britanie for helping me figure out what the heck to use; I must have texted her 47 times this week.  Thanks to her, and my new BFF at the extension office, I can sort of pretend I know what I'm talking about around here.   It can be confusing because I noticed recipes call for different things depending on when they were written, and I know the #1 rule of canning is to not make substitutions or changes to a recipe that has been tested for canning.  I noticed a lot of older recipes call for corn starch, which is not recommended by the USDA for safe canning.  Then I found lots of recipes calling for ClearJel, but I couldn't find ClearJel anywhere.  I finally got a hold of someone at my local extension service (I seriously love those people!) and she explained that the only products that have been verified after testing are Ultra Gel and Thick Gel.  Ultra Gel is just a modified corn starch that's safe and effective for use in canning (as well as tons of other things).  She said ClearJel is the same thing as Ultra Gel, it's just changed names.  I found Ultra Gel in several local canning supply stores, so if you find a well stocked location you should be able to easily find it.  You should also be able to find it at cooking stores.  If not, then you can order it on-line, but that's what you should be using.  It's not the same thing as the little boxes of "Sure-Gel" you get to make jam.  If you are a Boise/Meridian local, I bought mine at Karcher Ranch Market in Nampa.  And I've been told in Utah it's at Orson Gygi.  I hope that's helpful to someone else since it took me a while to figure out!
So in order to make this yummy filling, you'll need a bunch of apples; obviously.  Make sure they are crisp, and tart works best- like Granny Smiths, but really any crisp apple is just fine.  Feel free to use a mix!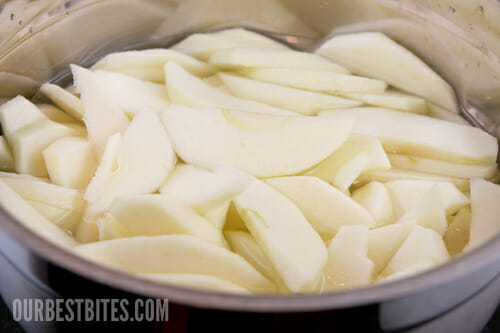 You can use an apple-corer-slicer-thingy (which by the way always reminds me of a medieval torture device.  Not that I am in any way an expert in medieval torture devices)  or do them by hand.  If you're not doing a huge batch, it really doesn't take too long to peel them.  To keep your apples looking purdy, toss them into a bowl as you cut filled with either water with lemon juice or water with ascorbic acid (which sounds like a not-so-medieval torture device…)  Just a note- you'll want to slice more apples than you think you need because they reduce a bit when blanched and you'll measure them after blanching.
When they're all sliced up, you'll give them a douse in boiling water; only about a minute will do it.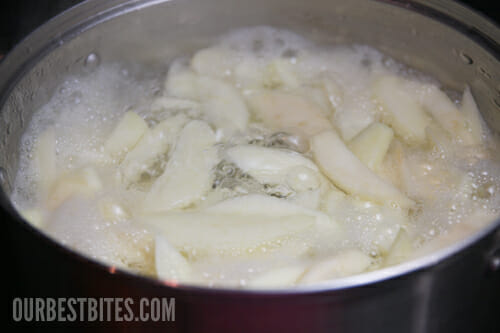 Remove the apples from the pot and set them in a big strainer if you have one and just cover to keep warm.  I use one of these pasta pots that has a strainer that fits inside; it works perfectly.
Now for the sweet, sticky, full-of-fall deliciousness.  Mix your sugar, Ultra Gel, and spices, in a large sauce pot.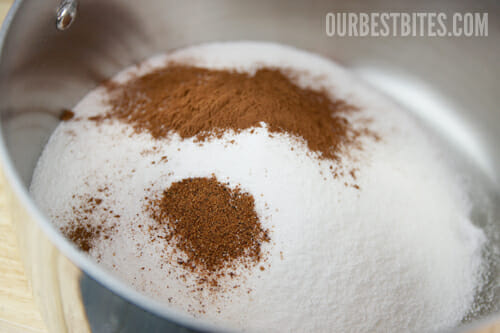 Whisk them together with some apple juice and some water,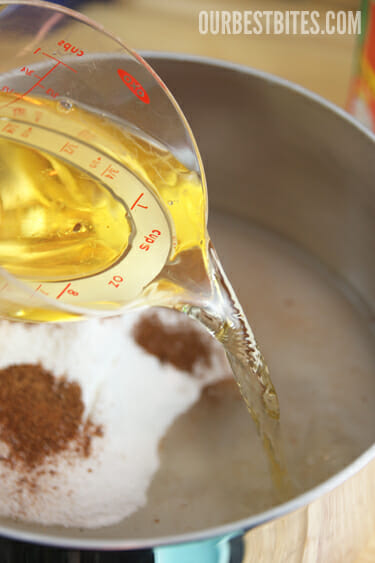 And heat it until it's thick and bubbly.  The Ultra Gel works so fast that by the time the sauce simmers, it should be about done.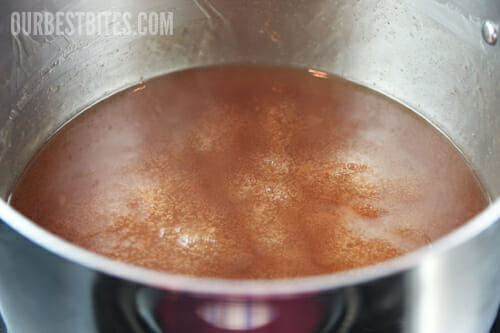 As soon as your sauce is hot and bubbly, add the apples back in
and stir them until they're heated through again.  Man I wish you all had smell-o-screens.  Someone needs to invent that.  This will smell so so good.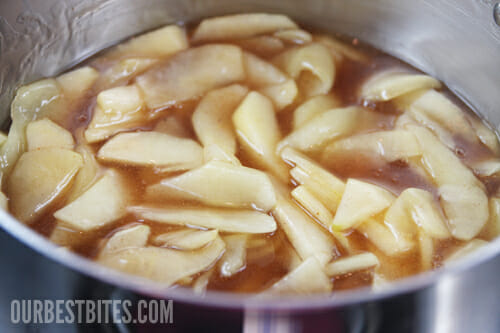 Use a funnel to ladle the hot mixture into your clean jars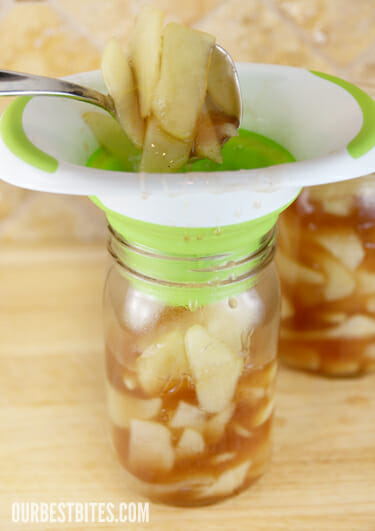 Make sure you get every last drop of the ooey gooey syrup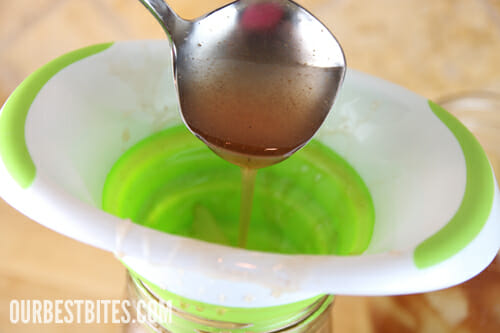 Pie.  In a Jar.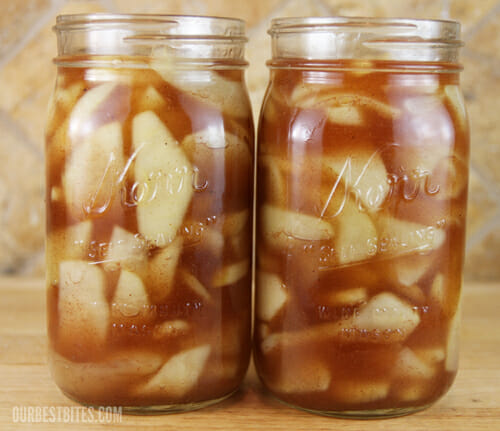 Slowly move your spatula around in the jar to remove air bubbles and make sure you have one inch of headspace (the amount of space from the top of your filling to the top of your jar).  Wipe off the jar rim so it's nice and clean and then place your jar lids on top.  Remember, your lids should have been soaking in simmering water, and your jars should be clean and warm.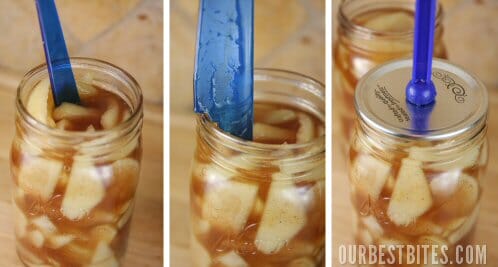 Secure with the bands and process in a water bath for the time allotted.  Let cool completely at room temperature.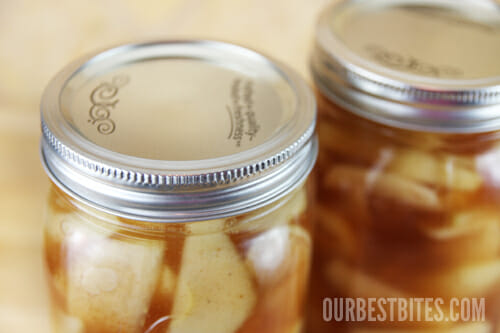 So fun.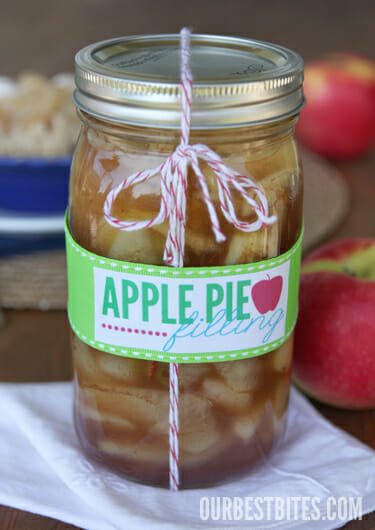 A quart jar should be enough to fill one standard pie.  Just dump in a pie crust and you're good to go!  As I mentioned it's also really yummy over pancakes, waffles and ice cream. You can fill crescent or puff pastry dough and make apple turnovers, or do as I did below and have an apple crisp made in the time it takes to whip up a quick crumb topping (I just used have of the crumb mixture from this Crumb-Topped Apple Pie recipe).  There's really no wrong way to eat a jar of apple pie filling.  Unless you don't eat it at all; that would be wrong.  As noted in the comments- you can even put the pie filling in a pie crust and put the entire un-baked pie into your freezer and have ready-to-go fresh pies stocked up!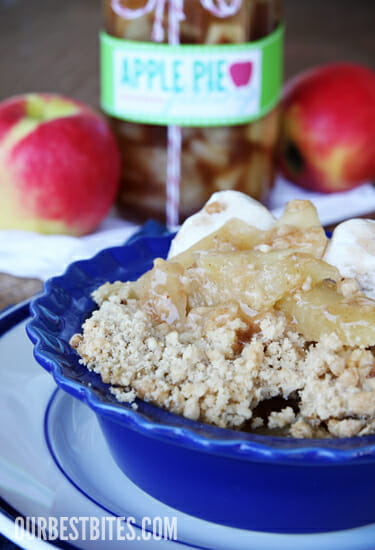 I love it when recipes are scaled way down- you could even try this out and just do one jar if you're new and canning is intimidating.  Or two jars if you find yourself ready to can a huge batch at 10pm only to realize you only have 2 jars left.  Me? Never.
Apple Pie Filling
Recipe from the National Center for Home Food Preservation
Recipe as written below is for 7 quarts of apple pie filling.  Click here, or see image above for measurements that yield just one quart (you can calculate from there depending on how many jars you wish to make, or according to how many apples you have.)
Ingredients
6 quarts Blanched, sliced fresh apples
5 1/2 cups granulated sugar
1 1/2 cups Ultra Gel or Clear Jel
1 tablespoon ground cinnamon
1 teaspoon ground nutmeg
2 1/2 cups cold water
5 cups Apple Juice
3/4 cups bottled lemon juice
Instructions
Use firm, crisp apples.  If apples lack tartness, use an additional 1/4 cup of lemon juice for each 6 quarts of slices.
Yield: 7 quarts
Wash, peel, and core apples.  Prepare slices 1/4-1/2 inches wide and place in cold water containing 1/4 cup lemon juice for every 4 cups water (or water containing ascorbic acid) to prevent browning.
For fresh fruit, place 6 cups at a time in 1 gallon of boiling water.  Boil each batch 1 minute after the water returns to a boil.  Drain, but keep heated fruit in a covered bowl or pot.  Combine sugar, spices, Ultra Gel, and spices in a large kettle with water and apple juice.  Stir and cook on medium high heat until mixture thickens and begins to bubble.  Add lemon juice and boil 1 minute, stirring constantly.  Fold in drained apple slices immediately and fill jars with mixture without delay, leaving 1 inch headspace.  Adjust lids and process immediately in a waterbath according to the recommendations below.
Processing time for pint or quart size jars:  0-1000 ft: 25 min, 1001-3000 ft:30 3001-6000 ft: 30 mins Above 6000 ft: 40 mins
Freezer Instructions: Alternately this recipe can be placed in freezer bags and frozen for several months.  Place approximately 4 cups apple mixture to fill one standard size pie.
Have you all enjoyed canning week?  I know I did; I learned a lot!  I can't thank my friends enough for answering all of my questions as I went along- I'm kind of a canning newbie too!  Stay tuned in about a month or so when I have tomatoes coming out of my ears.  There will probably be more canning projects then!