This Asian Wonton Salad is one of my absolute favorites. It's the salad that you take to work potlucks and church parties and baby showers and people want to be your friend just because you made it. It's full of greens and crunchy vegetables and a spectacular sweet and savory sesame dressing. The best part of the salad however, are the pieces of fried wontons. They're crisp and crunchy and when they get coated in the dressing you'll be picking them out to snack on.
The recipe comes from two long-time friends, Gisela and Helen, who ran a catering company together. Helen is the mother of one of my best friends, Melanie. I spent a lot of time at their house in my teen years and nearly every time I walked through the door I would find her sweet Dad in his chair in the family room and her smiling Mom in the kitchen with an apron on. I was always just as excited to go see what Helen was cooking as I was to find Melanie and get on with whatever teenage shenanigans we had planned. I'm confident you're going to love this salad as much as I do!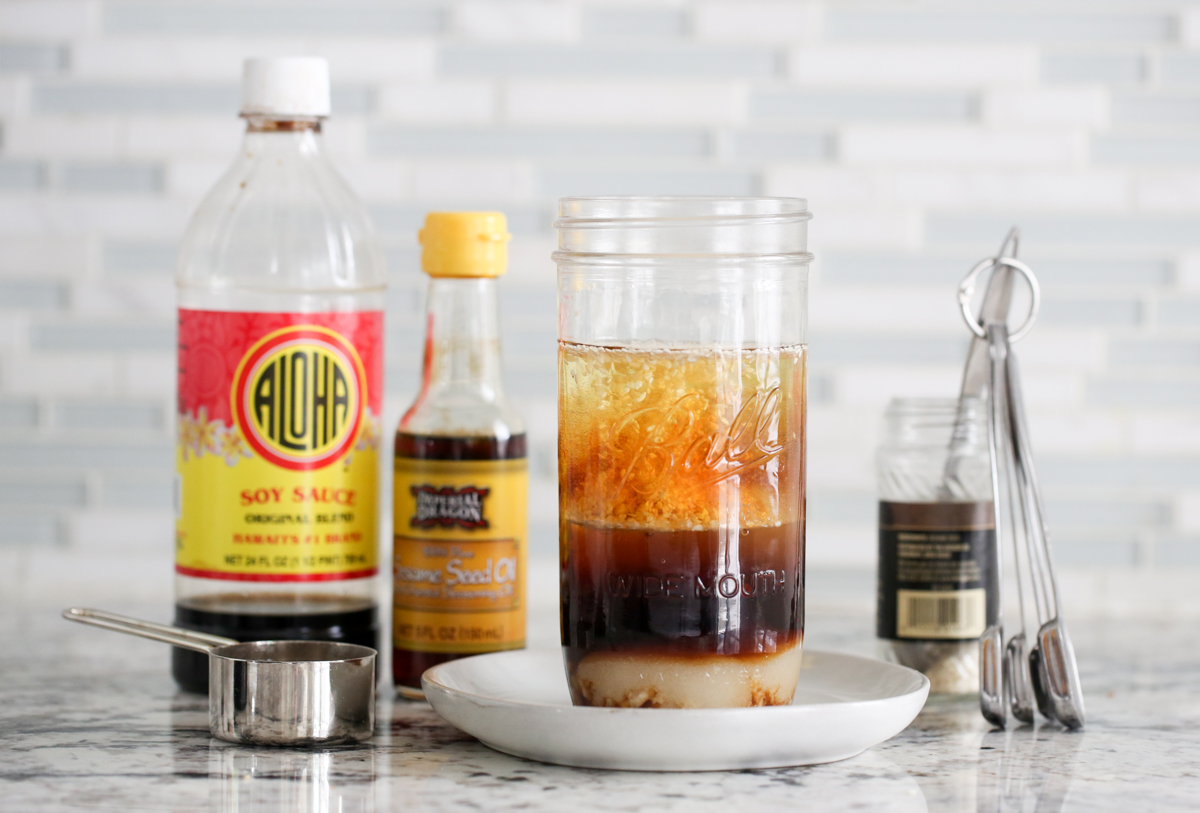 Ingredients and Equipment Notes
Greens: The original recipe calls for romaine lettuce, but I love to mix a variety of greens if I have them. Chopped cabbage (red or green) is especially great.

Wonton Wrappers: You'll find wonton wrappers in the refrigerated section in the produce department of the grocery store. They're square (or rectangle) pieces of thin dough that are used to make wontons. You aren't adding any filling in this recipe, you're simply frying the pieces of dough to create crispy strips. Egg Roll Wrappers would be just fine to purchase as well.

Sesame Seeds: Find sesame seeds with the spices in the grocery store. You can use toasted or un-toasted. If you purchase un-toasted seeds and would like to toast them, just place them in a dry skilled over medium heat and gently stir until golden brown.

Pot for Deep Frying: It takes very little oil to fry the wonton wrappers. An inch or two is sufficient. I suggest a pot with sides that are at least 3-4 inches high to avoid splattering oil.

Oil for deep frying: You can use any frying oil. Vegetable, Canola, or peanut oil are all good choices.
Instructions
Cut wonton wrappers in into 1-inch strips. Fry, and drain on paper towels.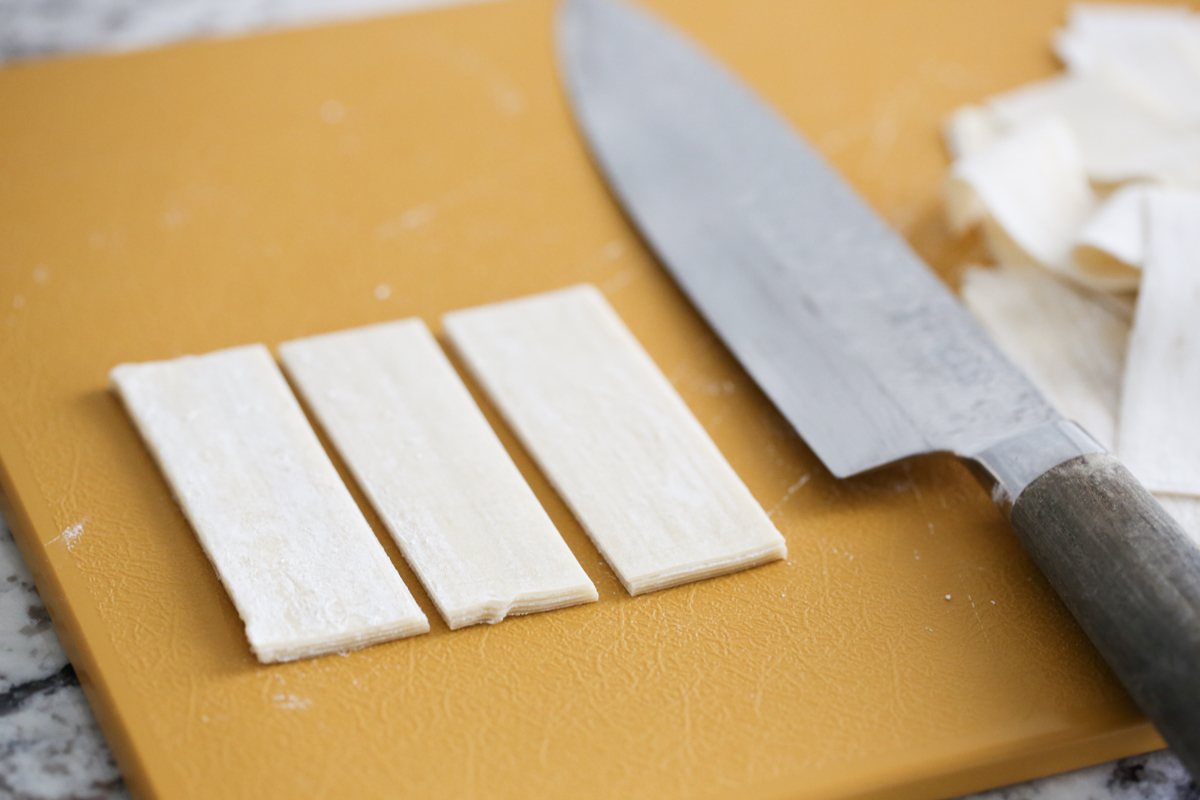 2. To make the dressing, combine all ingredients in a jar and shake vigorously until combined.
3. Mix greens and chopped vegetables and chicken in a large bowl.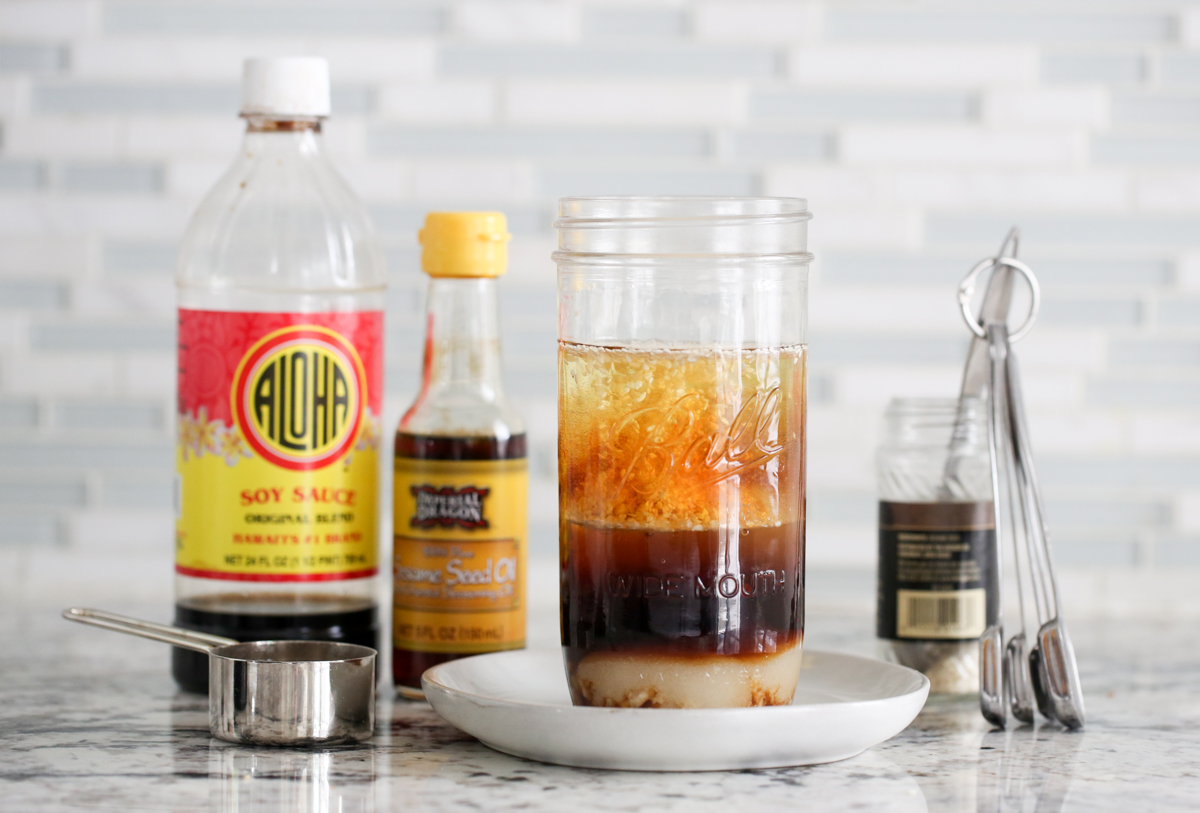 4. Drizzle with dressing and toss well. Add fried wontons and toss again. Add more dressing as desired and season with salt and pepper to taste, if needed.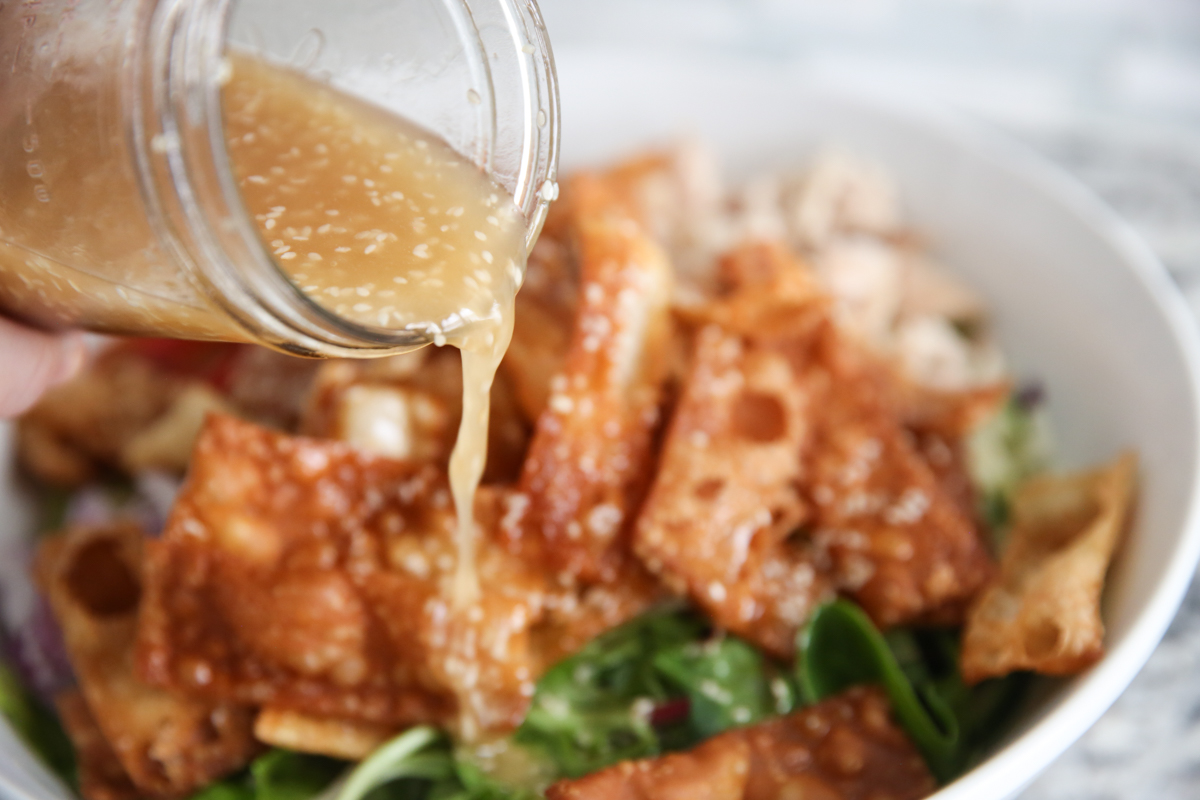 Frequently Asked Questions
Can this salad be prepped ahead of time? If you want to save time and prep ahead do the following steps up to a day ahead:
Make dressing and store in a sealed container in the fridge.
Fry wontons, let cool completely, and store in an airtight container at room temp.
Chop vegetables and shred chicken and store until ready to assemble salad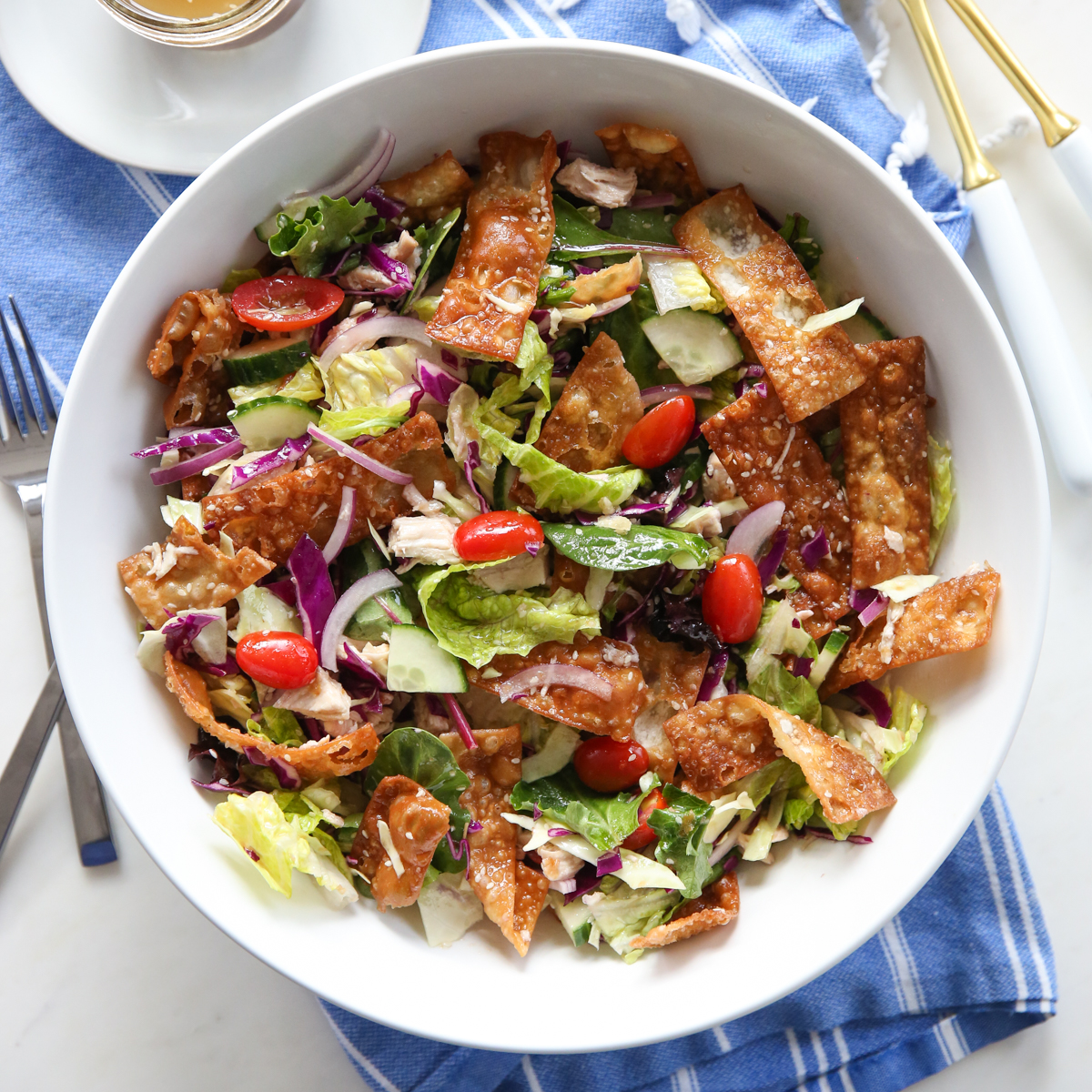 More delicious Asian-Inspired Salads
If this Asian Wonton Salad looks good to you, here's a few more recipes you might like!
Teriyaki Chicken Salad Sandwiches
Chrissy Teigen's Chinese Chicken Salad
Print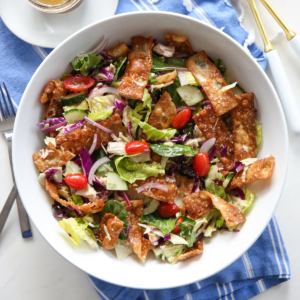 Asian Wonton Salad
Prep Time:

30 minutes

Total Time:

30 minutes
---
Description
Asian-inspired wonton salad packs a ton of flavor with a sweet sesame dressing over lettuce, chicken, and other fresh vegetables.
---
Dressing
2/3 cup rice vinegar
1 cup canola oil
2 tablespoons sesame oil
4 cloves garlic, pressed or very finely minced
2 tablespoons soy sauce
1/2 cup sugar
4 tablespoons sesame seeds
Salad
2 heads romaine lettuce, or a combination of greens (romaine, shredded cabbage, spinach etc)
2–3 chicken breasts, cooked and shredded (or 2 cups shredded rotisserie chicken)
large handful cherry tomatoes sliced in half
1 small red onion, sliced thinly
1 cucumber, sliced
1 package wontons
vegetable oil for frying (canola or peanut work great)
---
Instructions
DRESSING
Place all dressing ingredients into a quart jar (or something equivalent) and shake vigorously. If desired, make ahead of time and store in the fridge.
WONTONS
Heat about 2 inches of oil in a pot on the stove top. Use pizza cutter or sharp knife to cut wontons into thirds (about 1″ strips). You may not need the entire package, depending on how much salad you're making. I usually use about half of the wonton wrappers. You'll want the oil at about 375 degrees. Test by dipping a wonton in and seeing if it bubbles up quickly. Fry wontons a few at a time and set on paper towels to dry. These can be made ahead of time and kept in an air tight container.
SALAD
Tear clean lettuce into chunks and place in a large salad bowl. Top with cherry tomatoes, sliced cucumber, and red onion. Add shredded chicken and top with Sweet Sesame Dressing. Toss salad together. Once everything is well coated, add wonton strips and gently toss to combine.
---
Notes
If Asian salad is sounding good, you might enjoy this one too.
Keywords: Asian, sesame, wonton, salad