These days you can find sweet potato fries on many restaurant menus, but just ten years or so ago that wasn't the case.   I still remember the first time I ever tasted them- it was at
McMenamins
when we lived in Portland. They were were served plain with just a sprinkling of salt, and they were so good. I didn't expect to like them but when I bit into that crispy, salty exterior and found a soft fluffy center, I was sold.  I came home right away and tried a homemade version that was baked in the oven instead of fried.  These baked sweet potato fries with honey-lime dip are a fun side dish and healthy alternative to both traditional oil-fried fries and also regular potato dishes.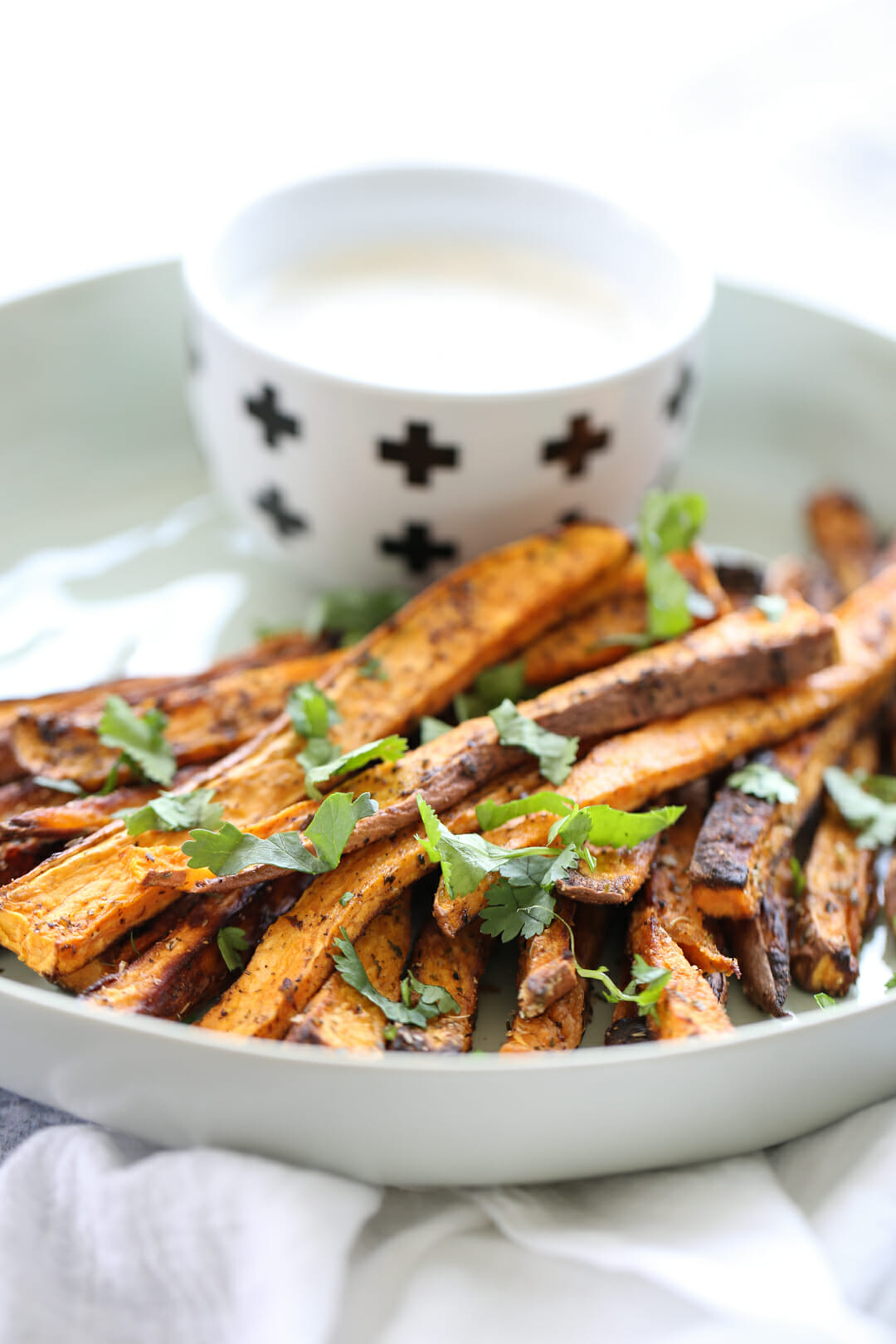 Sweet potatoes are packed with vitamin C, fiber, and tons of antioxidents, just to name a few. They're also are lower in carbs than a regular potatoes. If you battle  blood-sugar issues, sweet potatoes are a better choice than traditional potatoes. The sweetness comes from complex carbohydrates (the good kind) and not simple carbs (the bad kind) Combine that with heart-healthy olive oil and this little number packs quite a punch.
How to Make Baked Sweet Potato Fries
First cut your sweet potatoes into matchsticks.  I actually don't even peel my potatoes anymore!  I also keep mine pretty thin because I like a higher ratio of browned exterior to fluffy center.  Then you'll drizzle them with Olive Oil.  Hands down my favorite
Flavored Olive Oil
for sweet potatoes is our
Rosemary Olive Oil
!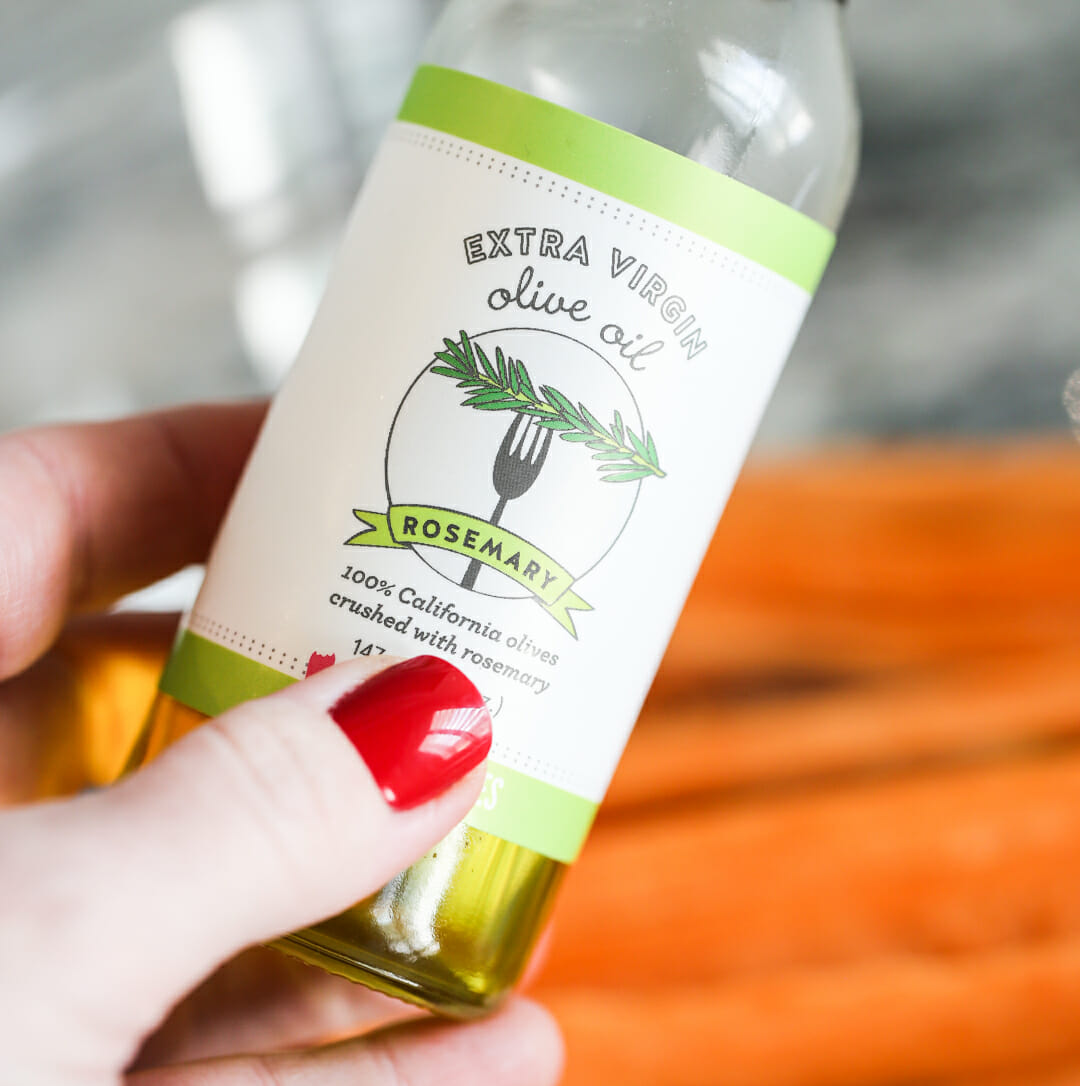 Seasoning Baked Sweet Potato Fries
Then you'll toss them with seasoning.  There are a lot of flavor variations you can use with sweet potatoes, and this one is fairly simple with salt, pepper, garlic, onion, parsley, cumin, oregano and coriander.
How to Bake Sweet Potato Fries
You'll want to spread them out in a single layer on a baking sheet.  It's important fries aren't piled on top of each other.  If you have convection mode on your oven, you can play around with that.  I've found it helps brown the outside of the fries and you'll want to keep an eye on them because they will bake much faster than normal!
Making a Dip for Sweet Potato Fries
The dip is easy to mix up while your fries are baking.  It's plain yogurt, a drizzle of honey and a squeeze of lime juice and some herbs and seasoning.
Serving Sweet Potato Fries
You'll want to serve baked sweet potato fries immediately after baking.  They will cool quickly and just won't be as great.  That being said, if you have leftovers, chop them up and store them in the fridge. They're great for tossing on salads later!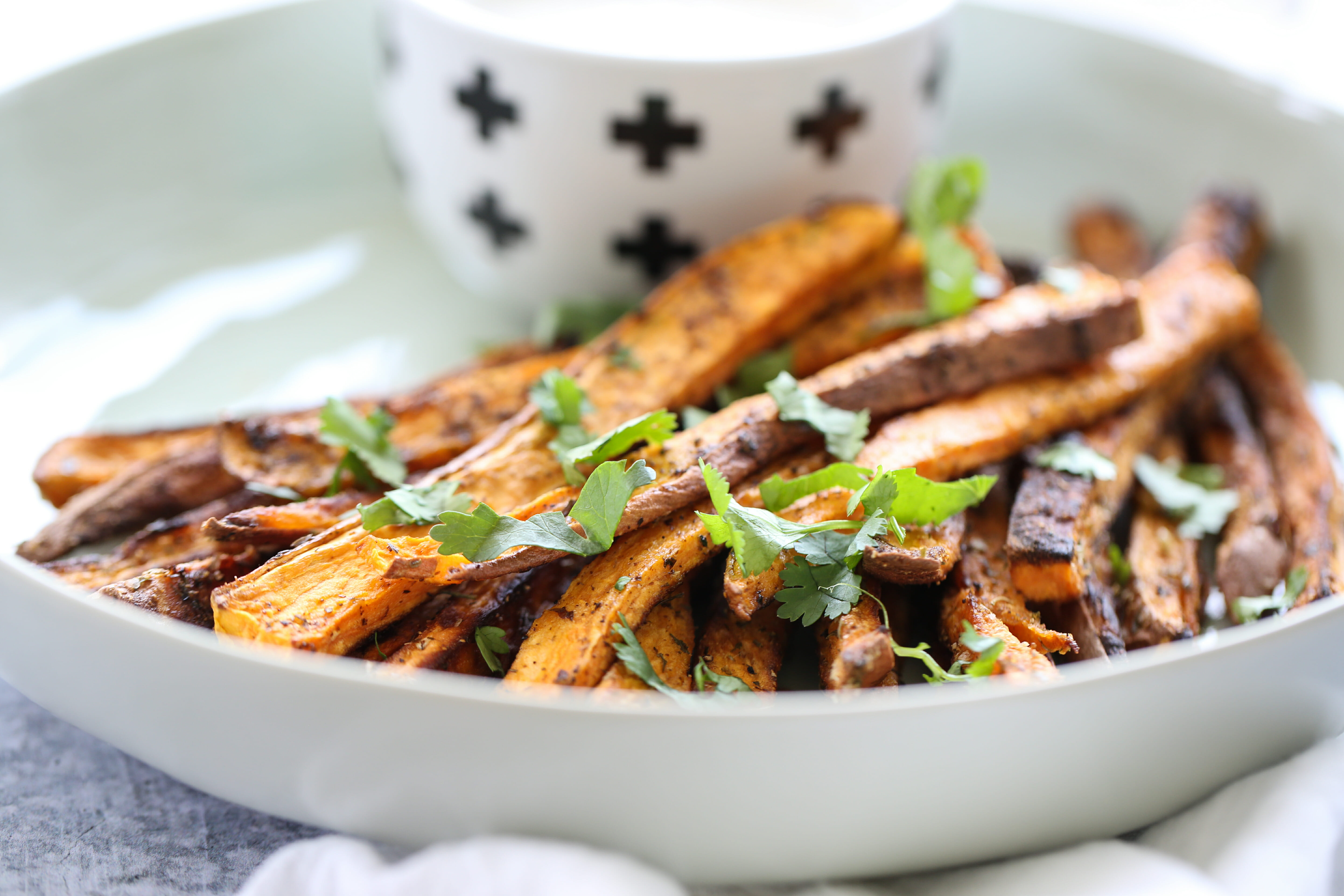 These are definitely different than oil-fried sweet potatoes, there's no getting around that.  But they're still great in their own right and a fun alternative to mix things up at dinner at home.  Hope you try them and love them!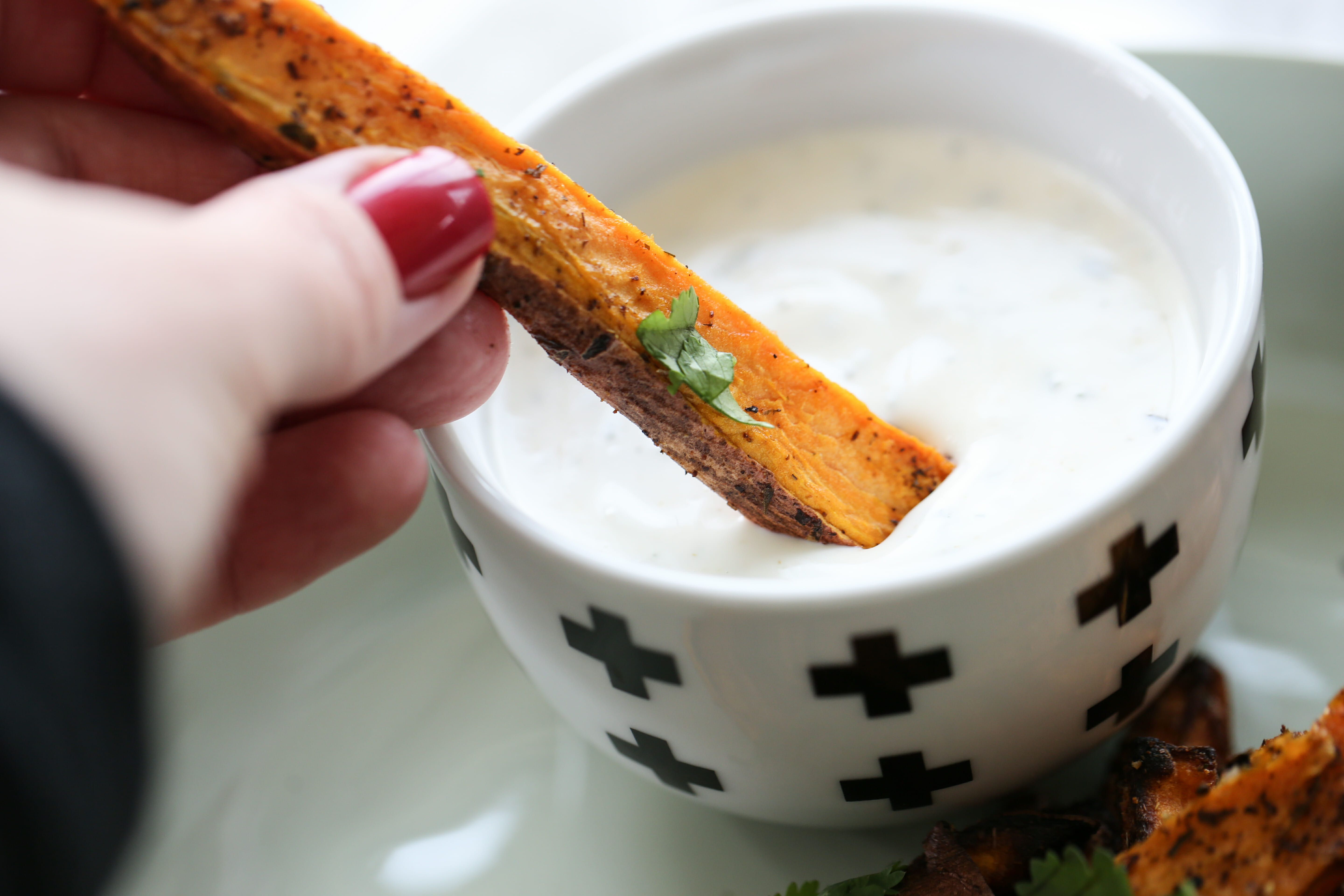 Nutrition Info:
This recipe serves 4 and each serving has 147 calories, 5 g of fat, and 4 grams of fiber.
Love sweet potatoes?  Try these recipes out as well!
Print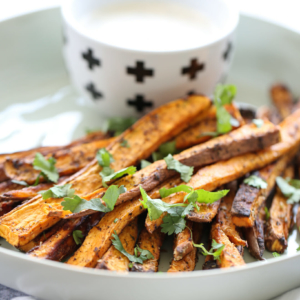 Baked Sweet Potato Fries with Honey-Lime Dip
---
Description
Slim cut roasted sweet potatoes with a healthy sauce for dipping!
---
Sweet Potato Fries
1 lb peeled sweet potatoes cut into 1/4" match-sticks
2 T extra virgin olive oil
1/2 teaspoon cumin
1/2 teaspoon oregano
1/2 teaspoon coriander
1/2 teaspoon kosher salt
1 teaspoon parsley
1/8 teaspoon black pepper
Honey-Lime Dip
6oz container plain, low-fat yogurt
1 tablespoon mayo (low cal is fine)
1/2 tablespoon honey
1 tablespoon fresh lime juice
1/4 teaspoon cumin
1/8 teaspoon oregano
1 teaspoon parsley
1/2 teaspoon onion powder
1/2 teaspoon kosher salt
Mix all ingredients until combined.  Chill until ready to use.
---
Instructions
*
you want 1lb sweet potatoes after they are peeled, sliced, etc. If you weigh them at the store make sure you have a little more than a pound to allow for the peeling, and tossing of small pieces.
Preheat oven to 425 degrees.
Place sweet potatoes in a pile directly on baking sheet and drizzle with olive oil.  Use hands to toss until all pieces are well coated.  Sprinkle seasoning mixture on top and toss again with hands to coat.
Arrange sweet potatoes in a single layer so that pieces are not touching each other.  Place pan in oven and bake for 15 minutes.  Use a metal spatula to gently flip fries and then return pan to oven. Cook for an additional 15-20 minutes or until fries are starting to lightly brown and crisp.  Remove pan from oven and cool 5 minutes.
While potatoes are cooking, mix all dip ingredients and place in fridge to chill.  Serve fries immediately.
---