Okay, so today's cookie miiiight be my favorite!  This Giant Peanut Butter Cookie is amazingly soft in the center and lightly crisp on the outside and dare I say PERFECT. Scroll past the recipe for my creative tip on how to get that signature criss-cross pattern on a cookie that's about 20 times bigger than the fork haha.  We cannot WAIT to see your photos of this giant peanut butter cookie!!  If you make this cookie, share a photo on social media and Tag #OBBgiantCookie on Instagram!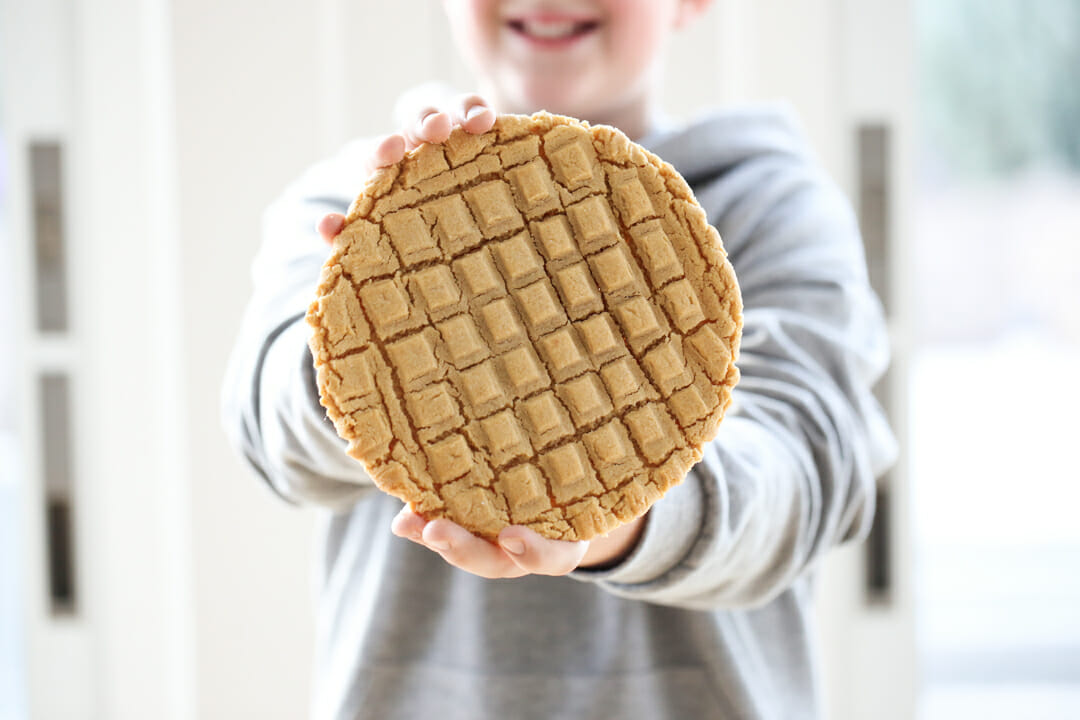 Print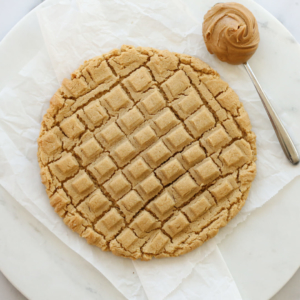 Big Giant Peanut Butter Cookie
---
Description
A single, giant peanut butter cookie!
---
4 tablespoons butter, melted (*see note in instructions)
1/4 cup peanut butter
1/4 cup white sugar
1/4 cup brown sugar lightly packed
1 egg yolk from a large or extra large egg
1/2 teaspoon vanilla
1/2 cup + 2 tablespoons all purpose flour
1/4 teaspoon baking soda
1/4 teaspoon baking powder
---
Instructions
Preheat oven to 375 degrees.  Line a baking sheet with parchment and set aside.
1. Melt your butter in a heat-safe mixing bowl.  Note: It doesn't need to be ALL the way.  See photos for an example- I've found the best stage is when about half the butter is liquid, but the rest is super soft.  Like the texture of pudding.  You want it to easily stir completely smooth when you touch it.
2. Stir in both white and brown sugar, peanut butter, then egg yolk and vanilla.
3.  Measure your flour by lightly spooning flour into your measuring cup and leveling with a knife.  Don't scoop your flour with your measuring cup.   Sprinkle flour, baking soda, and baking powder in the bowl and stir until it forms a cohesive dough.
4. Form one single ball of dough and set it back in the mixing bowl.  Sprinkle a couple tablespoons of additional sugar over it and roll it around until it's coated with a layer of sugar.
5. Place dough ball on your parchment-lined baking sheet and gently press down with your hand until it's about 1 inch thick.  If desired, use a skewer to form the traditional criss-cross lines on cookie (see photos in blog post for a visual).
6.  Bake for 13-15 minutes or until edges are golden and top looks set.  It should still jiggle in the center when you pull it out- the center will continue cooking as it sits and be soft when it cools.  Let cool for 15 minutes or so before using a very large spatula to transfer to a cooling rack.
---
Keywords: single serve peanut butter cookie
How to make a Giant Peanut Butter Cookie
We start with melted butter, but my tip is to NOT melt the butter all the way (if you do, that's fine). This photo here shows the perfect stage. It's about half way melted but the solids are SUPER soft. You can see my finger prints in there because if you touch the butter, it should have the consistency of pudding, or frosting. Something that smashes right down and is perfectly smooth.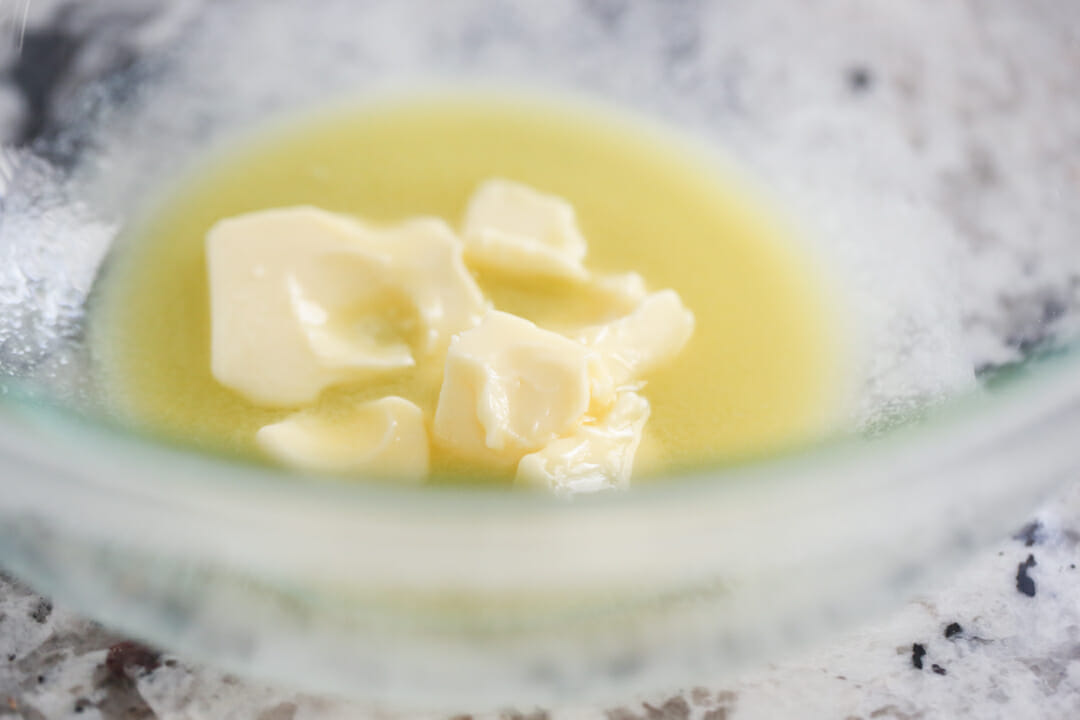 I just add the sugar, peanut butter, vanilla and egg yolk all at the same time. Easy!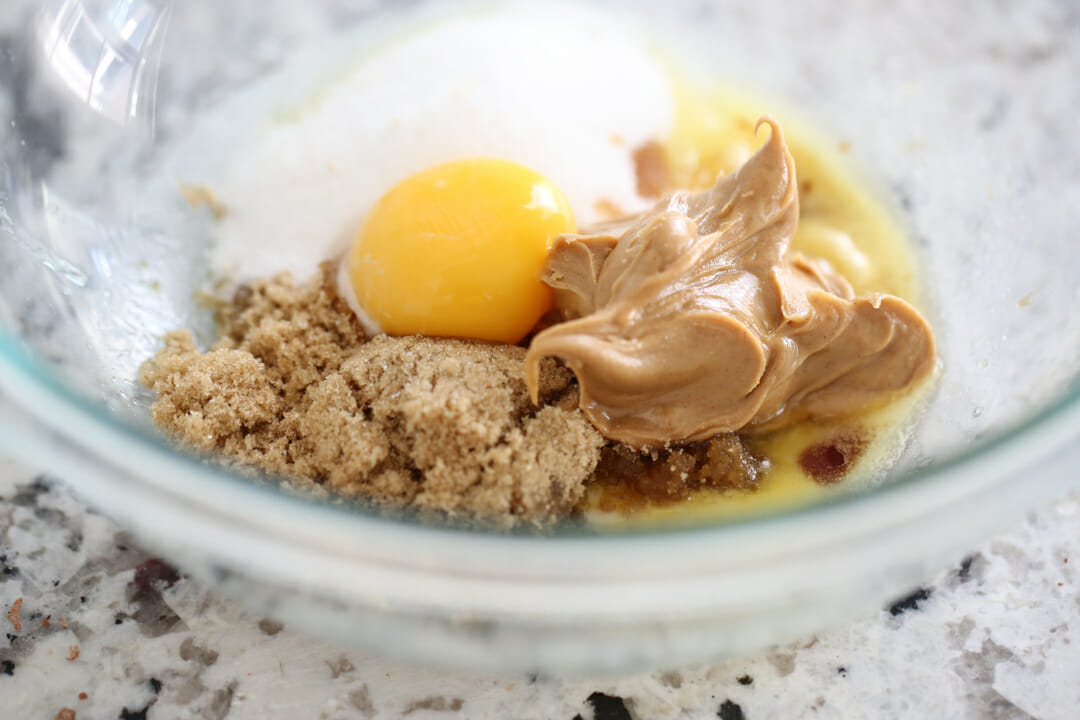 Mix that all up and then toss all the dry ingredients in there at once and you'll have a nice cohesive dough.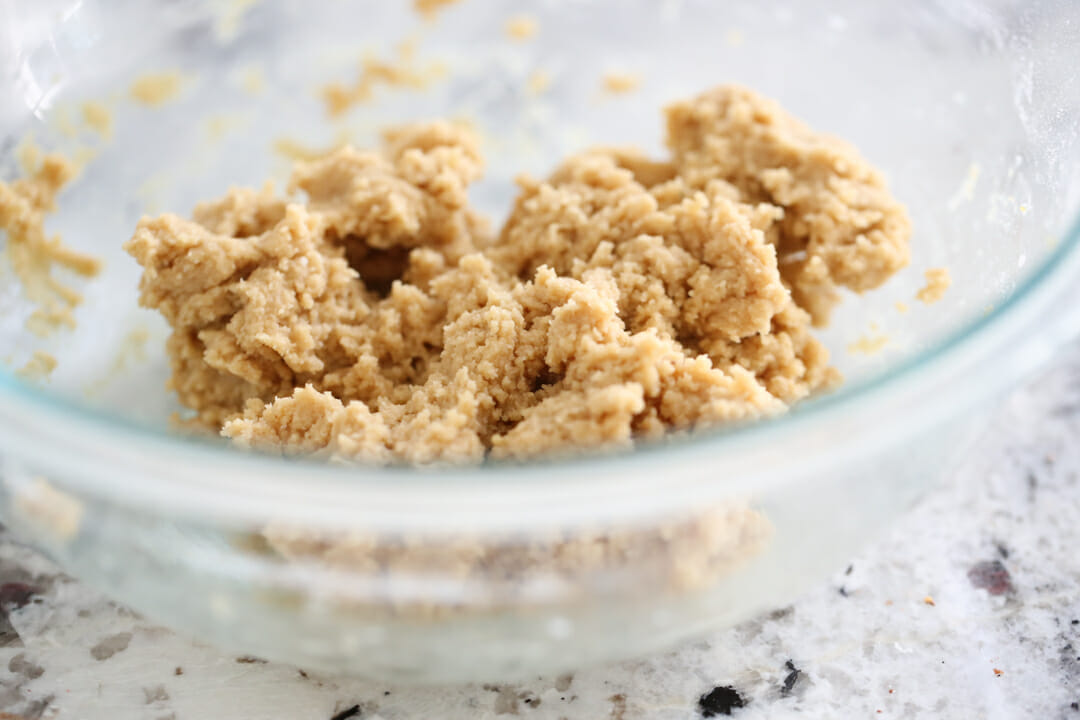 I like to have that traditional peanut butter cookie look, so I form my dough into a bowl and add a spoonful of sugar right back into my mixing bowl and roll it around. Place it on a prepared baking sheet and press down lightly. You want to keep it fairly thick to keep it from spreading too fast and keeping that center, soft.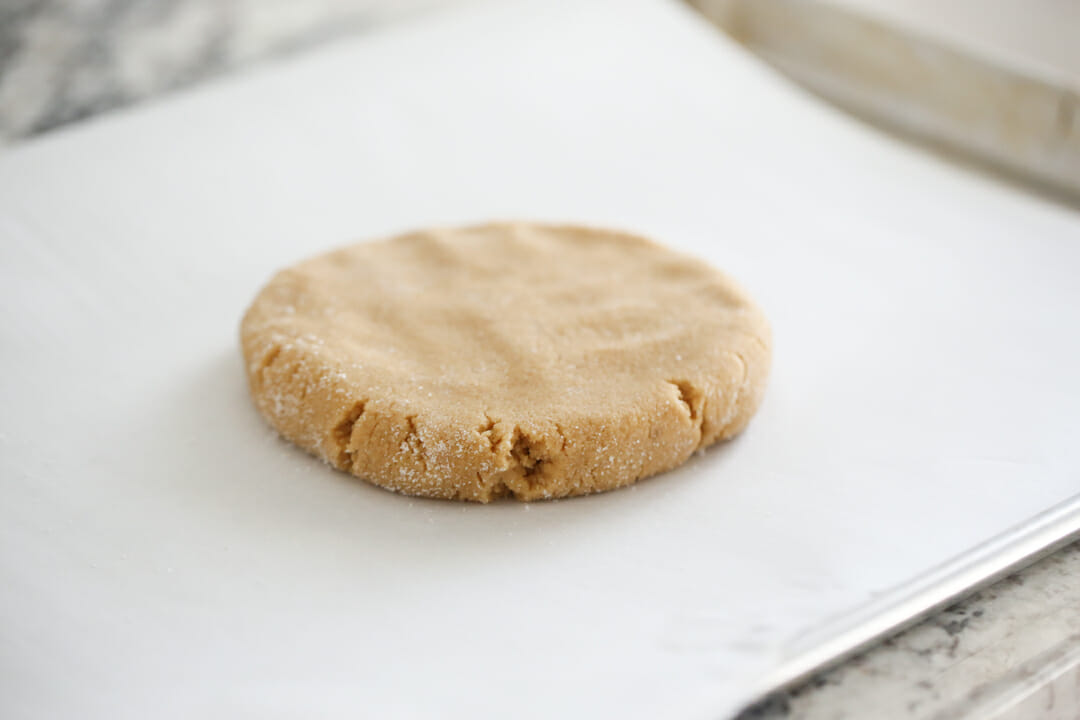 How to create a criss-cross pattern on a giant cookie
Grab a metal or wood bbq skewer and gently press the lines into your cookie! It's a really quick and easy process that has great results.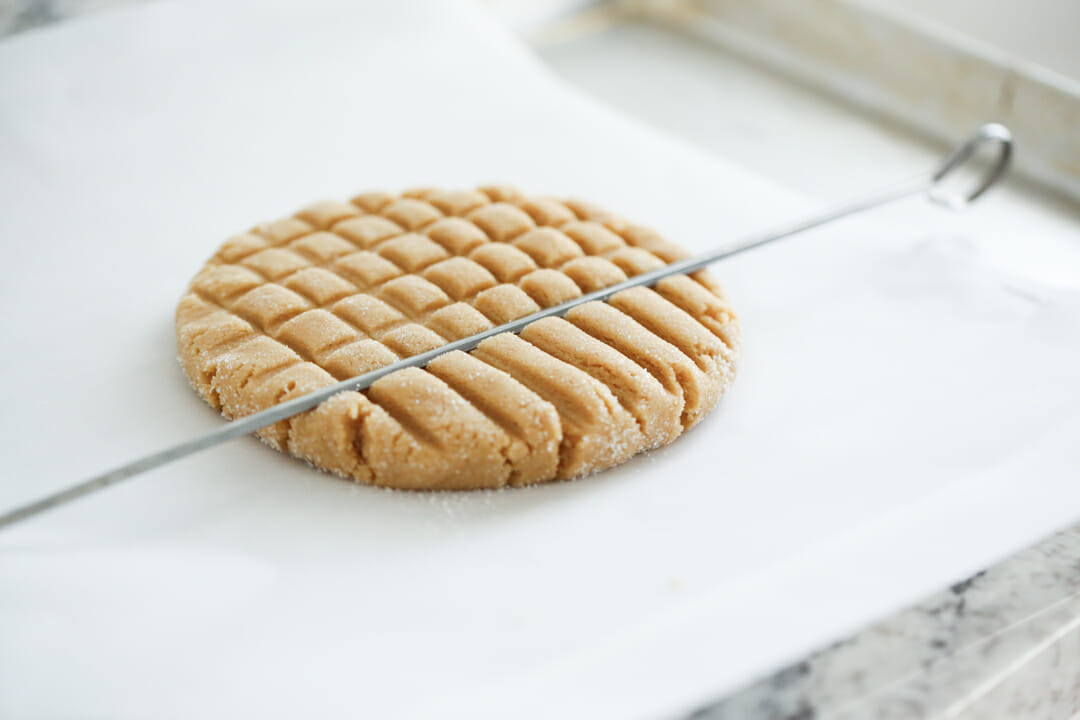 The cookie should be puffed throughout and the edges set, but you should be able to lightly jiggle the center as you're moving your pan. That's how you know it will stay soft inside once it's cooled.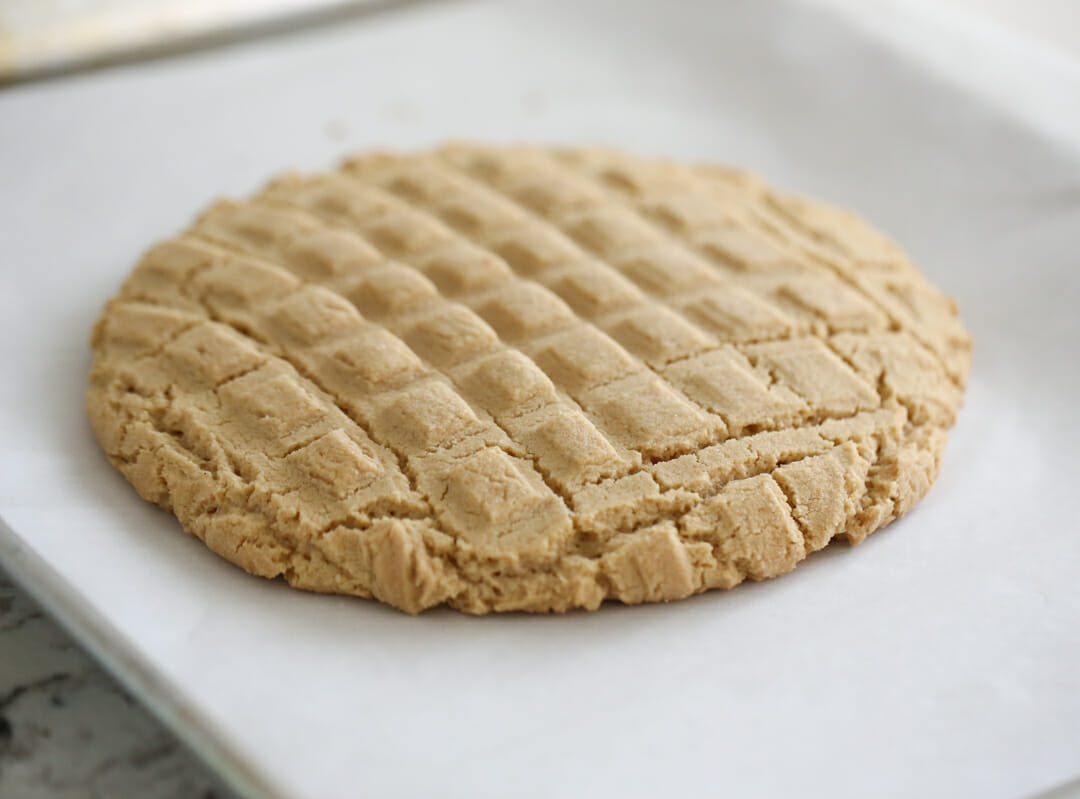 There is something super satisfying about breaking pieces off this cookie in those tiny little squares. Try it and tell me if you love it as much as I do!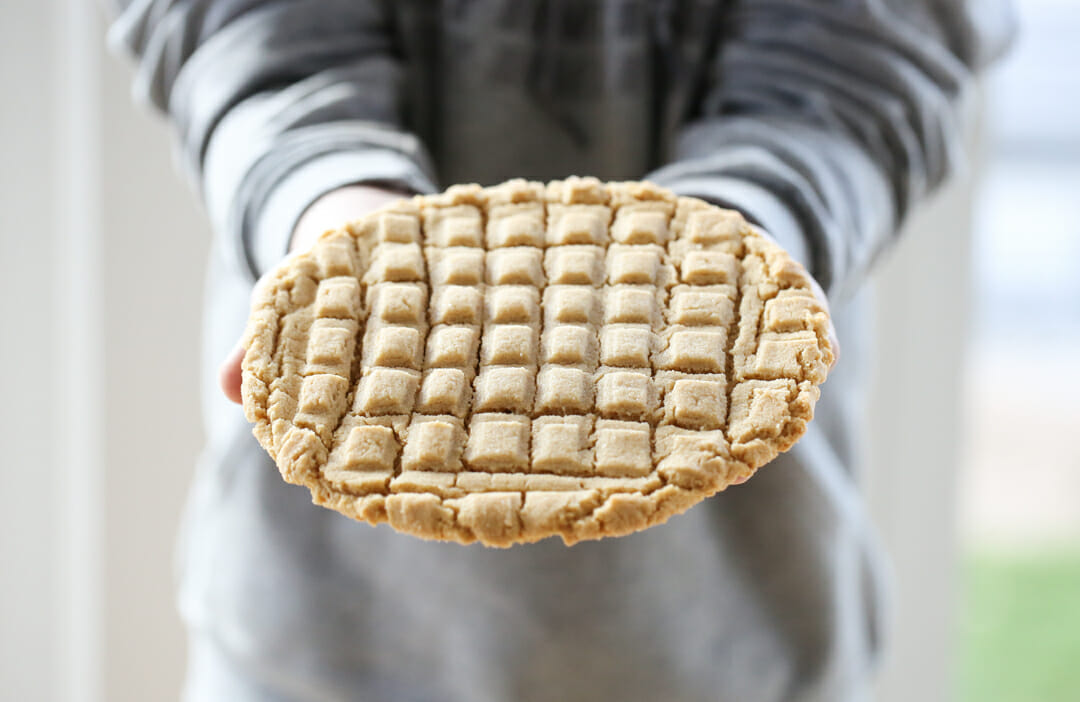 Related Recipes
Check out these Peanut Butter Chocolate Chunk Cookies for a regular sized batch of peanut butter cookies.
If you're looking for more big giant cookies, you can find them all right here:
Big Giant Chocolate Chip Cookie
Big Giant Double Chocolate Fudge Cookie
Big Giant Chocolate Sugar Cookie
Big Giant Chocolate Crinkle Cookie
Big Giant Soft and Chewy Ginger Cookie
Big Giant Snickerdoodle Cookie
Giant Peppermint Candy Cane Chocolate Chip Cookie
Giant Chocolate Peppermint Bark Cookie
Giant Chocolate Cadbury Egg Cookie