This cookie is a riff on our very popular Cadbury Egg Cookies; it's been slightly modified to make one single GIANT cookie! This is an amazingly soft, chewy chocolate cookie that is studded with crunchy bits of everyone's favorite eggs. If it's not Cadbury-Egg-Season, feel free to sub in another add-in. We love this one with chopped PB M&M's as well! Tap here to see our entire giant collection of giant cookies!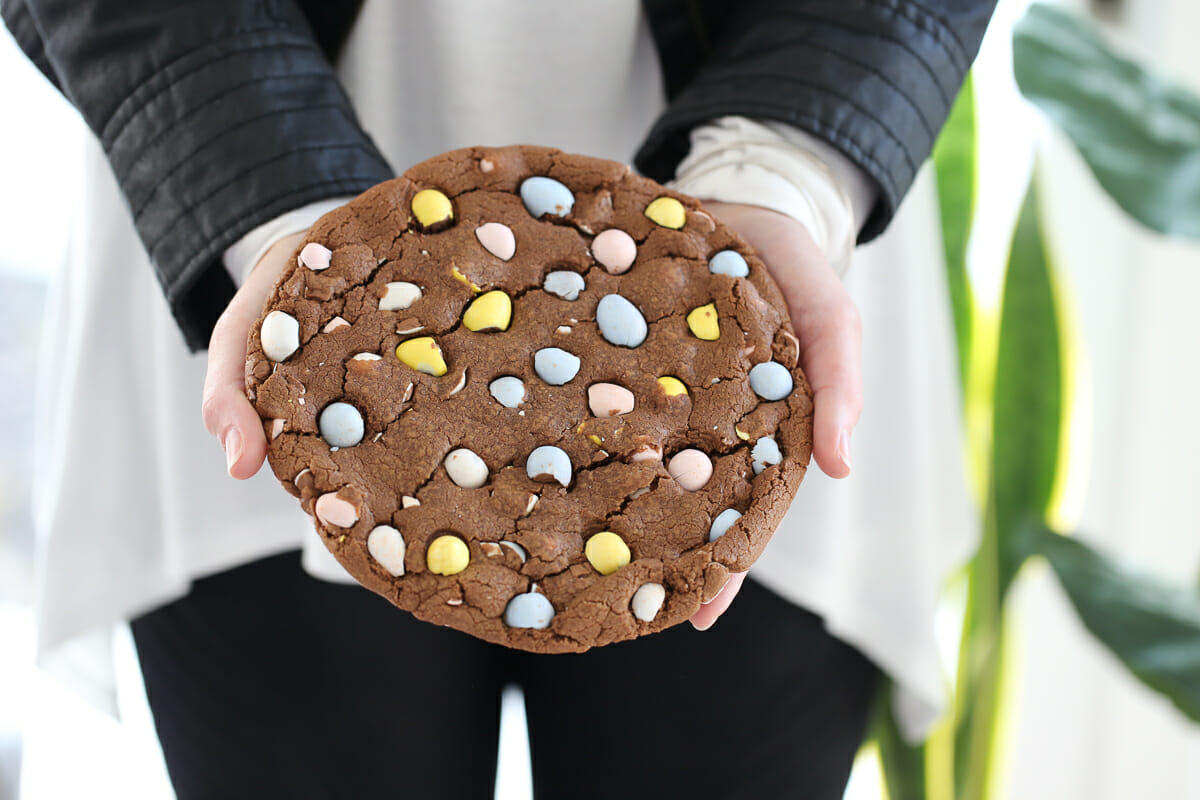 How to Best Measure Ingredients in our Giant Cookies
I'm slowly working to update all of our giant cookie recipes with weighted measurements. We've found when working with such small amounts, even a slight mis-measurment can alter the finished product, so weighing ingredients gives consistant results. If you have a food scale, we recommend you use it for this recipe. If not, no worries- I've provided some tips on how to best measure.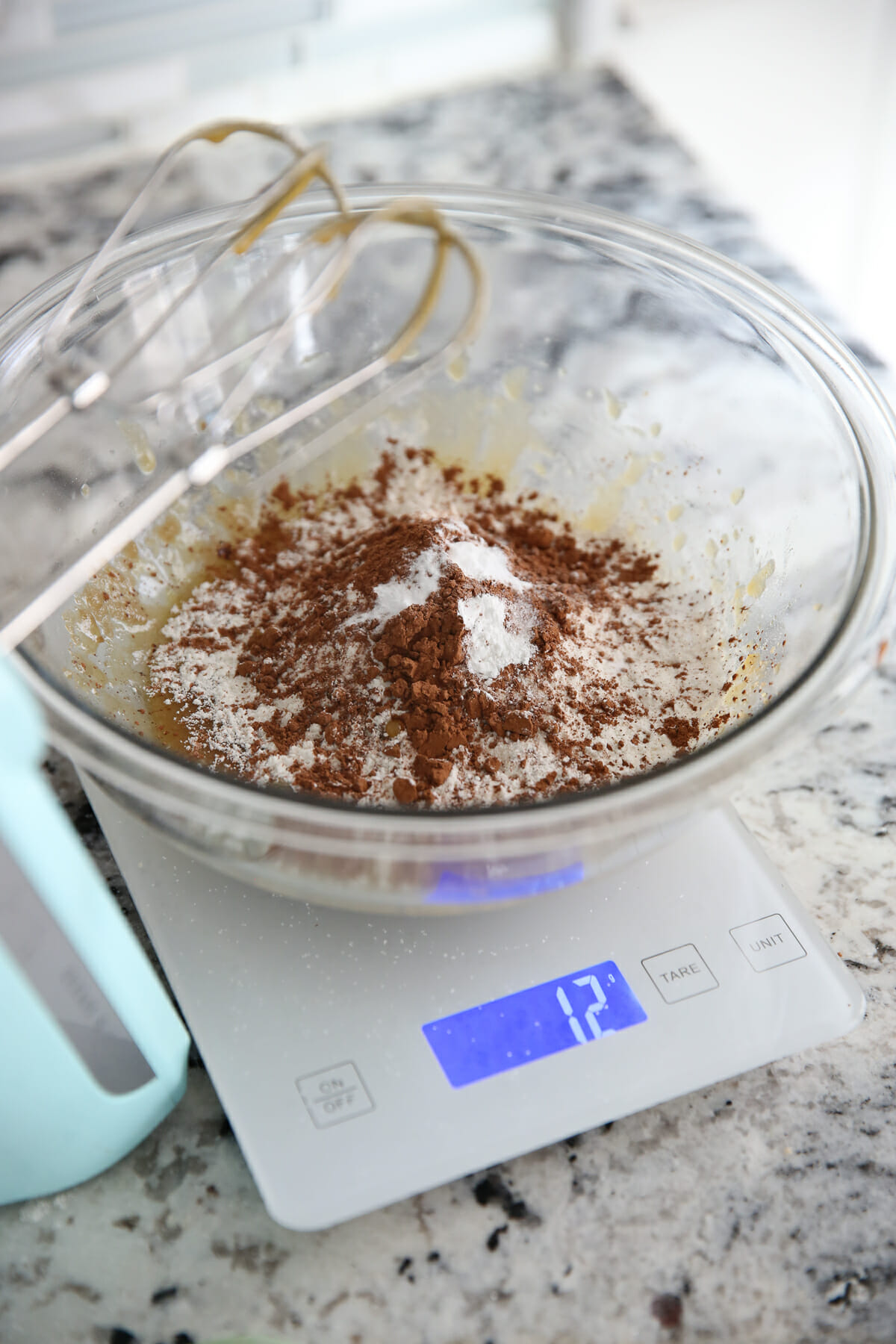 How to chop the candy eggs
For this cookie I'm using chopped Cadbury Eggs. Use a larger chef style knife to do this, where you can gently rock the heel end of the knife over the eggs to slice in half. I just cut them in half (and naturally some will crumble a bit more than that). I found that chopping them too much and too finely results in a lot of gritty candy shell.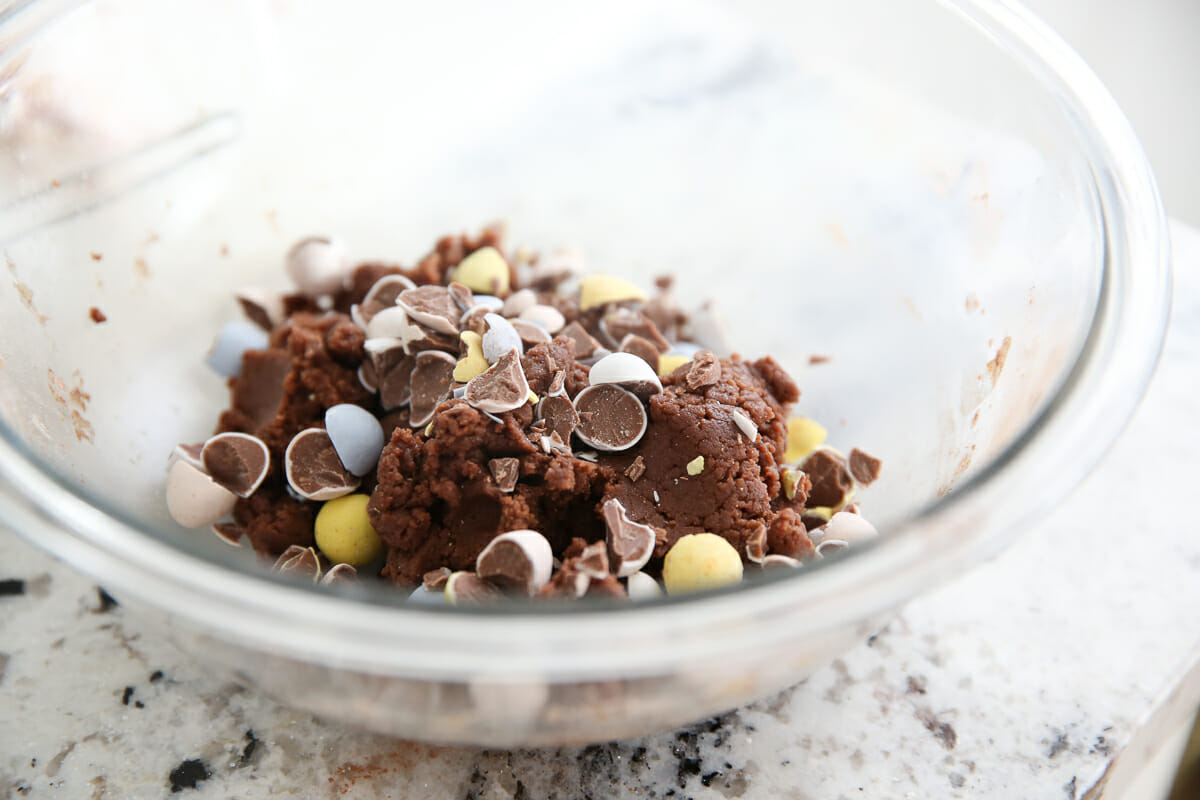 Place some candies directly on top
Reserve some of your candies to place on top of your cookie so it looks great coming out of the oven. I press this cookie into a circle between 6-6.5 inches in diameter. Use this template as a guide if you like!
How to tell when a Chocolate Cookie is done
Sometimes the color of chocolate cookies make it difficult to guage done-ness. I look for cracking around the outside edge, but NOT in the center. When the outside is puffed and cracked along the outside inch of the cookie, that's usually a good indicator. (This photo is of one I made with peanut butter M&M's!)
In my oven this is done at about 11 minutes and 30 seconds, to be exact. But all ovens are different, so bake for 10-12 and keep an eye on it! As the cookie cools, it will develop some of that cracking in the center.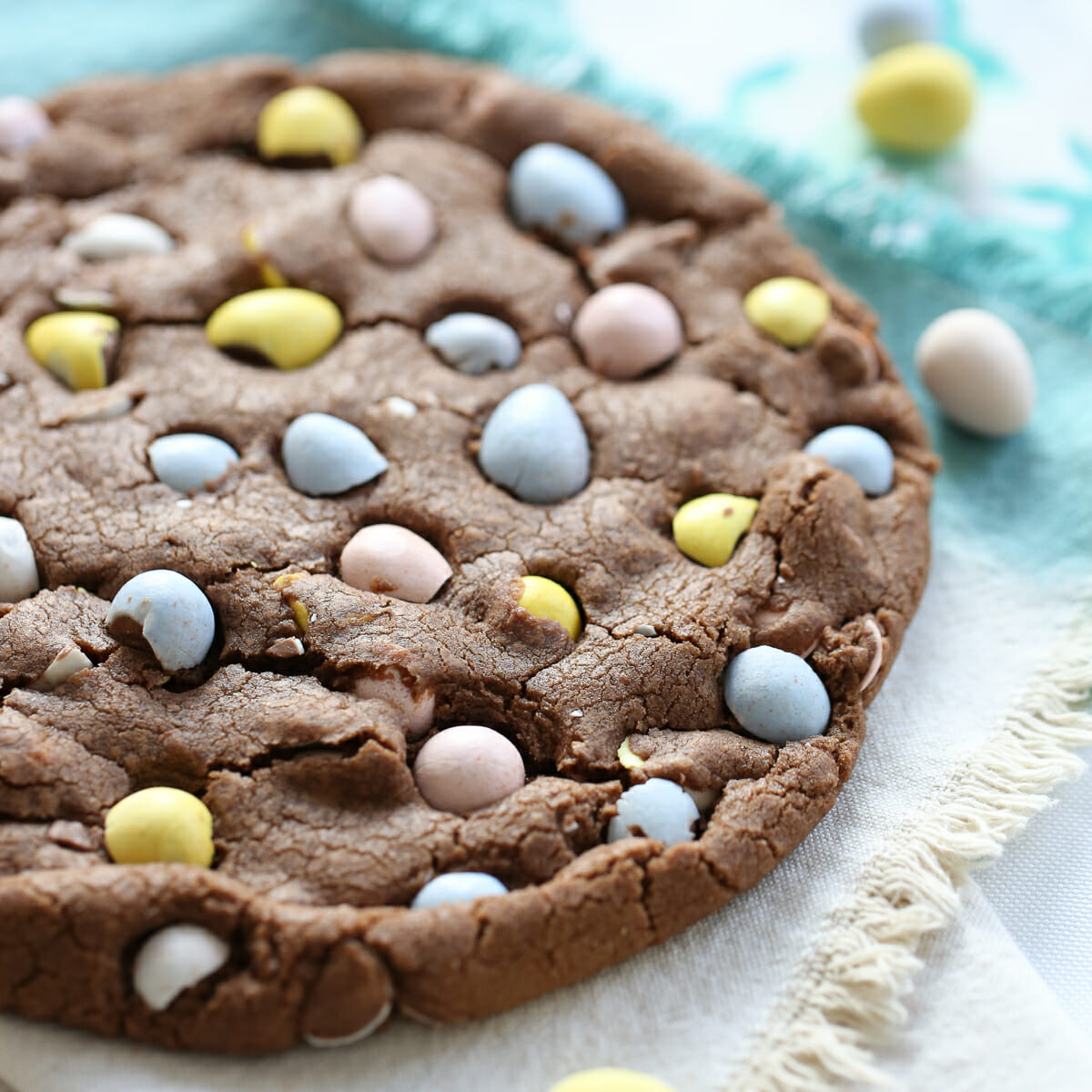 This cookie is soooo soft and the perfect texture. I love the crunchiness of the Cadbury eggs in there- they're both festive and delicious!
I'd love to see your cookies if you make these, so share a picture on social media and use the hashtag #ObbGiantCookie so we can be sure to check them out!
Related Recipes
For a regular sized batch, check out these Chocolate Cadbury Egg Cookies.
If you're looking for more big giant cookies, you can find them all right here:
Big Giant Chocolate Chip Cookie
Big Giant Double Chocolate Fudge Cookie
Big Giant Chocolate Sugar Cookie
Big Giant Chocolate Crinkle Cookie
Big Giant Soft and Chewy Ginger Cookie
Big Giant Peanut Butter Cookie
Big Giant Snickerdoodle Cookie
Giant Peppermint Candy Cane Chocolate Chip Cookie
Giant Chocolate Peppermint Bark Cookie
Print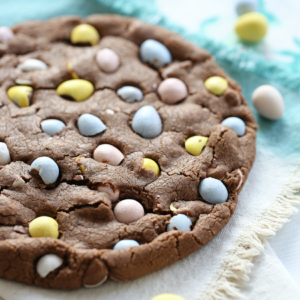 Giant Chocolate Cadbury Egg Cookie
---
Description
A rich, soft, chocolate cookie studded with chopped Cadbury Eggs.  Feel free to sub another add-in in place of the eggs if you like.  We love this one with chopped PB M&M's, too!
---
4 tablespoons (56g) real butter, almost melted (see note in instructions)
1/4 cup (50g)  sugar
1/4 cup (53g) lightly packed brown sugar
1 egg yolk
1/2 teaspoon vanilla
1/4 teaspoon baking powder
1/4 teaspoon baking soda
1/8 teaspoon salt
1/2 cup + 2 tablespoons (85g) all purpose flour
1 1/2 tablespoon (8g) unsweetened cocoa powder
1/3 cup (ish) Cadbury Egg Candies, roughly chopped in half
---
Instructions
Preheat oven to 350 degrees. Line a baking sheet with a piece of parchment paper.
Place butter in heat-safe mixing bowl and microwave in 20 second intervals until almost melted.  It doesn't need to be completely liquid, just incredibly soft.  I usually heat until about half is melted and the other half is super super soft.
Mix sugars into butter thoroughly and then egg yolk and vanilla.  Sprinkle in flour, cocoa powder, baking powder, baking soda, and salt and combine everything together. Set aside a tablespoon or so of your chopped candies and mix the rest into the dough.
Pull dough together into a large ball and press down on your baking sheet into a circle that is 6-6.5 inches in diameter.  Use this guide if you don't have a ruler handy.
Bake for 10-12 minutes, looking for crackling edges around the outer edge of the cookie.  Cool on baking sheet for a few minutes and then transfer to a cooling rack.
---