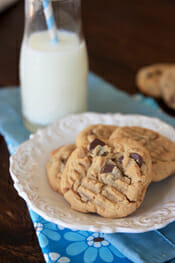 As most of you saw, my family has had visitors the past few days!  Kate and her kiddos drove away today and now it's back to normal life and normal schedules for a few days before my family leaves for some summer traveling.  Cooking has been hit and miss for me over the past few weeks as our schedules have been crazy, and I'm not going to lie- it gets challenging to keep up with our blogging calender!  That's why I was so happy when I was going through some files today on my computer and found this little gem from several months ago.  I had forgotten that I photographed them one rainy Sunday afternoon (in keeping with the fact that I am genetically programmed to bake cookies on Sunday afternoons), and now they're saving the day so I don't have to run into the kitchen tonight and frantically cook and photograph something!  I've been editing photos all day for another project (see a sneak peek on our Facebook page) and Kate and I are still going to show you some pics of our weekend together too, so we've got lots of fun stuff coming up.  But for now- we shall eat cookies.  These are just good, simple, make 'em on the spur of the moment type of cookies.  Easy peasy.
We're talking basic cookie-making here.  Start with butter (real butter!), peanut butter, sugar and brown sugar.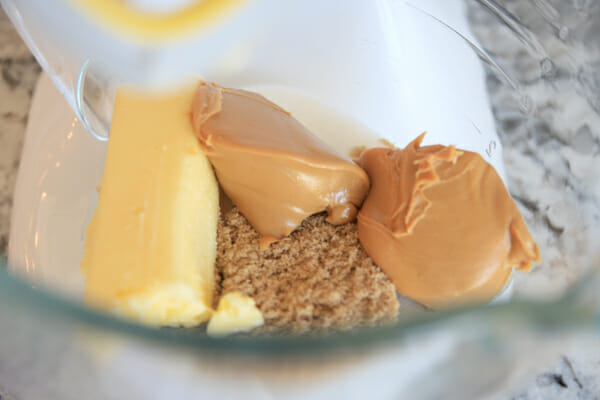 Mix it up until it's smooth and creamy.  Sampling optional but recommended at this point.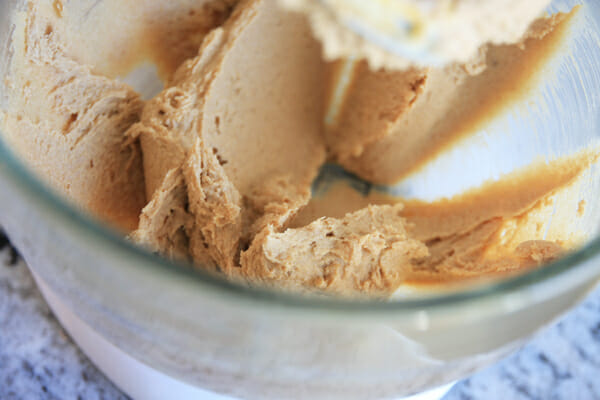 Drop in an egg and a little vanilla and mix that up,
and then in with some dry ingredients: flour, baking soda and baking powder.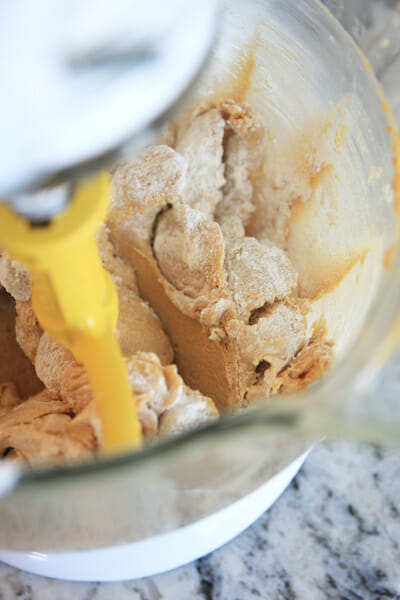 Stir in some chocolate chips.  You can use milk, semi-sweet, dark, big chunks, mini chips, whatever you want.  Sometimes you might want dark chocolate chunks and chopped peanut butter cups.  It happens.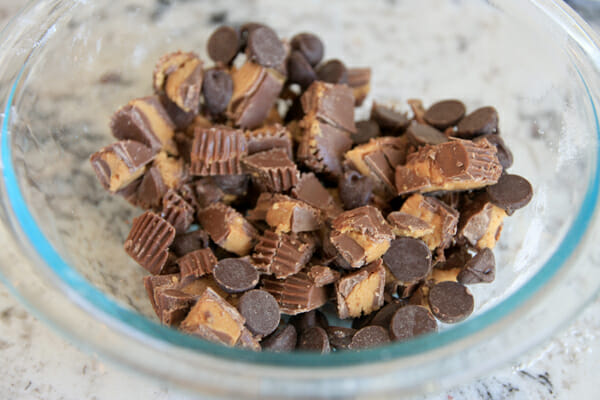 Stir those in and try to not eat all of these cookies in dough form.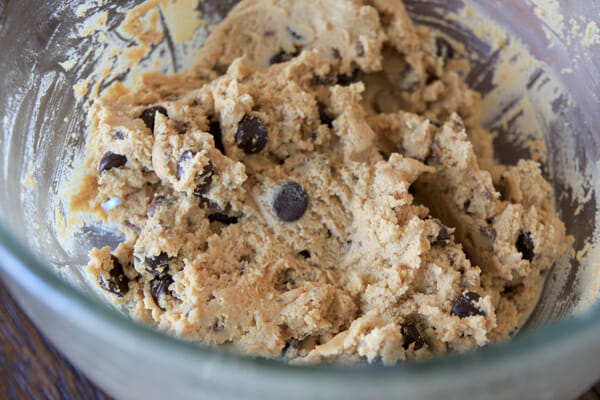 Drop into balls on a lined cookie sheet (you can roll them in sugar first if you want, I don't).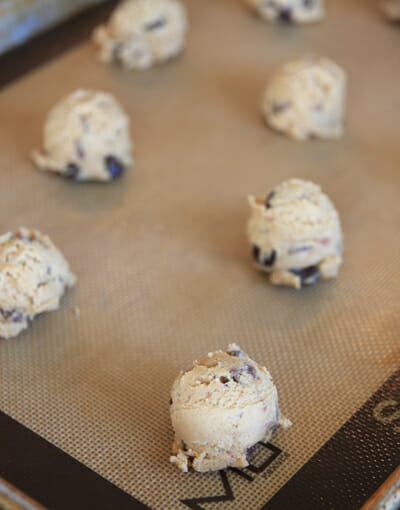 and give them a gentle criss-cross with a fork. You don't need to flatten them way down, just gently press.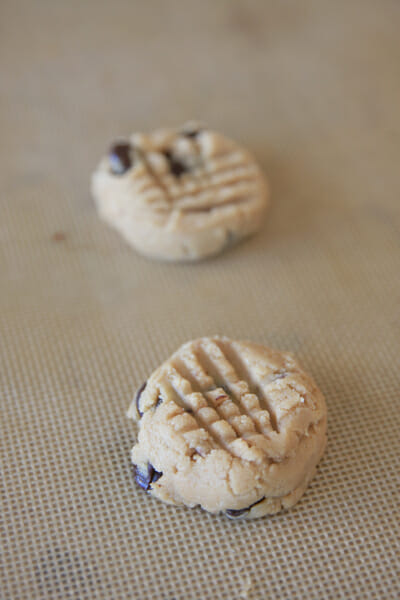 Bake them until they're just set around the edges (if you over bake them, they'll crisp up pretty fast) and let cool for a few minutes on the sheet before you transfer them to a cooling rack.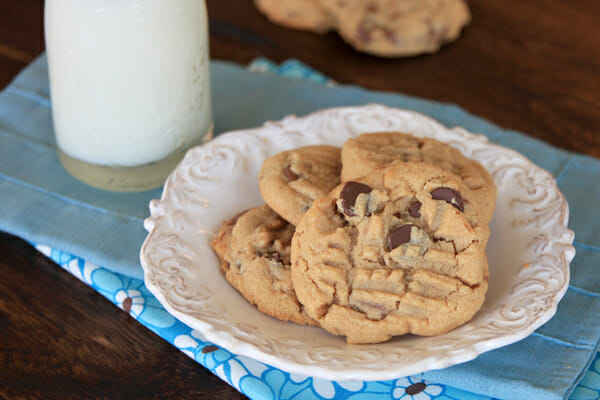 definitely pour a big glass of cold milk, and dig in!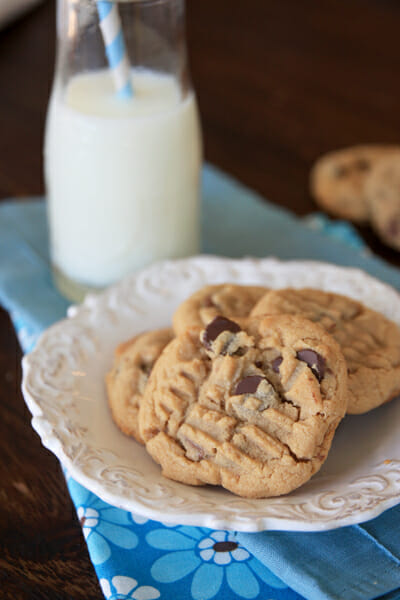 Peanut Butter Chocolate Chunk Cookies
Based on PB cookie recipe from BHG
Ingredients
1/2 cup butter, softened
1/2 cup peanut butter
1/2 cup granulated sugar
1/2 cup packed brown sugar
1 large egg
1 teaspoon vanilla extract
1 1/4 cups all purpose flour
1/2 teaspoon baking soda
1/2 teaspoon baking powder
1 1/2-2 cups chocolate chips (honestly, I don't measure- I just toss 'em in!)
Instructions
Preheat oven to 375 degrees.  In a large mixing bowl, beat butter, peanut butter, and sugars until smooth and creamy.  Add egg and vanilla until combined.  Mix dry ingredients together in a smaller bowl (flour, baking soda and baking powder) and add to dough in a few additions, mixing until well incorporated.  Add chocolate chips and mix to combine.  Drop into 1″ balls on an ungreased (or parchment/silicone lined) baking sheet.  Gently press a crisscross pattern into top of cookie with a fork.  Bake for 6-8 minutes, until edges are set and bottoms are very lightly browned.  Cool for a couple of minutes on baking sheets and then transfer to a cooling rack.  Makes about 3 dozen cookies.