Brazilian Carrot Cake is completely different from our cinnamon-spiced, cream-cheese frosted versions here in the US.  Many of you know I used to live in Brazil (doing missionary service work in my 20's) and the first time someone served me "Bolo de Cenoura" (aka carrot cake) I was super confused.  But why are there no carrot chunks in it?  And why is it orange?  And is that chocolate on top?!  It's tender and fluffy and bonus: the entire cake can be made in a blender!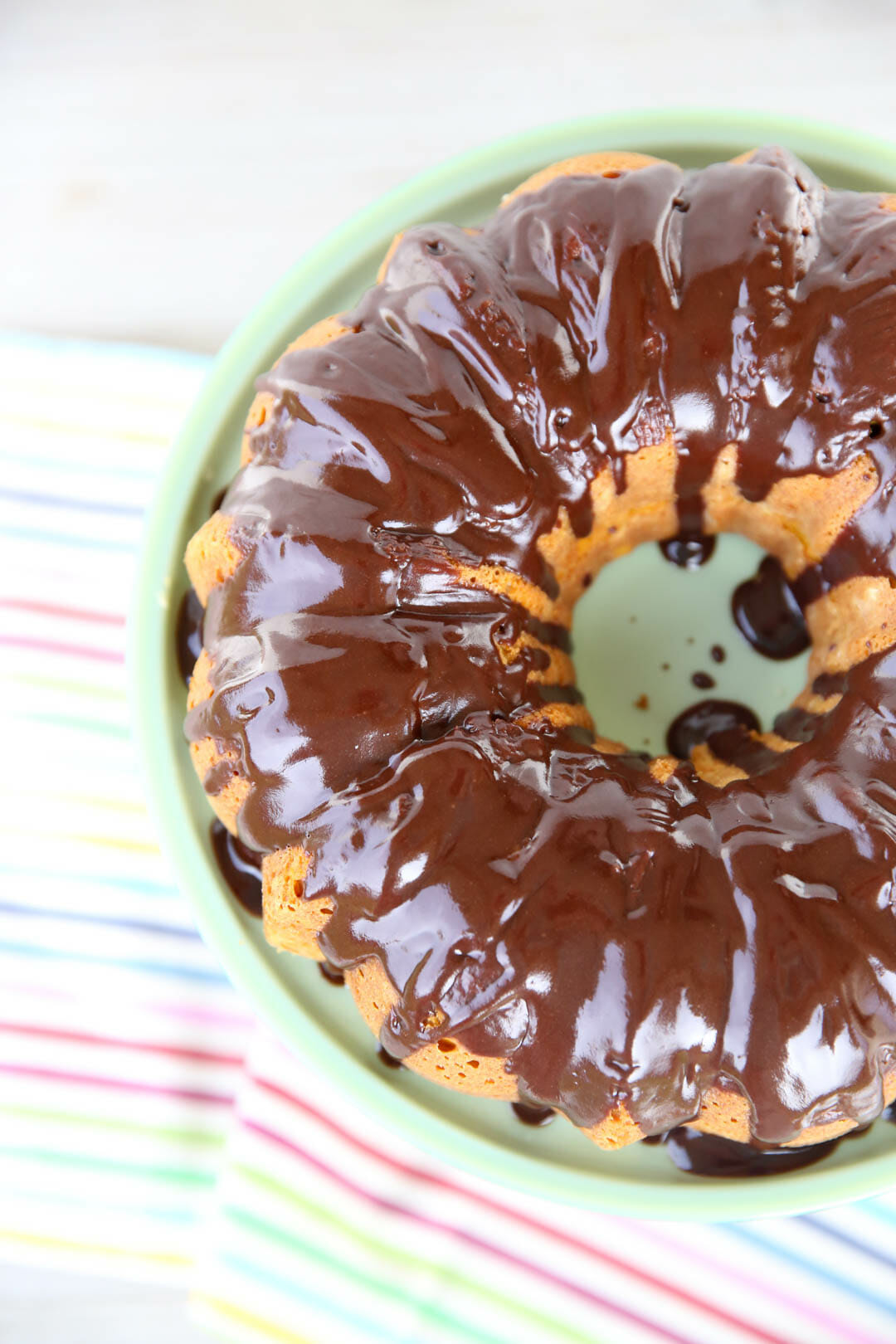 This is a very traditional cake in Brazil; it's not something that's associated with Easter and spring time the way carrot cake here in the US is.  It's a super simple recipe and the carrots are actually pureed into the batter so it's completely smooth.  They add a perfect subtle sweetness and a beautiful orange color.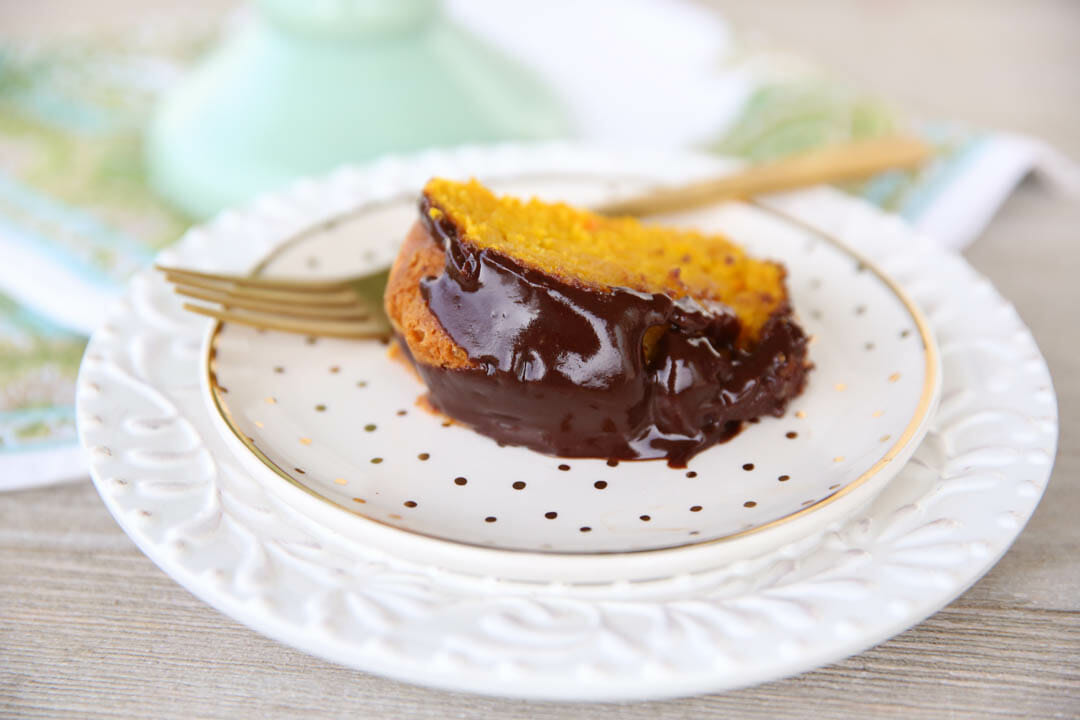 How I learned to make Brazilian Carrot Cake
I found this recipe in a pile of hand-written notes I brought home from Brazil, but it's pretty much the standard recipe that you'll see everywhere if you look for Brazilian Carrot Cake (well except the frosting, that's mine- more on that later.)  This cake will forever remind me of my Brazilian friend Joe Miranda (who everyone called simply, Miranda), who rode around on a bicycle with a little cooler on the back selling delicious goodies made by his darling wife Delores.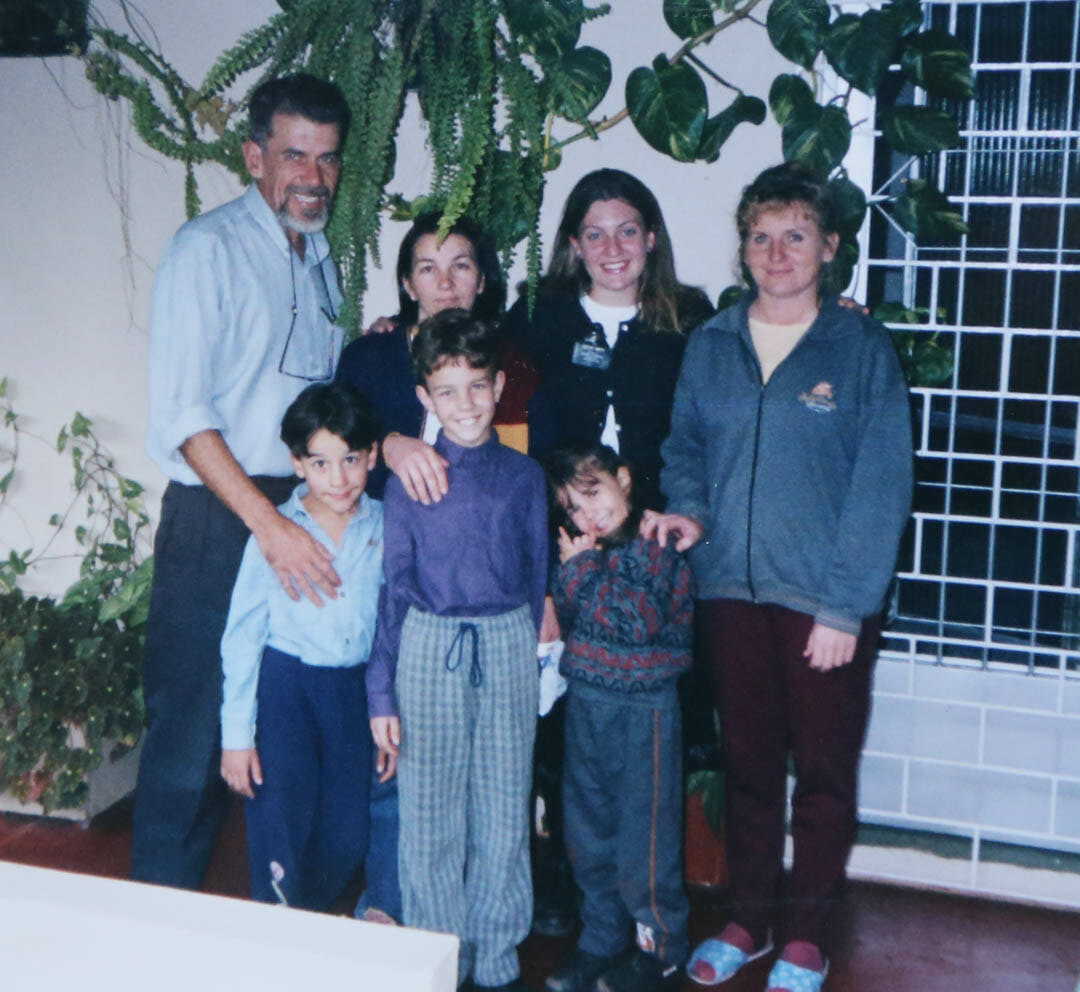 Even though that was how they earned money, Miranda always pulled a slice of that carrot cake out of the cooler and handed it to me with a friendly wink because he knew it was my favorite.  He, along with another man named Vandi were two of the people who impacted me most during my time in Brazil.  (That's Miranda on my right and Vandi on my left.  You can tell I've been completely melted working out in the hot Brazilian sun and another day I'll tell you the very entertaining story explaining why my hair looks like such a hot mess. )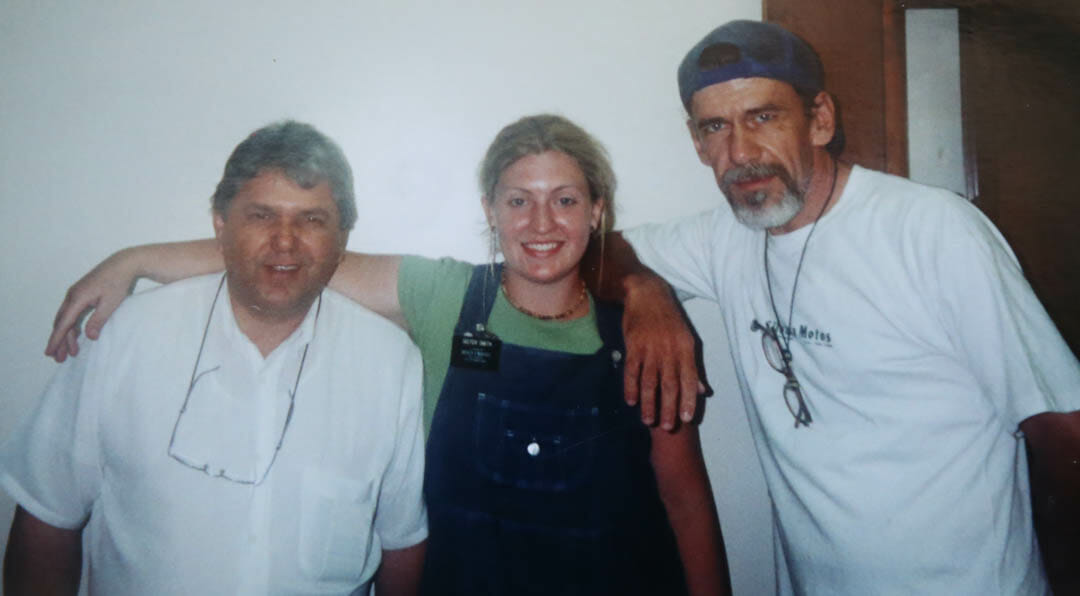 They taught me how to speak Portuguese without sounding like an American and invited me and the other missionaries into their homes and treated us like family.  Vandi was like father to me and would bend over backwards to help us with anything.  And Miranda would often stop by the little office in the church we used to use as an office and make me say things like "alho" and "olho" (garlic and eye, respectively) over and over again until my accent didn't sound like a gringo.   He was funny and sarcastic and made me feel like I wasn't so far away from home.  When I got transferred out of that area, I missed these two guys the most.  Every time I bite into a slice of this Brazilian carrot cake I'm brought right back to that city, sitting in the little chapel, joking and laughing with Miranda.
How to Make Brazilian Carrot Cake
So now that you know the story, you've got to see the cake.  Did I mention you make the entire cake in a BLENDER?  That's right, I just toss everything in the blender.  No KitchenAid, no hand mixer, just blend it up.
Blend Raw Carrots with wet ingredients
Start by tossing sliced carrots in the blender.  No need to even peel those carrots, just make sure to give them a good watch, first.  These get completely pureed with eggs, oil, and sugar.  A couple people in the comments asked if it was necessary to cook the carrots first and the answer is no!  I just leave my blender on for a full minute to make sure the batter gets nice and smooth.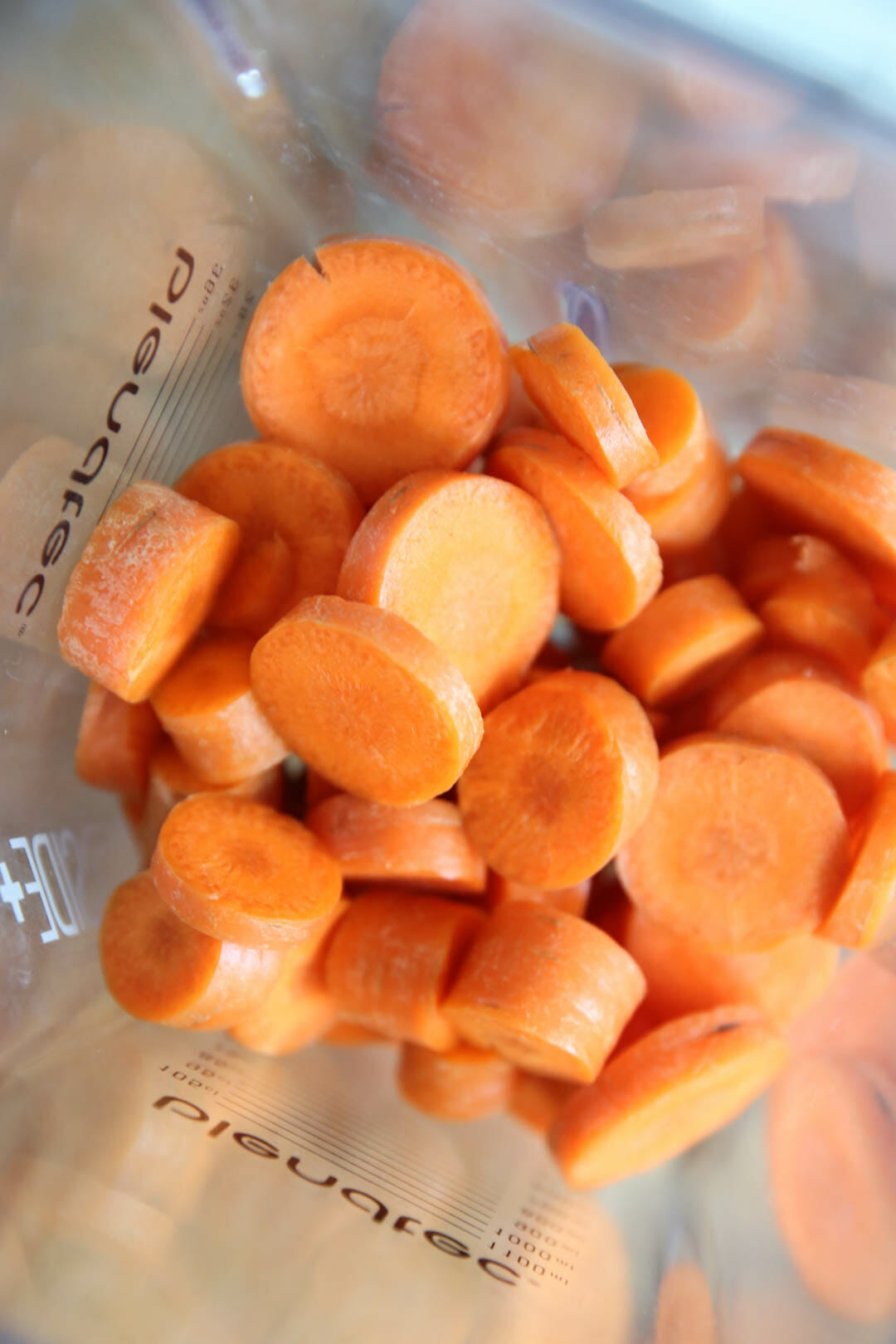 Then the dry ingredients go in.  I like to just take a spatula and roughly hand mix the flour first and then give it a few pulses so it gets fully incorporated.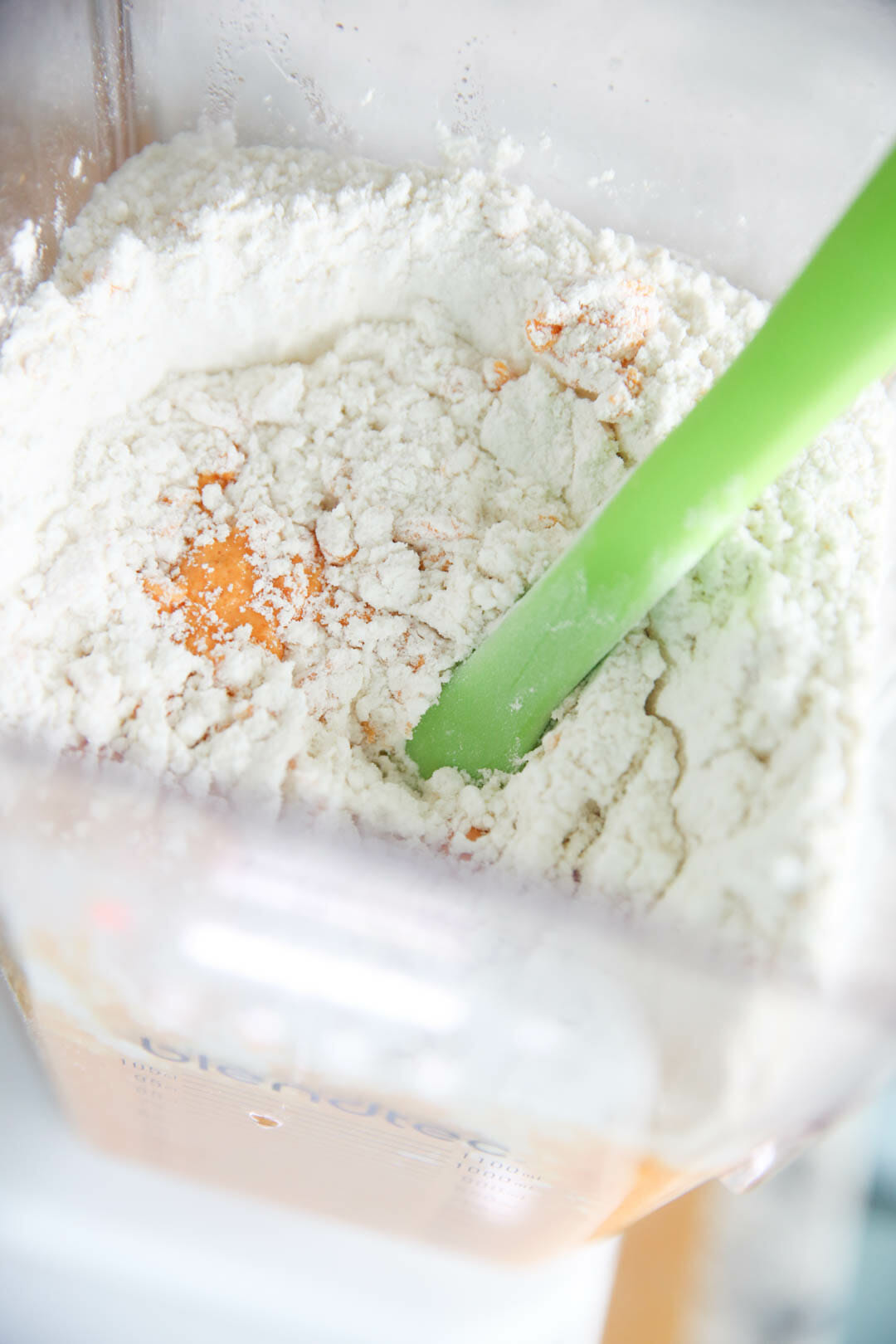 You get this beautiful orange carrot color!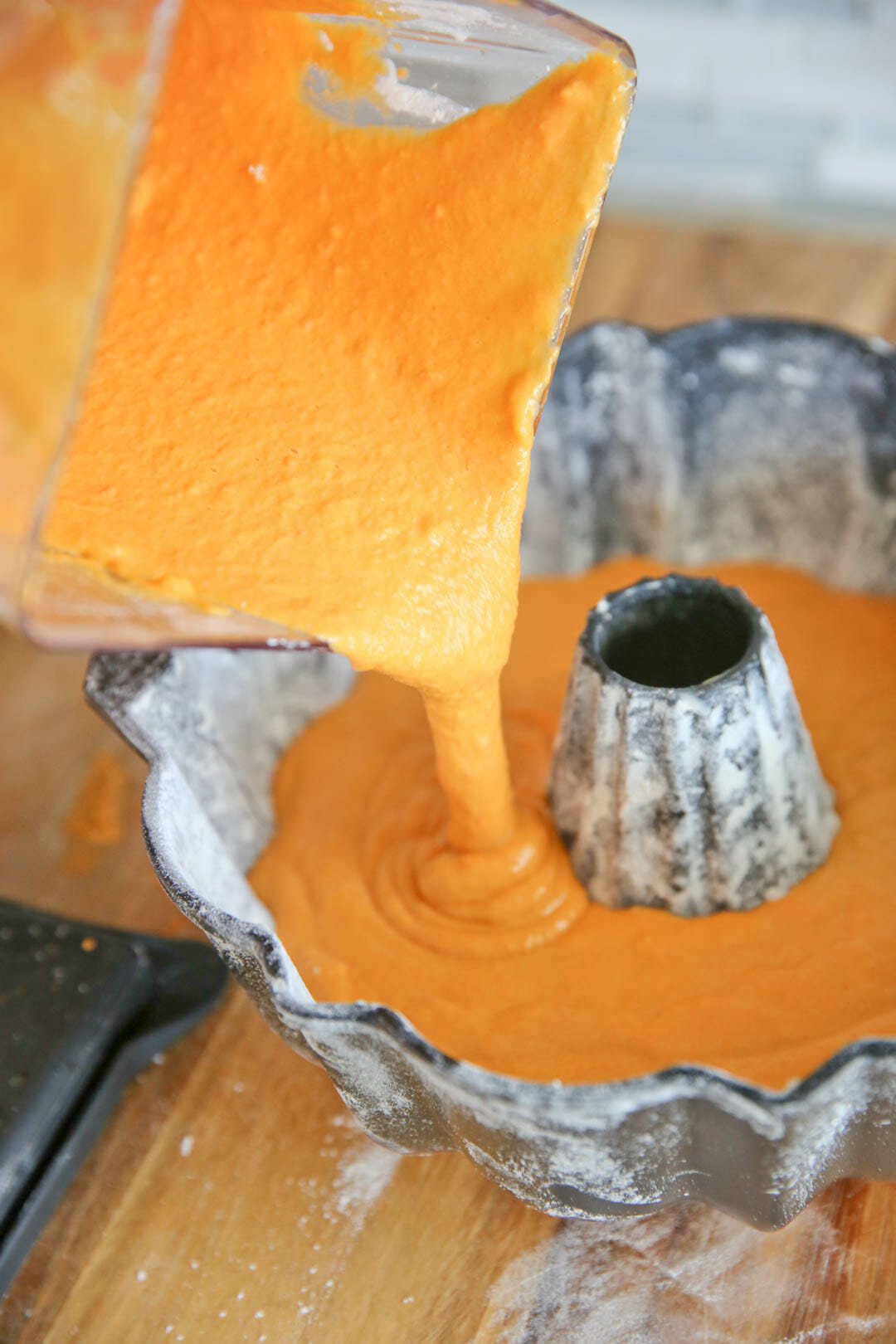 That's it!  Pour it in either a 9×13 baking dish, or a bundnt pan.  I'm making a budnt because I thought it would be extra pretty for Easter, but a 9×13 works great, too.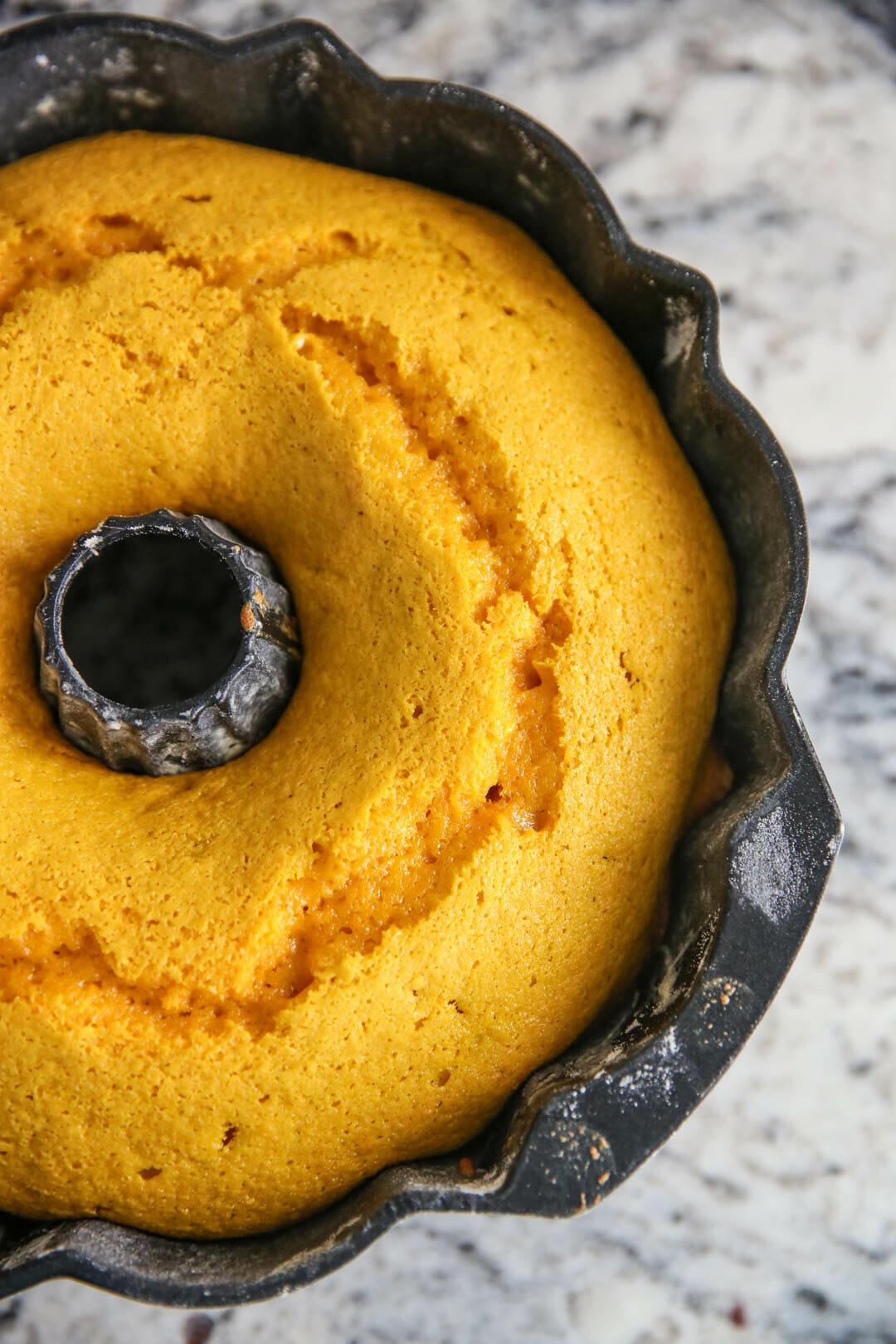 It keeps that golden-orange color and bakes up soft and sweet.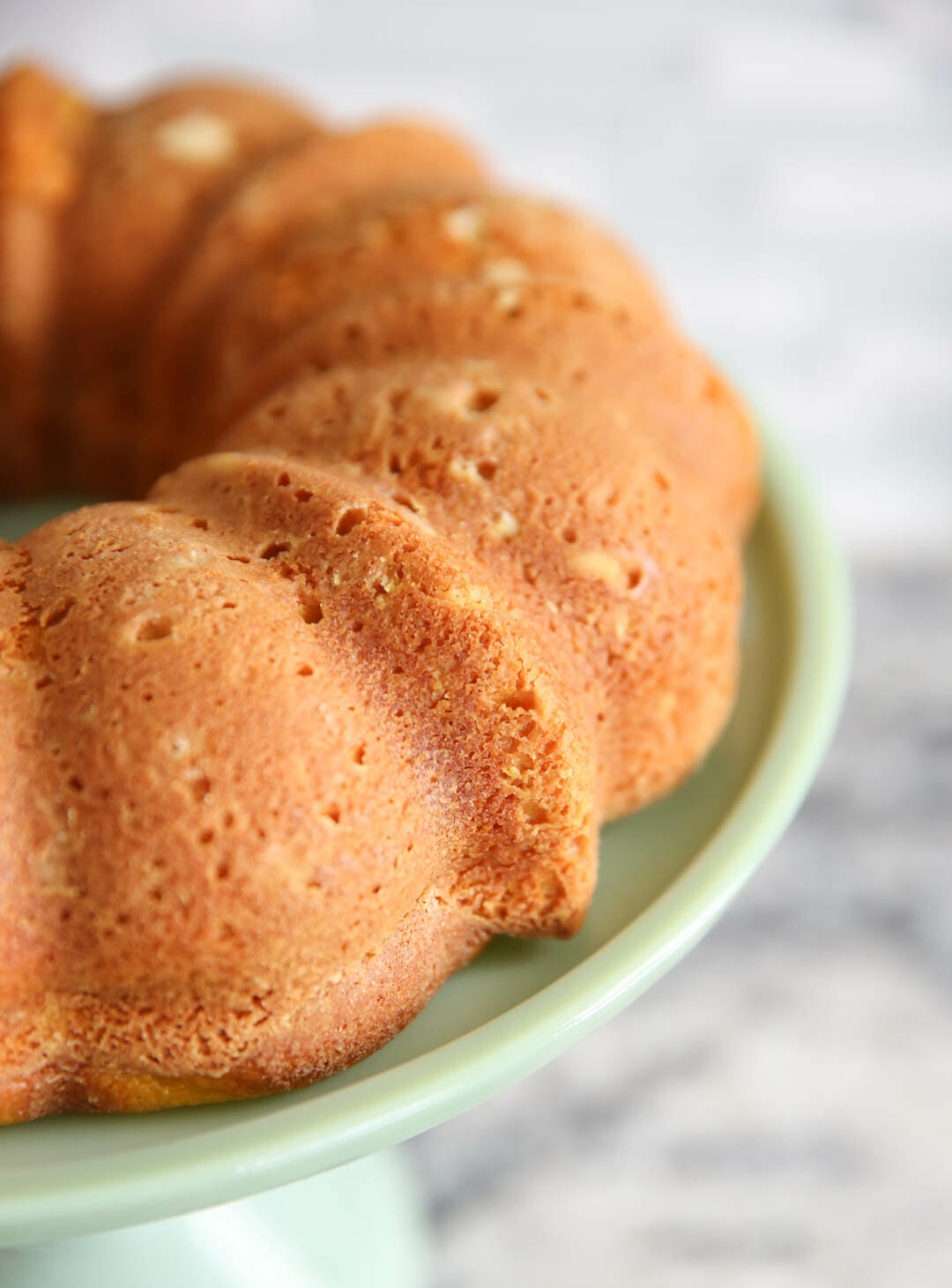 Now the glaze I'm using isn't traditional- it's more of a what-Americans-have-in-the-pantry-and-fridge (ie: chocolate chips and butter).  Most Brazilians I know make their chocolate glaze with a powdered chocolate mix, milk, sugar, and a little butter.  It's fairly thin and I wanted something a little richer.  (TIP: To "make" a double boiler, just place a glass bowl on top of a pot with 1-2 inches of simmering water.  I find sometimes the microwave scorches my chocolate, or causes it to seize a bit and this method works every time for melting chocolate nice and smooth.)
Now here's a trick I use when frosting bundt cakes.  I don't like just drizzling frosting over them because then most of it ends up on the plate.  I want each piece covered in that stuff so I use a silicone pastry brush and I first just "paint" the glaze over the whole cake.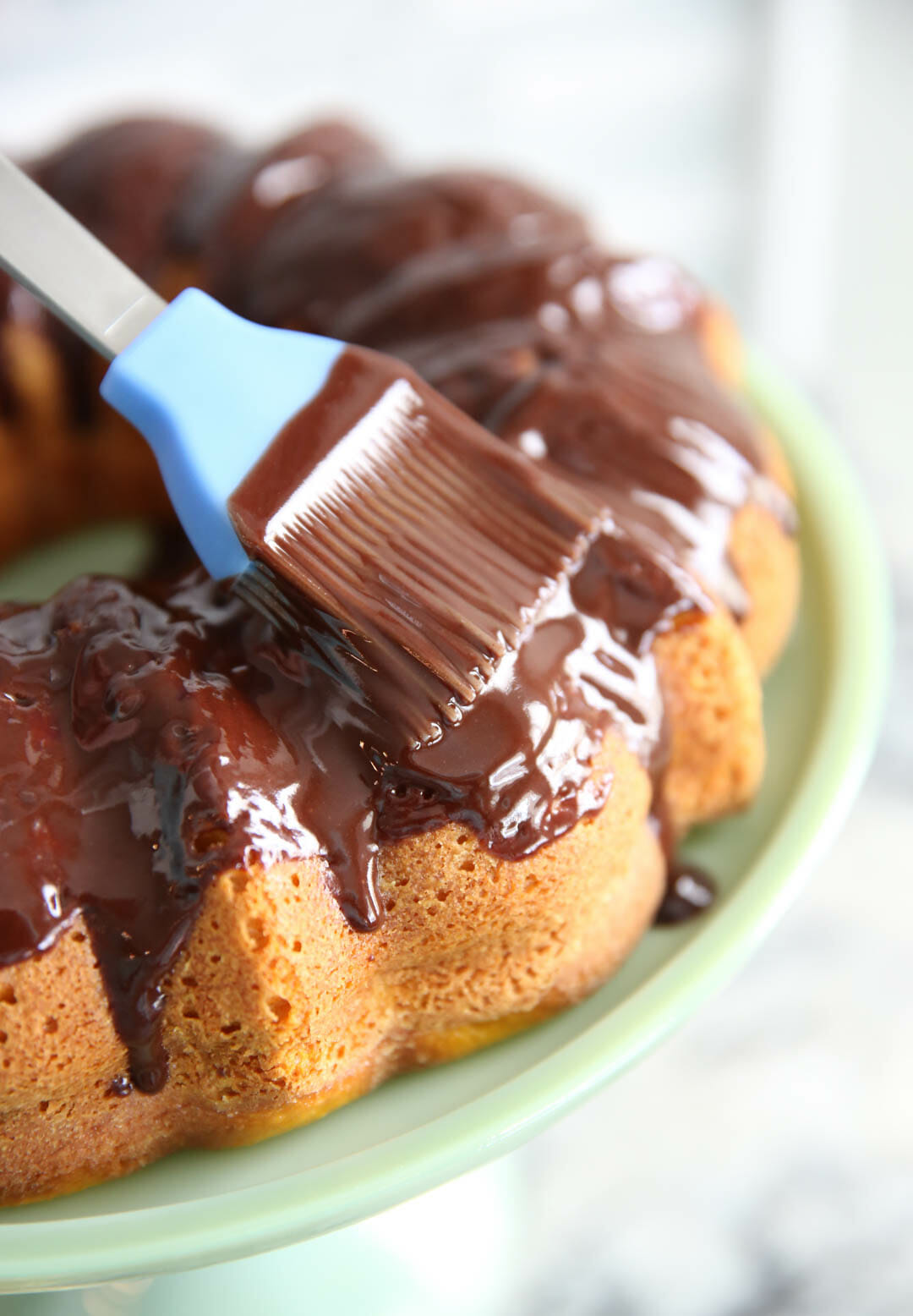 After it's evenly coated, then I go ahead and drizzle on the rest so it looks pretty and gets those beautiful drip lines.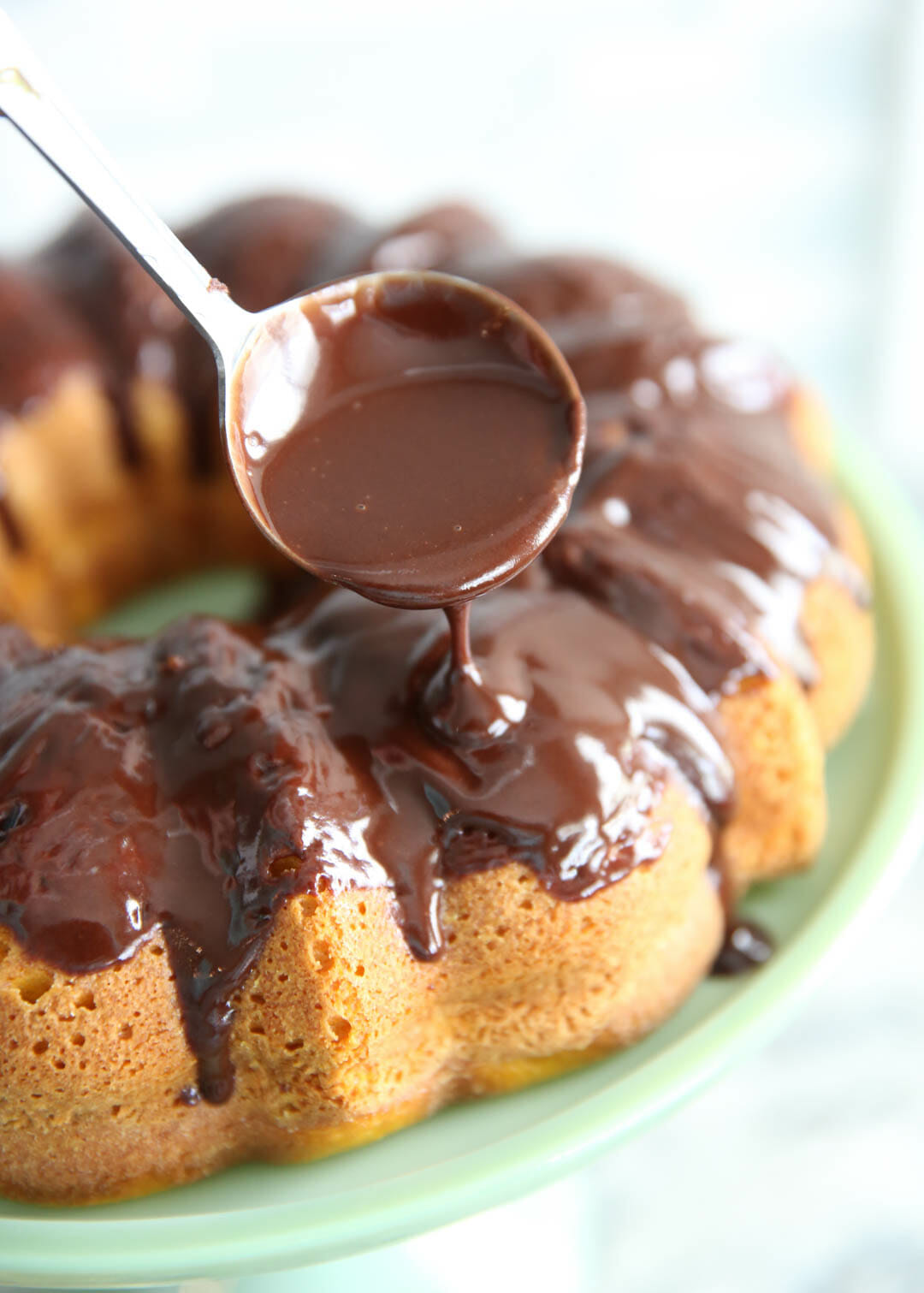 If you're making a 9×13, you'll notice it's a very thin layer of chocolate.  That's usually how it's made, and especially with my richer chocolate glaze, I didn't want it to overpower the mellow cake, but if you want to, you could certainly double or 1 1/2 it.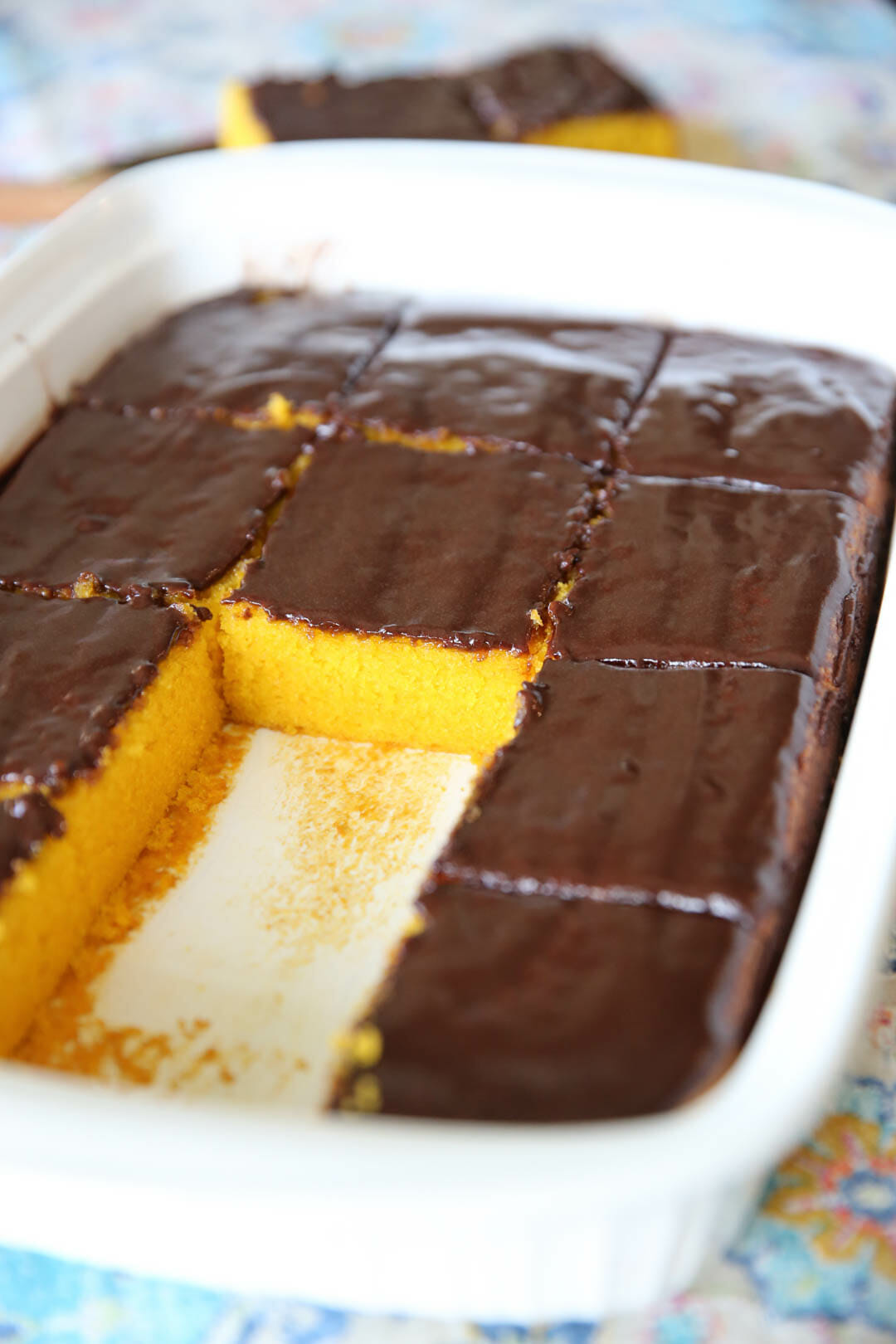 Inside this cake is so (I'm gonna say it) moist.  The carrots add the perfect subtle sweetness.  If you didn't know it had carrots in it, you probably wouldn't guess it.  It's a really unique flavor, but not weird at all.  It's just sweet and soft and delicious.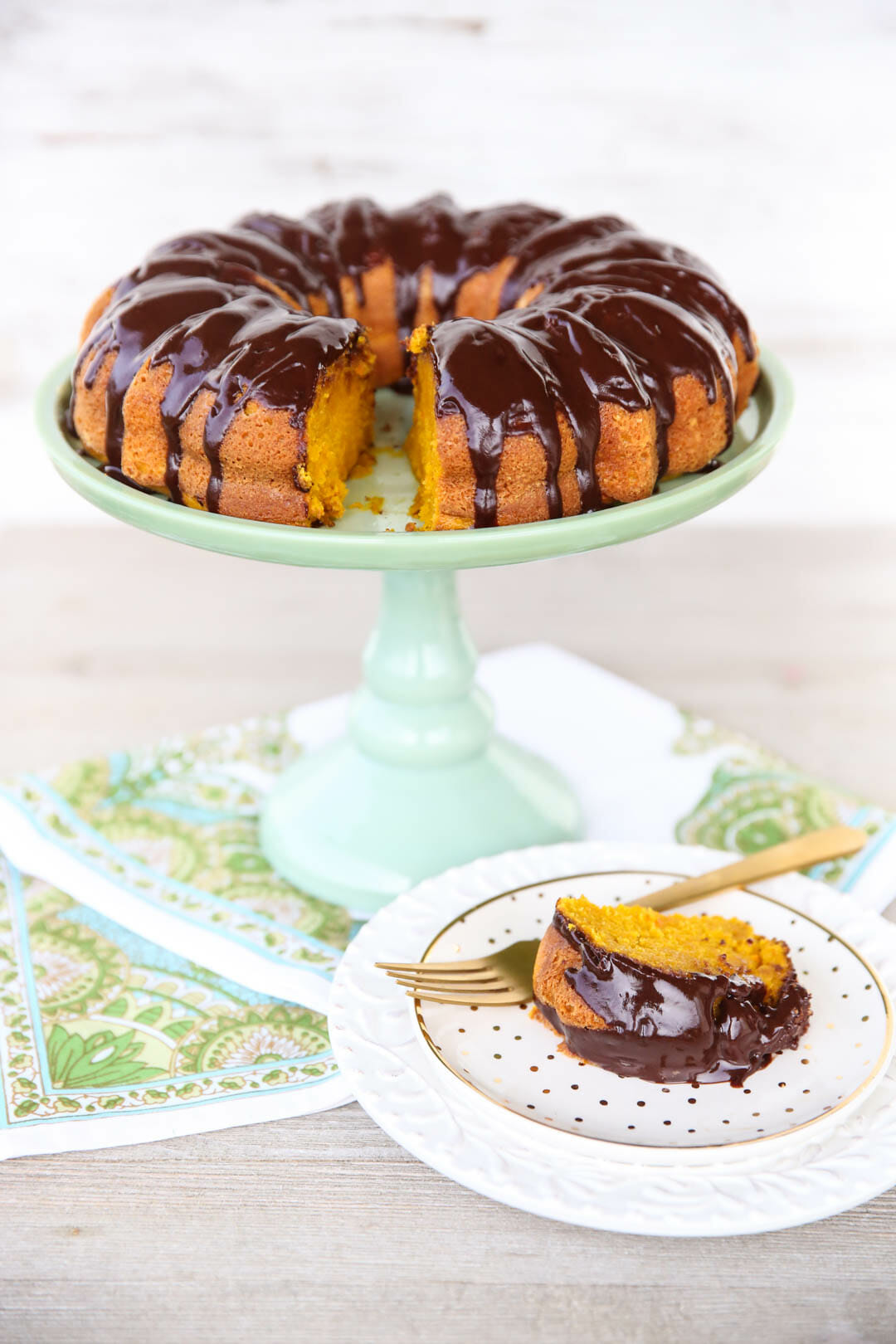 I hope this one joins the ranks in your own Easter traditions as it has mine!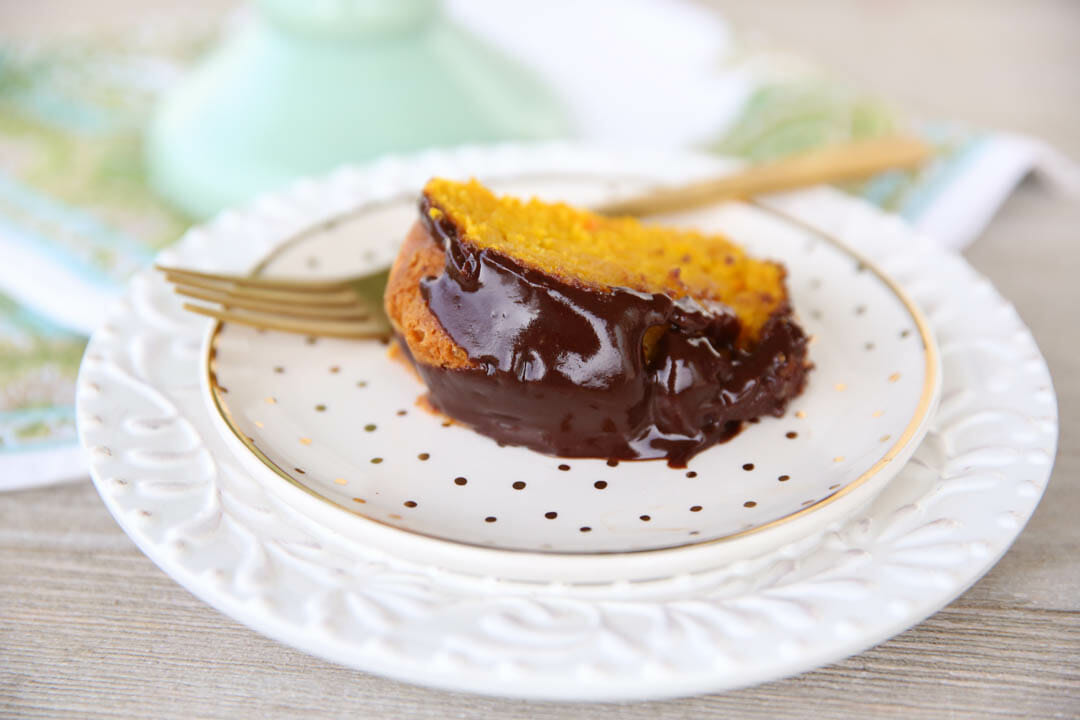 Remember if you'd like to see more of my Brazilian recipes, you can find them all, here!
Print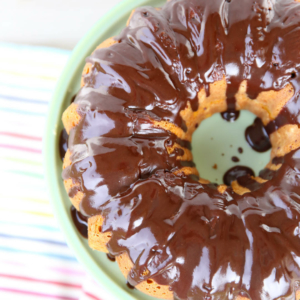 Brazilian Carrot Cake
---
Description
A tender fluffy cake with a natural sweetness from pureed carrots, topped with chocolate frosting.
---
2 cups

sliced carrots (about

3

large carrots)

3

large eggs

1 cup

canola oil

1 3/4 cup

white sugar

2 cups

all purpose flour

1/4 teaspoon

salt

1 tablespoon

baking powder
Chocolate Icing

1/2 cup

semi-sweet chocolate chips

3 tablespoons

butter

1 tablespoon

corn syrup
---
Instructions
Preheat oven to 350 degrees. Spray a 9×13 pan with non-stick spray OR butter and flour a budnt pan.
Place carrots (no need to peel them), eggs, and oil in blender and blend until smooth. I suggest leaving the blender on for a full minute to make sure it's nice and smooth. Add sugar and pulse to combine. Add dry ingredients and gently stir with rubber spatula and then blend until evenly distributed.
Pour batter in prepared pan and bake for about 30-40 minutes (depending on your pan, keep an eye on it) and remove from oven with a skewer comes out with just a few moist crumbs attached.
If using a budnt pan, let cool to just barely warm before inverting.
To make glaze combine all ingredietns in double boiler (simply place a glass bowl over the top of a pot with a couple inches of simmering water in it) and stir until melted and smooth. Pour over cake and serve.
---