This autumn twist on traditional fruit pizza was inspired by you!  I shared our go-to recipe recently on Instagram and several people commented about different versions they had made, using things like oatmeal cookie or peanut butter cookie dough and that got me thinking.  How about a fall version?  This Caramel Apple Fruit Pizza sits on a  giant soft ginger cookie.  I topped it with the standard whipped cream cheese and cream topping we all love, but it's warmed up by some brown sugar and a little cinnamon.  Finally I spread out crisp apple slices on top and gave it a little drizzle of caramel and a sprinkling of cinnamon.  The result is something full of fall flavor and totally festive!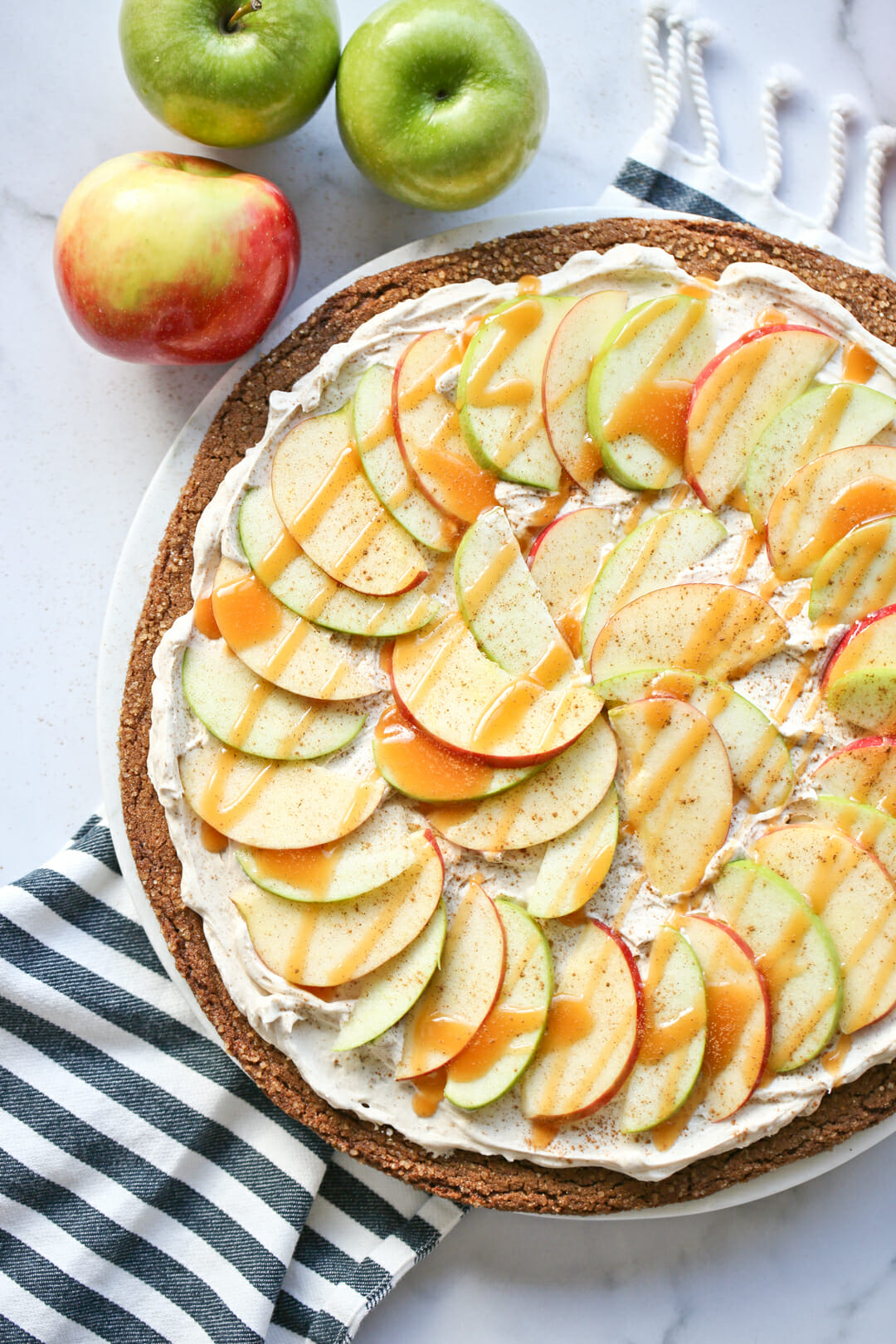 How do I make a ginger cookie base for Autumn Fruit Pizza?
I tweaked our favorite ginger cookie recipe for use here.  I usually use butter flavor shortening in that recipe, but I felt like using butter here so I bumped up the flour just a bit to make sure it held up while giant!  It's full of warm spices and just enough molasses. Since this dough is a little softer than sugar cookie dough, and not meant for rolling, it helps to give yourself a little extra time to account for some chilling.   I popped my dough in the fridge for about 30 minutes before using my hands to form a ball and then gently pressing out the dough into a circle on a piece of parchment paper.
Since we don't want to add more flour, I placed another sheet of parchment on top of the dough and used a rolling pin to roll it out into a circle.  This can kind of slide around your counter top so I usually overhang the parchment off the counter and press my hip up to it to hold it in place while I roll.  This feels like it sounds very confusing when written out haha- just try it and you'll get it.  You could also roll between sheets of plastic wrap or silicone baking mats.  Basically you want it in a circle.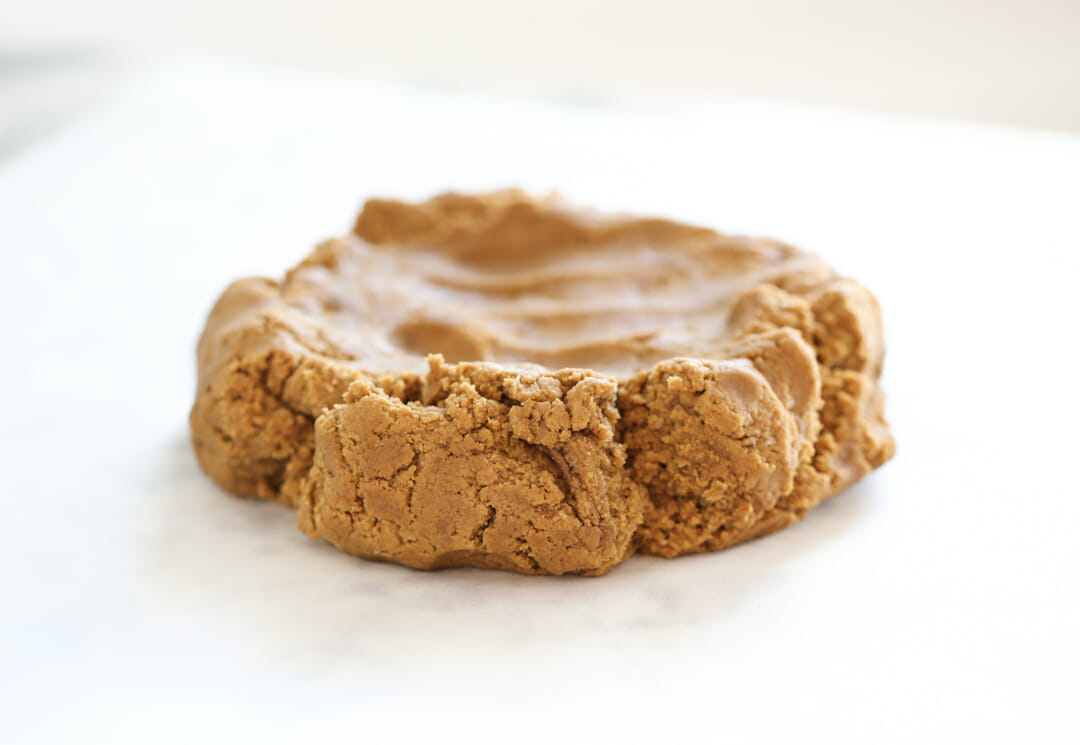 This next step is totally optional but I sprinkled some coarse sugar around the outside edge of my cookie to mimic a sugar-rolled ginger cookie.  If you've got some you can try that, or you can definitely skip this step!  At this point, I chilled my crust for another 30-60 minutes just to do everything I could to help it keep its shape.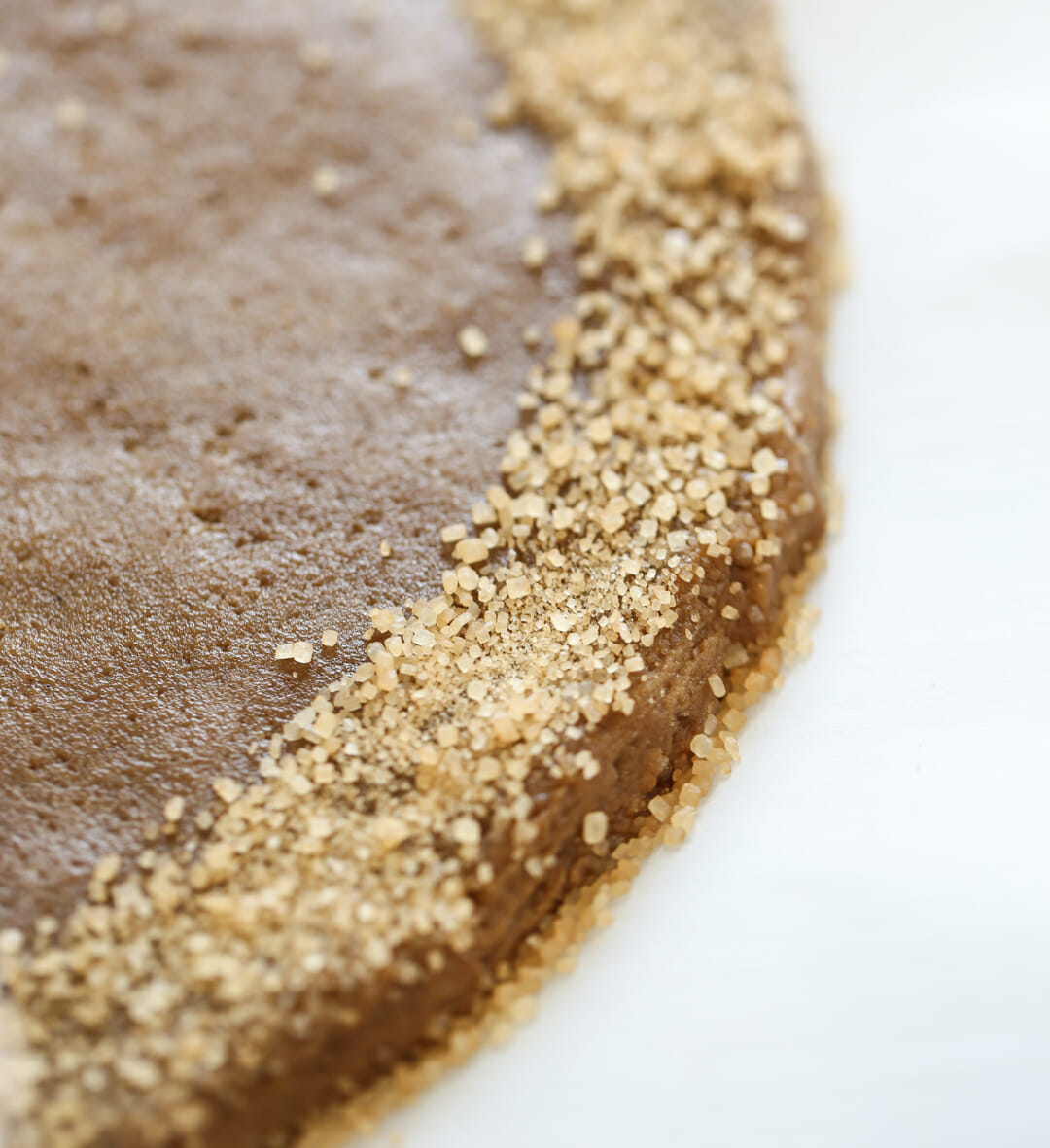 How do I bake a Giant Ginger Cookie?
I would definitely suggest chilling really well before baking. Your cookie will puff and spread quite a bit!  This is a jumbo baking sheet pictured and as you can see it went all the way to the edges.  If you don't have a jumbo I would recommend a large pizza pan.  You could even do this in a 9×13, fruit pizza doesn't have to be round! I would line my 9×13 with foil or parchment so you can easily pull it out once it's baked and completely cooled for easy slicing.
Baking Note: I also suggest pulling it out when the edges are set but the center appears just a tad bit underdone.  I actually over-baked this cookie and it wasn't quite as soft as I had hoped.  It was still crazy delicious, and even better the next day as it softened, but next time I won't bake mine as long.  Normally when I write recipes I'd try this a couple times before sharing so I can nail down the exact perfect timing for you guys but you all wanted this recipe and I wanted to share so I'm going to tell you to eyeball your cookie a bit!!  If you make this, I'd love for you to share your baking time for the cookie to help others.
How do I make the topping for Caramel Apple Fruit Pizza?
Since the cookie has so much flavor and spice, I didn't do much to our favorite traditional filling.  It's whipped cream cheese and brown sugar with vanilla and a little cinnamon.  Then you fold in some whipped cream to make it soft and fluffy.
You may not need all of the topping, it makes a generous amount.  I saved a little in the bowl and my kids dipped fruit in it for an appetizer 🙂
What Apples Should I Use On My Fruit Pizza?
I used both Honeycrisp and Granny Smith Apples and I liked the Granny Smith the best.  The tart apples are a great balance for all the sweetness going on here. I also sliced my apples very thin, like 1/4″ or less.  As I sliced, I just placed the apples in a bowl of very cold water and when they were all done, I quickly blotted them dry with a paper towel before placing them on my pizza.
I was surprised when the apples didn't turn brown at ALL even a couple hours after this was made and even more surprised when we pulled the half we saved out of the fridge the next day and not a single apple was brown?!  Did cold water do this?  You can definitely try this with a squeeze of fresh lemon in your water or a small drizzle of apple cider vinegar, as both of those things are suggested to help, but in my experience the water did the trick.  You'll have to let me know if you try it.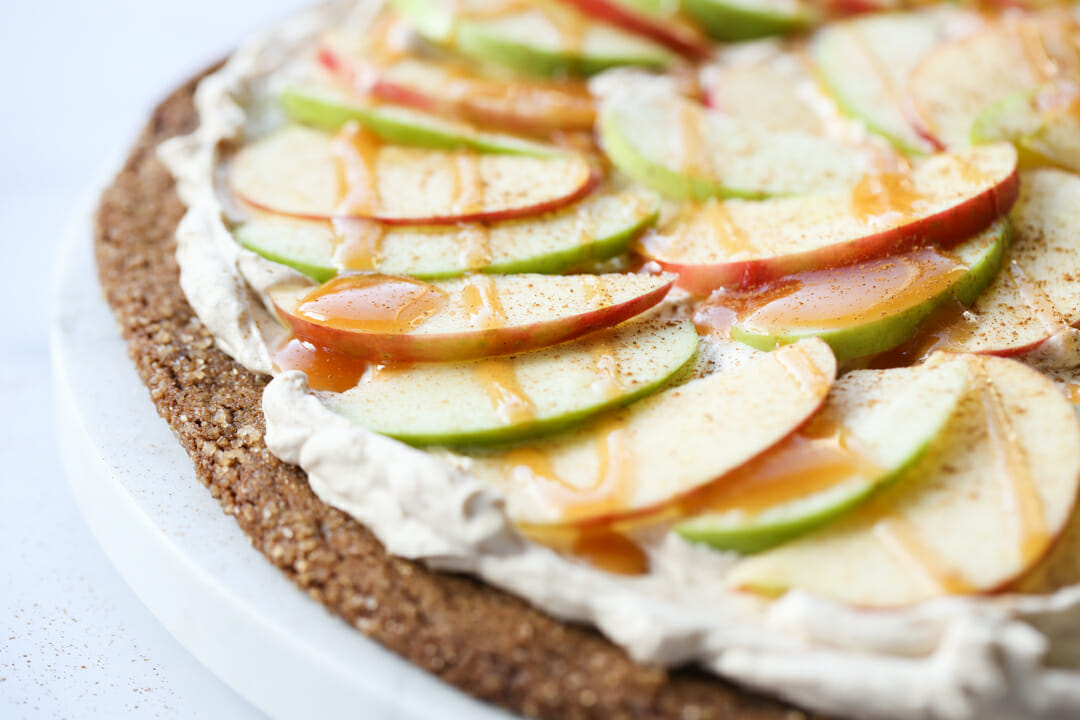 Can I make Fruit Pizza Ahead of Time?
Normally fruit pizza isn't something you can make ahead of time.  I usually suggest making the cookie crust ahead of time and storing well wrapped, and making the topping ahead of time and then cutting the fruit and assembling everything when ready to serve.  I'd still give this advice.  BUT.   This fruit pizza was also fantastic the following day, fully assembled.  There was no soggy-ness or wetness from the fruit or anything.  In fact I'd say it was even better because my cookie softened overnight.  I was surprised those apples didn't brown and I can't promise those results for everyone, but honestly mine was great the next day so just FYI!
Print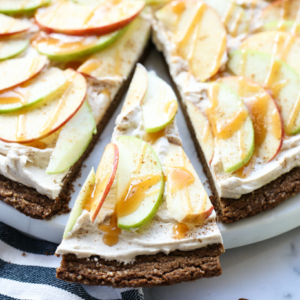 Caramel Apple Fruit Pizza
---
Description
An autumn twist on a classic recipe with a soft ginger cookie crust, fluffy cinnamon cream topping, crisp apples and a caramel drizzle.
---
Cookie:
3/4 cup butter, at room temperature
1 cup sugar
1 egg
1/4 cup molasses
2 1/4 cup flour
1 teaspoon baking soda
1 teaspoon cinnamon
1 teaspoon ginger
1/2 teaspoon ground cloves
1/4 teaspoon salt
optional: coarse sugar for sprinkling around edges
Topping:
8oz cream cheese
1/4 cup brown sugar
1 teaspoon vanilla extract
1 teaspoon cinnamon
1 cup whipping cream
1/2 cup powdered sugar
Additional Ingredients:

1–2 crisp apples, I like green Granny Smith's
jarred caramel sauce
additional cinnamon for sprinkling
---
Instructions
For the cookie, beat butter and sugar until light and fluffy.  Add egg to combine and then molasses. (Tip: spray your measuring cup with non-stick spray before measuring your molasses, it will help it slide right out!)  
With mixer off, add in flour, baking soda, cinnamon, ginger, cloves, and salt.  Give those ingredients a little whisk together and then turn your mixer on and mix until everything is well incorporated.
I suggest chilling dough for about 30 minutes to make it easier to roll out.  Scrape dough onto a piece of parchment, or a silicone baking mat, or a piece of plastic wrap.  Form into a ball and press into a circle.  Place another sheet of parchment or plastic over the dough and then roll into a circle about 10-ish inches in diameter.  If desired, sprinkle coarse sugar around the outside inch of your dough and lightly press in.  Chill your circle for 30-60 minutes.
Preheat oven to 350 degrees.  Place dough circle on jumbo baking sheet or large pizza pan.  It will spread a couple inches larger as it bakes. Bake for about 15 minutes and then keep an eye on it!  All ovens are different and you will want to pull your dough out when it looks set around the edges but just a tad under-done in the center.
Let cookie cool completely.
Topping:  Beat cream cheese, brown sugar, vanilla and cinnamon until smooth and creamy.  In a separate bowl beat whipping cream and powdered sugar.  Gently fold whipped cream into cream cheese mixture until smooth.  Spread desired amount onto cooled cookie (you may not use it all).
Slice apples thinly and fan out around pizza.  Drizzle with a little caramel and sprinkle with cinnamon.  Slice and enjoy!
---
Notes
Baking Pan: You may bake this in a circle on an extra large baking sheet, or go for rectangle in a 9×13 baking pan.  If using 9×13 you might want to line your pan with foil or parchment for easy removal after baking.
Baking Time:  All ovens are different, watch your cookies! Baking time listed in this recipe is approximate since I have only made this once so far!  I'll update as I make again.
Apples: As I cut my apples I placed them in a bowl of cold water and then blotted them with paper towels before placing on dessert.  My apples did not brown at all.  You can also add a little fresh lemon juice or apple cider vinegar to help with this.  If you are eating immediately, I'd just put them straight on the dessert.
Making Ahead: You can make the cookie a day ahead if you wrap it well.  Topping can be made a day or more in advance, just store in an airtight container in fridge.  Assemble before serving.
Keywords: caramel apple fruit pizza