Can someone please explain something to me?  What's up with the mustache thing?  Kate and I have had many conversations with one another trying to figure out how on earth how mustaches (especially ones on sticks) became a "thing."  Like, trendy enough that you find sweaters like the one below in the middle of Target.  And trendy enough that people are somehow convinced they need to jump on Pinterest crazes and make mustaches a part of important life events like one's WEDDING DAY.  I predict 50 years into the future there will be grandchildren all over the world looking at antique photos asking, "Grandma, why is everyone at your wedding making weird expressions and holding fake mustaches up to to cover their faces?"  And Grandma will then drop her head in shame and wonder the same darn thing.  Think about
it people, think about it.  Ironically enough, the same day I took a picture of this ridiculous sweater at Target to send to Kate (because that's what we spend half of every day doing: sending pictures of weird things to each other) I also bought…mustache straws.  How could I not?  They have Irish mustaches on them.  And everyone knows that while a long black hairy mustache is weird, a fluffy orange Irish one is fun, festive, and adorable.
I had straws, so I wanted to make a fun drink.  My St. Patrick's Day recipes around here usually default to things that are mint chocolate because that's one of my favorite flavor combos, and well, it's green.  But everyone knows the infamous "Shamrock Shake" is basically just vanilla ice cream with peppermint and food coloring and I feel like it's totally been overdone on food blogs, so I wanted something green, but not minty, and something my kids would still like.  They're all about fruity and fizzy and I'm all about coconut and lime-y so I went with that.  These would be super easy to whip up on Sunday and a great one for kids to help with.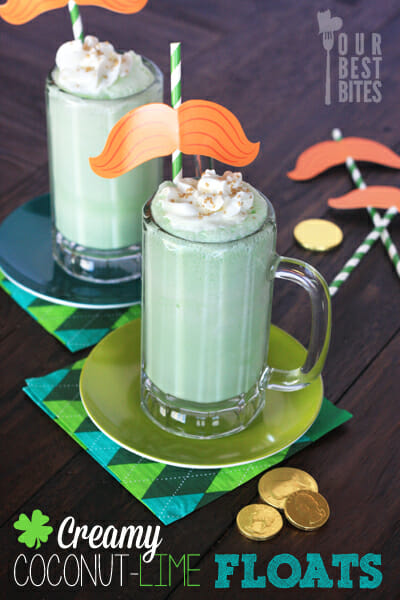 Start with some ice in your blender
and add in some cream of coconut.  Cream of coconut is not coconut milk.  You can find it in either a can or preferably a squeeze bottle in the section of the grocery store where you find alcoholic drink mixers like pina colada and margaritas, etc.  We use cream of coconut in a lot of recipes, so you'll have plenty of reasons to use the leftovers!
Next in is some half and half.  Don't use milk- that's just weird.  Cream?  A-Ok if you're feeling that naughty.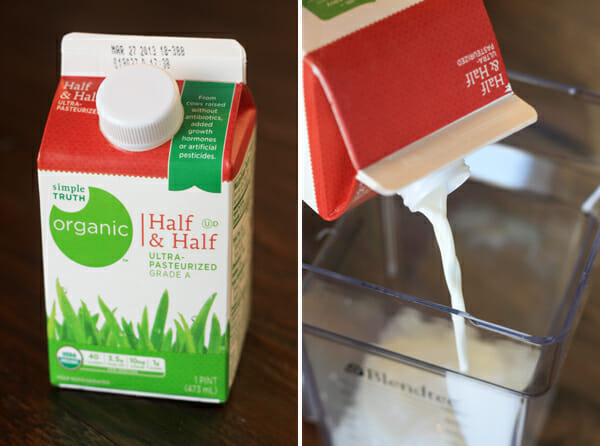 And if you want to make these green like I did, add in a drop or two of food coloring.  You'll get a cold, frothy mixture that will taste super delicious.  Pour that into your glasses.
Next, scoop in a big ol' scoop of lime sherbet,
And then pour your favorite lemon-lime soda over the top (Sprite, 7-Up, Sierra Mist, etc.)  Those creamy frothy bubbles are one of the best things about any flavor of float.
Top with a little whipped cream, and if you like- some flecks of gold to attract those sneaky little leprechauns.
Also, a mustache on a stick.  But make sure it's an Irish one.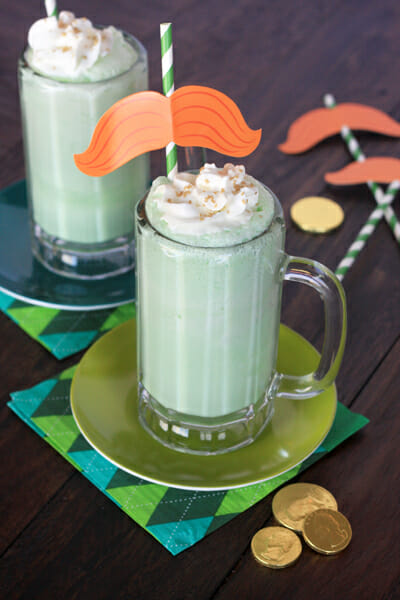 Creamy Coconut-Lime Floats
Recipe by Our Best Bites
1/2 cup crushed ice
1/2 cup half and half
4 tablespoons cream of coconut
lime sherbet
1 cup lemon-lime soda
optional: green food coloring
Place ice, cream of coconut, and half & half in a blender and blend until smooth.  Add green food coloring if desired.  Divide mixture between 2 large glasses or 4 small ones.  Scoop in one large scoop of sherbet into each glass.  Top with about 1/2 cup soda in each glass (That's if you're making 2 servings.  If you're making 4 small glasses, use about 1/4 cup soda in each glass).  Top with whipped cream and gold sprinkles if desired.